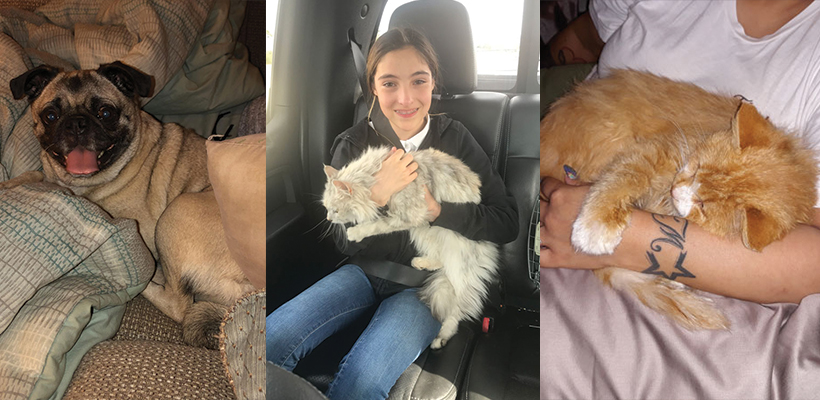 Featured Happy Tails! April 2019 – Lost & Found, Dogs, Cats & Pets That Were Reunited in April
Featured Happy Tails! April 2019 – Lost & Found, Dogs, Cats & Pets That Were Reunited in April
PawBoost loves to share happy endings! Read April's Featured Happy Tails to learn how these fur babies were reunited with their families.
Love these Happy Tails? We love sharing them! Click here to read more.
---
Sophie: Found Dog Reunited in San Antonio, TX!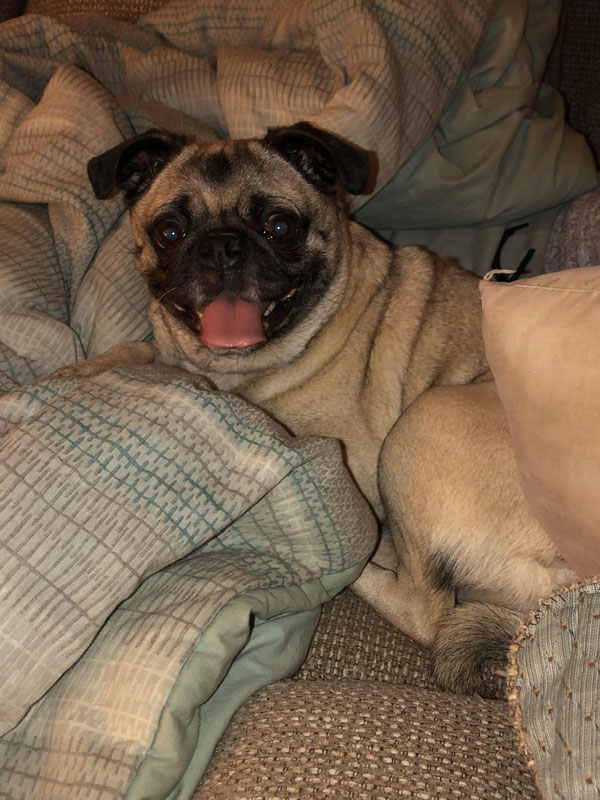 "We got home and as soon as we got out of the car here comes this big pug all out of breath looking happy to see us. We didn't have to capture her, she came right to us as if she knew us! At first we thought it was our neighbor's because they have a good sized pug but this one was female and theirs is male.
One person said they had seen her by herself the day before as well and wasn't sure whose she was. So we kept calling for her to follow and she followed us right to our door. She came right inside and made herself at home – happy for some water, a treat and cuddles in a blanket on the couch. We let her stay the night until we could take her to the vet in the morning and see if she was chipped.
I really wanted to make sure she got back to her home so I started typing in San Antonio lost and found pets and clicked on the first link which was PawBoost. I added her picture and description and within a minute I was contacted by a family who had lost their pug Sophie in August of 2018.
I looked at the pug on the couch and called her by the name Sophie and she immediately raised her head, ears perked up and the second time I called her name she came to me. The family immediately rushed over to see if it really was their Sophie, also informing she was chipped and would have her checked to make sure.
As soon as the family-filled car arrived, 3 children and the parents all got out and knew right away that was their Sophie. Watching Sophie you could tell she was reunited with her rightful owners and could not stop wagging her tail. It was a very happy, tears of joy filled, reunion.
I would definitely recommend PawBoost because I have never seen a family get reunited in a matter of minutes like this before after almost 8 months of separation and all it took was one post on PawBoost to be reunited."
---
Mavis: Found Cat Reunited in Milford, NS, Canada!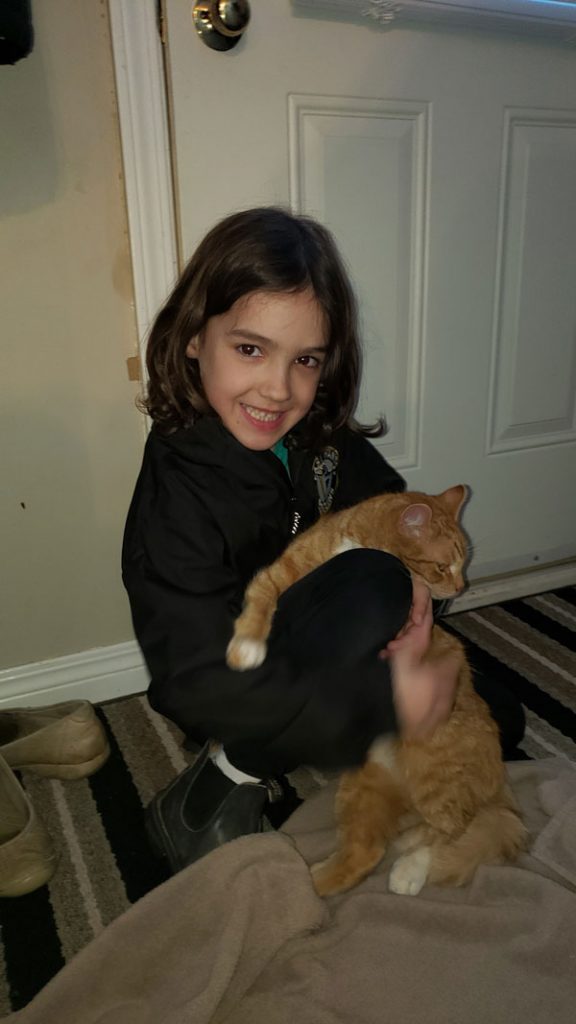 "I discovered this cat when I was home over my lunch hour. She was meowing and was hiding in a wood pile behind my shed. I could tell she was distressed so I went inside, and not having any pets of my own, I resorted to opening a can of tuna and used it to lure her out.
She was a little skittish, but she let me pet her while she was eating. She was hungry! I then fetched a blanket and encouraged her to come to me while placing the blanket close to the ground. She eventually came and began to purr heavily when I wrapped her up. I knew then, this cat had to be someone's pet.
My neighbors run a cat boarding house and they were generous to loan me a crate/carrier and food. It was a mild day, so I made a shelter with warm blankets inside the carrier, placed the carrier inside the shed, and left food and water while I returned to work.
I then started posting photos I took online and found PawBoost through a Facebook search. Another person also shared the link to PawBoost where the ad for a missing cat matched the description I had posted.
A few clicks later and I was able to obtain her phone number through PawBoost. After a conversation with the owner, we determined the cat was indeed hers and went missing exactly 1 month ago to the day.
She survived the cold snap, a March snow storm, and rainy/windy nights. All before her first birthday. Truly Amazing! We also found out through my Facebook posts that someone else was feeding Mavis for a few weeks prior to me finding her, at a distance further from her home. There are many caring people in our community.
By early evening, Mavis was reunited with her family and will be sleeping somewhere warm and cozy finally. My children were so excited to help Mavis find her home, it was a happy ending indeed. Thank you for creating such a wonderful website to help lost pets find their way home."
---
Olive: Lost Cat Reunited in Lav Vegas, NV!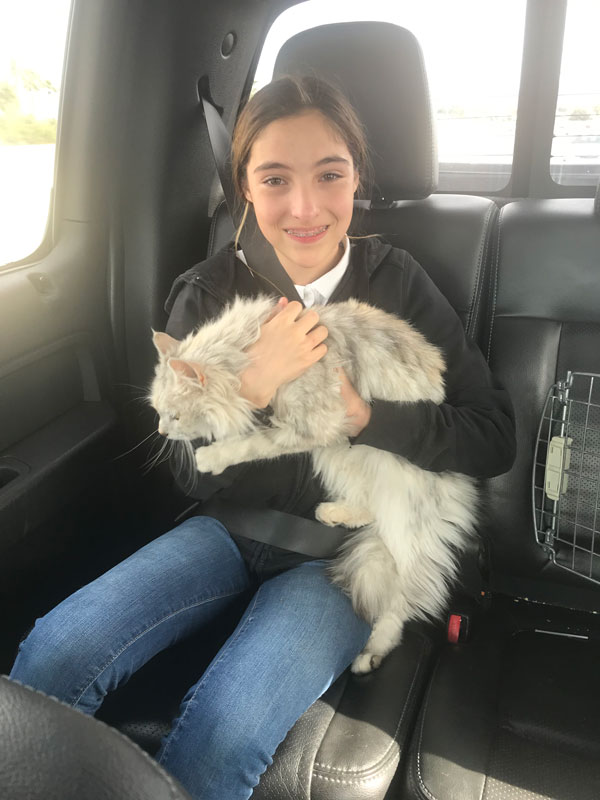 "Olive went missing right before Thanksgiving 2017. The kids remember seeing her running down the hallway playing and then we didn't see her again. The next day we knew something was wrong and put up posters, contacted the shelter, animal hospitals, and PawBoost. We searched the neighborhoods and asked people in our area if they had seen her. This went on for about a month before we realized all we could do was wait and hope.
Fast forward to March 2019, I get a call from Henderson Animal Shelter, which is about 45 minutes and approximately 30 miles from our house, that Olive had been found. How she ended up in Henderson is a mystery, but we know that an older couple that stays in Las Vegas for the Winter months had been feeding her.
They were moving back to their home for the summer and did not want to leave her to fend for herself so they took her to the shelter. She was scanned and her microchip number came up with our information. I got off work and immediately picked up my daughter early from school and my husband.
My husband knew that Olive had been found but we kept it a secret from my daughter. When we got to the shelter I secretly explained the situation that I wanted to surprise my daughter. We were led to the back cat room and we watched as our daughter was led to Olive's cage.
There was a lot of crying/meowing happiness and the best surprise for our daughter. Once we got home Olive popped out of her carrier and started rubbing against everything. Our dogs ran up to her wagging their tails and she rubbed all over them too. It was a very happy reunion with the whole family.
I would definitely recommend PawBoost to anyone that is looking for their pet. The amount of support from people on the lookout for her was amazing. Knowing that PawBoost was still actively working helped to keep the hope alive that we might be reunited with Olive and we were!"
---
Milo: Lost Cat Reunited in Austin, TX!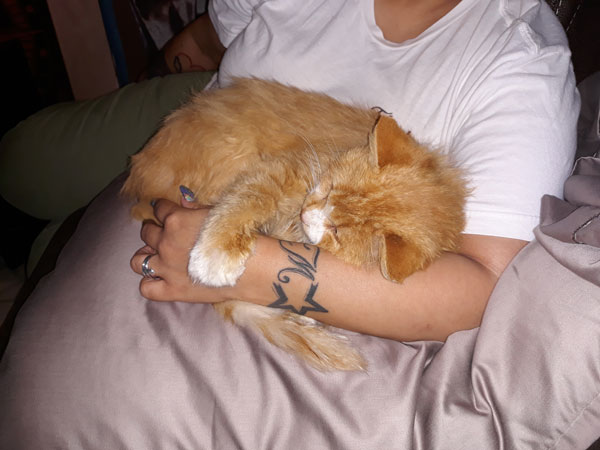 "Milo went missing one Friday. He is an indoor/outdoor cat and doesn't usually wander off too far. I'm not sure if he was picked up or just lost his way. He also has the love of our small neighborhood so the neighbors also realized he wasn't around. I posted him missing around my neighborhood and on PawBoost.
My cousin is a group member of Austin Lost and Found Pets and saw someone posted a picture of Milo as found. She tagged me in the post and I quickly direct messaged the person of the post. We met the next morning at AAC to have his chip scanned, (even though I knew it was him) she wanted to make sure I was his owner, which is understandable and safe.
PawBoost was a great factor in finding him due to the post being shared and having posters. My Facebook family was a great lookout as well. We are so filled with joy that he was cared for and safely returned. I strongly recommend PawBoost to all pet owners. It's a great start to finding pets with all social media followers."
---
Nikko and Bella: Lost Dogs Reunited in Fayetteville, NC!
"One Thursday both dogs, Nikko and Bella, pushed through the front gate since the rain had softened the foundation. They went on an adventure together. They have ALWAYS been inseparable so when they were both missing we were fairly confident they stayed together. It was our hope that if they were found safely they would be kept together.
There was a post on Facebook – a screenshot of a PawBoost post. It was like wildfire. People who had been praying with us and following us and being on the lookout for our dogs immediately started texting, calling, Facebook messaging, and tagging me on everything!! I was able to get in touch with the people who were watching our dogs. We exchanged contact information and connected the same day to pick up Nikko and Bella.
I would recommend PawBoost because it reaches a wide spectrum of people across a massive area. The people who are on it genuinely wanted to help us be reunited with our dogs. The site was filled with people who were encouraging, positive, and hopeful, which was important during such an emotional time."
---
Love these Happy Tails? We love sharing them! Click here to read more.