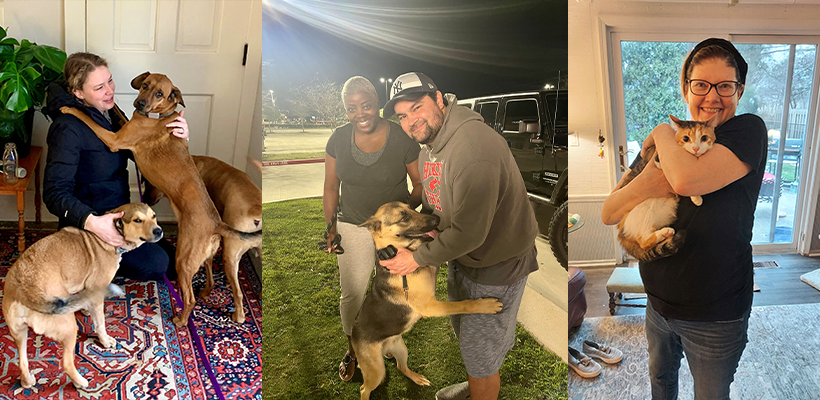 Featured Happy Tails! April 2022 – Lost & Found Dogs, Cats, & Pets That Were Reunited in April
Featured Happy Tails! April 2022 – Lost & Found Dogs, Cats, & Pets That Were Reunited in April
PawBoost loves to share happy endings! Check out April's Featured Happy Tails to learn how these fur babies were reunited with their families.
Love these Happy Tails? We love sharing them! Click here to read more.
---
Featured Happy Tails
---
Found Dog Reunited in Cypress, TX!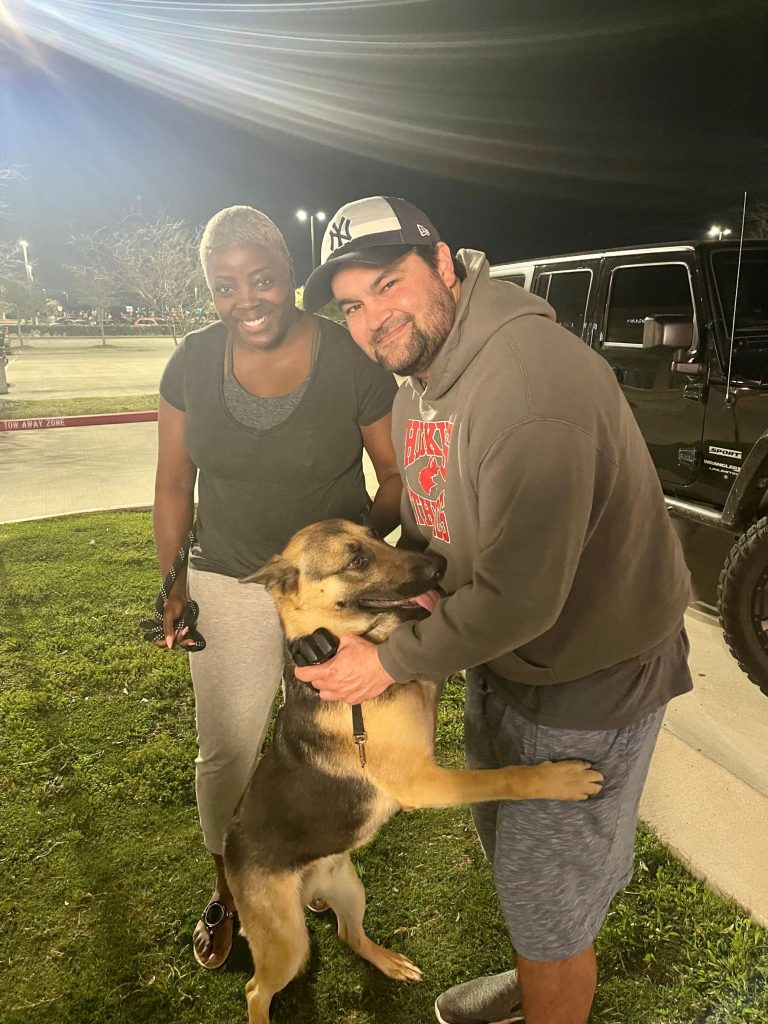 "My wife and I currently have only one vehicle because my Jeep is in the shop. My wife was taking me at 5:30 AM to track practice. I was driving on a 4-lane road and this dog darted out in front of our car out of nowhere, and we didn't see him run up on acount of it being dark outside. I tried to avoid him, but even when I veered out of the way, he hit the side of our car. I went back and he was laying in the median grass area, scared but seemingly unhurt. I stopped on the busy road to get him into our car. He didn't want to, so we moved to a parking lot for safety. I went across the road, and he finally followed me.
It took a while to get him in the car; I ended up taking the day off from school and took him to the veterinarian. They said that he was okay, he'd just had his bell rung. We took him home to get started on finding his owner. It was an eventful day having this big German Shepard and my tiny Pomeranian play with each other – they had a blast!
I posted the German Shepard's information on PawBoost and created a found dog alert for him. It took about an hour for the owner to see it and reach out to me. I met the owner at a veterinarian office at about 10:30 PM the same night. She said that she had been searching for her missing pup since about 9:00 AM that morning. PawBoost does what it is supposed to do: reuniteing owners with their fur babies!"
---
Marshmallow: Lost Cat Reunited in North Salt Lake, UT!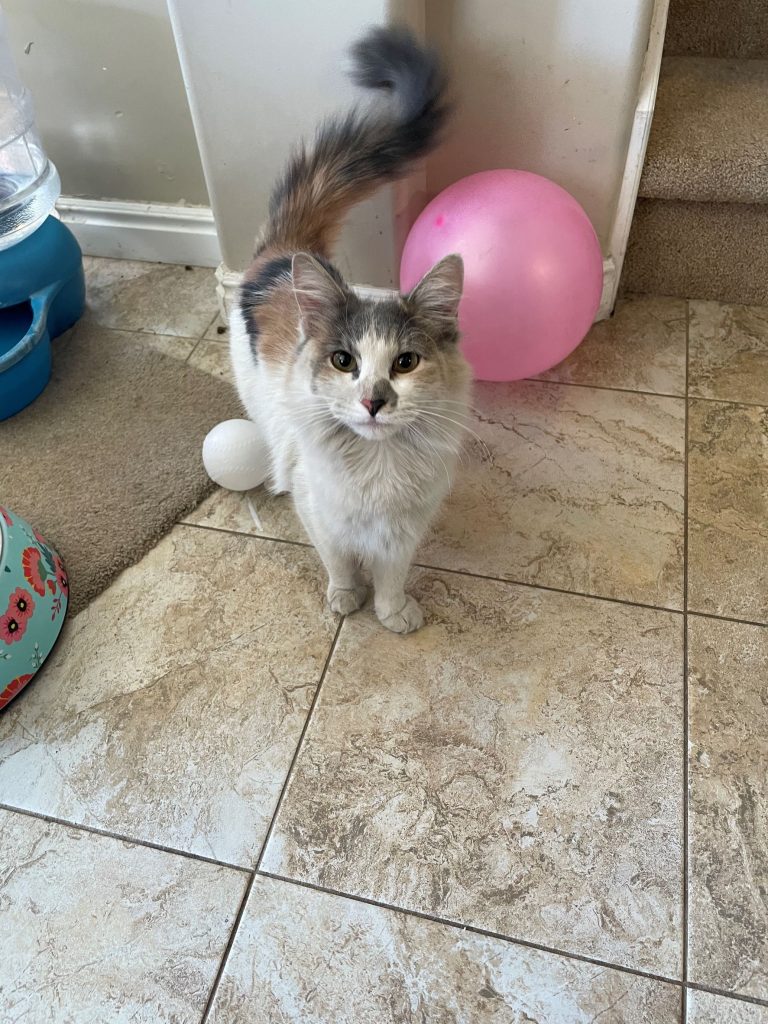 "Unfortunately, Marshmallow snuck out while we were letting the dogs into the backyard one day. We looked everywhere for her, but by the time we noticed that she was gone, she was nowhere to be found. I was so worried! We immediately made a PawBoost alert and shared it to multiple lost pet Facebook groups in hopes that someone would find our lost kitty and bring her back to us. Days passed, and we were beginning to lose hope.
I shared her PawBoost alert on our local Facebook page every week so that people would know to be on the look-out for her. After 16 days of searching and stress, our neighbor, who knew his backyard neighbors were out of town, heard yowling in the shed behind their house. He went to investigate and found our Marshmallow hiding in the shed. Because of her PawBoost alert, he had my contact information and I was able to go get her from the shed. We were so happy; she couldn't stop meowing! My sister in law, who is a vet tech, actually recommended PawBoost to me. I couldn't believe how easy it was and that it actually worked! Thank you all so much!"
---
Mousse: Lost Cat Reunited in Lyndhurst, OH!
"Mousse got out through the garage when the house door that led into the garage was accidentally left open. We searched for her everywhere, but it was like she had vanished! As soon as we came up empty-handed, I immediately made a lost cat alert for Mousse on PawBoost in hopes that someone would find her. After I submitted the alert, I recieved an email from PawBoost with a bunch of helpful tips on ways to help lure your kitty back home. I put her litter box, food, and some of my clothes on the patio and in the garage, since the article said that she might recognize the familiar smells of home and return on her own.
Following the amazing advice from PawBoost was how we were reunited with Mousse! I left the door open about a foot-wide each night that she was missing so that she could smell the things I'd laid out for her. A week after the day she went missing, I heard a faint meow coming from the garage. When I opened the door, there she was, sitting right by all of the stuff I'd put out! I can't believe that she was gone for a whole week! PawBoost gave me very helpful tips and advice that helped facilitate this reunion. Thank you all so much!"
---
Kenzie: Lost Dog Reunited in Grafton County, NH!
"Kenzie was staying with a dog sitter in our hometown that we moved away from two years ago. During a walk, Kenzie got spooked and got away from the dog sitter. The sitter tried to catch her, but before long, Kenzie was gone and unable to be found even after a thorough search. After five days of no reported sightings, we were feeling hopeless. Then that Saturday came around, and the sightings started coming in at around noon. There were ten calls between noon and 3:30 PM!
The last two calls of Kenzie sightings were successful. We drove over to the place where she was spotted and, as we started hiking into the woods, someone yelled "There is Kenzie!" and that is when I got low to the ground and started calling her. She came trotting right up to me and our other family dog. I was able to successfully grab her leash and then we finally had her, which led to lots of tears! She went missing on Sunday at noon and was found that Saturday at 3:30pm. Being able to get the word out is key with a lost animal. The connections and community that PawBoost has built definitely helped to spread the word! Thank you to everyone who helped to bring Kenzie home!"
---
Sophie: Lost Ferret Reunited in Tualatin, OR!
"Sophie is a very tiny ferret who likes to try and explore new places – especially places she shouldn't go. She snuck out of the back door when the dogs were going out one day, and disappeared from our yard without a trace. After we searched for her and came up empty-handed, we called all of the vets in town to make sure they knew she was missing. We posted on PawBoost, who then forwarded the alert to Facebook and Nextdoor. We spoke to as many people in the neighborhood as we could, and put up a bunch of posters to get the word out about our missing girl.
Someone found Sophie and dropped her off at a local pet store, and the employees then contacted us, knowing that she was ours from our search efforts and PawBoost. Sophie was gone for about 20 hours before we were reunited. We were able to quickly go pick her up, and now she's finally home! PawBoost is an excellent platform for getting the word out, and the more people who know about your missing pet, the more likely you are to be reunited. Thank you so much to everyone who shared and helped us find Sophie!"
---
Love these Happy Tails? We love sharing them! Click here to read more.