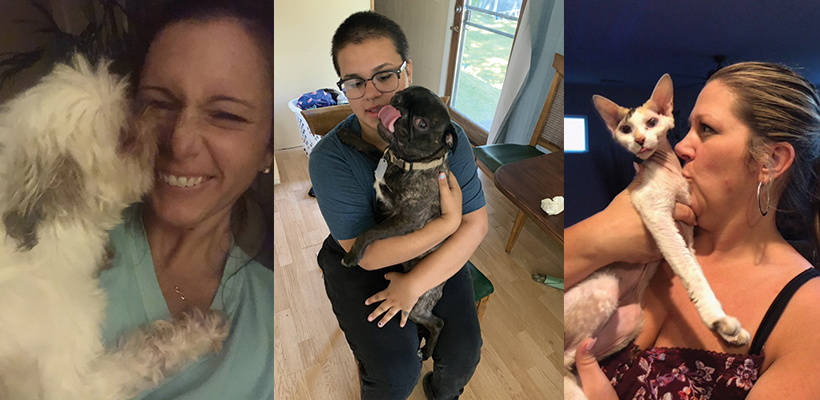 Featured Happy Tails! August 2019 – Lost & Found, Dogs, Cats & Pets That Were Reunited in August
Featured Happy Tails! August 2019 – Lost & Found, Dogs, Cats & Pets That Were Reunited in August
PawBoost loves to share happy endings! Read August's Featured Happy Tails to learn how these fur babies were reunited with their families.
Love these Happy Tails? We love sharing them! Click here to read more.
---
Rex: Lost Cat Reunited in Worcester, MA!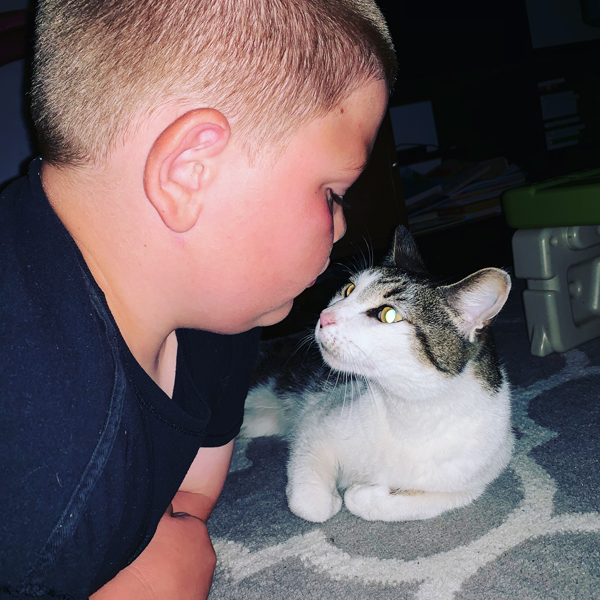 "Rex has always been an indoor/outdoor cat. He always stayed close and would come when called. He did not come home one day and we knew something was wrong. He was missing for 50 days. Finally, he came running down our back yard screaming and meowing. He was so thin he did not have an ounce of fat on him.
Also, they're unable to tell if his leg/hip is fractured or if he was pinned in the same position for too long. One leg is very weak and the muscle has pretty serious deterioration. All that doesn't matter because he's home! He's so strong willed and sweet. He did whatever he needed to make it back to us.
My 8 year old son and him have been best friends and right away, after eating for 30 minutes straight, he jumped into my son's bed with him and was smiling. I have no idea where he was, if he was caught on something, or hit by something. PawBoost gave us hope and helped us spread the word he was missing.
Social media is so huge these days that it's the quickest and most effective way to spread any type of information. We can't thank you enough for the ongoing support and always moving Rex's picture to the top of the list. We know we are so lucky! Rex thanks you, too!"
---
Petra: Lost Cat Reunited in Menifee, CA!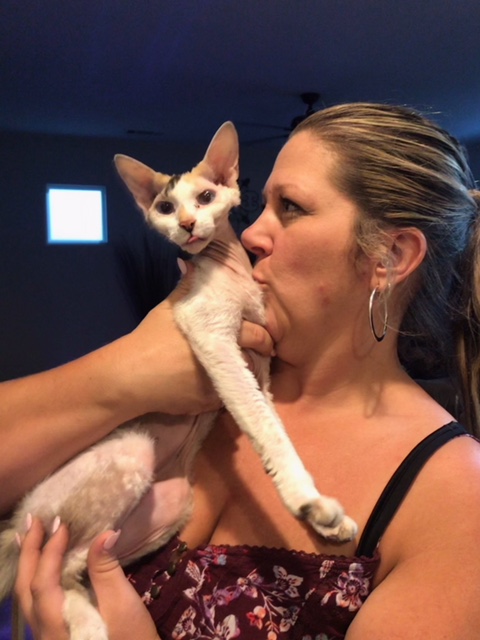 "One Sunday, my family and I returned home from a camping trip. While unloading our trailer and bringing in items into our house, someone left the front door cracked and Petra slipped out. After about 30 minutes I realized Petra wasn't there to greet me with our other cat. I immediately searched the house and then went directly outside to look for her.
We spent the rest of the night looking around the house, scoping the neighborhood, and calling the microchip company to inform them she was missing. By the end of that night, we posted flyers throughout our neighborhood blocks and I also posted on PawBoost, my neighborhood website, and other local websites.
For the next five days we continued looking, checking online to see if anyone found her, and handed all of our neighbors a flyer. We also asked our neighbors to check their garages and around their properties. At night we walked around looking for her with a flashlight hoping to see her glowing eyes.
After 6 long, hot days my next door neighbor thought he saw my cat in his garage. As soon as I called out her name, she began to meow. My heart sank! I called her name many times but she would not come out. She just continued to meow repeatedly. We moved the stored boxes she was behind, picked her up and took her home for our emotional reunion.
Losing a member of your family is devastating. I do not ever wish this on anybody. But if anyone ever loses their pet remember DON'T give up! I honestly feel that not giving up and involving all my neighbors really helped. If my neighbor didn't know what was going on, he could've just opened his garage door and tried to get her to scurry out.
Having Petra posted on PawBoost was also very helpful. I received emails with daily updates of found animals. It made me feel there was more than just me looking for her. Thank you again for all of your recommendations on finding her and your updated postings."
---
Bean: Lost Dog Reunited in Muskegon, MI!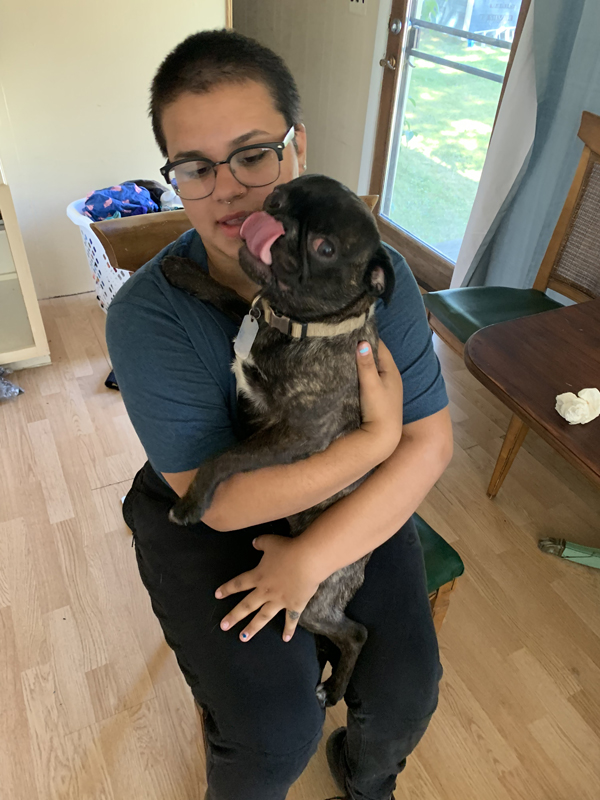 "We went to a birthday party and must've not latched the door all the way shut. Bean pushed it open, so when we got home he was nowhere to be found. We drove around looking for him until 2am and finally went to sleep. We woke up around 8:30 and received a call from a lady who thought she spotted him.
We took off to the spot she gave us, and called his name for about an hour and a half or so. We then started on our way back home, and decided to drive around the park just one more time. We drove passed our house and I spotted him out of the corner of my eye in our back yard. He must've found his own way home.
PawBoost helped us share the story to the world so everybody could look out as well. I would definitely recommend PawBoost to a friend! 10/10!"
---
Zola: Lost Dog Reunited in Salinas, CA!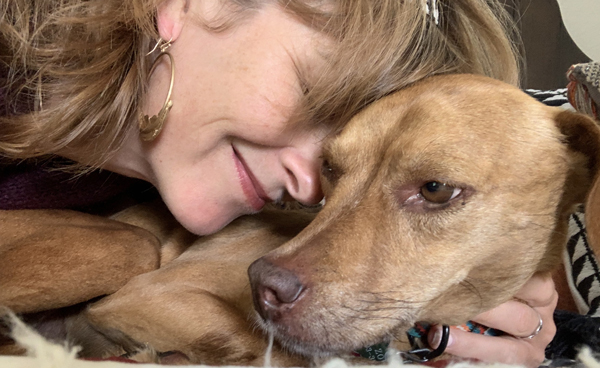 "Zola is a very nervous dog, she follows me everywhere. I think what happened was she followed me into the garage when I was leaving and I didn't notice. Then when I drove away she must have followed the car for as long as possible. She is a Vizsla, miniature Greyhound, Spaniel mix which means she is an extremely fast runner and kept up for awhile.
She ended up in a nearby neighborhood before she realized she was lost, then traveled back towards home the best she could remember. Many people spotted her during her travels home, but she wouldn't let anyone get near her. I used a number of resources to get her back and PawBoost was one of them. Many friends and family searched for her on both foot and by car.
In the end it was me hitting the pavement with lost dog flyers and passing them out to every person I ran into whether it be dog walkers, mail carriers, PG&E workers, gardeners, or anyone out and about. A few people said they saw her, but wouldn't let them get close, so she would just run.
One woman said Zola was watching her from the sidewalk into her kitchen window and then she was gone, this was an hour before. I handed her a flyer, jumped back on my bike and continued the search. A couple hours later the same woman from earlier called and said Zola came back to her house and she was hiding in some bushes.
The woman just stood watch but didn't approach her while I made my way to her. When I got to the house Zola slowly came out of the bushes. Her body was very soar making it hard for her to walk, but her tail was definitely not damaged, it was wagging a hundred miles an hour.
I would definitely recommend PawBoost along with all other forms of social media. Many people during my search asked if I had posted with PawBoost. From this stressful experience my advice would be, get out there, be personable, make connections, use social media and get your community involved on multiple levels."
---
Bella: Lost Dog Reunited in Valley, AL!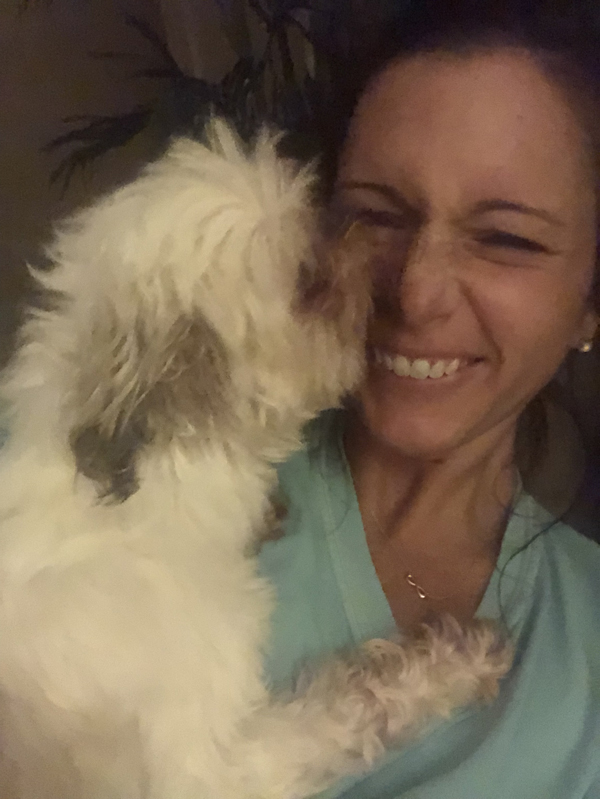 "Bella was home alone with my other fur baby, Coop. We had a passing thunderstorm with high winds while I was gone. We think that the winds caused my carport door to blow open and when Bella heard the neighbor's cars start up next door she assumed it was me returning home.
She always greets me at the door, so when she got to the door she realized the door was open and was able to push the screen door open to get outside. The screen door closed behind her and she was unable to get back into the house.
I reached out through all social media platforms, such as Facebook lost/found groups, PawBoost, local veterinarians' offices Facebook pages, etc… PawBoost helped by automatically posting the ad to reach more people and spread the word.
We had a number of people searching for Bella on foot and by vehicle. We searched all day! Through social media, we were able to gain knowledge of legit sightings of Bella. It narrowed our search radius by a lot. Since Bella is a senior dog, she does not move very fast, so we knew she wouldn't be far from the last sighting.
Right before dark, something told me to go drive around one more time. I went to one of the areas we had searched multiple times during the day. I happened to see something white in the front yard of a family home. I was about 400 yards away at the time, so I honestly figured when I got up close, it would end up being a trash bag or something similar. However; I was wrong! It was my Bella!
The owner of the home told me that she had just wandered up about the time I spotted her. I think Bella and I were both in shock when we realized our eyes weren't deceiving us. Tears of JOY ran down my face! She was missing somewhere between 15-20 hours.
I definitely would recommend PawBoost to a friend. The more people you have sharing your pet's photo, the more likely you are to reunite with your pet."
---
Love these Happy Tails? We love sharing them! Click here to read more.