Featured Happy Tails! December 2018 – Lost & Found, Dogs, Cats & Pets That Were Reunited in December
Featured Happy Tails! December 2018 – Lost & Found, Dogs, Cats & Pets That Were Reunited in December
PawBoost loves to share happy endings! Read December's Featured Happy Tails to learn how these fur babies were reunited with their families.
Love these Happy Tails? We love sharing them! Click here to read more.
---
Polly: Lost Dog Reunited in Harpers Ferry, IA!
"Some friends and I were staying out in Harpers Ferry for a fun cabin weekend. On Sunday morning Polly got spooked while the front door was open and took off sprinting. I went yelling after her as fast as I could but she was gone just like that.
What was a fun, relaxing weekend with friends quickly turned into a nightmare in a remote, unfamiliar area in the country. Our hope was that Polly would make it out of the forest without getting stuck or eaten and would find people to help her.
Through freezing rain and heavy winds, we just kept walking through forests, fields or around houses looking. We took turns sitting out on the porch all night in case she showed up.
However, the most amazing part of this story is the people. Every time I was about to lose hope and break down, someone was always there to hold me up. Our family and friends, all the non-profit organizations and volunteers, professional pet rescuers and the social media communities were all amazing in helping us.
The entire community dropped what they were doing to help search for her and gather any resources possible. I was astounded at the non-wavering hope in finding this tiny dog and their relentless efforts to find her.
So many tears throughout this weekend, but the best were Polly's tears of happiness when she was finally reunited with us. A kind man found her out in his yard 3 miles from our cabin. As soon as he came outside she walked right up to him.
He brought her right in with dog food after 26 hours out in the wilderness, read her dog tag, called us, and we came and picked her right up. It's estimated she traveled 10-11 miles based on a sighting the previous morning.
It was truly a miracle she was brought back to us and I am so happy our family is reunited again. Thank you again so much to everyone for your love, support, advice, help, and prayers."
---
Daisy: Lost Dog Reunited in El Paso, TX!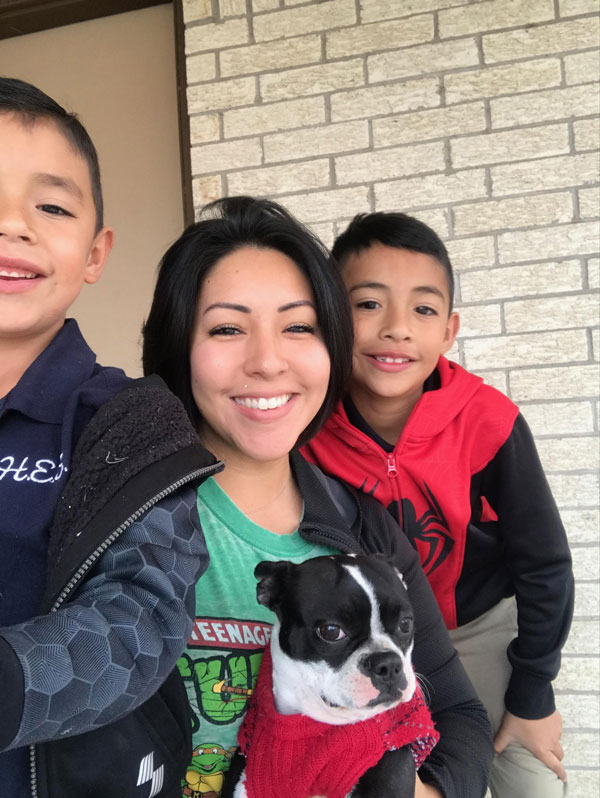 "Daisy belongs to my daughter who was leaving with my grandkids to California one Friday. Daisy ran out the door when I arrived to pick them up at 4:00 am. She disappeared into the dark with no trace of her. Needless to say, a fun trip turned into a weekend of tears.
I posted, searched the neighborhood numerous times going door to door, went to the humane society, prayed and almost gave up. Someone told me about posting on PawBoost so I did. There was an eruption of Facebook shares of people sharing Daisy's picture. They were all sharing my pain.
My daughter arrived on Monday. I received a call out of the blue Monday at 10:30 PM from a wonderful lady telling me to check the website. She thought a found dog looked like Daisy and it was! I contacted the family that found Daisy and she is home and we are all a family again.
The PawBoost community came out with support in ways I cannot explain. There were phone calls, emails and Facebook posts. My family and I are now on the website trying to help more families reunite. This site is super awesome!!!"
---
Kipa: Lost Cat Reunited in Cape Town, WC!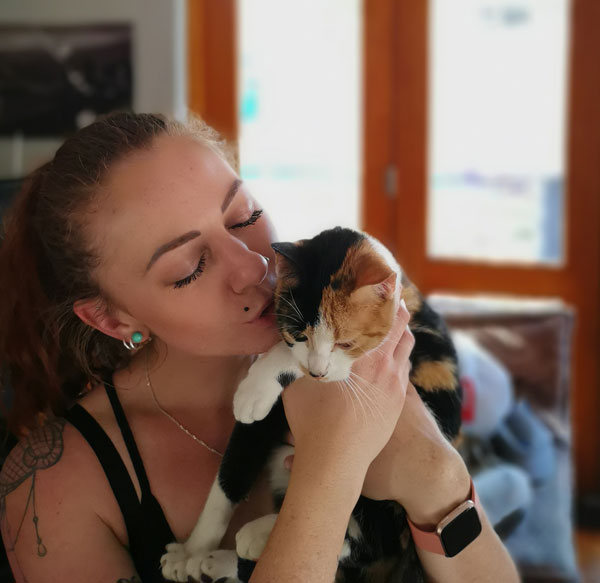 "My little Kipa is an indoor cat but we've allowed her to go outside into the garden under supervision every now and then, but one Thursday night/Friday morning Kipa sneaked out our home and decided to take a walk.
One of the bedroom windows was left open a little too wide. We weren't aware as she has never done so before, but the house became very quiet without her there and that's when I started to worry. I looked in every cupboard, both yards, inside the storage flat, behind doors, under and in beds, behind curtains, in washing baskets etc… and she was no where to be found.
I posted on Facebook about her being lost and many people gave me advice on what I can do to find her or lure her back home. I followed everyone's advice, one being to post on PawBoost. After posting on PawBoost, it was heartwarming to see how many people shared my post and commented on it. I will forever be grateful for that.
But, it was a simple phone call I made to the TAH Bellville to report my cat being lost, that resulted in Kipa and I being reunited. Someone had phoned in on Friday to report a kitty they found in their garden, describing every detail I gave to TAH.
I immediately phoned this kind lady, and it turned out to be Kipa. I haven't felt this relieved in a long time! I fetched her from their home, which is luckily only a street in front of me. What lovely people, and they looked after Kipa very well too!
I will most definitely recommend PawBoost. As soon as I submitted my notice of my cat missing on PawBoost's website, it was almost immediately posted on Facebook and seen by MANY people. If I still hadn't found Kipa, there would be a big chance I would have through the help of PawBoost.
Thank you, for giving us pet lovers the assistance in finding/reporting lost pets."
---
Blue: Lost Dog Reunited in Omaha, NE!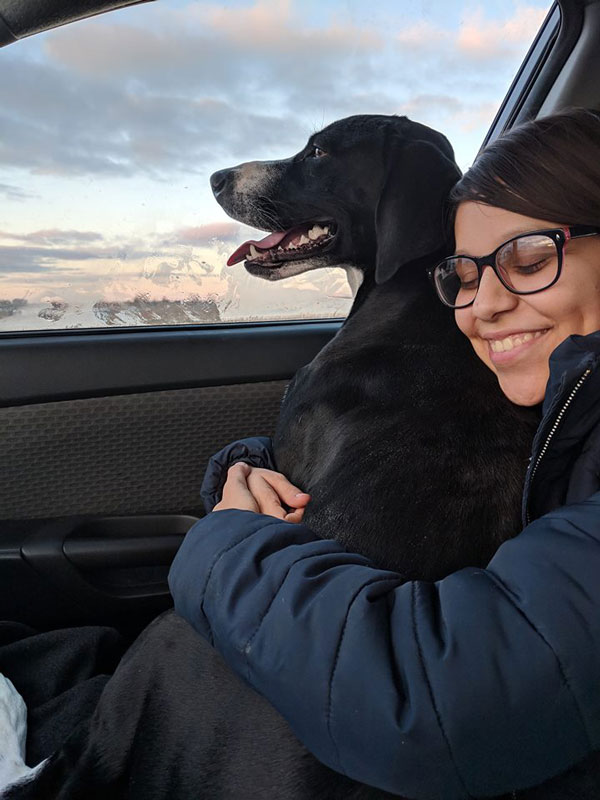 "Blue went missing one Saturday around 6:40 pm. He was left alone outside for about 10 seconds because I went to go get his leash. When I came back I couldn't find him and his collar somehow slipped off.
After looking for him for about 3 hours I decided to post a picture online to see if anyone could help me find Blue. But no one had seen him and I had checked with my neighbors and the Nebraska Humane Society and they didn't know either.
PawBoost helped me connect with the community and they suggested placing something outside with a familiar smell and calling all the local shelters within a 50 mile radius. I called all of them by Sunday and received a call on Monday saying that he was caught and at the shelter. My dog was able to make it through the snow that hit Omaha, and survived the cold nights that he was out.
I'm thankful that PawBoost helped me connect with people in my area. Of course I would recommend them to any other person who has lost a pet."
---
Nisa: Lost Dog Reunited in West Hollywood, CA!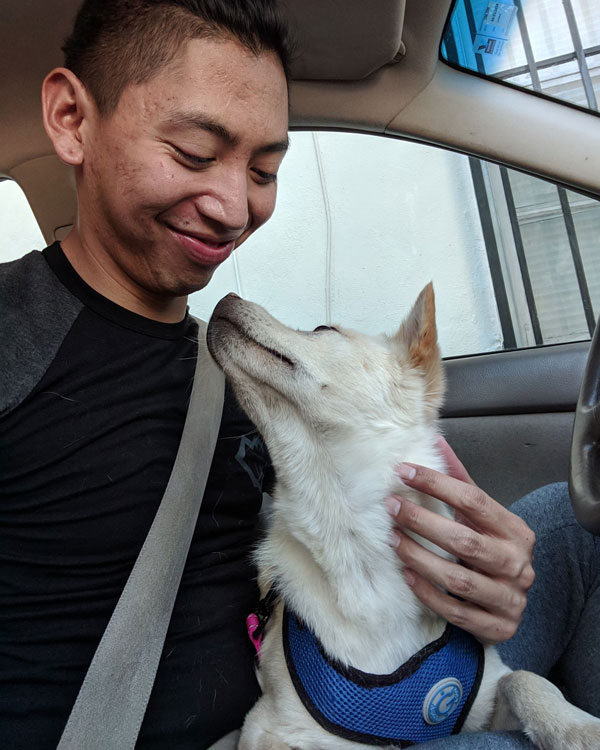 "Nisa ran out of the front door when we opened it too wide, and while we ran several blocks trying to catch her, she disappeared quickly. We got some info from neighbors who had seen her go by, but we ended up running in circles.
After a long night of posting flyers and driving around the neighborhood, and a morning full of calling vets, shelters, and posting online, we were finally contacted. A member of the prop crew on Dancing with the Stars, said that she had been running around the CBS Television Lot since 6:30 am.
We were able to get a security escort onto the lot, and several members of the crew and security helped direct her to us. We enticed her with treats and got her in the car 🙂
Several people suggested we post on PawBoost, and it definitely helped us get the word out! Over 100 people saw the Facebook post from PawBoost, and a couple hundred more saw the email alerts that PawBoost sent out.
We discovered that there are a number of lost pet alert systems, but PawBoost looked the most professional and had the most obvious affect. We would definitely go to PawBoost first if this ever happened again, or suggest it to our friends."
---
Love these Happy Tails? We love sharing them! Click here to read more.