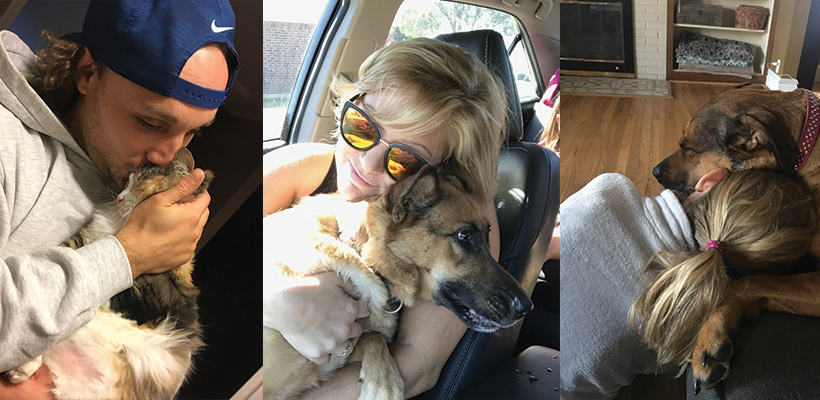 Featured Happy Tails! October 2019 – Lost & Found, Dogs, Cats & Pets That Were Reunited in October
Featured Happy Tails! October 2019 – Lost & Found, Dogs, Cats & Pets That Were Reunited in October
PawBoost loves to share happy endings! Read October's Featured Happy Tails to learn how these fur babies were reunited with their families.
Love these Happy Tails? We love sharing them! Click here to read more.

---
Mammut: Lost Dog Reunited in Aurora, ME!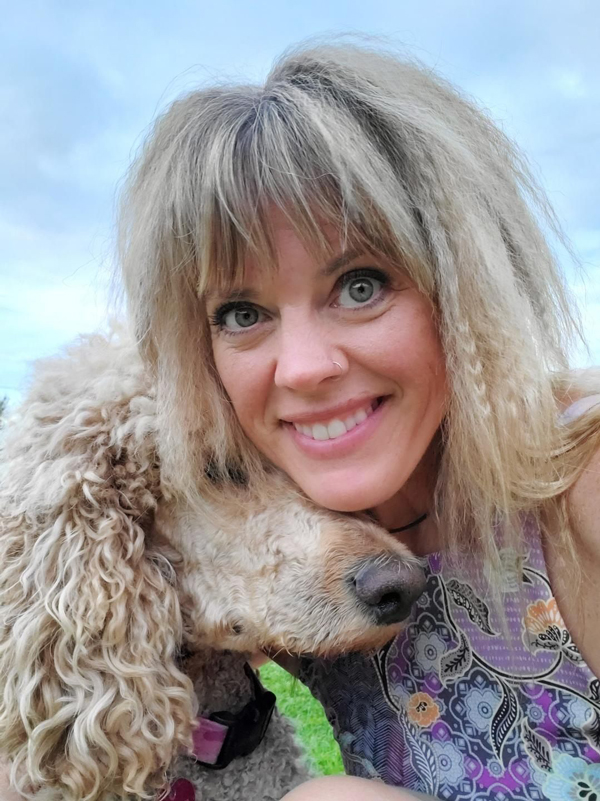 "Mammut was out in our blueberry field with my husband (she eats the berries right off the bush!) and when my husband looked up, she was nowhere to be found. She had never disappeared before, so we think she may have chased a rabbit or some other little animal.
Mammut ran north, approximately 30 miles according to verified sightings. Then, she apparently turned back southwest, eventually coming to a lake. An eyewitness saw her get into the lake and swim out toward a small island. He had seen the missing alert on Facebook and recognized her.
He then contacted another woman who had been following the disappearance on Facebook, who arranged to have a boat go out and check the island. She was found wet and huddled inside an abandoned shed on the little island. Wow! They loaded her in their boat, took her home and contacted us. UnREAL!!!
We got her home and could not be more grateful for all the people who looked for her, who got the word out by sharing her missing post on Facebook, and gave us moral support during the search. There is absolutely no doubt that the exposure her missing status received from PawBoost helped.
I would recommend PawBoost. When your pet is lost, time is of the essence. Getting the word out, fast, is so important. It may be the difference between your dog coming home or not. PawBoost really helped with that and I wouldn't hesitate to call on them again. The volunteers and the assistance are incredible."
---
Luna: Lost Cat Reunited in Edmonton, AB, Canada!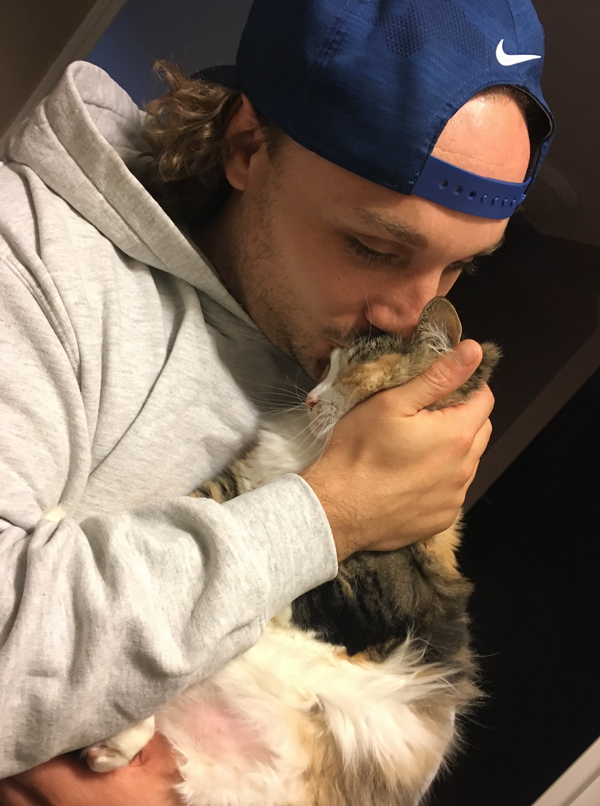 "Luna snuck out when our door accidentally opened (it wasn't catching). I was waiting in the backyard doing homework to see if she would come home. Sure enough, 2 days later she came home. PawBoost was helpful for me because it gave me a sense of security knowing I was not alone.
Seeing others become reunited with their loved ones was incredibly helpful when I felt lost and hopeless. PawBoost has great resources to follow when you lose a pet such as checking databases, putting up posters etc. I am grateful for the support during the tough time and beyond ecstatic to have my Luna Tuna back."
---
Riley: Lost Dog Reunited in Tucson, AZ!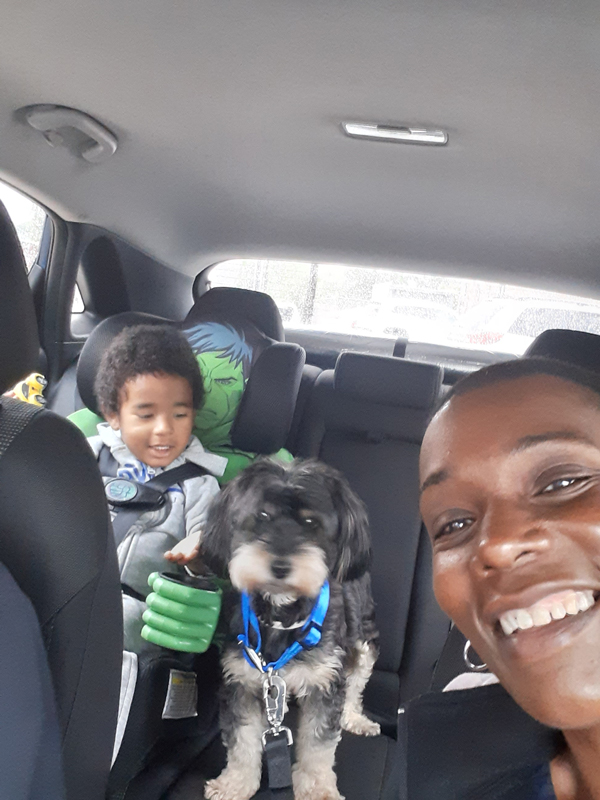 "Riley went missing one Sunday evening when he ran out the door of our home. Initially though concerned I wasn't extremely afraid because in the past, a neighbor would always find him and call me (he had plenty of identification tags on his collar). Well a couple of hours passed and I couldn't locate him and no one called so I began to panic at this point.
The next morning with barely any sleep I awoke and immediately began to call and report him missing. I made copies of flyers to post and got to work posting them. Calling every place I could think of to see if he had been brought in or picked up. Hoping and praying he'd show up or someone would call. It wasn't until late Monday afternoon that I found out about PawBoost while sharing with my friend what happened the day before.
Immediately I got home from work and went online and posted Riley's information and picture. I kid you not, not even 10 minutes passed and a text came in with a picture of my Riley asking, 'I've seen your missing dog on a Facebook post, is this your dog?' His collar and tags had all been removed! I screamed and responded yes of course along with a million thank you's.
The person was a volunteer for the Tucson trap & rescue. She told me she was going to send a text message to the person who had him in their care and they would reach out to me. About 15 minutes later, I received a text from the person who had Riley, she explained he had no collar on and was nice enough to send me a picture of him laying on her couch.
I was so thrilled and overjoyed and thanked her immensely for taking care of him for me and we made arrangements to pick him up. If it weren't for PawBoost I really don't believe Riley and I would have been reunited, especially without his tags. I owe an enormous amount of gratitude to PawBoost and everyone who helped make this possible."
---
Ellie: Lost Dog Reunited in Fort Worth, TX!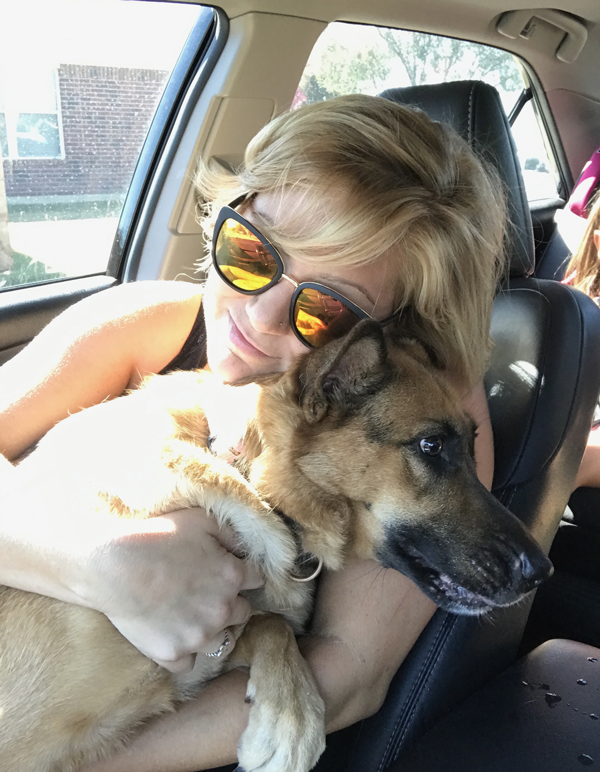 "Ellie escaped from our fence after we had a friend watching her. She's timid and shy, and saw an opportunity and bolted out. Ellie and I were reunited by a man that worked at a property of about 15 acres. My friend had gone to places nearby our house and wrote her name and number down if anyone saw a dog.
A gentleman guided me to where he saw her run away from him and I just started running and yelling her name but saw nothing. I ran about a mile, stopped, and looked over to see she was hiding. She looked at me and I hopped over barbwire and fell to the floor hugging her.
I would absolutely recommend PawBoost to anyone that is missing a dog or finds a stray dog. It gets the word out, it's a huge community and after missing a dog it's the number 1 resource I will keep to help others out. It's like a social media for animals. It's personal, and there's nothing better than helping people get reunited with their fur family. Thank you again!"

---
Dixie: Lost Dog Reunited in Oak Park, IL!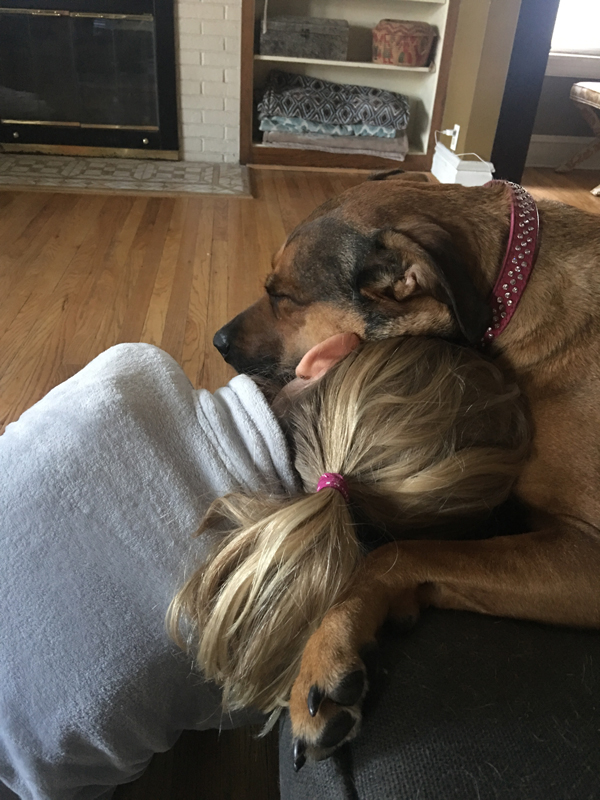 "We accidentally left the front door unlocked and the door was ajar from 11 AM until 3 PM. We have NEVER done this before. I guess we were in a rush and thought the other would lock the door. PawBoost was recommended to me by a friend. We posted our contact info, Dixie's picture and all relevant location info.
After 36 hours of endless searching through all means possible, we got a call from an angel of a man who was able to get close enough to read Dixie's name on her tag. He read her name, typed it in on Facebook and up popped Dixie's PawBoost post with my contact info. We met up with him 5 minutes later and were overjoyed with our Dixie reunion. Tears of joy mixed with laughter and happy barks filled the sidewalk where I fell to my knees to hug our girl!
I seriously had my doubts we'd ever see Dixie again. She's a pit mix and we live not too far away from an area of Chicago where, because of her breed, would be a hot commodity. But there was no time to be negative. Every minute ticked by was precious search time wasted if we did nothing. So we did it all, handmade fliers, called the police, searched shelters, posted on many IL missing dog sites and PawBoost.
PawBoost was how that kind man was able to get my cell number and contacted me immediately. I have been blessed by angels looking over our girl and will forever be grateful. Thankfully PawBoost was recommended to me by a friend and I whole heartedly recommend PawBoost!"
---
Love these Happy Tails? We love sharing them! Click here to read more.