Happy Tails! September 2018 – Lost & Found, Dogs, Cats & Pets That Were Reunited in September
Happy Tails! September 2018 – Lost & Found, Dogs, Cats & Pets That Were Reunited in September
PawBoost loves to share happy endings! Read September's Happy Tails to learn how these fur babies were reunited with their families.
Love these Happy Tails? We love sharing them! Click here to read more.
---
Peanut: Lost Cat Reunited in Hialeah, FL!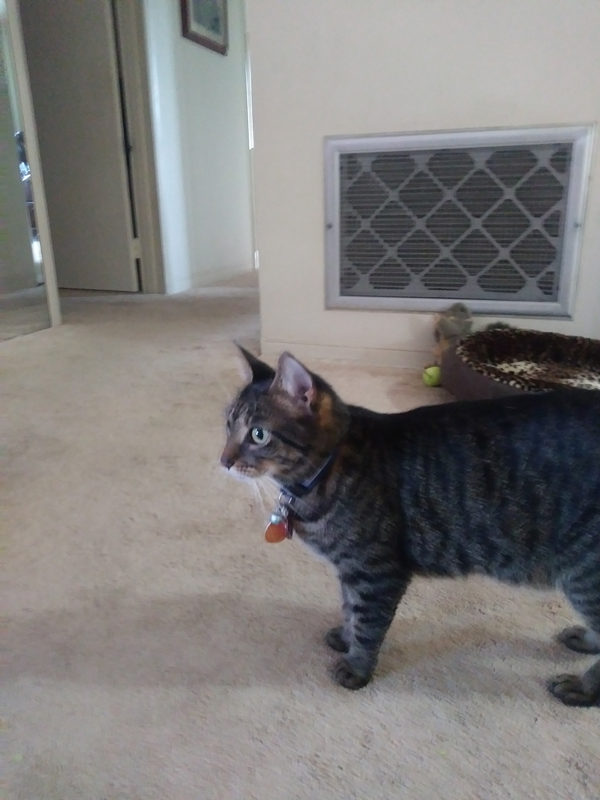 "We moved from Pembroke Pines, Florida to Hialeah, Florida. After 2 weeks here our company was visiting and while we were taking garbage outside both cats got outside. We caught one, but NOT our Peanut. I cried and cried. We drove and walked our area all of the time.
I finally searched the internet and noticed PawBoost was the very first name that popped up for lost pets. So I filled out a report and monitored your site nonstop. Many people commented and everyone shared our Peanut's picture. After reading PawBoost's suggestions, I made sure to thank each and every person who sent prayers, comments and shared our story.
One night after dinner, something told me we should go look again. I had a feeling she crossed a busy side road. And within 2 minutes of shaking her treats bag and calling her name she came out scared, but recognized us and my voice. My husband was able to go right up and pick her up. I was shaking and crying tears of joy.
PawBoost is a WONDERFUL website to join and made me feel much better every second she was missing. I know from now on, I will keep monitoring PawBoost daily in hopes of helping others who have lost their furry friend. Thank you so much for making me feel like our Peanut was loved and introduced us to other pet lovers who care too.
We will recommend PawBoost every time! Our Peanut is finally home safe. God bless everyone who helped and gave us wonderful advice. We are truly grateful."
Spread the good news! Thank you to everyone who shared Peanut's alert and sent prayers. She's so happy to be home and now has a full belly 🙂
---
Charlie: Lost Dog Reunited in Springfield, MO!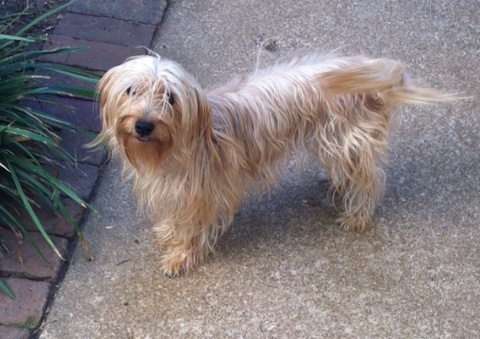 "Charlie must have gotten out of the gate when John was getting something out of the truck and didn't know that he was outside. If he gets out he usually stays right near the gate wanting to get right back in. However, his dad John wasn't feeling well and decided to rest until dinner time. Charlie always gets so excited at meal times and twirls around and barks to let our other 2 dogs know it's breakfast or dinner. But yesterday, Charlie was no where to be found, and John realized Charlie didn't take a nap with him.
I was out of town and felt so helpless that I wasn't there to help search the neighborhood. Charlie is neutered and has never wanted to wander when he's with us off leash in the front yard. We have a new neighbor of about a year, next door, who didn't know Charlie was our dog and lured him over to his garage with food.
Thank the Lord for PawBoost! While I was in St. Charles I was able to post about Charlie, and someone from Leigh's Lost and Found saw him posted and contacted me with a phone number. I called right away even though it was 11 PM and found he was right next door! I'm so grateful our neighbors kept him safe for us and even though they have talked to both me and John before, they now know we have 3 dogs!
PawBoost connected us so quickly! It must have been only minutes before John was able to go next door, get Charlie, and bring him home! We love our fur babies so much, they are our family members and we hold them in our hearts. PawBoost is truly a valuable asset to have, because you have outreach connections right at out fingertips.
Thank you PawBoost, Leigh's Lost and Found, and volunteers for helping me find my Charlie while I was out of town. My prayer was answered, and I would certainly recommend PawBoost to everyone along with keeping a current picture of your fur-family."
Spread the good news! Thank you to everyone who shared Charlie's alert. It means so much to his family to have Charlie back home. Now they can finally sleep easy knowing he is finally home safe 🙂
---
Bravo: Lost Dog Reunited in Riverside, CA!
"We thought Bravo had originally just got out of our backyard. However, we learned after contacting the police that it was about a 95% chance he was stolen from the yard. We had no idea but most beautiful animals in our neighborhood are being stolen and sold for profit.
Our family and Bravo were reunited because the man that took Bravo had sold him to a really amazing family. I posted Bravo on PawBoost and Craigslist hoping someone would see him and know where he is. Sure enough, the family that purchased him saw our post and contacted us immediately.
They lived 25 minutes from our house, so we would have never found him if it weren't for posting Bravo everywhere, and a family choosing to do the right thing. We are so very thankful! Now we have Bravo back home, and a few new friends! PawBoost helped tremendously.
I would definitely recommend PawBoost to friends and family. It's an amazing place where you know that the people on the site are genuine if they were to find your pet and would definitely help you reunite with your family member. I found everyone on PawBoost to be so supportive with such amazing things to say."
Spread the good news! Thank you to everyone who shared Bravo's alert and kept an eye out for him. His family is so relieved he is safe and is so happy to have him home now 🙂
---
Angel: Lost Dog Reunited in Greensboro, NC!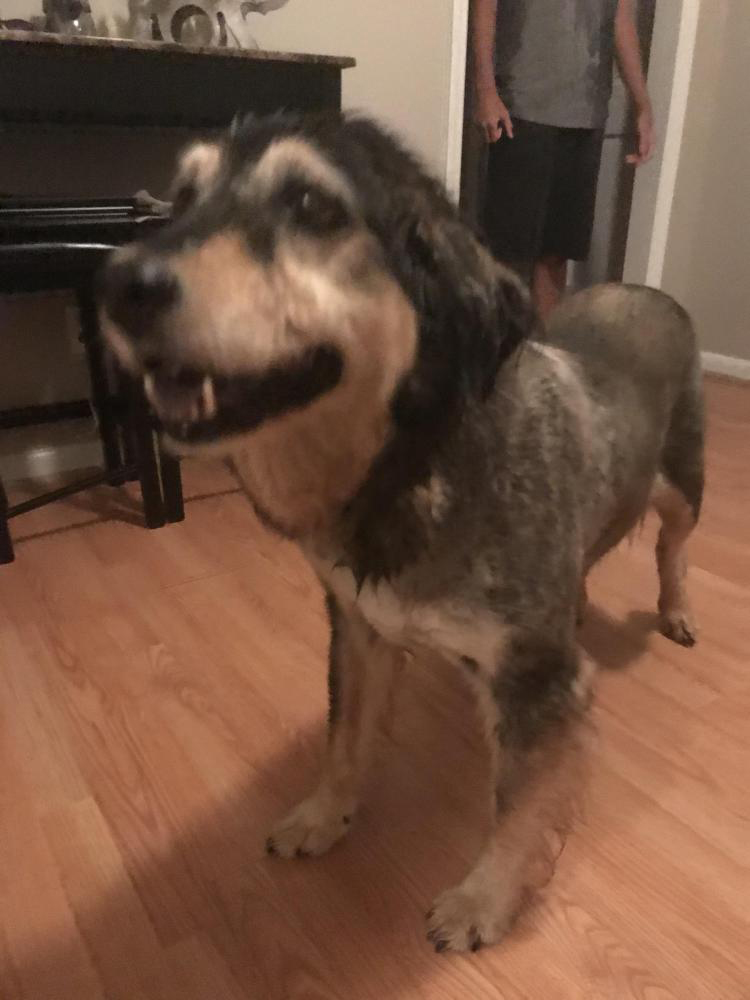 "Due to storms and rain one Sunday night, a tree fell and knocked down a portion of our fence and Angel got out. A lady picked her up just a couple of doors down from us and took her to a relative's house about 8 miles from us. I finally found this lady's post on PawBoost Friday evening.
When I spoke to her on Saturday morning she said Angel got out on Monday when someone opened the door. We immediately posted on PawBoost and various other sites. After countless hours of walking the neighborhood and posting signs, we returned home heartbroken that she was taken so far and would not know how to get home.
On Saturday night someone posted in Randolph County Lost Pets that they had found a dog on Holden Road. Many people saw both of our posts and contacted us. The wonderful gentleman contacted me and we were able to bring Angel home on day 8 of her missing. We are so thankful that he loves animals and took such great care of her and took time to look for her family.
I would definitely recommend PawBoost, because without it I would have never found the post from the first lady and found out where she had been taken. Also, PawBoost alerted people about Angel so that when a post was made in Randolph county our community let us know and we were reunited."
Spread the good news! Thank you to everyone who shared Angel's alert. Angel's family is so thankful to have their wonderful and sweet dog home 🙂
---
Odin: Found Dog Reunited in Tucson, AZ!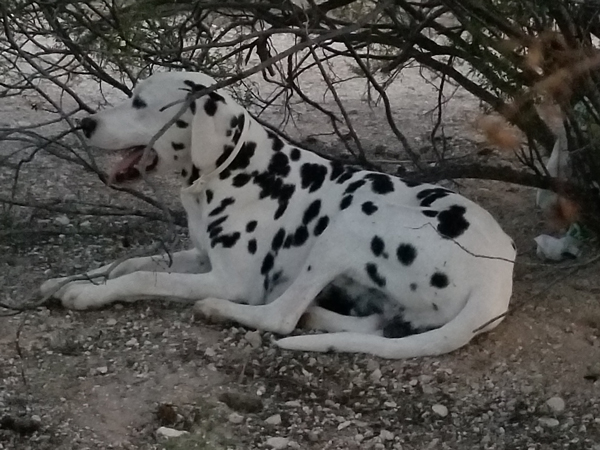 "After my daughter left for church with her Dad, she texted me that there was a dog at the end of our driveway barking at traffic. We live on a busy street, so I went out to see if I could get the dog away from traffic. When I got to the end of our driveway I saw a beautiful Dalmatian curled up under our grapefruit tree where the irrigation system was running.
As I tried to approach the dog I could tell he was scared and going to run, so I backed away and closed the gates at the end of our driveway. At least he was safe from the traffic now. I gave him a bowl of kibble with a hot dog cut up in it which quickly disappeared.
While he was eating I went inside to get more kibble and some ground beef this time. After he ate this he sniffed my hand and his nose touched my hand. He was warming up to me by now!
I called the 24 hour emergency vet near our home, but they didn't have any info on a missing Dalmatian. When my daughter returned home we were able to get him into the backyard where he was safer and she helped me get his profile posted on PawBoost.
Less than 5 minutes after we posted his profile my phone rang. Odin's owner was only 20 minutes away. Odin got loose on a Thursday and it was now Saturday night. Odin was lost for about 3 days in triple digit heat. His feet were sore and he seemed stiff, but when his owner Jeff showed up it was nice to see his tail wag for the first time.
Thanks PawBoost! I have already recommended PawBoost to some friends and I won't hesitate to do it again. PawBoost really worked great!"
Spread the good news! Thank you to everyone who shared Odin's alert. Finding a pet and searching for their pet parent isn't an easy task, but the best thing you can do is to use all resources to spread the word 🙂
---
Blacky: Lost Dog Reunited in Homestead, FL!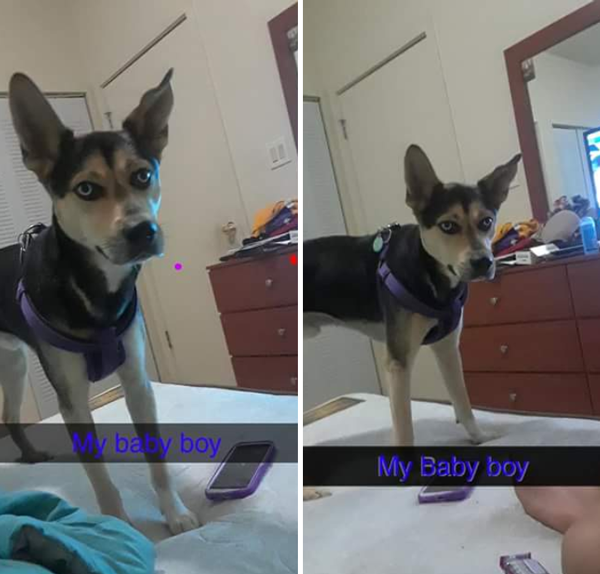 "We still don't know how Blacky went missing, but we think he may have opened the door and no one heard him. He was taken and dropped on the side of a road in the middle of no where, but a man who was fishing found him and took him home. He asked his daughter to post him so his family could find him.
Blacky belongs to my daughter because he is a registered service dog to her. We were reunited through PawBoost's Facebook post. We were able to find him and bring him home to my daughter that has ADHD and Autism.
I would recommend PawBoost and I would like to thank everyone that made it possible for this to happen. This story has a happy ending for both my daughter and Blacky who was missed very much. Thanks to this website and God who had faith in the family that took in Blacky."
Spread the good news! Thank you to everyone who shared Blacky's alert. Blacky's family is ecstatic to have him home safe 🙂
---
Beatrix: Lost Dog Reunited in Crystal Lake, IL!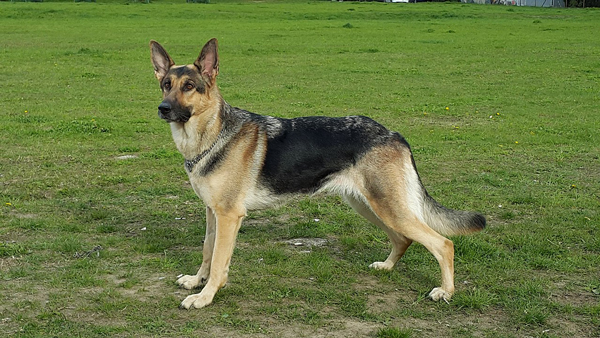 "Beatrix escaped through our front door and initial attempts to catch her just scared her further. After the first day, Beatrix was spotted near my in-laws' house (almost 3 miles from our home), so we determined that she was setting that area as her home base.
After searching all throughout the second day, we opened the gate to my in-laws' backyard, put out some of her food, and left out some of our worn clothing. The next morning she was found sleeping on our clothing when my in-laws went to work. She was startled, but they were able to get her into the backyard and close the fence.
PawBoost assisted us by helping to spread the word and increasing our chances of positive sightings. Across various platforms, our posts were shared by the local community over 1,000 times. While we were out, we had several people ask us if we were the ones searching for the shepherd that they had seen online.
I would recommend using PawBoost. PawBoost has a pretty vast network using Facebook from which to draw. My family was very grateful for all the assistance that we received from friends, family, and PawBoost and its network."
Spread the good news! Thank you to everyone who shared Beatrix's alert. Beatrix found her way to grandma and grandpa's house and was found sleeping on her daddy's shirt. Dogs are such smart animals! 🙂
---
Natty: Lost Cat Reunited in Fairfield, NJ!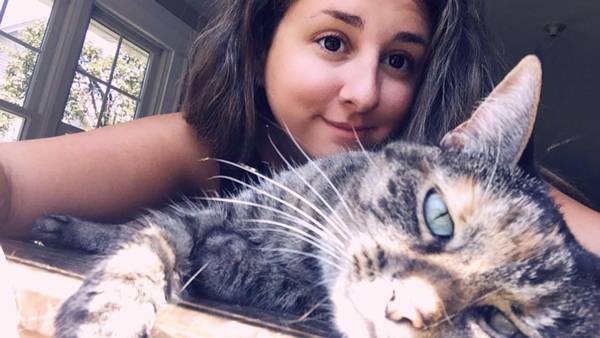 "We had not seen Natty since early Monday morning. She is a very social cat and spends most of her day out and about with our family so we were immediately concerned. When she did not come out to eat Monday or Tuesday and also did not come out for her daily shrimp (yes she is highly spoiled haha) we knew something was up.
My dad and I searched the house room by room, using a flashlight to search every square inch and even checked to see if she had gotten into the ceiling somehow. There was no sign of her. We searched in silence hoping to hear a meow but sadly got nothing. We assumed she had gotten out somehow.
Natty has never spent time outside and her front paws are declawed so we were very worried. An intense thunderstorm did not ease any of our fears. I put out the word on Facebook and met a community of extremely supportive and kind people. Many people offered advice including posting on PawBoost.
Around 5am on Wednesday, we heard meowing coming from the garage and there was Natty! We searched this area multiple times throughout the day, even went through with shrimp and treats, but there was no sign of her. We are still unsure if she had a great hiding spot in there or snuck back in at some point from outside, but we were just happy to have her back.
PawBoost gave us great emotional support. Many individuals reached out with advice and even saying they were sending prayers and telling us not to give up hope. It was a very scary time and it was nice to know there were so many people out there thinking of us.
I would definitely recommend PawBoost. As I said, the emotional support was overwhelming and extremely touching. Thank you for all your help! I am so happy to be apart of such a great community!"
Spread the good news! Thank you to everyone who shared Natty's alert and sent kind words. After over 48 hours of being missing, Natty was found in their garage. They are so happy to have her home 🙂
---
Roy: Lost Dog Reunited in Greendale, WI!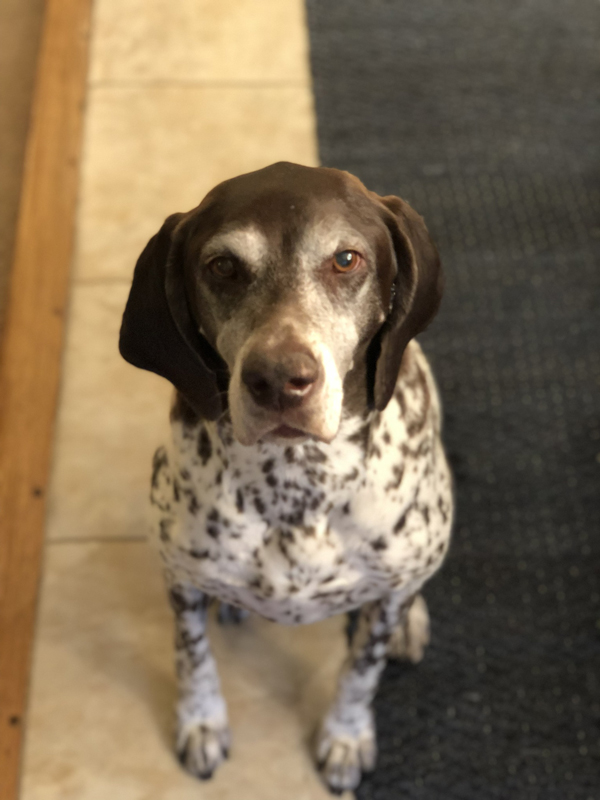 "Roy wandered into the street of our neighborhood while he was out last night – we aren't sure why, possibly chasing after something because he normally doesn't do that. He did not have a collar on him. He has a very large tumor right by his throat so my kids take it off because they think it hurts him.
We had a lot going on in the house and the door had been left open so we assumed he let himself in, but realized when we were locking the doors for bed that he wasn't in the house. A woman who had been driving in the neighborhood saw him and when she opened her car door he jumped right in. She checked with several houses in the neighborhood but no one claimed him so she brought him home.
After my son and I searched the neighborhood again when the sun came up this morning, I started looking online for how to find a missing dog and your website came up right away. I was so moved by the stories of people being reunited with their pets. I am not on Facebook but I knew social media was our best bet so I liked the fact that your website would get him on there.
I listed him as missing at 7:00 AM and by 9:00 AM someone posted to the website that her cousin had picked him up. We were beyond relieved! If it weren't for your website we would have been putting hundreds of flyers in mailboxes next!
This is such an active and supportive network of animal lovers and I was so touched by the number of people that responded to my post and shared it with others. We will ALWAYS recommend this website to anyone in the future and will ALWAYS make sure that Roy has his collar on."
Spread the good news! Thank you to everyone who shared Roy's alert. Roy's family is incredibly grateful for their neighbor who found him and took care of him 🙂
---
Philippe: Lost Dog Reunited in Pembroke Pines, FL!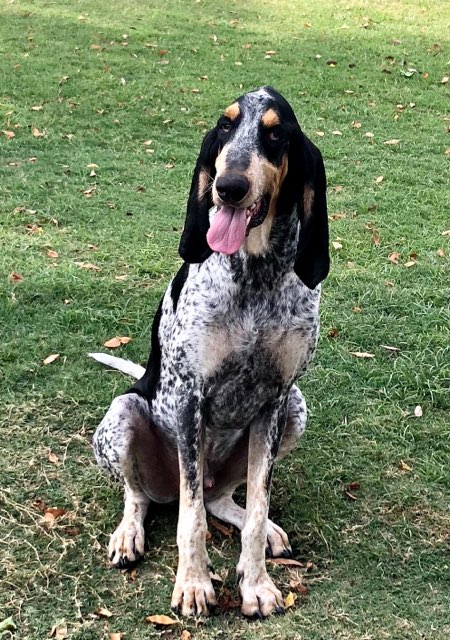 "We're still not exactly sure how Philippe went missing. He and his brother, a Basset Hound, ran off together. I'd been out working in the front yard and when I walked back into the house to get some water it was quiet. I looked around, but didn't see them. I checked all gates in the back yard and they were closed.
I believe Philippe probably opened the front door and popped open the front patio gate while I wasn't looking. I searched the neighborhood immediately, but no hounds. I decided to aim for a nature preserve about a mile away, where the dogs had gone the last time they escaped. Half an hour of searching and calling outside the fence to the preserve yielded nothing.
I called my husband and he left work to come home and help hunt for the dogs. A few minutes later I heard baying in the preserve. About two hours into the search, Rufus, the Basset Hound gave up and came out to me. I took Rufus home, washed him, fed him, and left again to hunt for Philippe.
We could hear Philippe howl ever so often. My husband searched one side of the preserve and I searched the other. We decided to try to entice him with the smell of hamburger so we drove across the street to Wendy's. A woman driving by stopped us and said Philippe had run into the street with cars dodging him. A large hole in the nature preserve fence let him slip out easily.
A gentleman stopped to get the dog before he was hurt, with cars honking at the fellow and swerving around his vehicle. The gentleman turned Philippe into the police station in Pembroke Pines and people across the area knew he was missing and that he'd been turned in.
I can't thank PawBoost, the gentleman who stopped to rescue him and the Pembroke Pines Police Department enough. Having him gone was equivalent to a mother losing her child. I'd honestly never heard of PawBoost before, but every person I know will be aware of it now!"
Spread the good news! Thank you to everyone who shared Philippe's alert. His mom is so happy that good people still exist in the world 🙂
---
Lilly: Lost Dog Reunited in Louisville, KY!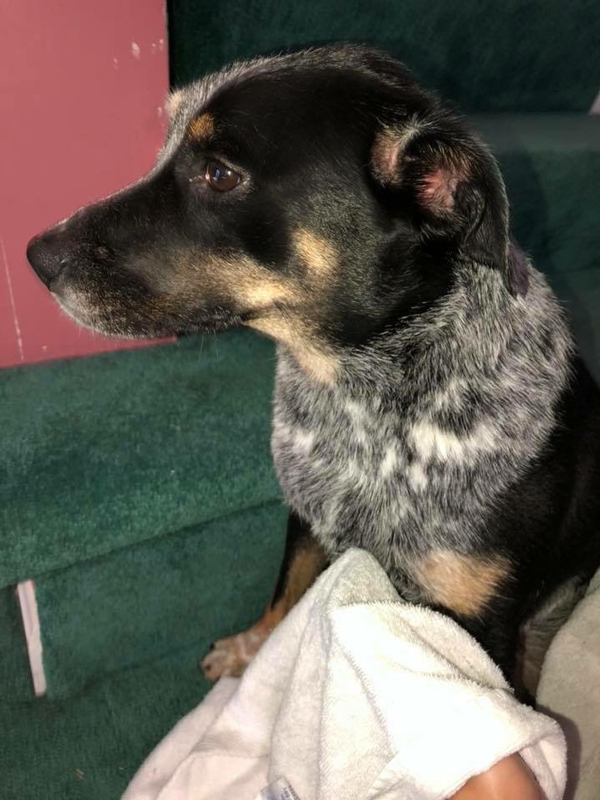 "Lilly jumped out of the car window 5 days ago after a single, big clap of thunder. She is very scared of thunder. She bolted across a 4 lane intersection and went between some stores. My husband tracked her, finding 2 people who had seen her about 1 mile away, but he couldn't find her.
That's when we turned to the Internet and Social media, and found PawBoost. I signed up on the site, checking back every few hours. I followed tips from other pet owners on how to bring my dog home. I received a lot of support from others who are going through or have been through it before.
A neighbor rang the doorbell today and asked if I knew who was in the front yard? It was our dog! By then she had run around to the back door and we let her in. She was soaking wet, stinky, and hungry. Otherwise, seems to be fine.
I would recommend PawBoost! Lots of support from pet lovers all over! Great ideas on how to find your pet, what to do, where to go, etc. We are so blessed and lucky we got our dog back, as I know after searching for five days, other families are not so lucky."
Spread the good news! Thank you to everyone who shared Lilly's alert and those who may have played any part in helping. She had cries of joy when she got back home! 🙂
---
Lingling: Lost Cat Reunited in Castro Valley, CA!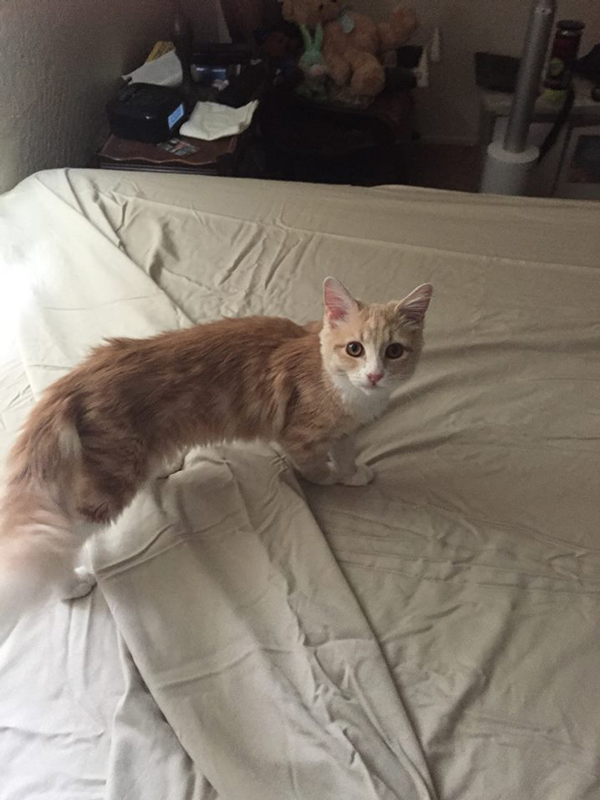 "Lingling ran out the front door early on a Friday and ran to the back of the townhouse complex. That next Thursday at 10:30 PM, a man called matching Lingling from the flyers I posted to the PawBoost post. He said she was hanging out in front of our building.
Over 4,000 people viewed her post and almost 300 people clicked on it. I posted on other sites, but PawBoost was the most helpful. We had been walking around the neighborhood every night at midnight and almost every morning at 4 AM. That Thursday, we looked for her again and saw her running through the woods across the street.
I went out that Friday and rented a trap. Sure enough, she was caught in the trap in our back yard. I had been leaving out her food, water, bed, and litter box. She was calm when I brought her inside our house.
I had never heard of PawBoost before a friend suggested the site. I would recommend PawBoost, because it widens the search for a lost pet. I did everything anyone said: flyers all over the neighborhood, vet office, pet stores, walking all hours of the day and night, as well as setting out food and water.
I feel for those who lose their pets, because it's such an awful feeling. I wasn't all alone because of the encouragement and care from others who had lost their pets or were monitoring the site. Thank you PawBoost for helping people reunite with their pets. And a great thank you to everyone who responded! Your comments sustained me!"
Spread the good news! Thank you to everyone who shared Lingling's alert. Don't forget, you're never alone in your search 🙂
---
Hailey: Lost Dog Reunited in Wildomar, CA!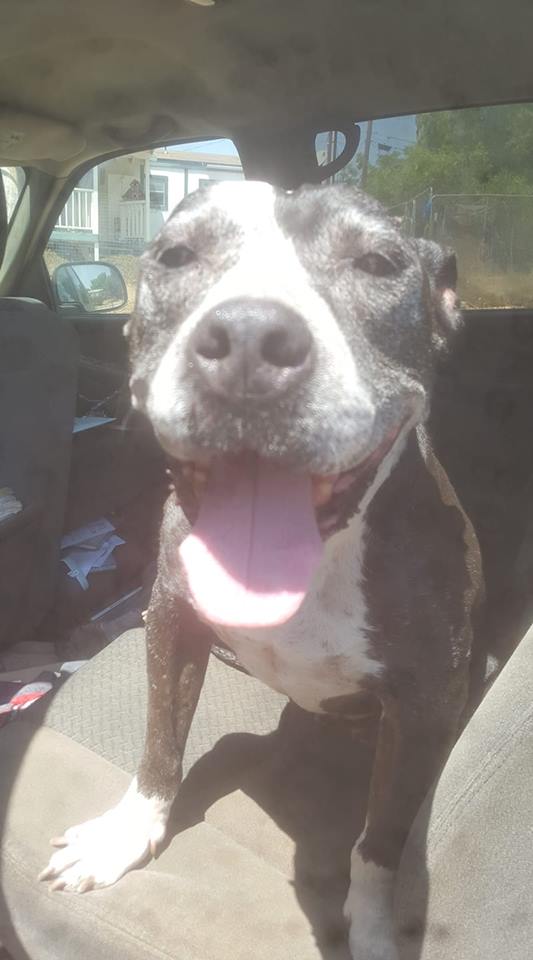 "Hailey is a Pittie Mix, ergo she is a natural born escape artist with a serious case of wanderlust. This is especially so since I have had to keep her indoors these past couple of weeks with the rancid heat we have had. She went missing one night, and didn't come back. This is strange for her because she usually comes back home, or at the very least I get a call that she has been found.
However, this time she managed to slip her collar with her name and my contact information on it. I went out in the neighborhood and someone suggested I go over to Animal Friends of the Valley, our local shelter. I was lucky, as the intake was open due to the (un)Holy Jim Fire we have had here in So Cal. I took in a lost flyer I printed out from her microchip manufacturer. Sure enough, a kind soul had dropped her off in the Night Drop area.
I would definitely recommend PawBoost to anyone missing a pet. One of the gals who responded to the post also suggested I check the local shelter. Social Media is a great way to get the word out and have lots of eyes looking for a lost pet. I was happy I was able to get her back so quickly."
Spread the good news! Thank you to everyone who shared Hailey's alert. A special thank you to the person who turned Hailey into Animal Friends of the Valley. She is now safe and sound! 🙂
---
Mac: Lost Dog Reunited in San Diego, CA!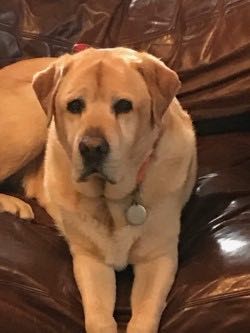 "We have 3 dogs: 2 Labs and a Chiweenie. Tonka is ball obsessed, Apple is love obsessed and Mac is food obsessed. My wife and son were out of the country and I was doing yard work Saturday afternoon when I noticed Mac wasn't near me.
I went inside the house and the small gate I had up across the front doors to let cool air in was pushed over. So I deduced he nudged the back screen door open when I wasn't looking and bulled his way through the gate and went on his merry way.
I began the search on foot, car and over the internet, which took me into the wee hours of Sunday morning. I got all sorts of great advice on how to spread the word, i.e. social media, email blast in the neighborhood, posters in big traffic areas, etc… I also Googled 'how to find a lost pet?' and bingo! PawBoost popped up.
I got the info out and a few minutes later someone suggested I call Babs Fry, a woman who is known prominently in San Diego for helping lost pets. She mentioned a lot of times pets are actually closer than you can imagine.
So about 28 hours after driving miles in our neighborhood, walking the surrounding canyons in 95-degree heat, weeping, praying and asking the Universe to deliver, I end up at a dog park in our neighborhood. A neighbor asked me if my neighbors have a large dog because she heard a big bark a few minutes ago.
I checked one neighbor's yard but nothing. About 15 minutes later, I went directly across the street and looked in my other neighbor's yard. BINGO! There's my boy. Just sitting at the gate, waiting for me.
I cannot tell you how fast word of a lost pet spreads like wildfire when you involve PawBoost! You need to get the word out to a massive village and out to people who aren't afraid to roll up their sleeves and get involved. I'm a new PawBoost 4-ever fan!"
Spread the good news! Thank you to everyone who shared Mac's alert and showed concern and support. Mac is home safe and sound with his family 🙂
---
LeiLi: Lost Cat Reunited in Orange, CA!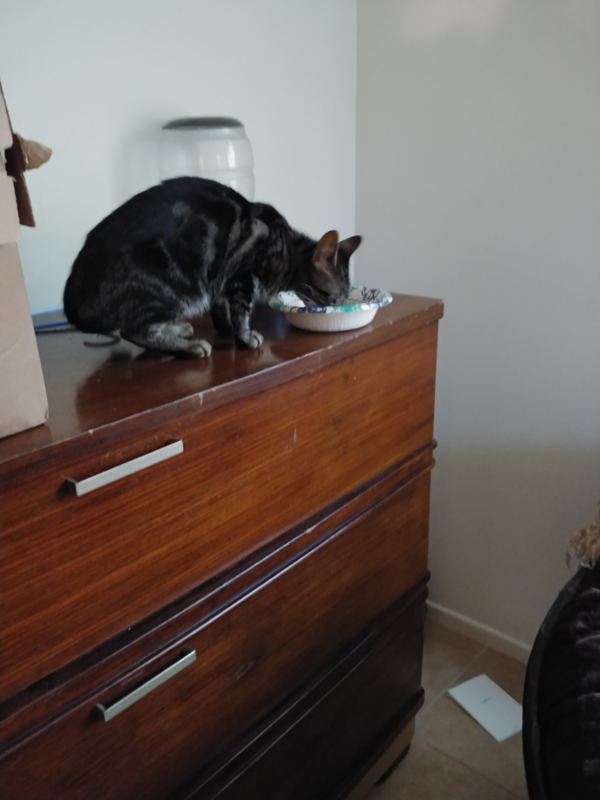 "LeiLi went missing one morning after I found that she had ripped out the screen in a partially open window and escaped. I immediately started looking on the local shelter website and even made visits to the shelter in person. I found PawBoost when I googled the animal shelter and also put her info on your website.
Immediately, her post was shared on your Facebook page, and then received many more shares from followers. Even other local animal rescue organizations were sharing that Facebook post on their pages and websites. I was truly amazed and touched at how much response and how much love came out of that PawBoost post for a kitty nobody knew, but everyone knew was deeply loved and missed.
A couple of days later, I received a follow up email from PawBoost asking if she was still missing. I responded yes, and her post was immediately bumped to the top again. Six days after she'd gone missing (and I figured I'd never see her again) I heard her outside a window. Didn't have to see her, I KNEW it was her.
I ran outside with a can of cat food in one hand and scooped her off my garden wall, into my arms and inside the house to safety. She ultimately came home on her own, albeit even skinnier than she left, but with quite a healthy appetite.
The service PawBoost provided while she was missing was amazing and gave me great comfort. I certainly hope no one I know will ever lose a beloved pet and need to utilize your services, but if the need should arise I will be strongly recommending/advising they use PawBoost.
The outpouring of love and care I received from strangers in my very difficult time was enough alone to make PawBoost an exceptional service that everyone should know about."
Spread the good news! Thank you to everyone who shared LeiLi's alert. LeiLi's pet parent is still thanking God and crying with relief that she came home. She is now indoors where she belongs and is safe 🙂
---
Found Dog Reunited in Amarillo, TX!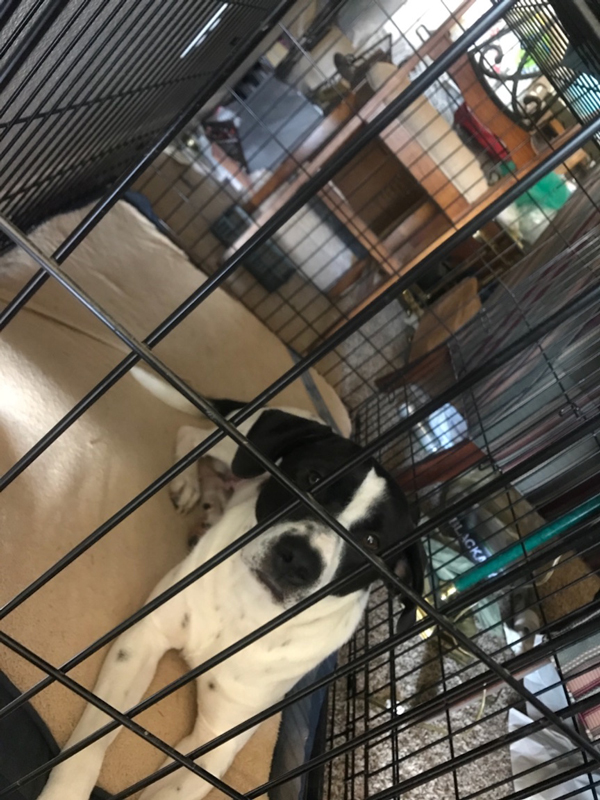 "I found this dog walking down my street on my way home from work. As it turns out the owners lived just two streets away. It was VERY HOT. I stopped my car and talked nicely and calmly to the dog. I called it over, opened the back door of my car and he came around the side and jumped in.
Usually if I find a stray, it's much more skittish, though I've always been able to get it to come to me. If it had not been so hot, I typically would have taken the dog for a walk around the neighborhood, even going door to door to see if folks recognize the animal. It's a very tiring way to locate the owner, but it's worked for me.
Ultimately, the owners left info about a lost dog at the entrance of our subdivision and connections were made via phone numbers left. As it turned out, had the Humane Society/city animal officer picked up the dog, the owners had already checked with the pound after losing him so his retrieval would have happened either way.
I would recommend PawBoost! Your follow-up was great, and you assisted me in getting him listed and in closing out the posting. For those of us not familiar with Facebook, your site is bright and friendly. Thanks for your assistance and responses."
Spread the good news! Thank you to everyone who shared this pup's alert. It's so amazing to know there are good neighbors looking out for our fur babies 🙂
---
Tiger: Lost Cat Reunited in Yukon, OK!
"I recently moved from Colorado to Oklahoma so the grounds are still unfamiliar for my two cats, Tiger and Zozzy. I keep a close eye on them, but one night Tiger managed to slip out while I was sleeping. I woke up and Tiger was nowhere to be found.
I began a perimeter search. The same over and over calling out to him taking only a moment or two to gather myself. Hours passed and Oklahoma weather started to get bad with lightening, thunder and intense rain. It showed no signs of letting up, but I continued to search for my Tiger.
Evening came and disappeared into the dark of the night. With a flashlight in hand I waded through puddles around homes while facing winds that carried a never ending downpour. Finally, that night I heard a very faint 'help' meow over the hill just behind the house. I couldn't see but the flashlight picked up the glow of his eyes as he popped his head up when he heard me call his name.
I want to extend a big heartfelt thank you to PawBoost, a site I found while reaching out for help. You provided positive suggestions, feedback, tips and comments that helped me to remain calm and focused. This helped steer my motivation in a positive direction which was a direct influence on helping me find my Tiger! PawBoost was my light through the storm!"
Spread the good news! Thank you to everyone who shared Tiger's alert. Tiger was missing for 13 hrs in an awful thunderstorm. He was, to say the least, freaked out and of course soaked, but he is now home safe 🙂
---
Maya: Lost Dog Reunited in Westminster, MD!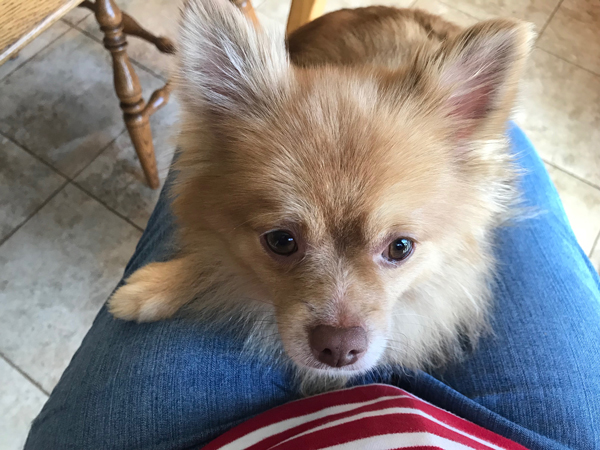 "Maya decided to run away when I got home while I was carefully opening the front door where the dogs normally are waiting for us. Despite my best efforts to contain the dogs, one of them pushed the door open enough that Maya shot out from between their legs and out to the cul-de-sac.
I gave it little thought that she would run off but realized quickly that she was unresponsive to my commands to stay. So I leashed the one dog she spends the most time with and out the door we went trying to get her to stay in the area. Unfortunately, that did not happen and we ended up coming home after dark to prepare fliers for distribution to all mailboxes.
I received a call at 5:15 this morning when my neighbor across the street spotted her on our driveway. Subsequently, I received 3 more phone calls from neighbors in our community of where and when they spotted her. It was clear that she was back in the area and close to home.
I contacted my family and asked them to set up new feeding and watering stations around the house immediately. We felt she was close to returning and wanted to get her to stay in the area. Understanding she had been gone for 9+ days, we felt chances were she would be hungry and thirsty.
When my wife put out the second feeding station, she turned and spotted Maya standing in the driveway looking right at her. She backed up slowly and sat down on the front porch before calling for her. She immediately came to her and followed her in the house.
I would definitely recommend PawBoost to a friend. Many people recommended we post using PawBoost and felt we had nothing to lose. I am truly grateful for those on PawBoost and other social networking venues that assisted with our emotional issues reuniting Maya with our family."
Spread the good news! Thank you to everyone who shared Maya's alert. To all those that have yet to find your beloved pet, keep the faith and I believe you too will be rewarded 🙂
---
Mr. Socks: Lost Cat Reunited in Lancaster, PA!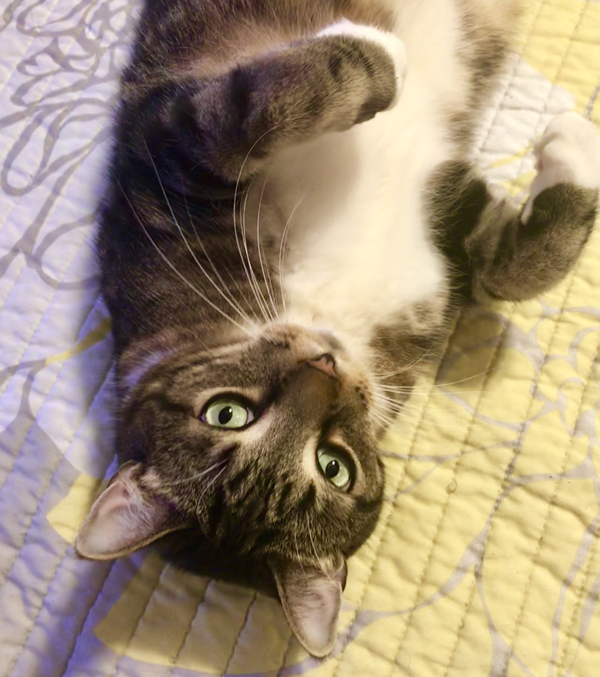 "Mr. Socks got out completely unseen while we were cleaning up our dog outside and very distracted. We didn't realize he was missing for hours because he's so independent, but when he missed a meal we were in a panic. We never went to work and our neighbor joined in.
I alerted PawBoost after searching the neighboring yards for about two hours. At that time, as far as I knew he could be a mile from home. I also called the Humane League and local vets and I posted 50 missing posters in the neighborhood before noon.
I couldn't believe that 80 people shared Mr Socks' photograph in a matter of hours and not one of them was someone I knew. I couldn't believe all these thoughtful people would care about my worst day ever, and help reunite me with the most important part of my home.
Several people reached out to me even after he was found to offer congratulations and positive words about the happy end to his story. I would use the network again in a heartbeat. Hope I never have to!"
Spread the good news! Thank you to everyone who shared Mr. Socks' alert. There are so many thoughtful people out there willing to help ease your mind when your fur baby is missing 🙂
---
Niko: Lost Dog Reunited in Newport News, VA!
"Niko ended up outside the house and he just started running. He ran behind houses and we lost track of him. We searched for him for hours until it was dark and we knew he was gone. While searching my sister drove and I was looking on websites to see if he was posted on any of them.
I was going to post him but every website was either too complicated or not free, but then I saw PawBoost and it looked friendly and easy so I created an alert. PawBoost posted on Facebook and was spreading the word. By the time I went to a dog Facebook page they had already shared his picture and that's when I knew PawBoost was really helping.
Soon everyone was helping me out giving me leads and then I got an update from PawBoost about a dog found that looked like Niko. I got the finder's contact info to reunite with Niko and plenty more resources through PawBoost. This reunion wouldn't have been possible without the people on PawBoost sharing and caring.
I definitely recommend PawBoost to a friend, because it was such a great help to find Niko after one day."
Spread the good news! Thank you to everyone who shared Niko's alert. It wouldn't have been possible without those who helped. Niko is so happy to be home 🙂
---
Bella Donna: Found Dog Reunited in Winston-Salem, NC!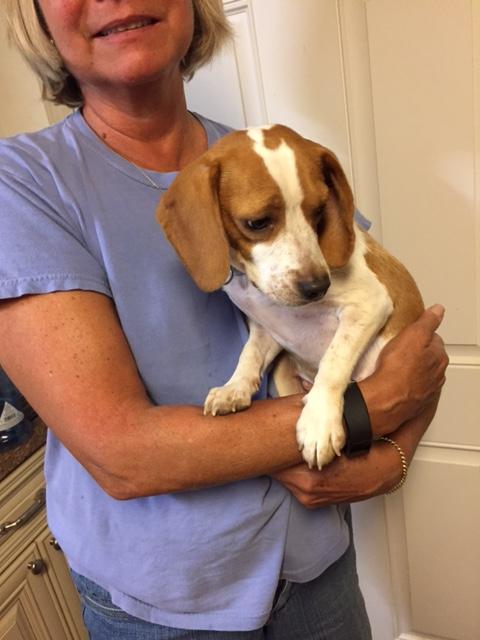 "I was driving home from work last night on a very busy road. I saw this small beagle on the sidewalk and she just looked lost. I pulled into a church where the dog had walked up to some people and I asked them if they knew the dog, but they didn't. One of the people picked her up. She was that friendly. He handed her to me and I drove home with her riding shotgun.
The incredible story is that the owner doesn't even live in my state. He had been in town for his mother's funeral. He had put the dog on a screen porch and the dog broke through the screen possibly after seeing a rabbit. I posted on PawBoost this morning.
The owner had gone to a church to pay for funeral expenses for his mother. He told the church secretary he just lost his mother and now he had lost his dog. She asked what the dog looked like. She said she saw a dog on PawBoost that sounded a lot like his dog. He looked at the post and it was his Bella Donna. The rest is history.
PawBoost deserves all the credit as well as the church secretary! What makes this story even more heartwarming is Bella Donna was still nursing her puppies. The owner said the puppies were crying nonstop for their mom. What a day! What an incredible day!
I will shout your praises to anyone who will listen. You are responsible for not only reuniting an owner with his best friend but also reuniting a mother with her babies."
Spread the good news! Thank you to everyone who shared Bella Donna's alert. All the shares helped make this very unlikely reunion happen. A lot of communication helped bring her back to her owner when he needed her the most 🙂
---
Nessie: Lost Dog Reunited in Anaheim, CA!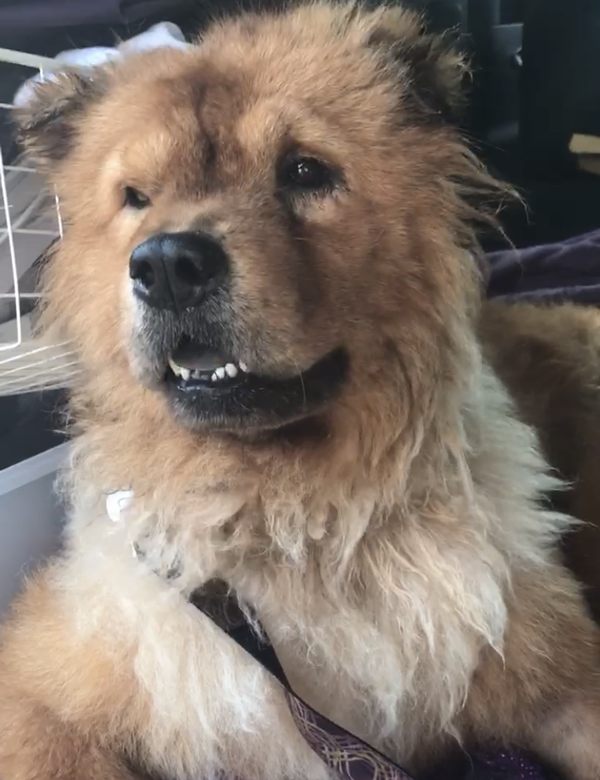 "We are still unsure how Nessie got out. When we came home and saw that she was missing it was odd because the gate was locked. We think she might have squeezed through the side of the house so we are currently reinforcing the entire area.
The search for Nessie began right away Sunday afternoon. She has a bad back leg and cannot walk very far without having to take a break and lay. She had been on the streets lost for hours. Nessie is an indoor dog and unfamiliar with this new area.
Nessie was spotted hiding under cars a few streets from us. We walked through the neighborhood and talked to anyone outside. Many saw her but were unable to get close to her. Then the tips went cold. Monday, again, more searching and no one had seen her. Persons on PawBoost continued sharing our post and because of them we found Nessie!!
Tuesday morning we got a call from animal control that read the story on PawBoost. She wasn't taken to the pound because she was called in as a dog hit by a car (someone saw her limping and thought she was hit). They do not upload photos to the pound site until they are transferred.
From PawBoost and reading the description about the bad legs they knew it was Nessie. She was then transferred to the OC Animal Care Shelter this morning in Tustin where her photo was taken and uploaded to their site. If it wasn't for PawBoost who knows how much longer she would have stayed at the Hospital.
PawBoost helped us feel supported and gave us hope! To see so many loving people commenting support and helping us search made it possible to find Nessie! I would definitely recommend PawBoost to a friend. PawBoost is the link to animal lovers who care about your pets and want to help! Thank you to everyone at PawBoost."
Spread the good news! Thank you to everyone who shared Nessie's alert and for the nice family that reported Nessie to the clinic. Nessie's family is blessed to be surrounded by so many kindhearted animal lover 🙂
---
Hugo: Lost Bird Reunited in Wilmington, MA!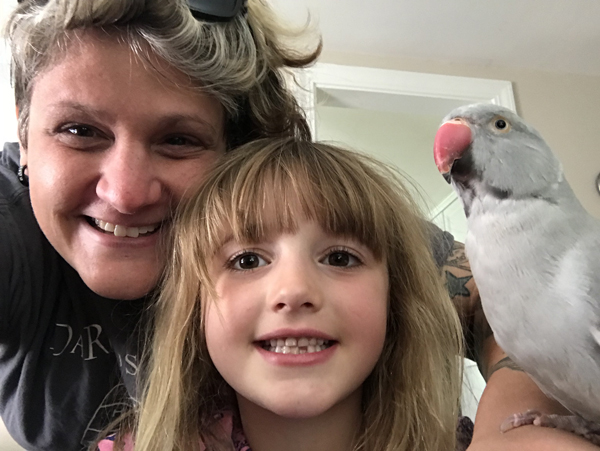 "One Thursday Hugo was on my shoulder when I opened my back door to let my dogs in. He'd only recently learned to fly. I let him grow his flight feathers out because I have cats, and although they get locked up when the birds are out I wanted him to have a chance to get away if something ever happened.
My blind dog was stuck getting back into the house, and without thinking I stepped onto my porch and Hugo flew away. There is conservation behind my house, and he flew in there. I heard him a few times that first night. I kept calling him and I put his cage outside. I notified everyone possible and so many people were looking for him.
The next day I didn't hear him anymore. I even tried hiking through some of the overgrown woods to try to find him. I spread the word on many social media sites. That Monday I received a Facebook message from a shelter employee that Hugo may be at her shelter but wouldn't know for sure until they opened that day.
I finally got the call and gave them his band # and it was him! He had landed on a woman at a pool in the next town over! She brought him to the shelter. He's very happy to be home and we are so grateful for everyone's help! I would definitely recommend PawBoost! I appreciate everything everyone has done to get my Hugo back to us!"
Spread the good news! Thank you to everyone who shared Hugo's alert and to the great person who he landed on and brought him to safety. Never give up! 🙂
---
Hunter: Lost Dog Reunited in Brooklyn, NY!
"My mom accidentally left the front door open and Hunter ran out. She didn't realize he was gone until she called for him for his snack and Hunter did not come. She searched the house in panic and realized the front door was open. I had just arrived from the store when my mom told me he had just left. So I got in my car and started searching.
I searched for a few hours and in tears calling the dog pound, animal shelters, animal hospitals, and fire department. I called every single place I could think of and of course reached out on Facebook! That's when someone told me about PawBoost on Facebook. I filled out the information for Hunter and prayed that it would help me find him. I was in panic mode.
After 6 hours of searching and calling I went home and two wonderful Good Samaritans had found him and heard from different strangers that a woman in a white car was looking for him. So they decided to walk around the neighborhood until they found me.
My heart was in turmoil until I heard his bark. I ran out the door, called out to him and his little ears perked up and he started running to me pulling along the stranger. I gave a small reward to these wonderful women and thanked them from the bottom of my heart.
PawBoost was very considerate. They personally contacted me with the post information and when they found out I had found Hunter they were as happy as I was. Knowing that I could count on them without even knowing anyone was a fantastic feeling. I would most certainly recommend PawBoost!"
Spread the good news! Thank you to everyone who shared Hunter's alert. Getting the word out to as many people as possible is key. You never know who may find your fur baby and help create your happy reunion 🙂
---
Pepper: Lost Cat Reunited in Princeton, NJ!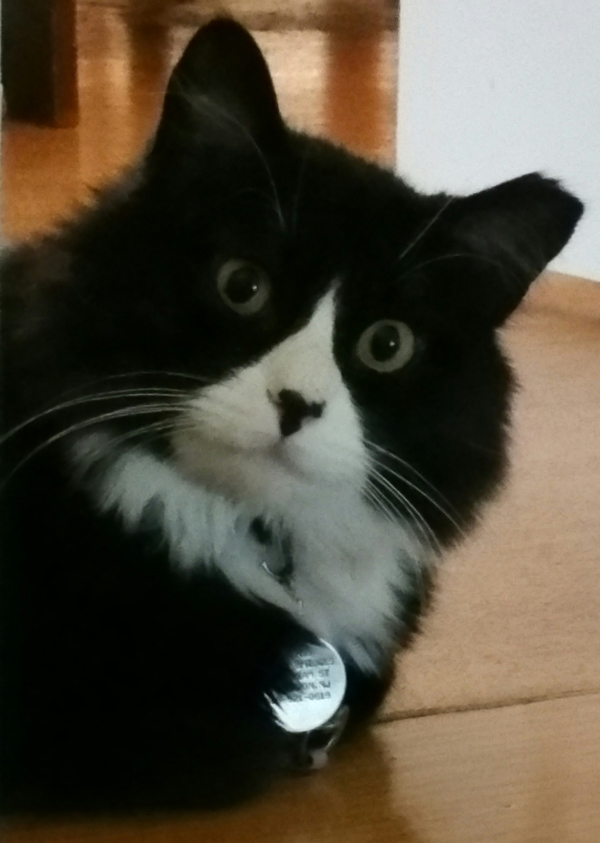 "One Sunday my husband opened the kitchen door to let our red cat out and Pepper followed before he could close the door. Pepper is a feral cat that we captured 3 years ago when we moved down the street. We took him to the vet for shots and neutering, but he was already neutered and his left ear was clipped. So he was probably a catch, neuter and release cat.
I got a lot of great suggestions from PawBoost followers and PawBoost helped spread the word. We tried putting out food in our current backyard, but didn't see him all week. Someone suggested that he was no more than 3-5 houses away, so I walked around the area where we used to live and while walking through a backyard he ran out towards our old house.
I saw him under a large oakleaf hydrangea in the back of our old house and called to him but he just looked at me as he usually does. We've never been able to pet him although he does take food from my hand. So I brought over our Havahart trap and put food halfway in that morning. I walked over at noon with dry food and found he had gone in and ate the morning food. So I put in the dry food at the back of the trap and set it.
Our former neighbor checked the trap a little while later and texted me that Pepper was in the trap and NOT particularly happy. My husband and I drove over and brought him home still in the trap. He's now in the bedroom with our other cat, eating and occasionally meowing his annoyance.
I didn't know about PawBoost before Pepper went missing. PawBoost has such a great group of people working there as well as great followers. I got so many terrific suggestions but beyond that the well wishes and prayers kept me going all week when I was really down and discouraged. Although he's not a lap cat, he's the shepherd of the house."
Spread the good news! Thank you to everyone who shared Pepper's alert and those who gave well wishes and suggestions to their family. Their hearts go out to all those who have lost pets in hopes they will find their way home soon 🙂
---
Love these Happy Tails? We love sharing them! Click here to read more.