Happy Tails! October 2017 – Lost & Found, Dogs, Cats & Pets That Were Reunited in October
Happy Tails! October 2017 – Lost & Found, Dogs, Cats & Pets That Were Reunited in October
PawBoost loves to share happy endings! Read October's Happy Tails to learn how these fur babies were reunited with their families.
Love these Happy Tails? We love sharing them! Click here to read more.
---
Cody: Lost Dog Reunited in Virginia Beach, VA!
"Cody's three day adventure began when he was spooked while we were out walking. He's a rescue and just bolted dragging his leash behind him. We immediately put out a search on Nextdoor, Lost & Found Pets – Hampton Roads and of course, PawBoost. We also plastered the area with posters and contacted his microchip company and vets.
In the meantime, people were sharing away! Woohoo!! He was last seen that evening going into a gigantic bean field in the back of our neighborhood. We live in a semi rural area and this is a large field that our neighborhood backs up to. Additionally, there are woods. That was the last sighting of Cody.
We walked the field that night until the early hours with our other dog and Cody's other dog friends. On day 2, we organized and walked the fields in shifts. Our amazing neighbors and fellow animal lovers really showed their true colors. They walked; they shared; they contacted groups for us; they prayed. Wonderful!!!!
On the third morning, I received a Facebook message from a woman saying that she was out on her back patio and heard a dog howling in pain coming from the direction of the field, but didn't hear him after that. Bug spray on . . . we headed over with a friend and his search dog and into the field we went.
At about 6:30am, my husband saw movement in the middle of the bean field. These beans are like 5 feet tall; you can't see into them. He figured it may be a raccoon, but low and behold it was Cody, hunkered down, not moving. He didn't whimper or make any noise at all. My husband scooped him up.
PawBoost helped with the support and sharing! The key is getting the information out there. The more eyes the better!!!! Although we were discouraged, it was nice getting support from PawBoost friends and others on various sites. Good to know you aren't in it alone. I would recommend PawBoost."
Spread the good news! Thank you to everyone who shared Cody's alert. He's one happy puppy and his family is one happy family again!! 🙂
---
Beau: Lost Dog Reunited in Oklahoma City, OK!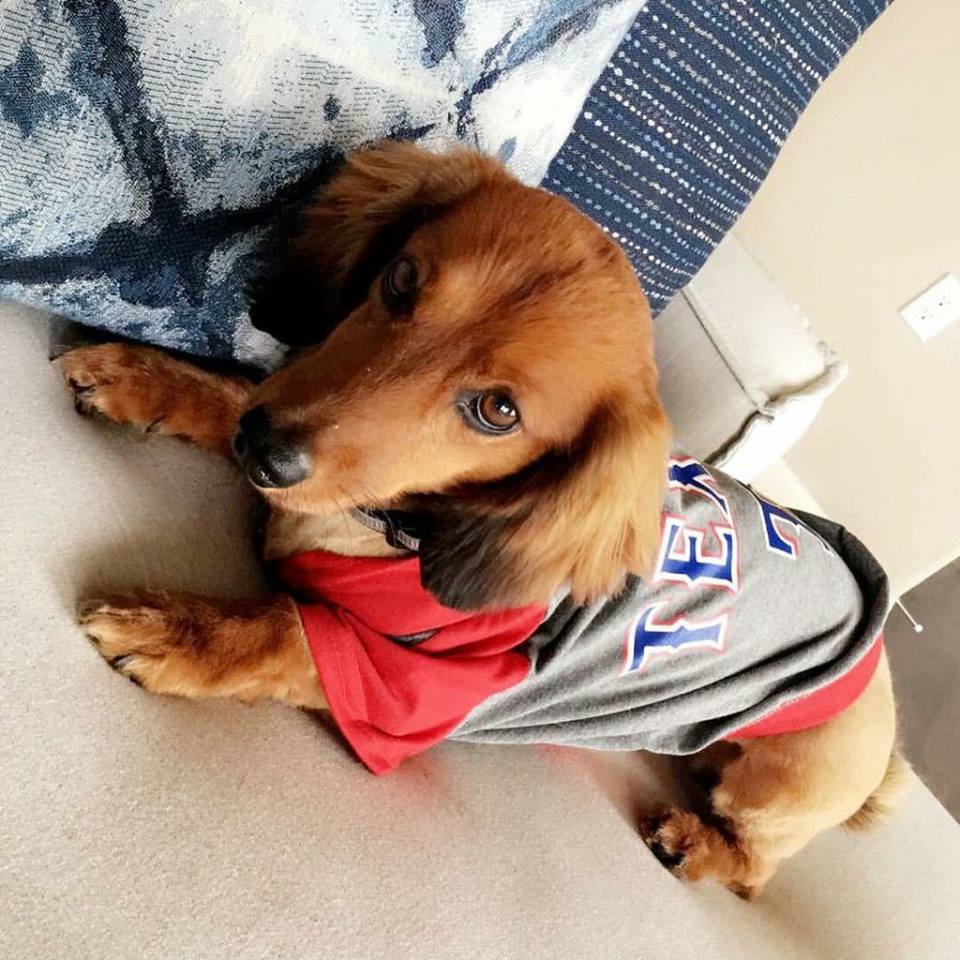 "Beau went missing after having spent the biggest portion of the day swimming in the pool with me. I went inside and came back out approximately thirty minutes later and he was gone! I looked for Beau everywhere from the veterinarian offices in my area to our local Petsmart and the animal control area in my city. I searched my neighborhood every time I came home too.
Finally, after a week of being exhausted, I frantically turned to social media for help. I simply looked up Found Pets OKC on the internet and PawBoost showed up! I was amazed at how easy the application was and how quickly I was able to complete it. Voila! His name and picture were there for everyone to see!
Within a few minutes, I received a photo text from a lady who simply asked if he was my dog. I was so excited! I thought he was gone forever! Although she didn't have him, she knew where she had found the information and after several connections, Beau was found safe and sound. He was in a couple's possession whose parents lived only five houses down from me!
Without PawBoost and all the connections they established, which led me to all the people who had seen his posted picture throughout the week, I would probably still be looking for Beau! He still will not let me out of his sight, or I, him. I am so happy we are reunited!
PawBoost is an extremely valuable resource when searching for a lost loved one. I will tell everyone I know about the service you provide! Beau and I say thank you to everyone involved that made our reuniting possible."
Spread the good news! Thank you to everyone who shared Beau's alert and helped in the process of returning him home. Beau was in good hands and came home with a fresh new haircut, well fed, sassy and happy to be home 🙂
---
Cow: Lost Dog Reunited in Bellevue, NE!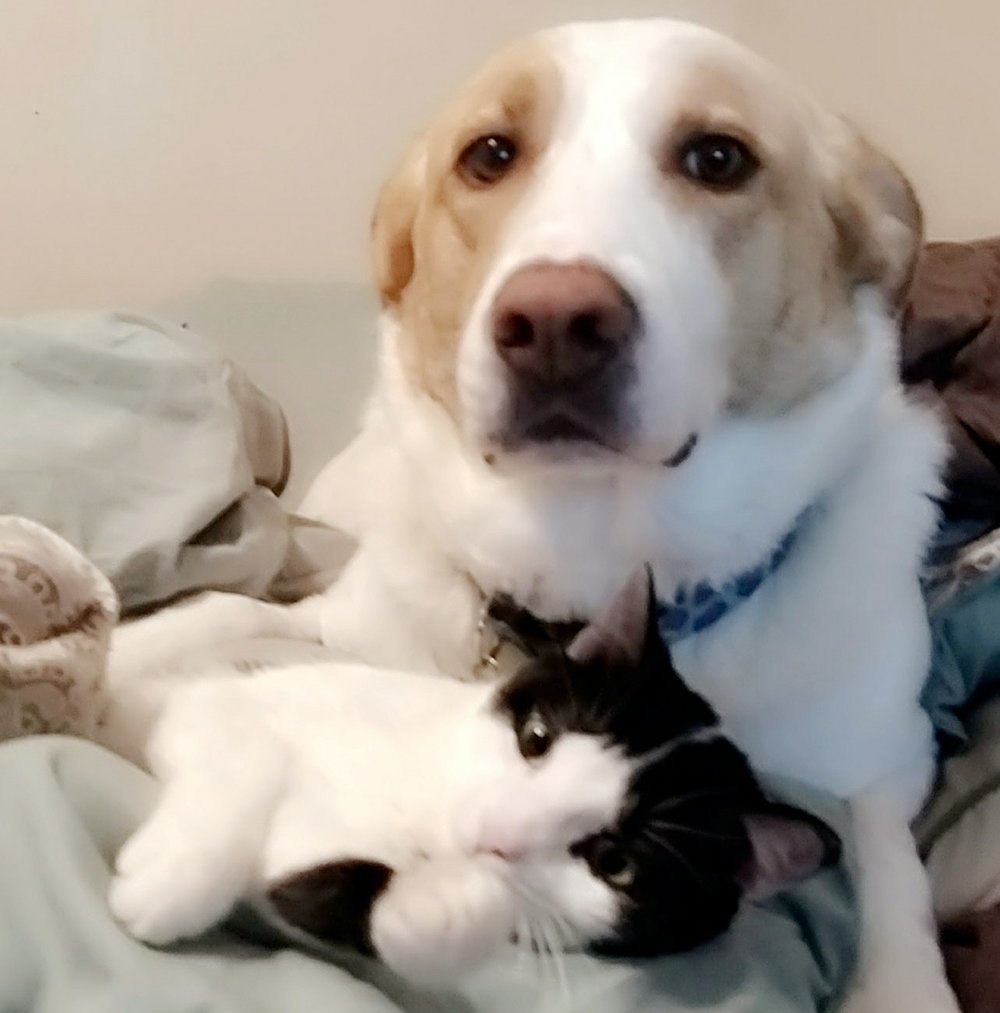 "Cow went missing the other night when my kids burned some popcorn and tried to vent the house by opening up the windows and door. We didn't realize the screen had separated from the storm door since there weren't any obvious holes in it and he slipped out. I locked up the house for the night and didn't notice he was missing until the next morning when he didn't come running for his breakfast.
Between PawBoost and other social media sites, many people saw my post and shared their advice about putting his used litter box outside along with an article of unwashed clothing of mine so he could smell them and follow it home. They also advised allowing our dog to be outside as much as possible so Cow could hear and recognize his bark. Because there was going to be rain they told me to prop the garage door open to give Cow a safe and potentially familiar shelter from the rain closer to home. I did all of those things.
Late that night about 2AM the dog woke up because of the rain. I went outside because I was worried about Cow and thought I'd call him just out of chance. He was gone for 28 hours by then. I heard a meow which I thought I was hearing things at first because I didn't see him so I called again, he meowed one more time and came running up the driveway!!
I would recommend PawBoost because other than sharing my post on social media, physically looking, setting out cat food for the squirrels to probably just devour and going around checking shelters for him, I would've never have thought of doing any of the things suggested. Amazingly enough they worked!"
Spread the good news! Thank you to everyone who shared Cow's alert and was on the lookout for him. Maybe he just needed his own little 28 hour hoorah and planned on coming back when he felt like it. Either way, his owner is sooooo happy to have him back 🙂
---
Sky: Lost Cat Reunited in Santa Fe, NM!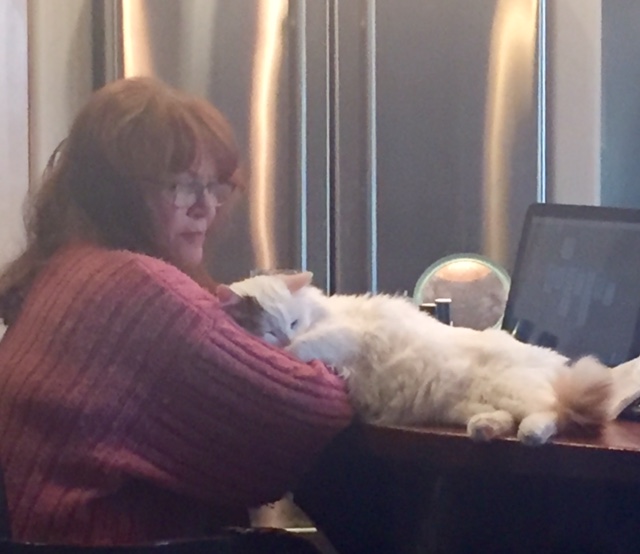 "My house is for sale and one morning the realtor wanted to show it. Since it is best if the home owner is not home and I was afraid they wouldn't be careful and Sky would get out. I put him and my dog in the car intending to just drive around a bit until I saw they were gone.
At one point my husband passed me in his truck and I rolled the window down to speak to him. He saw Sky on my shoulder. When I got home, Sky was missing and my BACK window was down!
We immediately got back in our cars and drove around calling. I live in the country and each lot is a minimum of ten acres and almost everyone has locked gates and no trespassing signs. It was a daunting task. We kept this up for days. My daughter from Albuquerque and even my daughter in California came to help us.
I rented traps from the animal shelter and got two from Santa Fe Lost and Found pets. Plus I printed out the posters PawBoost provided and posted them everywhere! I got lots of calls from concerned neighbors and strangers. Finally one spotted him in a field on the property of a huge mansion.
The owner and caretaker consented to having traps on the grounds. After NINETEEN days my darling kitty is home! He immediately rolled around on the floor and proceeded to let us and our dog know who's boss.
In addition to the flyers PawBoost provided, I really appreciate the many emails offering advice and encouragement. I followed all of your advice and did everything you suggested. I would certainly recommend PawBoost to any grieving pet owner."
Spread the good news! Thank you to everyone who helped share Sky's alert. He came home with two little wounds on his face, some bad mats in his fur and very thin. His owner can hardly believe he's home at last 🙂
---
Milo: Lost Cat Reunited in Garden Grove, CA!
"When Milo went missing I searched high and low and put up 300 flyers everywhere. I got a phone call that someone from my neighborhood saw him jump out from under his car and onto the freeway. I thought for sure he was gone.
I still searched and prayed a lot. I also got another message saying someone thought they saw my cat deceased so I started to loose hope. I still continued to get a few phone calls but no luck.
Yesterday, I get a phone call and someone said, 'Hi I have your cat Milo.' I have been getting a lot of calls so I asked, 'how do you know?' She said, 'his name tag.' My heart dropped and I raced over to her house from work. I got there and he was in the back yard meowing and then he saw me and it was like as if he couldn't believe it.
The ride home was blissful. He just kept looking at me like he was dreaming. He was just so happy. He was in the freeway for two months so I'm not sure if he had much to eat or if he had anything."
Story from finder:
"We were on the 22 East going home around 5-6am so it wasn't super bright out. I saw a pair of eyes reflecting right when I was about to exit Brookhurst, so I asked my friend who was driving if we could go back because I was sure it was an animal.
When we went back around, we went into the emergency lane and my sister and I got out of the car and we walked towards these Home Depot paint containers. We saw Milo just sitting inside, I think he was afraid to go out so he was just crouched in the far end of the bucket.
We were afraid that if we just grabbed him, he would get scared and run into the freeway traffic so we stood about a few feet in front of him and stuck out our hands and tried to call him over. We meowed and he meowed back. After a few minutes, Milo got out of the bucket and came towards us so we used a shirt to grab him and he was much lighter than we thought he would be. We couldn't see how skinny he was when he was in the bucket.
On the way home, we noticed his collar was wrapped around his arm and when we arrived home, we saw that the collar had cut his skin under his armpit so we took it off. We also fed him a bit of dog food because we figured he was starving and it was too early to go buy cat food. After that, we went to bed and in the afternoon, we looked at the collar again and it had a name and phone number so we called and now he's safe at home with his mommy :)"
Spread the good news! Thank you to everyone who shared Milo's alert and thank you to the sister's who saved him off of the freeway. He's very skinny and has a huge cut under is arm, but overall he's ok 🙂
---
Found Dog Reunited in El Paso, TX!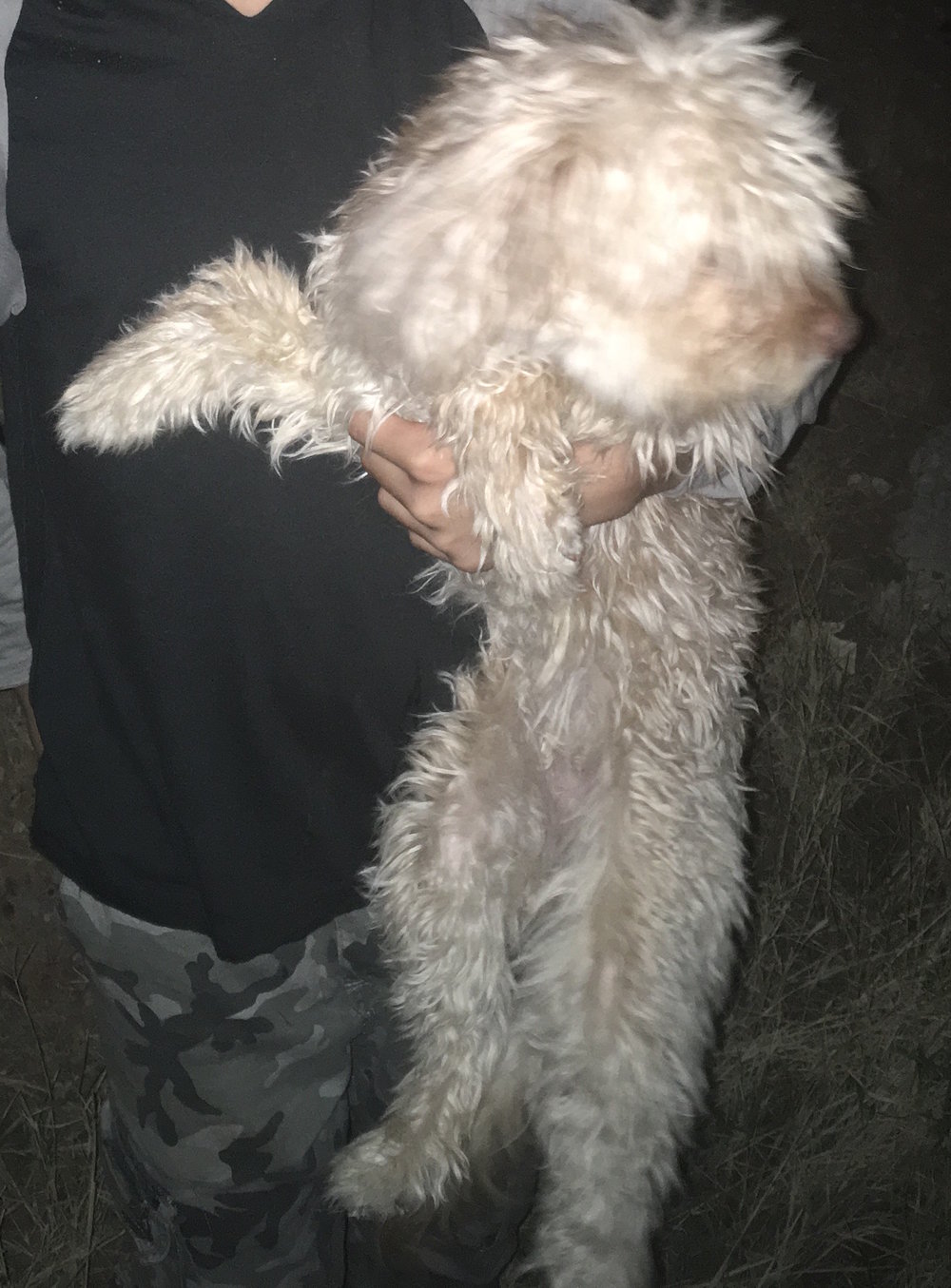 "I was walking along the side of Gateway N Blvd from my apartment heading to Walmart when I saw a pup watching me from a water drain. I got closer to the edge and tried to coax her to come but she started running slowly away from me. I decided to continue to the store and on my way back I looked down into the drainage ditch to see if she came back to where I initially saw her. Sure enough, she was in another tube peeking out.
I decided rather than scaring her again I would come back later with some food to bribe her. My complex is extremely strict on having pets without paying so when I got back I decided to check Craigslist and other websites to look for someone missing their pup. I didn't see her online or on signs in my area so I googled lost pets in El Paso and found PawBoost. Since I didn't see her on there I thought it would be a good idea to make a posting of my own on your website.
Luckily, I took a picture of the pup so I didn't have to describe her. Your website's Facebook feature reached the owner and I continued to talk to them there until I gave my phone number. I met a mother with her two sons at Planet Fitness when it was already dark. They had enough trust in me that they walked with me in the ditch. We used our phone flashlights and called out for the dog in each tube we passed.
We got to the final tube and sadly the pup wasn't there. I decided to walk up to the top of the ditch and I was amazed to see the pup sitting and staring back at me, I was shocked at first and I told the boy and he told his mother the dog was there and he picked her up and hugged her. His mom and brother came up quickly and everybody was quite relieved and excited taking turns hugging the pup.
The boy said the pup was good at slipping out his collar and was missing for two days. His grandma left a gate open long enough for the pup to wander out and they searched quite a bit after that. I will use PawBoost again and definitely recommend it to anyone in need of finding a pet. Thank you!"
Spread the good news! Thank you everyone who shared this pup's alert. The finder is so happy she is back home with her loved ones and is getting a good meal 🙂
---
Red: Lost Dog Reunited in Phoenix, AZ!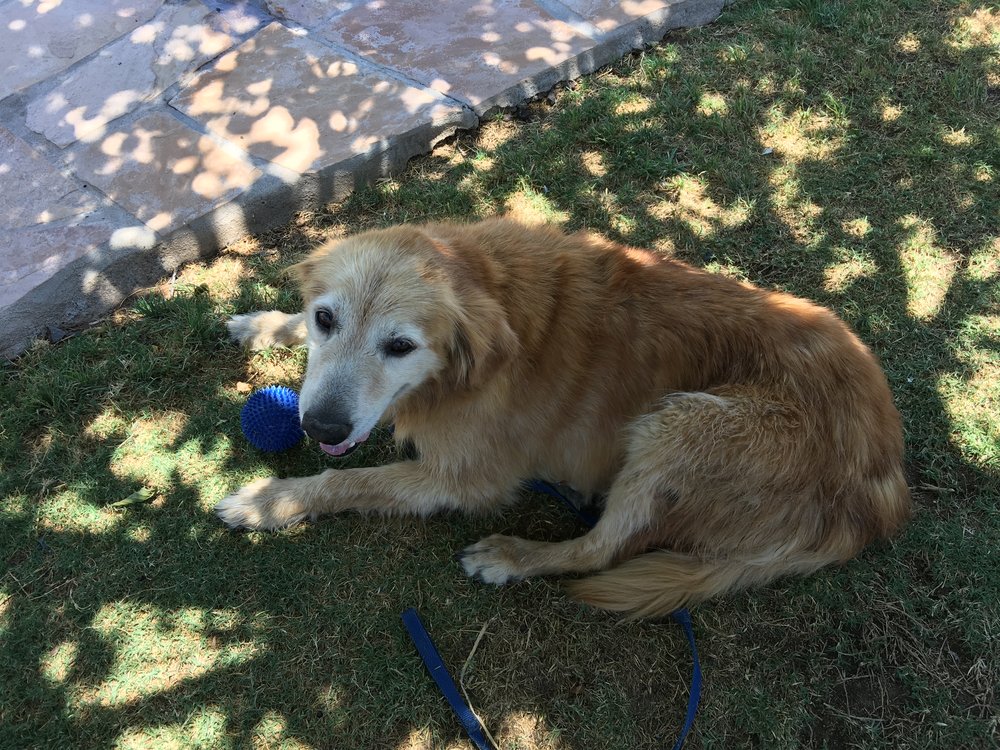 "Red is usually inside because of the heat and his medical conditions. I had taken him outside after dark so he could play. I briefly opened the gate and at the same time there was a flash of lightning in the distance. He is extremely afraid of fireworks and lightning flashes so he bolted out of the gate. I had never seen him run so fast!
By the time I grabbed my keys and jumped in my car, he was at the end of the street and vanished from my sight. I immediately rallied a couple of friends to drive the area with no luck. Within an hour, a huge storm hit and we had to stop the search around midnight.
Red found a great family that protected him until they were able to find me. I received so many great suggestions and ideas for finding Red. Ultimately, it was flyers and posters as well as personally talking to numerous people by canvassing the area that helped me bring Red home!
I would recommend PawBoost because when a pet is lost you need suggestions and ideas for getting the pet back. I had never had a lost pet and Red is a very special dog. I hardly slept while he was gone because I was so worried about him. I'm so thankful to know that there are such wonderful people who care for animals and are so helpful to strangers."
Spread the good news! A huge thank you to everyone who shared Red's alert and offered suggestions that were helpful searching for Red. Because of the kindness of strangers, Red is back home 🙂
---
Kajoo: Lost Dog Reunited in Jersey City, NJ!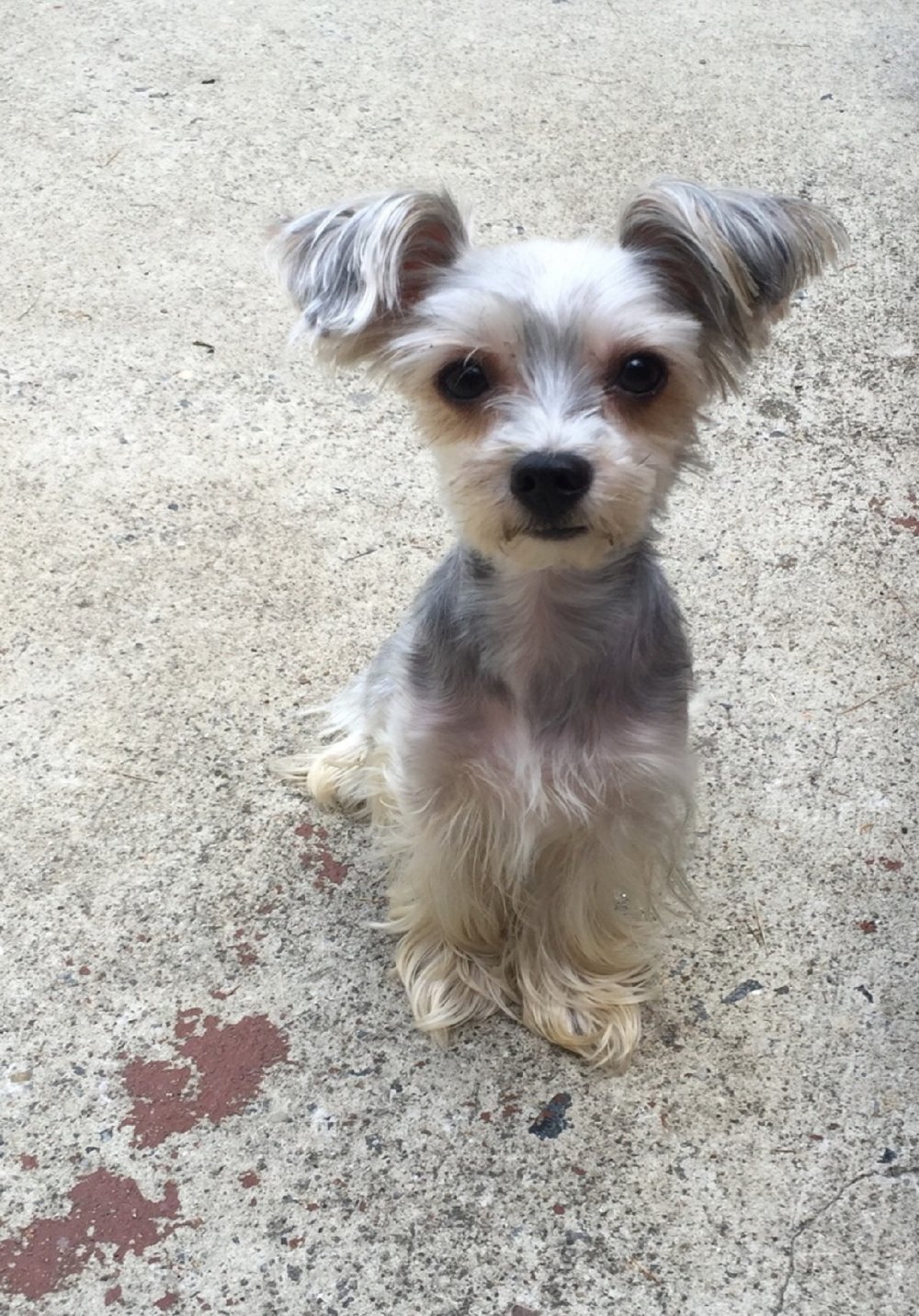 "First I would like to thank you. I honestly, believe that PawBoost played a big part in finding Kajoo. I think PawBoost's large online community got the message across Jersey City. The gentleman who found Kajoo on his way to Church On Sunday morning told me that someone within the community told him that the dog he found was posted missing on Facebook.
I took Kajoo for his morning walk on Sunday at about 8:00 a.m. I thought I had put on his harness correctly but, somehow it wasn't buckled correctly and it came off. I was in the backyard of my home and Kajoo took off running. I chased after him but, by the time I got to the front of the house I didn't see which way he went.
I ran towards the left side where I usually take him for a walk but, there was no sign of him. He is very small and could fit easily through a wide enough gate of any house. I looked for him for 2 1/2 hours going up and the down the blocks/streets but he had vanished.
I followed PawBoost's suggestions and created flyers and posted them on Monday evening on the intersections, trees and street poles of where Kajoo was last seen. On the same day at 8:06 pm I received a call from a gentleman who stated that he was contacted by a friend that Kajoo's owner was looking for the dog and it was all over social media. He also stated that someone told him that a flyer with Kajoo's picture was posted in the corner store.
I would highly recommend PawBoost. The website provides a wide range of strategies on how to create posters and where to post them. I'm a first time dog owner and believe it or not, I had no idea on how or where to start looking. PawBoost's large online community reached out to all parts of Jersey City and got the message across. I had lost faith in finding Kajoo. It was amazing the short time it took to be reunited with Kajoo."
Spread the good news! Thank you everyone who took time to help bring Kajoo home by sharing his alert. Kajoo's 3 year old sister is very happy and thankful that she has her best friend back home 🙂
---
Smokey: Lost Cat Reunited in Tampa, FL!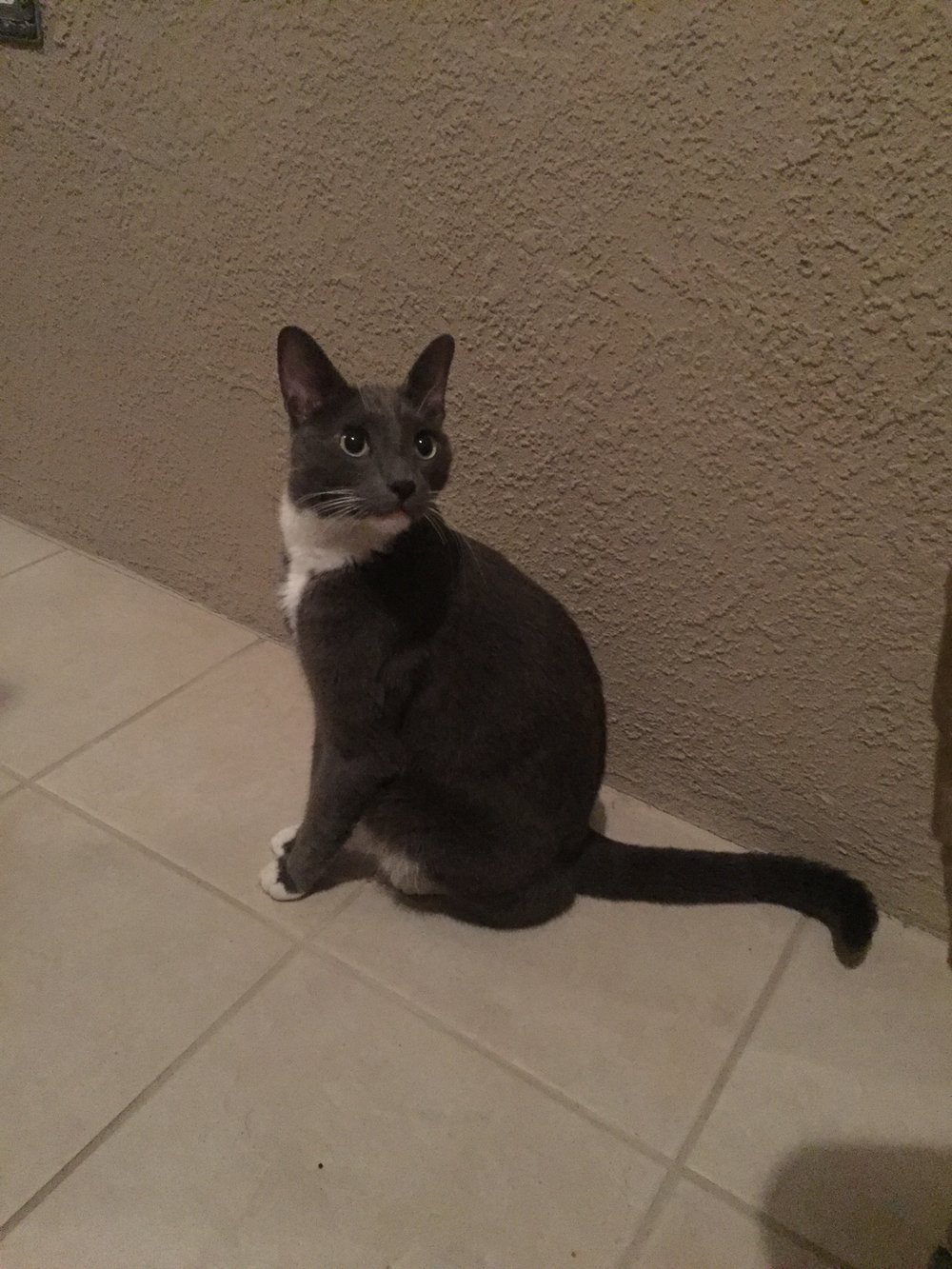 "Smokey got out when his canine sibling pushed opened the front door when guests came over (the door has since been fixed, so this doesn't happen again). We didn't notice his escape until we were looking for him the next morning when he hadn't been asking for breakfast.
We thought he was just hiding and after searching everywhere in the house, we realized he was gone. We called for him day and night and had massive search parties canvassing the neighborhood looking for him several times during the time he was lost.
Smokey's canine sibling was (uncharacteristically) whining to go out at 3am. By 4am, I figured she really had to go, so I took her out. She ran and did her business and then bolted over to the bushes on our property line and we heard a very loud meow.
Smokey found his way home on his own, but PawBoost helped my family as a resource to get the word out and helped us with printing flyers and communicating with people. We received so many helpful suggestions and tips on what to do as soon as we realized he was missing – put his litter box out along with familiar home items.
We kept leaving food out for him and then stopped about a week ago. I am hopeful that it was him (and not all of the other neighborhood cats) that was enjoying this nourishment, but then we stopped because there was honestly no sign of him and we felt that we were just feeding the neighborhood critters. We noticed the smell of urine outside and I was concerned that if it was another cat marking our house, Smokey wouldn't come back.
I recommend PawBoost! Having this resource during the past 5 weeks was such a blessing. The updates and check-ins were invaluable to our peace of mind knowing that there was a whole village helping to reunite us with our boy. We did the Boost a couple of times and continued to check in. Such an invaluable service for times like these."
Spread the good news! Thank you to everyone who shared Smokey's alert. It was a very sad, scary 5 weeks but happily, Smokey found his way home to his family. He returned home on his own and was hungry but unharmed and seems VERY HAPPY to be home. His family would love to know where he was, but he won't tell 😊
---
Minnie: Lost Dog Reunited in Lansing, MI!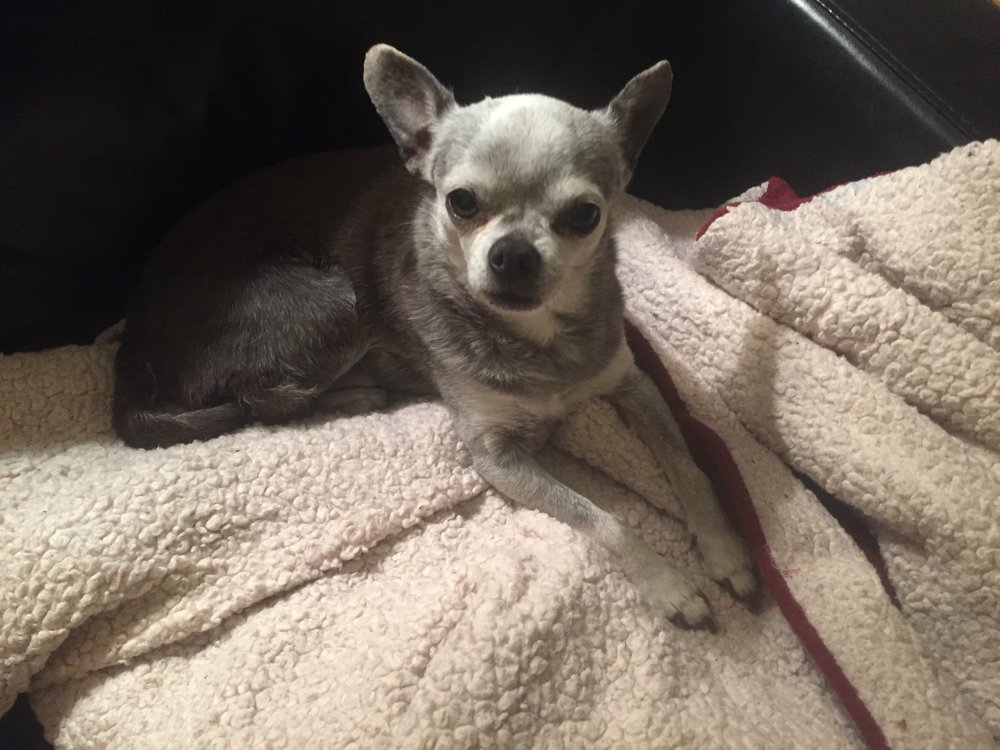 "Minnie went missing the day after we moved into a new home so we are all unfamiliar with the area including Minnie. I let her out to potty then heard neighbors down the block setting off fireworks but didn't think much about it until a few minutes later we realized she was gone.
It was dark but we scoured the house and yard and the surrounding streets until 3:30am. Up again at 7, we continued looking, going door to door handing out my contact info but did not get any feedback. My mom had joined me on the door to door hunt and at about 11am we met a lady who happened to be friends with my godparents who are Christian missionaries.
The woman prayed with us in the street. I felt encouraged but my heart was so sad. I kept looking for her the rest of the day contacting shelters etc. We were exhausted so we went home, but I was overwhelmed with worry and grief that I only slept a few hours that night.
The following morning I was emailing with my mother about a lost dog poster I was sending her to print when I saw an email from something called PawBoost that said someone had a comment about Minnie. Completely confused I read the message that said, 'I think I have your dog! Call xxx'.
Shaking and nervous I called the number and after a minute believed the woman did indeed have my little pooch. Minnie is 7 pounds and 12 years old and she ran almost a mile away! I called my mother in confusion because I did not create this account with PawBoost. My mom called my sister and turns out my sister, who lives half way around the world, googled lost dogs in Lansing and said about 10 sites came up and she just picked PawBoost.
When I went to pick up Minnie I got to hear the other half of the story. The first morning after she ran off a nice woman was putting things in her car getting ready to go run errands when suddenly a little dog jumped in her car. Bewildered the lady tried to get the dog out but Minnie wouldn't go.
Finally, the lady got Minnie out of the car and told her to go home and went to run her errands. 5 hours later she came home and guess who was still sitting on her porch? So the nice lady had her daughter come over and they discussed what to do with her. They put a notice on Facebook, gave her food and let her sleep on the porch on a cushion.
Minnie stuck to the older woman like glue. Sitting next to her on the same chair but wouldn't allow anyone else to touch her. Although this woman has never had a pet and isn't a pet person Minnie stuck by. They talked about what to do: keep her? Take her to the humane society? Not sure, they went to bed.
The following morning the daughter went to work with tales and pictures of this dog who had moved in. A coworker had the idea of posting an alert on PawBoost. The rest is history. Thanks to my sister in Europe, a coworker of a daughter and to PawBoost, my pooch is safely home. I asked the woman what time Minnie had jumped in her car. She said about 11am. The time my mom and I were praying in the street with people we had never met. God needs thanks too."
Spread the good news! Thank you to everyone who shared Minnie's alert. With the help of social media and caring people she found her way home to her family 🙂
---
Max: Lost Cat Reunited in North Palm Beach, FL!
"Max is mainly an indoor cat but occasionally goes out on the porch or patio. Monday night I called for him to come in around 10 pm., as usual, but he didn't respond. He never returned. Never before has that happened and he has never spent the night outside.
The next day I started looking and looking and looking. For five days, I and several friends walked for miles, called and searched. I posted on all lost and found sites, called shelters and vets, put up hundreds of flyers, searched and searched. Not a sign of him, not a trace.
Chances of his safe return seemed slimmer and slimmer but I refused to give up hope until I saw his body. So long as he wasn't found, I clung to the conviction that his return was a possibility.
On Saturday afternoon, I read a post on Nextdoor that mentioned PawBoost. I had never heard of the site. I immediately signed up and they sent out a missing flyer to 5000 people in my area. A great service.
Almost immediately after completing my post, I went out for a run and I heard a loud, raspy meow. My Max had returned and was waiting in my yard. He was very thin, dehydrated and in need of a good brushing. He looked quite stressed but not injured or bleeding. Nothing can convey the inexpressible joy I felt and continued to feel.
I absolutely recommend PawBoost. It is a great service and a comfort to anyone who has a missing and beloved animal. I am so grateful for your service. Thank you so very much; it gave me hope, and my hope proved justified."
Spread the good news! Thanks to everyone who shared Max's alert. Don't give up hope even when you feel like chances seem slim 🙂
---
Found Dog Reunited in Wilmington, DE!
"The dog I found is named Chico, he was walking through my backyard at 6am. He was headed towards my neighbor's dog who was also outside. I grabbed a spare leash and some treats and lured Chico towards me with the treats. Once he was within arm's reach of me I dangled the looped leash over him and placed a treat directly in front of him. He walked right into the loop of the leash which I then secured.
I was able to get Chico home by taking him to the vet and having him scanned for a microchip, which luckily he had! After seeing a microchip in action I highly recommend that every pet owner have their pets chipped.
While the microchip was the fastest method in identifying Chico's owners, PawBoost was also very helpful. PawBoost allowed me to spread the word and photograph of Chico via social media while I was busy taking him to the vet. Chico's owners responded to the vet's office about 10 minutes after I left. I would recommend PawBoost to a friend because I recommend anything and everything that exists to help animals.
As I was driving home from work a few weeks later, I saw Chico on a walk with his owner! I pulled over and introduced myself. The owner was so incredibly grateful for helping Chico find his way home and promised that Chico would never escape again."
Spread the good news! Thank you to everyone who shared Chico's alert. Chico is happy, healthy, and thrilled to be back home with his loved ones 🙂
---
Love these Happy Tails? We love sharing them! Click here to read more.