On The Road with Your Pet: Top Tips for Holiday Travel
On The Road with Your Pet: Top Tips for Holiday Travel
It's once again the most wonderful time of the year – and while we may have less hours of light these days, the season for spending more time with family and friends is upon us. And that may include bringing our furry loved ones along for our journeys over the rivers and through the woods to Grandmother's house!
As you begin gearing up for the holiday season, you will need to determine if you are going to bring your pet along for the travel adventures. The truth is that not every pet can handle long-distance travel, so be sure to thoughtfully consider whether your pet's overall temperament and/or any physical conditions or illnesses they have may create an overly stressful travel experience for both them and you.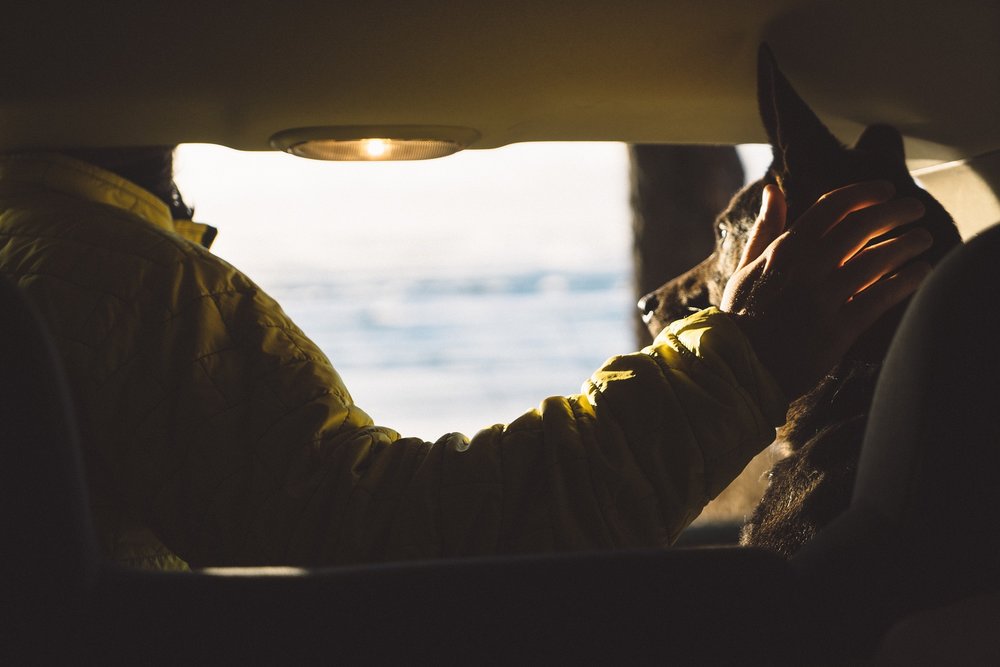 Photo Credit: StockSnap via Pixabay
Pre-Travel Preparation
After you've made the decision to bring your pet along for the ride, there are a couple of key things you can do before even pulling out of the driveway to help make your furry loved one's journey as comfortable as possible.
Check In with Your Vet
Plan to pay a visit to your regular veterinarian in advance of any travel to ensure that your pet's vaccinations are up-to-date and meet all international requirements. During this visit, don't forget to ask for health certificate that is signed and dated for the day of the check-up. Your veterinarian may also have good advice for how to reduce your furry friend's travel anxieties with relaxation techniques and/or methods to help them avoid motion sickness.
It is a good idea to plan to bring along a copy of your pet's most recent medical records and the contact information for your pet's medical team during your trip should you need an unexpected health consultation. You may also consider proactively asking your veterinarian for a list of their recommended medical references or veterinary office near your travel destination.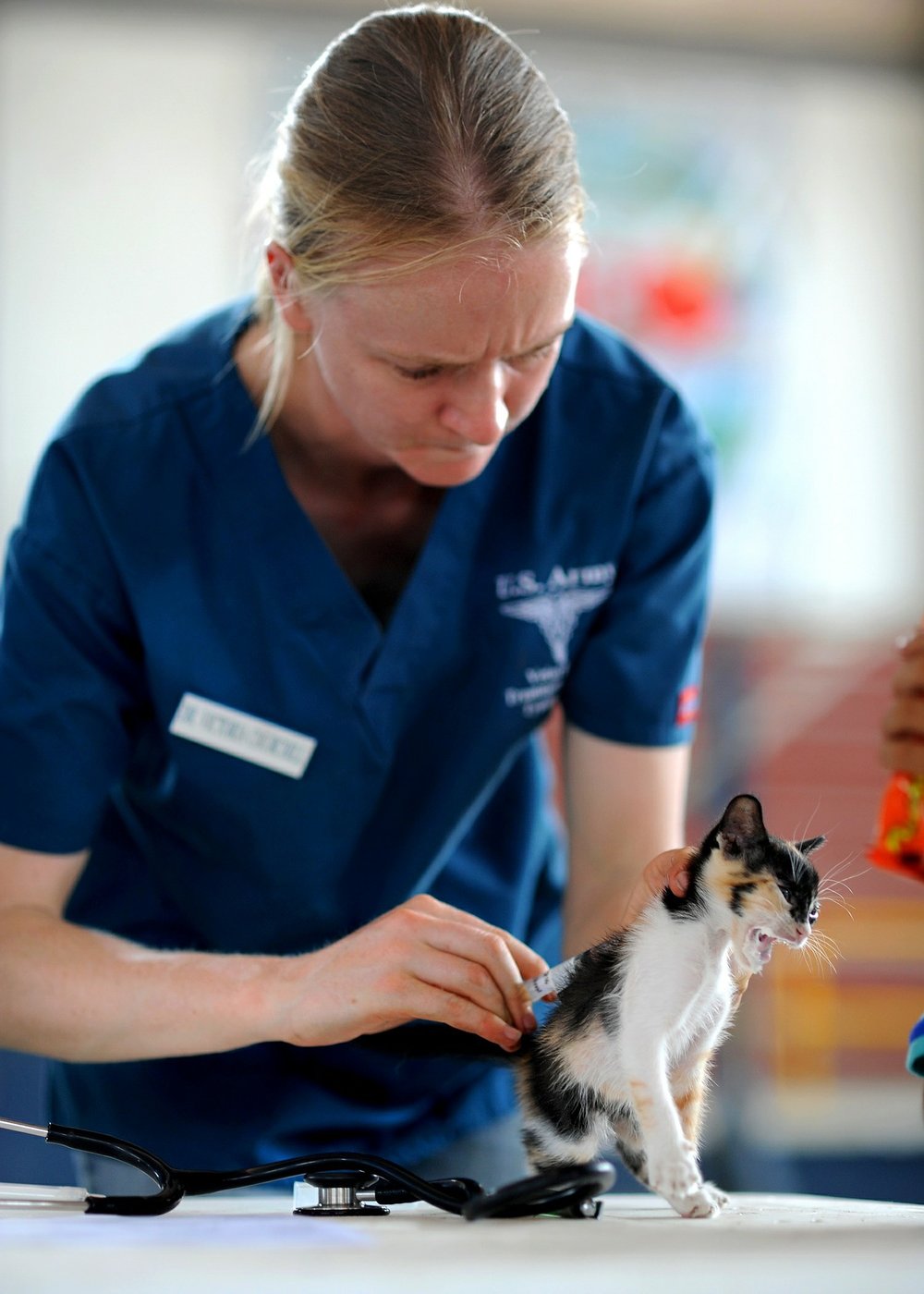 Photo Credit: skeeze via Pixabay
Tag
It's always best to ensure that your pet's identification tags have your up-to-date contact information and home address, and it becomes even more important if you are taking your pet on the road. Prepare for the worst by ensuring that your pet has securely fastened and accurate identification tags or is microchipped with a functioning implant before starting off for your holiday festivities.
You may also consider adding a temporary identification tag that includes the address and contact information for your final destination. Additionally, plan to have on file a high resolution, recent full-front photo of your pet; In the unfortunate event that your pet gets lost during your travels, having an up-to-date photo ready will make it easier to quickly begin the search process.
Practice Restraint
By Car: According to the pet travel resource Trips With Pets, securing the proper restraint (whether it is a crate, pet seatbelt or other vehicle pet barriers) is one of the most crucial and most ignored elements of pet travel. Trips with Pets notes that pets (particularly dogs) who can roam free during motor vehicle travel are more likely to get injured and to unintentionally distract drivers, which could increase the probability of an accident.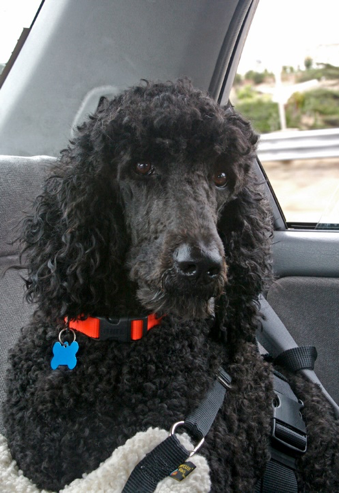 Photo Credit: Living in Monrovia vis Flickr
Be sure to check out Trips With Pets' website to learn more about the right vehicle restraint or carrier (best for cats!) option if you are planning to take your four-legged friend along for holiday motor travel. Once you select the proper crate (ensuring that it is well-ventilated) for your pet's needs, you should some time helping them adjust and feel comfortable by taking them on short drives in the travel compartment carrier.
Reserve Pet Friendly Accommodations
Expecting a long journey that will require overnight stays before reaching your destination? Then definitely do a little research to find hotels or other accommodations along your route that accept pets!
Travel With Pets has resources to assist in your search and recommends that you book rooms in advance as some accommodations may be limited.
BringFido is another good resource for finding accommodations that allow furry companions. It allows you to search pet-friendly hotels and activities along your travel route.
If you're more the Air BnB type than you are the hotel type, make sure to check the amenities in the listing of your host's home to see if pets are allowed there before booking.
Photo Credit: Burst via Pexels
Prepare a Travel kit
Last but not least, you will need a little time before taking off to gather all the essentials that will make your pet's journey more comfortable and calming. Consider including the following items in your travel kit so that your trip will go as smoothly as possible:
Ample supplies of food and water
Familiar bedding
All items necessary for sanitation, including a litter box/litter, pee pads, poop bags/scooper etc.
Your pet's leash, collar and a harness
A first aid kit, including sufficient amounts of any medications
Grooming supplies
And their favorite toys and treats to help keep them entertained and at ease during anxiety-inducing moments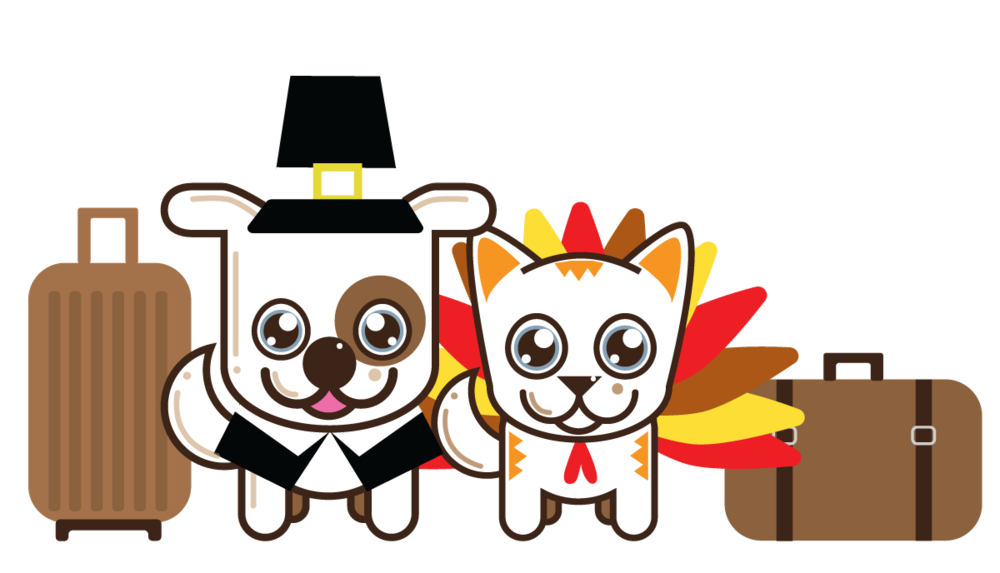 Hitting the Road
The day has come – all the packing is done and you are ready to set out for your big holiday road trip. Check out our tips below for how you can make this travel experience as comfortable and as safe as possible for your fur baby:
Make Frequent Stops
Be prepared to make sufficient stops in secure locations (such as community rest stops) to let your pet use the bathroom or get out and stretch his or her legs. And, of course, always check that your pet is properly tagged and leashed before taking them out for a quick walk.
Photo Credit: harassevarg via Pixabay
Ensure Your Pet Receives Proper Hydration and Nutrition
Use your time during pee/stretch breaks to ensure that your pet is getting enough water. According to Trips with Pets, you should maintain a regular feeding schedule during travel (avoid giving them too much human food, even if they beg) and plan to keep them well-hydrated, especially during the longer stretches of the trip.
According to the Humane Society of the United States, bringing along some ice cubes to share with your pet during the ride and feeding your pet a light meal before departure (2-3 hours if by car, 4-6 hours if by plane) may help them avoid the motion sickness that may develop during travel.
Keep Your Pets Comfortable
Just as comfort is an important part of the travel experience for us humans, so too is it for our furry loved ones. Check to ensure that whatever carrier, crate or restraint you use for your favorite feline or beloved pup can fit a blanket or their familiar bedding. Plan to have little treats and other comforting items such as toys on hand to help keep them calm and relaxed enough to enjoy as much of the trip as possible.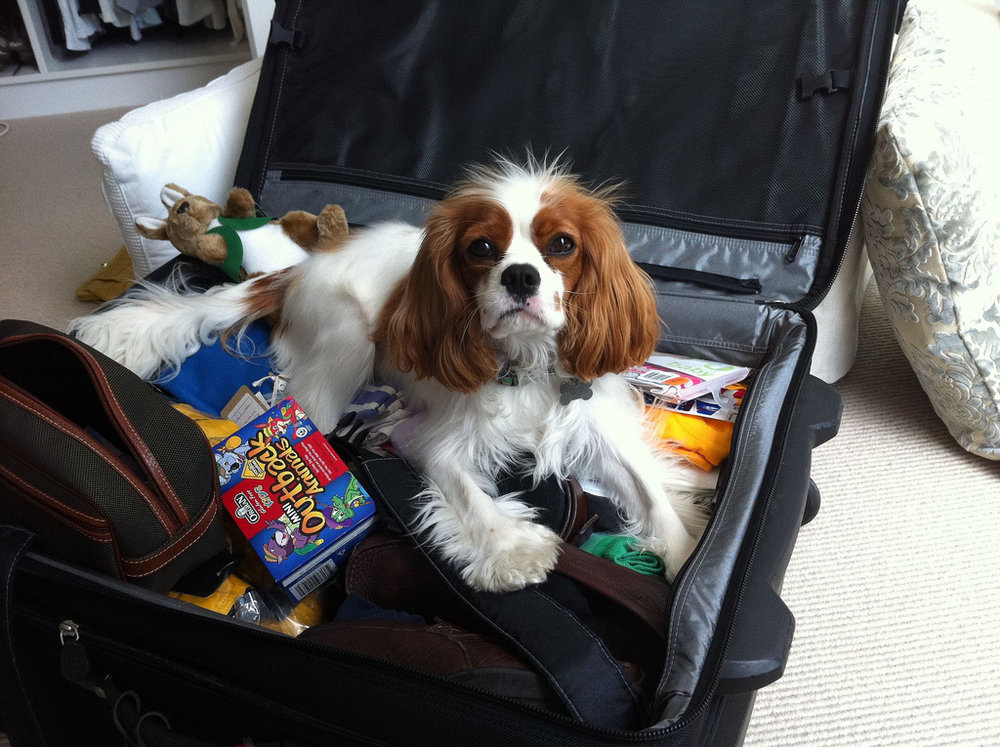 Photo Credit: kelseykake5 via Flickr
Tongues Out, Heads In
As iconic as the image of a dog's ears flapping in the wind on the open road may be, it is unsafe to let your pooch stick his or her head out the window on your road trip. They can be seriously injured if accidentally hit by flying debris outside of the vehicle.
Never Leave Your Pet Alone
Though it may be tempting to spend some time out of the car or have a nice sit down at a restaurant, you should never leave your pet unattended or alone in a vehicle for long periods of time. According to People for the Ethical Treatment of Animals (PETA), dogs can suffer from heatstroke in as little as 15 minutes if left in vehicles that reach temperatures of 90°F. And in cooler weather, the vehicle may reinforce the lower temperatures and could cause pets to experience freezing sensations.
For more tips and resources on how to travel with your fur baby this holiday season, check out: