Happy Tails! November 2017 – Lost & Found, Dogs, Cats & Pets That Were Reunited in November
Happy Tails! November 2017 – Lost & Found, Dogs, Cats & Pets That Were Reunited in November
PawBoost loves to share happy endings! Read November's Happy Tails to learn how these fur babies were reunited with their families.
Love these Happy Tails? We love sharing them! Click here to read more.
---
Yoko: Lost Dog Reunited in Media, PA!
"This past Saturday afternoon, as we were finishing up our walk in the neighborhood, Yoko lunged at a bird. She hadn't done anything like that before so it caught me off guard and I lost the leash. I tried to regain control but she darted and ran like Forrest Gump.
We live in a wooded neighborhood that backs up to more woods, a creek and sadly major roads. I tried to follow her about 1/4 mile on foot and realized I had no idea where she went. I ran back to my house and texted for help. In a panic and between tears, I posted on my FB page and asked my friend Colleen to share my post to every site she could think of.
I called local shelters and 911 to report her missing, filed a report with the chip company who alerted local vets, and I remembered seeing a PawBoost notice before so I went to your site as well. I figured that she hadn't gotten far yet and that the best chance would be someone to see her.
My boyfriend, friend Cathy and her son were traveling the local roads in cars and I was on foot in the neighborhood. I'm not sure which site sent the cavalry but within an hour I got a call from a local rescue group asking for details on Yoko and the events – Lauren from Delco Dawgs said, 'we are on our way.'
I had 4 total strangers – Lauren, Mary, Kim and Lorie – who stopped what they were doing on a Saturday afternoon to help. They joined me in knee high brush and hilly terrain for hours until it got too dark. Lorie and Lindsey advised me to make flyers and get them out, flooding the neighborhood with information. They promised they would come back and they reassured me that she was a survivor and that they would bring my baby home.
My friend Cathy, Mary from DD team and I placed flyers on cars, in doors and in the hands of every person we saw. I had gotten a message on FB that they thought they saw a white fox or coyote Saturday evening, so I was focusing the search in that area.
Getting poked by brambles and thorns, navigating hilly terrain and trying to avoid poison ivy, we searched. Several hours later I got a call with a sighting! I ran to my car almost a half mile and responded to that address and I saw her! She was alive. The leash was gone, and she didn't appear wounded in any way from afar.
I messaged Jill, Anne and Kim from Delco Dawgs who were out searching and we met at the site. She had crossed a busy road and we decided to stay close to the running water. Jill, Anne and Kim had a trap in the truck. Another call came in from 3 houses away, she was in their front yard. We hoped the rotisserie chicken, bacon and Stubbs BBQ sauce would lure her in and we waited.
I was going to check the trap and add some fresh bacon to the trail near dusk when the phone rang. One of my neighbors who I spoke to both Saturday and Sunday was out walking her grand dog and spotted Yoko back on my street, heading towards my house. Running of course.
By the time I ran outside she was sitting in the yard across from me, about 50 yards away. It felt like she recognized home but was too afraid to approach. A young woman walking a dog came towards Yoko wearing headphones, oblivious to me crouched on the ground trying to coax her to come home and Yoko ran. This time in the other direction from the original escape.
People at the end of the cul-de-sac tried to intercept her and she headed back in the direction of my house. She ran up the hill, was in my front yard, pacing and finally ran into my open garage! But I couldn't close the garage door without risking her running out.
At this time I was on the phone with Lauren and she calmly told me to hold the door open and see if she would come. Yoko saw the other 2 dogs and came through the garage and into the house. She was home and safe. I was bawling and Lauren said I'm on my way!
Lauren and Kim came to meet her and see if she needed any vet care, etc… Yoko was tired and scared but in a few minutes she showed a sense of calm. She was relieved that she was home. A pretty amazing story about some pretty amazing people who I cannot thank enough. Any vehicle to get the word out is key in the process. I will continue to use PawBoost and recommend it."
Spread the good news! THANK YOU to the entire pet loving community who helped share Yoko's alert and prayed for her safety. After she ate a whole can of food and got cleaned up she was tucked in for the night and her pet parent could sleep happy too 🙂
---
Roxy: Lost Dog Reunited in Irvine, CA!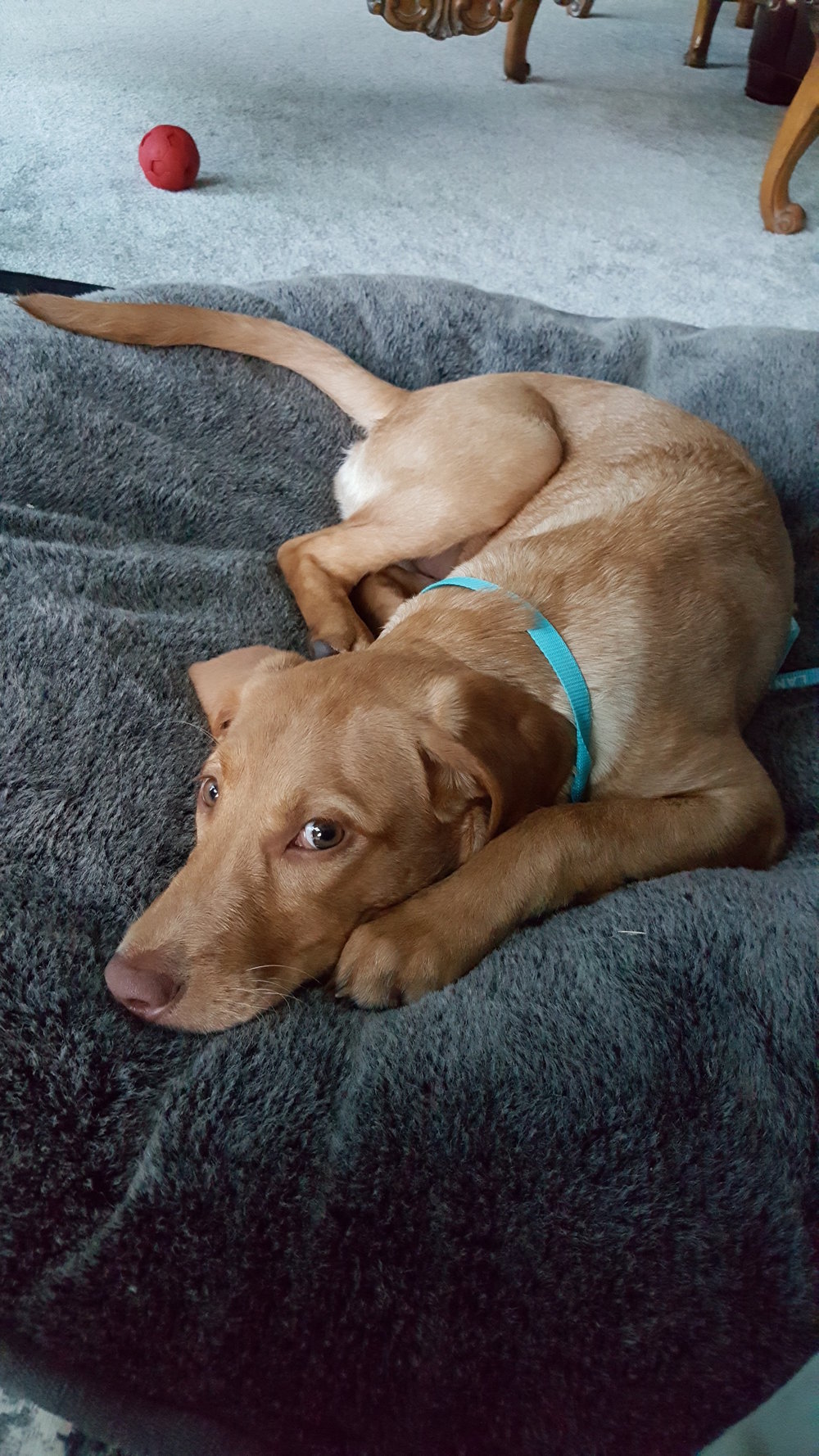 "I was driving home from the grocery store Wednesday night. I was about a quarter mile from home when I saw this little pup standing in the road. My neighborhood is not really that busy with traffic, but this dog was standing in one of the main arteries through the area and I thought I better pull over to see if the dog had tags.
So I pulled over and got out of my car. I whistled at the pup and she came right over to me without any hesitation. Unfortunately, she did not have a collar or any tags that would identify her. She was a beautiful lab puppy. She was clean and well taken care of so I knew she was not a stray and that someone must have been heartbroken that she was missing.
I walked around for about ten minutes to see if anyone was looking for her. I did not see anyone. So, I put the pup in my car and took her home. Once I finished unloading the groceries, I put the pup back in the car and drove around the neighborhood hoping I might find someone who appeared to have been looking for a dog. No such luck.
Since I did not have any dog supplies at my home, I took the pup to my mom's house. The family dog recently passed away three weeks ago and we still had treats, food, a leash and a nice dog bed for the puppy to sleep on.
Once there, I took the pup for a walk and fed her water, canned food and she settled in for the night. I posted my situation and the pup's photo on Facebook that night. A high school friend, Nancy, saw the post and told me about PawBoost. I created a profile for the pup, what an amazing website. After that, I settled in for the night and decided to sleep next to the pup on the couch so I could keep an eye on her. She was an angel and slept peacefully.
I woke up the next morning I took her to the Golden Lantern Animal Hospital in Dana Point. I wanted the vet team to scan her for a microchip. They scanned her. Again, no such luck. So I walked out of the vet feeling a little sad for the pup. I got into the car and decided to check my email. That is when I saw a message from Denise via PawBoost. She lives in my neighborhood and was walking her dog the night the pup went missing.
Evidently, she was approached by the pup's owners while she was walking. They asked her if they had seen little Roxy, a five month old lab. She told them that she hadn't. Since Roxy's owners did not live in the neighborhood, Denise recommended that they leave their contact information with the attendant at the community entrance. This was brilliant. This was the trigger that set things into motion.
Denise eventually saw my PawBoost post and she responded right away. She told me to call the guard at the gate and the owner's contact information would be there. The attendant called the owners and gave them my contact information.
We set up a meeting at my home so they could come and pick up Roxy. She was so happy to see her mom and dad. We chatted for about half hour. They told me they had been visiting friends in my neighborhood and the dog slipped out of a door that was previously closed. They were so distraught that they did not get any sleep that night. I can imagine, but we have a happy ending!
Bravo to technology, PawBoost, Facebook and a special bravo to Nancy for alerting me to PawBoost and to Denise for seeing the post and responding. Without them this story would not have ended the way it did."
Spread the good news! Thank you to everyone who shared Roxy's alert. It's amazing how quickly things can fall in to place when a community gets involved and spreads the word of a missing fur baby 🙂
---
Bowie: Lost Dog Reunited in Irwin, PA!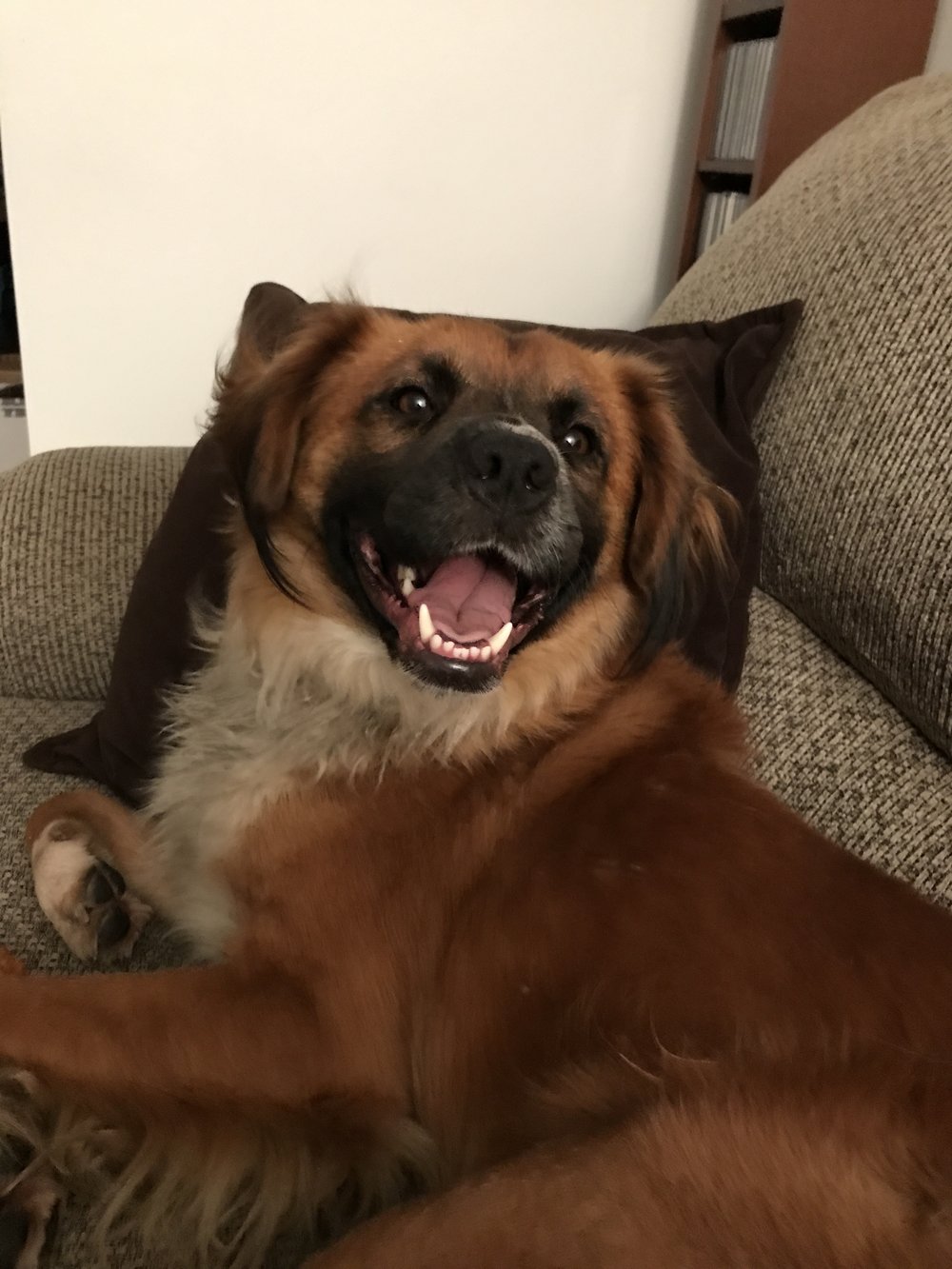 "Bowie was recently rescued from an extremely bad situation. Jenn and I are landpilots for PAART (Pittsburgh Aviation Animal Rescue Team) and transported him, his mother, his brother, and 15 other dogs that were going to be euthanized that day to the safety of shelters that do not have time limits.
As odd as it may sound, I felt that Bowie chose me as his owner. I fell in love with him on his transport up to Canada. I immediately called the organizer of the mission from PAART and the shelter to arrange to go back and get him. Once he was adopted, the shelter told us he was very picky.
I left him at my parents' house for five minutes while I went just up the road to get some pet food that he liked. In those five minutes, he panicked (not knowing he was safe) and bolted past my mom when she was taking out some recycling. You can imagine my heart breaking as I came home to find my parents out in the street looking for him.
The whole neighborhood came together looking for Bowie. Jenn alerted PawBoost, and a local humane officer put together a team. It took this team of professionals, over 3,000 shares on Facebook, and a community to get him back. He was seen behind a couple's house in the woods eating the food they had put out for wildlife.
Bowie was too smart to go into the traps so eventually after outsmarting us, the next door neighbor set up a pulley system. The humane officer waited on their back porch for five hours. We had mapped out his patterns from using trail cams, but bad weather offset him. Finally, he walked into the trap, and the door was shut behind him.
While it was actually the mother of my high school friend's mom that spotted her, PawBoost helped get the word out. So many people were out looking for this dog. I have had people out in the public recognize him and hug me!!
It is important to get the word out to as many people as possible. I would recommend posters, plastering Facebook, professional advice, and PawBoost!!! Thank you for helping to get my best friend back! We both greatly appreciate it!!!"
Spread the good news! Thank you to everyone who shared Bowie's alert. He is now at home and loving the pampered pooch life! 🙂
---
Prince: Lost Cat Reunited in Indianapolis, IN!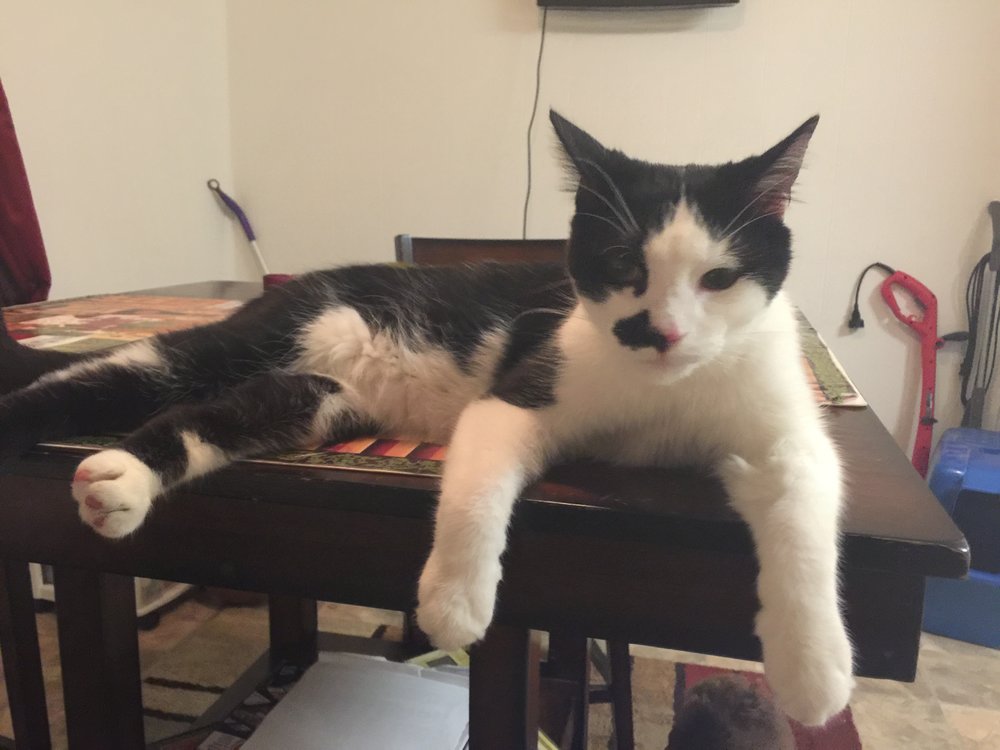 "Prince was let out back of our apartment by one of our children and never let back in. So we have walked the neighborhood for 2 days straight, miles upon miles, to the same places and walking around for hours. We ran into a man and let him know our cat was missing and he said his cat was missing too!!! He told us about a few sites and PawBoost was one.
We exchanged photos and numbers and said to keep in touch regarding our fur babies. We made a post about Prince on PawBoost immediately!!! I texted him the next day and asked him something and he said he found his cat that morning and when he gets off work he would look for ours.
After a few sightings of other black and white cats, we got a call around 10:42PM and a woman said she had seen our PawBoost alert and believed I spoke to a friend of hers that had lost his cat as well. She said she was located in the same apartments and we gave her our address and she brought him straight to us. OUR HEARTS WERE WARM ONCE WE LAID EYES ON HIM!!!
I would definitely recommend PawBoost to each and every person that has a lost pet!!! Don't ever give up on your fur baby because they would never give up on you!! Thank you for everything and we appreciate this site from our home to yours!!! God Bless."
Spread the good news! Thank you to everyone who shared Princes' alert. After a lot of heartache, walking and roaming for 2 days Prince was finally returned home safe. Remember, never give up on your fur baby 🙂
---
Africa: Lost Dog Reunited in Oakland, CA!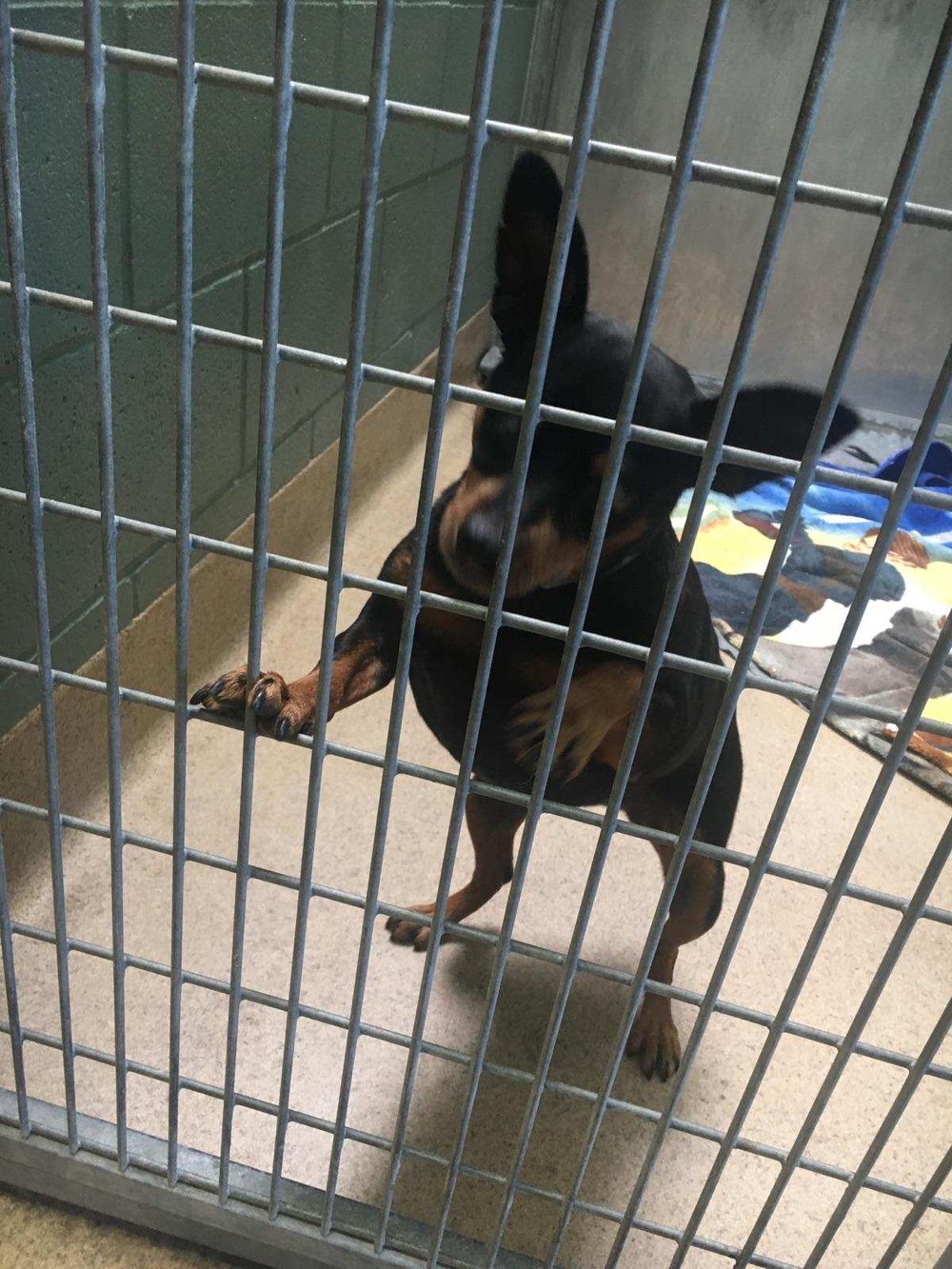 "Africa is a blind, miniature doberman pinscher. Where she lives the entire house is fenced and gated. We all knew that Africa couldn't escape, for as long as she has been there she's never escaped from the yard. One day my mom took her out for maybe 15 minutes, so she could get some exercise and bask in the sun, but when she went to feed the dogs Africa was gone.
We knew there was no way she could of escaped and even if she did she wouldn't have gone far since she is blind. My family looked everywhere for her everyday and there was no sign of her. We figured something or someone must have taken her because she wouldn't be able to get out on her own.
We reported her missing to several shelters and a month later the shelter of Oakland called saying they found a blind, miniature doberman pinscher. They told us someone came and dropped her off. The receptionist said she wasn't eating and seemed very down. And they probably stole her to breed her, but since she's a special needs dog and she's fixed they had no use for her.
The next day we went as soon as the shelter opened and it was her! As soon as she heard my mom's voice she banged against the cage to get out to reunite with us and now she's home with us.
PawBoost increased our chances of finding her and is a great network for hundreds of other dogs and I'd highly would recommend it to other animal owners."
Spread the good news! Thank you to the shelter for keeping her safe until her family arrived and everyone who shared her alert. Her family is very glad to say that Africa is back home safe and sound 🙂
---
Lily: Lost Cat Reunited in Naperville, IL!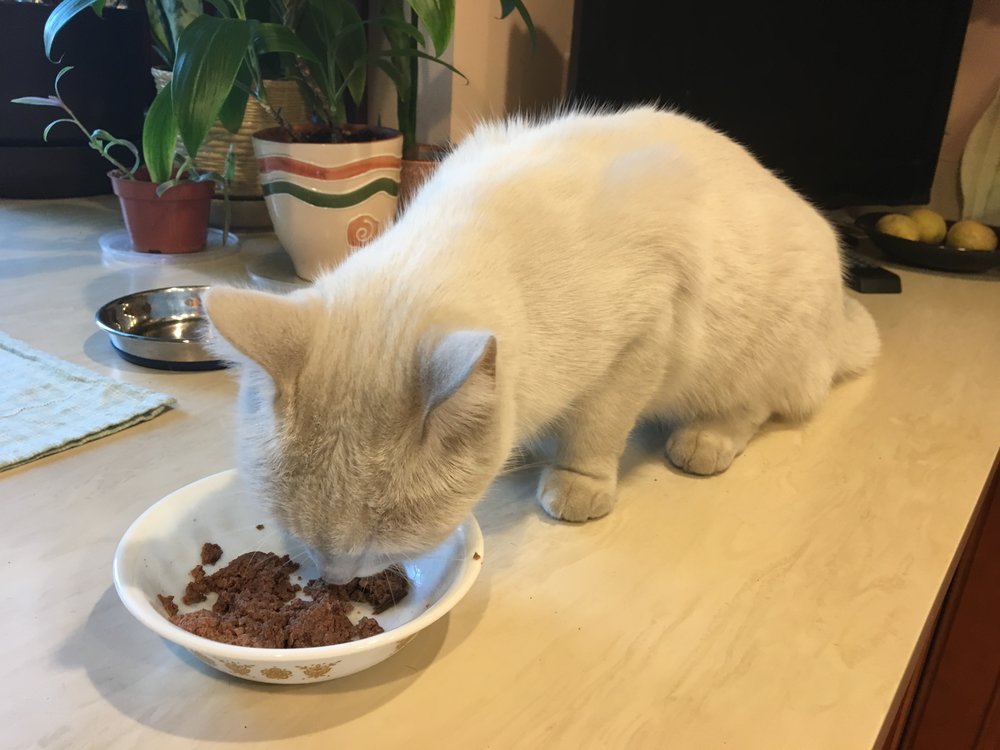 "On Sunday, the family was sitting outside on our back deck, cats included. I saw out of the corner of my eye, Lily take off after something. I didn't think too much about it, because we have chipmunks. A little while later, I knew a big storm was coming, so I called everyone in and everyone came but Lily.
It was a doozie of a storm, but I figured that she would hold up somewhere and would be home after the rain. When she did not return immediately, I became worried because I thought maybe she had gotten trapped somewhere and since we had so much flooding, I was afraid she drowned. Usually no cats are out after 5 pm, because we feed them dinner then, but surely she would be back for the late night snack at 10pm.
Within the next few days, I asked the homeowner's association to send out an alert. I printed up flyers and began walking the neighborhood. Someone did report seeing her the Monday after the storm, and she was a half block away running towards home when she was spotted. So at least she survived the storm, but why didn't she come home on Monday, if she was so close?
I called the Naperville animal control, the DuPage County Animal Control, and the animal control for two nearby cities. Someone told me about PawBoost, a site called What's happening in Naperville, and search.petbi.org. I posted on all of those sites.
I drove and walked the neighborhood at dawn and dusk because supposedly that's when they are more active, but I felt like I was looking for a needle in a haystack. I attended the National Night Out for our neighborhood and gave out flyers. A little girl said she had seen her the day before, about a block from our house, but I wasn't sure how accurate her sense of time was. In any case, no Lily. I asked my friends to pray.
We had placed a dirty litter box on the back deck early during this ordeal. However, the morning of the day she returned, we had refreshed the litter box with very stinky poop from her favorite companion kitty.
I truly was beside myself while she was missing, and someone, (was it you?), was kind enough to respond to my request for suggestions about what else to do to find her. I wanted to make sure that I was doing everything I could to find her. I received one call for a spotting of a white cat, so I raced over to the location, but alas, although I met a very nice neighbor, it was her cat, and not Lily.
The evening she returned, my husband and I walked a new section of the neighborhood handing out flyers. We got home about 7:30 exhausted from working, walking and worrying, and flopped down on the couch to watch some TV. Then she came bounding up the back deck, meowing to come in. She was dirty, hungry, and thirsty, but fine. No scratches, no injuries, no ticks. I opened up a can of moist food, and she gobbled it down.
I posted that she had returned, and received a number of kind responses. Apparently, a lot of people were praying for her return. Sometimes the answer to a prayer request is no, but I am ever so thankful that this time it was Yes!
That's her story, and although she seems to be fine, I am still not over the ordeal! 😊"
Spread the good news! Thank you to everyone who shared Lily's alert. She had a bath the next day and has been sleeping and eating a lot since then 🙂
---
Gretta: Lost Dog Reunited in Hickory, NC!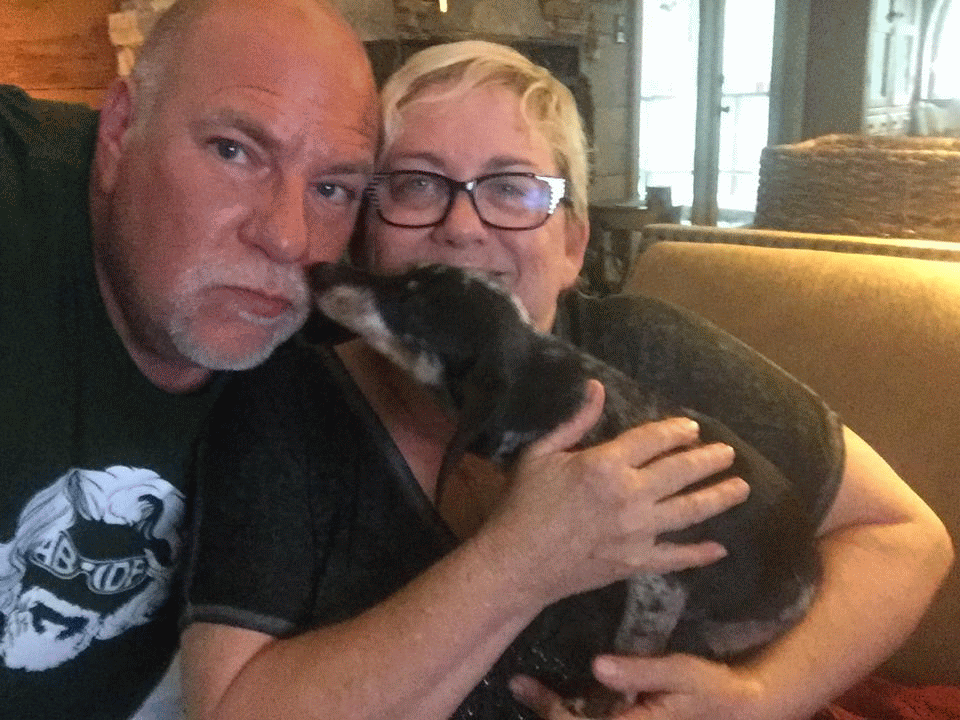 "Gretta went missing while we were on vacation. Our other five dogs and cat were being watched by a house-sitter at our home, but Gretta is our little 'special needs' girl, having had back surgery twice (along with a number of other issues), so we left her with the woman who has provided her physical therapy for more than seven years now.
The therapist's daughter let her out in their fenced in back yard, but Gretta squeezed through a gap and was gone. We are dumbfounded by this, as Gretta has never shown any tendency to escape in the past. She made her way up the street where they live and out onto the very busy Highway 127, heading north (toward home, maybe?). She probably traveled 200 yards or more, which is remarkable given her limitations.
She can and does walk and pretty much goes where she wants to go, but it is a wonky walk. Laboring along the grassy, uneven roadside (no sidewalks) must have been quite a struggle for her. We were astonished that she would even attempt to go where she did and as far as she did when she escaped last week.
We don't know the specifics, but after she was missing for about half a day I got a text from a very nice lady who said she thought she had our dog. She sent a picture confirming that it was Gretta. The therapist quickly picked her up and we got her from the therapist when we returned home on Sunday.
I don't know how Gretta's rescuer connected her to us, but I imagine she saw the widely-shared messages on Facebook. We are eternally grateful to this very nice woman and her son and his friends who saw Gretta by the highway and picked her up. Gretta means the world to us. We have been through so much with that little dog. To have lost her was unimaginable.
All of this happened on a Tuesday afternoon and evening. My dear sister had just passed away early the previous morning. She was gravely ill and I said my farewells to her just a day and half prior to her death. That was expected, unfortunately, but the situation with Gretta came out of the blue. I have to confess that I pretty much melted down while Gretta was missing. I just couldn't handle it in the wake of the previous day's sadness.
We're overjoyed to have our little girl back home, where she belongs. The alternative was unthinkable. We appreciate PawBoost! Anything that helps spread the word is highly beneficial. One never knows how the crucial connection will be made. It pays to cast the widest net possible."
Spread the good news! Thank you to everyone who shared Gretta's alert. Gretta is happy to be home and is in good health. Her family is ecstatic to have her back where she belongs 🙂
---
Lua: Lost Dog Reunited in Williamsburg, NY!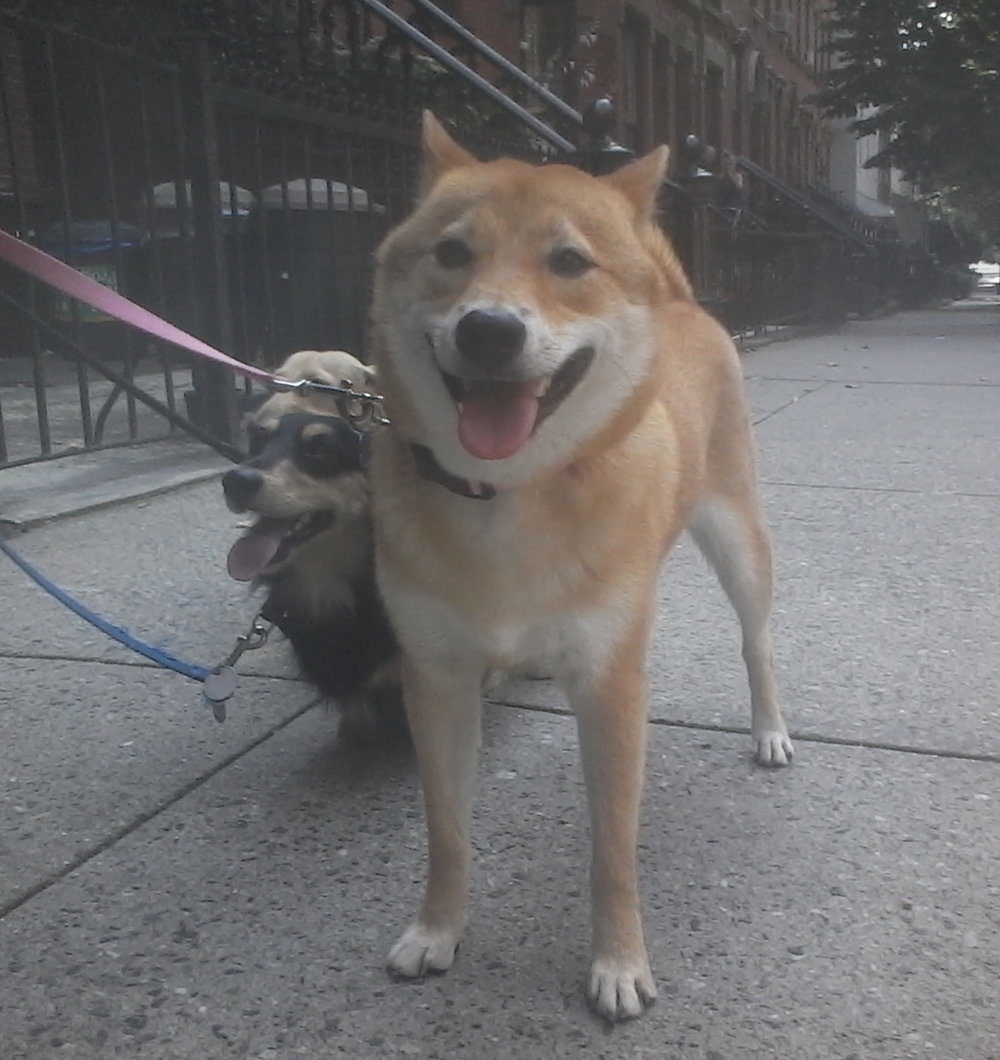 "Lua, an 11 month Shiba Inu, was on a walk with her regular walker and two other pups she walks with during the week. They were near the entrance of McCarren park by the tennis courts when Lua, aka Houdini, escaped from her collar (tag attached), and ran down Bedford Ave toward N 12th Street.
The dog walker tried to run after her and injured himself on the way. I got the call from the owner of the company and immediately took an Uber back to Williamsburg from the city. Lua's 'pup-pa' immediately made a post on PawBoost and printed out flyers.
Lua was found trying to enter the McCarren dog park minutes later by a man eating lunch outside across the street. He took her to Happy Dogs, where they gave him a leash to use and he walked her to BARC.
Unaware of this, I received a text about 45 minutes after from Tiernan, the man who found her, saying that he saw the post on PawBoost and informed me where he had taken Lua. With only 5 minutes until closing, we ran to the shelter and in minutes were reunited with our little escape artist.
We were full of tears when we saw her. Lua was just happy to see us jumping and smiling as if we just returned home from work. After all, she was just trying to go play with other pups in the park, which is undeniably super cute. <3
I recommend PawBoost! If it wasn't for PawBoost it might have taken us much longer to locate Lua. We are beyond grateful for everyone who shared her alert and even after we found her and brought her safely home, we were still receiving calls and texts. So thankful for everyone in the community!"
Spread the good news! Thank you everyone who shared Lua's alert and especially to Tiernan! Lua is home safe and sound 🙂
---
Toby: Lost Dog Reunited in Fayetteville, NC!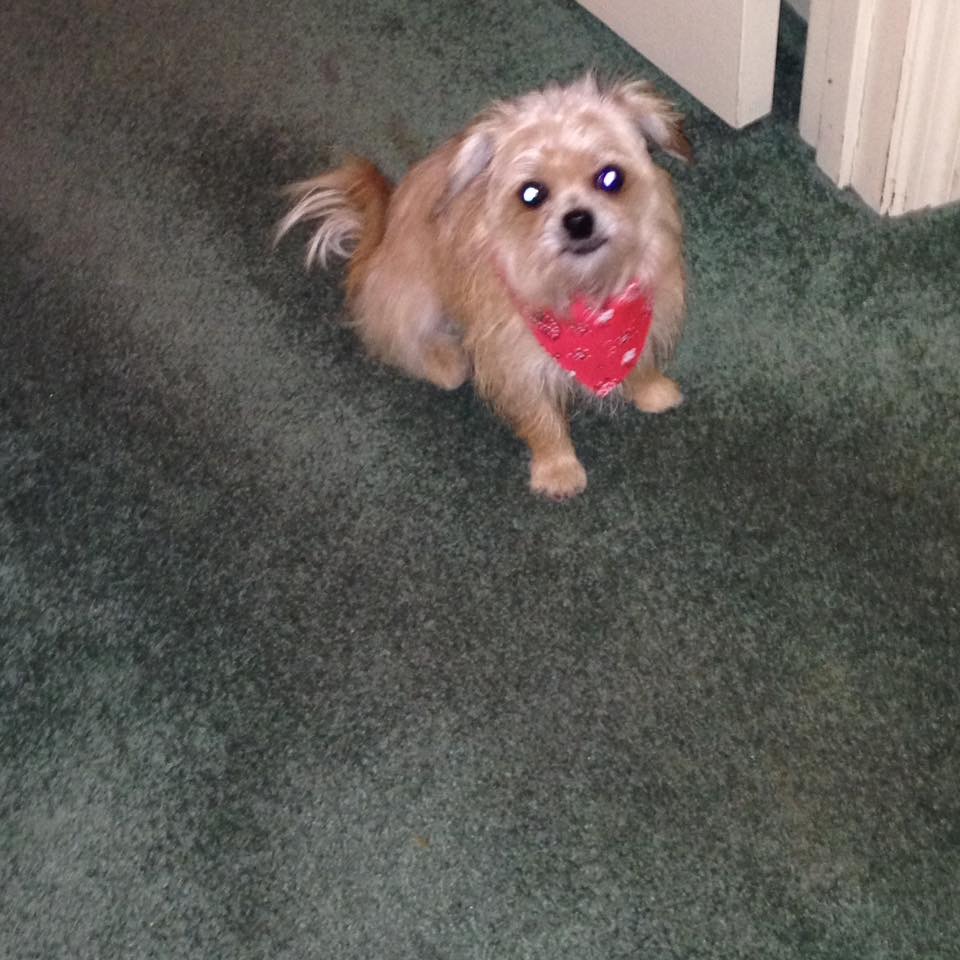 "Toby went missing by running out of our backyard. He typically stays very close to us but we were working in the yard and he got out without us realizing. We were able to reunite with Toby after I posted his picture and a plea for help on PawBoost. I listed our phone number on the post and within 3-4 hours I had a text message from a lady asking if this was our Toby!
She did not have Toby herself, but she was looking at PawBoost posts and saw that someone found a small dog matching the picture, description & area that Toby was lost. It was really amazing how this worked out. I am forever grateful for PawBoost and the kind people that were able to network with each other so that we could get our sweet boy back.
I would ABSOLUTELY recommend PawBoost to a friend or to anyone that is in this heartbreaking situation. PawBoost allowed us to connect with people in our local area and by the end of the same day that we lost Toby, we were able to get him back. I know there is no way we could have found him without posting this on PawBoost.
Our pets really become a part of our family and if you are like me, you will do anything you can to find your sweet pet and bring them back home safe & sound. Thank you so much PawBoost!!"
Spread the good news! Thank you to the kind people that shared Toby's alert. Special thank you to the two awesome people that saved him from a busy road & took him on a fishing adventure! 🙂 His family is so happy to have their sweet Toby back.
---
Robin: Lost Dog Reunited in Greenville, SC!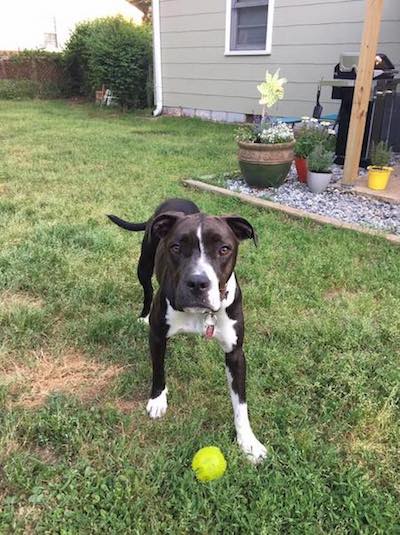 "Our other dog invented a way to open the back door to the fence, and off they went. Our other dog gets excited when she's free and runs aimlessly until she's tired; Robin has always followed the other dog's actions.
Our other dog was found the same day, about 300 feet from where the two were last seen together. Sadly, Robin was nowhere to be found. She had always stuck with the other dogs before; she was alone for the first time. We searched every inch of the area for two days straight.
PawBoost was incredibly helpful in spreading the word about Robin's disappearance. My emails were blowing up with notifications of people sharing the news, and I saw copies of her ad shared on several Facebook accounts. Every day was challenging and scary, but seeing those updates of people still making those efforts for us helped keep our faith and optimism.
We got several reports of a dog similar to Robin in the woods behind our local Publix. My dad made the trek out there while my girlfriend and I were at work. After lots of asking around and driving, he made one last lap on foot. Calling her out by name, she slowly, cautiously crawled out from under two magnolias, and my dad scooped her right up.
I would absolutely recommend PawBoost to anyone who has lost their pet. The last three days have been some of the worst, most depressing days of my life. Robin rescued us just as much as we did her, and she's our best friend. Not knowing if she was alive or dead tore at us every second. Anything that was any kind of effort was invaluable, and PawBoost provided that graciously.
Thank you all again, and we hope you can make more happy stories like ours."
Spread the good news! Thank you to everyone who shared Robin's alert. Everyday that goes by without your fury friend can be tough, but the reunion is glorious 🙂
---
Mittens: Lost Cat Reunited in Aurora, CO!
"Mittens is an indoor/outdoor cat. She goes out to our backyard, sometimes for hours at a time, but has never left home. She always stays back there and we call her in and she comes. One Saturday she was no where to be found.
At first we weren't worried, but when night came and she still wasn't home or in the backyard we frantically checked all over the house and realized she was missing. We put up posters around the neighborhood the next day and called around for her every day. We checked the animal shelter nearest us and they didn't have her.
PawBoost helped with the people's comments! They recommended we put her litter box outside, and to not lose hope in finding her. We put the litter box outside and then my fiancé took it a step further and spread a tiny bit of her cat litter out in a trail around the neighborhood to our house.
Sure enough when I went outside tonight to check for her for the last time of the day I heard meowing as soon as I called her. They were long drawn out meows and I went through the gate the front yard and she was there crouched down afraid and alone.
I was so excited to see her I immediately brought her in exclaiming, 'Mittens came home!' My fiancé shared in my excitement and we held and kissed her for what must have been 10 minutes straight.
I'm so glad people posted insight on what to do and they shared the post several times which helped get the word out. Their tips were the most helpful. PawBoost gives people a chance to help others find their pets in any way they can. Thanks PawBoost for helping us find our princess Mittens."
Spread the good news! Thank you to everyone who shared Mittens' alert and gave advice on how to find her. Her family is so happy to have her home. Mittens wants to go back outside, but for now she's stuck inside 🙂
---
Kyrie: Lost Dog Reunited in Montclair, CA!
"It is still unknown how Kyrie went missing because we have a complicated door to the backyard, that only humans are able to open, and it was closed that night for sure. In the middle of the night, a family member heard him bark a couple times but thought it was just Kyrie barking at the next door neighbor's dog.
When we woke up the next day, the lock had been removed from the door and only Kyrie was missing. We have two other dogs that were still in the backyard so we are still trying to figure out what exactly happened, but are taking extra precautions.
The woman who found him posted on her Facebook page that she found him with his picture. At the same time, a family member posted on Facebook that he was missing and I also made a post to PawBoost with his picture and my contact information.
Another woman who worked at a shelter saw the woman's post saying that he was found and also saw my PawBoost posting and instantly matched the two photos and knew that Kyrie was the dog she had found. So the kind woman from the shelter contacted me through the information I provided on PawBoost and sent me the finder's Facebook information so I could contact her.
We were then able to meet up with the person fostering him and he began jumping around just upon seeing our car pull in. They could clearly see that the dog belonged to us and we were reunited with him and were able to bring him home. We were so overjoyed and relieved that he was okay and back home. Can't thank PawBoost and all those who helped out enough!!
I would definitely recommend PawBoost because it was so quick and easy to use. It also was the reason why the woman from the shelter was able to contact me."
Spread the good news! Thank you to everyone who shared Kyrie's alert and helped bring him back home. His family is overwhelmed with happiness 🙂
---
Ginger: Lost Dog Reunited in Victorville, CA!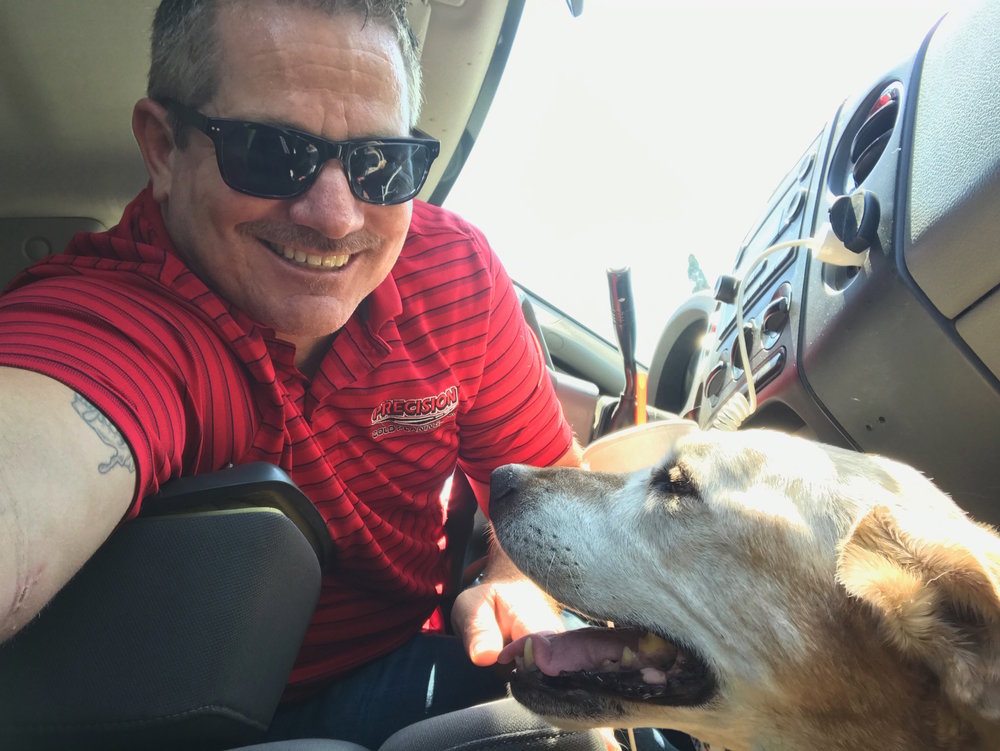 "Ginger was being mischievous late in the evening. She sleeps in our bedroom and she kept waking us up, so we put her in the backyard. No big deal, doggie door into the house and into the garage for her to use when she was ready to come back in. Little did we know that our 16 year old twin sons had not closed the gate all the way after an afternoon of riding bikes. That is how Ginger made the great escape!
She wandered 1.7 miles away down a 50 mph road to a Sonic Drive-in. There, a man noticed her. She's deaf, nearly blind and has really bad mobility due to 14 year old hind legs. He felt pity for her. He lived in Burbank and was heading home, which was 82 miles away, but couldn't leave her behind. He took her with him and made a post on Facebook.
We had also turned to Facebook and were posting in local lost pet groups. My wife heard about PawBoost and asked me to try it. The next day, I received a text from an unfamiliar number. 'Hi! Are you still looking for Ginger? My friend found an old dog…' This person saw our PawBoost post and knew Ginger was found in Victorville and immediately took to Facebook!
I would recommend PawBoost to a friend without hesitation!!! I'm not a Facebook guy. I don't use social media (I'll wait for you to pick yourself up off of the floor). PawBoost does and posted my lost poster there for me! Everything was so nicely formatted! And free Missing/Lost posters…what a pleasant and helpful tool. This worked so quickly, we didn't have time to put the posters up yet! Lol
Thank you SOOO much for your service, your site and for your mission!!!"
Spread the good news! Thank you to everyone who shared Ginger's alert and thank you Will for saving Ginger and taking her to the shelter where they posted her online. Her family is happy to have her home safe. Reunited and it feels so good 🙂
---
Jessie: Lost Dog Reunited in Saint Germain, WI!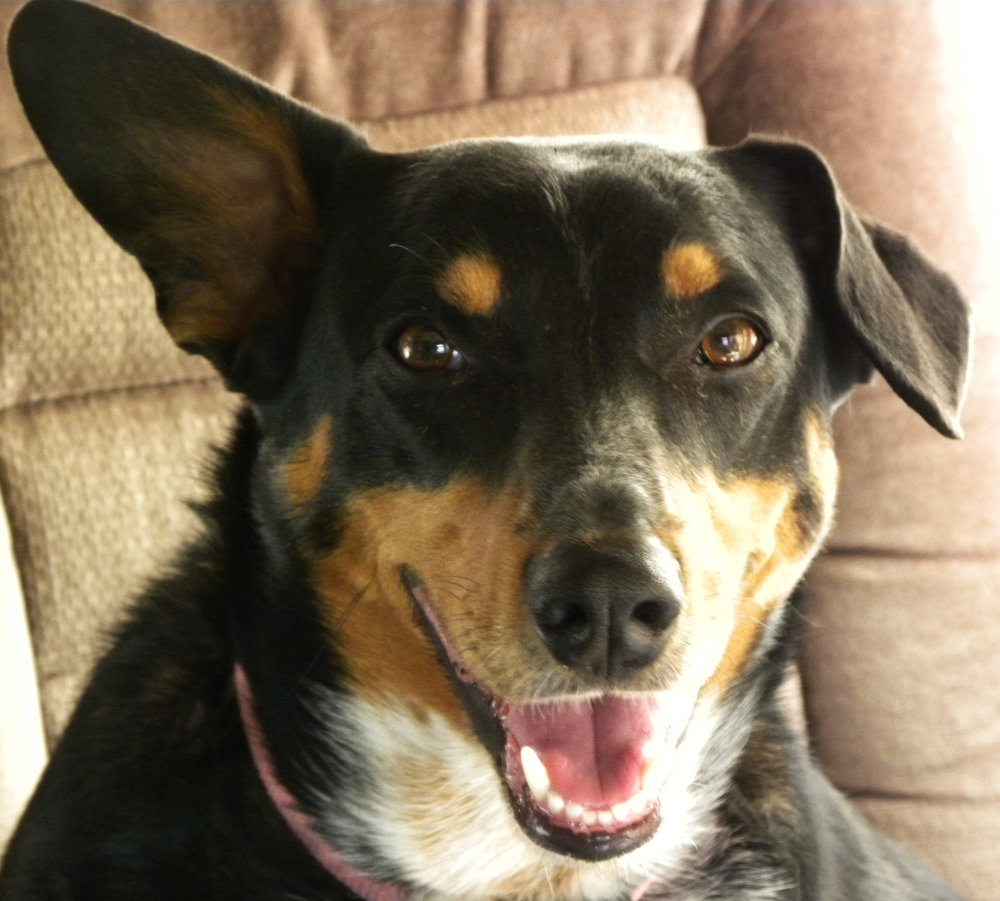 "This past Saturday, after a couple of days of seeming disturbed by something outside and very nervous, Jessie chased something into the woods. Since Jessie's favorite thing is eating and it was close to her meal time, we thought nothing about it. We expected her to return instantly, but she never returned.
We immediately made flyers on Fido Finder and found PawBoost then. We called all of the places we could think of, had it on the radio, notified vets, shelters and dog catchers. We posted flyers everywhere we could think of in this small town.
PawBoost was so helpful as they told us to put food, water and things with our scent on it outside. We put stuff on our little deck and as far in the woods as my husband Dan, could get since the woods are very thick and we are on the wrong side of middle age. ha-ha.
We just adopted a kitten and went to the vet with her at Northwoods for the first time. We had been there about an hour and half ago when our phone rang. It was the vet receptionist who had just received a call from one of their customers. The man had just returned from vacation and his dog alerted him to Jessie under his deck.
He was two miles away on the other side of the highway. The receptionist told him she was sure she knew whose dog it was and we called him immediately. He was so wonderful. We are so grateful to all who tried to help. We were very lucky.
Yes, I would recommend PawBoost to everyone who has lost a pet. I hope she never goes on walkabout again, but would immediately post on PawBoost since it is a wonderful resource and many caring people. I had two unknown people in my community who asked if they could look for her after she was found. The whole community was very responsive, warm and caring. Thank you."
Spread the good news! Thank you to everyone who shared Jessie's alert and helped locate her. The nice man who found her kept Jessie in his house and was taking good care of her 🙂
---
Rozi: Lost Dog Reunited in Mount Pleasant, PA!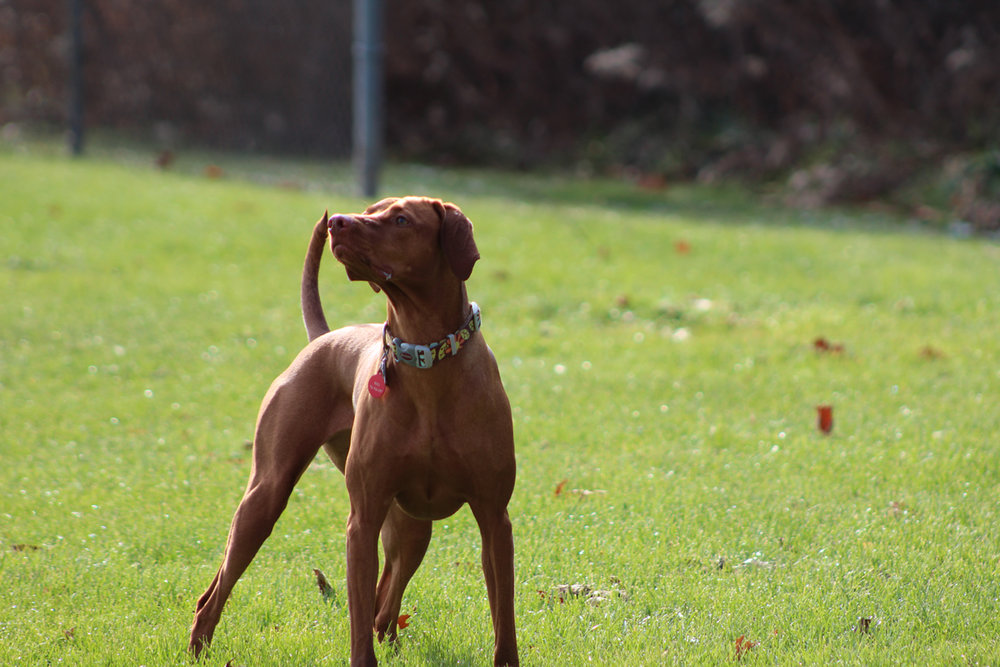 "Our Vizsla, Rozi literally never leaves our side outside of our home, which is why it is so puzzling that she took off during a hunting outing with my husband and two of our sons. She was obviously terribly frightened by something that made her take off running.
Rozi was missing for nearly 24 hours, which included a terrible, stormy and rainy night and day. That feeling is simply awful as a parent. I searched for what to do first on the internet because, of course, I was unable to sleep. PawBoost came up through my Google search and generating the flyer made me feel like I was taking the first step to help get Rozi home to us.
It was amazing to see the number of shares, notes of encouragement, and prayers sent to us via PawBoost. PawBoost helped me as a desperate and distraught pet mom to feel like I was doing everything I could to get our pet home safely. It was EXACTLY what I needed to begin our active search.
We are so blessed to have been a success story/happy ending. I would absolutely recommend PawBoost to anyone who has a lost pet. I was overwhelmed by the number of responses to our alert, that means PawBoost is reaching many people! Thank you for everything and the role that PawBoost played in reuniting our Rozi with our family."
Spread the good news! Thank you to everyone who shared Rozi's alert and sent prayers and faith that Rozi would be home soon. She is bruised a bit, exhausted, and a little dehydrated but still wagging her tail with her family and her big sister 🙂
---
Love these Happy Tails? We love sharing them! Click here to read more.