Pet Detective + PawBoost Reunite Raider in Plano, TX!
Pet Detective + PawBoost Reunite Raider in Plano, TX!
Pet Detective, Cindy Gordon told us how PawBoost helped her reunite Raider in Plano, TX:
"A friend of mine named Branden, who is a mechanic, called me. He said he saw a cat on the carport roof below his third floor apartment, trying to get a bird. He called him from his balcony and when he went to his front door, there he was!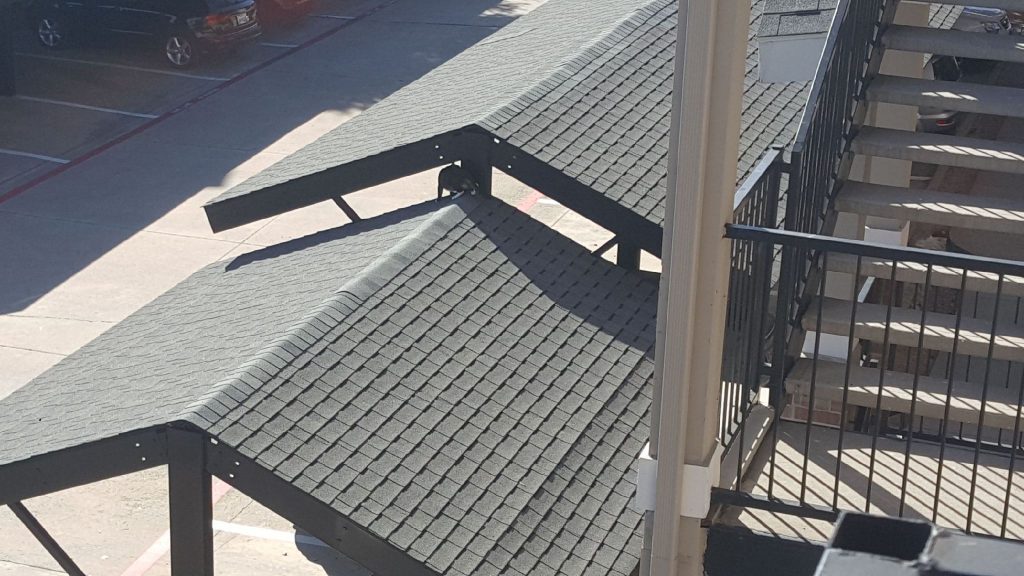 They tried to find his owners at the apartment complex, but didn't have any luck. They were planning to keep him, and then he remembered that I was a Pet Detective and called to see if by chance I could help them find the owner before they officially made him a part of the family.
I asked him to send me some photos and then did a quick scan on PawBoost. I found Raider's listing, but it was 9 miles from his home and the photo didn't show too many details. Cats do get transported sometimes, but it wasn't a definitive match from the post's photo, and it seemed somewhat unlikely due to the distance.
Nonetheless, I contacted Raider's mom via the phone number on the PawBoost listing, just in case, and asked her to send me some more photos so I could compare. She didn't think it was very likely either due to the distance, but she did dig some photos off her older computer's hard drive.
Meanwhile I headed over to Branden's house and scanned the cat for a microchip. Happily, he was chipped! Sadly, it was not registered 😞 I dug a bit and after several calls found that the chip had been implanted out at the West Texas Humane Society in Lubbock, over 5 hours away. But no information was available about the owner. The chip had been implanted 5 years ago, so we had a minimum age.
I texted Raider's mom back: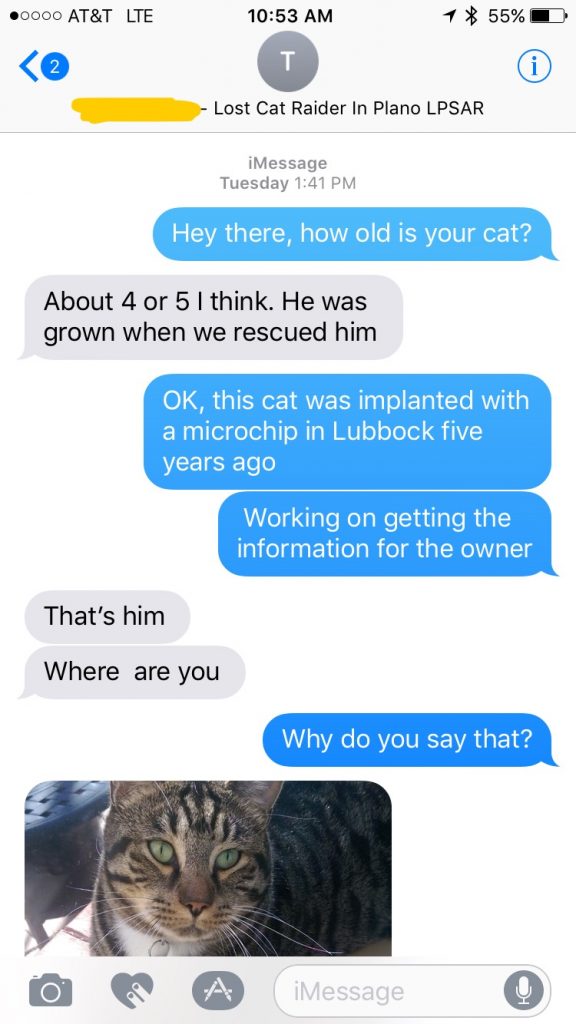 She excitedly called and said that this cat was her daughter's cat, from Texas Tech in Lubbock! It was their "campus cat," but she had brought him back home to Plano for the semester. It sounded like it could be a match!
But because of the distance from their home, and the fact that we were dealing with a stranger, I still wanted absolute identification. Raider's mom had previously said she wasn't sure if he was chipped, so she didn't have the chip number. But I noticed that the cat did have one very distinguishing feature, a very large spot on the back of his left leg. Surely if this was her cat, she would know about that marking!
However, this was actually her daughter's cat. And the daughter, away at college, did not know the cat was missing yet!! Mom did not want to upset her with the news,  but she really believed that it was him so she called and the daughter immediately told her about this marking.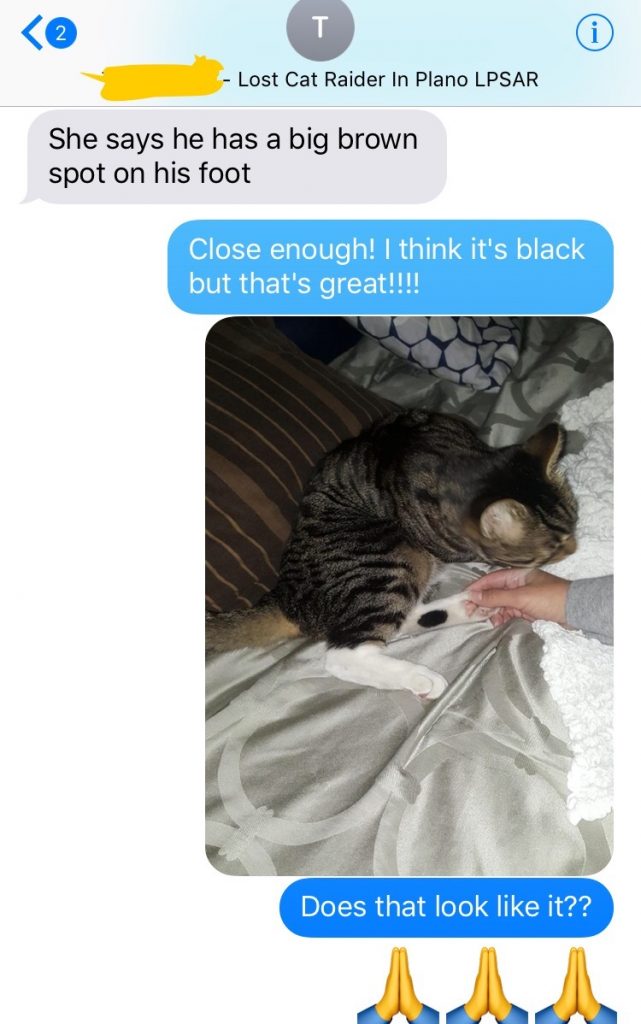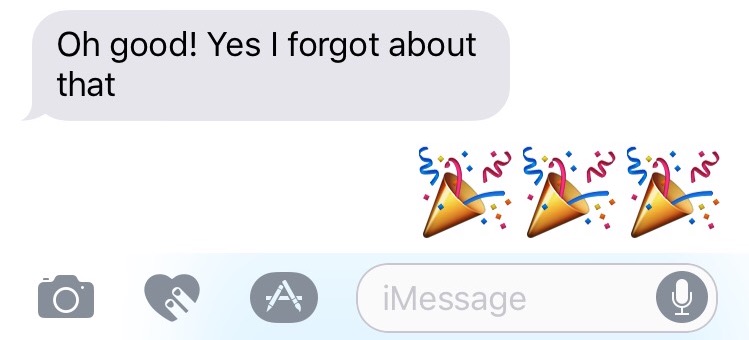 Within an hour, she was picking up Raider and taking him safely home!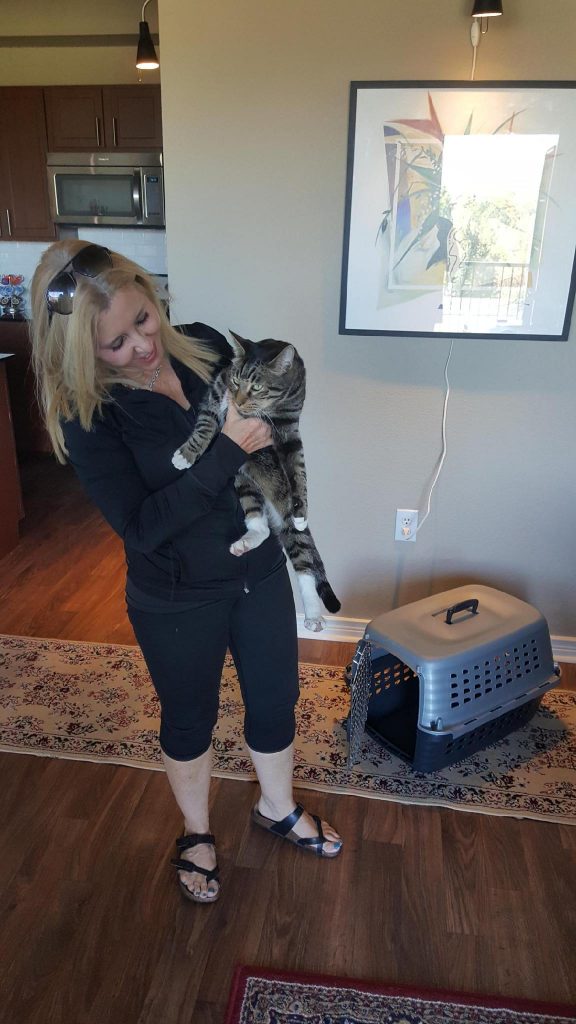 A few days later she came by to have all her pets scanned, so she could microchip the two that weren't chipped, and register the two that were chipped but unregistered. She is all squared away now!! And she's also ordering a Marco Polo tracking system for her fur babies, so she won't have to go through this again. That's the only system I recommend, I wish everyone would get it!!
Bottom line, this cat would not likely EVER have been reunited without PawBoost. Because of the unlikely distance, posters would not have helped, nor Nextdoor, or any of the other typical local lost pet sites. Any on-site searches would never include that kind of a radius for a cat. But PawBoost stretches throughout the city, (and country) making unlikely longer distance matches 100% possible! We'll never know how Raider managed to hitch a ride across town, but we are glad he's safe at home."
Need a Pet Detective? Here's How To Find One in Your Area
We know that losing a pet can be a traumatic experience, but try to remember that there are teams and experts ready to help should you need further assistance in your search efforts. In addition to contacting Cindy Gordon you can also learn more about pet detectives in your area by researching the Missing Animal Response Network (MARN) Directory.