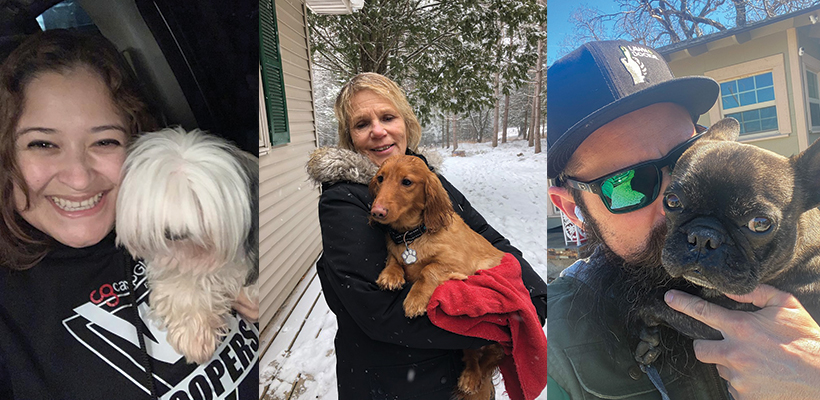 Featured Happy Tails! April 2021 – Lost & Found, Dogs, Cats & Pets That Were Reunited in April
Featured Happy Tails! April 2021 – Lost & Found, Dogs, Cats & Pets That Were Reunited in April
PawBoost loves to share happy endings! Check out April's Featured Happy Tails to learn how these fur babies were reunited with their families.
Love these Happy Tails? We love sharing them! Click here to read more.
---
Blue: Lost Dog Reunited in Adelanto, CA!
---
Nina: Lost Cat Reunited in Sevierville, TN!
---
Kiara: Lost Cat Reunited in Salina, KS!
---
Choco: Lost Rabbit Reunited in Mississauga, ON, Canada!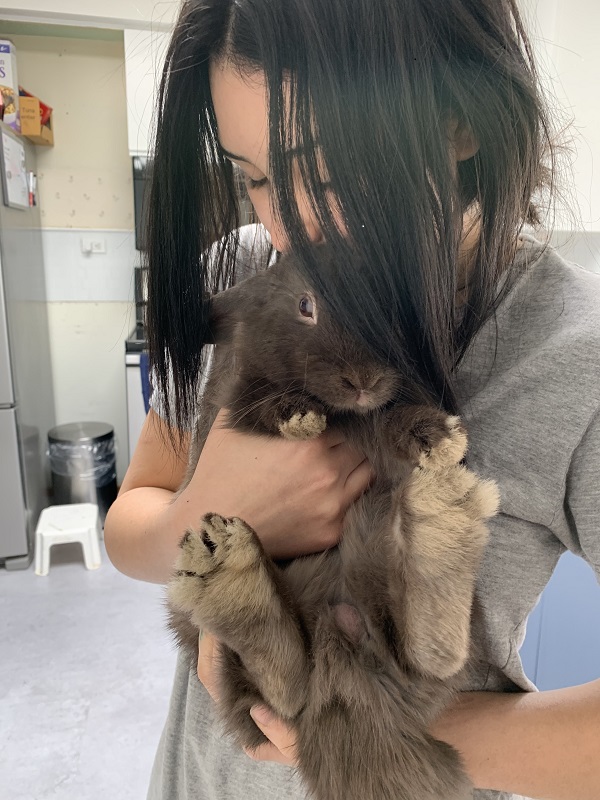 "Choco went missing one day. We just couldn't find him anywhere. We were doing renovations in the house and forgot to put the air vent cover on. We believe Choco went in through the open vent entrance and ended up in the basement inside the wall.
The following morning we heard scratching at the bottom of the stairs. We opened a piece of drywall by the crawlspace entrance and out came Choco. The feeling that came over us was like Christmas morning going to open presents. It made us realize even more how special Choco is to us!
Thanks to PawBoost, we got lots of great advice and words of encouragement. It's a good way to get exposure for your lost pet."
---
Chila: Lost Dog Reunited in Arlington, TX!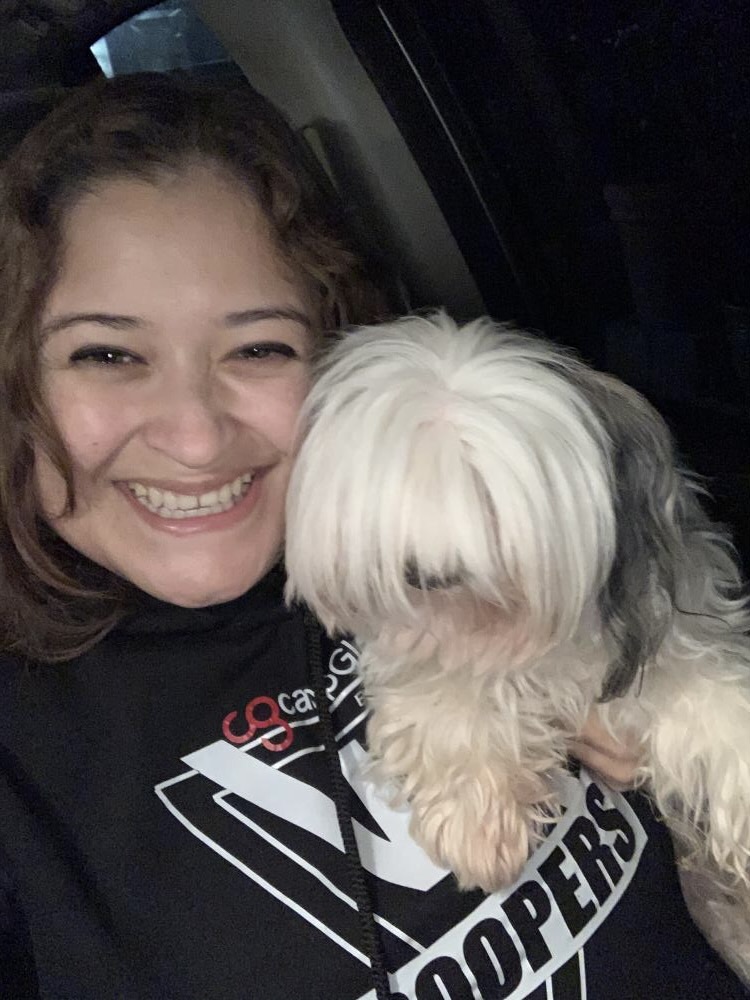 "My son took her out to the restroom with my other dog and one of them took off after a cat. In the two minutes it took for him to get back, she happily trotted off in the rain. We found her almost two years ago in 100+ degree weather, matted and dehydrated, so she's always been a free spirit girl. As soon as my son noticed she was gone, he got his dad to help him search while I checked all the cameras.
A homeowner a block away was taking out her trash. She saw her and took her in. She had her daughter search before taking her to a shelter and came across the PawBoost post. The crazy thing is, we were driving around searching on bikes and had seen this neighbor walk inside her house. But we never saw her holding our dog, nor did we think to ask.
This whole time she was nearby and at a home in front of my son's bus stop. The homeowner reached out to us via one of the posts that was shared and we were able to go pick her up. Chila was missing for 4 days. If it weren't for the posts and everyone who shared it, we may have never found her."
---
Minnie: Lost Dog Reunited in Tuscon, AZ!
"Minnie slipped out the door when we had a visitor come in and not shut the door all the way. PawBoost gave a great list of things to do when you have a lost pet. One of them was if you have another pet that's their buddy, take it on your search with you. So my kids and I took her buddy on our walk to find her. We were not expecting to find her but we did!
I would definitely suggest that if you go looking for your missing animal, take your walk slowly, call their name a lot, and look under people's cars, trailers, and other places where your animal could hide. Along the way, take breaks to call for your animal, and wait before you move on. Minnie was missing almost 24 hours before we found her.
The suggestions we got from PawBoost were so helpful. Having more than one set of eyes and having the information out there for people in your area is better than trying to do everything by yourself."
---
Ozzie: Lost Dog Reunited in Nadeau, MI!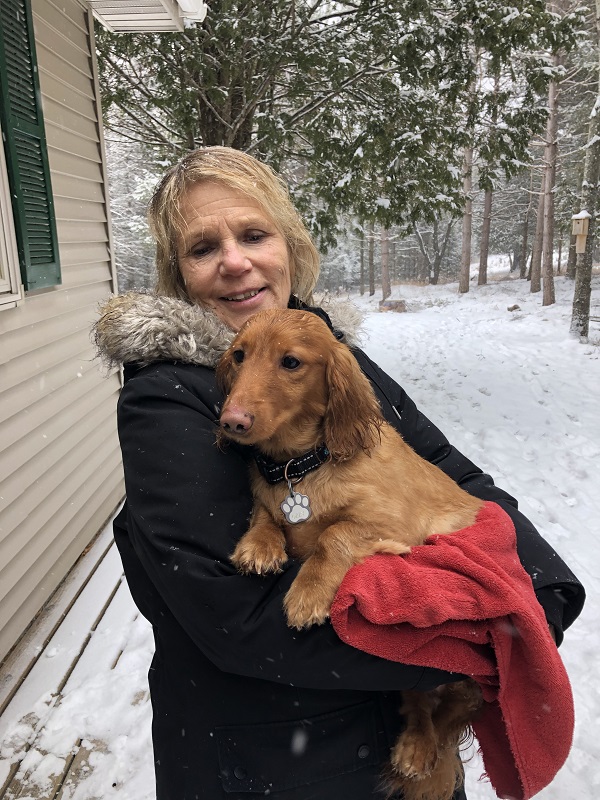 "Ozzie had just started his leash training when I adopted him. He was doing great with the training at our home. However, when he pulled out of his collar and took off, he was in an unfamiliar area.
Our first sighting since Ozzie had taken off was one Saturday afternoon. We tried to keep up with him but he was too fast, and there had been no recent snowfall for tracks. It was advised that we wait till the morning to try for another sighting. It was almost dark and we wanted him to get to wherever he had been hunkering down before dark.
The next morning we decided to use the line push strategy to get him to where I would be waiting. The team spotted him within 10 minutes! We had also received several inches of snow overnight, which made tracking him fairly simple. Ozzie was still very scared and was not giving in to being caught. As he started to get tired, he slowed down, and the team had people coming from two directions. At that point my son was able to catch him. The team was very impressed with Ozzie's speed!
PawBoost gave us the hope and encouragement to not give up! Ozzie was gone for 10 days before we were able to find him. The PawBoost community gave us so much important moral support through all the people who commented, telling us not to give up!"
---
Ruby Faye: Lost Dog Reunited in Lewisville, TX!

"I operate a home business and one of my employees left the gate open while Ruby Faye was in the backyard. We were reunited with our girl after being contacted by an individual who had seen our PawBoost alert online. She was in a city located 30 miles from where she went missing.
Luckily, a gentleman who was in the area working that morning noticed her near a busy intersection and stopped to pick her up. After the initial contact, we exchanged photos to verify her identity and arrange pickup.
We are truly blessed to have her home! I believe that PawBoost was integral in spreading awareness through social media and reuniting us with our baby. We truly appreciate all the support. I know we're incredibly lucky!!!"
---
Love these Happy Tails? We love sharing them! Click here to read more.