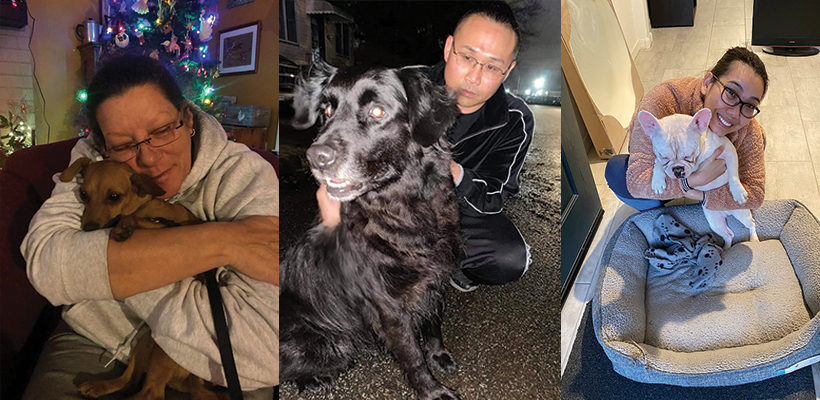 Featured Happy Tails! January 2021 – Lost & Found, Dogs, Cats & Pets That Were Reunited in January
Featured Happy Tails! January 2021 – Lost & Found, Dogs, Cats & Pets That Were Reunited in January
PawBoost loves to share happy endings! Check out January's Featured Happy Tails to learn how these fur babies were reunited with their families.
Love these Happy Tails? We love sharing them! Click here to read more.
---
Luna: Lost Cat Reunited in Las Vegas, NV!
---
Sparrow: Lost Dog Reunited in Sumter, SC!
---
Oreo: Lost Cat Reunited in Redding, CA!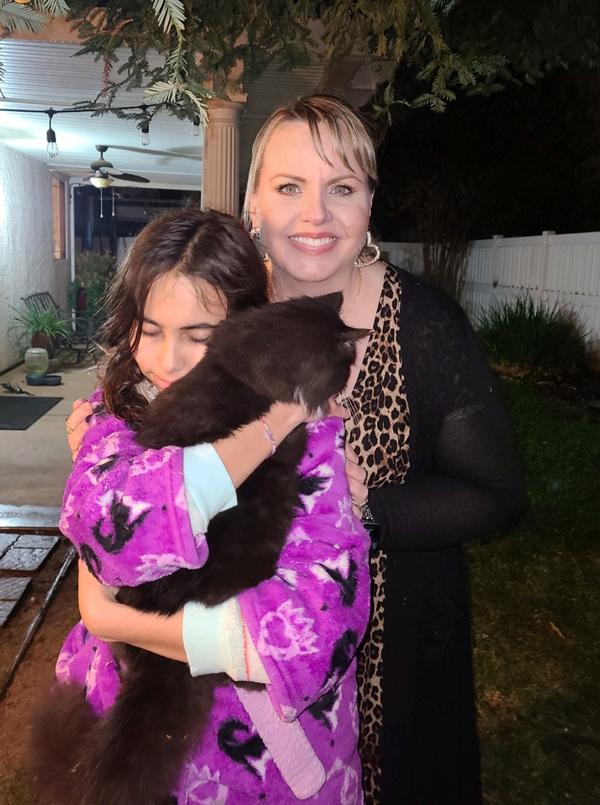 "Oreo jumped the fence and lost his way. We put up signs all over the neighborhood and the kids put fliers on the doors of all the houses. We posted in PawBoost and other local groups and received several calls. Some were about a cat that looks so similar, but not Oreo. Our community really came together to help us.
Finally, my daughter and I made another round around the neighborhood shaking his favorite treats and calling him. I heard a meow and followed the sound. The cry became more intense and we discovered that he was far up a redwood tree in another neighbor's backyard. The cry was getting louder and we knew it was Oreo. We went to the house and another neighbor had heard his cry and was out front of that same house. The neighbor let us in her backyard.
The tree was massive and with all of our flashlights we couldn't see him, but he kept crying and was obviously terrified. We called to him but he wouldn't come down. It was that traditional kitten stuck in a tree scenario and we were racking our brains to determine what to do to get him down. One neighbor rescues animals and had a trap that she set up along with a camera that would text her when an animal was caught. She set up the trap and my daughter and I just kept calling to Oreo in a calm, reassuring way.
After about an hour of standing in the rain and calling him, he finally started to climb down. It was a bumpy descent but in the end he made it. I boosted my daughter up and she was able to get him. He was the happiest I've ever seen him. Snuggling up close, purring his face off and being extra affectionate. He gobbled up his favorite food and was obviously very hungry. We are so overjoyed to have him home!"
---
Penny: Lost Dog Reunited in Elon, NC!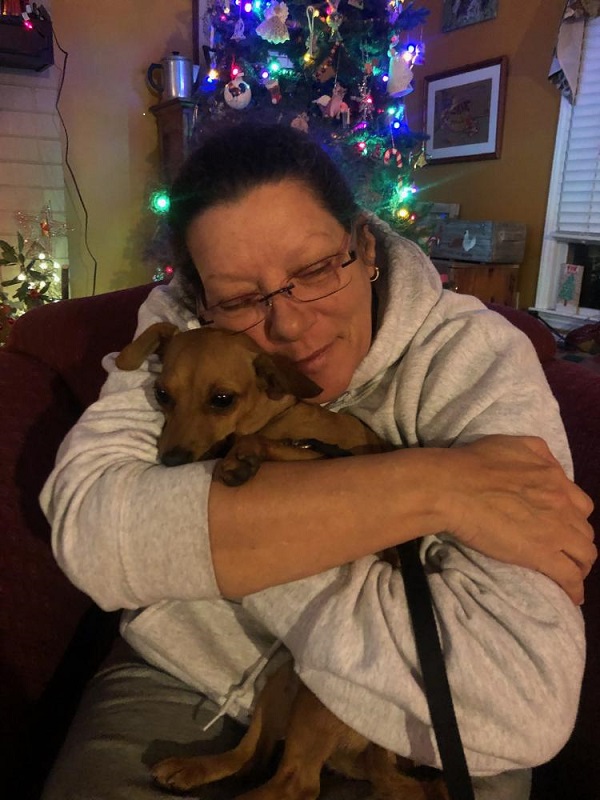 "Miss Penny escaped from a friend's home we were visiting in NC. The area was surrounded by dense woods, a very busy highway, and a lot of houses. There were infinite places for a little baby to hide.
Due to the enormous amount of shares through PawBoost, my friend we were visiting got tagged on a stranger's post. She knew immediately where Penny was located. The house was a friend of a mutual friend, who also came to Penny's rescue. Even as skittish as Penny is, he managed to gain enough of her trust to be able to capture her without injury. The rest is just pure joy.
Penny was missing for 31 hours. It was cold, dark and raining. It's a pure miracle. PawBoost's sharing and caring network is massive. From the bottom of my heart I want to thank everyone for their shares and good positive energy. My baby girl is home thanks to you."
---
Buddy: Found Dog Reunited Farmingdale, NY!
"My husband was by our window fixing a light and he saw this black dog walking down our block. In the same breath, he was putting on his shoes to go look at the dog. The dog was very dark and not visible, so we were scared he would get hit by a car. The dog was trying to go into homes. He was friendly and let us pet him and look for a tag, but there was no tag. He left and went around the block and we followed him. He came back to us again and we planned on bringing him to our garage. We knocked on neighbors' homes.
I stayed in the garage stalking internet sites and a lost animal group gave me PawBoost's info. I created a post and got so many responses! Even for other similar dogs lost! We kept him calm, warm and dry in our garage and gave him chicken and water. We got a lot of kisses.
The amount of support we got was crazy! In under an hour, hundreds were sharing this story. People were actually awesome! It restored my faith in humanity a bit. They were so happy! We also had a night vet directing us.
Eventually a neighbor told us who Buddy was and where he lived and I was able to contact the neighbors next to Buddy's home. I'd just met them recently and they said, 'Here's our number if you ever need us.' She texted Buddy's owners. We have a small alliance going on!
The owner came home from Christmas Eve festivities to find the dog had gotten out the back door. Good thing we found Buddy, because it started raining very hard with bad wind then. The network we had was amazing! Thank you for your help!"
---
Remy: Lost Dog Reunited in Phoenix, AZ!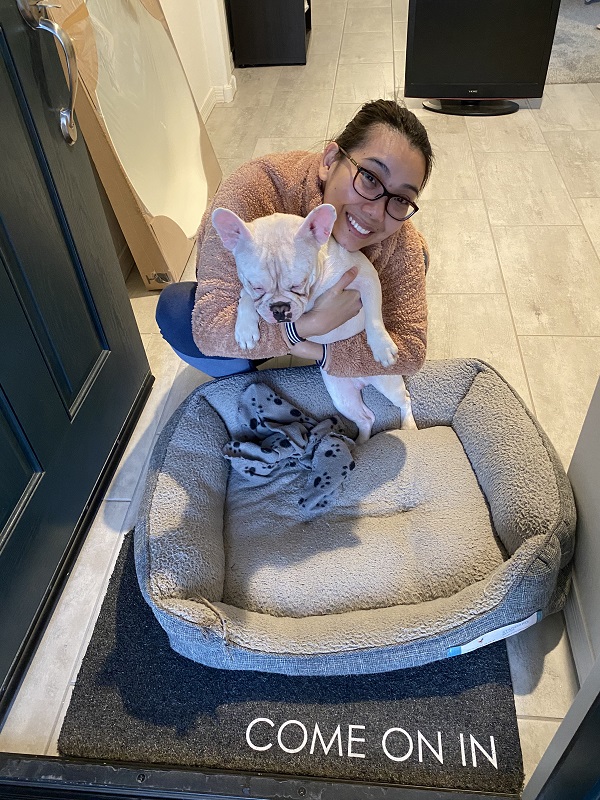 "We just let Remy go potty in the backyard like we always do. Because he has a routine already, when he's ready to get inside, he would scratch the screen door. But because his dad was going somewhere and wanted to say bye first, l called out to Remy so he could.
I called a few times, dad started calling him, and there was no response. So I checked the sides of the house, as he sometimes would stay there doing his business. He wasn't on the other side, so I checked the other side and my eyeballs just dropped when I saw that our gate was wide open. We knew right away that he had run out. We went out right away, in separate cars, looking for him within our neighborhood, but there no signs at all in just a matter of minutes.
But that didn't stop us from looking. We kept looking, going around the neighborhood, and checking three other communities, with no sign of him. We started reporting, posting online, literally anywhere possible. We decided to rest and stop looking around midnight. We printed out hundreds of flyers.
We woke up early the next day (from our half asleep couple of hours) to start looking for him, and to post flyers everywhere legally possible. We were still posting flyers around 4pm at the nearby community when my husband received a phone call asking if we're looking for Remy. They said they saw our flyer. So we started driving back to our community because the lady said she was right by the mailbox, where she saw Remy the day before. And the rest is history.
I know PawBoost played a huge role in helping us spread the news. Anybody looking for their fur babies needs to use all kinds of platforms to spread the word fast. Thank you to the person who returned him to us and to everyone who shared my posts!"

---
Chiquita: Found Dog Reunited in Tolleson, AZ!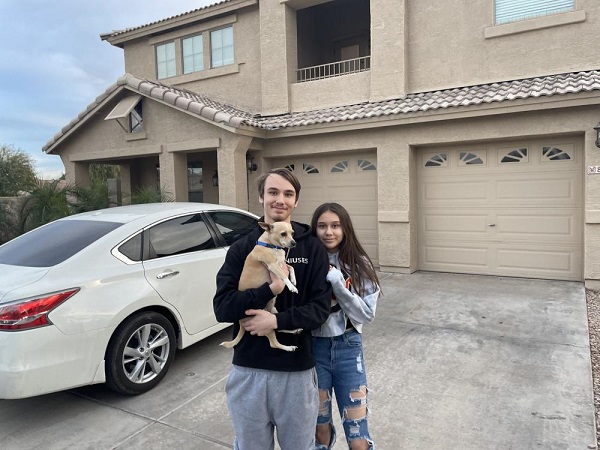 "I was walking through the neighborhood and noticed that there was a little dog in a driveway. She was very friendly and came right over to me when I kneeled down and called for her. She let me pick her up and seemed happy when I did. I carried her to every door on the block, knocking in hopes it would be the home she had gotten loose from. After a couple hours of searching that afternoon, I began posting pictures and details about the dog and where I found her to every social media feed I could find.
The next morning I went back and posted signs on every light post and mailbox in the area. That same evening I received a call from a couple who believed I'd found their dog. I was very careful to make sure they identified unique markings and details about the dog, and they also had photos I was able to match. Quickly I was able to be sure they were indeed the owners of the dog I'd found.
Without me even mentioning it, they knew that she had walked with a slight limp in her right hind leg, and that along with their photos made me certain they were the correct owners. They provided me an address and I brought the pup to them right away. There was no doubt at the reunion she was theirs! The pup (Chiquita) was just as excited to see her owners as they were her!"

---
Love these Happy Tails? We love sharing them! Click here to read more.