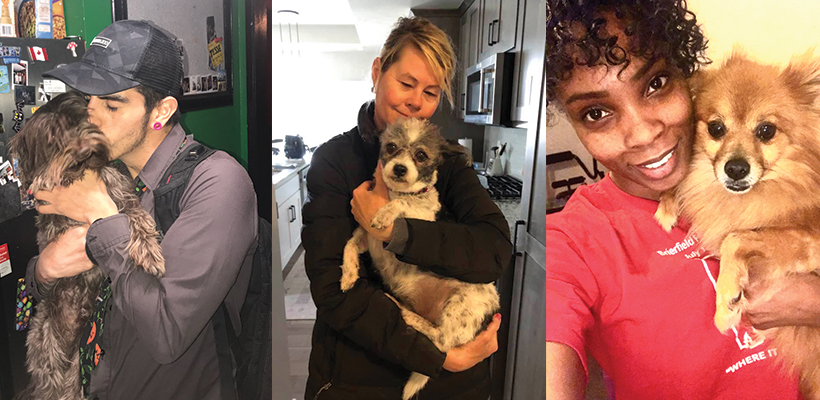 Featured Happy Tails! June 2020 – Lost & Found, Dogs, Cats & Pets That Were Reunited in June
Featured Happy Tails! June 2020 – Lost & Found, Dogs, Cats & Pets That Were Reunited in June
PawBoost loves to share happy endings! Read June's Featured Happy Tails to learn how these fur babies were reunited with their families.
Love these Happy Tails? We love sharing them! Click here to read more.
---
Found Dog Reunited in Clarksville, TN!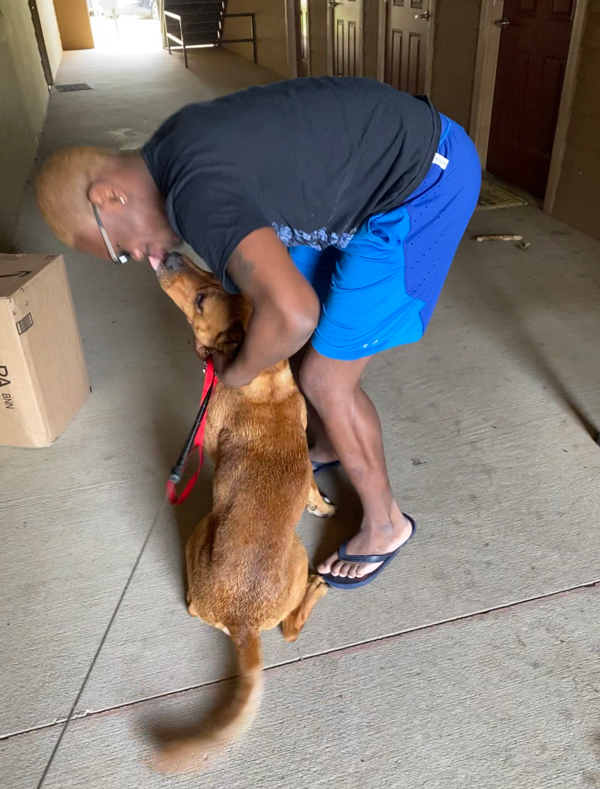 "I took my dog, Roxy, out for our morning playtime and I noticed a tail wagging down by the pond we usually hang out by. I looked around and couldn't find anybody hanging out that could be with the pup. I slowly approached and remained calm with a welcoming demeanor.
I was careful not to spook either pup. I let the dogs check each other out and then I was able to bring him in for pets and love. I was sure to take some good pictures and look for identifying features like patterns in fur color and the design of the collar. I then sent the information to PawBoost, which automatically shared to Facebook.
Friends of the owner and members of a different group quickly found the post and started sharing. I found the owner and checked his pictures to verify that it was a match and it was!! I would recommend PawBoost because it creates a bridge in the community that helps to reunite pets with their owner quickly and efficiently."
---
Pickles: Lost Dog Reunited in Thornton, CO!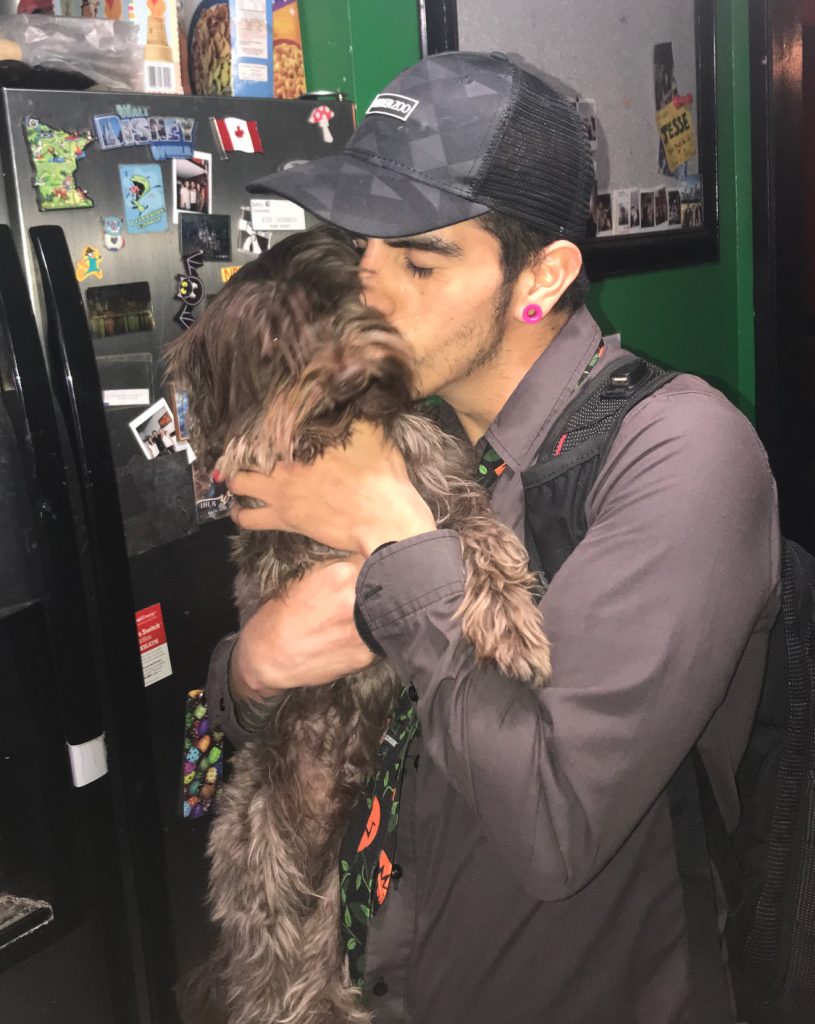 "Pickles went missing sometime in the afternoon one Thursday. A friend was helping me take care of him while I was away on a work trip in Baltimore. I was on my flight back home when my friend sends me a message saying Pickles was missing. I immediately created a post on PawBoost and within 30 minutes I had answers and confirmation Pickles was safe.
I was 2 hours from landing so I was not able to make calls while I was on my flight, but PawBoost and the most amazing community really went out of their way to make sure I got to reunite with my Pickles. I thank all of you. I definitely recommend PawBoost to everyone. When something like this happens you have to act fast because every minute helps.
Alyx was the one who saw him in the middle of the road, pulled over and picked him up. I don't like thinking of how it could have ended but I'm very thankful for the PawBoost community and Alyx for helping my Pickles. PawBoost and their community are some of the nicest people. They really do go out of their way to help and it warms my heart."
---
Bucky: Lost Dog Reunited in Green Bay, WI!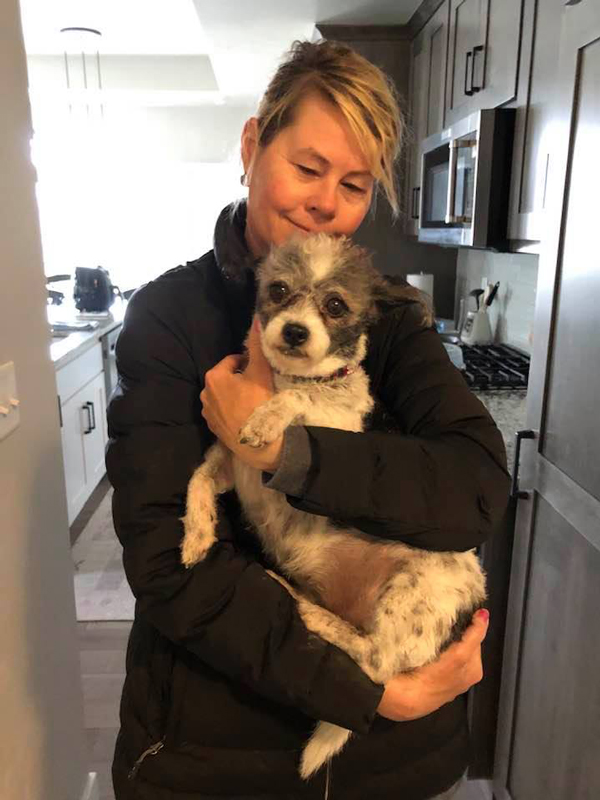 "Bucky went missing about 12:30 one Monday after he got home from running errands with me and his sister Emmy Lou. I was taking groceries into the house and the dogs were out front doing their duties. When I called them back I thought Bucky was the first in the house, then Emmy and then I closed the garage door. Actually he was sniffing around and was left outside for 2 hours before I realized he was not with me in the house.
From that point on it has been a dreadful, frantic search. I notified the Humane Society, Animal Control, and PawBoost who notified Tobys rescue. My friends and volunteers were out searching and talking to people around my house and on the Fox River Trail. Around 10:30am the following morning I got a call from a walker on the trail that he had been seen running north up the trail.
I ran toward the trail from where I was, maybe 3 blocks away, and by the time I got near my house and the trail, Mary from Tobys Rescue was in the driveway with Bucky. She had seen him behind the AMS Insurance building next to my house and he ran from her, swam across their pond, and ran back to my house and into the garage where I had some ham laying out for him. Mary followed and the rest is history.
Vicki from the PawBoost Rescue Squad has been an angel also in the search as she contacted me the evening Bucky went missing and searched beyond darkness and then had signs up by 7am and was searching. I cannot thank all the volunteers and people who helped in locating Bucky enough. He is our little man, vulnerable and helpless and dependent on his family. He needed to be found.
He is in good condition, tired, cold, wet and hungry, maybe a little limpy on his front paw but no injuries on the outside. I am forever indebted to PawBoost and Toby Rescue Team for their support and assistance. I believe its because of them that Bucky is home, safe, and resting comfortably now. Thank you."

---
Stormy: Lost Dog Reunited in La Mirada, CA!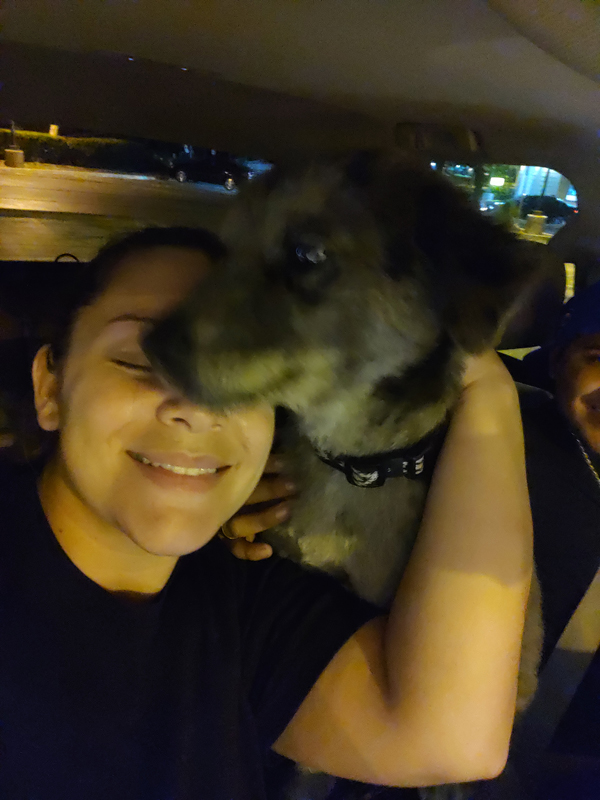 "I would have to say I thought my fur baby was gone for good. Stormy was a rescue and it was an instant connection with me and her. I fell in love with her so easily she is such a kind, loving best friend anyone could ask for. So when I noticed she was gone I just kept thinking the worst. It was already late so I couldn't do much at night. I was up all night thinking about her and hoping she would just walk up to the front door.
She sleeps in my room every night so to see her bed empty tore me apart. I woke up at 3am, printed flyers and started to go out and post her all through my neighborhood. I have such a great, awesome, loving, friendly community. They helped me by encouraging me to keep looking and stay positive. If it wasn't for everyone helping me look and giving me advice, I would have never known to post her on PawBoost.
Thirty minutes after I posted, I got a private message from someone saying they had Stormy and she was safe and sound. She found PawBoost and instantly saw her picture. She messaged me and I answered crying. I couldn't believe it, it was like a dream. She sent me a picture and IT WAS HER! My heart started beating so fast I couldn't wait to pick her up.
Thank you to my loving and caring community and PawBoost. If it wasn't for you the message wouldn't have been seen about my baby girl. I will definitely be using PawBoost and helping others find their pets. Thank you, thank you."
---
Laddie: Lost Dog Reunited in Cleveland, OH!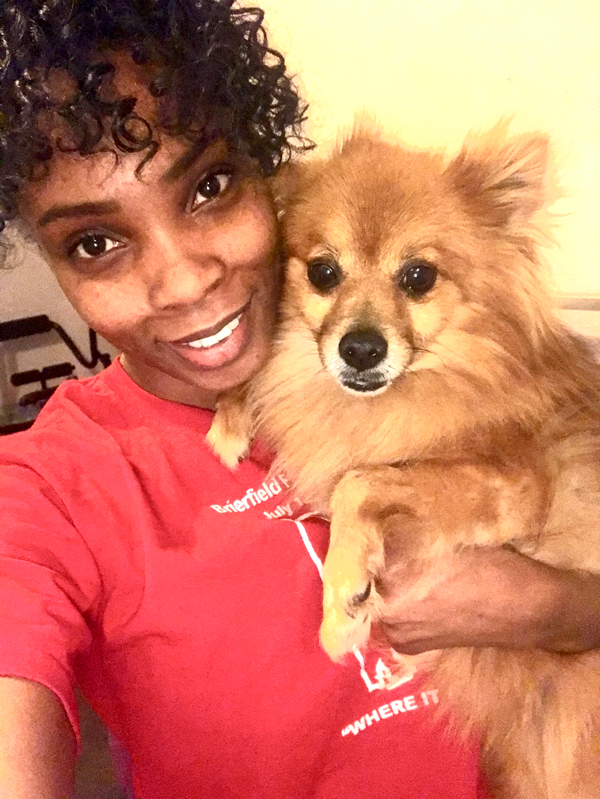 "My dad built a new fence for Laddie and his brother not knowing he could get out. Laddie is a wanderer and him being so small he can fit under any fence in one split second. This is how he got out. He was on the next street (the route we usually take when going for a walk) when at least 6 neighbors ran after him trying to catch him. When I noticed Laddie missing I jumped in my car and that's when I asked the neighbors if they'd seen Laddie.
They told me they chased him causing him to run to the main street. He was found about 6 blocks away at a gas station the very same day, but we weren't reunited until 3 days later. With PawBoost's help I was able to connect with a mass amount of advocates running to my rescue. One by the name of Dot even drove 40 miles to me.
She had copies of Laddie's pictures already printed for me to pick up at a nearby printing shop at no cost. Amazing! She showed me how to place the proper signs in the proper, target areas. I got a call 3 days later and that's when the gentleman told me he was able to see my signs everywhere so he called me. I would definitely refer PawBoost to others. As a matter of fact, as I was taken signs down I already referred PawBoost to others in the process!"
---
Love these Happy Tails? We love sharing them! Click here to read more.