Featured Happy Tails! October 2021 – Lost & Found Dogs, Cats, & Pets That Were Reunited in October
Featured Happy Tails! October 2021 – Lost & Found Dogs, Cats, & Pets That Were Reunited in October
PawBoost loves to share happy endings! Check out October's Featured Happy Tails to learn how these fur babies were reunited with their families.
Love these Happy Tails? We love sharing them! Click here to read more.
---
Featured Happy Tails
---
Belle: Lost Cat Reunited in Portland, OR!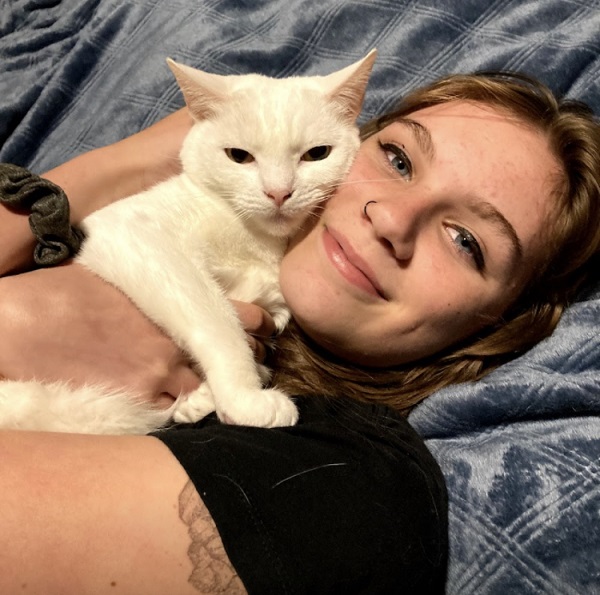 "I got a new couch and donated the old couch to a former client. When the movers were here, we realized Belle was missing. Before they left, we asked them to look in the couch – which they said they did. A few hours later, frantically, I called the movers. They still had the couch in the back and said they'd look again.
We went all through the neighborhood every few hours, all through the night. Our family was just devastated. I was then told about PawBoost and put up a flyer and got so many helpful messages. A few people mentioned to make sure she wasn't in the couch. Before bed, I messaged my former client to please keep an ear out for looking out for our cat.
At 3:30 in the morning, I got a phone call. My phone never rings at that time, so I immediately answered it. It was my former client and she said she was hearing a meow coming from the couch! My daughter and I rushed over there. We flipped the couch up sideways and had to rip the bottom lining off the couch but there she was! Just terrified and hidden. We couldn't believe it. We are so happy she is home.
We were just lost and didn't know what to do and we were so sad. It was so nice having the PawBoost community because it made us feel like we had help! This community is so incredibly helpful. And PawBoost helps with notifying all the animal agencies around, which is so nice. It's hard to think when your fur baby is missing, so it's nice to have that help."
---
Sadie: Lost Dog Reunited in Wethersfield, CT!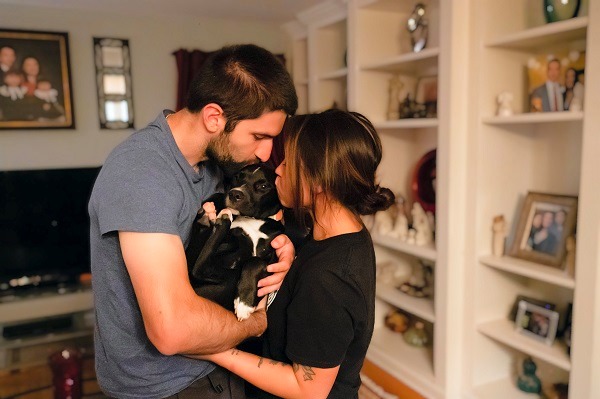 "We were in a hit and run accident on US5 toward 91. A construction worker named Lou, who was working onsite, found her directly under the bridge where the accident happened, in one of the pallets. He said 'she looked like she had given up,' and she came out and let him pick her up. She never does that.
I posted an alert on PawBoost and the Facebook post went viral with over 8,000 shares, not including multiple other platforms where there were 10k+ shares for Sadie. We are so incredibly happy and so overjoyed."
---
Rocky: Lost Cat Reunited in Hudson, WI!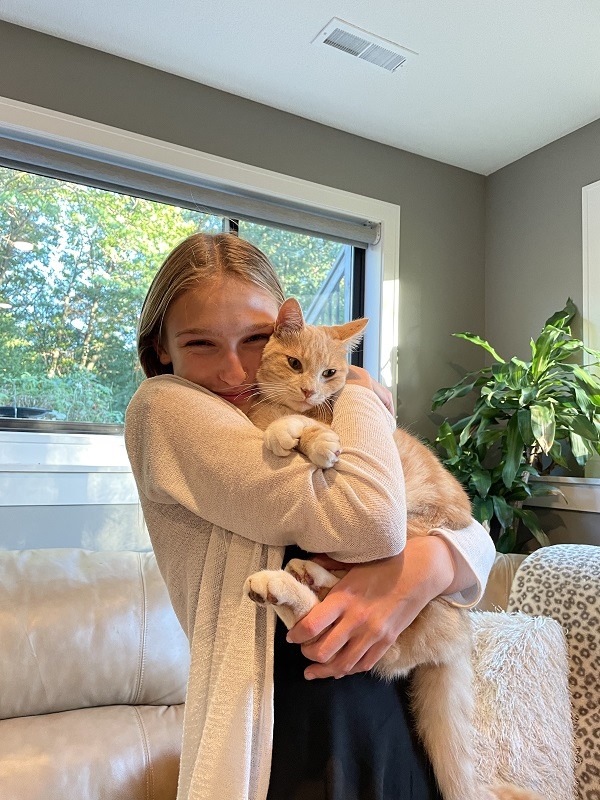 "Rocky was let outside one Saturday afternoon by my younger daughter. He likes to go outside in the evening but always comes back by nighttime. This time he didn't come back, and by Monday we knew something had happened. My daughter was so sad and blamed herself. Neighbors said they hadn't seen him, but they had seen coyotes in their yards. We were sick with worry. He's a good tree climber so we were trying to be hopeful.
The timing was terrible because he is really my older daughter's cat and she was away for nine months for a National Guard assignment. She was coming home finally just one week later and couldn't wait to see Rocky and hold him. It broke my heart to tell her he was missing.
We put out posters and left flyers in local businesses. We also had several posts on Facebook and contacted the local shelters. We heard nothing and he hadn't returned. That's when I was searching online and found PawBoost. The very kind lady who found Rocky and took care of him for almost a week was searching online for any post about a missing cat in the Hudson area.
She had already asked her neighbors. That's when she saw Rocky's picture and profile on PawBoost. She reached out to me by email and when we talked on the phone, I knew from her description of him and his friendly behavior that it had to be him – especially when she said he was climbing trees in her backyard! We were able to drive to her house, almost 2 miles away, and pick him up.
When we got there, Vicky was holding Rocky and he seemed so content. I know she took very good care of him. She said she could tell he was someone's dear pet because he was friendly and affectionate. I'm so grateful to Vicky for searching for Rocky's owners and I'm also very grateful to PawBoost for providing a platform where caring people can help reunite lost pets with their loving families. THANK YOU!! My daughters thank you too!"
---
Lost Dog Reunited in Tuscon, AZ!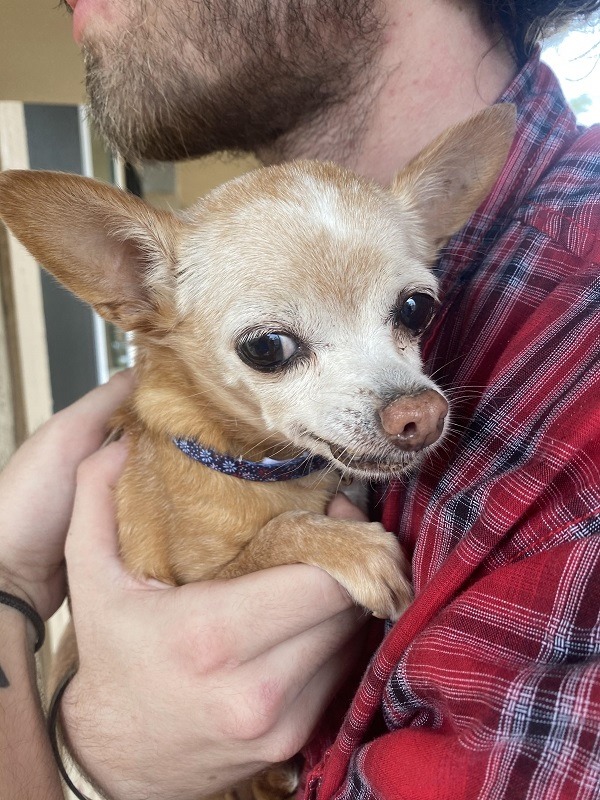 "I found this little beauty walking on the side of the road by 29th & Columbus. She was very sweet. She let me approach her and pick her up. I knew right away she was a little old lady who was an inside dog that must have slipped out.
Thanks to PawBoost, I got an email and text message right away asking if this lost dog was the one I found. Sure enough – it was an EXACT MATCH! I cried from happiness after calling the owner, realizing I helped get a lil' family member back home again! She was so happy, wagging her little tail when she knew she was going home. It warmed my whole heart!
Thank you PawBoost! I hope if I ever lose one of my fur babies, somebody is wise enough to go to this amazing website. It was such a miracle, I'm beyond ecstatic! They lost her in the early morning and it was only 7 hours before they found her. PawBoost was quick and efficient. The communication was EVERYTHING!"
---
Hanni: Lost Dog Reunited in Blue Point, NY!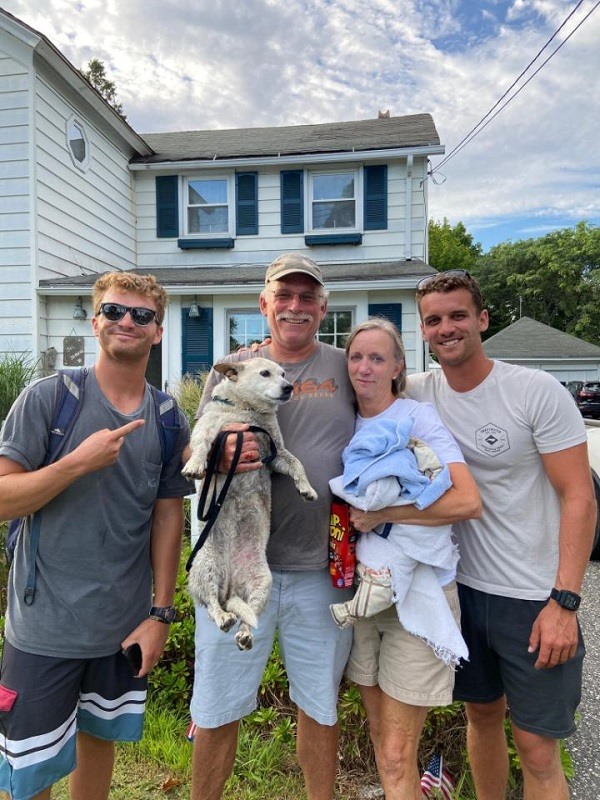 "Our Saturday night throughout Sunday evening was interesting and pretty eventful! We were over at Davis Park, Fire Island and our 11 year old terrier mutt Hanni decided to jailbreak and go for a walkabout back home in Blue Point. She loves the beach and I am thinking she was just out looking for us.
So a 10:30 PM text resulted in an immediate cross bay boat ride and a two hour search of the neighborhood, with no success. So like Simone Biles, our mutt got the twisties and she ended up in a pond 1/2 a mile away from the house, swimming with the snapping turtles. We posted on Facebook, and other social media sites, and the coconut telegraph worked. We got tons of leads and advice.
The cool thing was she was identified by a neighbor based on all the postings – and the Blue Point Fire Dept ended up doing a water rescue. We got her back last night right in time for pizza. The dog was a mess, but after a shower and a slice or two of pizza, she's back in the game and still sleeping the experience off."
---
Love these Happy Tails? We love sharing them! Click here to read more.