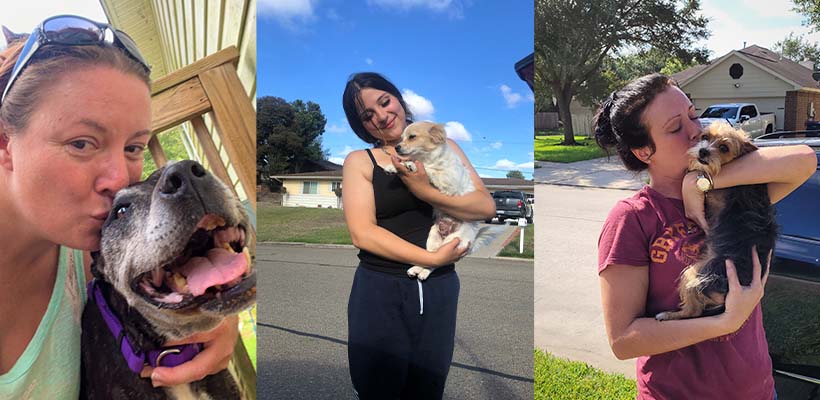 Featured Happy Tails! September 2022 – Lost & Found Dogs, Cats, & Pets That Were Reunited in September
Featured Happy Tails! September 2022 – Lost & Found Dogs, Cats, & Pets That Were Reunited in September
PawBoost loves to share happy endings! Check out September's Featured Happy Tails to learn how these fur babies were reunited with their families.
Love these Happy Tails? We love sharing them! Click here to read more.
---
Featured Happy Tails
---
Maggie: Found Dog Reunited in Baytown, TX!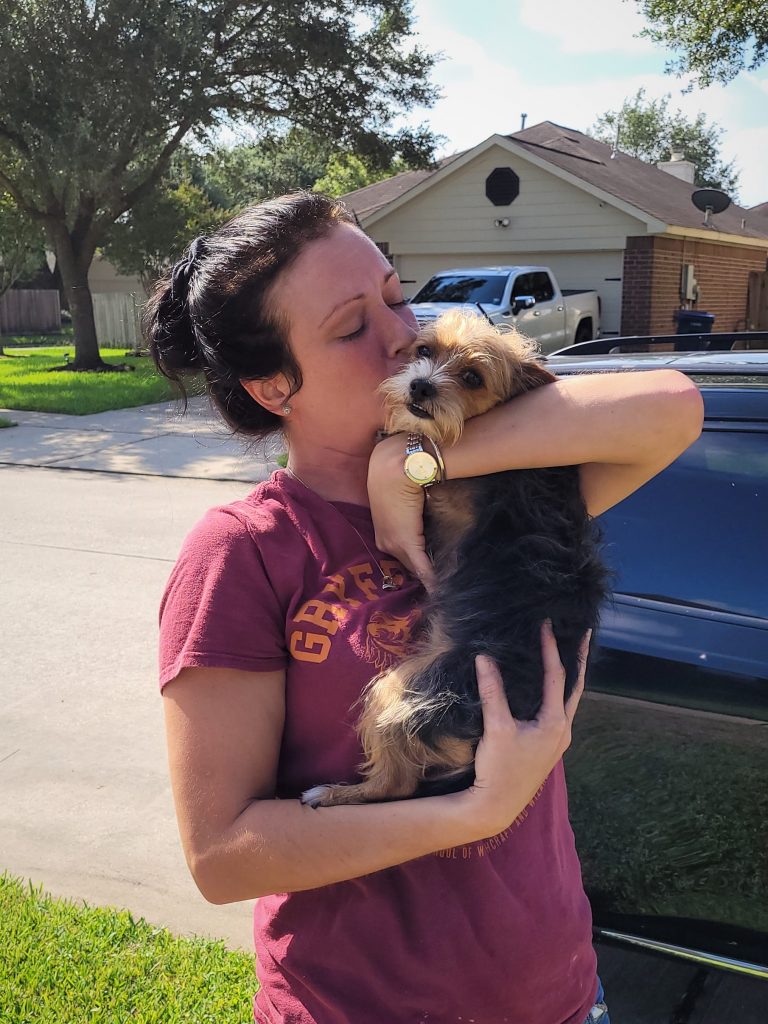 "We woke up one Sunday morning and observed this beautiful creature sleeping on a chair on our front porch. She would leave during the day, but would come back every night. Anytime we would open the door to help her, she would run away. I was able to get a couple of photos of her, but that's it. I posted the pup's photos on Nextdoor, PawBoost, and some other sites, just trying to find her owners.

I had given my phone number in the PawBoost alert, and the owner called me bright and early that Thursday morning to say that she believed that the dog I photographed was her family's Maggie! Maggie had been missing since the Friday before. She showed up over 5 miles away, across town, and on my porch that Sunday! Her family was reunited with her that coming Thursday, so she was missing for 6 days in total!

If it had not been for PawBoost, I really don't know how long it would have taken to reunite Maggie with her family, or if the family would have even found her. I am not on Facebook, and Maggie would run anytime I got close or even opened my front door. When the family arrived to pick her up, she wasn't on my porch any longer, but came sprinting down the street when she heard them calling her name and they were swiftly reunited. I'm so very thankful for PawBoost; I know that Maggie and her family are as well!"
---
Junebug: Lost Dog Reunited in Cherryville, NC!
"My daughter came running into the house with her arm hurt from falling down one day, and in all the commotion, Junebug got out of the front door and was left out when we went to the ER, since we hadn't seen him slip out in the first place. We had no idea he was out! When we got back he was gone, an already stressful day immediately became that much more stressful. We were out for hours looking for our Junebug. Even with the help of a few neighbors, there was just no sign of our pup.
A few posts on social media and posting our "Lost Dog" alert through PawBoost felt like our only hope that night. Finally, some kind soul saw the PawBoost alert that was posted to Facebook and brought him home! We were thrilled! Junebug was gone all night until 3:00 PM the next day, so he was missing a whopping 20 hours in total. PawBoost didn't just reunite us with our dog, it gave us peace of mind and hope! Thank you all so much for the help!"
---
Cali: Lost Dog Reunited in Vancouver, WA!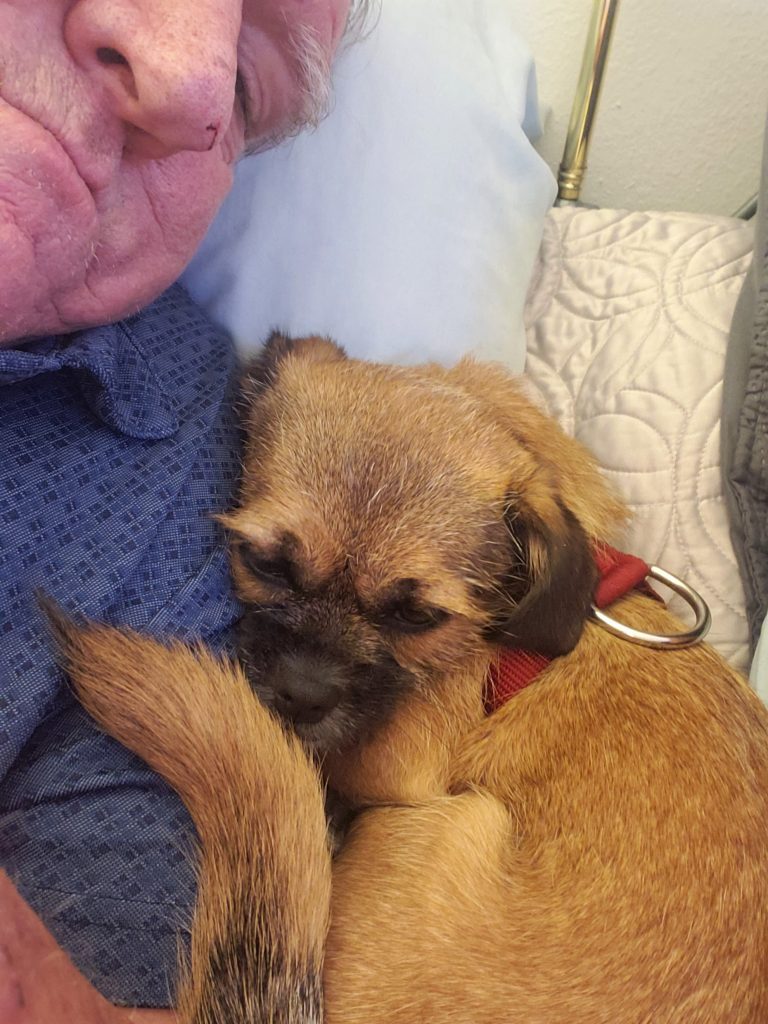 "I'm not really sure how Cali managed to escape. She has a pet door, but had never jumped the gate before and no digging was done in the yard where she could have gotten out. No marks of digging, nor paw prints of a jump on the fence were found, so it still remains a mystery. We were only gone for one and a half hours, as we do every Sunday for church, but when we got home, she was gone. She wasn't anywhere around the house, so I put out a PawBoost alert in hopes that a neighbor might've seen or found her.
The reunion began with PawBoost! An awesome person saw Cali's PawBoost alert and went scouring the internet for clues as to her whereabouts. They then found a post on another site saying that Cali had been found with a picture of her attached, and connected me with the person who made that post! We were reunited shortly after. Cali had been missing approximately 8 hours before she was finally back home. PawBoost is amazing; I believe all avenues are important in looking for your pet."
---
Summer: Lost Cat Reunited in The Woodlands, TX!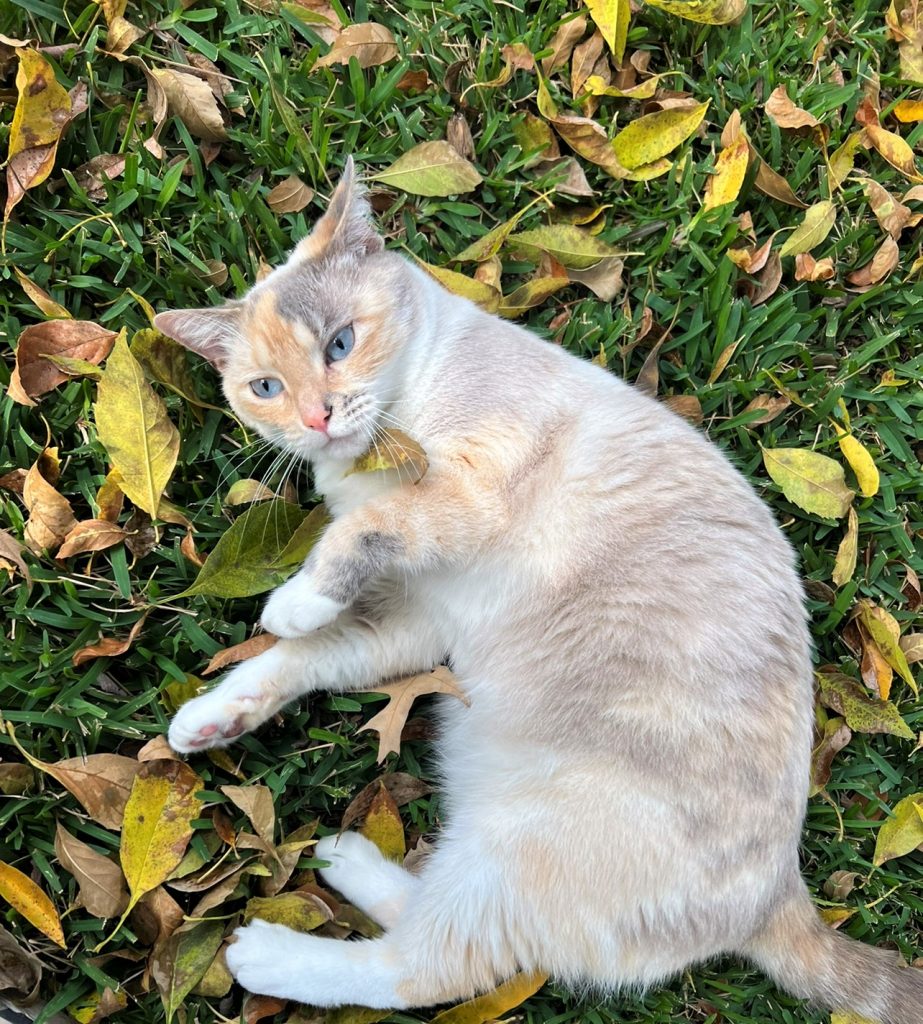 "Summer is an indoor/outdoor cat who is free to come and go as she pleases. Typically, she will stick around our house, but two nights ago, we heard her leave through the cat door and she did not return when she usually does. We put out a PawBoost alert for her as soon as we could. The flyers generated from PawBoost alerted one of our neighbors to the fact that a cat she had seen roaming around her street was, in fact, Summer, and that we were looking for her, so she started to search for Summer herself.
The lady was kind enough to keep an eye out for her and was even out at night searching for her. We happened to be searching at the same time as her tonight and calling Summer's name, so our neighbor approached us mentioning she had seen our flyers and told us where she had last seen Summer. We headed in that direction and, sure enough, found her after calling for her. We are so relieved to have our Summer back home; she had been missing for two days and two nights. Thank you for spreading the word; the flyers were a life-saver!"
---
Bruno: Lost Dog Reunited in Orcutt, CA!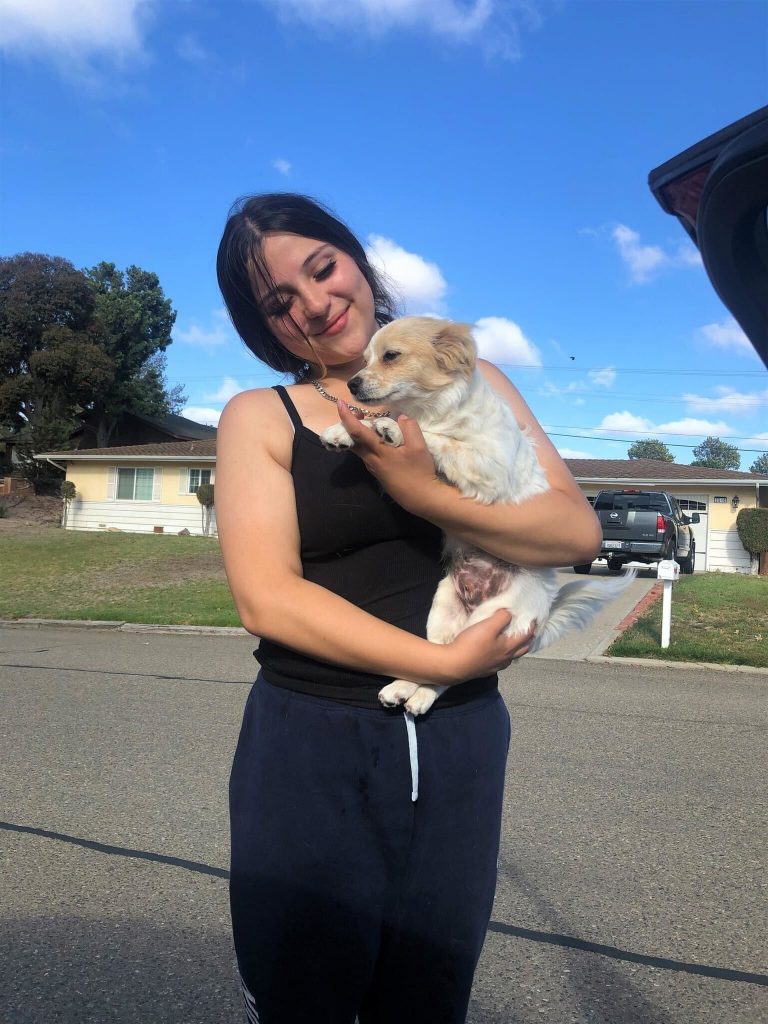 "Bruno managed to squeeze through a missing piece of wood in our fence. The last time I saw Bruno that day was at 1:30 PM, and by 3:45 PM, he was missing. My husband and our daughter drove around the neighborhood and the surrounding areas searching with no luck. I walked around the blocks and talked to many neighbors, also with no luck. I posted him on our Nextdoor app, then posted him on many different social media apps, and I also posted his PawBoost alert. I was ecstatic and surprised to see the community support that was out there for lost furry friends! I was given direction by so many people I had never met before. I began implementing it on Saturday morning; my husband and daughter went and posted the PawBoost flyers in our neighborhood and the surrounding areas.
Saturday evening, we received a call from our awesome neighbor. She had found Bruno on Friday in the alley between our houses! She was waiting for flyers to be posted so she would know who he belonged to. She took him home, took very good care of him, and made sure he was safe until she reunited him with our family. Our Bruno had been missing for two days and 17 hours, but it was reassuring that he was safe and well-looked after during that time. In the pictures that I posted, you can see the beautiful moment that took place between him and my daughter as he was united with us! PawBoost was the resource that guided us through our tough time and how to bring Bruno home. I recommend PawBoost to everyone; even if you don't have a furry friend, you may be able to be the awesome neighbor that reunites a furry friend with their family!"
---
Love these Happy Tails? We love sharing them! Click here to read more.