Happy Tails! August 2018 – Lost & Found, Dogs, Cats & Pets That Were Reunited in August
Happy Tails! August 2018 – Lost & Found, Dogs, Cats & Pets That Were Reunited in August
PawBoost loves to share happy endings! Read August's Happy Tails to learn how these fur babies were reunited with their families.
Love these Happy Tails? We love sharing them! Click here to read more.
---
Khalifa: Found Dog Reunited in El Paso, TX!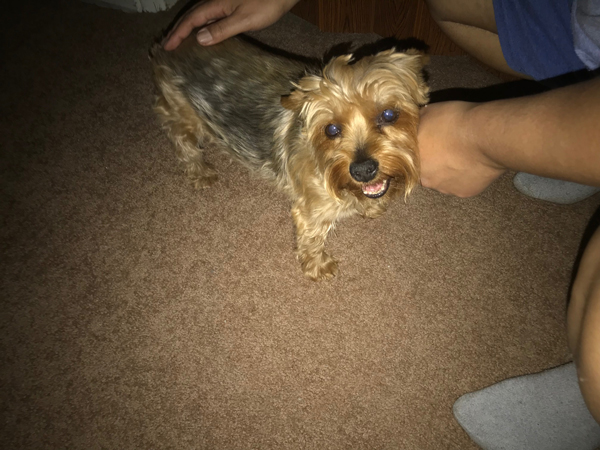 "This started on a Saturday when a neighbor of mine asked if this little, brown Yorkie belonged to us. I told her that he did not, but I would take care of him and try to find his home as my neighbor already had four, big dogs. Khalifa didn't have tags and I didn't know if he was microchipped, so I walked him around the neighborhood inquiring if anyone recognized him at first. No one did however.
To make a long story short, I was indeed able to reunite this cute, little guy with his family by using PawBoost. I had never heard of PawBoost before this experience and I didn't know if it would actually work or not. I was pleasantly surprised as the very next day after posting his profile, the wonderful users on your site enabled his owner and myself to connect.
PawBoost was instrumental in getting Khalifa back home, quickly and safely. I'm truly grateful that your company exists and has such wonderful people associated with it. Although I never intended to take Khalifa to the pound and would have kept him if necessary, I didn't want to give up hope of finding his real family and reuniting them.
I would definitely recommend PawBoost to not only friends, but to the public in general. It's an amazing way to get pets back home where they belong and with the people that love them the most. I sincerely thank you, your users, and all associated with PawBoost for all that you do. You have truly made this a wonderful experience with the best possible outcome."
Spread the good news! Thank you to everyone who shared Khalifa's alert. Your heart warming dedication has made a really big difference in getting this little guy home quickly and safely 🙂
---
Scarlett: Lost Cat Reunited in Milford, CT!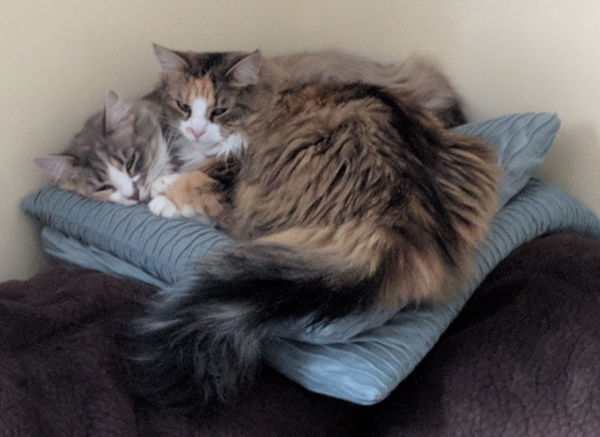 "Scarlett is an indoor cat, but when I sit outside she and her sister usually sit at the open back door or come out onto the patio but NEVER any further. One Tuesday, She decided to be adventurous and walk down the steps, and I didn't want to chase her because she would run
Unfortunately, a neighbor and her dog came out a few minutes later and Scarlett went running into the woods. I stayed outside on the patio until about 10pm that night. I put her food bowl, bed, favorite pillow, toy and some used litter in the grass next to the patio. On Wednesday, I took the rest of her litter and spread it out into the bushes and left trails of treats back to our condo.
My mom made up a flyer and I dropped it in a bunch of mailboxes and of course I did several walks around the neighborhood calling her name and shaking the bag of treats. The Humane Society recommended using a cat safe trap because she is a rescue and scared of everything.
She luckily came home before I had to get the trap. Tuesday and Wednesday night I slept on the couch with the windows open so I could hear her if she cried, and her sister cried at the window for her every now and then. Wednesday night I put a pair of my pants in the cat carrier with her food bowl in it on the patio.
Thursday morning around 3:30 am I heard her whining in the backyard. I went outside and she was hiding in the bushes, but wouldn't come in. I brought all her stuff onto the patio, put her food at the door, and came inside to shake her treats. She came running! Her sister and I are so glad she is home!!
PawBoost was great in that so many people shared and commented on her post. Also, I received emails with tips on how to get her back and they were extremely helpful. Reading success stories helped me in my search too."
Spread the good news! Thank you to everyone who shared Scarlett's alert. So happy to report Scarlett came home and is back snuggling with her sister Sugar!!! 🙂
---
Sheba: Lost Cat Reunited in Halifax, NS, Canada!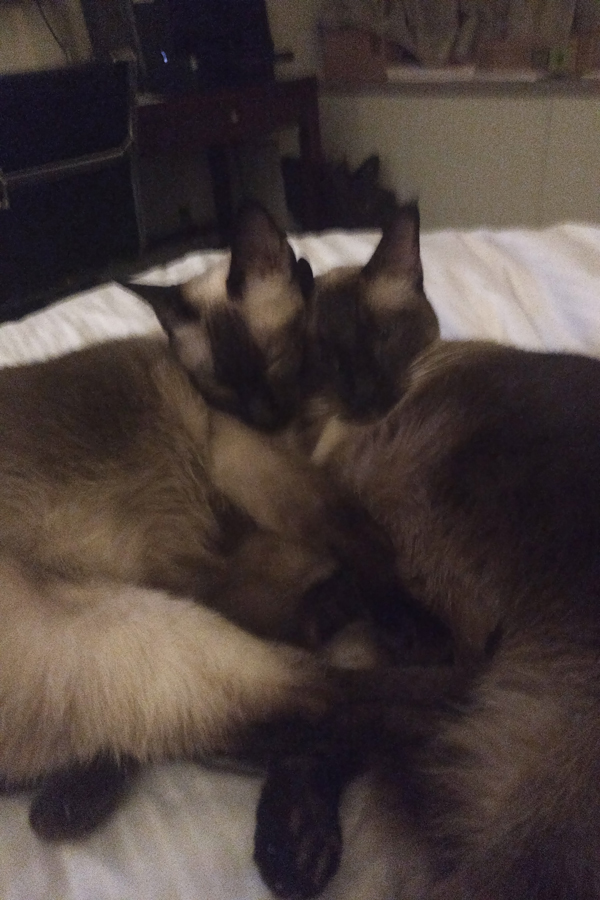 "One of the worse residential fires in downtown Halifax took place and our home was part of the 12 Heritage condos that were destroyed. Twenty five residents lost their homes that day. We were out of town, as we often are, on business and were in a Miramichi hotel when we were notified early that morning.
We have three cats, a Persian and two Siamese sisters. The cats are approximately 12 years old and had never been outside. The fire men broke down doors and windows looking for us early in the blaze and one cat decided to make a run for it. We were able to rescue one Siamese and the Persian around 2 pm, 12 hours after the fire started.
Bottom line, we had evidence that Sheba was living in the condo at night, entering by an open window, and eating food and water left by us; however, she was terrified and left the building during the day when workers returned to clear it out.
We eventually trapped her with a live trap four weeks later with the help of HRM Spay Day, a charitable volunteer organization, and one of their members Wendy. PawBoost spread the word and kept hope alive that we would find our Sheba safe and be able to join her sister and brother, Samantha and Taffi."
Spread the good news! Thank you to everyone who shared Sheba's alert. After four weeks, she is safe! Her family couldn't be more grateful that they are all reunited <3
---
Remmy: Lost Dog Reunited in Cincinnati, OH!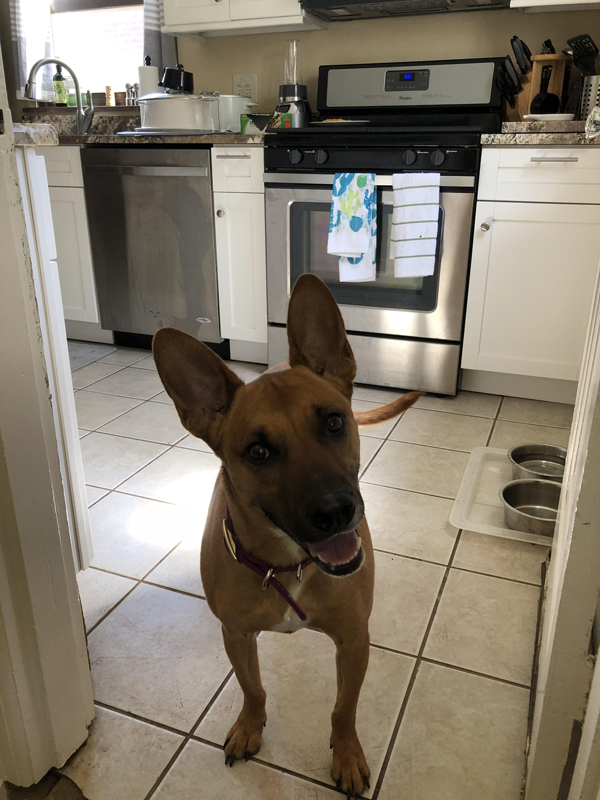 "My boyfriend and I were going out of town for the weekend and asked a family member to house/dog sit while we were away. I rescued Remmy when she was 5 months old, and she was a very timid dog. I figured this was just because she was new to me, but it turns out this is just her demeanor.
I say this because Remmy took the first chance she could get to dart away from what was scaring her. That Friday, the family member walked outside to get something from her car and Remmy darted away immediately. I think she was running to find myself or my boyfriend, but was unfamiliar with the area, freaked out and just kept running and running.
My friend suggested PawBoost and said that there was a very high reuniting percentage 🙂 After close to 15 hours missing and me remotely trying to reach anyone and everyone, Remmy was identified by my best friend at the local SPCA, where she was listed as a male rather than female.
PawBoost was something I had never heard of before this experience. Strength in numbers was really shown through this and I am so grateful! I was in complete awe when I saw how many people shared my post and commented that they were going to help!"
Spread the good news! Thank you to everyone who shared Remmy's alert. She was picked up by police officers after running into several clothing stores by a busy street and taken to the local SPCA 🙂
---
Jones: Found Cat Reunited in Orlando, FL!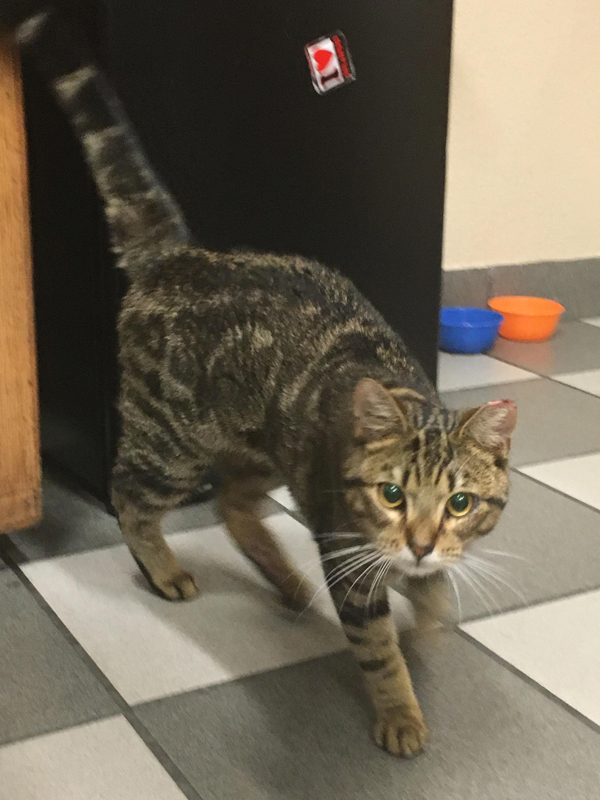 "This cat was found by the overnight security department at the hotel I work for. He was crying because he had been in a scrap with another cat/animal and had some wounds that were still fresh. It was easy for the security guard to get him to follow him to the office where there was already a good amount of cat food due to feeding the strays on the property.
I advised someone to see if he had a microchip while I posted in some lost and found groups on Facebook and on PawBoost to see if someone was missing him. I took it upon myself to take him to the vet after the weekend was over (everyone had busy work schedules).
The vet tech confirmed he had a microchip and was able to get me the chip number and the chip company. I called the company and they told me the cat's name was Jones and that they would contact the owner. I gave them my name and number so the owner could get in contact with me. About 10 minutes after I left the vet office I got a call from a number I didn't recognize so I answered. It was Jones' owners! He was so relieved!
He said they came to Orlando from southern Florida to go to Universal Studios and he got out. His daughter was devastated when they couldn't' find him. He said they made flyers and went to the local shelters just hoping someone would bring him there. When he got the call that someone found Jones he said he dropped everything so he could drive back up to Orlando.
Jones is now back with his family! PawBoost was able to help spread the word that someone's furry family member had been found. I would definitely recommend PawBoost to a friend. The alert is posted on their Facebook page and their Rescue Squad of volunteers receive the alert. It was great! I was notified when someone shared or commented on the post and I even got some potential matches of lost cats in the area."
Spread the good news! Thank you to everyone who shared Jones' alert. This Happy Tail reminds us the importance of microchipping and keeping it updated incase your fur baby does go missing 🙂
---
Lexie: Lost Dog Reunited in Hammond, LA!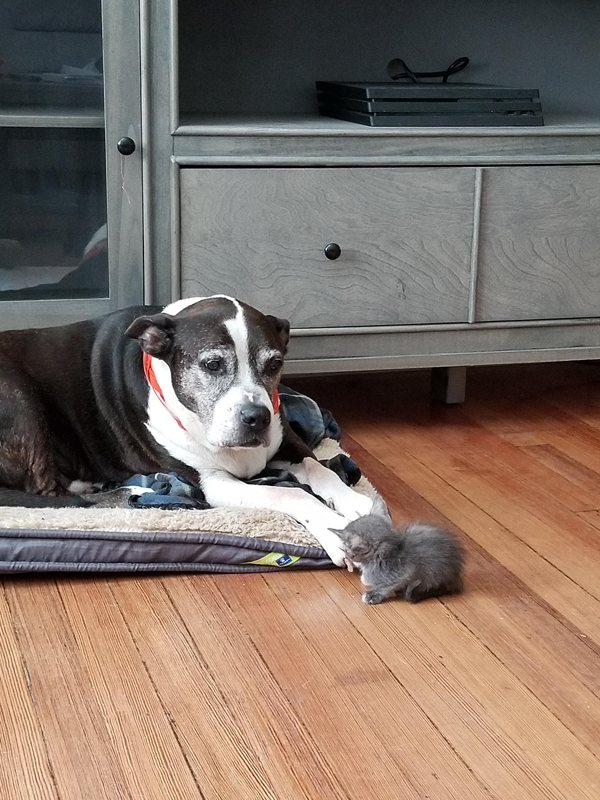 "I was working on one of my rentals and brought Lexie so she could have some time outside. We live in an apartment in the city and she doesn't get out much. I left the front door open and was distracted with work as she just walked straight out the front door and down the street. I didn't realize she was gone until about 30 minutes after she left.
We searched for hours around the neighborhood in the woods and down ditches. We looked through backyards and asked everyone we saw. Nobody saw anything. It's like she vanished. I was hoping someone kind picked her up and would bring her to the shelter because she is chipped.
I was concerned she was hit by a car, stuck somewhere and couldn't get up because she is elderly, or even worse, someone picked her up for dog fighting. I was so desperate and hopeless. At 3:30 AM I heard a dog barking across the street and went to go look. I saw her 3 homes down just walking and sniffing. She was gone for 10 hours, and there she was!!
PawBoost is a platform that can boost awareness which is crucial in those first few hours. I would absolutely consider it a necessary and crucial tool to find a lost pup. I know my mind was jumbled and couldn't think straight. PawBoost helped me with organizing the post and got it out. It's a great resource."
Spread the good news! Thank you to everyone who shared Lexie's alert. Remember it's important to use all resources available to help find lost pets 🙂
---
Lucy: Lost Dog Reunited in Raleigh, NC!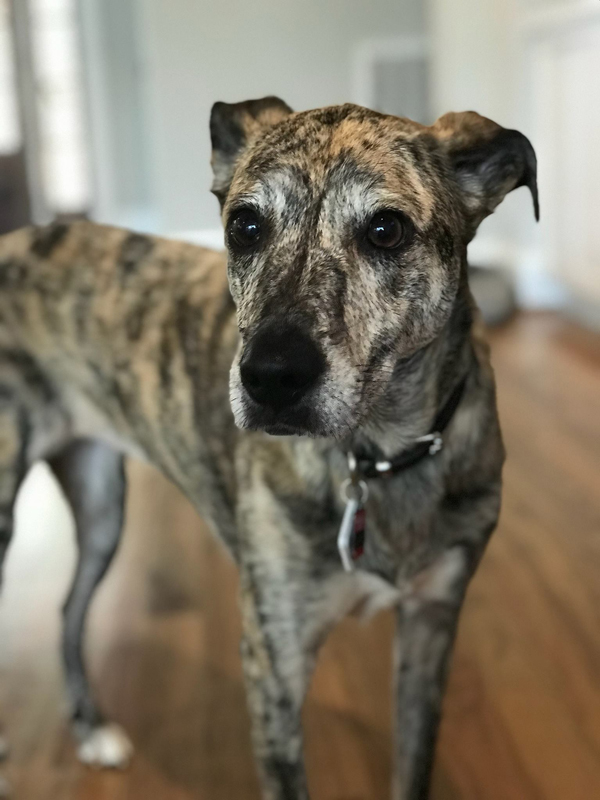 "I was working in my back yard, took a quick break, and decided to let Lucy out back. I stopped paying attention to where she was for maybe a minute, then the air compressor went off and she was gone. She usually has her collar on but just that morning I gave her a bath and put her collar up to dry. I also have a fenced in back yard, but it wasn't fully closed due to the work I was doing that day.
I started to panic, but was proactive. I posted wherever I could on whatever relevant social network or message board I could find, called neighbors, visited the shelter, and still no luck. At the end of the day with no updates, I was beginning to feel like a wreck and probably looked like one too.
The next morning I did a little more research and found PawBoost. PawBoost actually worked twice that day, because Lucy managed to even escape from the first rescuers. Very soon after I used PawBoost I got a call from a family nearby who saw the PawBoost alert.
I had to wait maybe 2 hours for them to get off of work and then I could head on over to pick her up. All things appearing to calm down, I decided to lay down for a quick nap since sleep didn't really happen the night before. Maybe an hour later I get another call from someone who says they have a dog that looks just like mine in the back of their car, safe, but hot.
Thoroughly confused, I called the first family who said they found Lucy and they're still at work, but now they're worried about what happened at their house. It sounded like maybe their kid accidentally let Lucy out, maybe underestimating how good of an escapist Lucy is.
Being separated from your family is torture, so I'm thankful to PawBoost and the many people out there who helped reunite Lucy with me; the rescuers, and the people who posted their support and advice. I would recommend PawBoost to anyone and will do so going forward."
Spread the good news! Thank you to everyone who shared Lucy's alert. It's amazing how quickly things can turn around 🙂
---
Mufasa: Lost Cat Reunited in Omaha, NE!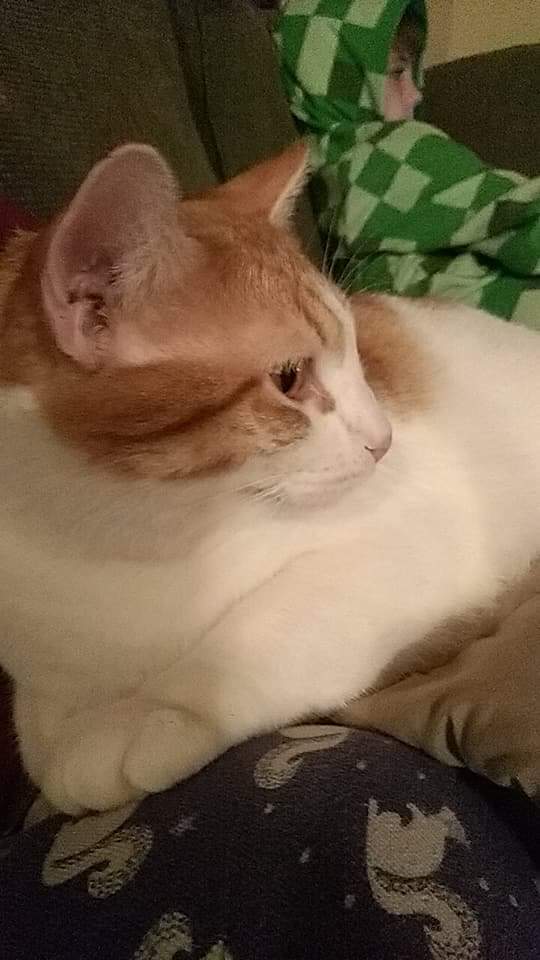 "I went outside to get laundry from my balcony and Mufasa must have slipped out the door in the process. I didn't notice he was missing until I got home from work that evening. My kids and I printed out a ton of flyers that PawBoost provided free of charge and handed them out to everyone in our apartment complex. We also posted some on light poles in the nearby area.
After we were laying down for bed I got a call on my phone. This really nice man and his girlfriend saw a cat slip into a cracked open garage door and as they were passing our flyer they thought it could have been him. They called and drove back around to see which garage door it was. I went down to the door and sure enough it was him!!
I absolutely recommend PawBoost! The shares, free flyers and services that you all provide is so amazing. When I called the vet yesterday to let them know he was missing, they already knew about it because they got the alert. I am so thankful for this service. It definitely helped me get my kitty back home!!"
Spread the good news! Thank you to everyone who shared Mufasa's alert. Notifying as many neighbors as possible is key because you never know who might find your beloved pet 🙂
---
Opie: Lost Dog Reunited in Calgary, AB, Canada!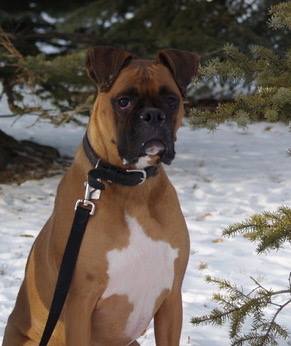 "I let Opie out into the yard, and when he didn't come back in for his breakfast I knew something was up. The gate has a broken latch, so I keep it closed by leaning old tires against it. Perhaps the wind blew it open in the night. Anyhow, he must have been gone a half hour or so when I realized it, and went looking for him.
First, I searched on foot, then drove around the neighborhood and visited places we go for walks. Nothing. At that point, I came home to look online. Someone I talked to with the city told me about the Facebook page for lost dogs and so I checked that out right away.
I posted my notice about Opie and right away someone from the neighborhood recognized him. He'd already been found! He was spotted dodging traffic on a busy nearby street and she'd grabbed him. A friend of hers responded to my lost notice and sent a picture. Confirming that it was Opie, we connected by phone to arrange pick up.
They'd taken Opie to the local vet where his chip could be scanned. Here's something everyone should take note of — the chip did scan and gave the name of my vet's clinic, but there was no owner information in their files! If your dog has a chip, on the next vet visit, I urge everyone to have their vet confirm that a chip scan can actually lead to identifying you as the owner!
Because of PawBoost, I got Opie back straight away — about an hour after I posted that he was lost. What a relief! Opie was just his normal happy, goofy self—had no idea I was worried sick! I would definitely advise others who've lost a dog to use PawBoost to get the word out, and to check for dogs that have been found.
Heck, I'd say be a good neighbor and check in on this site regularly before going for your daily walk. There might be a missing dog in your area, and this could help you lend a hand!"
Spread the good news! Thank you to everyone who shared Opie's alert. Opie's family is so thankful for great neighbors that brought him home safe 🙂
---
Sooie: Lost Pig Reunited in North Little Rock, AR!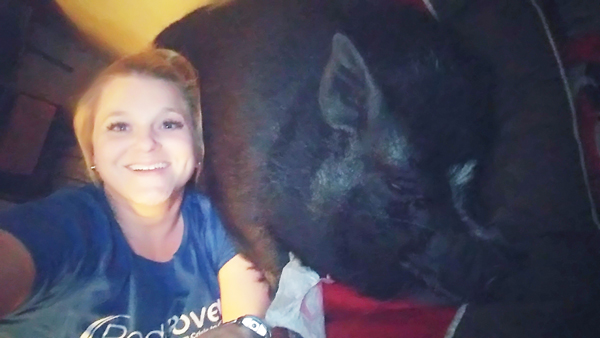 "As usual Sooie went out to potty first thing this morning and I went back to bed for a couple of hours. I didn't know there was a meter-reader on our street that morning and they most likely left the gate open. By the time I realized the gate was open, he was gone. I don't know how long it had been.
He's a pig, so any food will tempt him so I grabbed a big noose leash and started driving around with fruit and a box of cereal. He can't wear a collar (his neck girth is almost 35 inches) but he is microchipped, so I kept hoping he would be picked up by animal control and scanned for a chip, regardless of his species.
I submitted him on PawBoost, Nextdoor, our local lost & found pet network, and Facebook. After a couple of hours I decided to drive to my office, which is about 20 minutes away so I could print flyers. About 15 minutes in, a neighbor messaged me on Facebook and asked if I had heard about people on my street having Sooie.
I immediately turned around and headed home. He was 2 houses away from a busy street and they decided to lure him up to my backyard with bread which worked, but took a long time. I am very grateful to the neighbors and 3 police officers who responded to help. We live in a suburban area so I'm sure 'loose pig' sightings are not common.
Someone commented on one of my posts later that they had seen him almost a mile from home. That would explain why he was so hot, tired and muddy when he got home. I gave him a big bowl of ice water which he drank some of, then turned the bowl over and laid in it so I sprayed him off with cool water from the hose, dried him off and brought him inside. He immediately laid down to nap on an A/C vent.
I would certainly recommend PawBoost because early exposure is so important. I also think it says a lot to just get to know the people around you."
Spread the good news! Thank you to everyone who shared Sooie's alert. Sooie is home and only a little worse for the wear after wandering around in 100° heat 🙂
---
Mizzou: Lost Cat Reunited in Pawtucket, RI!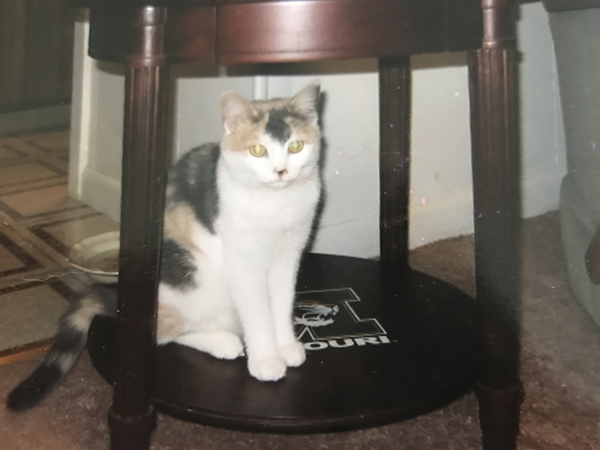 "We were having work done one late Saturday afternoon, and the construction workers had the back door wide open; however, we already placed Mizzou, our beautiful Calico cat of almost nine years, behind closed doors. Somehow, she got loose after my wife Bre went to work and I moved downstairs to watch TV.
I discovered later that night that I couldn't find her, but figured she was off hiding, as she sometimes would. The next day, I awoke and asked my wife if she had seen Mizzou but she hadn't either. We spent a couple of hours both driving and walking up and down our neighborhood trying to find her, to no avail.
We then went to the Slater Park Animal Shelter to see if they had found her, no luck. So my wife tried to get some sleep because she had to work 7 pm – 7 am. I spoke with three or four neighbors on at least two streets asking if they had seen a VERY friendly Calico feline, and all said they hadn't, but would keep an eye out for her.
We were frantic over the next two days; my wife discovered PawBoost online, and they continued to send us tips and very nice, supportive notes. My wife kept saying that we're never going to find her and would start to tear up, but I had faith we would.
Sometime Tuesday, Bre was shopping at a local store and received a text from our next door neighbor. Apparently, her husband was watering his backyard lawn and bushes when he saw a little, white, tan and smoke-colored thing staring at him. He called for his wife, who knows Mizzou all too well, picked her up and cuddled her.
Thank God we found her, but we also want to express our deepest gratitude to PawBoost. What a fantastic, caring organization! Keep doing what you're doing. It's incredible the support you give. We are so blessed to have found your guidance and your website! We are all convinced that PawBoost is a lifesaver!"
Spread the good news! Thank you to everyone who shared Mizzou's alert. Once Mizzou was home safe her family cuddled her for the LONGEST time. A purrrrfect ending 🙂
---
Bobo: Lost Dog Reunited in Saginaw, MI!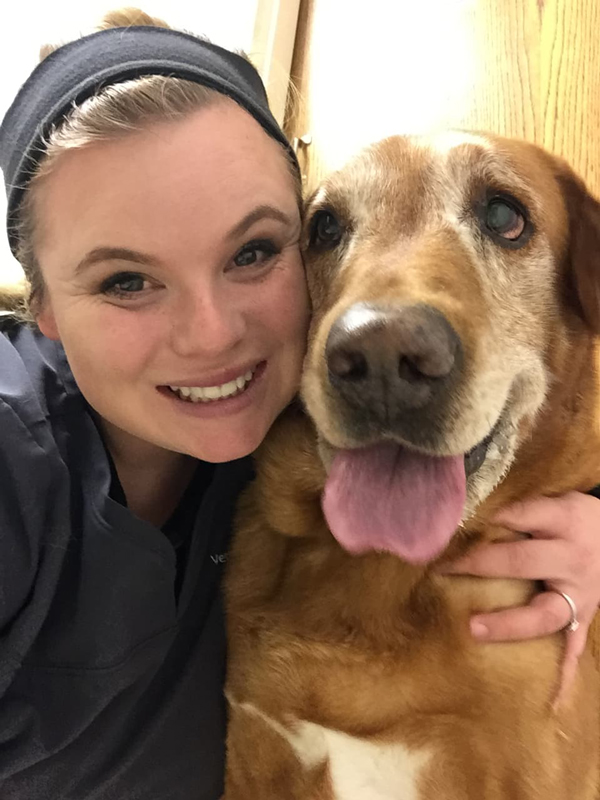 "Bobo went missing after running out of the yard on a Sunday. We were not home due to our father-in-law needing emergency surgery. When we realized he was missing, myself and Ryan (Bobo's pet parent) searched through the back woods and the streets for hours. We were told by a neighbor that they saw Bo running toward an abandoned barn/corn field, but he was no longer there.
We continued searching, made posters and flyers, posted to countless Facebook pages and also alerted PawBoost. I work at a veterinary clinic so I continued to call surrounding clinics and faxed his picture to be posted. I also contacted all shelters, humane societies, and rescues. We repeated this process for 6 days.
On day 6, I was taking a shower and I heard Ryan yelling for me to hurry up. He got a call from someone who saw a post of Bobo hiding in a ditch, but when they went to get him he ran. We rushed to the location where he was spotted, but didn't see him anywhere.
Ryan then ran into the woods to find him. I could hear him yelling his name while I stood on the side of the road to see if he'd run into the road. Ryan called me about 20 minutes later to let me know that he still hadn't seen him. Then, all of a sudden I heard him say he found him and told Bo not to run.
I knew Bo was running away and I didn't know if we were going to find him again. I decided to post again on the Facebook pages I originally posted to. I knew that many people in our community knew about Bobo missing. Amazingly enough, within 20 minutes we had a dozen people there, some with dogs to walk through this terrain, to help find our boy.
After about 6 hours, Bobo was found. He was scared and shaking. He was whimpering and seemed in pain, but once he saw Ryan old Bobo was back. He leaped into his arms and we saw his tail wagging again."
Spread the good news! Thank you to everyone who shared Bobo's alert. He is doing great now! His family didn't think that they would see him again, but now they get to cherish every moment 🙂
---
Xena: Lost Dog Reunited in Wetumpka, AL!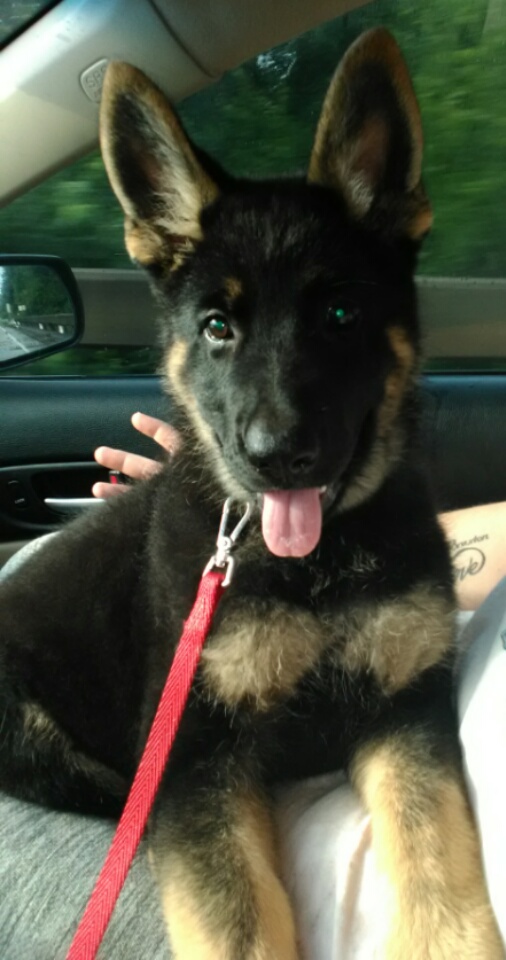 "Xena was outside with my other dog when my other dog decided to run off and Xena followed her. My other dog came home but I guess Xena got lost and couldn't find her way back. I made severals posts on Facebook including the one from PawBoost. This got her picture out there so when a lady posted that she found a German shepherd puppy someone noticed it was Xena and gave her my info.
I would say PawBoost helped because they got her picture out there and had people keep their eyes open for any dog that looked like it could be her. On social media, news travels fast and when you have an app like PawBoost to post for you so many people can see it that might not have seen it otherwise. I highly recommend PawBoost! It is awesome!"
Spread the good news! Thank you to everyone who shared Xena's alert. Xena's family is so glad to have their baby girl back 🙂
---
Gunner: Lost Dog Reunited in Meridian, ID!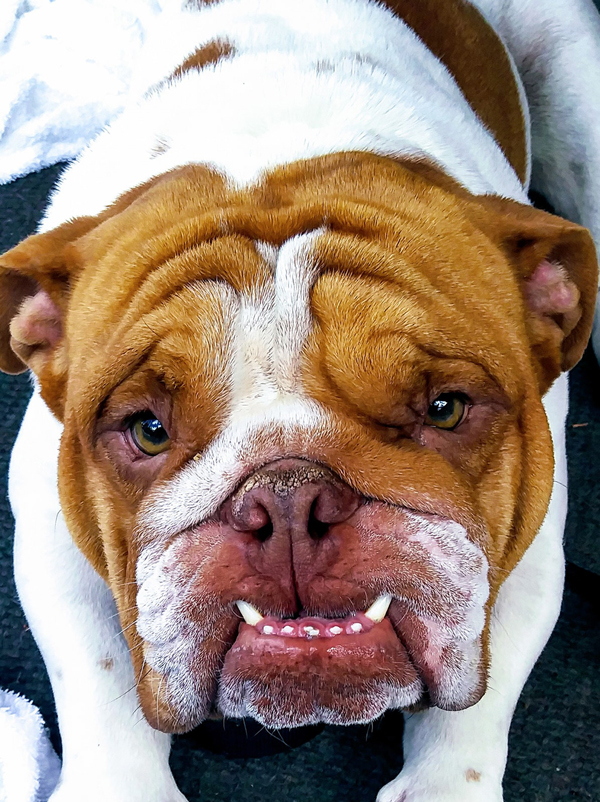 "We are actually staying with a friend for a few days waiting on our house to be ready for move in. There are 3 adults and 7 kids under the age of 11. Needless to say it's a loud, crazy, fun household and unfortunately doors will be left open. Gunner is a bit of an escape artist and was able to get out of the garage. We realized he was gone later that night.
I did a Google search on creating a lost dog flyer and PawBoost popped up. I signed up, created a flyer and out it went to so many people via email and Facebook. Within minutes I was receiving emails from people that were sharing the flyer online and not even 45-50 minutes later we got a call that someone had Gunner.
I would absolutely recommend PawBoost! I am amazed and grateful for the awesome community of people linked with PawBoost. The process was fast, and easy to begin. I am/was completely shocked and amazed at how quickly the use of PawBoost led Gunner home! It was really awesome and it made our kids extremely happy."
Spread the good news! Thank you to everyone who shared Gunner's alert. Gunner's family is so happy that he is home safe 🙂
---
Barley: Lost Dog Reunited in Mount Pleasant, SC!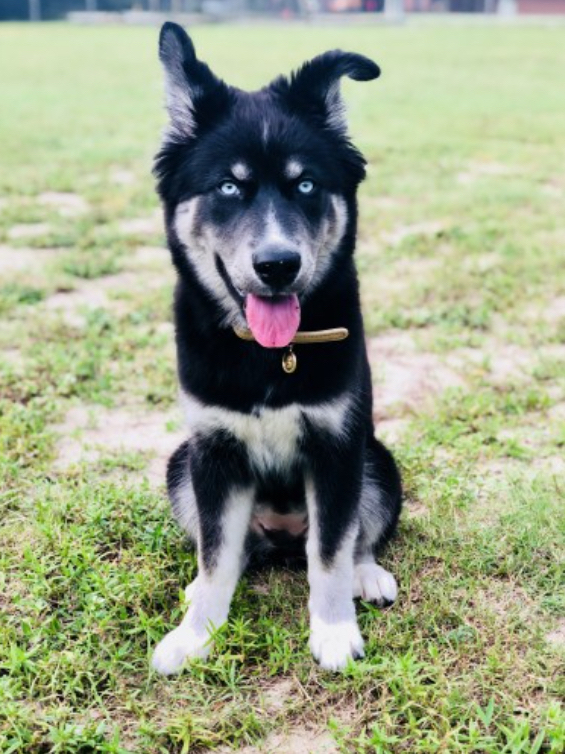 "My husband and I were getting ready for work this morning, pouring coffee and making a quick breakfast. Brew, our 6-year old Doberman, was in the backyard and the gate was open slightly. Typically, Barley doesn't leave our sight, but she saw a woman walking a white husky (that just so happened to look a lot like her mom) so she ran to greet them towards the front of our townhome.
By the time we noticed she was gone with the woman. We spent 2 hours scoping out our neighborhood and the surrounding area, alerting everyone we ran into. We called every vet in Mt. Pleasant and even alerted the local police. I created a quick lost dog flyer and printed 100 copies. Meanwhile, all of our coworkers shared it digitally via social media.
One team member created a PawBoost account for us. Fortunately, our neighbor posted a photo of Barley on a shared Facebook page and one of our coworkers noticed. About the same time, I received a phone call from a woman in Columbia, SC that was on PawBoost and had also connected the dots. She was concerned and wanted to make sure we located Barley.
I would absolutely recommend PawBoost! I'm astonished by the number of responses we received within such a short timeframe. There is no worse feeling than losing your pet and I'm thankful these types of services exist. Hopefully there won't be a next time, but I'd absolutely recommend this service to a friend in the future."
Spread the good news! Thank you to everyone who shared Barley's alert. Barley is now home safe and sound with her family 🙂
---
Paco: Lost Cat Reunited in Aliso Viejo, CA!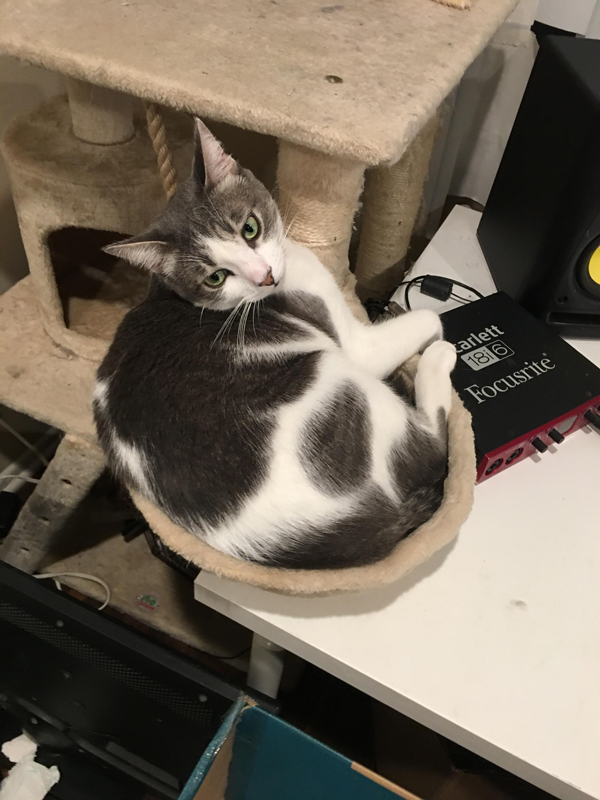 "Paco went missing from our cat sitter's home. We are unsure of how or the exact date because the cat sitter was not paying attention to him like she should have been.
Paco was reunited with his family about 3-4 days after he went missing. Paco's dads and I went for one last walk around the neighborhood around midnight and saw him walking on a neighbor's wall.
We had put out some food, water, his litter box, and even our sweaters in the event that he recognized our scent. Maybe it worked, because we really had been searching every bush in the area for three days and couldn't find him. We couldn't believe it was him when we did!
PawBoost was a necessary step in getting the word out to see if anyone in the area spotted Paco. It really was other people's successful reunion stories that gave our family hope that we would find Paco again. We'd love to inspire the same hope for another family in a similar crisis."
Spread the good news! Thank you to everyone who shared Paco's alert and kept an eye out for him. Whether your beloved pet has been missing for a few days or months, never give up hope 🙂
---
Love these Happy Tails? We love sharing them! Click here to read more.