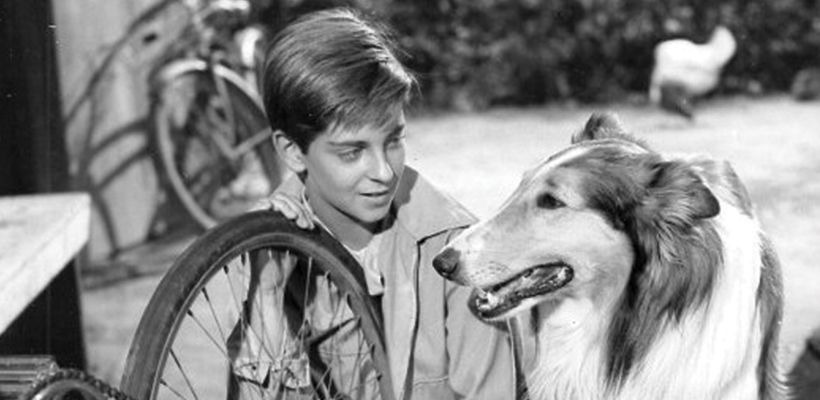 Top Five Celebrity Dogs of All Time
This article is contributed by guest writer, Dawn Greer (Writer at Tindog).
Top Five Celebrity Dogs of All Time
Dogs are man's best friend. Few good stories don't involve a dog.
Dogs are in the movies and on the television, but they are also written into our history. They've made their mark on the world and our hearts. Many of us grew up knowing about some of the most famous dogs and these were real dogs in many cases.
True stories wound their ways into history and lore, along with the famous dogs that lit up the silver screen. Sometimes, as you'll find out, the name you know them by is not their real name.
We've compiled a list of the top five famous dogs of all time. See if you recognize these dogs by name and if you know their real name off-screen.
1. Rin Tin Tin, The famous German Shepherd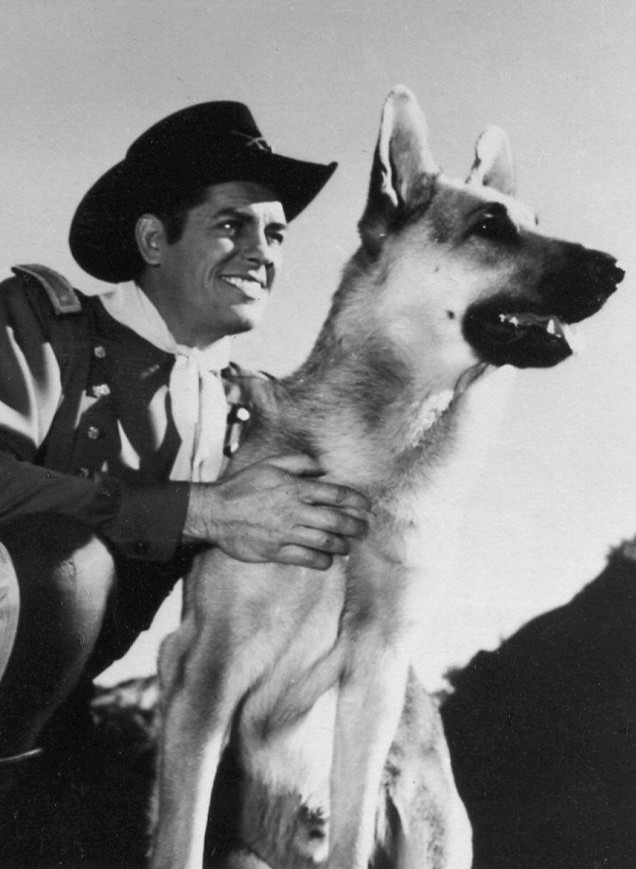 Photo Credit: James Brown / Public domain
This famous dog starred on the silver screen. What made him such a superstar was the fact that he was rescued from a battlefield in World War I. Lee Duncan was the American soldier who rescued the dog and trained him for film work.
Rin Tin Tin became an ambassador for the German Shepherd breed, skyrocketing the popularity of the breed which prior to WWI had not been popular outside of Europe. Duncan often referred to the dog as Rinty. He won the hearts of the world and lived from 1918 to 1932 — a very long life for a German Shepherd.
2. Toto, the Cairn Terrier that stole the attention in The Wizard of Oz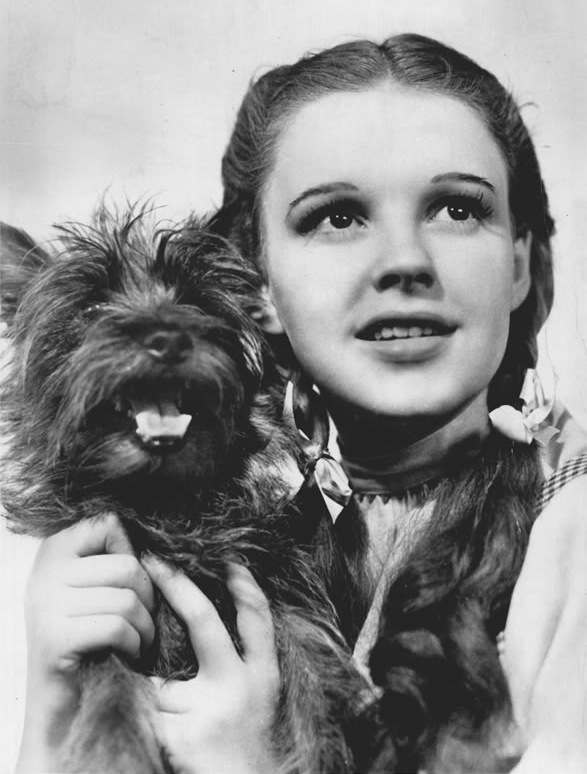 Photo Credit: NBC Television Network / Public domain
The real name of the dog was Terry. Terry starred in many roles as a dog actor, but none were as famous as the role of Toto, alongside Judy Garland. Carl Spitz was her owner and trainer.
She received credit for the film The Wizard of Oz, but they named her as Toto, not Terry, in the credits. The next time you watch the film, watch for her in the credits.
She lived from 1939 to 1945 and is buried with a large monument to mark her grave. She was paid $125 per week during filming, which turns out to be more than the munchkin actors were paid.
3. Lassie, the Rough Collie who told us Timmy was in the well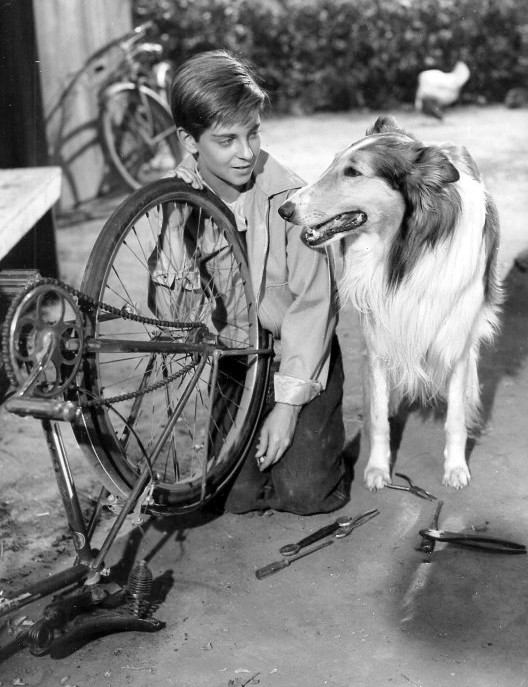 Photo Credit: Batten, Barton, Durstine & Osborn for the show's sponsor, Campbell's Soup. It was not uncommon in the 1950s and 1960s for publicity material to be distributed by either an advertising or public relations agency. / Public domain
Lassie was the star of the television which bore her name. She loved her little boy, Timmy, and was often getting him out of trouble. While the role of Lassie was that of a female dog, the original dog actor was named Pal and he starred in 7 of the original Lassie movies.
He earned more than twice what his human costar, Elizabeth Taylor, earned in the original film. Pal lived for 18 years but in his last year of life, he suffered deafness and blindness before passing away in 1958.
Many other dogs have gone on to reprise the role of Lassie, but Pal was the first. Lassie films are still popular today, along with reprised versions of the television series that was extremely popular as well. Very few children, even today, do not know the name, Lassie.
4. Balto, the Siberian Husky that saved Nome, Alaska
Photo Credit: Brown Brothers / Public domain
Balto's story is real, he was not an actor. Balto was a sled dog in Alaska and his fate was sealed in history when he was the final dog to run the last leg of the great serum run to Nome with the antitoxin vaccine when Diptheria had broken out.
People in Nome were surely going to die, and many did, but thanks to Balto's bravery and incredible stamina, the serum was able to get to the people in time. Due to the frigid temps and bad weather, planes and vehicles were unable to get to Nome.
The only plane that could have made the journey had an engine that was frozen solid and wouldn't start. The dogs were the last hope for the people of Nome and Balto rose to the occasion.
Balto and the other sled dogs endured temperatures of -24°F and delivered all the vials of medicine safely, saving the people of Nome. Many other teams of dogs ran legs of that journey, but it was Balto and his musher who entered the village of Nome and became the heroes of that story.
5. Bobbie the Wonderdog who traveled over 2500 miles to get home
The Brazier family lived in Oregon but went on a family vacation to Indiana. They took their dog with them. Bobbie was an English Shepherd/Scotch Collie mix that was dearly loved by his family. While visiting relatives, 2-year-old Bobbie was attacked by two other dogs.
He ran away, frightened, scared, lost, and possibly injured. They searched for him frantically, but after searching without any success, the family eventually had to return home, to Oregon. An incredible journey ensued in which Bobbie made his way back home.
Thanks to eyewitness accounts who would later contact the family, most of Bobbie's trip was tracked and it was apparent that he had followed the family's scent, stopping in each place they had stopped for a night on their way back home to Indiana.
Six months later, after the family thought they'd never see Bobbie again, he appeared at their door. He was mangy, with worn paws, thin, and having gone through quite an ordeal to find them.
He died relatively young, passing away in 1927 at the age of only 5. His journey may have left him with health problems. He became famous for his epic journey and when he passed away, even the famous Rin Tin Tin would visit his grave and lay a wreath in his honor.
Bobbie's story was known all over the world and a movie was made about this dog's incredible devotion to his family and his journey home.
In some cases, movies were made of the dog's real life and sometimes the dog became famous by starring in a movie, but one thing remains the same, we love them all.