Happy Tails! September 2017 – Lost & Found, Dogs, Cats & Pets That Were Reunited in September
Happy Tails! September 2017 – Lost & Found, Dogs, Cats & Pets That Were Reunited in September
PawBoost loves to share happy endings! Read September's Happy Tails to learn how these fur babies were reunited with their families.
Love these Happy Tails? We love sharing them! Click here to read more.
---
Found Dog Reunited in Grand Rapids, MI!
"I came home from the grocery store at 2:30AM and was startled to find two big brown eyes staring at me in my driveway! The dog just froze and didn't bark or move. He did not have tags or a collar. I then opened the door to my house and he walked right over and went inside! Lol
He wandered into the living room where my husband was watching TV and sniffed around. My husband never noticed it wasn't one of our dogs. I was laughing so hard and I said to him, 'that's not our dog!' and he said, 'WHAT?' He told me to put him back outside and he will probably go back home. I told him no way and said I was going to find his owner.
I put him in our older vehicle temporarily even though he smelled slightly like skunk! I then got on Facebook and found PawBoost! I quickly placed an alert on PawBoost and on Craigslist in hopes of finding his owner. By now it was 4:00AM! I then went back out to the car, got the dog and snuck him into our basement so my husband would not know he was in the house! Lol (I did eventually tell him)
At 11:00AM, I had two responses to my alert on PawBoost; however, neither were the owner. At that point, I decided to walk the neighborhood to see if someone would recognize him. No luck. So I went back home and saw there was another response on PawBoost. It read, 'that's my dog, Duke! Does he smell like skunk!?' I knew then it was the right owner. The smell gave it away!
The owner had never heard of PawBoost, but her friend had and she called her to tell her someone had found Duke! So, Duke and I got in the car and we went to meet his mama! It was a happy reunion!
PawBoost was a great help in this reunion. If it were not for PawBoost and the number of people I was able to reach, this reunion may not have happened. I would definitely recommend PawBoost to my friends who have pets. In fact, I would tell them to get the app too. Thank you for being there PawBoost! Duke thanks you too!"
Spread the good news! Thank you to everyone who shared Duke's alert. Duke was reunited with his owner because a friend of his owner saw the post on PawBoost 🙂 Sharing is caring!
---
Found Dog Reunited in Chesapeake, VA!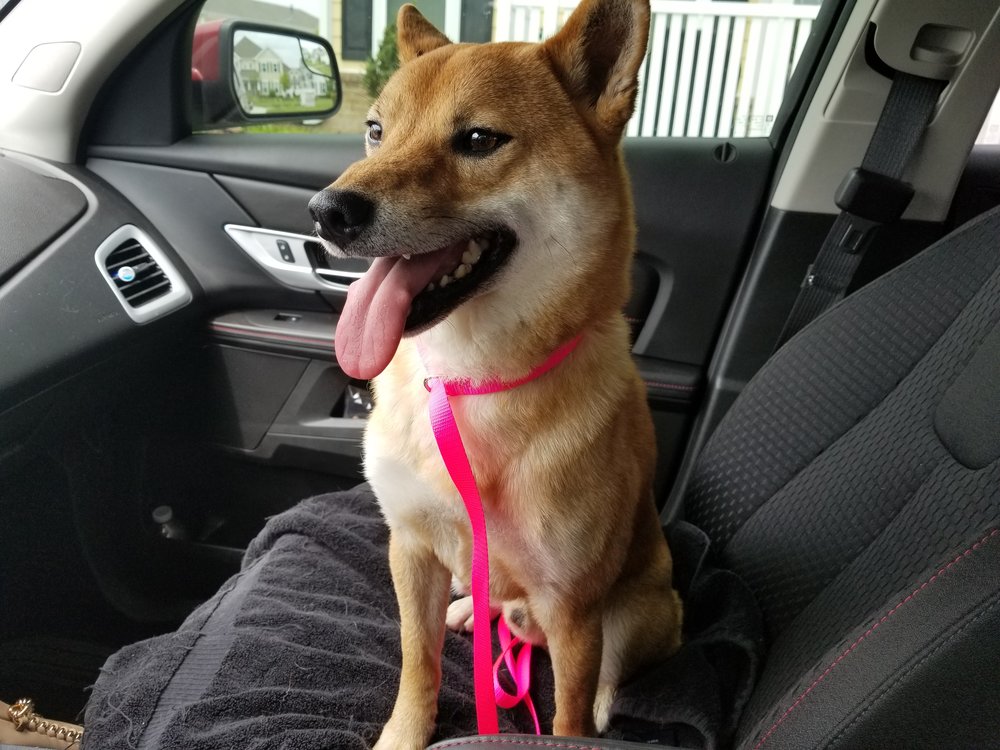 "I walk another dog every afternoon and as I was leaving the neighborhood, I saw this dog walking along the side of the road. I pulled over, got out of my car and simply called it over to me. The dog was super sweet and gentle. I immediately noticed that it did not have a collar on and I didn't see anyone around.
He was very clean and well groomed, so I knew he had to belong to someone close by. I could tell by his coat that he hadn't been wandering for very long. I put him in my car and took him to the closest vet's office to see if he was microchipped, but unfortunately he wasn't.
I drove back to the neighborhood and asked anyone who was outside if they recognized the dog and when I didn't get anywhere with that, I started researching online what to do and that's when PawBoost came up. I immediately signed up for it and created an alert for the pup.
After posting the alert on PawBoost, and saw that the info had been posted to Facebook, I took him to the closest animal control service unit. I felt like I did everything I could do at that time so I left.
A few hours after I got home, I went on Facebook and looked at the Lost and Found Pets – Hampton Roads page and scrolled through some of the messages of lost dogs. I came across one that had a picture of the dog and a message saying that their dog got out in the same neighborhood I found him in.
I noticed that several people had responded to the post and one of the responses showed my alert from PawBoost to share with the owners. I then messaged the owners to tell them that I had found him and took him to the shelter. The owners responded back thanking me and letting me know that they went to get him and that he was home safely. I do believe that PawBoost helped in reuniting the dog with their owners.
I absolutely recommend PawBoost! I feel this website is wonderful that it helps get the word out immediately and utilizes social media and email alerts. I was happy to have this site as an outlet to help spread the word."
Spread the good news! Thank you to everyone who helped share this pet's alert. Sharing the alert ultimately helped get him home safe with his family 🙂
---
Moon: Lost Cat Reunited in Bothell, WA!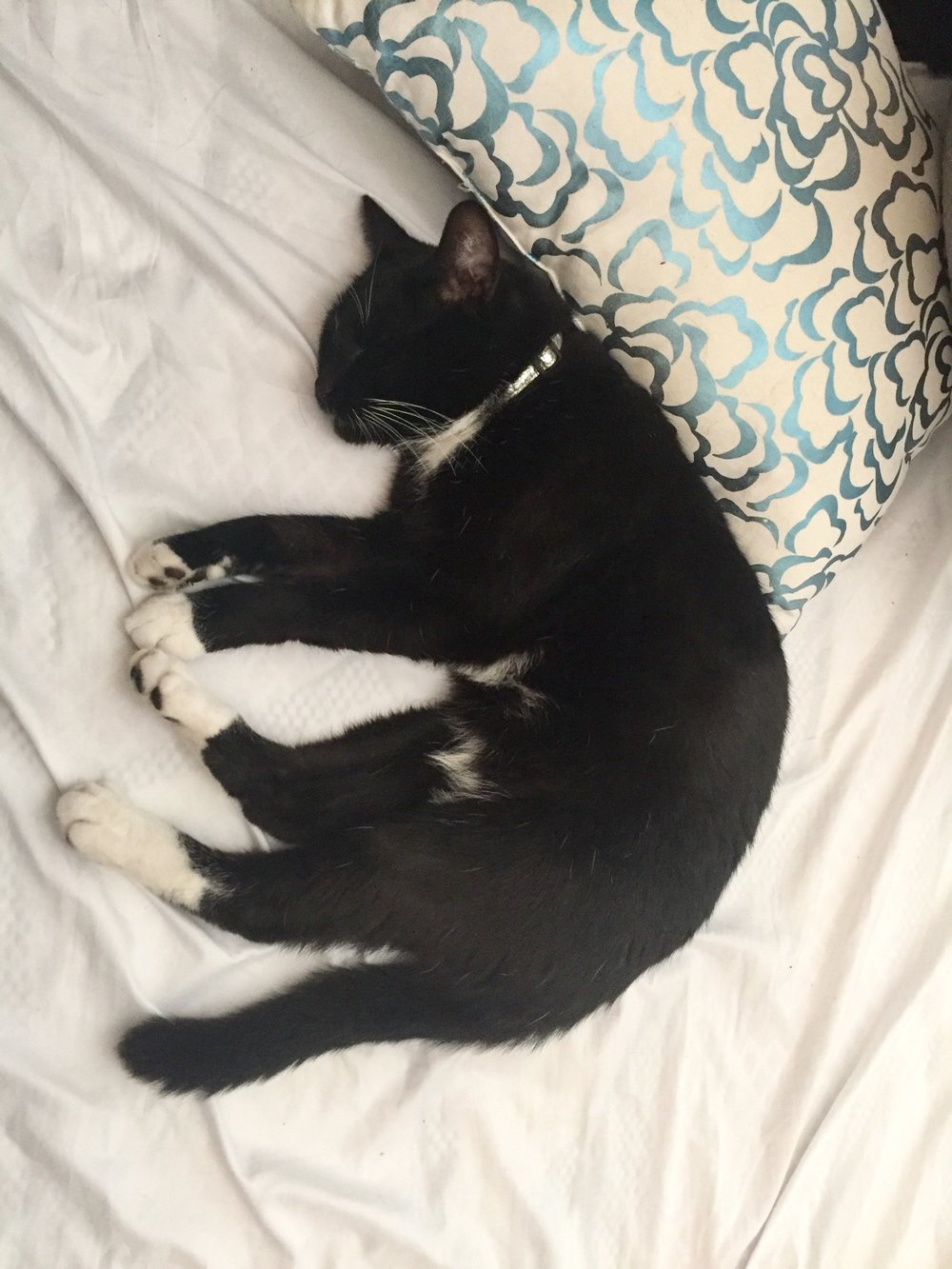 "I have a kitty door for my cats, Moon, Star and Silky. One evening, Moon went out just like usual, but didn't come back. I started getting worried by noon the next day. I kept calling him for few hours every now and then, but nothing. My friends suggested that he might be hunting or hanging out with another cat.
On the third day I knew it was not normal for Moon to be hanging out with some kitty or family for this long. I went to the trail next to my house with his favorite treats. I had this gut feeling that he needed my help.
When I shook his treats and called his name near the bushes, I heard his meow. Omg that was such a pleasant, shocking feeling that he was alive. Initially, I thought my ears were ringing, but I started calling his name louder and I could hear his voice along the trail.
I went to the other side of the trail thinking that he was calling me from that end. I could hear him much clearer there. I was worried that he was hurt by some animal and could not run. I could not find him on the ground even though I cleared the thorny bushes to look for him in the deep end of the trail. Suddenly, I thought he might be stuck in a tree. And there HE WAS.
Once we both saw each other we were so happy. He knew I was there to help him and he was going home. The tree was 100 feet tall and Moon was sitting high up around 50 feet on a branch. He kept trying to climb from one branch to another to come to me but he was not coming down.
I went back home to bring the longest ladder (16 feet) I had and called a friend. We both went next to the tree to try and calm him down. I called 911, but they said they didn't handle these type of calls and suggested I call 411. I opened the ladder next to the tree but it was too short. Moon was now up even higher.
In the meanwhile, my friend called the fire department and they gave her this cat canopy rescuer number. I made several calls to different people, but most of the calls went to the voicemail. We were able to get ahold of a cat rescuer but he said doesn't start until around 8:30PM once his family is asleep. It was 3pm at that time.
I could not stop looking for help. My friend suggested to call arborist. I did that. One of the gentlemen agreed to come within 20 minutes. He came and assembled all his equipment and went up the tree while I was keeping Moon calm. But when Moon saw this stranger coming up he started moving away. I kept telling him to go back to Robert, he is there to help and is a friend, but Moon was scared.
Robert did everything possible from going up and coming towards Moon's side of the tree to waiting calmly for him to come towards him. Ultimately, Moon was so far out on the branch that it seemed like it is going to break. Moon lost his balance and was now hanging upside down. By then I knew he wouldn't be able to go back up and was going to fall down into the thorny wild bushes. I had one basket ready for him to fall into. And he fell down but away from that basket and ran away.
Robert came back down and I was able to call Moon out of the bushes. We all went home and waited for Moon with his wet food, water and treats. He came back after 15-20 minutes. I picked him up and cuddled him and loved him. He was not eating or drinking water for a while.
After a while he ate, drank water and slept. I slept next to him as he was meowing even in sleep just like he had been for last three hours when was being rescued. After I laid down next to him he slept peacefully in my arms. I was so relieved.
PawBoost was the site I came across when I was posting about Moon being lost. I posted on a few places in lost and found pages and on PawBoost. I was happy that I was able to upload his picture and receive a flyer. It gave me a peace of mind that volunteers would spread the word. I would highly recommend PawBoost to my friend in need for getting the word out to as many people as possible."
Spread the good news! Thank you to everyone who shared Moon's alert. Moon is relaxing and adjusting being back home. Star and Silky are happy to see him too 🙂
---
Speedy: Lost Turtle Reunited in Great Bend, KS!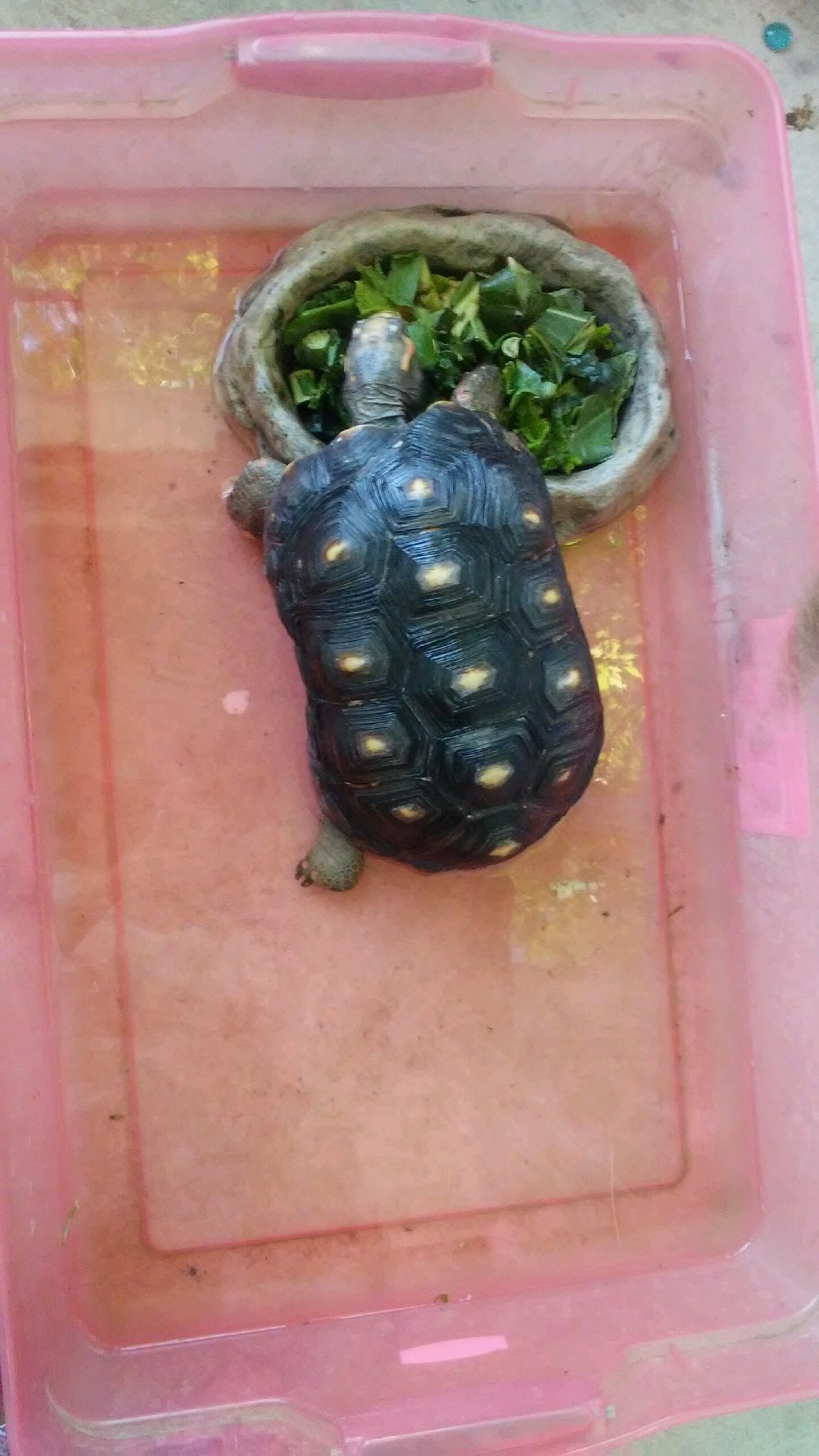 "My dear Speedy went missing when my daughter took him outside for some exercise and did not keep a close eye on him while I was at work. I found him today during my lunch break at a neighbor's home. I could tell he had walked around a lot due to the amount of dust on him that he would get in the alley, not the yards.
Even though the heat is hard on him, that might have kept him from venturing too far. It looked like he tried to get back to our yard (tortoises and turtles are territorial) but couldn't find his way due to sheet metal behind the neighbor's garage, and took refuge from the sun under some boards leaning on her house.
He was happy to see me when I found him. You have to get used to tortoise language and gestures to be able to tell, but he's my sweetheart and I knew he was glad I found him.
Thankfully, Speedy took refuge from the heat and didn't get far. If it had been a cooler day, he would have likely gone much farther and risked crossing streets, etc. Thank you PawBoost for the service you provide and may you be blessed."
Spread the good news! Thank you so much to everyone who shared Speedy's alert and took part in helping find him. He was dehydrated, but wasn't injured. As soon as he came home he went soaking in his tub and had a big bowl of his salad to feast on 🙂
---
Freedom: Lost Dog Reunited in Clemmons, NC!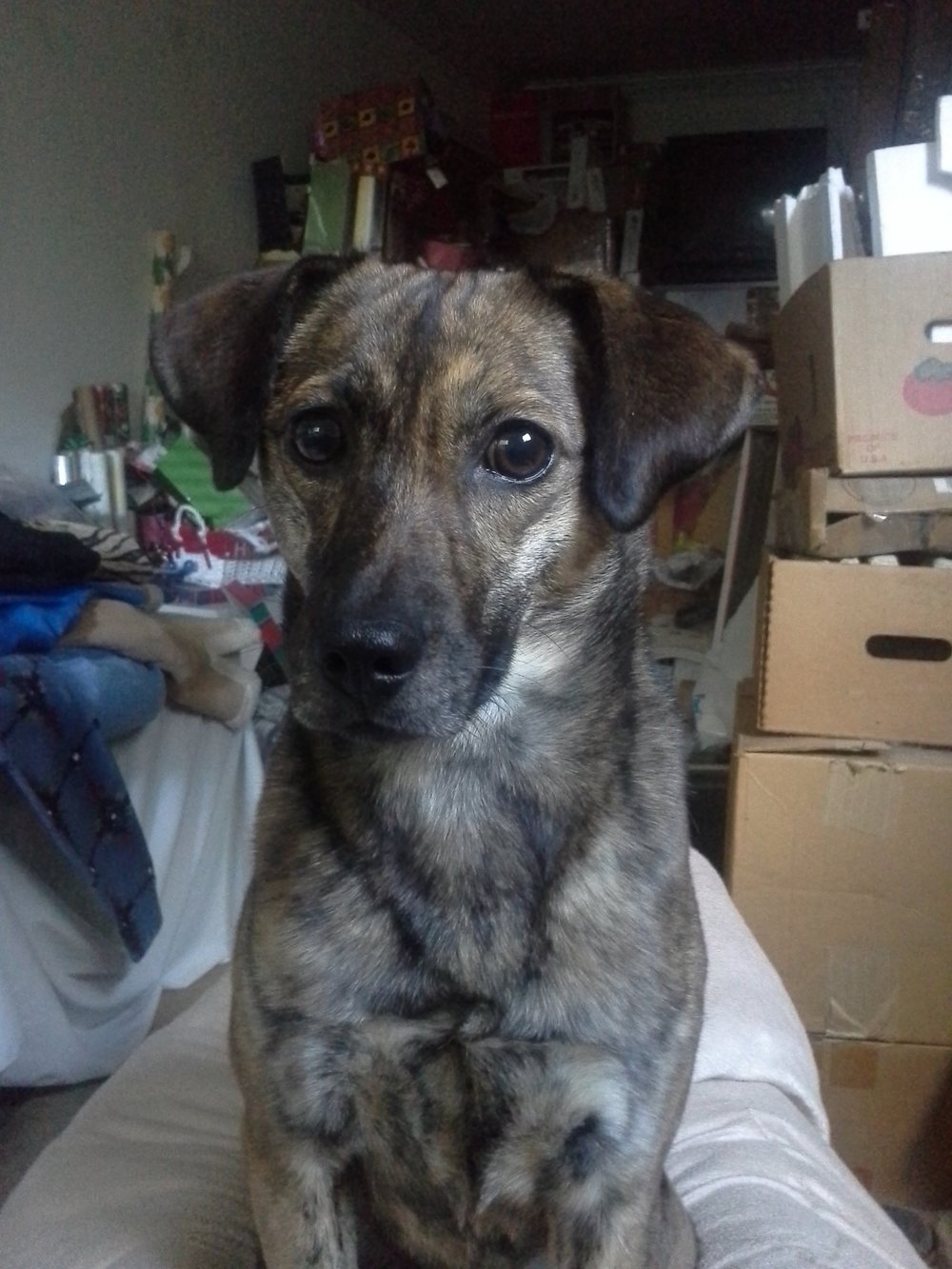 "My husband and his partner were working in the back of our property and even though we have extensive fencing and a number of gates someone left one open and Freedom wandered out. My husband was completely distraught along with the entire family. She is his baby girl so we went to work making flyers and posted her on every website anyone recommended.
A friend told us about PawBoost so we put it on there as well and it went to social media. Someone saw it on there and sent it to someone else that shared it. We then posted it on my page on Facebook and it was shared extensively.
One of the first people that saw it called us 4 days later and said she had seen her about a mile from our house near some old buildings on vacant land. The family and some friends went to the location and walked around and called for hours, but no luck.
My husband took our big dog down there and walked him around for several miles in hopes she would pick up his scent. Then my husband went back in the van and spent the night on the property through a night of terrible thunder storms, but still nothing the next morning.
His business partner brought him a chicken biscuit the next morning and he left half of it on his chair along with dirty laundry and food scattered all through the woods. He got another call that she had been seen again just a little further down the road so he went down there putting out more posters and knocking on doors.
As he was coming back, he glanced over and saw that the paper he had left his biscuit on was gone so he pulled onto the property again and there she was waiting by his chair. He jumped out and she saw him and jumped into his arms. Thank God. Poor guy..he didn't sleep for 4 nights.
I would definitely recommend PawBoost to anyone that has a pet go missing. The Facebook presence of PawBoost worked for us and we truly appreciate it. We are so glad to have her back."
Spread the good news! Thanks so much to everyone that helped share Freedom's alert and helped locate her. Her family is tired but very happy that their baby girl is back 🙂
---
Harley: Lost Dog Reunited in Louisville, KY!
"I am the mother of four kids, one of which apparently didn't close our back door completely when we were coming in from playing in the yard. Harley took this opportunity to make a dash out the door. She is a very energetic puppy who loves to play in the creek in the back and runs for it any chance she gets! By the time I saw that back door cracked, she was gone.
After looking all day we became desperate and turned to social media. I posted a notice on my wall that she was missing and asked all of my Facebook friends to share. I also immediately turned to PawBoost for added exposure. The PawBoost community started responding and sharing right away.
The exposure was so quick and broad we had people coming up to us asking about our dog, that they had seen she was missing on Facebook. Within a few hours we were contacted with information on the people who found her and she was home a few hours after that.
I would absolutely recommend using PawBoost. PawBoost was spreading the word and I have no doubt that this service is essential when you have a missing pet. Thank you PawBoost! You helped return my fur baby home! :)"
Spread the good news! Thank you to everyone who shared Harley's alert. She was located within just two hours or so with the help of people spreading the word in the community 🙂
---
Brewster: Lost Cat Reunited in San Antonio!
"We recently sold our home and are staying in a temporary rental home about 3 miles away from our old neighborhood. After about five days here, as we took our dogs outside in the middle of the night, we believe Brewster was able to push the screen door open and sneak out, unbeknownst to us. We went back to bed and upon waking up a few hours later, we realized he was missing.
We did a lot to try to find him including getting him posted with PawBoost, putting his litter, food, water, a toy, and a blanket outside our backdoor and setting a humane trap. We turned our house upside down, searched under the house, and basically called his name overtime outside. We canvassed the neighborhood, passed out flyers, posted signs, checked wooded areas, and explored local cat colonies.
We even went back to our old neighborhood and had our former neighbors keep an eye out for him. We posted on social media and other sites similar to PawBoost, including 24 Hour PetWatch, which is where his microchip is registered. Shortly after 12:30 AM, my husband heard a cat crying at the backdoor and when he opened it, he found Brewster literally clinging to the screen door.
He was so happy to be home!! He was a bit skinnier and quite hungry. After a much needed meal and tons of snuggling, he crashed. I know I woke up several times throughout the rest of the night just to make sure it wasn't all a dream! It was a dream come true!!
We would most definitely recommend PawBoost to our friends and family. Even though Brewster returned on his own, PawBoost helped to put our minds and aching hearts at ease. Knowing that there was an organization out there helping to spread the word beyond our own reach and personal resources was helpful.
We were able to concentrate our efforts in searching our neighborhood knowing that PawBoost was working in the background on our behalf. Furthermore, the fact that the community of people spreading the word and sharing the posts from PawBoost was encouraging.
It was heartwarming to know there were so many people caring enough to share his story and it was comforting to hear the stories of others who were reunited with their fur babies. It helped us remain hopeful! That in and of itself makes PawBoost a great resource!! Thank you!!
I hope this information will in turn provide the same hope to others who are missing their furry family members. It is a terrible position to be in, especially not knowing where they are or how they are doing. Never ever give up hope!!!!"
Spread the good news! Thank you to everyone who shared Brewster's alert. Aside from being a bit skinnier, he looks good; however, a vet visit for a thorough check up is in his future. His owner is thrilled to have him home and will be snuggling with Brewster a lot more! 🙂
---
Sammy: Lost Dog Reunited in Tulsa, OK!
"Sammy is a two year old, 75 pound, mastiff lap dog and serves as a PTSD therapy dog for my grown son. He got out of his fenced yard one day when my son was at work, and he had a run-in with a neighbor's pit bull. Sammy had his left ear ripped in two and a long wound in his left shoulder. He had to go the vet for repair surgery.
On the way home from the vet, Sammy was apparently so traumatized he jumped out of the half open window of my son's moving truck, ran into some woods and disappeared. We searched those woods over and over again at all hours, day and night. We covered the area with dozens of posters and flyers.
We put out an alert and had our entire community praying with us. It was PawBoost that did the trick! A lovely family in Sand Springs took Sammy in after seeing him wandering in their neighborhood for about a week. They posted a picture of him on the internet, and a friend recognized him from our alert and got in touch with us!
We are SO happy to have Sammy safely back home again. The many prayers and PawBoost made a miracle happen! Thank you for caring! I have been so moved by the success stories I have seen and so yearned to be one of them and now we are!!! What a Sammy Saga this has been. It has been the hardest thing we have ever been through."
Spread the good news! Thank you to everyone who shared Sammy's alert. Sammy was reunited after 50 days! Never give up hope 🙂
---
Turbo: Lost Dog Reunited in Beaumont, TX!
"Turbo went missing during the flood from Hurricane Harvey. He was rescued from our home from rescuers associated with Harvey Animal Rescue. They informed me that they had stopped at a gathering area for all the rescuers and decided to let some pets outs for a short break. Turbo decided to run away from the rescuers after they allowed him out the cage. They had no choice but to leave him behind. I bet he was in shock and looking for me.
After almost two weeks of a horrible flooding event that took place in my neighborhood, I received a text from an AWESOME stranger with a picture of a dog that they thought was Turbo. Well, thank God for that person because it was Turbo. He was found by the Beaumont Animal Services and safely sheltered their for the time being.
Even though I lost my car in the flood and currently have no transportation, I decided to wait no longer and walked over an hour to the shelter in Beaumont, TX to claim Turbo. To my luck, It WAS him. He was so excited and so was I. The walk was well worth it.
I'm thankful for services like PawBoost. When I first created the alert of my lost pet, I saw there were so many great people sharing the post and wishing for the very best. I felt like Turbo had a whole team searching for him and It worked, someone shared a snapshot post from the Beaumont Animal Service Facebook page and texted it to me. It was the best text I've EVER received from a total stranger who became a great part of me finding Turbo. Thanks PawBoost and all who shared!
I would most definitely recommend a great service like PawBoost. It allowed me to put out an alert that's shared by many people who have great hearts. It creates a far reach to an audience that actually cares and is willing to help find your lost best friend. PawBoost gets a 10/10 from me!"
Spread the good news! Thank you to everyone who shared Turbo's alert. Hurricane Harvey and Irma have left so many families and fur babies displaced, but finding your best friend with the help of a stranger can brighten up anyone's day 🙂
---
Savannah: Lost Cat Reunited in Tarpon Springs, FL!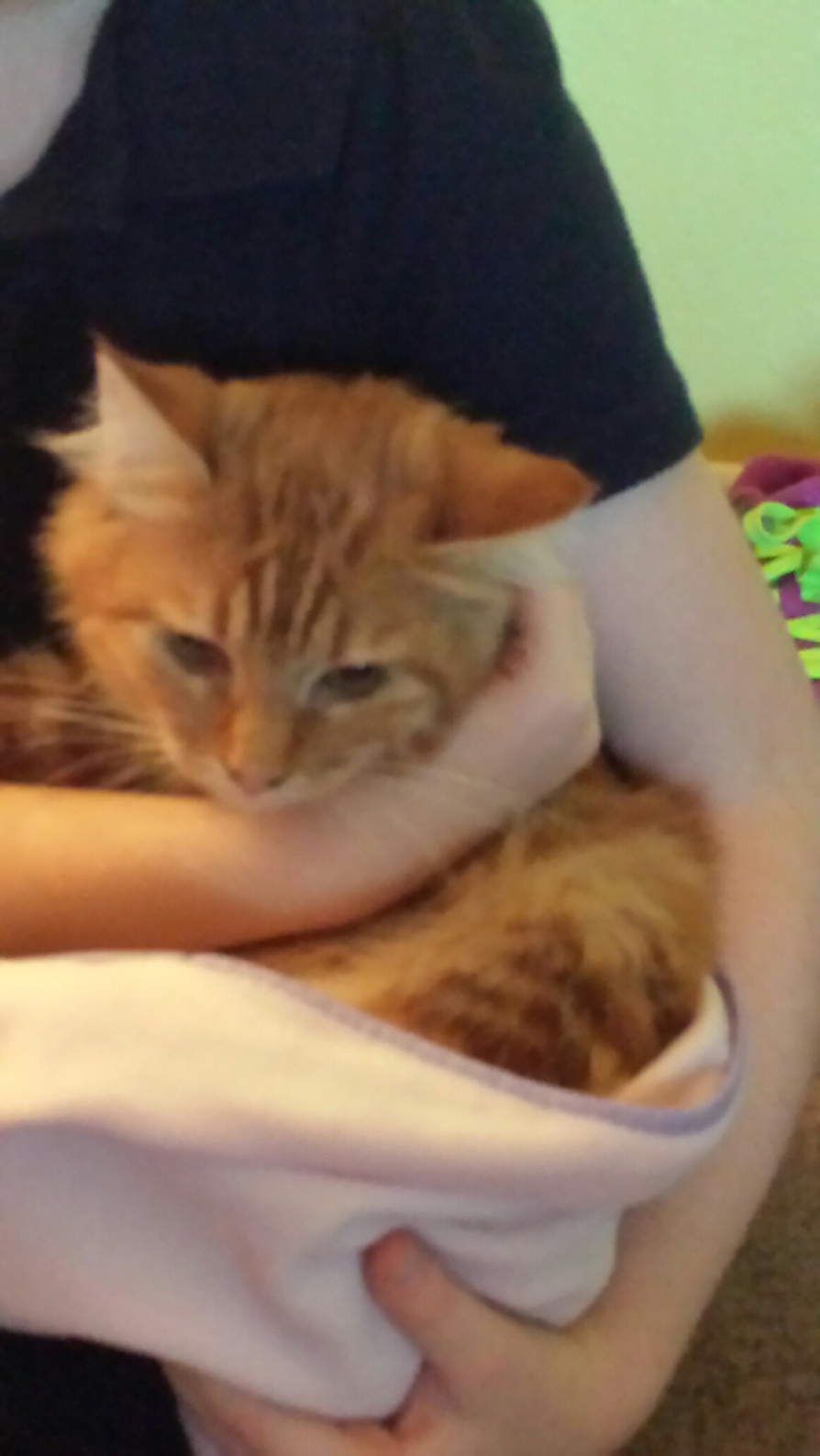 "Savannah was lost during preparations to evacuate our home during Hurricane Irma on September 9, 2017. We originally planned to stay and wait out the hurricane but around 10:30 in the morning we found out that the storm had changed course and was headed straight for us.
They had already evacuated zones A and B which a few houses down from us was zone B so we knew it would be only a matter of time. There was so much commotion all day as we prepared outside and inside the house plus packing to evacuate 2 adults, 1 teenager, 1 child, 4 cats and a dog.
After the car was packed and all the other animals were secured in their carriers we all went looking for her. It took three of us to lift the mattress, box spring and crawl under to get her out from under our bed. She was so scared that she scratched me deep, several times before she went and scratched my face at which point I let go. She flew through the house.
My 17 year old was able to get her and she calmed in his arms. He carried her to his truck (we needed two cars to evacuate with all the pets) and when he tried to put her in the carrier she started to scratch again, bit down on his thumb and he let go and she took off down the road.
We went looking for her, searched and searched but could not find her. There was a curfew in effect for our county for those that were evacuating and we were already 30 minutes past that time so we spoke to people that were going to ride it out and asked them to keep an eye out for her and then we had to go. It was very upsetting to know that she may be out in that storm by herself.
Our 8 year old daughter and I prayed and prayed to have her be safe the entire time we were gone. Before, during, and after the storm we reached out to neighbors and friends to see if everyone made it to their destination or shelters without any harm as well if anyone had seen Savannah.
On Monday, September 11, with no sign of her and us not to return until Thursday due to power outages and my disabilities, I reported her lost on PawBoost and a few others as well. PawBoost was the fastest and easiest site to get her information out there. I was amazed with the support and advice I received from strangers.
The numerous prayers on our behalf helped us through this time to not give up. There were a few sightings in the area which gave us hope she made it through the storm alive. We arrived home Thursday at 1am and the next morning had no choice but to deal with the damages of the hurricane.
We were outside the majority of the day and calling her name. Once again there was so much going on fences down, debris everywhere, floods in the porch, roof damage, screen doors off, etc.. There was no sign of Savannah.
The next day when I finally arrived back home I sat down and re-read a few posts and called our veterinarian to see if anyone spotted her. We left food out in the porch and at 6:30 I put her bed she liked to sleep on in the backyard.
At 9:00 we let the dog out and right away he went crazy. Running back and fourth from the fence to the house barking and being completely crazy. I called my husband to come see what's going on. I thought there might be a wild animal in the yard.
Once we got the dog inside and turned on a light he yelled, 'it's Savannah, it's Savannah!' and we all came running, which was not a good idea because she got scared and backed towards the fence. While my husband got everyone back inside I grabbed a can of her favorite cat food, a plate, and a flashlight and headed out back.
I called her name softly when I saw her hiding in the corner by the fence. I walked slowly and stopped halfway, opened the can of food and put it on a plate. She started to come forward but stopped within reaching distance. Eventually, she climbed to the top of the fence. I spoke with her very softly the entire time. She let me walk up to her and hold the plate by her mouth and she started to devour the food.
So now I had to figure out how to keep the food high on top of the fence for her to eat and be able to pick her up with both hands. I did not know if she was hurt and I certainly did not want to spook her into running away. I had to do it by myself if I called out for help it may scare her.
I held the plate of food with my teeth, put the flashlight back under my arm and with the paper plate in my mouth leaned in so she could eat. I slowly petted her until I could feel she was relaxed and I picked her up. She did try once to hold onto the fence but then she just leaned into me and cuddled up against my neck.
At that point my husband was holding the porch door open for me and I brought her in to the porch and put her down by the food and water, still not letting anyone by her. She ate, drank and then went to the kitty condo and jumped up onto her favorite perch and fell right to sleep.
I also want to mention the day after our kitty went missing a dog name Ellie May in the next town over went missing as well from the storm. As I was posting last night that Savannah was found so was Ellie May. We were so happy for them as well. It was a good day for lost pets on PawBoost.
I recommend PawBoost because it gave us so much hope and encouragement that Savannah would make her way home to us. They got the word out very fast and gave us a feeling of community. Not only were we looking but so was everyone else."
Spread the good news! Thank you to everyone who shared Savannah's alert. It's not easy to be away from your fur baby, especially during a hurricane. When tough times occur the support from a community can make a difference 🙂
---
Koufax: Lost Cat Reunited in Los Angeles!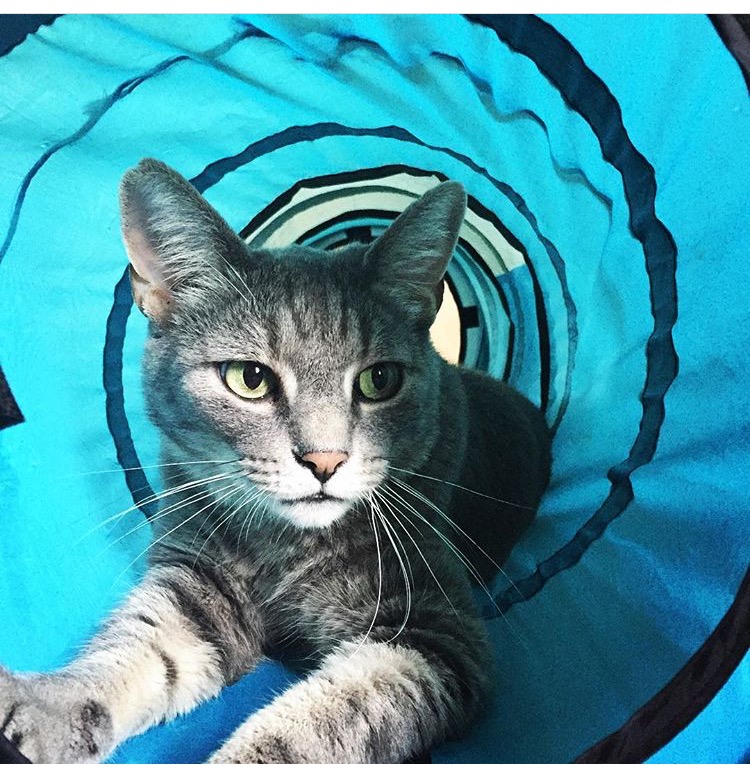 "My boyfriend Drew and I moved in to my mum's guest house in Los Angeles the week before Koufax went missing; we had just relocated from Nashville. Both Koufax (and his sister Brisby) were indoor/outdoor kitties in Nashville.
He once did this in Nashville for four days but he was familiar with that neighborhood and had no knowledge of this one. We decided to introduce them to their new backyard on Friday night. I think it was too early and we both have felt guilt ridden and sick about it.
Koufax failed to return and in the morning he didn't pop out either. We put flyers up around the neighborhood and in mailboxes. We talked to anyone we came across on the street. We went for walks regularly, especially at dawn and dusk calling his name, we even went out at 3:00am. We thought that even if he was in hiding at least he could hear us calling to him.
His litter box, bowls of food and smelly clothes were all placed outside in the hope he could get a whiff and find his way back. We called local rescue groups and shelters. I posted on Facebook, Instagram, Nextdoor and used PawBoost. A neighbor called me saying she thought she had seen a kitty matching Koufax's description on Sunday night, others let us search their yard with flashlights and many said they would look out for him.
It was a strange way to reacquaint myself with the neighborhood I grew up in but also lovely to find out folks were willing to help! On the sixth night we went for an evening walk and then I went to bed. My boyfriend fell asleep on the sofa and at 1am woke up to see Brisby sitting on the back of the sofa staring at the french door behind it. So Drew sat up and there Koufax was, just sitting there casually.
I stumbled down the stairs completely shocked as Drew called up to the loft, 'Koufax is back!' I really wasn't expecting this! I thought if we did see him again it would be from a distance and we would have set traps to catch him.
I have read multiple stories about kitties being found weeks, months and years after they go missing. I think you just have to stay proactive and diligent in your search, even if it's heartbreaking and you feel the chances are slim. We don't know what resulted in Koufax returning home but we know we did everything we possibly could to ensure we increased those slim chances. Don't give up!"
Spread the good news! Thanks to everyone who shared Koufax's alert and kept an eye out for him. He was casually waiting at the front door when he was found and is in good shape 🙂
---
Dublin: Lost Cat Reunited in Roanoke, VA!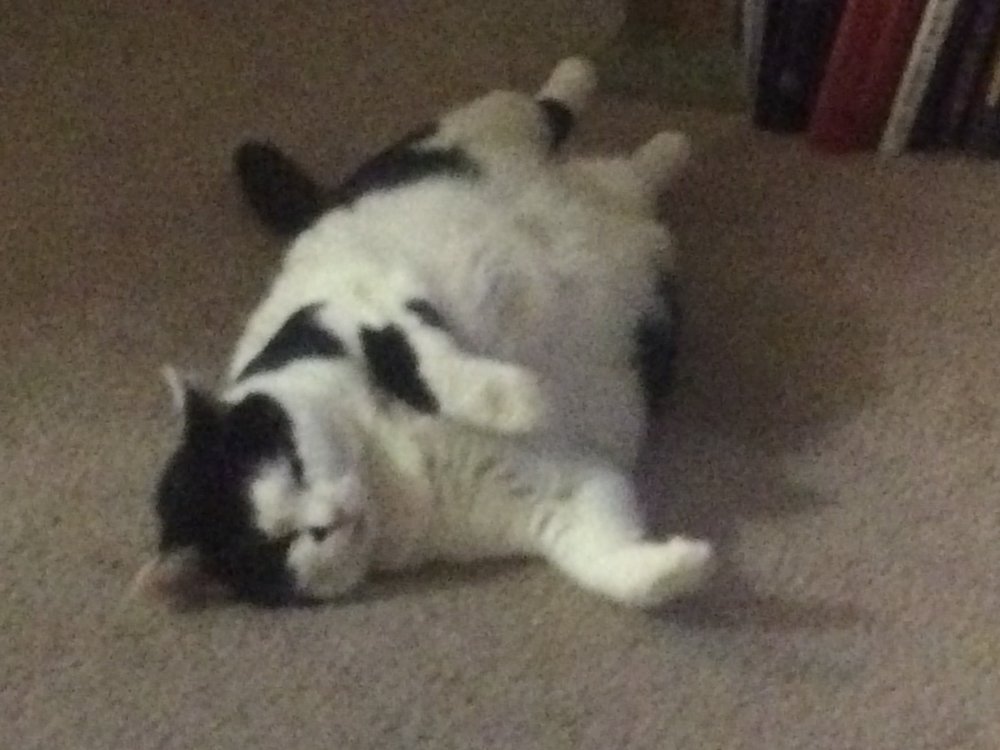 "I was recently divorced and moved from a house on a farm to an apartment with Dublin. At our house, she had a great time playing outside catching mice, chasing critters and visiting the cows and horses. She was safe, never went in the road, and was in and out of the house all day, but she stayed in at night.
Now that we are in an apartment, she cries to go outside. I tried various harnesses and leashes, but she lays down and won't move when I put them on. I tried taking her outside with me and watching her, but she tried to dive into a storm drain and is obsessed with that.
There is a nature preserve about a mile from my apartment. It is very quiet and very few people frequent it. The parking area is a vast grassy yard with a few benches and woods. It is on a small mountain full of trails. I thought this area might be a good place for Dublin to explore and get a change of scenery/exercise.
We were having fun enjoying the grass and she was obviously delighted with the place. All of a sudden, a hiker appeared coming from one of the trails. It scared Dublin, and instead of coming to me, she ran blindly under a fence around the parking lot. When I looked through the trees, I could see she had run down a steep muddy incline into a ravine across a moist creek bed and up the other side.
I called her, but she was scared and wouldn't come to me. I recently had knee replacement surgery and had on the wrong shoes to try to climb down the embankment, so I called my son, who showed up with his fiancé and a friend. As bad luck would have it, some park workers showed up with large riding mowers and started mowing!!
We all tried different routes to reach Dublin, but the more we pursued her, the farther into the woods she went. Finally, it got dark, and we had to leave her. I immediately put her on PawBoost in case someone in the nearby housing development might see her. Of course, I could not sleep and was worried sick. I went back to the preserve at 10:00 pm and called her, but no luck.
At 5:30 am I put on my hiking boots and grabbed a backpack with her food, water and her favorite blanket and went back to where she first disappeared. This time when I called her, she answered me with a pitiful little cry. I told her that I was coming and maneuvered my way down into the ravine. I fell several times, which upset her.
When I got to the bottom, she came right to me and I fed her and gave her some water, but when I went to pick her up, she ran. I spent about 2 hours trying to catch her. I kept falling in the muddy creek bed, and every time she would come just close enough to see if I was OK.
Finally, I used some psychology and said, 'I'll be back,' which is what I tell her when I'm leaving. I climbed (crawled) back to the top and sat on the fence where she could see me. She came out of the woods and came closer, so I moved back and sat on a picnic bench where she couldn't see me. In a few minutes her head popped out from under the fence, and she walked over to me and laid at my feet. I just petted her and she let me pick her up and put her in the car with no trouble.
I'm not sure what was going on in her little mind, but I know she was scared; it broke my heart! I am so thankful for PawBoost! I love the app and the notifications. The pictures are very helpful, and the way the website is designed is easy to use.
When I get a notification of a lost pet in my area, I often will go help look for him or her. That is something I've done all my life using a little dog or cat psychology. I'm glad PawBoost was there and I will continue to use it, because I always recommend it to others. Thanks so much for your work to keep our pets safe! Good job!"
Spread the good news! Thanks to all who participated in sharing Dublin's alert and kept an eye out for her. Having as many eyes out when your pet is missing really helps! 🙂
---
Purrrfecta: Lost Cat Reunited in South Pittsburg, TN!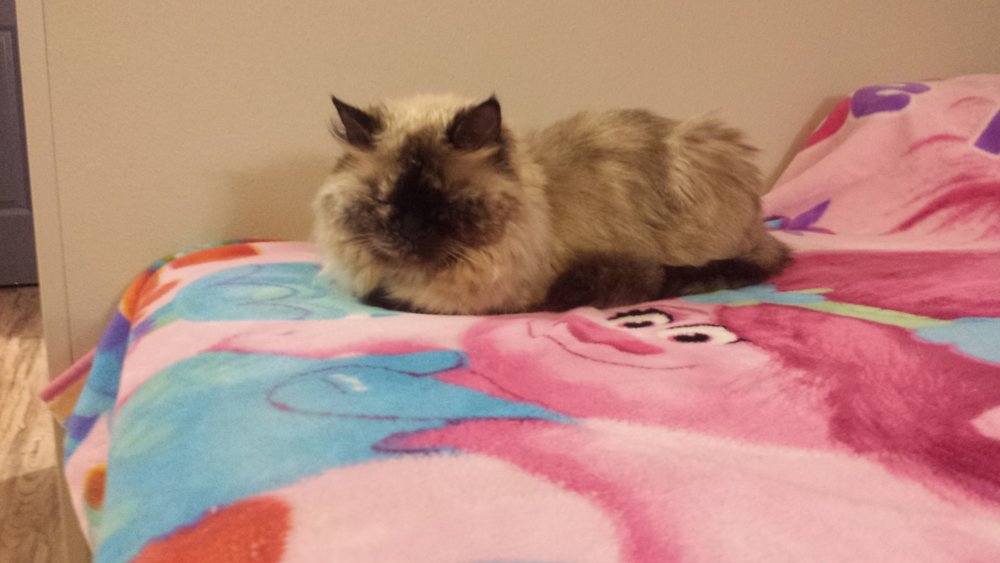 "We evacuated from Florida because of Hurricane Irma. Purrrfecta was in a soft carrier that had zippers on each end. This was our first long drive with her. Previously, she had only been in that carrier for a short trip down the road to the vet, and she never escaped, or tried to escape from it.
We checked into our hotel and I pulled her carrier out along with our luggage. I don't know if I forgot to re-zip the zipper after giving her water at one of our stops, or if she got spooked by all the dogs around us while we were checking in. I drove for 20 hours straight, and couldn't see or think straight, so it's entirely possible I didn't do my due diligence.
I started stacking our luggage on the hotel cart and planned to put her carrier on top of everything, but when I went to pick up her carrier, I noticed it was much lighter and realized she was gone. Purrrfecta had on a brand-new collar with our contact info, just in case. She is a sought-after breed, so when she went missing, I was worried that someone would keep her, if found.
I kept our car parked nearby the same spot we lost her, and kept her carrier outside, hoping she would return to it (but someone found it and either kept it, or threw it away). We kept her litter box by our car (thankfully, no one took that). We walked around our hotel and local businesses to tell them our cat was missing and let them know where we were staying in case they spotted her. We posted on Craigslist and PawBoost.
We were walking back from dinner, still calling out to her and I looked up and there she was way up a steep hill. I climbed up and got her. She didn't have her collar on anymore. No idea if she somehow got it off, or if someone took it off? I'm just happy to have her back. I would recommend PawBoost 1000x! You never know. The more eyes and alerts out there, the better. I cannot believe the amount of shares I received from strangers."
Spread the good news! Thank you to everyone who shared Purrrfecta's alert. She was a mess and has a sprained paw, but she will be okay. Her family is so happy to have her back. She is resting easy 🙂
---
Shadow: Lost Cat Reunited in Hyattsville, MD!
"On Tuesday, my schedule at work had just changed to closing later and my father was at home relaxing with Shadow. He left the kitchen window open and that's the ONLY window with no screen and by that time Shadow was just beginning to get interested in the outside world. He would spend hours just sitting at windows observing the outside world.
My father then went into his room to get ready to pick up my mother from work and I guess that's how Shadow escaped in that moment that my father went to his room and Shadow was left behind. Luckily, our deck is just outside the kitchen, so Shadow didn't get hurt.
A few days later, I got a call from an unknown number and initially I wasn't going to pick up the call, but I'm so glad I did – it was PG County Animal Shelter letting me know that someone just down the street had found Shadow begging for food. I was at work, but as soon as I got that call I could careless about anything or anyone and rushed to get my kitty.
When I saw him, it was the most bittersweet moment I've faced – my poor Shadow was like a walking skeleton very thin, infested with fleas and ticks. I'm taking him to the vet on Monday to get him checked out ASAP. I call him my little warrior because… HOW did he manage to survive in the unknown? HOW did not starve to death?
I rescued him in hopes of giving him a better life and that's what I was doing so I guess that's why his loss was really hard on me. I was traumatized, I couldn't sleep in my room because it would cause me to have flashbacks of him. I had to sleep in my living room, stay awake really late in hopes to see him once again.
He is a miracle and I'm VERY thankful to that family that decided to approach him and give the shelter a call. As I'm writing this, tears are just flowing down my cheeks – tears of happiness and concern. I would have given ANYTHING to have been me the one who was lost and homeless, not my baby.
I DEFINITELY recommend PawBoost because I saw that my lost cat alert got shared numerous times. Social Media is a great way to spread the word. People were helpful and I'm grateful for that."
Spread the good news! Thank you to everyone who shared Shadow's alert and thank you to the PG County Animal Shelter for providing a means to communicate with the family that found him. The search has finally come to an end and his owner can finally have the happy life they once had next to her little warrior ❤
---
Champ: Lost Dog Reunited in Ypsilanti, MI!
"He either took off or was taken from my parents' yard one morning while my husband and I were up north with the kids. They frantically searched the neighborhood, posted flyers, knocked on doors, and looked all day with no success.
That night I put Champ's picture and alert up on PawBoost, and the huge group of volunteers began sharing the post far and wide. Almost 10,000 people saw the PawBoost post in the 12 hours it took to locate Champ. One of them was a very kind man who called in the morning and said, 'I think I have your dog.' It was our Champ- and he was almost 75 miles away from home!
We didn't tell our kids Champ had been missing until he was found. They were all so relieved and sick at the thought of Champ wandering lost and alone, and when I showed them the comments and shares on Champ's post, they were so grateful and touched. They said, 'People are so nice!! I can't believe so many people would help us find Champ!' and most of all, from my son, 'I can't imagine life without my best friend.'
It took an incredible burden off of my poor parents, who would never have forgiven themselves, even though it wasn't their fault at all. What people do with PawBoost is try to heal the wound a missing, beloved pet can cause before it becomes a scar. I am 47, and I still remember and feel the pain of my dog who ran away when I was twelve.
What a gift. I wish we could thank in person everyone who took the time to share Champ's post and post messages of sympathy and encouragement. What you do makes a difference- thank you from all of us- we have our sweet boy back."
Spread the good news! Thank you all who took a moment and cared enough to share Champ's alert. You made a huge difference in this family's life and the life of their sweet boy 🙂
---
Love these Happy Tails? We love sharing them! Click here to read more.