Happy Tails! April 2017 – Lost & Found, Dogs, Cats & Pets That Were Reunited in April
Happy Tails! April 2017 – Lost & Found, Dogs, Cats & Pets That Were Reunited in April
PawBoost loves to share happy endings! Read April's Happy Tails to learn how these fur babes were reunited with their families.
Love these success stories? We love sharing them! Click here to read more.
---
Kia: Lost Dog Reunited in Lindon, UT!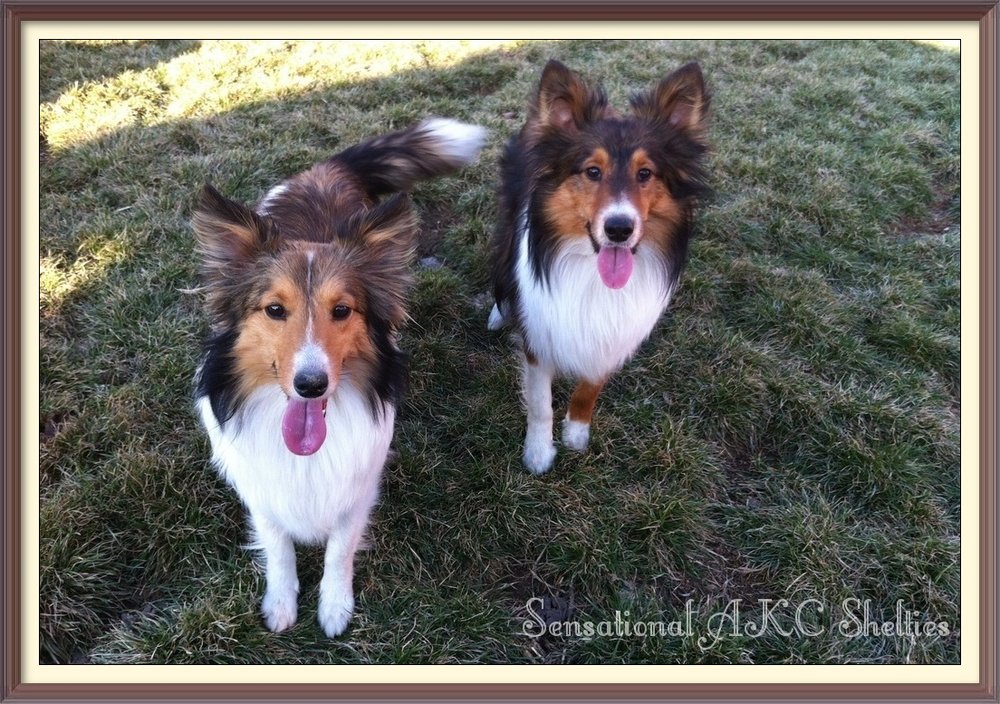 "The side gate to the yard was cracked open a bit enough for Kia and my other dog to escape. My other dog was recognized by a neighbor and brought back right away, but Kia was nowhere to be seen. We still don't know how the gate was cracked open but my Hubby thinks there's a chance he did not close it all of the way on his way to work that morning. He ended up fixing the gate so that it stays closed tightly, and you have to use a chain to manually open it. He did this the same day she went missing! And I fixed a few gaps I meant to get to just to ensure they would not be a future problem.
I was trying to keep myself distracted by everything because I was a nervous wreck and could not function normally while she was gone. I put up flyers all over the neighborhood, handed out flyers to vets and pet stores and posted them all over Facebook. The only thing that gave me hope was knowing she was microchipped and would eventually get scanned. With all of the flyers posted, but no calls I was terrified she'd either been hit by a car or stolen! It turns out she was intentionally taken! Thanks to an angel who was observant and recognized her, I was able to get my Kia back because the people who had her had no intention of finding her owners!
Having her microchipped is what really gave me the most hope. I believed she was coming home, and refused to think otherwise. I now fully support the importance of microchipping your pets, as it will save you a lot of heartache, and will give you a sense of peace when/if they go missing! I believe that PawBoost helped because the person who tipped me off said that they saw a flyer online that was forwarded by Banfield Hospital and I can only assume that they got the info from you guys!
PawBoost made me feel like the word would get out quicker and I felt like my chances of finding her were higher. It gave me a sense of peace knowing that I had a more extensive search that went out further and more successful then just my neighborhood flyers alone. I definitely recommend PawBoost to people because it gave me more hope during the lowest points when I felt broken and helpless."
Spread the good news! Thank you to everyone who shared Kia's alert and to the Good Samaritan who helped bring her back home. Kia ended up being about 35 minutes away from home in a few towns over, and is happy to be home safe with her family 🙂
---
Riley: Lost Dog Reunited in Bay City, MI!
"Riley, the little escape artist, got loose when my husband was going out to our van. He left the door slightly unlatched and it took less than a second for Riley to realize it. We tried to chase her down, but our chances were slim since she's a one year old beagle. So, we ran home and got into the car and drove around the neighborhood looking for her and couldn't even catch a glimpse!
We came home, waited a little while, and then went on another cruise of the neighborhood searching and asking if anyone had seen her. A few people pointed us in different directions, but still nothing. We called it a night and headed home. It was a sleepless, worrisome night. We couldn't wait to get up in the morning and start looking again.
I had already posted on Facebook about her but I knew it wasn't enough. So I googled something along the lines of, 'animal shelter near me,' and as I scrolled through the ads PawBoost showed up and I decided to give it a try. After I created an account with PawBoost we went searching again and day turned into night. We went to bed another night praying she would somehow find her way home.
We woke up the next morning with lower hopes than the day before. I took a shower and when I got out I noticed that I had missed a call. I listened to the voicemail left and it was the county animal control saying they thought they had found Riley! I quickly called them back and then raced down to get her! I was impressed as I received another call from another local animal shelter asking if we had found her yet.
I love how helpful the shelters around my neighborhood have been, but PawBoost made it so easy. They did all the work for me! All I had to do was add her name, city, email, phone number and provide a picture of her; PawBoost located all of the shelters, animal controls and animal hospitals in our area and emailed every single one of them about our missing Riley.
I recommend PawBoost to anyone with a missing animal! If it wasn't for PawBoost, I don't think we would have ever found out where Riley was. Thank you for everything you've done!"
Spread the good news! Thank you to everyone who shared Riley's alert and helped look for her. Riley's family is happy to have her back home and hopefully Riley has retired from being an escape artist 🙂
---
Elvis: Lost Bird Reunited in Orlando, FL!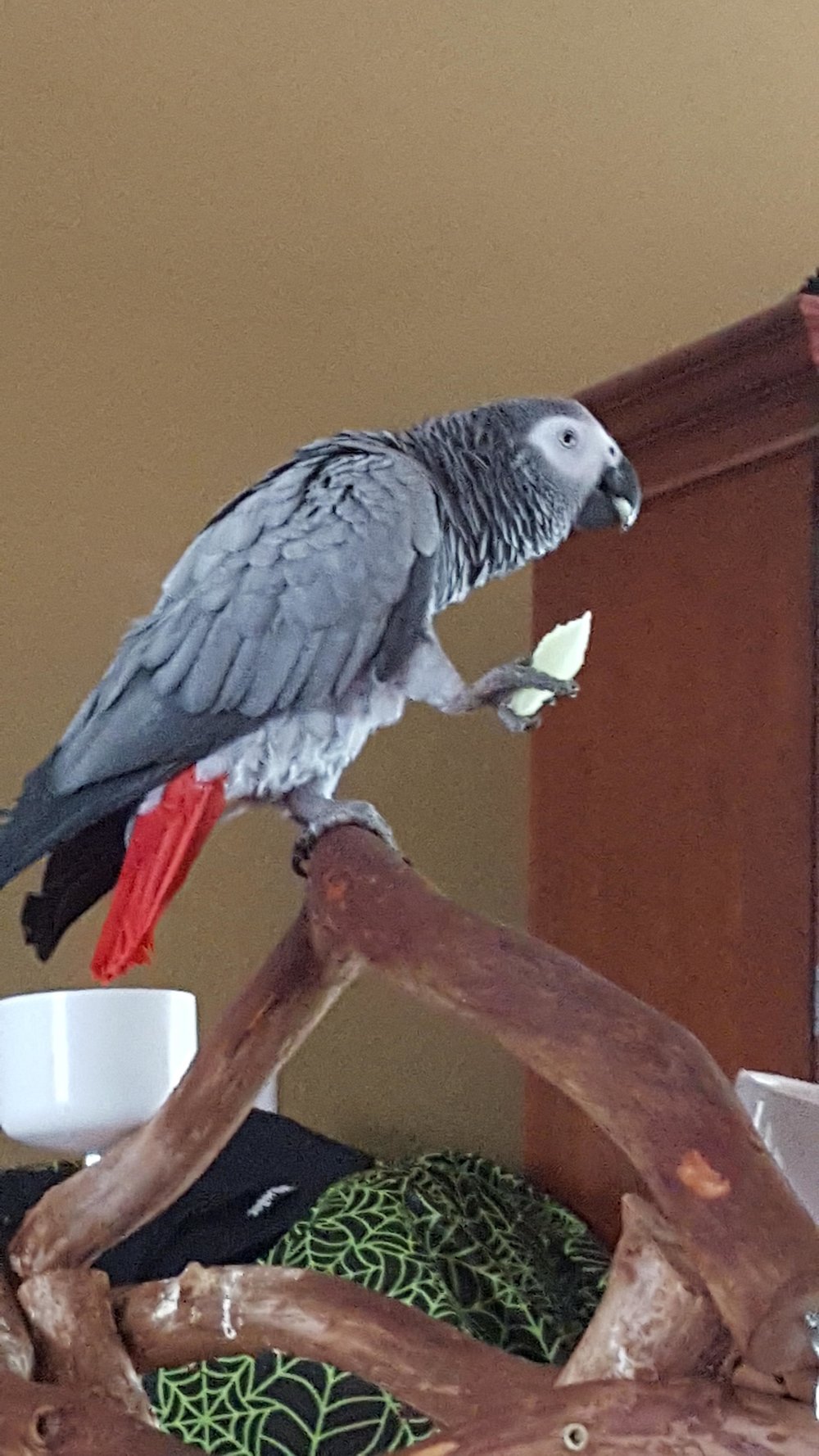 "Elvis is a 9 year old Congo African Grey we raised as a hand fed baby. He is a mild mannered Grey that is never outdoors but flies around the house to us from his cage. Elvis is a big part of our family. One day, we had to fumigate our house and took the dogs, fish and Elvis over to my parents for the day. That night as my husband was loading his travel cage into the car the top popped open when the interior light came on and startled Elvis, which made him fly out of the top into the dark woods.
My parents live on five wooded acres that include an active eagle's nest with babies, owls, huge hawks, bears and bobcats. My husband saw him take off 30 feet high into the deep, dark wooded wetland brush. We searched and called for him through out the night. My husband stayed outside all night listening for him. I brought the dogs home and posted 'Lost Bird' on Craigslist and then I found PawBoost on Facebook when searching for Lost & Found Pet pages.
When daylight broke, I headed back over to bring my husband pants to search in the brush and look for Elvis or remnants of him. I received text and phone calls that day from 2 wonderful ladies, Jamie and Carole, from 911 Parrot Alert who saw my PawBoost post and gave me encouraging comments. I read all of the tips and resources on PawBoost too.
I was just about to pay for a new PawBoost Facebook alert, when I received a call from a neighbor on my parent's street that they heard a bird talking. I notified the 911 Parrot Alert ladies who gave us very helpful tips on search and rescue as well as other resources to use.
PawBoost is a wonderful way to help reunite you with your lost pet by connecting you to others and giving helpful tips and recovery resources. It was our love for Elvis, encouragement and resource tips from PawBoost and the Grace of God that we were reunited with our sweet Elvis. Thank you PawBoost!"
Spread the good news! Thank you to everyone who shared Elvis' alert and for the encouraging words. After the long search for Elvis, his people are exhausted but are so happy they caught him and can bring him home safe 🙂
---
Buang: Lost Dog Reunited in Tacoma, WA!
"Buang went missing when I was in Oregon for my Mother's funeral 🙁 I was driving home when my roommate called me and said that a visitor did not make sure the front gate was properly latched when they left and he got out. Buang was spotted within the first 3 to 4 days approximately 10 blocks away from my home after a woman saw his PawBoost alert on Nextdoor. A few days later, another lady about 12 blocks from my home came home from work and thought she saw a small black cat sleeping in a cat bed on her front porch.
After she went into her home to set her groceries down, she came back out on the front porch but he had already gotten up and was in her front yard. As she walked towards him he got scared and ran off across the street. She then noticed he was not a cat but a small black Pug. She didn't see him the next night and thought he must have been a neighbor's dog, but the next day while at work she looked on Nextdoor and saw his PawBoost alert and gave me a call.
We came out that night and looked everywhere for him to no avail. She also looked when she got home from work but nothing. She put out some food and water next to the cat bed when she went to work the next morning, and when she came home that night it had been eaten so she refilled them again the next morning before going to work. She came home that night (9 days after he had gone missing) and there he was! Asleep in the cat bed on her front porch. This time she knew his name and when she called him he wagged his tail and let her pick him up.
His front paws were slightly swollen, his lips chapped and he was a little skinny, but he was alive and he was fine!!! If it had not been for PawBoost putting his alert out on social media so others could share them, who knows how long it would have been before he was found!
I highly recommend to people who have lost pets to reach out to PawBoost and to never give up looking for them, and to those that see the PawBoost alerts to share them on as many sites as possible. Thank you PawBoost for helping bring my baby Buang home and a very special thank you to Mary for also being such a big part of bringing Buang home, you are our hero!"
Spread the good news! Thank you to everyone who shared Buang's alert and to Mary for bringing him home. Don't forget to share lost pets in your area to help bring them home to their families 🙂 You can be an ordinary hero!
---
Camo: Lost Dog Reunited in Wendell, NC!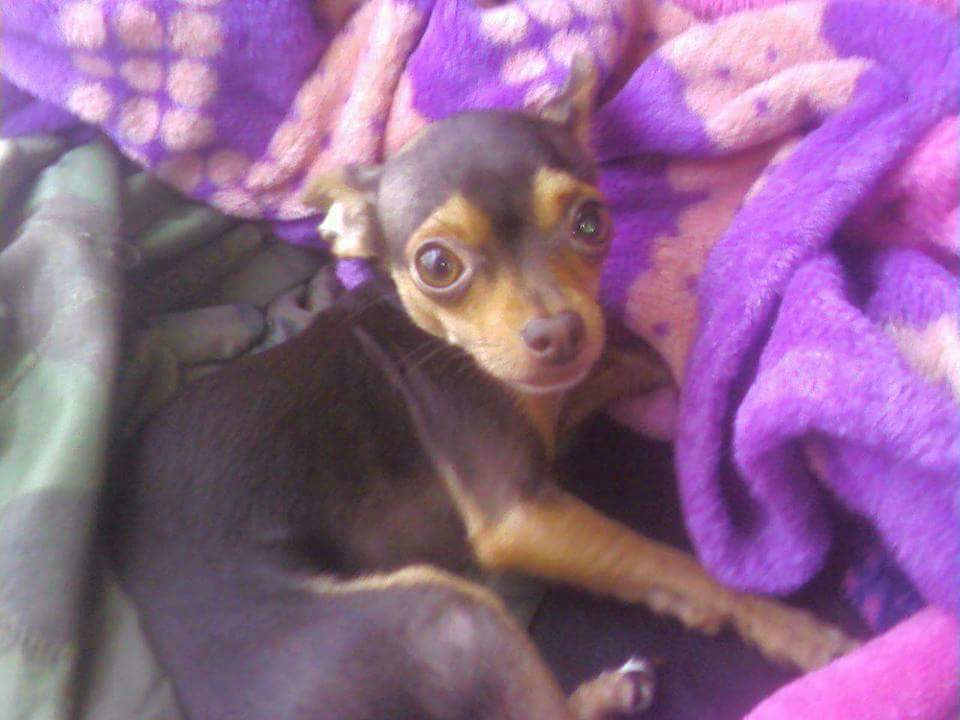 "My husband was in the hospital for 23 days and due to this I had been away from home. Friends and family aided in the care of our pets (2 dogs and 5 cats) and home during this time and because there were several people going in and out. During this time one of them inadvertently allowed Camo out of the house by mistake; not realizing it until he had gotten out of the yard.
Once we realized that Camo was missing, distraught and sadness set in. Of course as soon as I found out he was missing I came home to search for him. My daughter, two of her friends, my son and brother in-law stayed out until almost 3AM combing the area in hopes of locating him. Although we searched our neighborhood and adjoining neighborhoods, the woods and roads we did not find him the first night. We knew that word of mouth was the next best method to find him if someone had been kind enough to take him in.
Unfortunately, because of his size and breed we feared that anyone who found him may fall head over heals for him and want to keep him. We needed to get the word out to as many people as possible so aside from contacting the local animal shelters we knew social media was a good place to start. As an animal lover we are on a few of the animal groups on Facebook and someone suggested PawBoost. Thanks to PawBoost I was not only able to post on social media, but also notify local vets, animal shelters and rescue groups. Just as good, PawBoost allowed me to make a flyer to post around the neighborhood.
We continued our search on foot knocking on every door in 3 neighborhoods, posted daily on Facebook and Craigslist and kept PawBoost updated. My daughter printed off the flyers and handed them out to local friends and posted them around the neighborhood. A few days passed and we began to think that whoever picked him up was not going to return him.
Then, on the afternoon of 3/8/17 my son heard a knock on the door and answered to find a young man standing at the door with our baby in his arms. My daughter knew the young man and had given him a flyer the day prior. Apparently he passed the word around among his family and friends and one of them had picked Camo up and took him in. Although my daughter had knocked on this family's door days before, there was a language barrier but the boy was able to speak to them, showing them the flyer from PawBoost and asked them for return of Camo."
Spread the good news! Thanks to everyone who shared Camo's alert and to the family who returned him home. Camo is now happily home and he nor his family couldn't be happier 🙂
---
Piper: Lost Cat Reunited in Indianapolis, IN!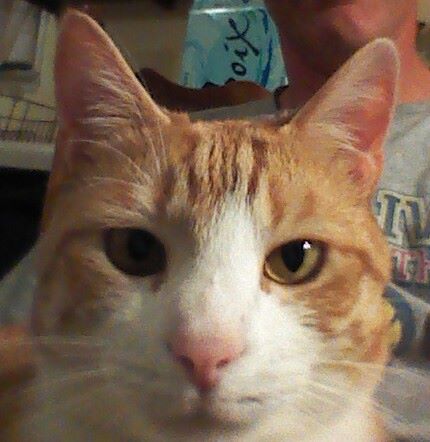 "Piper never developed a lot of cat skills for living outdoors, so we kept him inside unless we were right with him. He would go out into the sunshine and play with us, but always near the house. He wasn't very brave, at all. One of our children accidentally left the door open when we all left for the morning, and Piper took himself for a walk! We still don't know where he went, or what he did. He had never been away from home on his own before.
We were so worried about him! He came home on his own, SIX days after he left. He came home at midnight. The same boy who accidentally let him out sleeps with his window open. Piper jumped up on his windowsill and woke him up! He seemed to be completely unharmed, and I think someone was feeding him. We were very lucky.
I recommend PawBoost to everyone. Even though PawBoost didn't help us get reunited with Piper it helped me so much to have something useful to do – I posted Piper's information with PawBoost and with other lost pet organizations in my city, and followed all the good advice that was provided.
Through PawBoost and the other organizations, I learned that there are many pet lovers in my area who truly care about every lost pet. Piper's information was shared literally hundreds of times on social media. People posted that they were praying and sending positive thoughts. Neighbors whom I'd never met, told me they were watching out for Piper. I was suddenly in a new community of kind people, and it helped so much!"
Spread the good news! Thanks to everyone who shared Piper's posts and sent positive thoughts. Piper is home! It's amazing how a community can come together over the search of a beloved pet 🙂
---
Blue: Lost Dog Reunited in Pelham, NH!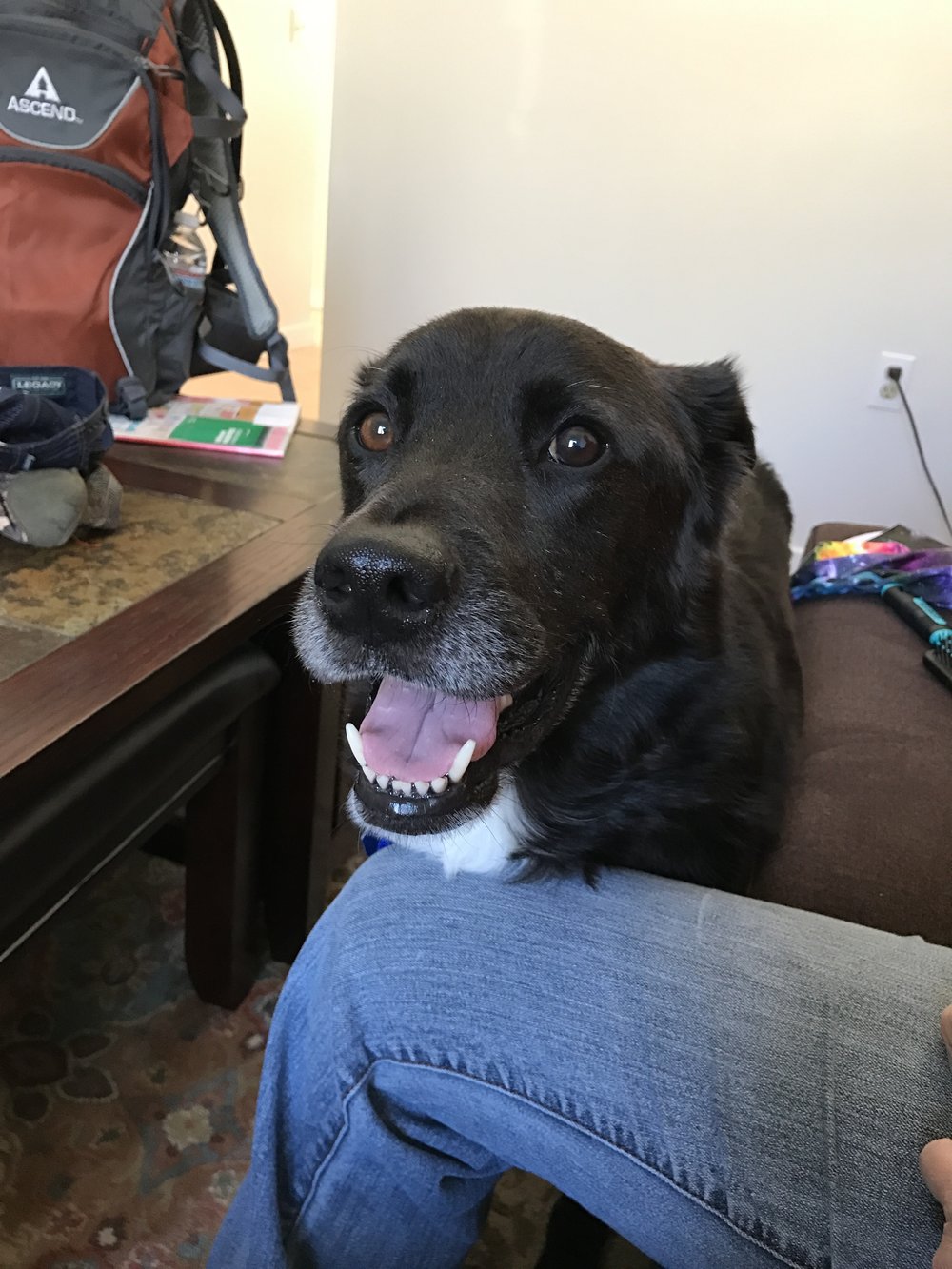 "On Friday, March 3rd we decided it would be fun to take Blue on a hike. We were on vacation that week and thought that the Gumpus Pond Conservation Area in Pelham, NH would be the perfect spot. As we started on the hike I encouraged our daughter, Nora, to walk Blue. It was important to me that Blue bond with Nora and feel comfortable walking with her. After about half an hour of hiking we came to a clearing. There was a house being built off in the distance and we could hear some hammering and Blue became tense. I asked Nora if she wanted me or my wife Kathryn to take the leash. She said yes and as she was handing the leash to Kathryn, a nail gun went off, and Blue bolted. My wife ran after him calling his name. Nora and I walked after him hoping not to scare him further. It was no use. Blue was too fast and he continued to run down the trail dragging his leash.
We followed him until we got to an intersection in the trail. Then we lost him. We split up and began searching. We searched for about an hour before I called my sister and mother. They searched with us and around 3:30PM my father and brother arrived to join the search. Kathryn called the Pelham and Hudson police departments as well as animal control. We bumped into people on the trails and in the neighborhoods but no one had seen Blue. At 7:00PM we went to the cars and decided to call it a night. I thought to myself that we would probably never see Blue alive again. When we got home we began posting pictures of Blue online and making posters to hang up around the area. None of us slept that night. The wind was so loud and the temperatures dropped into the single digits.
The next morning my dad called at 5:30AM and said that he was heading over to search. We arrived shortly after along with my sister, her boyfriend, his son and my brother. Many times while I was searching I thought I heard something that sounded like a dog bark or whimpering but each time it was the wind playing tricks on me. To add to our worry, that night there had been a dusting of snow and now as we searched the trails, we saw many coyote tracks. We searched all day with no sign of Blue. On Sunday, we focused much of our time putting posters on utility poles and in mailboxes. We distributed three hundred posters. A couple of volunteers from the NHSPCA came to help us search. We walked the trails retracing our steps again and again. We got hopeful a couple of times because we received reports of a stray black lab wandering the streets in Londonderry and in Windham, but each time it was a false alarm.
Monday morning we had to go back to school. My wife and I are teachers and our vacation had come to an end. We prepared Nora for the possibility of never seeing Blue again. As I dropped her off at school she cried. She was afraid her friends would ask her about her dog and she didn't want to talk about it. She said that she blamed herself for losing Blue. Despite our reassurance that it wasn't her fault, Nora felt awful. When I got to school, I checked my email and there was a message from a woman that came to me through PawBoost. It said, 'I don't know if this will help but I thought I heard a dog bark between Gumpus Hill Rd. and Old County Rd.' This was about two miles away from where we lost Blue so I texted Kathryn to let her know. Unfortunately, I had a meeting to go to and the whole time I sat thinking to myself, 'Could this be Blue?' When the meeting was over I checked my phone and Kathryn texted me that she was leaving work to go search.
When I got there I didn't see her so I decided to enter the woods and began looking. Kathryn texted me and said that she found the woman and spoke to her. The woman said she heard a dog bark Sunday night around 10:30PM and it sounded like it was closer to Old County Rd. I texted Kathryn back and told her to go to Old County Rd. and go door to door, maybe someone over there had heard a dog barking as well. I looked at my GPS and realized that I was in the back of Old County Rd. so I start walking towards it thinking that I'd be able to meet up with Kathryn. At this point I said a prayer. I asked God to point me in the right direction and I begged for Blue to give me a sign. During our five days with him we had never heard Blue bark. I walked a little way and I could start to see some houses. Then, I heard two deep loud barks and I froze and about 100 feet in front of me I saw Blue. He was standing and pacing back and forth. His leash was all wrapped around a small tree. While I was in tears I called Kathryn to tell her I found him. I cut the leash free and started walking him out of the woods.
Kathryn saw us and we were both in tears hugging Blue. We were just so happy to get Blue back alive. Kathryn drove Blue home and I went to Nora's school to get her. She started crying tears of joy when I told her we found Blue and he's alive. We just couldn't believe it. It is amazing that Blue survived three nights outside with wind chills below zero and the threat of coyotes all around him. We never would have found Blue if not for the email through PawBoost. My family is very grateful, especially my daughter. I definitely recommend PawBoost to anyone with a missing pet. It just took the act of a stranger to see Blue's picture and send me an email. We are so glad to have Blue back home safe and sound."
Spread the good news! Thanks to everyone who shared Blue's alert and to the woman who pointed them in the right direction. Blue went to the vet and other than losing six pounds he is doing great 🙂
---
Cinder: Lost Cat Reunited in West Des Moines, IA!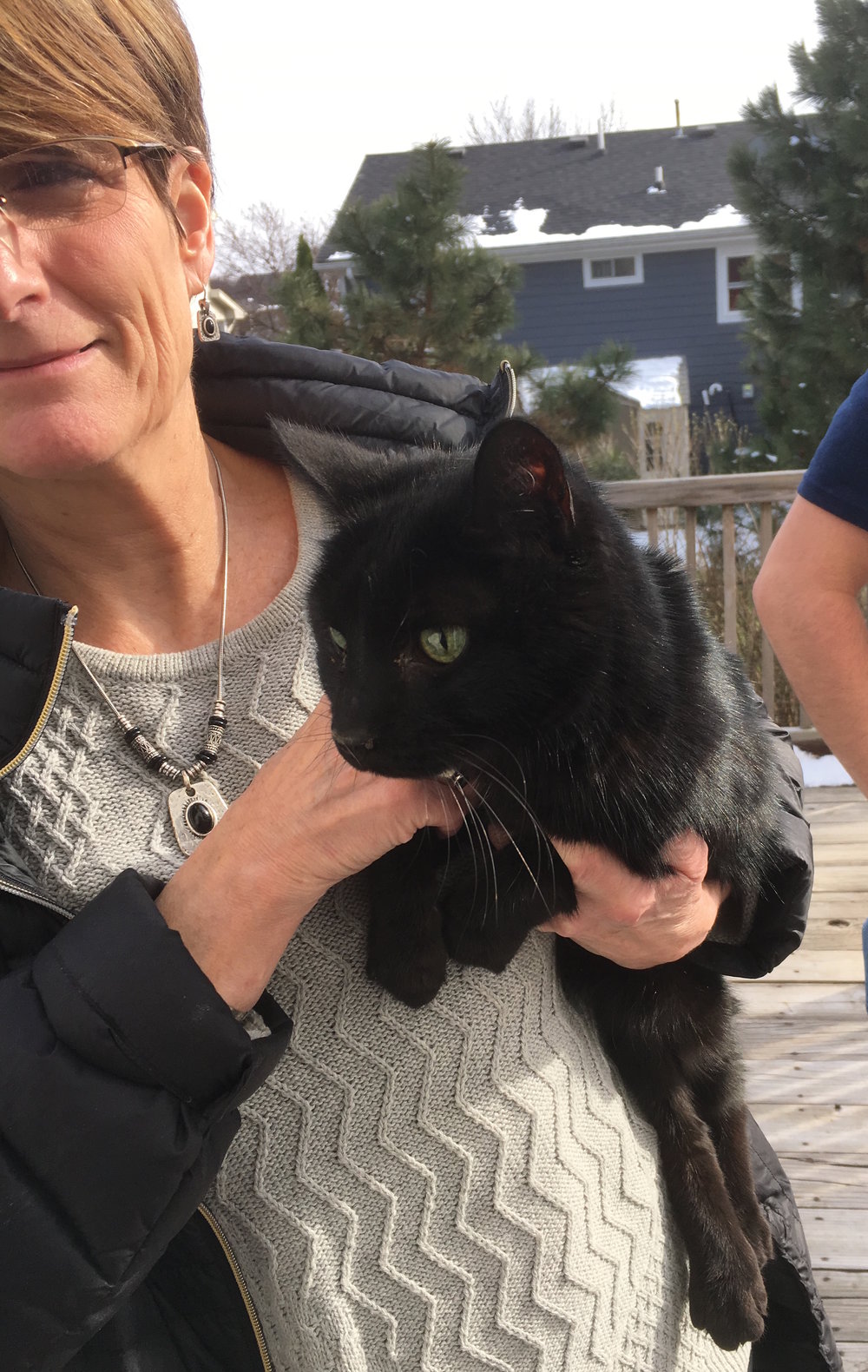 "It was a nice 70 degrees day on Wednesday, February 22nd. We were in the process of remodeling our house, so that night we opened both doors as I was using mineral spirits to prep some doors for restoration. I started this project in the late evening around 9:00 pm and between 10:00 pm and 10:30 pm my wife was holding Cinder as she was watching the evening news. At some point Cinder got up off of my wife's lap during the news. Cinder is a 14 year old house cat declawed and very unlikely to go outside. So nothing even triggered our thoughts about him that night.
It was the next day after my wife and I arrived home from work when my wife asked me and the rest of the family if anyone had seen Cinder. Cinder is known to be a very social cat especially every day after we arrive home from work. Well, as the story goes we all searched the house for Cinder, but she was no where to be found, so we began the search outdoors. We began the futile search around 5:00 p.m. At this time daylight hours were about to end, so we made every effort that night to try and find Cinder.
It was after this initial search outdoors and no Cinder when we came home and began the internet search of what to do for a lost cat. So with the information from the internet we set forth with all that you do when a beloved pet goes missing. We posted to Iowa Pet Alert, Craigslist, PawBoost, Nextdoor, and Facebook. We also contacted our local Animal Control Officer and a local police officer friend to keep his eyes open for Cinder. We posted flyers in several neighborhoods within a several mile radius of our home and waited for any responses. Though we had several responses to black cat sightings, all giving us several glimmers of hope that it was Cinder.
We pressed on in search of Cinder posting more flyers and going door to door with flyers. There were numerous sightings of a black cat four to five blocks away in another neighborhood and another black cat sighted walking down a hill in another neighborhood close to ours. Wow, all these black cat sightings, hopefully it's Cinder wandering the other neighborhoods, with hopes he would find his way back home.
Anxious and hopeful as to all the sightings, my wife and I decided after work on March 15th to check areas that concerned citizens had of possible Cinder sightings. My wife informed me that the other day she had scattered the vacuum cleaner dust all over the front yard and the side of the yard where Cinder might have left from. After searching with no luck we drove our way home and continued to look for Cinder as we had did so many times before.
When we got home, my wife went to get our son's dog to go outside, as for myself I was getting Windex and paper towels to clean the windows on the inside of our car. As soon as my wife let the dog outside I heard my wife with a frantic scream of disbelief and joy, 'It's Cinder! Oh my Cinder your home!' My son and I came running out of the house to the screams of my wife where she was just standing there in shock and disbelief. My son and I couldn't believe it either, here was Cinder crouched down and scared, back home 3 weeks to the day. I yelled at my wife, 'Pick him up so he doesn't run off!' She was still in that state of shock but immediately picked him up.
After picking him up we took a welcome home picture of Cinder, we then took him into the house, fed him a little bit of soft food and made sure he had plenty of water. He seemed so happy to be home! After a little settling in we cleaned him up with a warm bath. After his bath we all snuggled Cinder and gave him a warm fleece blanket to lay on. Never once the rest of the night did he want to be separated from us.
Cinder survived two snowstorms, a severe thunderstorm with hail and tornado's, and several nights of cold temperatures as low as 14 degrees. I really believe that PawBoost and Nextdoor helped the last couple of weeks with several people reporting several sightings of black cats. But either way he is home safe and sound with us. What a happy ending to our story. We love you Cinder!"
Spread the good news! Thank you to everyone who helped spread the word about Cinder. Cinder is a true survivor due to the fact that he was malnourished and weak but was still able to find his way home 🙂
---
Benny: Lost Dog Reunited in Farmers Branch, TX!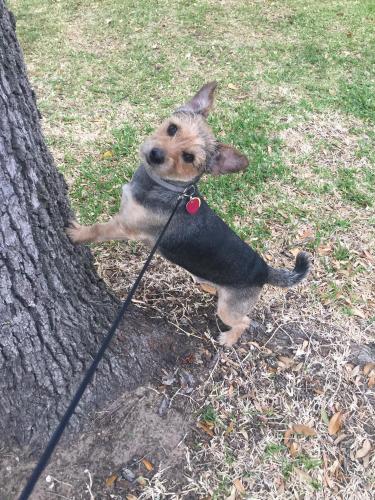 "The day Benny went missing was trash day in our community so I went outside through the garage to put out the trash. He's so little and quiet I did not hear or notice him follow me out. I was too busy rushing to put out the trash and get my son to preschool. Once I was done, I closed the garage and didn't look behind me. Benny was locked out. I didn't realize he wasn't home until I returned during my lunch break from work for our daily walk. He was gone and I began to panic.
After searching the house, I recalled that I had put the trash out and left the garage door open, thus giving him the opportunity to get out and not have a way back into the house. I felt terrible! I immediately posted that he was missing on our community social media site as well as PawBoost. I discovered PawBoost through an online search for lost pet finders. The site had great reviews, was free and easy to use!
Benny was returned home the next morning after a long night of exploring. He was injured (possibly hit by a car, but nothing broken THANK GOODNESS) and hungry, so he ran into another family's home needing help. They called the local shelter who was aware he was missing. They picked him up, scanned his microchip, contacted me and I brought him right home.
I definitely recommend PawBoost as it reached a bigger audience than our community's social media site. His online poster was shared by PawBoost volunteers over 80 times and this made me feel much more confident that he would be found and returned home."
Spread the good news! Thank you to everyone who shared Benny's alert and was on the lookout for him. He is home, safe and sound! It only takes one opportunity for a pet to run away in a matter of seconds. Don't forget to check behind you when leaving your pet home alone 🙂
---
Oreo: Lost Dog Reunited in Oklahoma City, OK!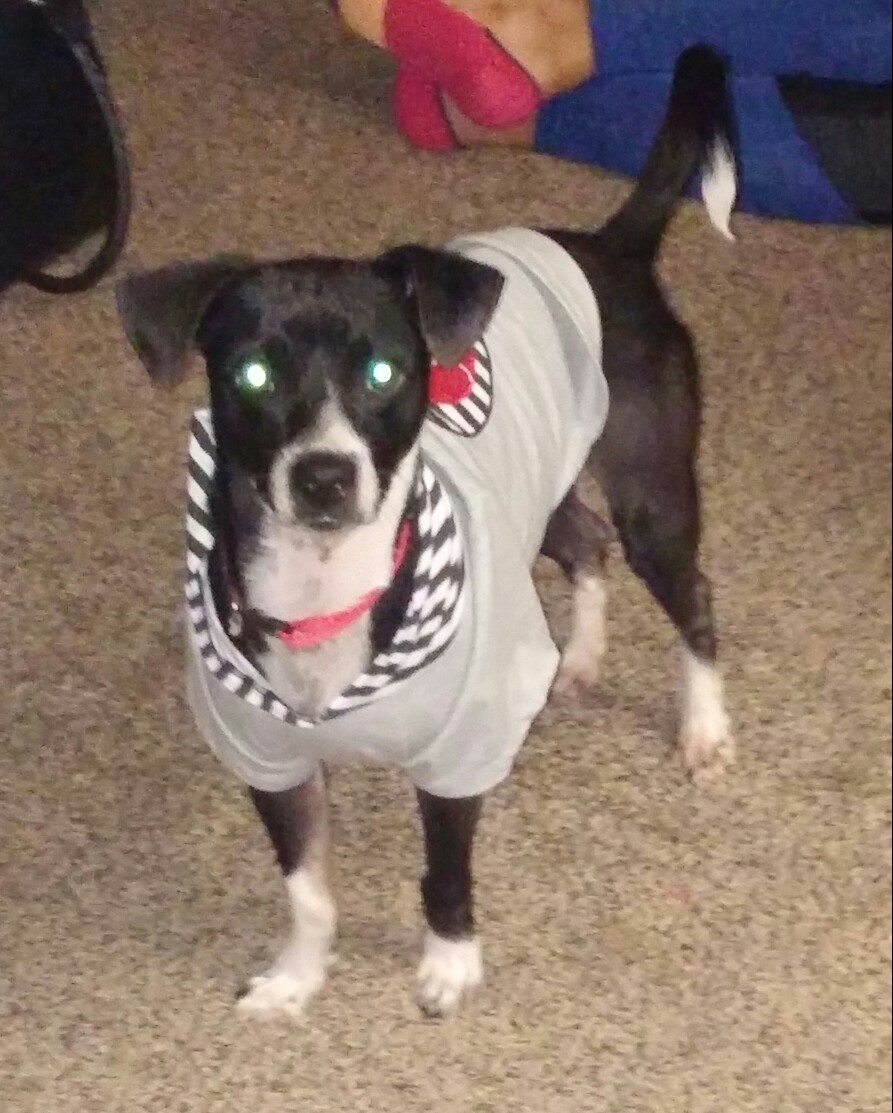 "Oreo disappeared from my backyard on 2/15/17 and was gone in a matter of minutes. We drove through the neighborhood and walked our streets for several days…that turned into weeks. I had flyers on every street corner, posted in several local businesses and had posts all over the internet. Hope grew dim as weeks went by.
Then on March 22 (exactly 5 weeks after Oreo went missing) I received a text saying, 'I think I found Oreo. I found your information on PawBoost.' Then a second text came through and it was a picture of none other than…my Oreo!! My eyes just filled with tears! It was really him! She found him walking down her street on NW 46th (over 10 miles from my house!).
When I picked him up he had a different collar on and she said it was on him when she found him. That meant someone else had him before she found him, so he went through quite an adventure. Im just so glad he walked into her front yard and that she looked for me! With a simple search on PawBoost she found my post, and made me one happy pet parent!
PawBoost provides an amazing service, and reunions like this would not be possible without this service. I absolutely recommend PawBoost to anyone that lost their fur baby, and especially to those who find a lost pet. Making an attempt to find the owner may result in a life changing event. For some, that little ball of fur is their whole world and their best friend. PawBoost helps keep families together."
Spread the good news! Thank you to all who helped bring Oreo home by sharing his alert! He is safe and sound and snuggled up under the covers after missing for 5 weeks 🙂
---
Mr. Tee: Lost Dog Reunited in Cape Coral, FL!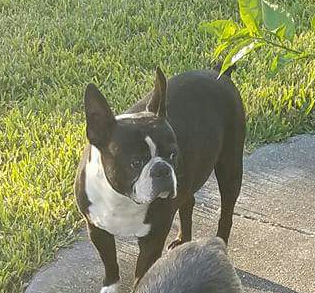 "Mr. Tee is about to be 11 years old, so of course he has some old age issues, such as a bad hip. Our back yard is on a slope and at the bottom of the slope is a canal. We noticed he had been doing his "business" down at the bottom of the slope on top of the canal wall. We are not 100% certain on how he got out of a fenced in back yard with no holes since he has never ran away or tried to escape before. Our conclusion is that he lost his balance and took a tumble because of his bad hip. He has lost his balance numerous times in the past and still does, so we feel he may have rolled a little and fell into the canal.
He is small and the canal wall is a cement wall over 6 feet high, so he had no way out. This happened about 3PM on a Thursday when I was not home. My mother called me at 4:30PM panicking because she couldn't find him. So I left the job I was at and went straight home to start looking for him. At this time we all had no clue what could have happened to him and assumed he got out and was wandering around the neighborhood. We all began searching the neighborhood and talking to everyone we could see. We periodically checked the canal in the backyard but saw no evidence of anything.
We searched all night and didn't sleep at all. Every hour we went to check for him where the canal ended, where the current flowed towards and in all the debris piled up by the current. The next day we took a break from searching to print the flyers we made from PawBoost that were personalized for Mr. Tee. We immediately started passing them out at all of the vet offices in town and went door to door in our neighborhood with them.
We also checked the pound and left a flyer there as well. Around 3 pm Friday, we were exhausted and delusional from working our jobs and then not sleeping for over 24 hours on top of that. We decided to lay down and nap for a bit. We checked the neighborhood and canal one more time and laid down around 4PM. At about 5PM we got a call from one of the vet offices where we left a flyer at and they found Mr. Tee!!! He's alive!!!
We went to get him and to thank the person who brought him in, but the lady that found him didn't leave any contact info and all they knew was that she found him in the canal holding onto a tackle box floating around in the neighborhood next to ours!!! Thank you PawBoost for creating this website and helping those of us in times of panic."
Spread the good news! Thank you to everyone who shared Mr. Tee's alert and to the Good Samaritan who saved his life. Mr. Tee and his people can now sleep good knowing that he is home safe 🙂
---
Dawn: Lost Duck Reunited in Dallas, OR!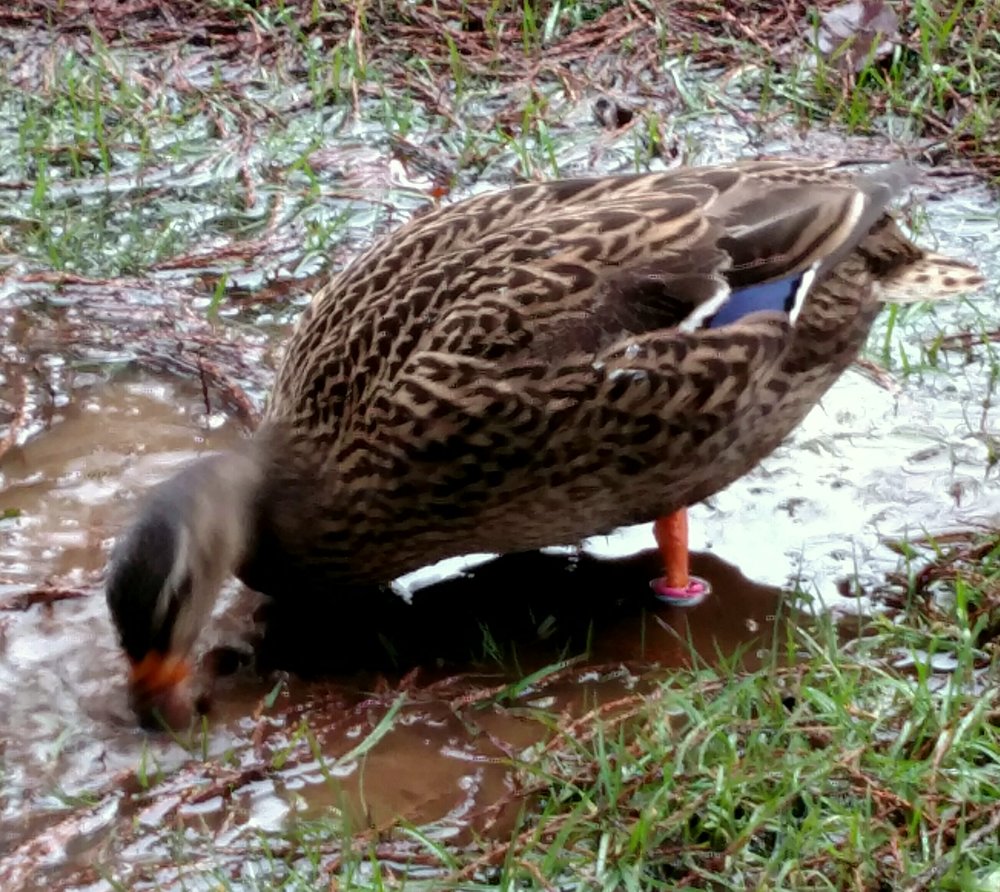 "Dawn went missing because she flew away from home and failed to return. She flies around locally but very minimal. We were quite shocked when she didn't come home and we couldn't find her anywhere. One morning, I received a call from an officer in our town who had seen and took down my flyer. When he received a call that morning about a duck injured in someone's front lawn he gave me a call.
She had been mauled pretty badly by an animal and he didn't think so well for her. I rushed to retrieve her and took her to the vet for emergency care and evaluation. She was badly hurt with her leg broken in two places and most of all of her rear end had been chewed off. We contemplated putting her down, because it was that bad. But I had hope and experience nursing so we decided to give her a week and reevaluate. The vet provided a lot of help and with everything PawBoost did to help me find my pet I am grateful.
Dawn was found largely because of the flyer made and posted through PawBoost. I give credit to PawBoost because after signing up I was sent a how to recover your pet guide tutorial. I followed that advice and God did the rest! I did all of the stuff they recommended which really helped me to have hope! I felt real hopeful after I made and posted flyers, called vets, and posted on social media.
I will recommend PawBoost to a friend if they have lost a pet. People took my alert and reposted it on websites. I didn't pay for extras and was so amazed when I saw the alert out there! The fact it was posted when I didn't pay any fees really makes me cry. Glad to know a company can have a heart, I am grateful."
Spread the good news! Thanks to everyone who shared Dawn's alert. We are happy to say that Dawn is making great strides towards a full recovery 🙂
---
Petey: Lost Cat Reunited in Chattanooga, TN!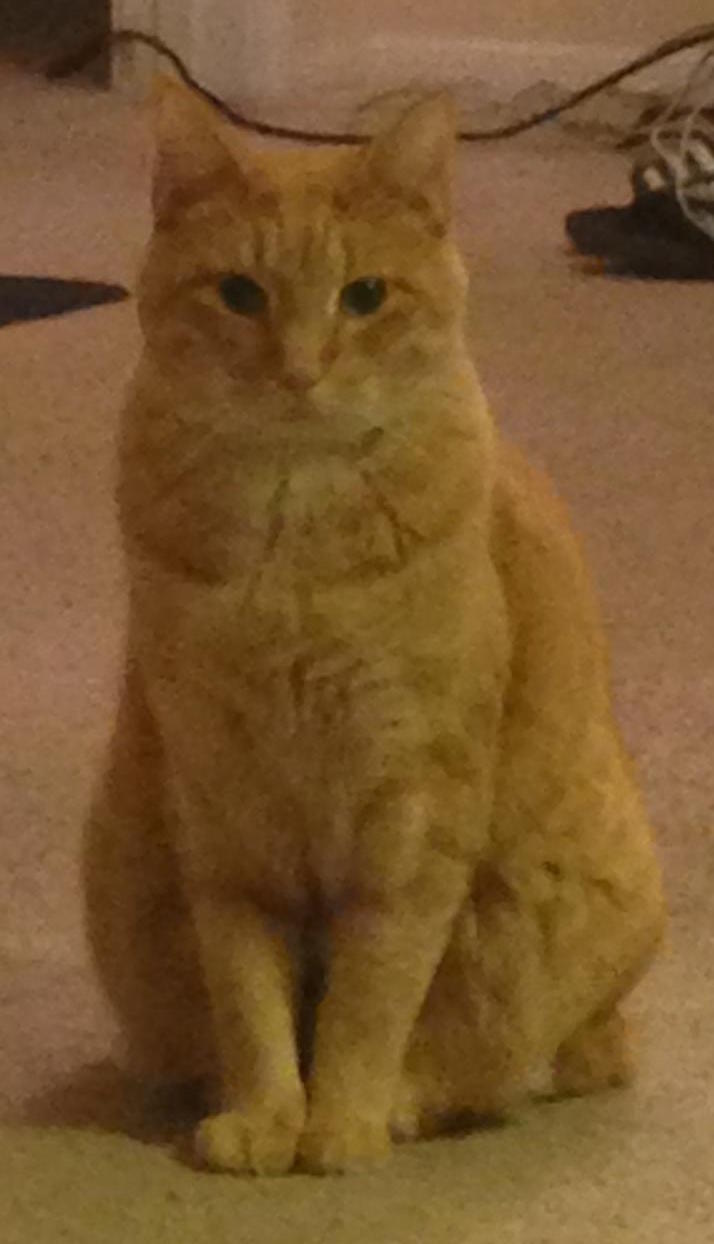 "I lost Petey when taking him out in the woods with a harness and leash. He wiggled out of the harness when I went to get the carrier. He got away from me on the foot of a mountain with steep terrain. I didn't know what to do, but my mom found Feline Finders and PawBoost. I got in touch with Lisa from Feline Finders and her advice was priceless.
I followed Lisa's advice of squirting Mackerel juice with a squirt gun on vegetation and I talked to myself and meowed as advised. I was about to set up a game camera and a trap, but then all of the sudden Petey ran in front of me about 50 feet away. He must have smelled the fish juice and heard me meowing. He knew who I was and I was able to coax him to me after following him to one of his hiding spots in a boulder ravine.
He came to me, let me pet him and then I grabbed him and ran as fast as I could to the trap. Now he is home and safe thanks to Lisa's awesome advice. And thank you PawBoost for getting the word out in a great way."
Spread the good news! Thanks to everyone who shared Petey's alert and Feline Finders who gave helpful advice. He is now home safe and probably will stay away from the woods for a while 🙂
---
Pep: Lost Dog Reunited in Philadelphia, PA!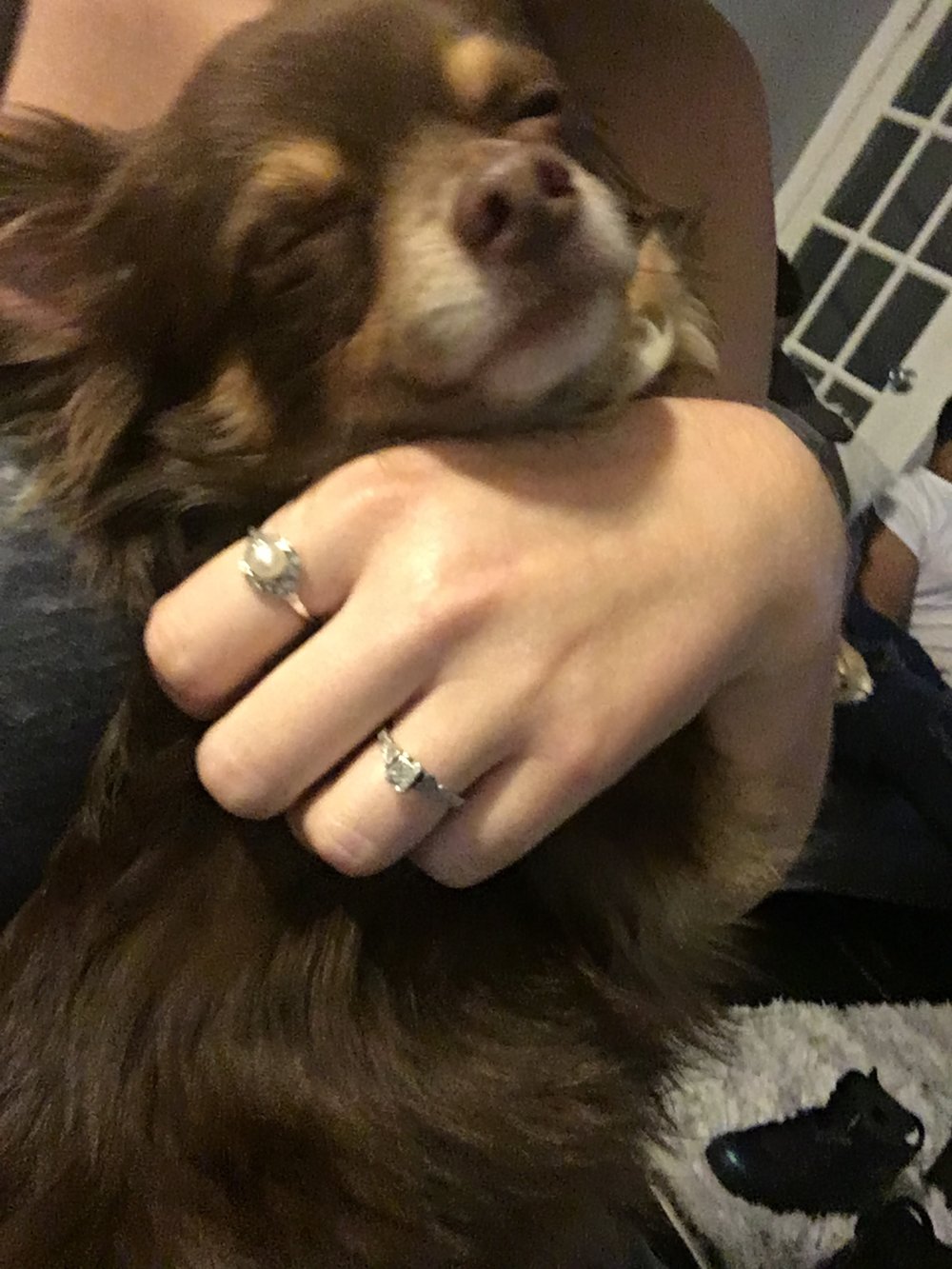 "Pep went missing one weekend while I was away, and him and my other dog were being watched by a sitter. He is a tiny guy so I'm guessing he ran out of the door and the sitter didn't see him. The first thing I did when I was told he was missing was search for 'lost dog flyers' on Google. I wanted to hurry up and get some made so I could post them around the neighborhood.
PawBoost was the first site that popped up, and not only did it create a flyer in minutes, but it sent it out to all the shelters, which posted it on their social media, and sent me a to-do list which included using Craigslist. I did just that, and he was home the very next day.
Pep was brought back home to me by some wonderful people who had seen Pep trying to play with a group of cats in the street. They called me as they saw my lost ad on Craigslist.
I definitely recommend PawBoost because they are the Facebook of lost & found animals. It centralized the lost process, and made me feel better in such a stressful time, as I felt that I was truly getting little Pep's presence out there! I also have utilized PawBoost again today, as I found a lost dog as I was getting my very own Pep home."
Spread the good news! Thank you everyone for your shares, messages and help in finding Pep. He is happy and home! Remember, never give up hope. Your beloved pet is just waiting for you to find them 🙂
---
Nala: Lost Dog Reunited in Fairfield, CA!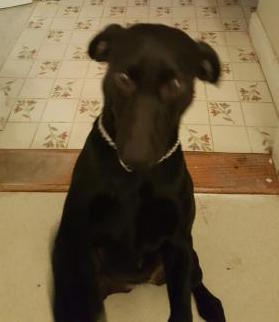 "Nala is actually my niece's dog, although I think they need to rename her Gump (as in Forrest) at this point. We actually have had to use PawBoost twice in the last month for her. First, she was lost when she was taken to a park near their home in Vacaville. At that time she disappeared for two days before just showing up at 4:00 AM back at home.
Then last Sunday, my brother was out helping my father on his ranch and brought Nala to get some exercise. Once again she took off, although this time it was even more serious since my dad's place is about 15 miles away from Nala's home and is in coyote territory. My brother called me Monday to let me know what happened so I immediately started posting Nala's info on PawBoost. (Super easy to use, by the way.)
Tuesday he received a call from a wonderful person that said she had seen a dog matching Nala's description running in the hills behind a housing development about 2 miles away. My brother jumped in his van and raced over to the area, started calling her, and she showed up out of nowhere and jumped in his van.
PawBoost was able to help with providing an alert that really stuck out from the rest with its brightly colored graphics that helped draw attention. If you choose, you can simply do one posting with PawBoost and they will take care of the rest. You don't have to visit ten different sites and tediously post on each and every one.
If I had a lost dog or cat, PawBoost would be one of the first places I'd go. They get your dog's information, picture and contact info out immediately so that hundreds of people are keeping an eye out for your fur-person. I really appreciate what you folks do! Nala is happily back at home with her family and hopefully my brother is out now buying a leash! :)"
Spread the good news! Thanks to everyone who shared Nala's alert and kept an eye out for her. Hopefully Nala won't be running in the hills alone anytime soon 🙂
---
Love these success stories? We love sharing them! Click here to read more.