Happy Tails! August 2017 – Lost & Found, Dogs, Cats & Pets That Were Reunited in August
Happy Tails! August 2017 – Lost & Found, Dogs, Cats & Pets That Were Reunited in August
PawBoost loves to share happy endings! Read August's Happy Tails to learn how these fur babies were reunited with their families.
Love these Happy Tails? We love sharing them! Click here to read more.
---
Jordy: Lost Dog Reunited in Thomasville, NC!
"We let our doggies out one morning in our fenced in backyard. When we went to let them out we realized that a fence post had fallen down and our dogs had gotten out. All of our dogs were back except our precious Jordy. We went into panic mode a little bit and searched all through our neighborhood to no avail.
After a couple of hours, I posted to Facebook that we were missing our four-legged friend. We also made flyers and passed them out and let our neighbors know to be on the lookout. A Facebook friend recommended that I report Jordy to PawBoost, which I did.
After a few days, we got a tip that someone had seen a little black dog in a neighborhood close to ours but he ran from her when she called. We went and searched hours and hours with, again, no luck. We put out his crate and food. When we went to search in the morning he had not been to his crate, so we were feeling helpless.
Luckily, we took one more drive around the neighborhoods near us and guess who we saw?! It took some coaxing, because he was definitely nervous and scared but we got our sweet boy back home! PawBoost helped us feel confident that people were on the lookout for him and gave us hope. I definitely recommend PawBoost to anyone who is missing their pup!"
Spread the good news! Thank you to everyone who shared Jordy's alert. When panic mode hits don't forget that PawBoost is here to help :)Reuniting one fur baby at a time!
---
Found Dog Reunited in Missouri City, TX!
"My 1 year old son and I were playing outside by our garage and up walked a gorgeous, big black lab. I scooped up my son, not sure if the dog was friendly enough. I quickly realized it was very friendly. Right away I knew it was someone's dog and definitely not a stray. His coat was too shiny, his teeth were too white, his nails were freshly trimmed, and his collar was broken — no tags.
I invited the dog into my garage for some dog treats, water and shade. He happily obliged, and then he just kind of never left. I kept the garage door open for the remainder of the day while I ran errands, took my kid to swim, etc… He just stayed there napping, eating, playing with some toys I gave him and of course playing inside the baby pool I filled up for him.
As soon as I had time, I took him to PetSmart about 3 hours later to see if he had a chip. Sure enough, he did… but all we knew was that he came from a certain animal hospital, no other contact info associated with the chip. The animal hospital was closed until Tuesday because of the holiday weekend. Basically, I was screwed.
I then posted his picture and our approximate location to 3 neighborhood Facebook groups I belong to — basically asking for help and ideas on how to find his owner. Someone suggested PawBoost. That night I made a PawBoost alert, and it boosted locally for 7 days. Because I had never heard of PawBoost, I thought, what were the odds his owner would have heard about it?
The next morning I had an email from his owner through the PawBoost website! I couldn't believe it! I couldn't have been happier! Turns out, Jacob (now I knew his name) took off after a raccoon 40 hours prior — right around the corner from me in the next development over. I quickly called the contact number and we set up a time to meet up (of course after I grilled him on Jacob to make sure I was really speaking to the owner).
I recommend PawBoost, because a lot of my friends are animal lovers and help strays find their way home — from printing fliers, to visiting vets, to calling shelters. PawBoost took a lot of that legwork out for me. I especially liked how PawBoost not only emailed their Rescue Squad, but also gave me a free flyer to print out."
Spread the good news! Thank you to everyone who shared this pet's alert. Finding a lost pet can be a lot of work, but once they are reunited with their owner it's all worth it 🙂
---
Gypsy: Lost Cat Reunited in Tacoma, WA!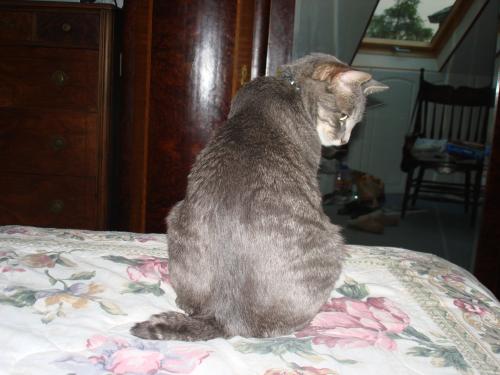 "Gypsy is an indoor/outdoor cat and loves to visit the neighboring yards and gardens, and especially the public vegetable garden nearby. However it appears that Gypsy may have encountered some emotional upset, as she disappeared for days and totally camped out in a thicket of blackberry vines behind a broken fence for the most of a week, next to the public garden.
Gypsy is very vocal and chats with people and dogs casually. We also have a mini nature preserve in the North End of Tacoma with possums, raccoons and deer roaming the neighborhood.
We were able to find her thanks to the PawBoost flyers we delivered to all the nearby neighbors and posted on telephone poles. A few neighbors phoned that they believed they'd had a quick sighting of her. A Facebook post initiated a text that sent me in the direction of the public garden, as a deceased cat had been spotted by the side of the road near there in the last two days.
Happily, I didn't find the poor deceased kitty, but Gypsy must have seen me and momentarily popped out of the thicket of blackberry vines. The nearby neighbor who thought he had seen Gypsy in the last day or so was aware I was searching near there for the deceased kitty (totally expecting to sadly find Gypsy) when he spotted Gypsy scurrying back into the blackberry vines and alerted me.
I had a hard time coaxing her to come out and it took several minutes, as she stayed hidden, mournfully meowing and meowing. Finally she came close enough to the broken fence board that I was able to reach in through the blackberry vines and retrieve her. Not sure what trauma had sent her into hiding, but she is safe at home now and seems uninterested in going out at the moment. She ate a good meal however.
We will be sure to keep her at home in the near future until this settles out, but at the moment she shows no inclination to want to leave the house. Gypsy appears to be emotionally humbled from her normal mode of arrogance.
Yes I recommend PawBoost and the resources they provide with posting, reaching out to Facebook and their Rescue Squad, and especially for the free flyer. So grateful to have Gypsy home and to all the people and resources that helped in locate her. Thanks to you all for caring! We are so relieved."
Spread the good news! Thank you to everyone who shared Gypsy's alert. She is happy to be home and has found a sun spot coming through the skylight to bask in 🙂
---
Peaches: Lost Cat Reunited in Wilmington, DE!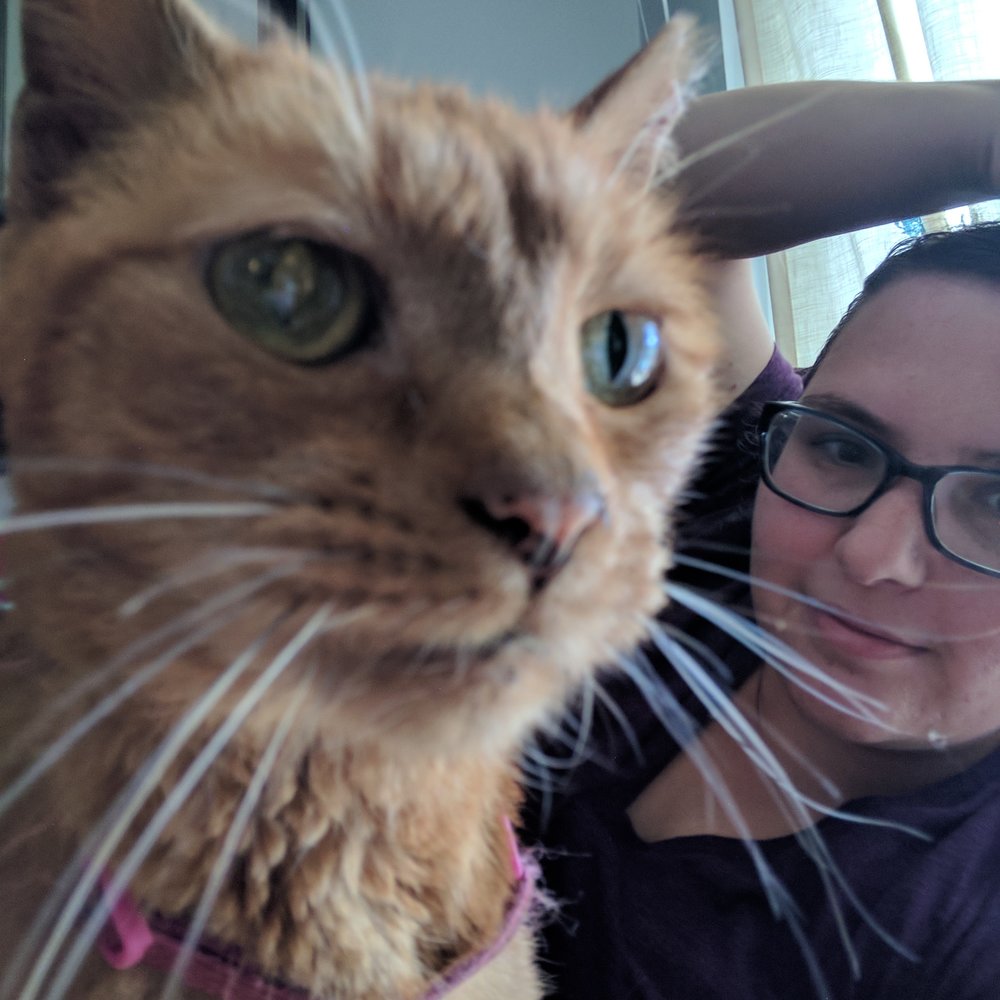 "Peaches, an indoor only cat, was let out sometime during the day of my son's 3rd birthday party. Since we had guests over throughout the day, it was typical for her to hide upstairs. I actually didn't realize she was actually missing until the middle of the night.
I'd been out walking around our neighborhood everyday for over three weeks looking for her. I had a day off of work because my husband was supposed to have a medical procedure, but the procedure ended up being cancelled. I took the day off anyway just to relax.
In the afternoon, I went out for a walk with cat food and calling for Peaches. I did my normal route, even walked to check out a few new places. I was about to give up and come home, but as I was coming around the corner I randomly decided to walk across the street and look in a storm drain.
I caught a glimpse of something orange that looked up at me looking terrified and then ran into the pipe. The storm drain is literally about 50 ft from our front door so I ran into the house and told my husband what I saw. He came outside with me, and sure enough, Peaches was down there meowing. She still had her collar on and everything so we knew it was her for sure.
My rockstar husband, pulled up part of the grate and climbed in there to try to talk her out and give her some food. She finally came out enough and he was able to grab her and carry her inside. I'm still in shock that she's finally back home after 26 days! She's barely left my side, so I know she missed being home as much as we missed her!
I recommend PawBoost because it was helpful and reassuring to know that her info was out there and word of her disappearance could be spread easily. It was comforting to know that an online community was out looking for her with me."
Spread the good news! Thank you too all who shared Peaches' alert over the last few weeks! She's now home safe and sound!!!
---
Oscar: Lost Dog Reunited in Chattanooga, TN!
"A typical morning was to let Oscar, our 11 year old mixed breed, and Comet, our 2 year old lab mix out to run off some steam before we went to work. We have 32 acres and neither dog has any desire to be anywhere else. As usual Comet returned without Oscar in about 10 minutes. Oscar sometimes will stay out for an hour and will be let in my another member of the house after we go to work.
However, on this day he didn't come back in an hour. My husband came home from work to search. Calls were made to the local vets and shelters. I went online and saw PawBoost. I entered Oscar's info and posted a picture. PawBoost sent out an email alert to their Rescue Squad and posted on Facebook. I don't use Facebook, so I didn't realize the potential reach.
Six days after Oscar went missing he showed up about 5 miles from our house. The wonderful people that found him posted his picture on Facebook. Even though they were as Facebook illiterate as I am, the PawBoost community saw their post and messaged me through PawBoost. An hour later I had my boy back home. I am extremely grateful to all the wonderful people that made our Oscar's return possible and know that it wouldn't have happened without PawBoost."
Spread the good news! Thank you to everyone who shared Oscar's alert. It's amazing what the power of social media and a caring community can do 🙂
---
Pipsqueak: Lost Dog Reunited in Santa Ana, CA!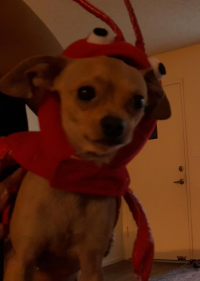 "Pipsqueak went missing from my gated front yard one night between 7-9pm. I let him out to play with my cousin's dog while my husband and I went to the grocery. When we returned Pip was nowhere to be found. We immediately went out to the streets looking for him. We searched until 1am but had no luck finding him. We went back home devastated.
PawBoost did help me find my pal Pipsqueak. My sister told me how her friend found her cat through PawBoost so I made an account for Pip. I had three people message me telling me they believed they might have spotted Pip on a OC Care Animal Shelter website post for lost dogs.
I visited the website post and indeed it was my Pipsqueak! By the time I received the messages the shelter had already closed for the day. I picked Pip up from the shelter the next day. Pip was so excited to see me and my husband and we were just as excited to see him. He is home now safe loved and happy. Thank you PawBoost!!
I would recommend PawBoost to anyone who loses a pet because it was recommended to me and I found my pal by creating an alert. Losing a pet is an awful experience for both the owner and pet. If I can help someone reunite with their BFF by simply recommending PawBoost, well, why not!? Thanks again PawBoost! and all who helped bring Pip home."
Spread the good news! Thank you so much to all who shared and helped bring Pipsqueak home! Pip and his owner are both extremely happy to be reunited. Pip is now home safe & asleep in his warm bed 🙂
---
Jelly: Lost Cat Reunited in Metairie, LA!
"Jelly is an adventurous cat, she loves to be outside, or on the roof, but she knows when it's time to come home in the evenings. One Sunday she did not return that evening, and I figured I would give it another day she was probably stalking around the yards near ours.
After days of hanging posters, walking the streets for hours on end, and endlessly calling her name, I heard faint meows on night 5. I cried myself to sleep that night because alas I still hadn't found her. I knew my cat was right under my nose dying…and I felt helpless. She's not a vocal feline, so those few meows were rare, but they saved her life as the next morning I woke up and called her once again.
I heard the faint meows and I ran into the neighbor's yard in front of the shed she was locked in and I saw her jump into the window!!!! I ran to their house and informed them I saw my cat in their window. They were reluctant to help me recover her, swearing I was hallucinating seeing her as they had checked the shed already.
After some persuading, I was let into the shed and she STILL wouldn't come- even for me! I set a trap and prayed all day she would be in there when I returned home from work. I got home and the owner of the shed and found her in the trap and set her right inside our fence…
There is no doubt that ANY avenue to spreading the word on a lost pet is an invaluable option! PawBoost was instrumental in getting me in touch with other missing pet owners in my neighborhood and we have formed a semi-coalition for lost cats. I would have never met my new friends if they hadn't messaged me on Jelly's lost pet page!! I would 100 % recommend PawBoost to anyone who has lost a pet!"
Spread the good news! Thank you to anyone and everyone who kept a lookout for Jelly Bean!!! She had surgery for a cut she sustained while lost and is recovering just fine 🙂
---
Cupcake: Lost Dog Reunited in Chicago, IL!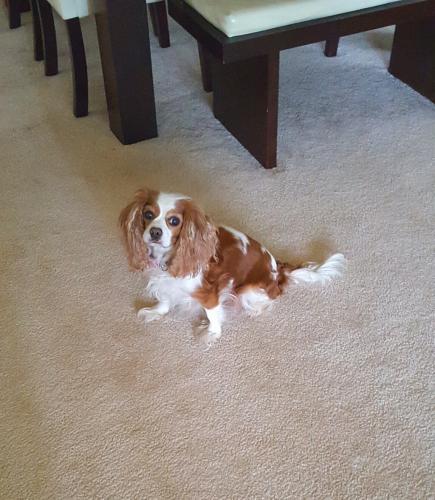 "Cupcake went missing from our front porch on Wednesday, June 7th in the late evening. She was there to get some fresh air. To my dismay, when I returned to the porch 20 minutes later, she was gone. Her leash became undone. My husband and I drove and biked around the neighborhood until almost midnight. We could not find her. I was crying. My youngest son was crying. My teenage son was trying to hold himself together.
I did not get any sleep that night. I slept on my living room sofa in my clothes by the picture window, praying and hoping she would return home. As I laid there, I went on my phone to do a Google search about what to do when your dog goes missing and the PawBoost website popped up. I completed the information on the website which put out an alert on Facebook and was sent to the Rescue Squad. I printed the flyers generated by PawBoost because I was ready to hit the ground running the next morning.
On Thursday morning, I left the house at 5:00am to look for Cupcake again. I was heart-broken. My husband took some flyers as he headed to work. He posted a couple of flyers and gave some out at the metro station. At approximately 8:00am, a lady called me. She found Cupcake! She kept Cupcake overnight and fed her chicken breast. She saw the Facebook post by PawBoost and she called me.
I was absolutely elated! Words cannot express how grateful I was that Cupcake was found in the neighborhood by such a kind, giving lady. I will always be eternally appreciative of how PawBoost reunited a beloved family member – Cupcake! We would have been devastated without her."
Spread the good news! Thank you for sharing Cupcake's alert and for the Good Samaritan for taking her in. Losing a pet is nerve-racking, but thankfully the Rescue Squad is always keeping an eye out for lost pets 🙂
---
Oreo: Lost Cat Reunited in Sioux Falls, SD!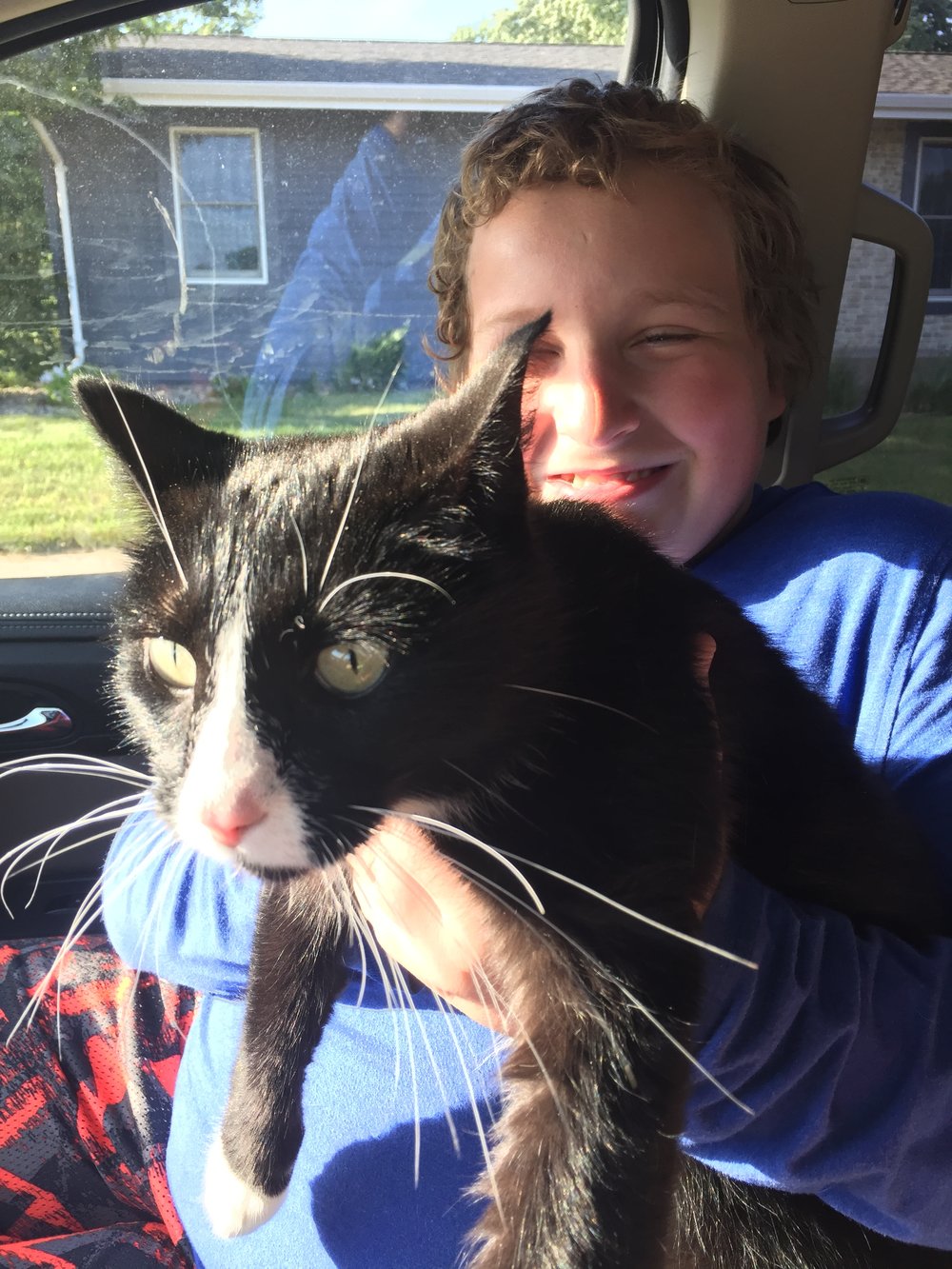 "Oreo always goes out in the evenings. His pattern is 7 pm-11:00 pm. He comes home and eats. That's been his pattern for 5 years. He just never returned home the Monday night he went missing.
People were nice about sending tips and encouraging messages. I appreciate the positive feedback and words of encouragement we received from PawBoost viewers. I swear by your website and will be vigilant about checking it.
He was found about 2 miles away. An amazing family found him living under their deck. They fed him and cared for him while he was at their house. They tried to send him home, but he kept returning to their back yard. The mom looked on PawBoost and sent us a message saying Oreo was at their house. They are an amazing family, Oreo was loved and pampered with his 'adopted family.'
He would have never returned home without the help of your website and social media. Everyone who has lost a pet dreams of having their 4 legged companions return home. We were one of the lucky ones. Go to PawBoost and they will spread the word your pet is missing. Our beloved cat was returned home."
Spread the good news! Thank you to all of the caring people who took the time to look for Oreo. It's amazing what one Facebook post can do to get your fur baby home 🙂
---
Found Dog Reunited in San Jacinto, CA!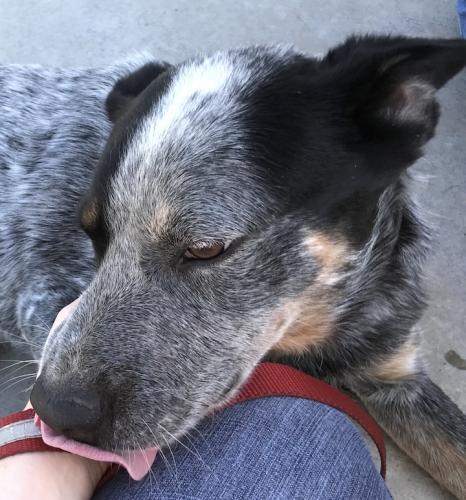 "He was spotted by a member of our lost & found Facebook page. She took a picture of him and posted in the group asking for help. He was inside a fenced and gated catch basin area next to a park and she couldn't get to him. He was very confused, but remained very calm and just sat by the fence waiting for someone to help him.
A friend and I went down there and climbed the fence and just as we were about to attempt to lift him over the fence, city workers showed up to landscape the park and one had a key to the gate. We scanned him for a microchip and unfortunately he wasn't chipped.
His family was out of town. They filed a lost report at the shelter one morning and I saw it when I went in to check reports a few hours later. He was missing from the same street he'd been found on. I picked him up from his foster home and had his family meet me at the shelter. They got him microchipped and scheduled an appointment to get him neutered.
We recommend PawBoost to everyone on our lost & found page. It's quick and easy to use and is very easy to share to Facebook and print flyers as well. The email alerts go out quickly and reach a wide audience and it's very easy for them to share to Facebook as well."
Spread the good news! Thanks to everyone who shared this pet's alert. Moso's family filed a lost report at the local shelter and he was reunited within hours 🙂
---
Found Dog Reunited in Oakland, CA!
"An unknown man pulled up to us as we stood near the street and asked if we knew who's dog he found. I mistook the dog as the neighbor's down the street and walked alongside the car until we reached their house. The dog then jumped out of the window and was gone and the neighbor was not missing his dog.
I got into my car and turned on the next street and there the little guy was. He was in such a panic and I saw how skinny and desperate he was. He was frantically running up and down to the people as they returned home from work with the hope of an innocent pup but disappointed by everyone who he approached.
My heart sank and I knew I had to help him find his family. I pulled along side of him, leaned over and opened the passenger side door and told him to get in. He obliged to my complete surprise and I could see that once he was in the car that he only did it because I was his only hope. He was exhausted and what I had witnessed was his last stand. He was completely cooperative and grateful that I picked him up. I promised that we would find his mommy and I meant it. I think he understood.
PawBoost was instrumental in reuniting Mr. Chopper with his family. His mom checked the found alerts on PawBoost, recognized him and contacted me. Of course I would recommend PawBoost to friends and anyone who has lost or found an animal as this is the best service under the sun that is completely free. Thank you for your help reuniting a lost pet with its owner :)"
Spread the good news! Thank you to everyone who shared this pet's alert. Finding a lost pet can be overwhelming and time consuming, but once they are reunited all of that hard work pays off 🙂
---
Harley: Lost Dog Reunited in Selma, TX!
"We were giving Harley a bath outside when she snuck out our yard through an undiscovered hole in our fence that lead to a busy four lane road. Our two, small children were outside with me so I couldn't just dash out the door behind her…scariest experience EVER.
Not only was I trying my hardest to keep my composure because our beloved pup escaped but also because my children were in tears. I drove up and down the street trying to spot out sweet Harley girl but didn't have any luck so I instantly thought I should post pictures online in hopes of finding her.
Someone commented on my post and recommended I try PawBoost. Without a doubt, I continued to do so trying to remember every last detail of our pup to help identify her. I begged and pleaded all of my social media friends to share my PawBoost link and about two hours later I received an email from a very helpful lady stating she came across my PawBoost post and found another post with a similar dog description as mine.
A couple of hours later I received a phone call from a gentleman stating he had been sent my PawBoost link and was sure he found my pup. Hours later our baby was home!!! I ABSOLUTELY RECOMMEND PAWBOOST!! If it wasn't for PawBoost I wouldn't have found our pup."
Spread the good news! A huge thank you to everyone who commented, shared and helped bring Harley home. Harley is home safely thanks to a very sweet family who cared for her 💜
---
Delilah: Lost Cat Reunited in Sacramento!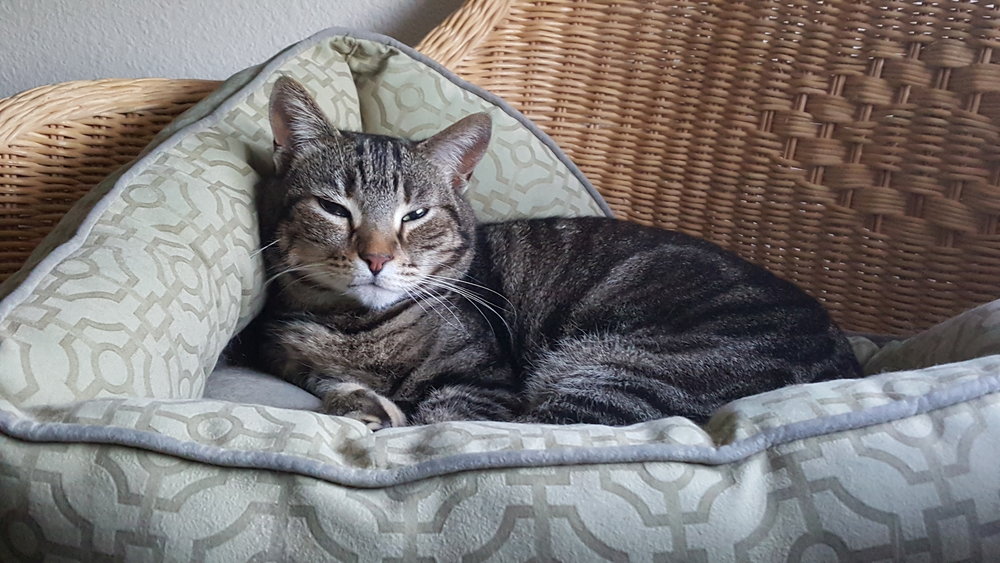 "Delilah got outside without our knowledge and was locked out while we were out for a few hours. By the time we were home and realized she wasn't in the house, she had left our yard which is the only outside she knew at the time.
A number of people suggested leaving her litter box out to attract her so we did that. We put out the dirty litter box from our other cat and I figured it being smelly was a good thing. We also put out her bed, a shirt and food. I was ready to put out food for days and feed the neighborhood bully cat, but literally within 4 hours of putting all this stuff out, she was home. I really do credit PawBoost with her return because of all the good ideas they suggested.
I definitely recommend PawBoost. You are a great resource that gave us support during our search and sent good, practical information to help us focus our search. We printed the missing flyer and read the articles you sent and it was all invaluable. When you are so emotional about the situation, it is good to have the practical structure that PawBoost provides. I couldn't think of the to do list that I needed to do, but PawBoost certainly could."
Spread the good news! The kindness of everyone who commented, shared, prayed and looked for Delilah is greatly appreciated. Delilah came home on her own just before midnight. The advice to put out her litter box and other items lead her home and her family is so grateful 🙂
---
Levi: Lost Dog Reunited in Fort Worth, TX!
"Levi, is an indoor dog and he is let out to go to the bathroom. However, we don't know how he got out. He was in the house one night, but when we woke up to put him outside we could not find him. We searched everywhere and everywhere and could not find him.
I cried all day and night. Did someone have him and were planning on keeping him? Was he outside in the heat, balled up somewhere with no food or water? Was he dehydrated? Any scenario I knew was not good and Levi must have been scared out of his mind.
I received a call from the North Richland Hills Animal Shelter around 11:00 a.m. that a lady was at the shelter with a dog that fit Levi's description. It was him. Levi was missing his collar and so there is no way he could be identified. However, with the flyers printed, the exposure on the internet and the help of the Rescue Squad we were contacted immediately.
I absolutely recommend PawBoost. Without the help, advice and exposure from PawBoost, and PawBoost's ability to make finding a lost animal a community effort I don't believe we would had ever found Levi. In fact, I am going to start using PawBoost to take pictures and post any animals I find that appear to be lost. Thank you for bringing our baby home. My family will forever be eternally grateful."
Spread the good news! Thank you to everyone who shared Levi's alert and helped get the word out. He is happy, healthy and glad to be home 🙂
---
Micky: Lost Dog Reunited in Covina, CA!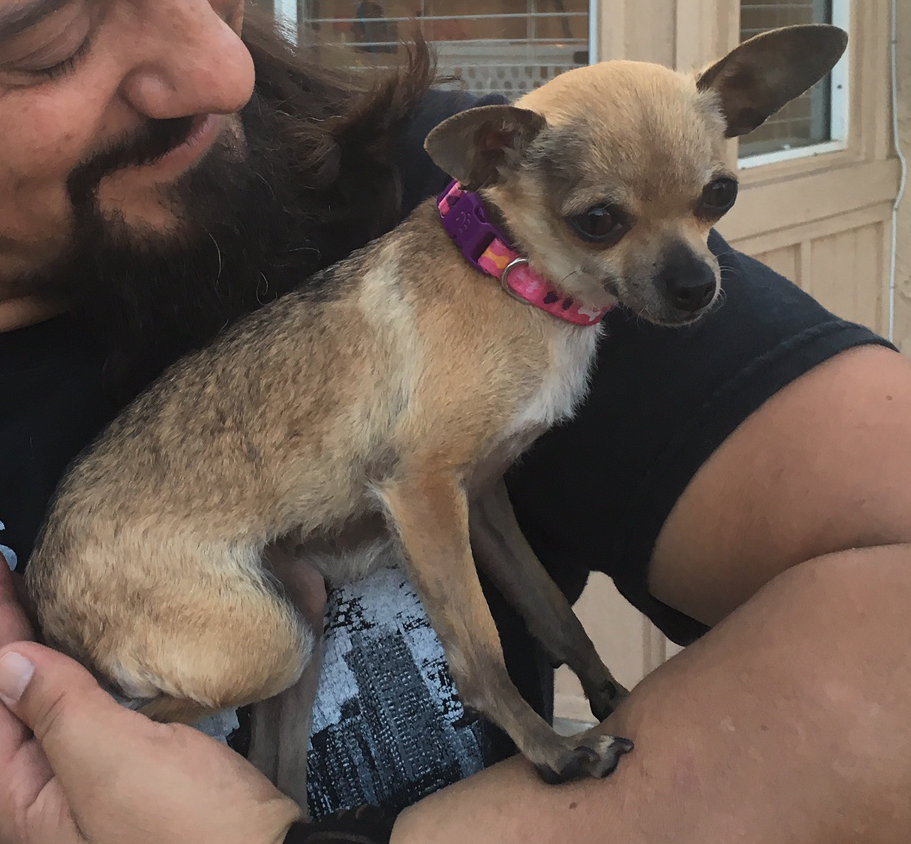 "Micky is a teacup chihuahua. When her human is at work, Micky stays in the kitchen and living room and there is a big fence that separates her from the rest of the house. Because she is so small, she sneaked out through the fence and somehow made her way in the yard and from there into the street.
When her owner got home from work, Micky was long gone. Needless to say the entire family (owner, her husband and her daughter) were very upset. They got Micky only two months ago and she got lost.
Someone saw my alert on PawBoost and made the connection with another ad from the local public shelter. This Good Samaritan texted me a screenshot of the shelter's picture of Micky and asked me if it's the same dog. I forwarded the screenshot to my friend (Micky's owner) and she went to the shelter to see if it was her dog or not.
It turned out it was a different dog, but the shelter staff said they had another similar dog. To my friend's happiness, it was Micky. This process took less than two hours. I posted the alert at 11am, and my friend found her dog before 1pm.
PawBoost has access to a vast number of people thanks to social media. We did not pay for a boost and still we found our dog in less than two hours. Also, this is not the first time I posted on PawBoost. One time, I lost my cat and while the cat came back home on his own, the fact that I was able to let the world know about my missing cat was a huge help.
Simply put, PawBoost provides great help in dire situations. Losing a beloved pet is one of the worst experiences. Not knowing what happened to your beloved pet is terrible. PawBoost gives hope and it does help you find your pet."
Spread the good news! Thanks to everyone who shared Micky's alert and to the Good Samaritan who connected the family to the shelter. Micky was waiting anxiously to get back home to her people and now she is as happy as can be 🙂
---
Rosie: Lost Ferret Reunited in Mount Vernon, WA!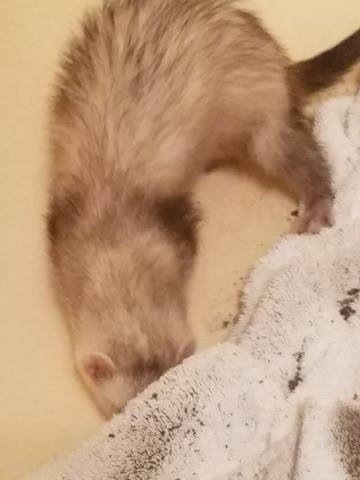 "I woke up from a nap and let both Rosie and her baby Rosco out of their cage so they could have fun and play around the house. I accidentally forgot to close the back door. After a minute or two I remembered that the door was open, I quickly went to close it but it was to late, Rosie had gotten outside.
I live on a cliff that faces the lake, The front of my property is very woodsy with blackberry bushes. I could hear Rosie going through the blackberries and then over the side of the cliff. I quickly went and got a flashlight and went down in the dark walking through layers of leaves and fallen branches trying to find her.
At one point I gave up the search for the night. When it was daylight I went out and called her and looked for her again to no avail. I made large posters that I put on the telephone poles down by the mailboxes. I put her missing on Craigslist, Facebook and PawBoost.
Two days after Rosie went missing, I got a call from neighbors almost a mile through the woods. The neighbors told me that they heard a noise either in or around their heater vent in their bedroom. After they thought about it for a while they decided what they heard wasn't a wild rat or mouse but someone's pet.
The neighbor called me and I went to their house and spent several hours trying to find her. The neighbors assured me that they would keep up the search and set a live trap and put some of her favorite food down for her and that they would give me a call if they saw her or caught her.
Several days had gone past and no good word from the neighbors. After 7 days I had pretty much given up hope of finding her. On the evening of the seventh day around 11pm, my cell phone rang, not thinking much of it I didn't answer it. I could tell that a message had been left so I listened to the message and almost dropped the phone! It was the neighbor about a block down from the people that had originally called me.
She went on to tell me that an animal came into their yard and they were taking pictures of it. When the animal came closer they could tell that it was a ferret. The nice people had seen my lost and found post it note and called me right away. Within 15 minutes or so, I had Rosie back home. She was starving and weak, I doubt she would have made it another day or so.
During the time I was announcing to people that Rosie had gone missing the PawBoost network made me feel so much better. This site reaches out to others and certainly spreads the word. It made me feel better to know that this would allow other people to help me!
If you are missing an animal, and we know that our animals are our kids and part of the family, I recommend that you use PawBoost to increase your chances of finding your baby."
Spread the good news! Thank you to everyone who shared Rosie's alert. Rosie is doing well! She has eaten, filled up on water and is sleeping comfortably 🙂
---
Love these Happy Tails? We love sharing them! Click here to read more.