Happy Tails! February 2018 – Lost & Found, Dogs, Cats & Pets That Were Reunited in February
Happy Tails! February 2018 – Lost & Found, Dogs, Cats & Pets That Were Reunited in February
PawBoost loves to share happy endings! Read February's Happy Tails to learn how these fur babies were reunited with their families.
Love these Happy Tails? We love sharing them! Click here to read more.
---
Charlie: Lost Cat Reunited in Cape Charles, VA!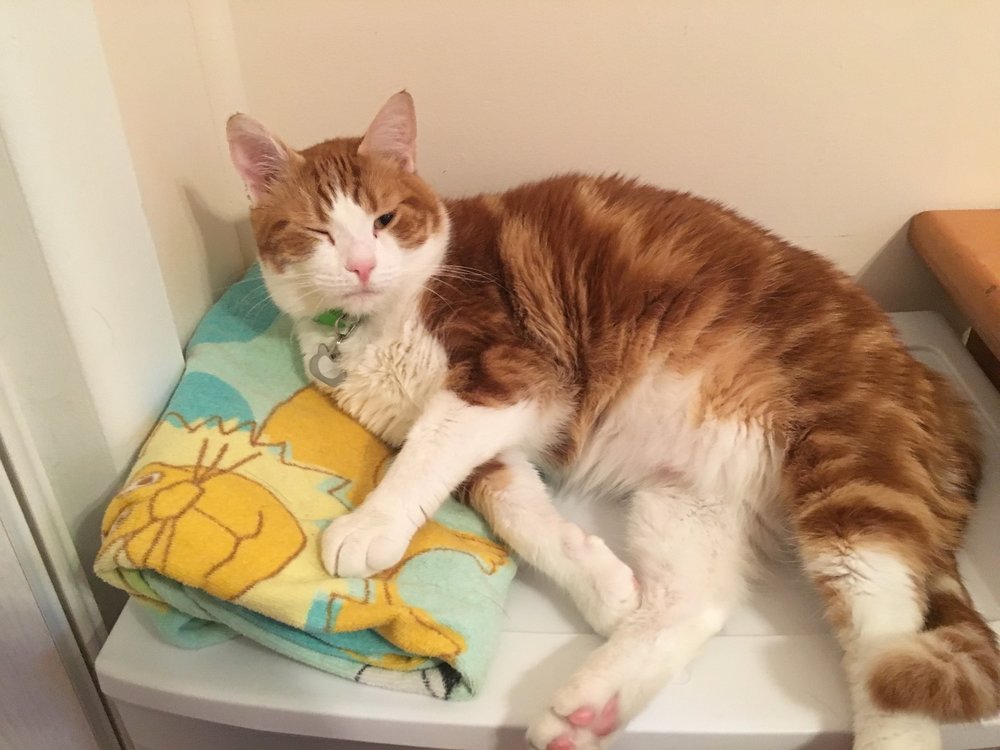 "Charlie escaped his owners open window in the blink of an eye, and ran under a shed. The owners frantically tried to grab him, but he freaked and ran off into the night. They searched for him with flashlights up and down the street for days, but no Charlie. They set a trap simply, and no Charlie….
I went to help, posting on various sites. We had a yard and neighborhood sign made. No one called. Five weeks later Charlie was spotted by his owner at 4 am in the yard of a vacant home. The owner called him and Charlie took off again.
I placed 2 traps in the yard of the abandon house along with a trail camera moving them in different areas every 3 days. I never once caught Charlie in the traps or on camera. I began to talk with neighbors proactively, collecting information. I then found out there was actually another sighting of Charlie.
I moved the traps back to the owner's yard which was strategically between the 2 places Charlie was seen. I camouflaged the traps in bushes with towels making sure I left the back open so Charlie could see through the traps. I used flimsy cardboard on the bottom covering the drop plate, and made a trail into the back with wet, stinky food.
Two days later I see the door shut. I go to look in the trap, my heart racing, and whose little sweet face looks up at me? Yep, you guessed it. Charlie. Missing 7 weeks.
PawBoost helped in the manner that I heard other success stories and ideas of how to get Charlie home. People were also very encouraging in the comments and gave great tips and ideas how to get him home. I would absolutely recommend PawBoost to everyone who is missing a pet. Thank you for your help."
Spread the good news! Thank you to everyone who shared Charlie's alert. He never came to the door, never came when called, never picked up by a Good Samaritan or Animal Control, barely ever seen, and stayed within a range of 5 houses from his home 🙂
---
Bruno: Found Dog Reunited in Las Vegas!
"This dog was running around in an intersection close to the elementary school as the kids were getting out of school. I stopped my car to try and get him out of there, but he was just so scared he kept running. As my kids and I watched in horror, we knew we just couldn't leave him.
I got out of my vehicle to alert other drivers to stop and as I reached him he bit me but it was barely a scratch. I wasn't going to give up getting him to safety because he was just so frightened. He looked extremely dirty and quite skinny but I knew he definitely belonged to someone.
I let him run but I carefully followed in my car. As he went up a very busy street I saw him stop near some people so I asked them if they knew the dog or if they knew where he belonged, but they didn't know his owner.
After a few failed attempts trying to approach him, I remembered I had a blanket in the car so I used it to grab him. I waited until he stopped running and threw the blanket on top of him and scooped him up. Once I did that he let me pet him and was still scared but no longer aggressive. I got him cleaned up when I took him home by giving him a very needed shower, a good brushing and food and water.
The next morning we went to get him checked for a microchip since he didn't have any tags, but he didn't have one. Then we posted on PawBoost and shared with friends and family to see if we could have any luck trying to find the owners. I was contacted by a PawBoost volunteer 3 days later letting me know she found the owner's posting and she was waiting to reunite with Bruno!
Thanks PawBoost team 🙂 I would absolutely recommend PawBoost because it was a happy ending story! The lady had tears in her eyes and she hugged me so hard. She was just so grateful."
Spread the good news! Thank you to everyone who shared Bruno's alert. He was reunited with his owner just minutes after contact 🙂
---
Bosley: Lost Dog Reunited in Kansas City, KS
"Anyone that knows Bosley, knows he's the neighborhood pal! He's every kid's best friend on the block. For over a year now, Derrick and I have spent countless hours building higher fences, constructing a more durable collar, building run lines, and even a stronger kennel. Bosley's literally the hardest dog to contain.
One Saturday, Bosley jumped over our 5 foot fence. From that moment on I tried to call him back. Stopping him is almost impossible. I then searched every block and never found him, he vanished. We searched the entire neighborhood. We went door to door, called every shelter from Olathe to KC and nothing.
I then registered Bosley's microchip nationally, reached out to PawBoost, joined Nextdoor, and posted on every social media site regarding his disappearance. I then printed out flyers and Derrick and our neighbor traveled around town hanging them up all hours of the night. It got to the point that neither myself, Derrick, or the other dogs could sleep. I would sit and stare out my window for hours at work and at home.
Then, a nice lady who lives clear across town reached out to me via fb messenger to tell me she thought she had my baby. Immediately I asked for pictures and saw that it was him. Her reason for reaching out to me was because a friend that lives in my neighborhood said she saw Bosley in the lost and found.
Neighbors previously reported to this lady that Bosley was in their trash. From Saturday until now, Bosley was fed and safe. They bought Bosley a collar and treated him as their own. The entire family (including kids) fell in love with him.
Today, he is safe and at home smiling from ear to ear. I can't stress enough how loved and blessed I feel to have such amazing people in my life. If it wasn't for PawBoost, we would have to spend our days without our family member."
Spread the good news! Thank you to everyone who shared Bosley's alert. We're happy to say it's over and he's home safe! 🙂
---
Janie: Lost Cat Reunited in Newmarket, ON, Canada!
"We aren't exactly sure if Janie had snuck out before we left for vacation, but we knew the neighbors could check when they came to feed the cats that evening. Although her absence was noted by the neighbor at dinner time and the next morning at the breakfast, she believed the cats were in the house and that perhaps Janie was just hiding.
When she did not come the next evening for dinner, I was notified. Naturally, I freaked because I knew Janie would rarely miss a meal and certainly not 3. When it became apparent that she was not in the house, they began checking outside but to no avail. I returned home immediately the next day to begin looking.
Two weeks to the day of her disappearance, I received a message from a neighbor whose cat had also gone missing. He had been notified by a person up our same street that they had found a cat in their backyard hiding under their deck. It wasn't his cat but he recognized Janie from her FB picture and the posters.
I rushed over and sure enough it was Janie. It looks like she was hiding and living under their deck for almost the full two weeks and had been hunting chipmunks that they were feeding on their back deck. I was thrilled and beyond thankful. Janie was incredibly skinny and obviously traumatized, but I am happy to say that she is almost back to her old self. Eating very well and has come out of her shell.
PawBoost helped us on social media and by providing posters to spread the word. It's another way to get your fur baby's face out there. I would absolutely recommend PawBoost to anyone who is unfortunate enough to go through what we did."
Spread the good news! Thank you to everyone who shared Janie's alert. Janie was gone for exactly two weeks. She was very skinny and scared from get ordeal but is slowly recovering 🙂
---
Simba: Lost Cat Reunited in Woodstock, GA!
"Simba escaped when a window latch broke with a spring window. I had no idea the window would pop open like that. Simba was spotted by a neighbor 5 houses down so I posted it on our neighborhood site. Simba has always been an indoor cat and I was told they won't go far.
I searched every porch and under every deck near my house. That is the most likely place to find your pet. Where Simba was found there was food outside for outdoor cats, a crawl space and decks.
I gave all of the neighbors my phone number and they spotted him at 9 pm wanting food. I got down there and he would not come out. I was very calm because I didn't want to scare him into the woods.
I left and we set a trap with tuna. I put his blanket over the cage which helped. I went back two hours and he was in it. Simba was very happy to see us. Simba went to the vet and not a scratch on him.
My suggestions are post signs, talk to neighbors and go look for your pet every minute you can. Give people your phone number, they will call. Most of all, don't assume a cat is a stray even near a dumpster at a store or restaurant. They will go where there is safe shelter and food.
Cats won't just run back to you if you see them. You're a predator outside. Read about trapping them if you can't get them. Also, stay calm, post on the internet and microchip them!
I would recommend PawBoost to everyone I know. Prior to this I had no clue. The support and shares came with many tips and sightings of black cats close by."
Spread the good news! Thank you to everyone who shared Simba's alert. Never give up on finding your pet. Cats typically stay very close to home 🙂
---
Emma: Lost Dog Reunited in Austin, TX!
"Emma was rescued from the streets of East Los Angeles when she was about 7 months old. We, her mommies, felt like we rescued her from dog fighting or certainly we rescued her from a potentially very short life. As it turns out she had parvo. The vet told us it was a 70% chance she would not survive but we gave it a shot and she not only survived but flourished into a beautiful, healthy girl.
She has always been frightened of loud noises and frankly her own shadow. One Sunday, her mommies decided to go to a movie and so her two uncles were at home with her. About 3:00 there was a car crash right in front of our house. The noise from the rescue cars and people screaming scared her to death.
She was probably gone 30-45 minutes before we got home so she had a head start. We looked everywhere. In the next five days we covered the neighborhood with posters and flyers. We posted all over the internet as well as an alert. There were absolutely no sightings of her. We knew that the possibilities of what have happened were few but severe.
Five days later, a neighbor was driving home from work and saw Emma limping down the road toward our home. The neighbor jumped out of her car and went to the front door to tell us our baby was home. The APache Shores community was unbelievable in their support and concern for our girl. PawBoost, Love-A-Bull, Apache Shores Neighborhood, Lakeway Swap, Austin Pet Lost and Found and so on were so wonderful in helping us.
I learned a lot in this process; put your pets bedding outside the front door, some of your dirty clothes, their toys and water. I hope that you don't have to go through the horrific week that we had, but if you do just keep looking, don't give up and let everyone know that your baby is trying to find their way back."
Spread the good news! Thank you to everyone who shared Emma's alert. Emma is home. A little beat up but home! May all these sweet babies find their way home 🙂
---
Sneezy: Lost Dog Reunited in Cincinnati, OH!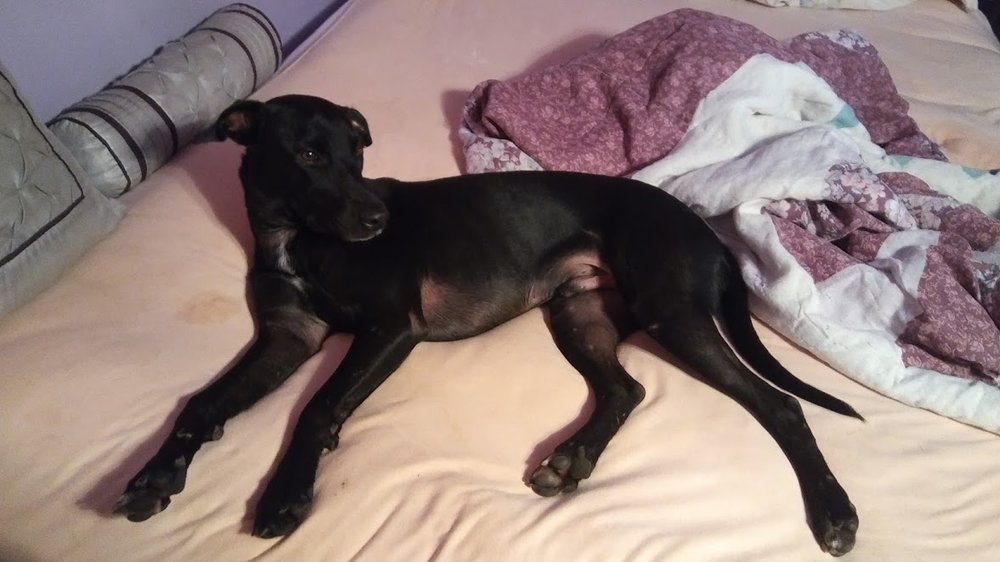 "Sneezy got out of the house on a very rainy and stormy Sunday night. Because it was raining all day and he despises the rain, he refused to go outside to use the bathroom with his older brother.
As the rain slowed down, I opened the door and Sneezy went out to use the bathroom. Unfortunately, he got out without his collar and identification tags on him. As soon as he got out the power in the entire neighborhood turned off. I ran for the flashlight and went outside looking for him and calling his name.
I posted signs up on my street bulletin board the next morning. I called and checked the local shelters and filed a report at the SPCA after checking to see if he had been picked up. Another day went by and my mother suggested checking into lost and found pets websites and listings.
I went online and immediately found PawBoost. I created an account and within minutes my lost pet alert was up on Facebook. I also filed with a couple of other sites but PawBoost certainly got the word out. There were over 200 Facebook shares and so many people posting that Sneezy and I were in their prayers.
Another day went by and still no sign of Sneezy. I got a message from officer Dan Connors from the SPCA in my Facebook messages. He told me that he thought he had my dog and to call him. He sent me pictures, and sure enough, it was him!
I truly believe that if it would not have been for PawBoost posting Sneezy's picture and missing information, he may not have been returned straight home to me that night. Just getting your lost pet ad out there and on Facebook with your pet's name is totally free.
I would definitely recommend PawBoost to a friend! You can witness how many people are out there who care for animals and want your pet to be returned to their loving and caring home."
Spread the good news! Thank you to everyone who shared Sneezy's alert. Sneezy has returned home and his family couldn't be happier 🙂
---
Xo: Lost Cat Reunited in Saint-Basile-leGrand, QC, Canada!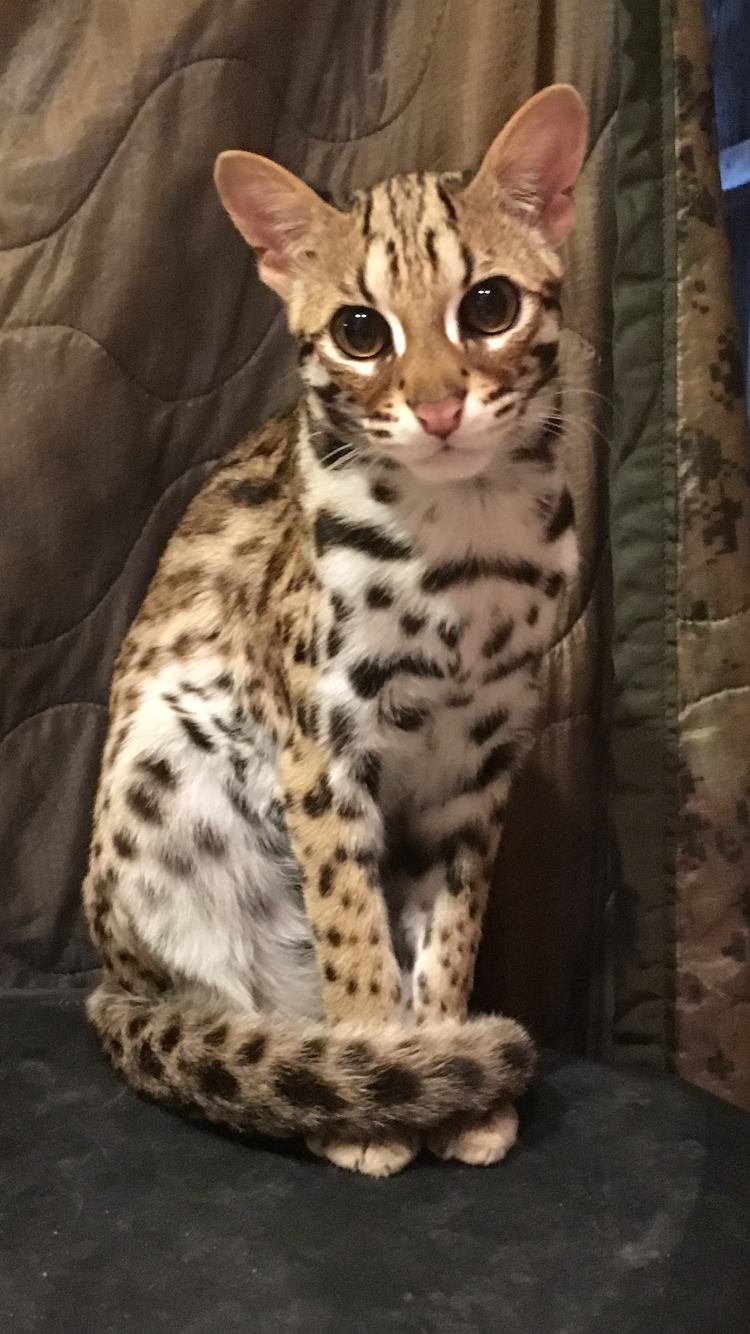 "While barely cracking the door to get the newspaper, Xo snuck out. I ran her down with her favorite toys and snacks but she wouldn't have any of it. I started posting her on the internet and social media like PawBoost. I also reached out to the police, shelters and other animal centers. After no word about her, posters were made and plastered all around the city, stores and bus stops.
Then after a week or so, this nice lady called to tell me she crossed paths with her in a park close to the arena. We put up cages around the woods and I started my cold, long and painful camping trip in the park. At the second week mark there was another sighting of her crossing the street right by where I was! We transferred the cages in front of where she was headed, spread her favorite odors and food everywhere.
Then on the 24th day a young girl called me saying she saw her a few streets down hiding in a sewer. I called her name and she popped up in my face! I was too tired and too amazed seeing her alive that I put my hands up in the air and cried her name out of joy, instead of putting my hands on her!
After running around playing hide and seek with her she went back to the sewer where I left a can of sardines. Getting close she ran in the backyard of a house where she ended up in a corner with fences 9 feet high and couldn't get out. I took her home, set her up in a room by herself to calm her down and waited to take her to the vet for a good checkup.
Once she calmed down she started eating out of my hand and I knew then and there that all the effort and pain finally paid off! I have met wonderful animal lovers, saw that there was still hope for us as a society helping each other out, and some I met will probably be friends for life!"
Spread the good news! Thank you to everyone who shared Xo's alert. Xo's happy to be back! Now her pet parent has three weeks of sleep to catch up on 🙂
---
Rocky: Lost Dog Reunited in Utica, KY!
"Rocky went missing one Friday when our gate somehow opened while he was playing in the backyard. He noticed and took off running around the neighborhood. He is only 2, very playful and this was the first time he had been out on his own.
A neighbor informed my wife Kelli that he was out and she went looking for him, but couldn't find him. She asked some boys if they had seem him and they said he took off towards the road and they said they heard a car hit something and a dog yelped.
We then searched for the next 8 hours (until midnight) all around the roads and woods surrounding our house, thinking he was hurt somewhere. We continued looking and posting flyers and asking for help through media everyday for the following 2.5 weeks.
Then on a Tuesday evening, Kelli got a message from a friend saying she saw a post on Facebook about a dog that looked like it may be Rocky. With the help of some friends in the neighborhood and others Kelli was able to get the information of the person.
Kelli went right over to their house to see if it was him and when she got out of the car and called Rocky he immediately got super excited and ran to her arms. I was on my way home from work and the phone call from my wife was the best news and one of the most joyful moments ever.
We are so thankful for everyone's help and we would definitely recommend using PawBoost for anyone that's looking for a missing or lost dog. It was extremely helpful in sharing his information and we received so many tips to help bring him home."
Spread the good news! Thank you to everyone who shared Rocky's alert. Rocky's family is so excited and grateful to have him home 🙂
---
Popeye: Found Dog Reunited in Edmond, OK!
"First thing in the morning, my husband went to let our yorkie out to go to the bathroom and called out for me to hurry to the back door. There was a small white and black dog shivering on our back patio next to the door. I have no idea how long he had been there, but he's one lucky pup.
We back up to a pond and the coyotes run the creek bed that feeds it and they were very active that night, howling on the other side from our house. We brought the dog in and placed him in our laundry room on blankets, gave him food and water and he fell right asleep.
I posted him on Lost & Found Pups and PawBoost. He was shared over 130 times on Facebook. I also called the retirement homes around us to see if anyone had lost their dog. A woman from Forgotten Treasures contacted me and offered to foster him while we looked for his family. I verified with the foundation that she was a volunteer and she came and got him the next day.
After 2 weeks a man called me saying the dog I had posted on PawBoost looked like his lost dog Popeye. He texted me a photo and it looked like a match. I sent his information to the lady fostering the dog and she contacted him. It was, in fact, his dog.
Popeye is 13 years old and he has had him since he was a puppy. I couldn't be more excited to get him back to his owner, he lives in the next neighborhood over from me and had gotten out with their other dog. That dog returned, Popeye hadn't.
I will absolutely tell any friend who finds or loses a dog to post them on PawBoost!"
Spread the good news! Thank you to everyone who shared Popeye's alert. Reuniting a fur baby with it's owner can be very rewarding. His owner is very grateful to have his best friend back 🙂
---
Turtle: Lost Cat Reunited in Roy, WA!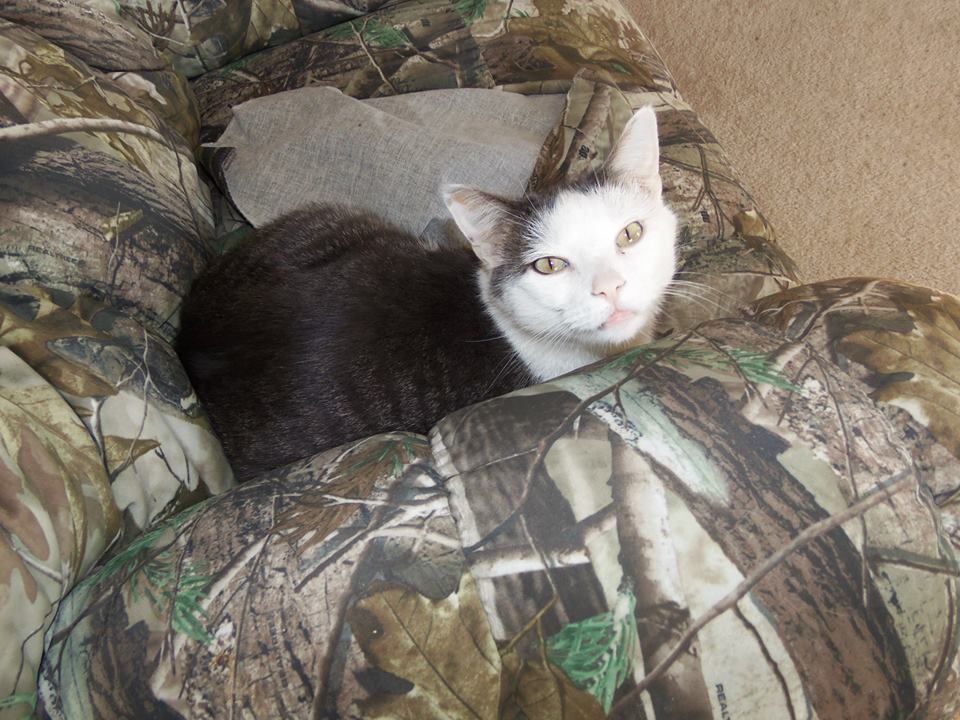 "Turtle got out when my husband came home from work and had forgotten his house key, so he came in through the garage. We keep the cat litter in the garage so he has access to it on a regular basis. He snuck out the garage door before it closed and my husband didn't see or hear him as he left.
Turtle came back to our house late on Friday evening and I was asleep. We have two dogs so they saw him and started barking like crazy. They were so loud and continued for a long time and it woke me up and I went down to investigate.
I didn't see anything at first, but when I was looking out the front window to our driveway I thought I saw a cat, so I ran outside to see if it was Turtle. I didn't see anything. He must've gotten scared by the front door opening quickly.
So again, I searched the neighborhood, convinced I had just seen a cat. I ended up hearing him crying and followed the sound to the neighbor's front porch, where I found him.
Turtle was missing for 6 days. This was the longest week of my family's life. It took a toll on everyone and we were completely physically and emotionally exhausted even after just a few days.
The PawBoost alert notified neighbors even right outside my neighborhood. I started getting calls and leads to help me try to refocus my search for Turtle. I ended up meeting so many wonderful, kind people in my own neighborhood and the surrounding communities.
It really started to show me that there are wonderful people in my local community that will take in, feed or even just be kind to animals that are lost. It immediately made me feel less helpless and more positive about the fact that if my beloved cat didn't come home, maybe he could at least find his way to one of these safe havens."
Spread the good news! Thank you to everyone who shared Turtle's alert and kept an eye out for him. He is finally back home resting from his long journey 🙂
---
Auggie: Lost Dog Reunited in Denver, CO!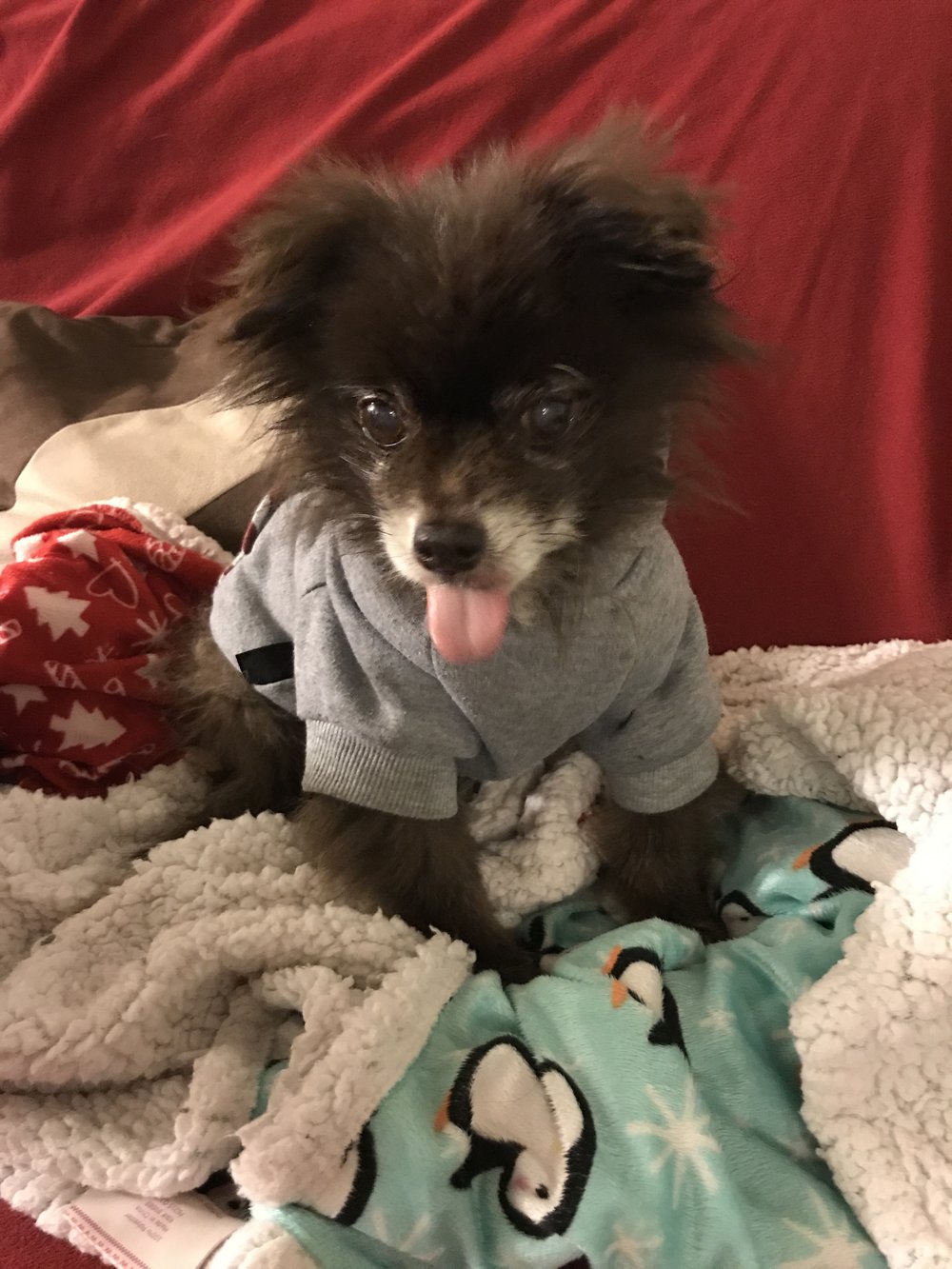 "Auggie went missing after escaping from the backyard one Monday afternoon. He was not wearing his usual collar at the moment and we were extremely worried about him. We love our little guy and given his old age and health conditions we needed all the help we could get.
Close relatives and neighbors jumped at the immediate search. Despite our efforts throughout the neighborhood and surroundings the little senior was nowhere to be found. We put up flyers, knocked on doors until dark and nothing, no answer.
After that, we immediately reported a lost dog file through the microchip company and PetHarbor and expanded the search on social media. There we found PawBoost, among other sites, and people immediately started contacting us, sharing their experiences and giving us advice.
The word spread really quickly and by midnight we received a text showing us that a similar dog was found. Several other comments from PawBoost also suggested similar thoughts. So we immediately checked the location of the found dog report and there was Auggie!
I would absolutely recommend PawBoost. In despair moments like yesterday, a friendly environment full of people willing to help and look for your furry loved one is an essential mechanism to spread the word fast and to reach out to as many people as possible. We are very thankful to everyone involved in helping us out to get reunited with Auggie."
Spread the good news! Thank you to everyone who shared Auggie's alert. Through everyone's help Auggie was reunited in less than 24hrs 🙂
---
Jane: Lost Dog Reunited in Denver, CO!
"Jane went missing while we were playing ball in a little grassy area with her brother Lu. While we play ball I leave Lu on his leash because he just likes to walk around sniffing stuff and chewing sticks but Jane is all about the ball so I have her off of leash (never again)!
Along comes this guy on an automatic skateboard and before I could do anything Jane jumps in front of the skateboard, which runs over her paw and sends the boarder flying onto the cement. This sent the dogs running, but I didn't want to leave the guy who might be hurt.
I was hoping the pups ran home which wasn't far but I didn't want to leave the guy until I knew he was okay! Once he told me he was okay and was up, I took off to go look for Lu and Jane in a couple spots I thought they might go, but to no avail! I immediately jumped in the car to go looking for them!
Luckily, two Good Samaritans took action and returned the pups. About an hour after they ran off, I received a call from Urban Vet. A friendly bystander saw both of the dogs and was able to grab Lu's leash but couldn't get Jane who ran off. They took him to Urban Vet who called me to come get him.
About 4 hours later I received a call from another awesome human being who saw Jane cowering on someone's front stoop and thought it suspicious and sure enough he called me from the phone number on her collar.
When I was freaking out to cover as much ground as possible it was so awesome to google 'lost dog' and quickly find a platform like PawBoost, which quickly posted a message about Jane. When it comes to a lost pet, I would highly recommend PawBoost! It is a quick and simple way to get a lost pet alert online!"
SLost Cat pread the good news! Thank you to everyone who shared Jane's alert. She was found by an aware pet owner who saw her cowering by the stairs of an apartment/condo building. She is safe, healthy and happy!
---
Scooter: Lost Cat Reunited in Yorba Linda, CA!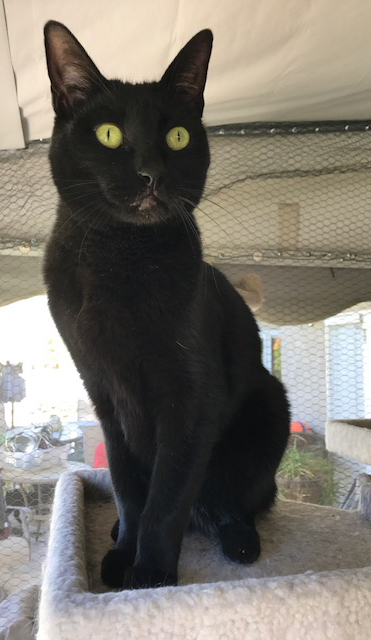 "Scooter is an indoor cat and has an enclosed patio room with his buddies. Occasionally we let the cats out in our yard when we're able to keep a watch on them so that they can enjoy being outside of their usual restrictions.
Unfortunately, our watch over them was disrupted and they were out longer than normal without our supervision. Scooter's buddies didn't venture out of our yard and were brought back into the safe confines of their home, but Scooter was no where to be found.
We searched and searched, but to no avail. We left our lights on all around our house and left his bed on our patio with some food. We distributed flyers immediately and spoke with our neighbors and local animal shelter.
Since our backyard backs up to a public trail, we distributed more flyers yesterday and last night, reaching out to all of the other homes on other streets whose yards back up to the trail and other nearby homes. We spoke with several people on other streets who were very sympathetic and caring.
This morning, to our disbelief, amazement, and total excitement, Scooter appeared on our patio! Maybe our flyers sparked the help of homeowners who may have then checked their garages, sheds, etc… to see if our kitty was accidentally trapped.
He is unscathed except for being a bit thin and having a mild injury to his mouth/chin, but otherwise he seems 100% fine! We live in an area where there are a lot of coyotes and a lot of vehicular traffic, so of course, we were thinking the worst, but hoping for the best.
I would definitely recommend PawBoost to everyone and have actually done so many times, as I have followed PawBoost posts and seen its wonderful success rate. Many thanks to you and your team for the implementation and operation of this wonderful and much needed resource for pet owners!"
Spread the good news! Thank you to everyone who shared Scooter's alert. Positive thoughts and energy do play a huge role in a positive outcome 🙂
---
Toulouse: Lost Cat Reunited in Santa Rosa, CA!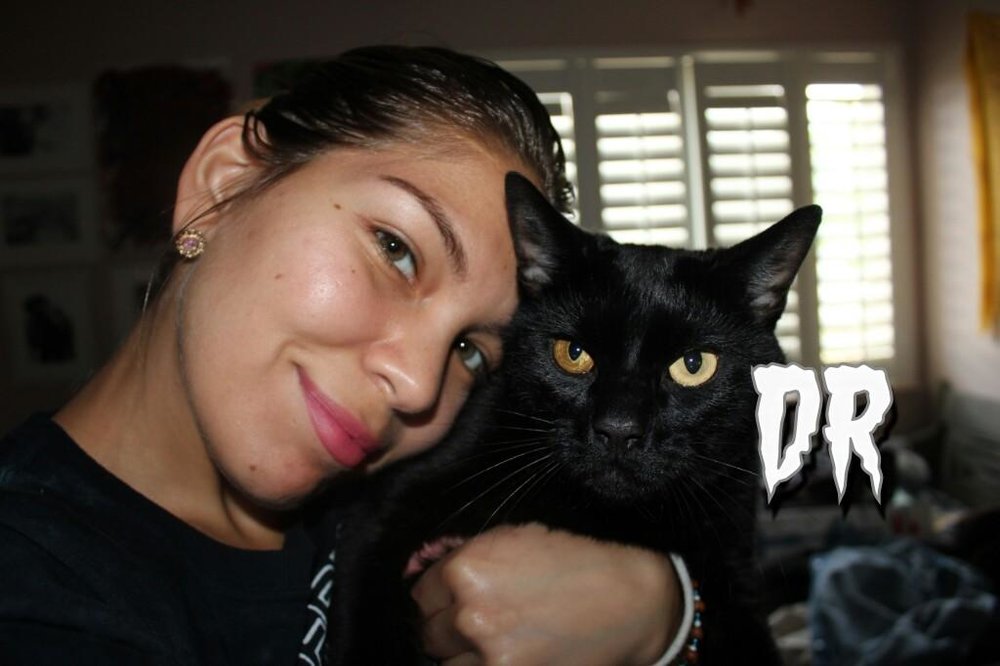 "Toulouse is my best friend, Dennise's cat and he went missing the night Santa Rosa, CA was hit by a wildfire and burned thousands of homes. Dennise's house was one of these homes and Toulouse was an indoor/outdoor cat. In the one minute they had to evacuate as their neighbor's house was on fire, they could not find Toulouse and needed to run for their lives.
Dennise and Toulouse were reunited by a volunteer that spotted him in the burned remains of the neighborhood, a month and a half after the initial fire. PawBoost flyers were hung up around the neighborhood so the volunteer was able to lure scared Toulouse over with Kentucky Fried Chicken, and then contacted Dennise immediately, using the flyer's contacts.
I would recommend PawBoost. It got the word out in our community for support, and the flyers enabled the volunteer to recognize Toulouse and call Dennise. Toulouse and Dennise are happy to be together again after losing everything else."
Spread the good news! Thank you to everyone who shared Toulouse's alert. After some care to his burn wounds, Toulouse and Dennise are reunited 🙂
---
Phoebe: Lost Dog Reunited in Modesto, CA!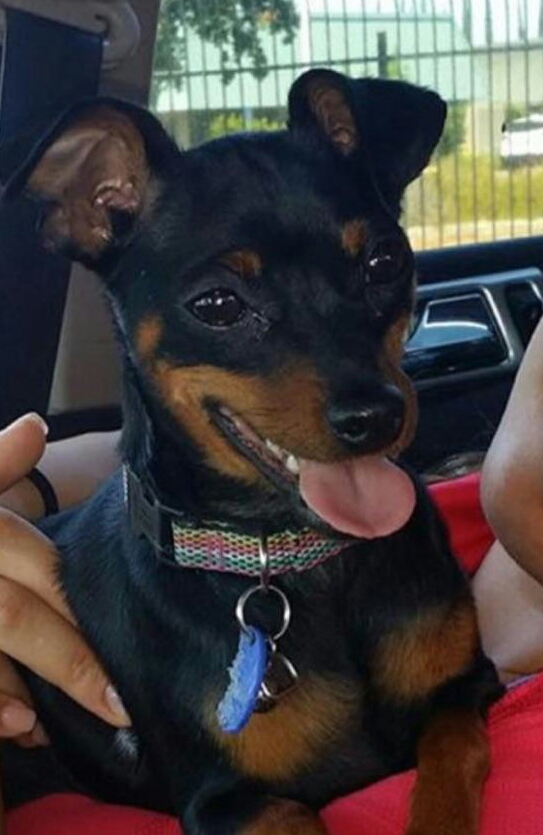 "One day, my exterminator accidentally let Phoebe out of our backyard. Well the morning after I created her PawBoost alert, I received a few emails saying that they believed she was at Stanislaus County Animal Control. I immediately got up and was there at about 8:30 in the morning.
After going through all those beautiful dogs I realized she wasn't there and I was heartbroken. I kept showing her picture to the workers there and I told them that she was chipped and one of the ladies asked if it was registered. She then told me I was supposed to go online and register her in my name, not in our name.
Well I didn't know that so she directed me to the front desk where I got the number to call and then registered her. There was a gentleman named Josh that checked the database and saw that Phoebe was located and gave me the number of the clinic.
I called there and there was a lady named Christina that put me in touch with our beautiful Olivia who rescued Phoebe from a very busy street along with two other ladies. She made sure that she took her in to see if she was chipped, slept with her, loved her, and when I called her I told her to call Phoebe's name and the rest is history.
PawBoost helped me keep an active, structured, and hopeful state of mind while I was looking for Phoebe. After receiving all of that valuable information and following through with the direction I was given from PawBoost the end result was the best anyone could ask for.
I would definitely recommend PawBoost to anyone who has lost their pet. PawBoost helps people feel like they still have a chance and they give you a game plan to get your loved one back again. Thank you PawBoost!
One other thing, it's very important to have your animal chipped. It's worth every little penny."
Spread the good news! Thank you to everyone for all of your hard work in sharing Phoebe's alert. Her family is so happy that she's home 🙂
---
Chevy: Lost Dog Reunited in Kansas City, MO!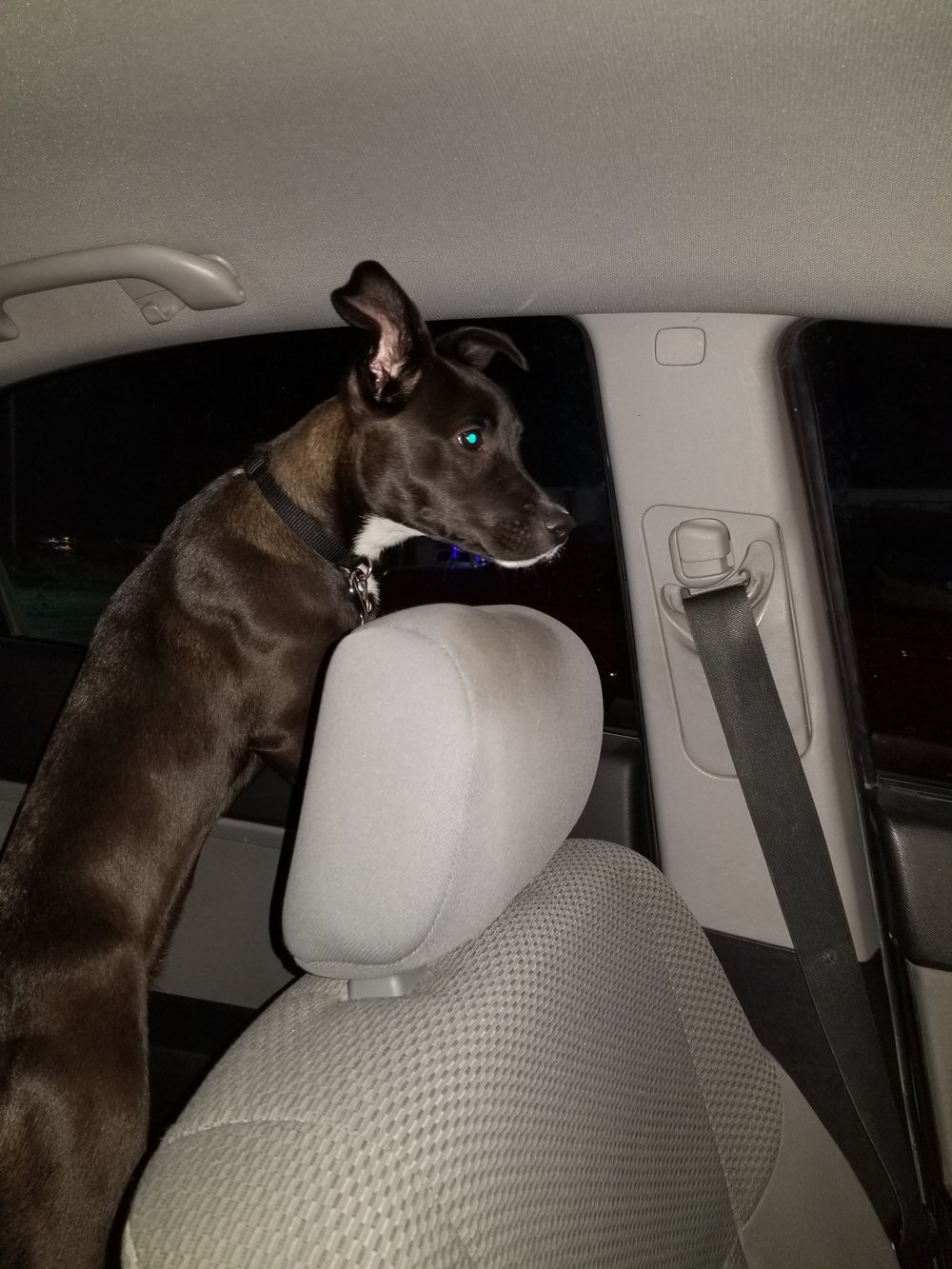 "Someone was dog sitting Chevy for my boyfriend's mom who recently had surgery. They put Chevy out in the yard and didn't watch him. Previously in the day, this person had taken his collar off because it was itching him.
Chevy is still very little and he slipped through the fence while unattended. We walked for hours looking for him knowing he was not yet fixed (Only 8 weeks old) and with no collar to let someone know that he belonged to us.
I obviously posted on PawBoost after a suggestion from a friend who found their dog by doing so. I made a post on Facebook, Craigslist, Wayside Waifs, KC Pet Project, and Great Plains SPCA Public Lost and Found Pet database.
Our family walked for hours around the neighborhood with no luck. I followed the tips of some of these aforementioned websites to call local shelters on top of giving them flyers. I called the nearest Vet Clinic down the street from where Chevy went missing just in case with no luck.
Later that same day, I prepared 50 posters to put around the neighborhood and scheduled to make visits at the shelters, when I got the call! The kind woman that found Chevy called the vet clinic just in case (just like me, she had thought it had very little chance for success).
I would recommend PawBoost because it is a far reaching Lost and Found Pet network. They utilize both the web and Facebook and have a respected reputation among animal shelters. For me personally, just the alerts to my email for found dogs in my area was enough for me to recommend PawBoost. "
Spread the good news! Thank you to everyone who shared Chevy's alert. Chevy is safe and sound. Anyone who takes in a stray and tries to return them to their pet parent is greatly appreciated 🙂
---
Handsome: Lost Cat Reunited in New Orleans, LA!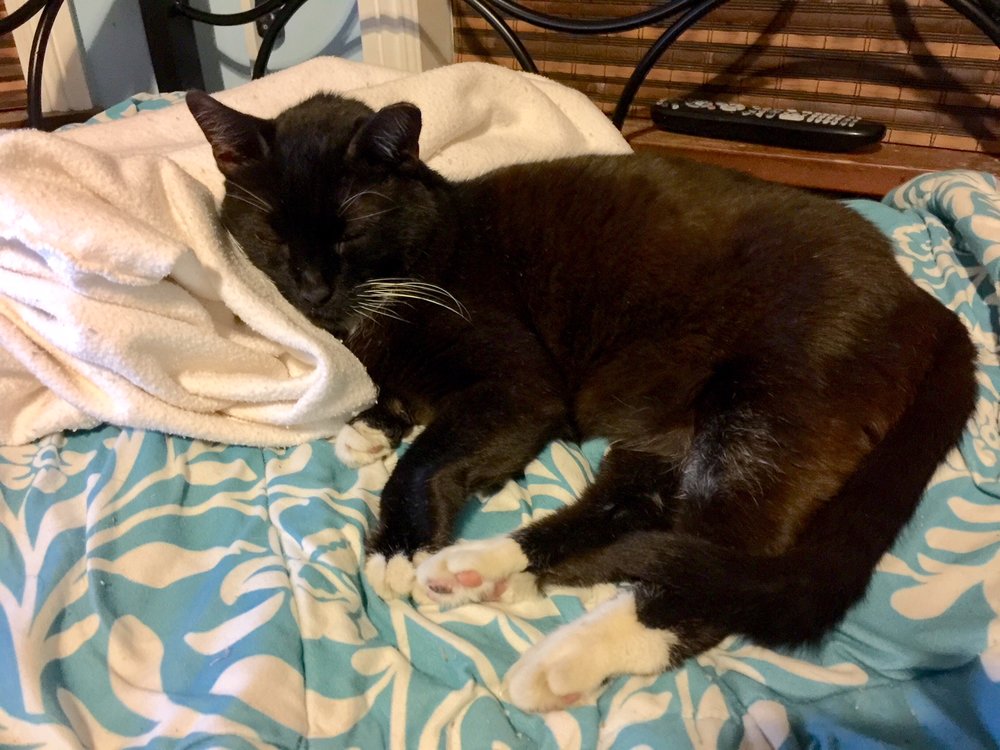 "Handsome got out of my home when a pet sitter left the door open and failed to grab him as he slipped by her. Unfortunately, I was not alerted for 48 hours that he escaped, so I knew the methods I needed to use to find him were going to be different than if I had been able to start searching right away.
PawBoost was recommended to me by another person in the animal rescue community after I posted about my lost cat on Facebook. I immediately signed up, and printed 200 of the color posters PawBoost provided from my report.
In addition to posting on every online social and local community site available, I put together a canvassing event where a team of friends and neighbors took the PawBoost flyers and went door to door in my neighborhood, speaking to residents and asking to check under their homes and inspect their exteriors.
We also hung plastic-covered versions of the flyers on phone polls at every intersection within about a mile radius of my home. This took a couple of days, but was invaluable to finding Handsome, as it put my entire neighborhood on high alert.
I would definitely recommend PawBoost to anyone who has lost a pet. It helped get the word out about Handsome, quickly and easily, in a few different formats. It was ultimately the work on the ground, aided by the flyers I was immediately able to produce through PawBoost, that brought my Handsome home to me.
After 5 days of not a single sighting of my cat, he was spotted in my own block, and identified readily due to the flyer hanging on the phone poll in front of my house. He was terrified and acting wild, but through patience and persistence, 23 hours later we were able to capture him and bring him home."
Spread the good news! Thank you to everyone who shared Handsome's alert. He is now resting comfortably, rehydrating, getting the medicine he needs, and eating well. Remember to never give up and put boots on the ground 🙂
---
Chloe: Lost Cat Reunited in Winter Garden, FL!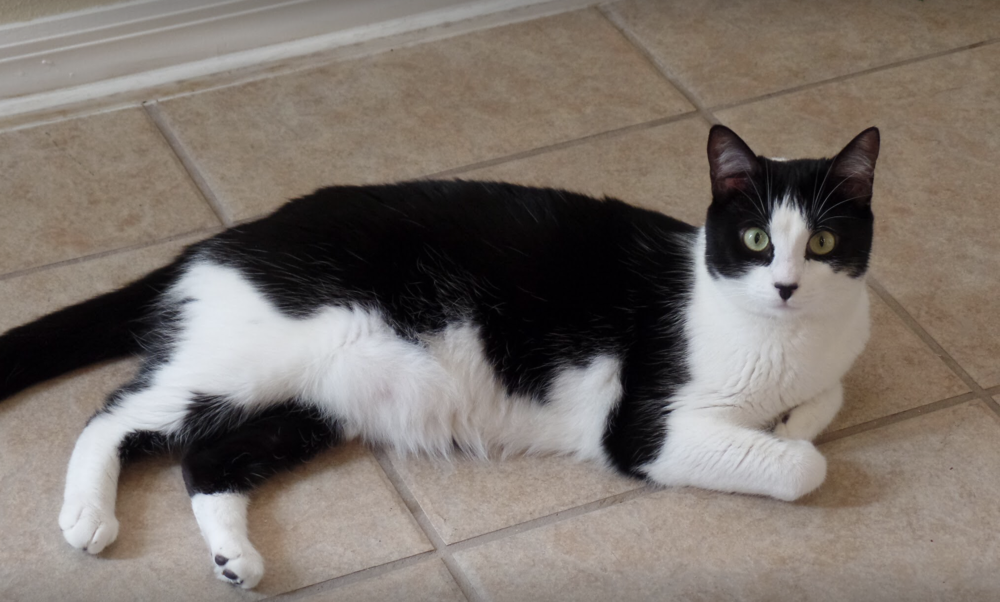 "Chloe is four years old and has never shown any interest in going outside. Yesterday, while we were doing yard work, I left the door open to the garage for a few minutes. She must have slipped out then, around noon. At 4:00 we noticed we hadn't seen her, and after looking EVERYWHERE inside, we realized she must have left the house!
We have never lost a cat before, and we had no idea how or where to begin looking. My daughter posted her information on PawBoost and we were immediately contacted by a kind-hearted animal lover who shared comforting wishes, as well as several specific suggestions about how to get Chloe back. I was overwhelmed by the help and kindness of people I didn't even know!
I was doubtful that the recommendations that I got would help us find Chloe, because they were different than what I expected. I had never lost a cat before, and I thought Chloe would come running if I called her or put some food out. Through PawBoost, I learned that cats who are outside often get really scared and will hide even when help is just feet away.
I went back to the garage to methodically check unlikely hiding spots where I checked before. Somehow, Chloe found her way back into the garage, and instead of coming to the food we had left out, she hid in a spot so small I almost did not see her hind leg barely poking out. Chloe would not budge from her hiding spot even when I called her! We were able to pry her out safely.
Because of PawBoost, I searched in a place I had already looked before. I looked in tight hiding spots instead of expecting her to come to me or her food. Because of PawBoost, Chloe was recovered quickly and safely. I am so grateful to PawBoost and the personal, quick, and caring attention they gave to our missing family member!"
Spread the good news! Thank you to everyone who shared Chloe's alert. Chloe is a little shaken up, but is now comfortably back inside 🙂
---
Shiloh: Lost Dog Reunited in Las Vegas!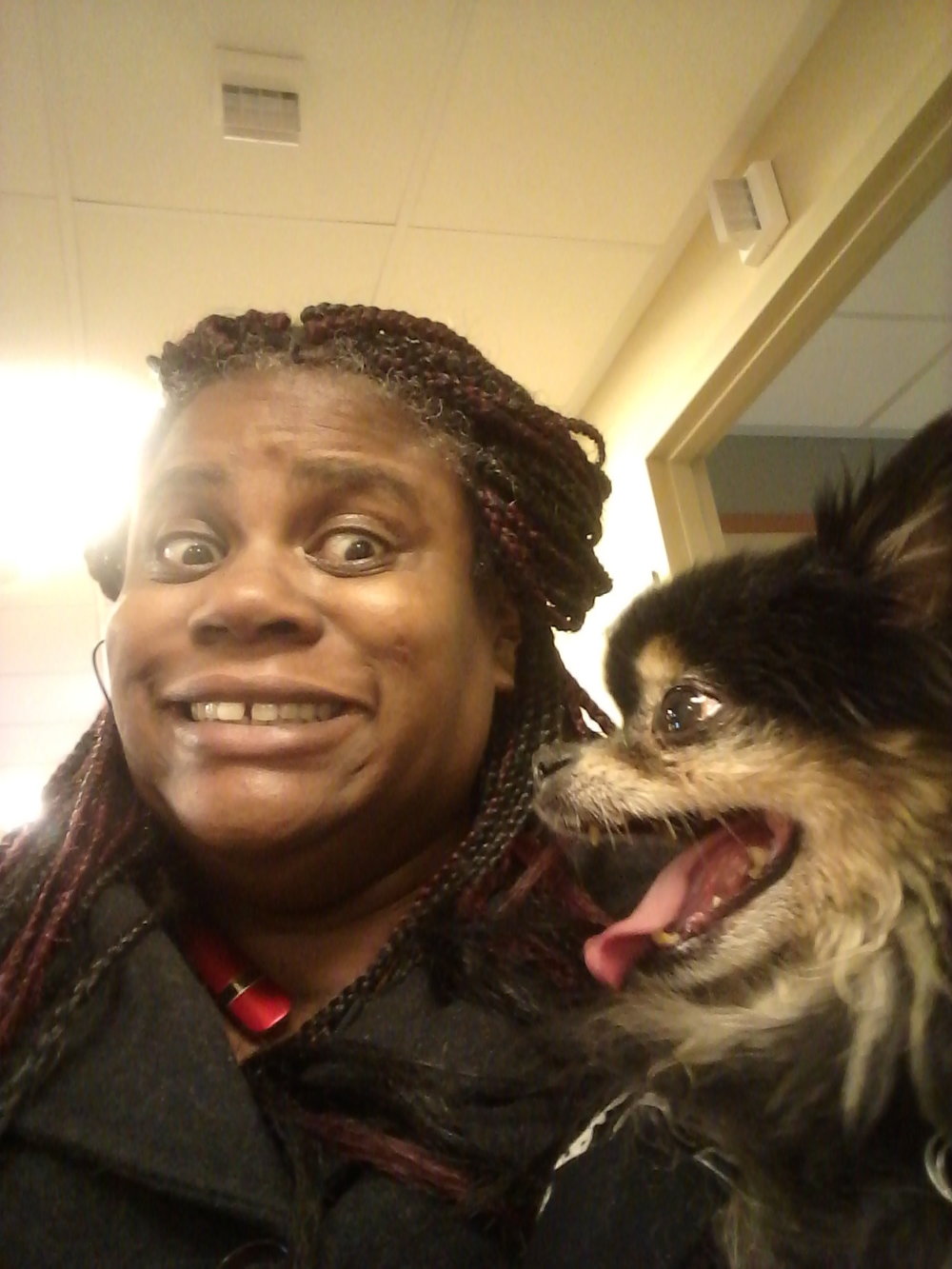 "I went into the hospital to have lung surgery, leaving my mom to care for my Shiloh. She let him out to use the restroom, but forgot he was out there and went to bed. He really had no idea where we were since we just moved here from Virginia.
Being scared and missing for 2 days, he hopped in a car that looked just like mine and the nice people took it from there. No one had any luck with flyers in my apartment complex so I was really worried about Shiloh. After not getting answers from Animal Control, calling Animal Foundation and being scared my buddy was going to be adopted soon, I stepped out on faith and looked up 'Lost Shiloh' on Google and his picture showed up.
PetSmart told me how to post Shiloh on PawBoost and that's how he became famous. I was so happy, but because I was so excited I could hardly navigate the website, but after a little while I was able to figure out how to post my own lost dog poster on PawBoost.
Then, I sent an email to the people who had my little guy. The lovely couple brought Shiloh all the way to the hospital and my nurse knew how upset I was, so he was able to come up and see me.
The people on PawBoost were so compassionate and helpful. Everyone understood my grief and I no longer felt alone. PawBoost is amazing. Now alerts come to my phone and I am available to help someone else. Pets are family.
Shiloh is my comfort companion and the thought of losing him gave me horrific anxiety, but the support on PawBoost kept me calm enough to get through this. I'm grateful for PawBoost's platform and their united sense of camaraderie."
Spread the good news! Thank you to everyone who shared Shiloh's alert. Shiloh's pet parent was so excited to see him and was grateful that he was in good care 🙂
---
Leigh: Lost Dog Reunited in Newport News, VA!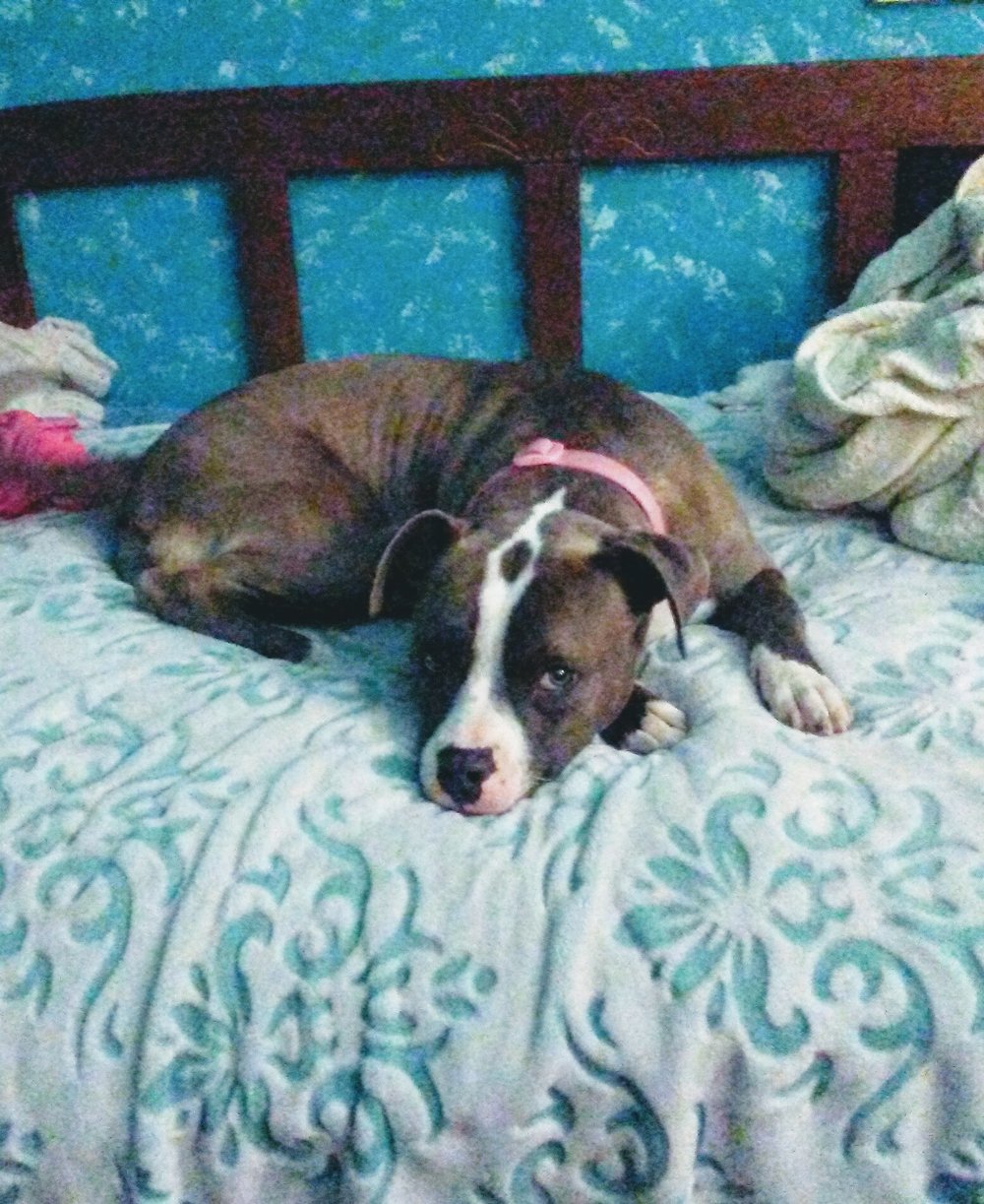 "It was our usual afternoon break in my backyard. One side of my yard does not have a fence, and out of Leigh's normal character, she decided to walk around to the front yard. I didn't know it at the time, but a young girl had just gotten off of the school bus and Leigh decided she wanted to make a new friend.
I googled 'lost and found dogs sites' and was referred to PawBoost. It was a tremendous help and spread the post to the right people at the right time. I created the notice on your site and within minutes I had the first response. I was sent a link that was posted by the family who found Leigh and from there, I was able to contact them.
Due to how rapidly the post was shared, a random stranger was able to connect both posts with the aid of a photo and a description. I was speaking to the family who found her within the hour of my initial post.
I also filed a report with the local SPCA, and they also contacted me with information regarding Leigh. The wonderful family who took her in filed a found dog report with both the SPCA and PawBoost. If it wasn't for their kindness and taking the time to do that, I would not have known that Leigh was just a few houses down the street from mine.
Even though she was only missing for one day and did not go very far (across the street and two houses down) PawBoost helped 100%. I am thankful that with today's technology a website like PawBoost can flourish in helping pets and owners reunite. I would definitely recommend this site for anyone who has lost or found an animal."
Spread the good news! Thank you to everyone who shared Leigh's alert. Leigh is back home safe and warm 🙂
---
Maggie: Lost Dog Reunited in Port Orange, FL!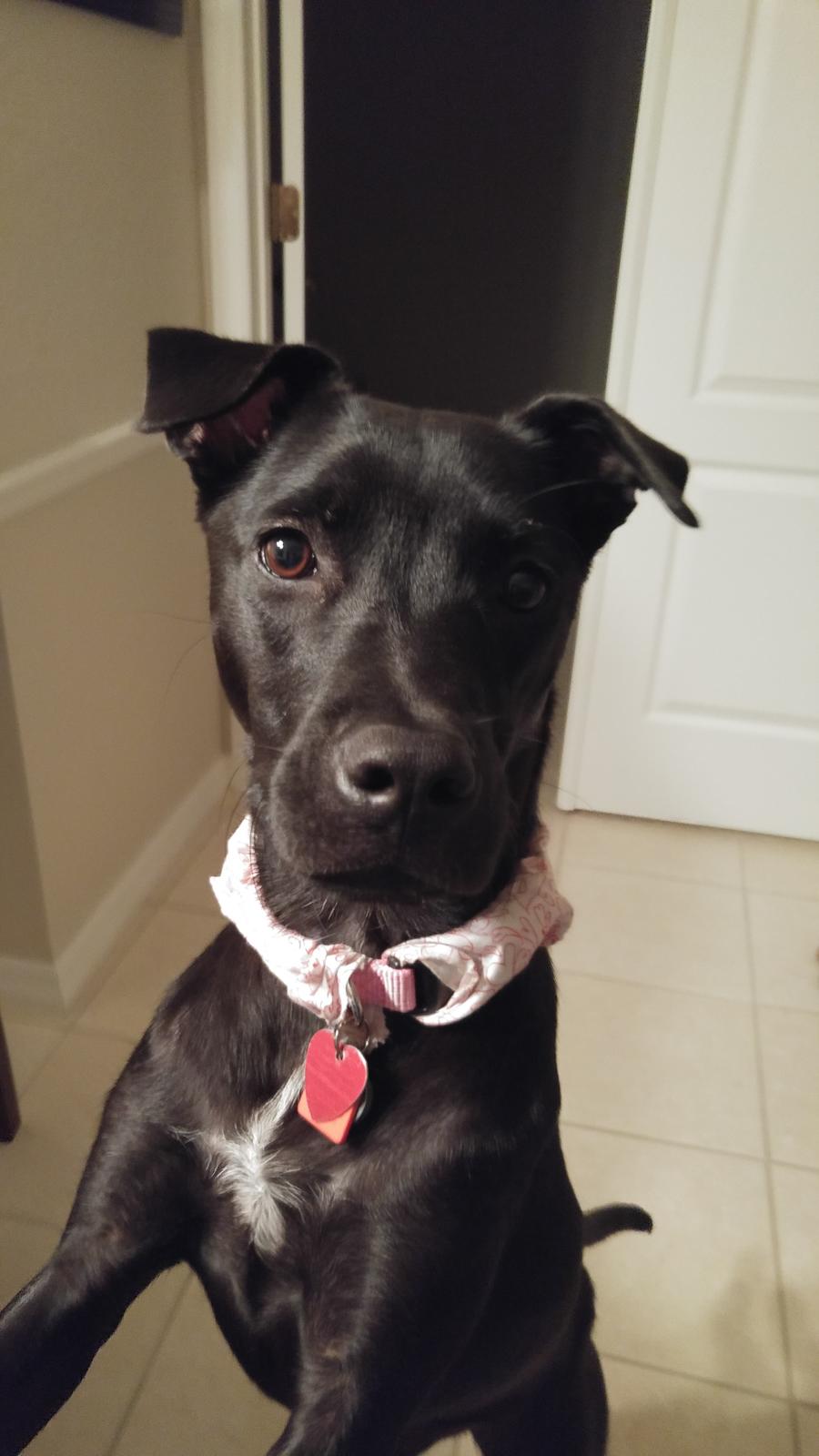 "We left Maggie with a pet sitter on a Friday afternoon to stay with that night. Around 10pm, the pet sitter's husband took Maggie out for the last walk of the night and something happened that caused Maggie to get spooked.
I had forewarned the sitter that if Maggie were to get spooked that she would face her and try to back out of her harness, and this is exactly what happened. Unfortunately the man did not react appropriately or as instructed and Maggie was able to get out of her harness and disappear.
We have been receiving calls over the last few days with people reporting sightings in various areas of the city. Some were close to her original disappearance point of origin and others were many miles away. Of course we followed up on all of them to find ourselves struggling to process why we could not find her.
I am confident that PawBoot played a major role in her return as your targeted marketing efforts helped us connect with hundreds of people in our community. Many of which were just as concerned as we were for Maggie's well being and safe return.
In these situations time is a precious commodity. Every minute that I invest on my computer trying to make connections is another minute that I lose in the physical hunt for our reunion. While I did many other things online during the night I could rest assured that you were hard at work trying your best to engage all the right people 24/7.
We are forever grateful for your service, the help from our community, and the prayers of all who believed that Maggie would come home safe. Mega Love PawBoost team, you do great work, thank you very much!"
Spread the good news! Thank you to everyone who shared Maggie's alert. After 5 long days we are elated to report that Maggie is now home safe! She was located in the backyard of a home of some very kind people 🙂
---
Bow: Lost Cat Reunited in Rochester, NY!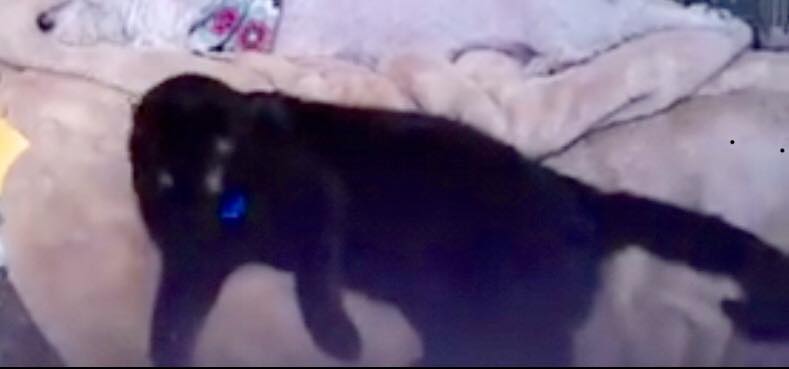 "One Monday, my beautiful Bow for some odd reason bolted out the door when I opened it. I did everything I could to find him from advice people gave me and my vet. He didn't return home that night and then I got really worried.
People told me to not give up so I used Facebook and to keep his smell outside by putting his litter and bedding out. I would get up early before light and call his name gently and drive around the neighborhood, but there was nothing but silence. A month passed and it felt different not having my sweet Bow home. I have a small dog named Icy and they are so bonded, it's so cute.
It was in the early evening when my doggy wanted to go in the backyard and when I went to open the door I was shocked to see Bow on the steps by his bedding. I quickly got him in the house as he wanted to come in. He is skinny and because the weather had been so bad I just didn't think I'd see him again.
I put him on PawBoost and I received many responses from cat lovers. PawBoost definitely helped when I reported him as lost. People genuinely cared and that was such a comfort of hope. I would definitely recommend PawBoost to someone who lost a pet, because this wonderful, pet loving community gives you hope, love, and support. It means a great deal to know that you are not alone when a pet goes missing."
Spread the good news! Thank you to everyone who shared Bow's alert. After over 1 month, his pet parent is happy to have him home and is nurturing him to get healthy again 🙂
---
Ace: Lost Cat Reunited in Middle Sackville, NS, Canada!
"We moved to a new house on Saturday about 200km away from our old house. When the front door was open Sunday afternoon to carry out some empty boxes, Ace went out the door.
We posted a lost cat ad on multiple Facebook groups, kijiji, PawBoost, and called every local vet, animals shelter and the SPCA to create a missing cat report. The way he ended up finding him was by taking the advice from someone who commented on one of the lost cat ads we created.
They told us to go out late at night when it was super quiet so we could call his name and listen for his cries. It worked! It took many hours of searching in the cold but our baby boy is home and we couldn't be happier! My husband ended up finding Ace almost three blocks away in an open field where there are new houses under construction.
The more public awareness you can make for a lost pet the better! When the PawBoost alert went out on Facebook, it was shared faster and more times than any other group we posted on. Not only did numerous people share the lost cat ad for Ace, but we also received tips on how to find him and were offered support and encouragement, which meant the world to us during such a difficult time.
I highly recommend PawBoost and am incredibly happy and grateful for all of the help and support we received."
Spread the good news! Thank you to everyone who shared Ace's alert and gave great advice. Two little girls are VERY happy to have their kitty back home 🙂
---
Bailey: Lost Dog Reunited in Raeford, NC!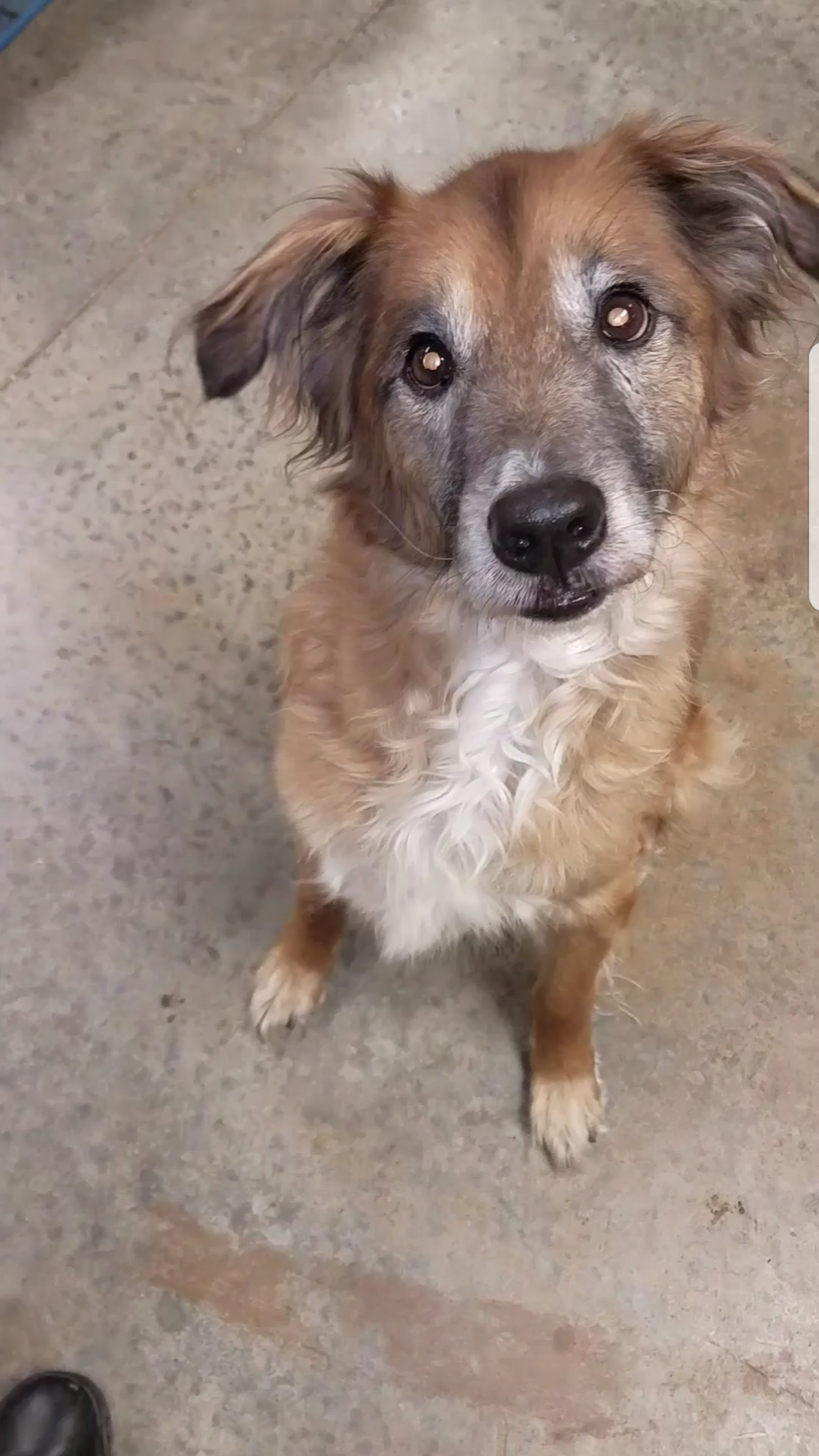 "Bailey decided he would take it upon himself to push a portion of our fence down, creating a space for him to squeeze through and escape. According to the couple that found him, he was located 6 miles away from our residence running in the middle of the road in VERY heavy traffic.
We live directly next to one of the most used access gates on the Military Installation, Fort Bragg. Bailey was seen by a soldier as he was traveling home from base. The soldier stopped and was able to get Bailey safely into his vehicle and took him home with him.
Immediately after realizing Bailey was missing I had already started posting on social media. PawBoost was the first site I posted to. My posting was shared multiple times on Facebook and shared to over 15 groups, however, it was my PawBoost listing that was seen by a worker at the Hoke County Humane Society.
When she received a call from a female explaining she had found a dog near Fort Bragg and the description she provided, the worker pulled up the post and provided her with my information, leading us to being reunited with Bailey.
I currently work for Cumberland County Animal Control. I am an Enforcement Officer and have been one for the past 4 years. When people call our agency about their lost pet I have always advised them to use PawBoost as I have seen it work so many times.
Now, being someone who has a first hand account success story I will be sure to not only recommend the site but to share my story with them about just how well PawBoost works!! I am forever grateful for this site!!"
Spread the good news! Thank you to everyone who shared Bailey's alert to help get him back home safely. His family's prayers have been answered and their handsome man is home! 🙂
---
Phoebe: Lost Dog Reunited in Plano, TX!
"We realized Phoebe was gone from our backyard after we got home from a movie. She must have gotten scared when the electricity went out, which left our alarm beeping. We both immediately got in our cars to look for her, drove around yelling her name and walked the neighborhood with Lola until about 10:30 PM.
We woke up at 4:00 AM and got up to look for her, again no sign of her. I started posting on social media. I received a post from a man who saw a white dog running around the mall and then crossed the median getting across the tollway into a Target parking lot.
My sweet friend Diane gave me half a dozen sites to post on that Phoebe was lost. I made and printed flyers and posted them everywhere. Around 1:30 PM or so I got a call from a lady who saw a white dog in her apartment complex and saw my flyer.
Lola and I walked around and inside the complex hoping Phoebe would pick up her scent, but nothing. I then got a call from a man who witnessed a wiry white dog get hit while walking across some tracks, get up and run limping into a brushy wooded area.
We immediately went to look and drove around until dark. We went home feeling defeated and I tried to eat something but couldn't. Something inside my heart told me Phoebe was in that brushy field or area. We had to go out again. My sister-in-law, Debbie said they all would come help us look.
By this time, it was about 26 hours since Phoebe went missing. Everyone helped us look for about 30 minutes, then Debbie got a call from Tony that he found her. She was lying down and not moving, exhausted! We all ran towards them crying and celebrating.
We took her to a 24 hour emergency pet clinic to make sure she was ok. All of her vitals are ok, no fractures or internal bleeding, but a little dehydrated. She has no feeling in her left front leg due to nerve trauma to that leg.
I want to thank Wyndham neighbors for their posts and Diane for her suggestions which led to two people on PawBoost seeing Phoebe and calling us! Phoebe is home and she is loved by so many!"
Spread the good news! Thank you to everyone who shared Phoebe's alert. She is a brave, tough little fur baby 🙂
---
Penny: Lost Dog Reunited in Las Vegas!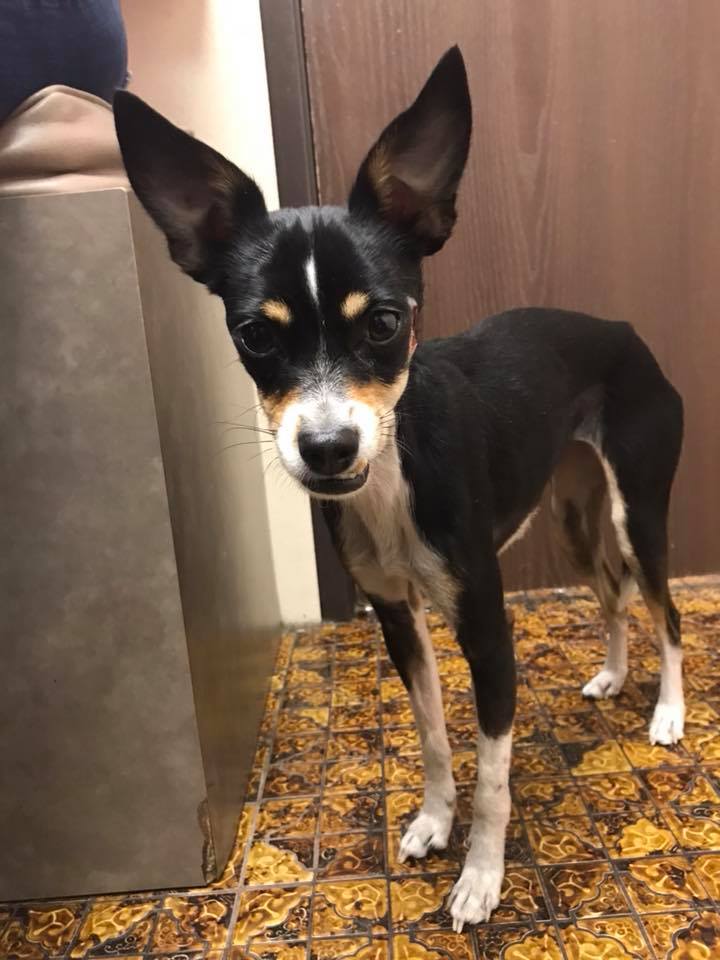 "My wife, Tiffany, and I had flown to Vegas for the holidays since Tiffany was born and raised there. This was my and Penny's first time out to Las Vegas so we were excited, nervous, and completely unfamiliar with the town. The night that Penny went missing we were out visiting Tiffany's brother.
Penny was left home under the supervision of Tiffany's parents. While we were out, Tiffany's Dad opened the front door after hearing a knock. Even though the door was opened only a crack Penny bursted through and ran up the road.
For the last four days, Tiffany and I searched nonstop for Penny. We visited multiple animal hospitals and shelters everyday, we passed out over 800 flyers, and we used various social media outlets to spread the word (Facebook, Craigslist, PawBoost, NextDoor).
The day we found Penny we were feeling very down; we didn't think we would ever see her again. Some time in the afternoon I went on Facebook to see if anyone had spotted Penny. I saw a comment left on my page of a screenshot of a PawBoost post indicating that a dog in a Superman t-shirt had been found.
I immediately went to the website, found Penny's picture, located the finder's contact information, and we called them. Once we saw the post by PawBoost, we were reconnected with Penny within 15 minutes. It was incredible! We were shocked how easy it was to find the contact information and the location.
As a source to find pets, I would definitely recommend PawBoost. PawBoost allows for easily accessible and shareable information, which is key for finding lost pets. I'm not sure it would have been as easy to find our Penny had it not been for PawBoost. Starting now I will be spreading the word to anyone and everyone I know. We are so grateful to everyone involved in bringing home our baby."
Spread the good news! Thank you to everyone who shared Penny's alert. Her family is grateful for everyone's love, support, kindness, and care. Penny was found about 5 miles away from home 🙂
---
Milo: Lost Dog Reunited in Rockville, MD!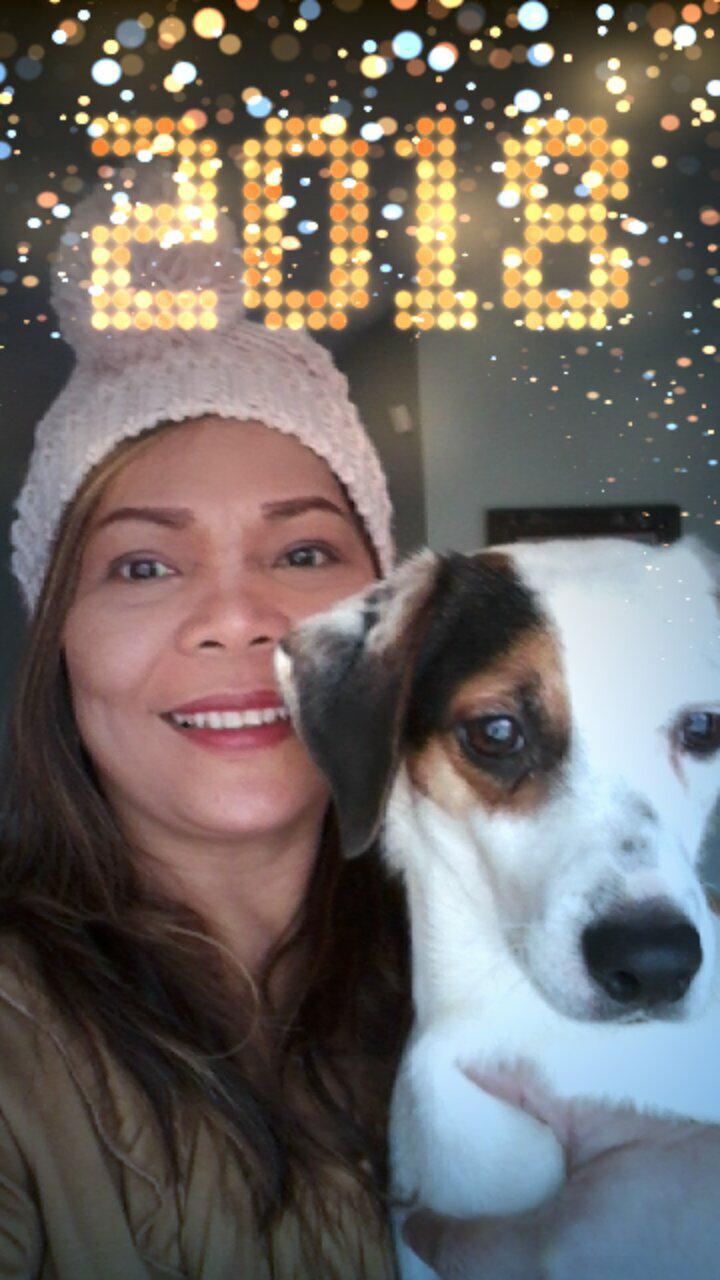 "My son Milo, our only fur baby, is loved beyond measure. Before going to do some charity work I brought him to the dog park for 2 hours of play. I was very confident that he could be left alone after that to rest.
We installed a doggie door to our deck and a baby gate so his access outside was limited. The wind was just too strong that it knocked out the baby gate and the fence doors opened. So my Jack Russel, Beagle boy had a freedom blast in my absence.
Three hours later, I came to a quiet home and then I searched the whole neighborhood around dinner time. I knocked on every door without mercy and screamed his name like a lunatic with hopes from afar, that he might recognize mommy's voice. There were no leads when it got dark and frigid. I seemed to weaken and hope was fading.
I could not sleep, because I was overcome by grief. I could not wait for daybreak to start the search again. It was his daddy's brilliant idea to search for all lost & found animal websites in Montgomery County. Then, I saw PawBoost pop up online. I created his lost alert and updated the information every hour on the hour for Milo's leads. People called to give us support and gave us their time to let us know they were on the lookout for him.
The next day, I called the rescue and adoption center to check if our son was turned in – nothing. After that, I spoke to his dad and our thoughts and highest hopes were that our son was in a warm home.
Then, later that afternoon I got a call and it was Milo being turned in at a local rescue center. It was a happy reunion with our son who we really, really love. Hugs and kisses and just love and tears of happiness there after.
PawBoost was definitely a HUGE help in getting the whole world mobilized to look out for him. For that reason we will highly recommend PawBoost if any of this sad happy ending experiences happen again."
Spread the good news! Thank you to everyone who shared Milo's alert. It was an emotional reunion and the best birthday gift ever to his mommy 🙂
---
Love these Happy Tails? We love sharing them! Click here to read more.