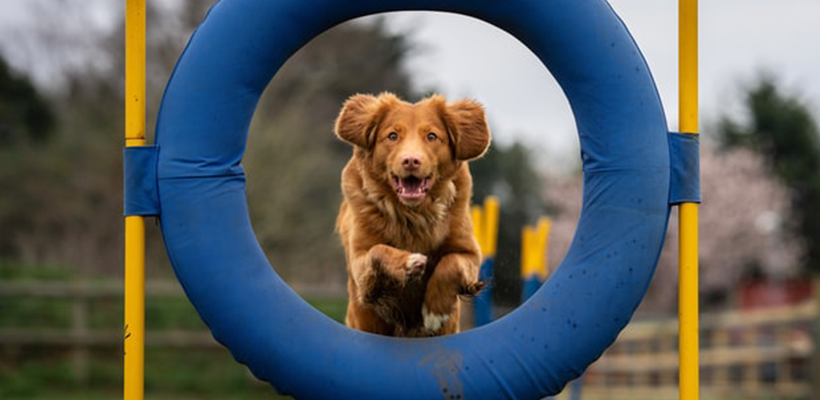 Doggy Sports: Fun Activities You Can Enjoy With Your Dog
This article is contributed by guest author Dakota Murphey (Freelance Writer).
Doggy Sports: Fun Activities You Can Enjoy With Your Dog
Oh, to have a dog's life! Food provided regularly, walks in the park, belly scratches on demand, and sleeping for over 12 hours a day sounds like a dream. But there's always room for a little more fun.
Our faithful companions will follow us anywhere and if there's some exercise or treats in it for them, even better. We're looking at some of the best sports you can do with your dogs to mix things up and keep them on their toes.
Doga
Let's kick things off with something a little slow-paced. Dog yoga, or doga, has grown in popularity over the years and it remains a great way to improve your physical well-being while keeping your dog occupied.
If you have a dog that isn't all that active, doga provides a bonding opportunity by engaging them in your yoga poses. This might be using them as a prop or encouraging them to down the downward-facing dog pose with you. If you have a more active dog then perhaps adapting your doga session to choreograph some dance moves will be well received.
Golf
Not all dogs like to get involved in their parents' activities but it's still possible to bring them along and have some fun. Take golf, for instance, dogs obviously can't play golf but they can accompany you on the course and enjoy a nice walk. Given that golf courses are often some of the most beautiful outdoor locations, it's a nice way to bring a little variety to your walk.
Perhaps if your dog is feeling really lazy you can get yourself a golf simulator and have them retrieve the balls for you when you hit the net. One of the great things about a golf simulator is that it can double up as a home movie theater, where your dog will happily join you and stare longingly at your box of popcorn!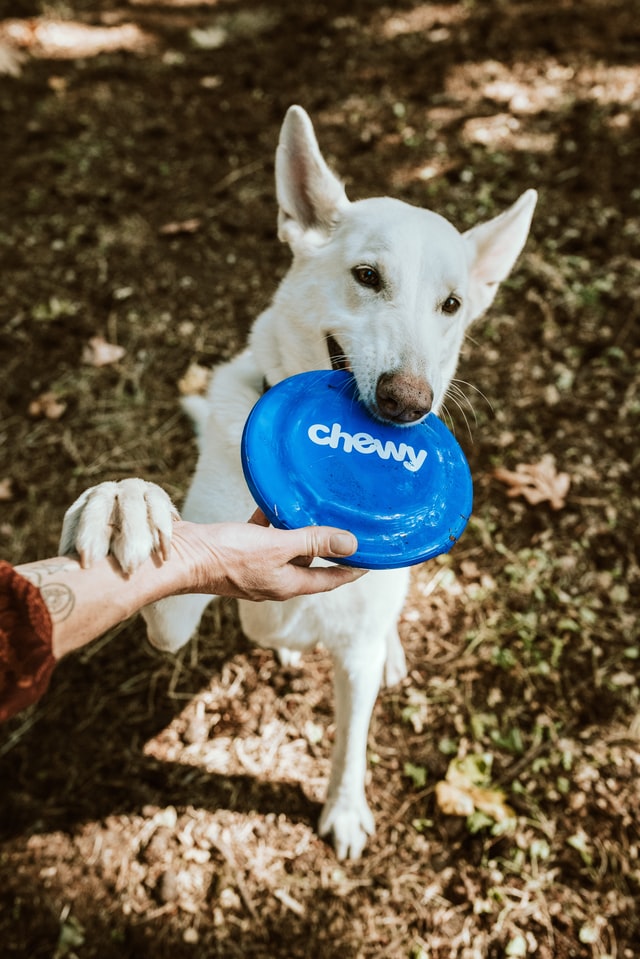 Frisbee
If your dog has a strong chase instinct then why not embrace that with a little bit of frisbee action in the park? You can gather some friends and toss the frisbee around between you, while your dog happily chases it from one person to the next.
Just make sure and let your dog win one every once in a while. After all, this is meant to be a game that you do with your dog so it's important that they feel like they are part of it. If your dog gets really good at it they can enter disc dog competitions where they put their catching skills against others.
Running
Perhaps the most obvious sport to do with your dog is running as that's commonly what dogs are good at. The average dog can run between 3km and 8km but, depending on the breed, this can increase or decrease significantly. Your husky, for instance, could complete a marathon but your pug is not a good candidate for a running partner in the first place.
If you'd like to challenge yourself and your dog even further when running you could try canicross, which sees your dog attached to your waist by a bungee cord. It's a little like having your dog pull a sled, except that you're the sled and you're also doing plenty of the work, they just do a little more.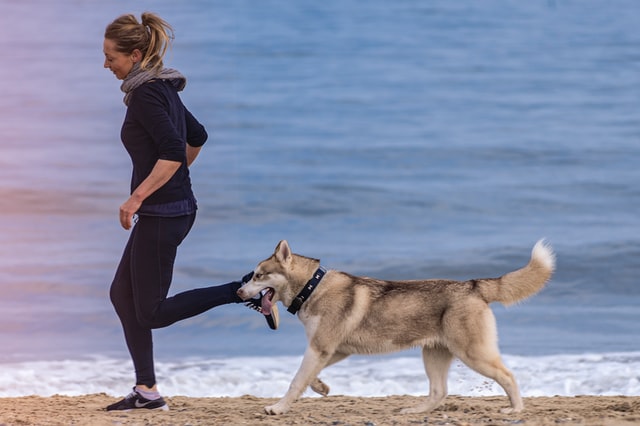 Bikejoring
Those of you who like adrenaline sports and want to get your dog involved should consider bikejoring. This is where your dog, or several dogs, are attached to a mountain bike as you make your way through forest trails. It's great fun for the dogs as they get to run through the woods at high speeds without having to wait for their owners to catch them up.
Of course, it's vitally important that your dog is fit and healthy enough to participate in this activity. Not only do they need to be strong and fit, using the right bikejoring equipment is essential. Small and big dogs can enjoy bikejoring but they must wear dedicated harnesses that allow them to breathe freely when pulling.
Bikejoring can be done for fun or you can find some competitive races if you like some added jeopardy. Breeds like German shepherd, whippet, border collie, labrador, and cocker spaniel make excellent bikejoring companions.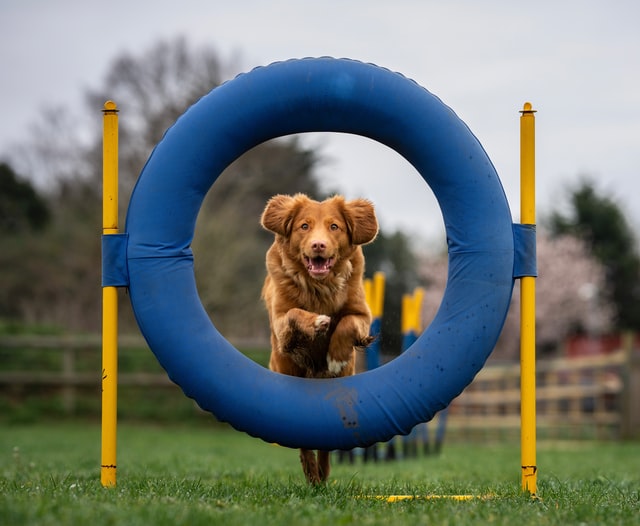 Agility
Perhaps a more traditional sport you can enjoy with your dog is agility. This puts your dog through their paces as they make their way through what is essentially a canine assault course.
It's important not to start your dog's agility classes too early and waiting until they are at least 1-2 years old reduces the injury risks when jumping hurdles. But it is possible to prepare them for what's required when they are still young.
According to dog training expert, Amy Bender, "You can start training your dog before they're of age to compete. Begin by working on basic obedience and teach your puppy to sit, lie down, come, heel, and stay."
Those are the fundamentals and when your dog is physically ready it's best to find an agility class but you can set up obstacles at home. Agility course obstacles include; hurdles, walls, tires, pipe tunnels, and the wishing well.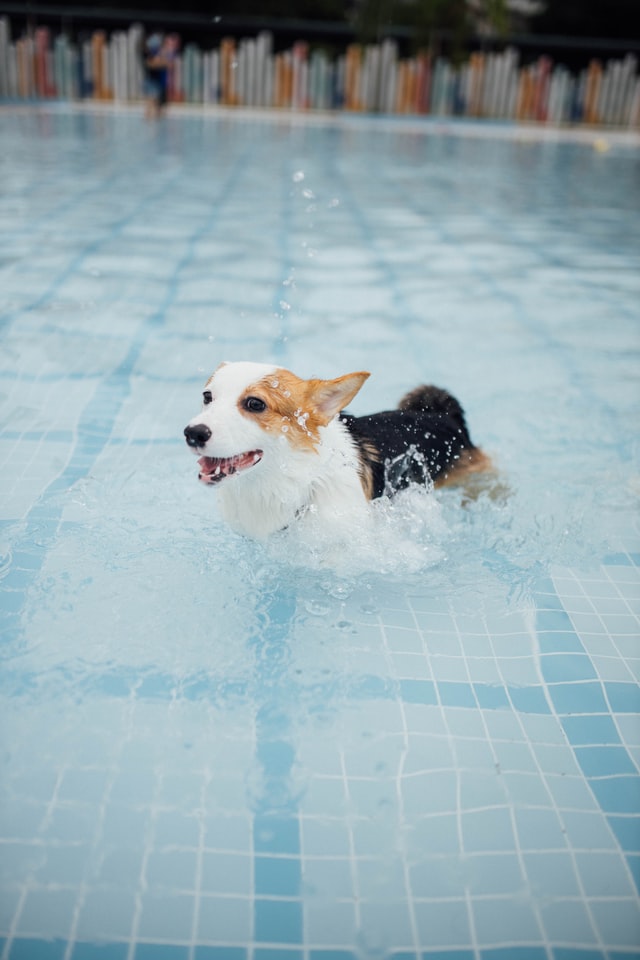 Swimming
If your dog is getting a little older but still thinks it's got the body of a younger model, finding a low-impact sport like swimming can itch that scratch for them. While you can't rock up to your local pool with your dog, there are still bodies of water where you can go swimming.
For instance, if you have your own swimming pool then that's a great place to start but dogs can be more sensitive to chlorine than humans. Monitor your dog when swimming in a pool with chlorine to ensure they don't have any adverse effects and bath them afterward to remove chlorine from their fur.
There is nothing wrong with taking a dip in the sea, lake, or even a river if the current isn't too strong. Just be aware of what is living in those bodies of water and take every measure to ensure your dog's safety. Provide them with a flotation device just in case they get too tired to swim.
Exercising with your dog
Finding varied activities that you can do with your dog is a fun way to spend more time together. But, your dog must be fit and strong enough, and in some cases, the right breed for the sport or exercise you have in mind.
You know your dog better than anyone, and what their capabilities or limits are but gaining advice from the vet is a good idea. Especially as they may be able to identify any particular health issues associated with your breed and your chosen sport.