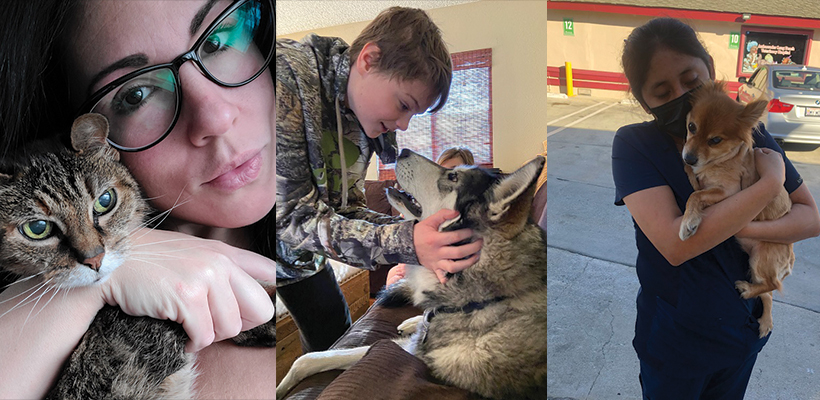 Featured Happy Tails! February 2021 – Lost & Found, Dogs, Cats & Pets That Were Reunited in February
Featured Happy Tails! February 2021 – Lost & Found, Dogs, Cats & Pets That Were Reunited in February
PawBoost loves to share happy endings! Check out February's Featured Happy Tails to learn how these fur babies were reunited with their families.
Love these Happy Tails? We love sharing them! Click here to read more.
---
Burton: Lost Dog Reunited in Hickory, NC!
---
Nahla: Lost Cat Reunited in Houston, TX!
---
Teddy: Lost Cat Reunited in Bedfordshire, England, UK!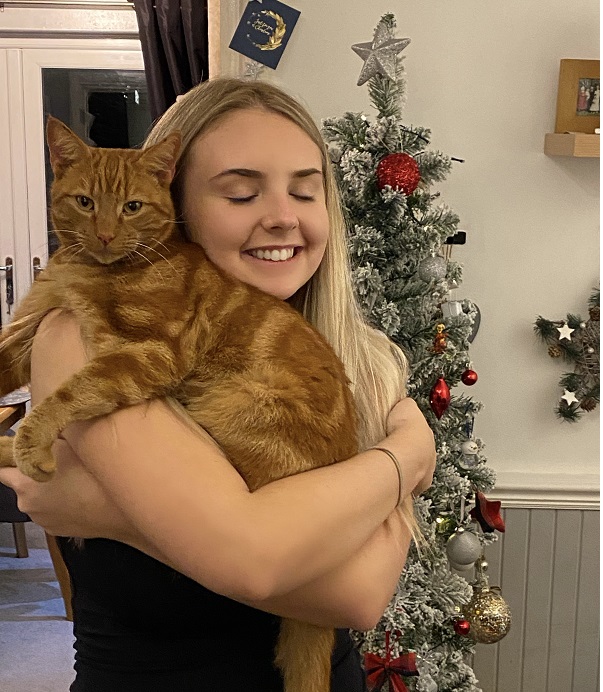 "Teddy went out on a Monday morning as he does every day. It was very foggy that day and he didn't come back when we got home from work in the evening as he usually does. He sometimes stays out overnight too, so we weren't too concerned to start with. After two days we knew something wasn't right, as he isn't usually out that long when it is so cold. We then shared posts on local Facebook groups and went walking around the local area with torches, calling his name. We did this for the first seven days, covering everywhere we could think of. We then had to just wait and hope he would come home.
Two weeks and two days after he went missing, I received a call from a lady who had found our Teddy under a car at her work which is a mile away, across a river and up the motorway! She kindly fed him, he warmed up to her, and she kept him safe so he wouldn't run off until we got there. He was very pleased to be home and he is very lucky to have no injuries and he hasn't lost any weight! So we don't know where he was the whole time!
The lady who found our Teddy found the PawBoost alert for him, allowing for us to be reunited quickly."
---
Kitty: Lost Cat Reunited in Miami, FL!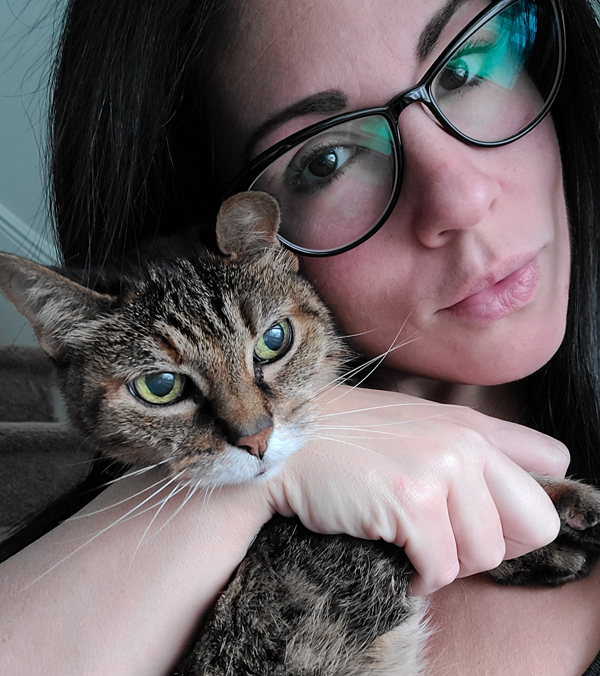 "Kitty has been an indoor cat for 19 years. Sometimes she will slip past us when we open the front door to smell the grass. We catch her right away. This time, my mom was loading something in the car and Kitty got out. She didn't notice. I got home three hours later and after an hour, I noticed she was missing. Every hour I would walk around my complex calling for her. I walked a total of 8 miles around my complex that day and 3 more the day after. I didn't sleep at all that night. The next day I made flyers and posted them around the complex. I walked around a few times and would go outside every hour or so and call for her.
The last time I went outside, it was around 7 or 8 pm. Looked to my left and I didn't see anything and then looked to my right. I saw a cat at a distance and I had a feeling it was her. I called out to her and she didn't respond. I ran to her calling her and there was no response. I got scared thinking that maybe it wasn't her until I got close enough to know that it was. She looked at me, looking lost and in shock. I picked her up and just sobbed uncontrollably with her in my arms. I know that she's old and I know she doesn't have a lot of time left in the world. If she were to pass at any time, I would want it to be at home with us – not in the street, alone and cold. That night we noticed that she had absolutely no hearing. We thought she was ignoring us or just deep in sleep when she would rest.
Everyone at PawBoost was so nice and shared my post and was genuinely concerned."
---
Found Dog Reunited in Houston, TX!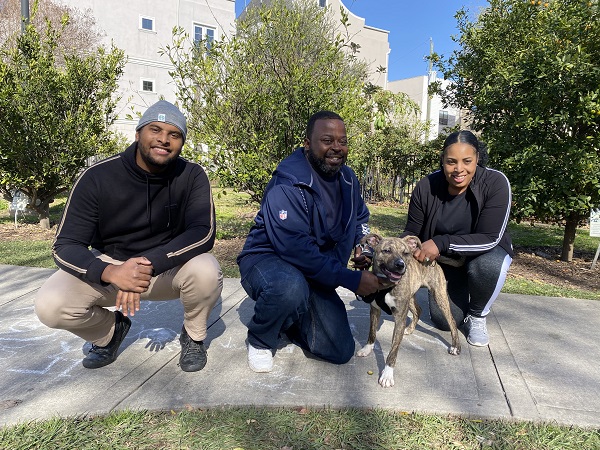 "Someone in my neighborhood found her running with a harness and leash on, and took her in until they could find the owners. A neighbor was able to hold her for 2 days, which gave me time to find another foster. I saw their posts on Nextdoor and our neighborhood Facebook group, went to meet her, and knew I had to help so she wouldn't be dropped off at a shelter. Houston has a serious overpopulation problem when it comes to stray dogs and cats, and I was afraid she wouldn't make it out alive if I didn't try to help her.
I posted on PawBoost and the owners sent me a direct message about the dog. I emailed them and they were very responsive; they sent me photos and video that helped confirm this was their dog. We spoke by phone and planned the reunion at a nearby park. The minute she heard her dad call her name, her ears perked up and she went running to him!
There are so many lost and found pet sites, but PawBoost is the one everyone is told to check first. PawBoost makes it easy for finders by cross-posting it to Facebook, creating flyers, etc. We have had several fosters over the last decade and this is the first time I've ever used PawBoost. It's also the first time I've been able to reunite a found dog with its family, despite it not having any tags or microchip. Her family had been searching for almost 4 weeks and saw my post!"
---
Yukon: Lost Dog Reunited in Castle Rock, CO!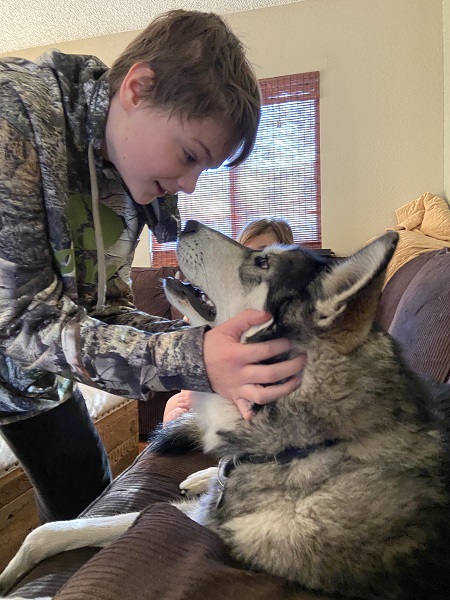 "Yukon was in all evening while we hung out. The town was doing fireworks which meant the neighbors would be too. He was very nervous throughout the night about the sporadic booms. It was really crazy around midnight and once it quieted down, we let him out to do his business. Then some neighbors let off some very loud ones, and he got spooked and went right over the fence.
We ran out front right away but he was nowhere to be seen. We searched for 2 hours. I called the police and they said they had picked up a dog in our area. They'd dropped it at the shelter and the dog would be available for pickup two days later.
I went to the shelter first thing in the morning, knowing that they weren't open to the public, but desperate to see if it was my dog and I could stop looking, knowing he was safe. It was not my dog. I immediately started posting on every site I could for lost dogs and local community groups. We searched every neighborhood around us, and some nowhere near us based on tips.
We went to bed again without him after 12 hours straight of searching. But there was no sleeping. We had our alarms set for an early search. I heard a few noises out front, but nothing too exciting. After turning the TV off at 2 and trying to force myself to sleep, I decided to just check the front door. There he was, curled up in a ball on the front step! He had eaten the food I left out and laid down. He probably scratched the door a couple times but I couldn't hear that in the basement.
PawBoost created so much awareness in my community and surrounding areas, allowing so many people to search posts and share tips while I searched."
---
Kendra: Found Dog Reunited in Los Angeles, CA!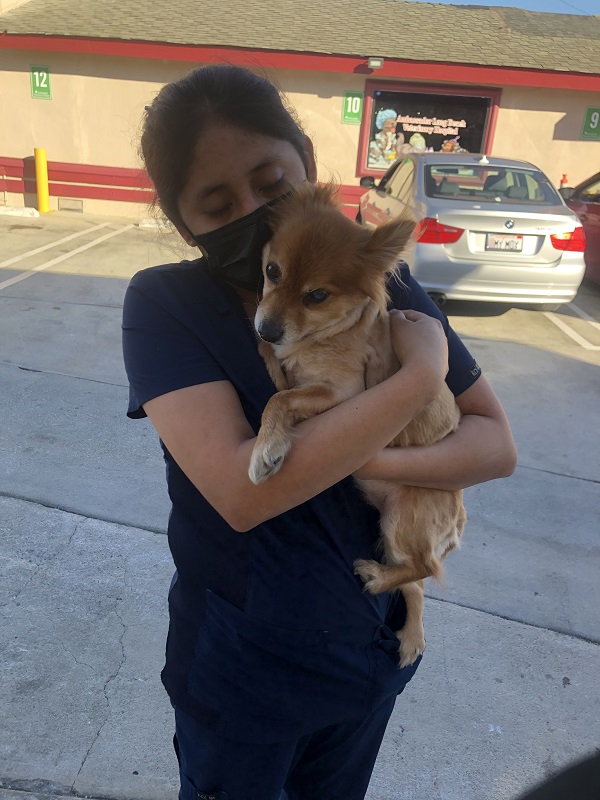 "I live next to an alley in South Central Los Angeles and the dog showed up out of nowhere while I was cleaning my garage. I did not have to follow her at all; she came to me. I just called her 'Baby' and she was not afraid. I pet her and within minutes she was in my arms licking my face. I took her to my apartment and showed her to my wife. She felt in love with her. She has wanted a dog just like her.
After taking her to the vet, we found out that she had a microchip. We put found dog posters around our neighborhood and walked her around to see if the owner showed up. No luck. The microchip was sold in Long Beach, CA – a bit far from South LA for a small dog. We Googled 'microchip finder' and it brought us to PawBoost. We wanted to keep her but we knew that she needed her family. We did a 2-hour search and found the owner on PawBoost as well. We scheduled a time to deliver the dog and everything else was just tears of joy. It was fast and easy to find Kendra's owner. Thanks PawBoost!"
---
Love these Happy Tails? We love sharing them! Click here to read more.