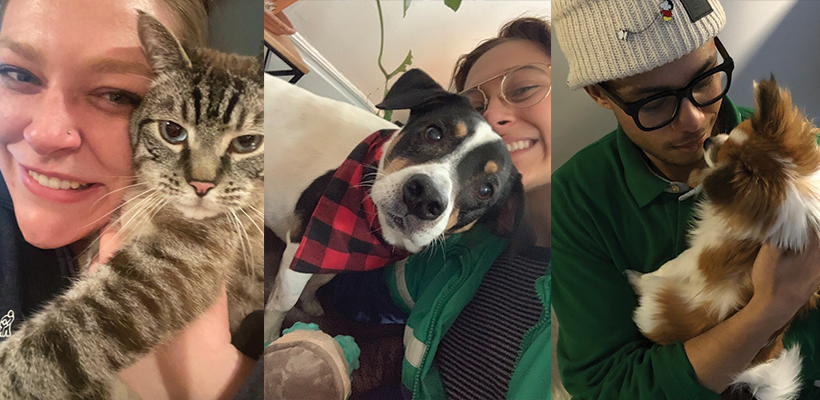 Featured Happy Tails! May 2021 – Lost & Found, Dogs, Cats & Pets That Were Reunited in May
Featured Happy Tails! May 2021 – Lost & Found, Dogs, Cats & Pets That Were Reunited in May
PawBoost loves to share happy endings! Check out May's Featured Happy Tails to learn how these fur babies were reunited with their families.
Love these Happy Tails? We love sharing them! Click here to read more.
---
Keithie: Lost Cat Reunited in Redwood City, CA!
---
Found Dogs Reunited in Columbia, SC!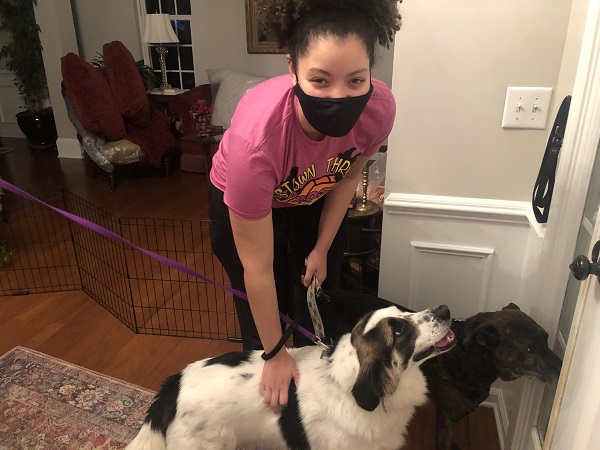 "They just wandered up to my deck. They were clearly someone's pets, so I kept them from leaving by blocking the stairs. We immediately posted on all of the local Facebook sites including PawBoost, in hopes that we could find the family. Fortunately a friend of a friend's friend recognized the dogs and called them.
We had the pups safely at home 30 hours later. There was lots of sharing, including fabulous posters and a Facebook message from the PawBoost alert! It turns out the owners were away for the weekend. They found out when they got home that the pups had dug out from under the fence.
Thanks to PawBoost for getting the word out. The more eyes you can get on a lost pet, the faster, the better!"
---
Bentley: Lost Cat Reunited Wichita, KS!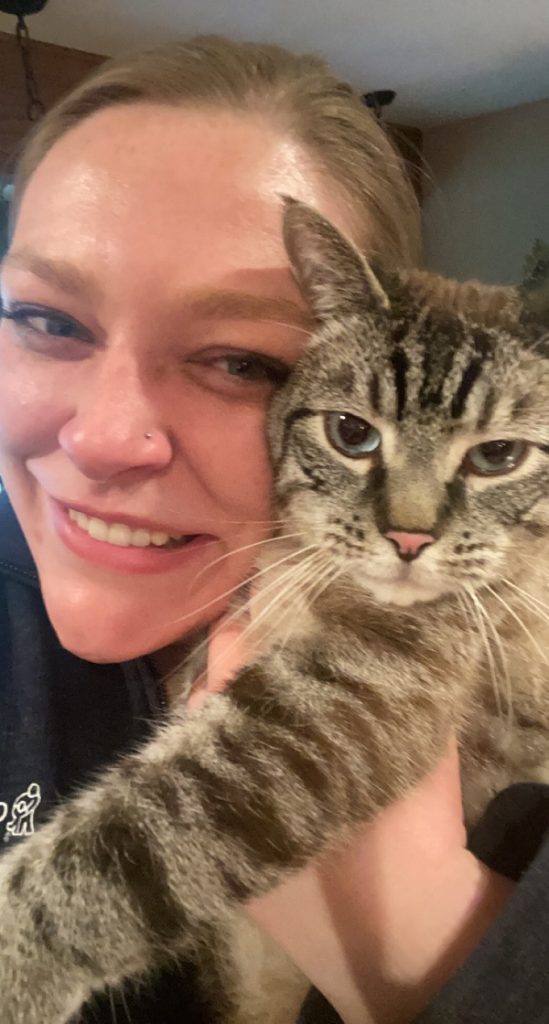 "Bentley escaped out of a door that got blown open by the wind. I searched for hours every day, getting up early, and staying up late. I walked all around the surrounding areas, shaking his bowl of food in the cold and pouring rain.
Then, one time I went outside to the backyard to call him before walking my normal five-house perimeter to look for him. I heard a meow and instantly knew it was his! I ran to the side of the house and found him trapped in the window well. I had checked there that morning with no luck, but he must have made his way back and fell in. I opened the window to get him out and he jumped into my arms.
We are so happy he's safe and sound! The articles PawBoost sent to me were very helpful and reassuring. The fact that I knew PawBoost had made him visible to a large following online made me feel more confident in his chances of coming home."
---
Woosha: Lost Dog Reunited New Orleans, LA!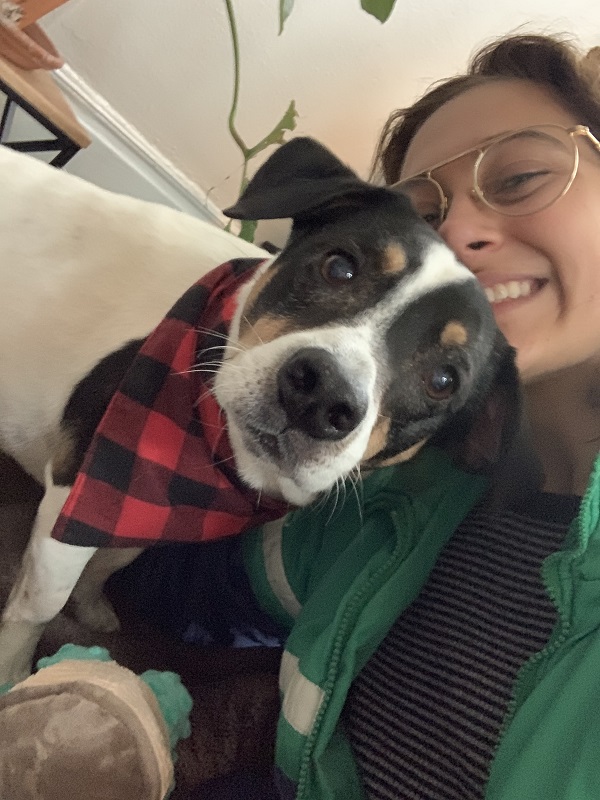 "We were about to leave for a walk and I went to grab something from the kitchen. Woosha had his harness and leash on. When I came back, the wind had blown my door open and Woosha had escaped! A couple picked him up, but they later let him back out on the street again! I assume they realized he was an older elderly dog and didn't want him.
A super sweet woman saw this couple letting him out and hurried over and grabbed him. She brought him to Petco for name tags and food bowls and then took him to the vet. Because of my PawBoost alert, people were able to reach out to me to say that they knew her and had seen my dog.
Thanks so much to PawBoost. The social media exposure is 100% the reason I got my pup back and back so fast!"
---
Gizmo: Lost Dog Reunited Edmonton, AB, Canada!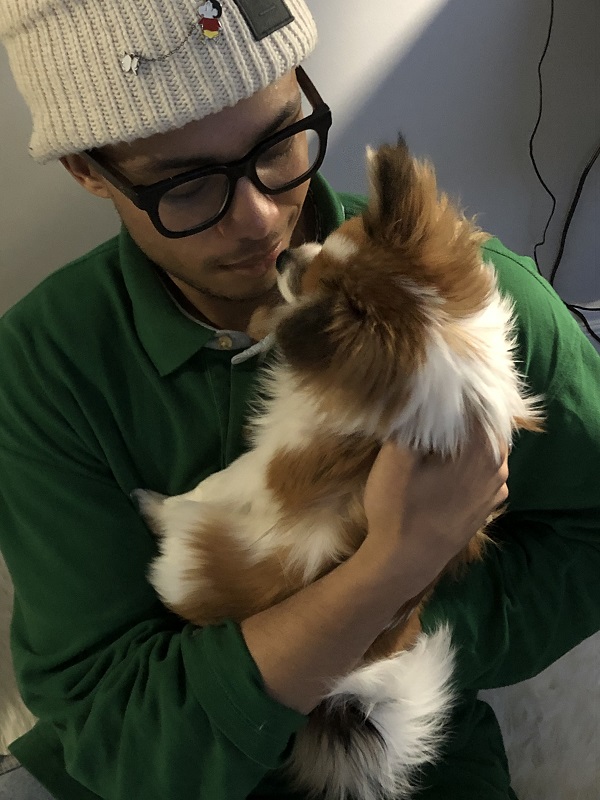 "I was walking Gizmo in the park and fell in the snow and lost control of his leash. When I got up and tried walking towards him, he was on his way back to our home. I lost his trail in front of the entrance of our condo complex.
I put up flyers in and around the condo complex and park. I received a text saying they got my info from a flyer placed in the condo building and they thought they had my dog. They were worried because he didn't eat anything all day and was not doing well. I immediately drove to the address provided that was 15-20 minutes away, and was happy that it was my Gizmo.
The info and support I received from PawBoost helped me throughout this horrible experience. It made me hopeful that whoever found my dog would return him to me and I was happy that they did. When I picked him up, they told me that he didn't eat anything all day. He was happy to be reunited, and after eating his homemade raw dog food, he was comfortable in bed and ready for his belly rubs.
The support received from the PawBoost community was amazing and gave me hope to stay positive that he would be returned. When I received the text that said they might have my dog, I was ecstatic."
---
Emma Mae: Found Cat Reunited in Lancaster, PA!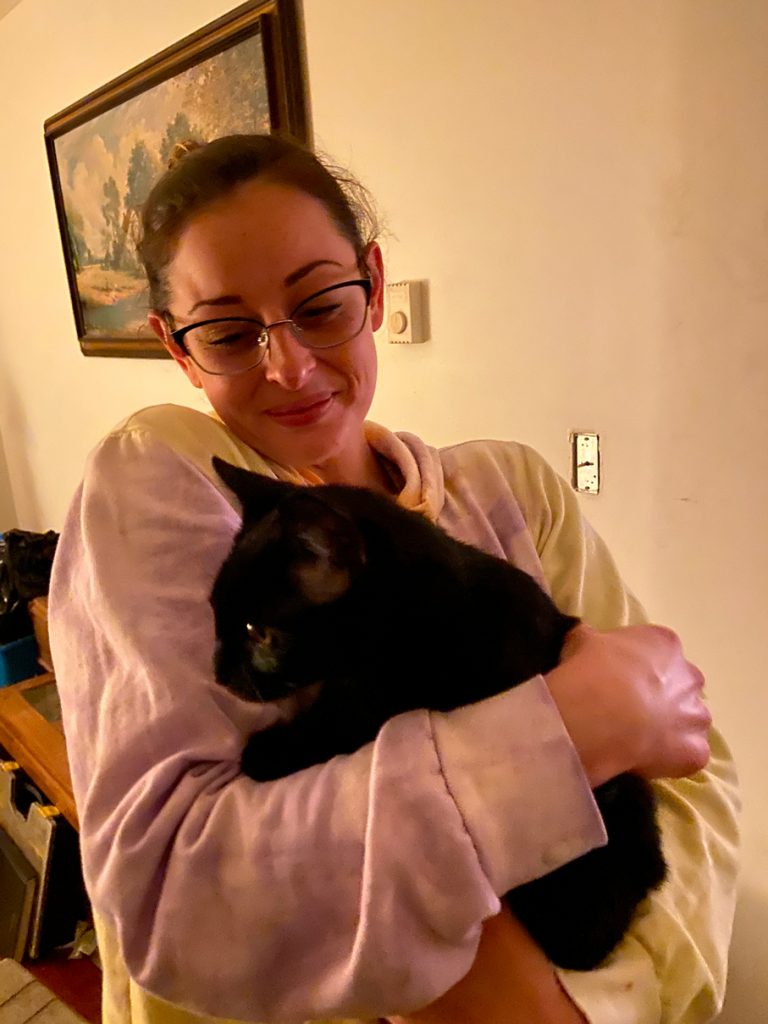 "She was surviving the winter by scavenging the food I had outside and in an insulated gazebo for the outside rescue cats I take care of. She walked in one night and I saw how beautiful and sweet she was. I knew she wasn't a stray or feral, but lost, as the story unfolds….
I knew I had to take action, fast. I contacted PawBoost and others to find her owners. In only about 12 hours later a relative saw the alert and contacted the owner, then me right after that. The owner briefly lived only houses away for 1 month on the very street I live on. This inside cat had gotten outside in the cold January weather! The owner looked everywhere, but couldn't find her and had to move in January, heartbroken without her.
This was around the time I saw this petite black cat wandering around in the backyard, eating the food I'd leave out for the stray cats in the neighborhood. The night before the rescue, she walked in as I was in there. She was friendly and purred as I pet her. My thoughts were, 'Now what am I going to do?' I started contacting lost and found groups. I found out later they were searching high and low for this cat, with no luck. They also contacted shelters and read lost and found ads.
When the owner contacted me earlier that day with a positive identification, I was on high alert that evening when she could come looking for food. I had a cat carrier in the gazebo waiting for her. The owner said when you see her, call her name. She came in the rain that night looking for food. I saw her outside the gazebo as I had a plate of food within reach.
After about an hour, I couldn't believe my eyes. I called out 'Emma Mae' as she answered with a soft meow. This was really her and my heart leapt for joy. I slowly picked her up and secured her in the carrier. I hurried to call the owner to give her the news she's been waiting for: her beloved cat is finally safe! I was off within minutes to deliver her back into the owner's arms.
I prayed to the Lord I needed a miracle to find her owner, as He answered my prayer very quickly that night. They were searching for almost 3 months, and found her just 12 hours after I posted the alert."
---
Love these Happy Tails? We love sharing them! Click here to read more.