Happy Tails! April 2018 – Lost & Found, Dogs, Cats & Pets That Were Reunited in April
Happy Tails! April 2018 – Lost & Found, Dogs, Cats & Pets That Were Reunited in April
PawBoost loves to share happy endings! Read April's Happy Tails to learn how these fur babies were reunited with their families.
Love these Happy Tails? We love sharing them! Click here to read more.
---
Noah: Lost Cat Reunited in Palm Harbor, FL!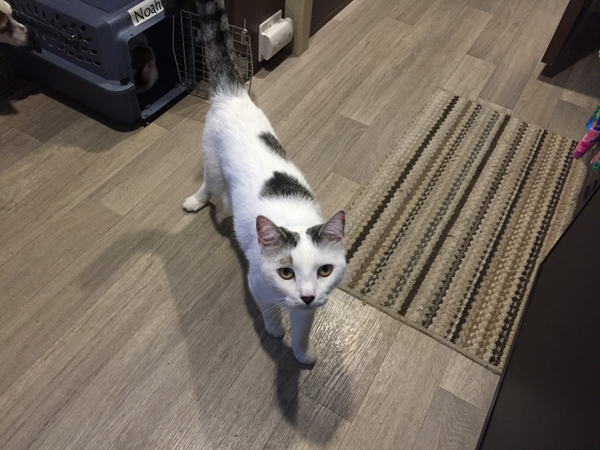 "At home in Franklin, NC Noah is an indoor cat. We were staying at an RV Park in Palm Harbor, FL for the month of February when one Monday morning Noah was out in our screen room when the garbage truck came. He totally panicked and tore through the underskirting and bolted across the creek that runs behind the park. His feet never even touched the water. He was flying.
My sister and I went looking for him, calling and rattling the treat bag but there was no sign of him. I immediately got busy making flyers and contacting animal shelters. Not being from this area, I had to do a google search for animal shelters and when I did PawBoost came up in the results. So I got on there and followed the prompts to get Noah listed as lost.
I received so many responses of people sharing the post and also many suggestions of what to do to increase my chances of finding him. People shared their success stories and what worked for them. They shared links to articles with invaluable information that I put to use.
As many people on PawBoost suggested, I put his dirty litter box out by where our neighbors saw him cross the creek. Monday, my sister and I have handed out about 50 flyers and walked and biked miles looking for him at all hours of the day. We looked in trees and under trailers and spread the word everywhere we went.
Then this morning I put some fresh tuna out by the litter box and as I was walking back toward my bike a lady, who lived next door to the home where the litter box was located, was out with her dog and I gave her a flyer.
This evening she called, very excited and said your cat is by the litter box meowing. I jumped in the car and flew over there and sure enough it was him!! It's been 6 days! He's thin and very hungry and thirsty but otherwise all good! I can't THANK YOU all enough for all your prayers, shares, encouragement and suggestions!! Miracles DO happen!"
Spread the good news! Thank you to everyone who shared Noah's alert. Your suggestions did the trick! His family is so grateful 🙂
---
Maebee: Lost Dog Reunited in Modesto, CA!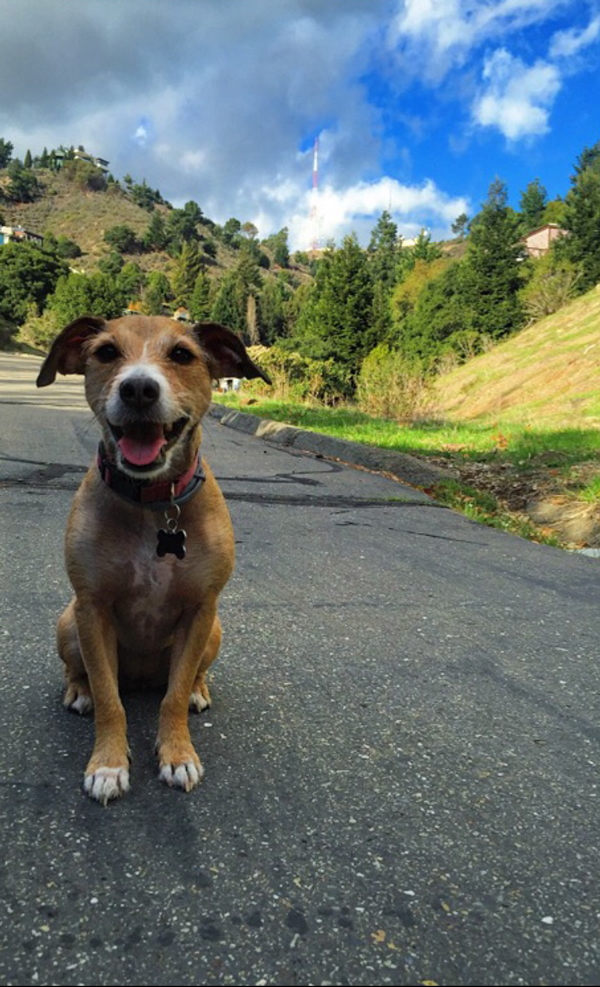 "Maebee was visiting her great-grandparents and slipped out of the front door when Great Grandpa wasn't looking. A little time after, everyone realized she was missing but we could not find her anywhere. Maebee's parents, grandparents, and great-grandparents spent hours walking around and talking to neighbors while posting ads online and flyers around the neighborhood.
After a long night of researching on the internet and reading articles about the best ways to find a dog, and even worse, how to cope with losing a pet, I was woken up by my girlfriend who had found a picture of an injured dog. I knew instantly it was Maebee. We rushed to Facebook and messaged the person who posted the message.
The wonderful person had already taken Maebee to the local vet early in the morning. As it seems, Maebee was probably attacked by a local farm animal. Being already shy and easily frightened, she probably hid and tended to her wounds for the rest of the day and into the night. At 4 am the next morning she was found scratching at a neighbor's door about a half mile away.
Maebee ended up with a broken tail, a ruptured eye, and a deep gash in her hind. Her tail will be docked, her eyeball will be enucleated, and her gash will require surgery and earnest attention. That being said, we are so lucky! No major bone breaks and no vital organs injured! She will be the same Maebee, just an eye and a tail short.
We are so thankful for everyone who helped look for her, everyone who helped care for her, and everyone who lent their positive thoughts towards her. She is an amazing puppy and that is obviously reflected by all the amazing people who love her.
Erica and I are so unbelievably happy to have her back. Although this is just the beginning of her journey to recovery, we are absolutely certain that us, the ones who love Maebee, but Maebee especially will turn out for the better. Thank you PawBoost and everyone who helped."
Spread the good news! Thank you to everyone who shared Maebee's alert. She is back with her family and now it's time to get her some love and care 🙂
---
Dora: Lost Cat Reunited in Conroe, TX!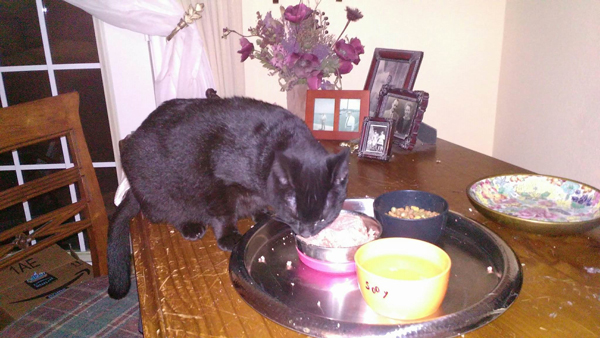 "Dora was a feral cat with new born kittens at my work place. I brought Dora home to recover with every intention of releasing her back, however she decided she liked the cushy life with 4 star meals a day, so she stayed. I then was told one of her kittens was a little sick and the folks had a child who was allergic to cats, so I went and picked the kitten up. She thrived under her mom's care and they were inseparable.
When I discovered PawBoost I was eager to share the photos of lost animals, and was thrilled when everyone was reunited, little did I know that I would soon be sharing my sad news that Dora was lost. Dora darted out the back door one day when a stray cat stuck her nose inside and ventured too close to her kitten.
That was it. Dora was gone. PawBoost to the rescue! Even just reporting her lost made me feel hopeful. I had messages from people that did not even live in the same state, but wished me luck, and messages from people down the road. She eventually turned up after a week, but was traumatized and although came to us, would not allow us to pick her up.
I decided on a Sunday that I had to try and trap her, but no one sold cat traps. You have to order them. I reported to PawBoost that we had located her, but she was not home yet. A perfect stranger emailed me and offered me a trap, and we started the never ending business of setting it up, and the never ending disappointment when the trapped animal turned out to be possums and raccoons.
Finally last night when I cleaned up the trap to return to the person who loaned it to me my son unbeknownst to me decided to try one more time and he caught her!!!! She is sitting on the bed now, owning the place reveling in the comfort of her 5 star hotel, and we are all thrilled. Thanks to PawBoost for their caring and fabulous website. I shall continue to share the photos they post and encourage everyone to do so."
Spread the good news! Thank you to everyone who shared Dora's alert. Thank you so much, also to Deanna who provided the cat trap. She is home safe and sound 🙂
---
Napo: Found Dog Reunited in San Antonio, TX!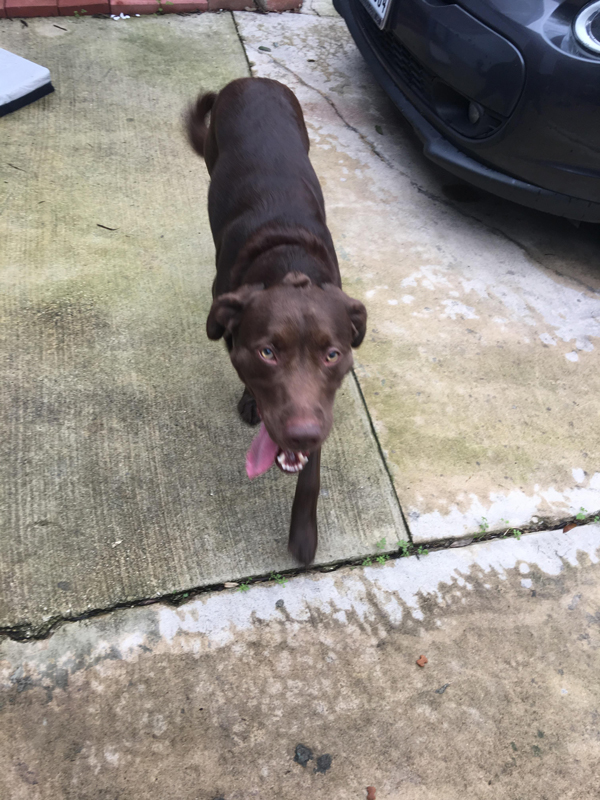 "I was opening the front door to take my two rescue pups on a morning walk when I saw Napo in our front yard without a leash. Instantly, I left my pups inside and walked out, hoping to reach him in time. Napo's tail was wagging and he was sniffing everything.
I approached him slowly and gave him time to become familiar with my presence. I feared he would run off and risk furthering himself from home or end up hurt crossing busy roads, but he eventually let me pet him and I was able to hang on to his collar and put a leash on him.
First, we walked all over the neighborhood going door to door hoping to find his owner or someone who knew where his home was. With no luck, I took Napo to the vet to check for a microchip, as he had no tags or name on his collar. Again, no luck.
I then posted on a Facebook neighborhood page, and checked other lost/found pet pages. I found PawBoost through this social media platform and made an account immediately for Napo. The process was extremely user-friendly and immensely convenient.
While waiting, I called local shelters and left my number and information on Napo. That same afternoon, we drove around nearby neighborhoods going door to door, when I received a phone call from a shelter informing me a man was looking for Napo.
Napo's story is a miracle and I truly believe we were meant to find each other. In reuniting him with his Dad, there were tears as the owner informed us he was only visiting San Antonio. He had driven to San Antonio and Napo jumped out of the car near the Alamo.
PawBoost was extremely effective! Within minutes of completing the post through the app, I received several comment notifications and multiple shares—and the best part, there is a level of confidentiality to the post as it is not shared under your name, while still remaining public to reach a larger audience. Thank you for helping!"
Spread the good news! Thank you to everyone who shared Napo's alert. His pet parent was returning home to Michigan the next morning. Many reunions take place over several days, weeks or months — but Napo was home in less than 1 day!
---
Chunk: Lost Dog Reunited in Clarksville, TN!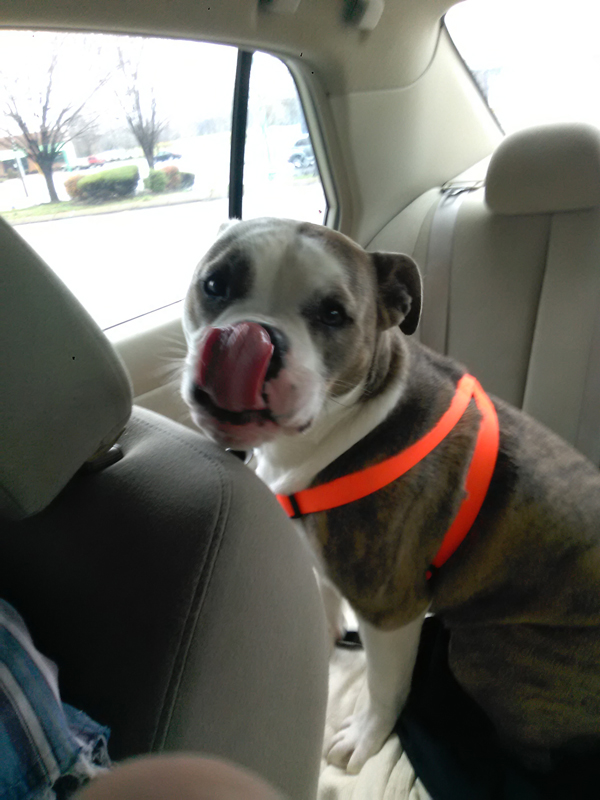 "Chunk is someone that Harry Houdini could have learned tricks from. He has escaped his collar a few times despite how we have tried various tricks to prevent this from happening. So, he went back to being an inside dog.
However, when my hubby let him out on his line for 10 minutes to go do what dogs do, he managed to wrap the line around a bush and thus pull his collar off, again. We yelled for him repeatedly, drove around the area the next morning because usually he returns. Well, either he returns on his own, our neighbor's dog returns him, or someone else. This time… he didn't.
I posted the information on PawBoost last night with a picture. I received a text less than two hours later from a wonderful lady telling me that he was at the shelter. I also received a couple of other alerts from PawBoost about where he was. We received a call from the shelter about 8ish informing us that he was there and that we could get him then.
We went there, filled out paperwork, then the lady brought him to us. My face is now licked clean thanks to him. He's now happily at home with his older brother. He also now has a bright orange harness so he hopefully doesn't escape (again).
I would recommend PawBoost to any and everyone. If it was not for PawBoost I don't know if we would have ever seen our four-legged son again. A thousand thank yous to everyone who worked to get our son back home."
Spread the good news! Thank you to everyone who shared Chunk's alert. Chunk is happy to be home with his family. Hopefully in the future there are no more escapes 🙂
---
Daisy: Lost Dog Reunited in Escondido, CA!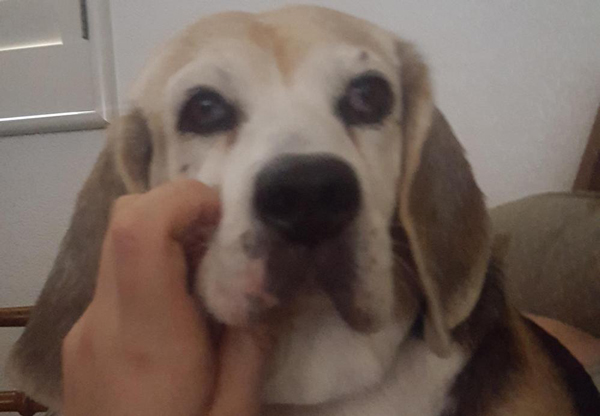 "We installed a temporary screen door for use during the hot weather, however, it was not the correct fit for the door. If the front door was shut when the screen door was up against it, the door would not latch properly. My son-in-law had gone to a neighbor's house and did not realize that the door did not latch behind him. It was when I prepared the dogs' evening meal that we realized that she was not in the house.
I immediately posted her missing on Nextdoor and someone there suggested that I check for her on PawBoost because a beagle was found in the same area where we live. I had never hear of it, but checked it out and lo, and behold, there was her picture, mistakenly identified as a male.
Unfortunately, the link did not provide a telephone number for her rescuer and they did not respond until about 9:00 Sunday morning. Between Nextdoor and PawBoost, and lots of caring people, we are one happy family to have had our Daisy delivered to our doorstep by the rescuers.
I would most definitely recommend PawBoost because within just a couple of hours of discovering her missing, we knew that some kind soul had posted her as found, showing a great picture of her. This at least let us know that she had not met an untimely end after getting out on some very busy streets! Pet owners appreciate any tool available that will allow them to be reunited with their fur babies! Thanks for making this tool available!"
Spread the good news! Thank you everyone for sharing Daisy's alert and especially to the folks who kept her safe until she could be safely returned to her owners. They are one happy and relieved family! 🙂
---
Jonah: Lost Cat Reunited in Charleston, SC!
"Jonah hasn't ever shown any signs of wanting to go outside, but while I was watching TV downstairs he went upstairs. That night I had the window opened and I think Jonah was on the tree looking out. When I went up to bed, I noticed the screen in that window just dangling, and no Jonah. The front door is just below that window and when I went out, a train went by and I saw Jonah running away.
I looked for Jonah most of the night. I made flyers and put them all in mailrooms, dog waste stations, etc. I posted a notice on Nextdoor, and someone there suggested posting on PawBoost, which I did.
Although I had some possible sightings, I didn't have any confirmed sightings after a week. I purchased a trap and I put it out at night, but didn't have any luck with that. About day 12 I purchased a wildlife camera and set it up at night near the trap. Sure enough, Jonah was visiting the trap but apparently was afraid to go in.
I set up a motion detector on the trap so that I would be alerted when there was any motion in the trap (or around it). For two nights, I found him by the trap, but he ran away. The next night I waited on my back porch around the same time and sure enough saw Jonah pop out of the wooded area in the back.
I tried to get him to come to me, but he eventually ran off even when I was throwing out treats. The next night the same thing happened, but later the motion detector went off and I went out, Jonah was there.
He ran, but this time didn't run out of sight. I started talking to him, and he started talking back to me. At that moment, I felt something had changed, and he knew who I was and was ready to come home. It took me 45 minutes of talking to him, while he gradually inched closer and closer.
I would definitely recommend PawBoost because it is a well known site for missing pets. One of my rescue friends who lives 20+ miles away and had seen the posting. The more people who are looking the better."
Spread the good news! Thank you to everyone who shared Jonah's alert. His pet parent has been in awe by all of the really caring people! 🙂
---
Jasmine: Found Cat Reunited in San Antonio, TX!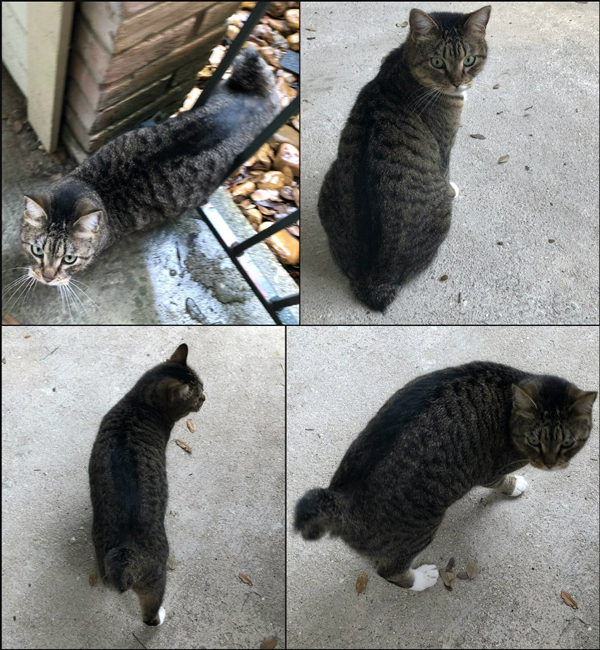 "Jasmine starting coming on my porch about a week ago. I always keep food for the feral cats at my apartment complex or whatever animal that comes up on my porch to eat or drink water. So when Jasmine came on my porch, I just knew that she was not an outdoor cat. Especially when she started meowing to me. It was almost as if she were trying to talk my language.
So what I did was start going on the internet and googled the term 'Lost Manx cats in San Antonio.' That was my first step in helping Jasmine. I also posted on NextDoor and then I saw your site and really liked it, so I posted on it and got so many likes and shares on my Facebook page; that interest and support made me more determined than ever to help that sweet girl.
Then today, I took Jasmine to the nearest veterinary hospital and they scanned her for a microchip and lo and behold, Jasmine was in the system. Now I realize more than ever the importance of microchips for our pets! It really was instrumental in getting Jasmine back to her owner!
I would most certainly recommend PawBoost to anyone looking for their animal. It truly gave me that boost that I needed, to do what I had to do to help Jasmine! With so many likes and shares, it truly kept me motivated and determined not to give up! This is such an organized and professional site that I would definitely use again!"
Spread the good news! Thank you so much to everyone that helped share Jasmine's alert. All of you are so awesome beyond words! This story helps to remind us the importance of microchipping our fur babies and keeping the information up-to-date 🙂
---
Dakota: Lost Dog Reunited in Hampton Township, PA!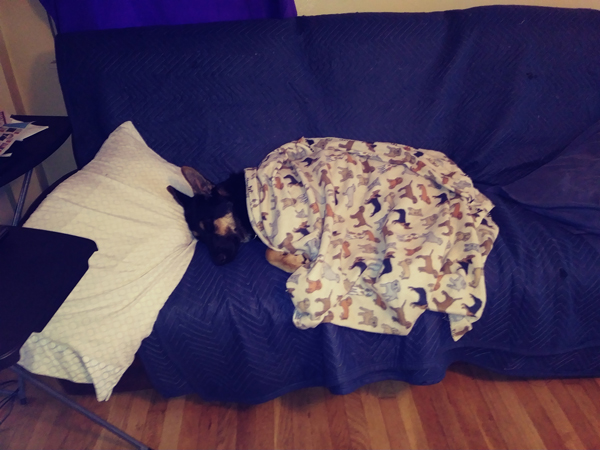 "Dakota went missing when my son & I were bringing groceries in through the gate. We didn't realize until we went to check on him that the gate had accidentally been left open, hence he was gone!
We were reunited because of our amazing neighbors/community worked together by sharing his story. We were contacted by an individual Friday morning that he had seen a post in another group that a Shepherd was seen last night. This kind person provided the location!
We had driven to the area & I left my number with the mailman whom called just minutes later. A kind woman had Dakota secure on a leash after he followed her neighbor across the street to her house. When we arrived this kind gentleman said Dakota was on his porch this morning.
Honestly, it's amazing how many people came together to help. We are very grateful to everyone, from our neighbor's to strangers and their neighbors. If it weren't for all of them we wouldn't have Dakota home. What a wonderful community of people!
PawBoost was a big help by posting Dakota's lost alert in their lost & found to create awareness! You created the flyers & the necessary platform our family needed to report our boy missing. This was an emotional process. Thank you PawBoost for getting us through it!"
Spread the good news! Thank you to everyone who shared Dakota's alert. Because of your help Dakota is home safe with his family 🙂
---
Cooper: Lost Dog Reunited in Lone Tree, CO!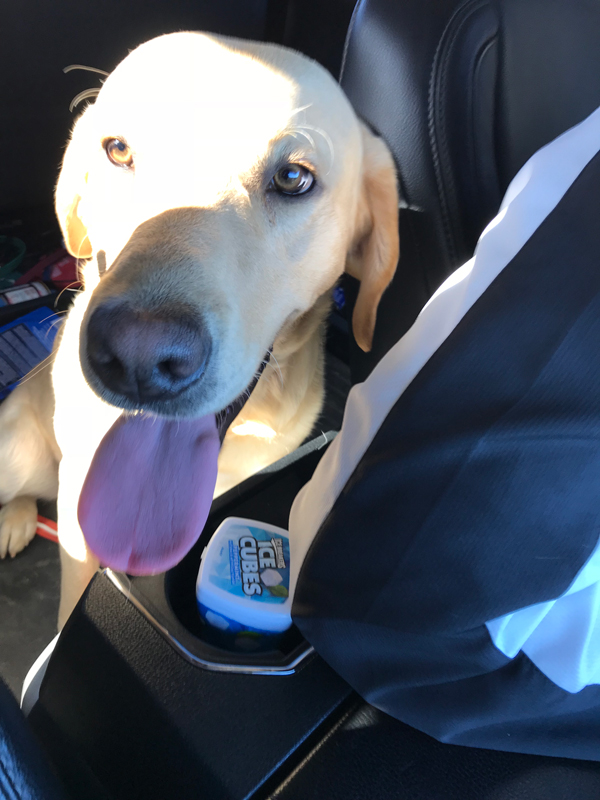 "Cooper escaped from our back yard for the first time ever. After some detective work, we discovered our gate to be unlatched. In the hustle and bustle of doing dinner and kids doing homework, we thought he was with the kids and the kids thought he was with us. It was a couple of hours before we realized Cooper wasn't home.
This morning I received a call from Douglas county sheriff's office that a yellow lab in our area was indeed transported by a police officer to the Dumb Friends League last night. We were relieved to know he didn't spend the night in the cold but in fact in a safe, warm, and loving environment.
I would recommend PawBoost to others. Our dogs are like our kids and we would utilize any means possible to find them! PawBoost only took a couple of minutes to get going with an easy and quick set up. It was not long before people were sharing and sending well wishes and encouragement.
Thank you for this service! Never being in the position of losing a dog before, it was comforting to find your service and an additional outlet to spread the word. I know that not all families get a happy reunion and that breaks my heart. This experience has ensured me that there are good, caring people out there.
And lesson learned, if one of your dogs chews off the other's collar, get those tags replaced immediately! Because if we had done just that Cooper probably would have been home last night, and his human family would have gotten some sleep."
Spread the good news! Thank you to everyone who shared Cooper's alert. He was found by a local police officer and delivered to the good people at the Dumb Friends League in Castle Rock. Thank you for everyone's efforts, much appreciated! 🙂
---
Julie: Lost Dog Reunited in Beaverton, OR!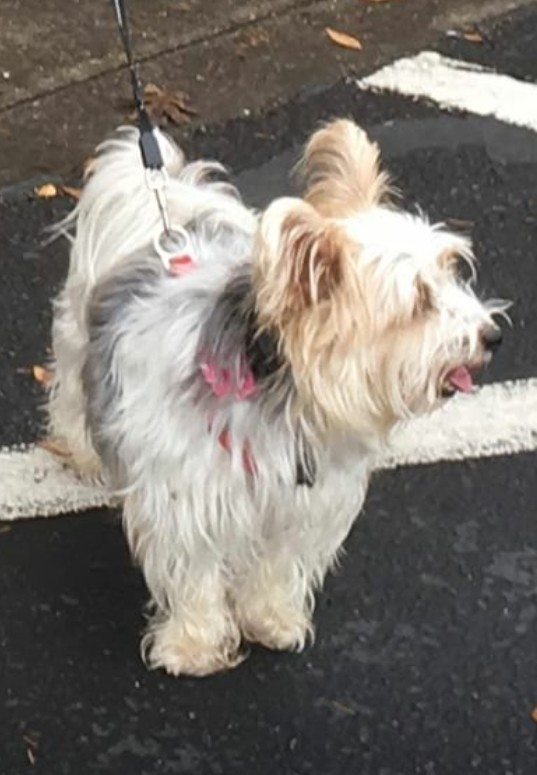 "While we were at work late one afternoon, Julie snuck under a fence following her dog friend that helped her dig it and then left her familiar area. We put an alert on PawBoost and lost and found Washington county, called non-emergency police, vet clinics and the county animal shelter.
I created a Facebook page and we also posted a gazillion posters in the community and worked with a group of 5-6 people constantly checking on tips and calls of anyone spotting a dog that seemed like Julie in 5 mile radius from her home. On sighting number 5 of day 11, someone posted that they saw a dog that looked like her 1 mile from home.
We went to search the area and on the way there got a call from the county deputy that she was picked up close to that location and we could get her from the county shelter. We reached the shelter 30 minutes later and were reunited. The experience was emotional and we met a great group of enthusiastic people that rescue lost pets daily.
PawBoost brought awareness, a great poster, triggered a group of people on another app and connected us with volunteers. PawBoost was great all along the way, and we saw encouragement in all the success stories when our despair picked up. Thank you!"
Spread the good news! Thank you to everyone who shared Julie's alert. Julie is home safe thanks to everyone's helpful tips and moral support 🙂
---
Dudley: Lost Cat Reunited in Sneads Ferry, NC!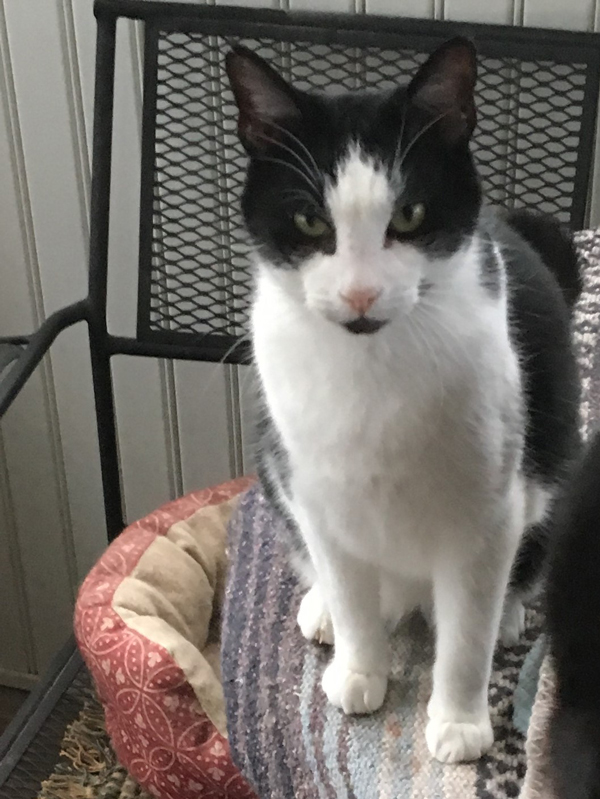 "Dudley spent the first 6 years of his life outdoors on a 25-acre farm in Tennessee. After we moved back here from Tennessee, the pet sitter accidentally let him out while we were on vacation last summer. He was gone for 10 days. Then, the sitter alerted PawBoost, but upon our return I was able to capture him in a trap from the animal shelter.
Last Wednesday, I decided to try taking him out on a leash. However, a noise from all the construction around us frightened him and he bolted just as I had set the leash down to get it out from under his belly. He is like Dr. Jekyll and Mr. Hyde. Inside, he is a sweet lovable cat, but outside he wants his wild animal freedom.
Since his last escape, I now have cameras all around outside the house and some inside. I tried for two nights to use a capture cage again, but he was too smart to be caught in it a second time. The third evening I opened the garage door about 6 inches, put out his old bed, other clothes with his and my odor on them, his litter box, food and water inside the garage.
I retrieved a garage door opener from one of my cars and made sure that when I pressed the button, the door would go down and not up. For two nights I was able to observe him come in to eat, but the videos weren't live. The third night, I missed him again at 10:54 pm, so I decided to stay up and see if he would come in again.
Around midnight I kept dozing off sitting on the couch in the living room, but then at 12:30 I woke up and saw him on live camera eating. I pressed the door opener button, the door closed, it frightened him, but a minute later he acted as if nothing ever happened.
PawBoost brought comments from concerned neighbors who gave me a few ideas, particularly about where he might be and things to put out to draw him back. Concerned viewers/members of PawBoost can give objective advice on what to do to reunite pets."
Spread the good news! Thank you to everyone who shared Dudley's alert. Dudley is home safe & sound, hopefully for good now 🙂
---
Shea: Lost Dog Reunited in Brandon, IA!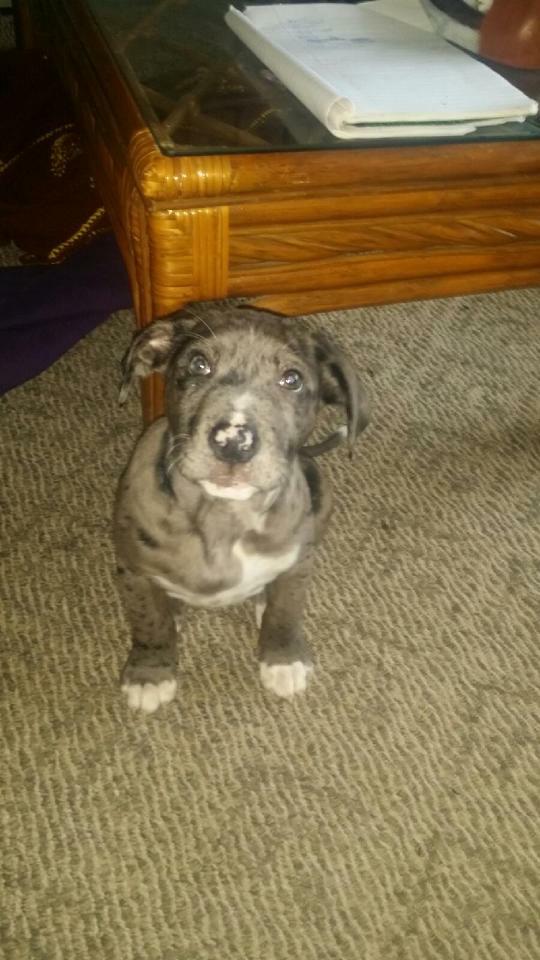 My roommate went outside of our apartment building to do some cleaning and as usual he left the door open so that he could see the dogs. Well one of the big dogs hit the handle and opened the door. All three of the dogs got out including Shea.
We don't live in a heavily populated area so it really wasn't dire that she was outside and she typically stayed connected at the hip with one of the older dogs. Well when he turned around less than a minute later Shea was absolutely nowhere to be found. We searched for hours after that and that turned into three days.
A nice lady picked up Shea. Shea was hiding covered in mud and shaking. The only thing that we can think of is something scared her enough that she ran. She also has a habit of chasing squirrels so we aren't 100% sure why she hid. The nice lady luckily picked Shea up on Friday night and took her home.
On Monday, she saw the ads that were posted all over Facebook that were shared by my friends. She called me up and reported that she had my puppy and that I could come and get her. I strongly believe it was all the advertising that PawBoost did on Facebook and other ways that helped us get Shea back.
I highly recommend PawBoost to my friends because when a pet goes missing there are just so many things that you as the owner aren't aware that you can do. From making flyers to getting people to look at her ad, in this case over 36,600 people saw Shea's ad in less than three days. That in itself is completely impressive.
There was nothing that this service didn't cover. People don't realize how many hours go into finding a lost pet and PawBoost made it so simple."
Spread the good news! Thank you to everyone who shared Shea's alert. Her pet parent can't begin to thank the people that helped her find her puppy 🙂
---
Olive: Lost Dog Reunited in Tucson, AZ!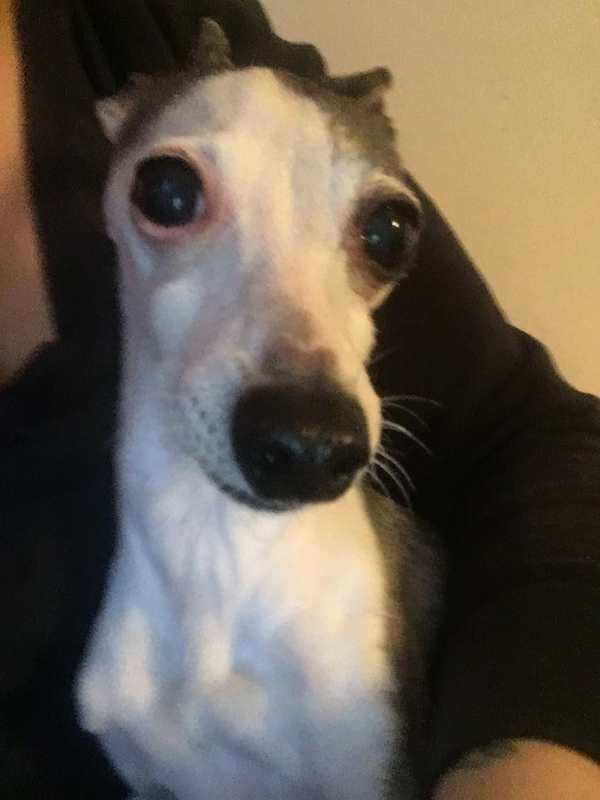 "Olive went missing when she snuck out of the front door as my mom was checking out our next door neighbor's trimming their tree. Olive doesn't like loud noises and they were using a loud chainsaw, plus the truck they were using to lift the trimmers had very loud warning beeps that we're sure frightened Olive.
Olive was found crossing a busy intersection with another dog. The other dog was struck by a car and unfortunately passed. Several motorists and pedestrians chased Olive and cornered her in a business's parking lot. She was very frightened and tried escaping several times, but she was eventually caught.
Olive had our home address and all of my contact phone numbers on her collar, but she was missing her collar by the time she was captured. Her rescuer took her home and the next day she went to see if Olive had a microchip. Olive is microchipped and the chip company was informed the previous day that she was missing. The microchip company called me to let me know she had been picked up and that she was OK.
PawBoost helped because I was able to get her picture and pertinent information out to people in my neighborhood online, and quickly. I had lots of promising leads from people who saw her PawBoost alert in their feed. I would recommend PawBoost to not only my friends, but to everyone!
It was a quick and a convenient way for people in my community to see info about Olive. and I think this was one tool that I utilized, combined with contacting my local shelters, patrolling the neighborhood, and getting her info to online communities, that helped get my baby home."
Spread the good news! Thank you to everyone who shared Olive's alert. A special thank you to those who helped catch her and bring her home! 🙂
---
Taco: Lost Cat Reunited in Ada, MI!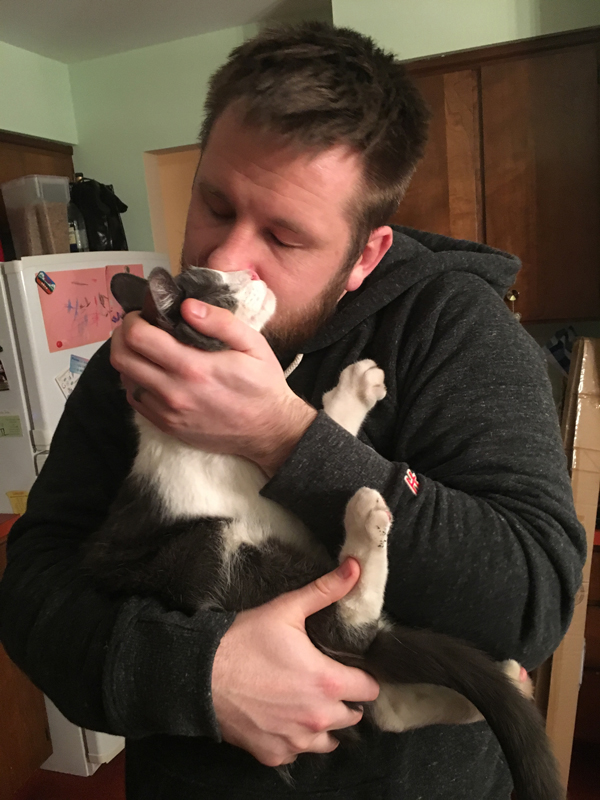 "Taco is strictly an indoor cat. We recently moved into a new house in a new city, and found out the hard way that even though our front door seems closed, it can be pushed open by curious cats. Taco wandered out at some point and being that he's a skittish indoor cat most likely panicked, ran somewhere and hid.
Over the course of his time outside we got a lot of snow, so Taco likely found somewhere warm enough to hide and stayed out. The poor guy is from Los Angeles so I'm sure he didn't appreciate the cold.
Over a month later, I was up watching TV on our couch late one night and all of a sudden our other cat Tilly started scratching at our sliding door and hissing. I hopped up and checked to see what fired Tilly up, she has recently been getting riled up at a different neighborhood cat so I assumed it was that, but amazingly it was Taco.
I flung the door open fast enough to scare Taco so he ran around to the front of our house. I followed him to the front and saw him nestle under some thick bushes in our front yard. I laid on the ground trying to coax him out, which seemed to take a long time but might have just felt that way because I was barefoot ,in shorts and a t-shirt in sub-freezing weather. Once he got close enough to recognize me, his skittishness subsided and he happily came to me.
He's home and happy now, much dirtier and skinnier, but happy none the less. PawBoost kept in regular contact and continued to promote Taco's information. Just knowing there was an organization with real people helping with the search was very encouraging. We would definitely recommend contacting PawBoost immediately if a pet goes missing!"
Spread the good news! Thank you to everyone who shared Taco's alert. He was somewhere in the freezing weather for over a month and suddenly appeared on the back deck. What a miracle?! 🙂
---
Mufasa: Lost Cat Reunited in Macedonia, OH!
"One Wednesday, Mufasa escaped and he was missing within 10 minutes. It was the day before we had severe snowstorms and freezing temperatures. I went knocking on doors and posted over 25 flyers and huge posters in my neighborhood.
I checked all lost and found animal sites each day. I have a Petsmart really close to me, so I would go there on Saturdays because Forever Friends Foundation would bring strays to adopt there. I posted a flyer on the lost and found board they had at the store.
I had several neighbors following and sharing my posts I put out. Well one of my neighbors from the Macedonia area Facebook neighborhood watch was driving down my street a couple times a week to see if she could spot him and checked other neighborhood streets.
She was in Petsmart and looked at the cats for adoption and as she looked at Mufasa she said to herself, 'I know this cat.' She brought up one of my posts and sure enough it was him.
She called me and I met her there and I couldn't believe my eyes it was him. I had to get a hold of the lady that runs Forever Friends Foundation to tell her that was my cat and I could prove it. They had me adopt him. It was like paying to bail him out of jail, but I was so happy I didn't even care about the cost. He was alive and well.
He was 10lbs lighter but healthy. When he saw me, he was pawing at the glass and couldn't wait to get out of the cage and into my arms. He was in a cat lady's backyard and kept wanting inside, but she had several cats inside and didn't want to bring another one. She called the FFF in Northfield Ohio and they picked him up from her. They had him in 3 different foster homes and then was brought to Petsmart for adoption.
He was missing for 3 months I kept looking, posting and updating his status on all animal website's including PawBoost. I would recommend you to anyone looking for their lost pet."
Spread the good news! Thanks to everyone who shared Mufasa's alert. Never give up hope, Mufasa was reunited after three, long months 🙂
---
Sugar: Lost Dog Reunited in Wichita, KS!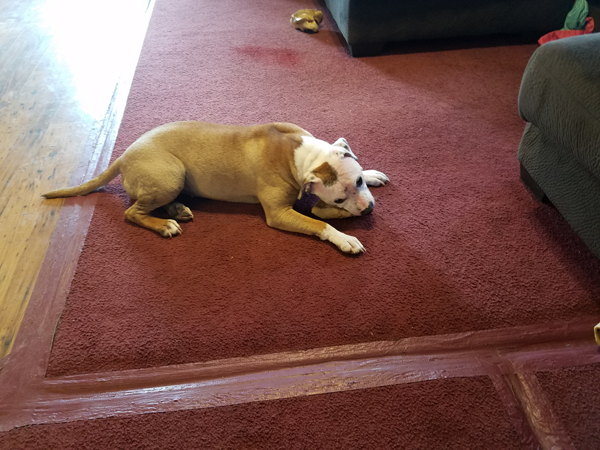 "Sugar went missing on a Thursday when my husband Shad was out repairing the separation fence. I was at work and he should have been resting since he just had surgery a few days before. We were scheduled to leave for a vacation which we were taking his parents on in a few days.
While he was out there with the outer gate open he became faint and had to sit down for a minute. Our oldest pit Daisy started barking at him and he noticed that the rest of our dogs had gotten through the separation fence! After he put Daisy and the two others back in the fence he started looking for Sugar and our other pit Lady.
While he was driving on the next block over a lady who lives one block east of us told him that she had just seen 2 dogs heading west along the train tracks. He found our pit Lady sitting in our yard but no sign of Sugar. He kept searching the neighborhood until it was too dark to search. That's when he started posting to Facebook.
The next couple of days we continued to search for Sugar by driving the neighborhood, checking at our local animal shelter and continuing to post on all the lost animal sites. We even had a search party organized by a member of the Wichita Area Jeeples group come over on a Sunday morning.
We were on vacation until late on Thursday, one week from the day that Sugar went missing! That Sunday we got a phone call on messenger from the same lady that Shad had talked to. This lady stated that Sugar had just walked into her house with her dog. I asked her to send us a picture to make sure it was Sugar and sure enough it was her!
PawBoost gave us another option to get our plea for her safe return out to the public when we felt so helpless. We would recommend PawBoost to others who have to go through the agonizing search for their lost pet. Thank you to everyone at PawBoost for providing such a great service to all of us pet lovers who go through this unfortunate experience."
Spread the good news! Thank you to everyone who shared Sugar's alert. Sugar's family appreciates all of the support 🙂
---
Bo Bo: Lost Dog Reunited in Lakeland, FL!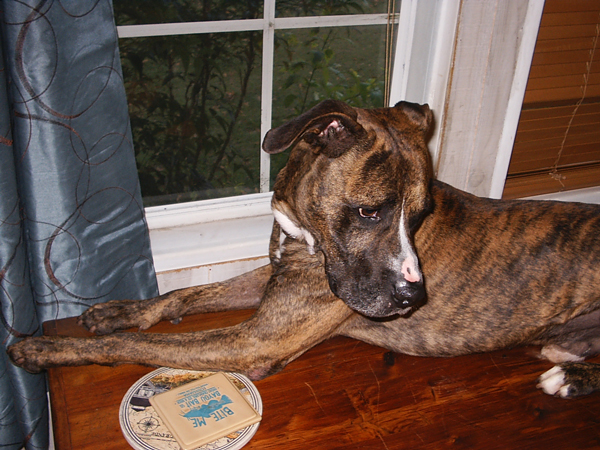 "In the 4-5 years since his rescue, Bo Bo has always been super obedient and after his first year he was able to be let out for potty while we stood on the porch watching. I do not know what took our attention away but he was gone. Within minutes we began an extensive search on foot and by car yelling all the while with no success.
We sent our poster to 7 Pol County and Hillsborough County lost pet sites and we notified the SPCA of both counties. Then we notified PawBoost and similar sites, taped/stapled flyers with his pictures to telephone poles and dropped off flyers at local vets offices and convenience stores.
In the end, Lori an alert worker from Hillsborough County gave us a call recognizing him from his pictures and the collar and bandana description. We were astounded at the thousands of views and hundreds of shares we got in one day from PawBoost. We have always shared your local posts and will continue to do so."
Spread the good news! Thank you to all of the pet lovers who shared Bo Bo's alert. Thank you PRC & Hillsborough County Animal Shelter for helping Bo Bo. His family can't tell you how relieved and happy they are 🙂
---
Galileo: Lost Cat Reunited in Redondo Beach, CA!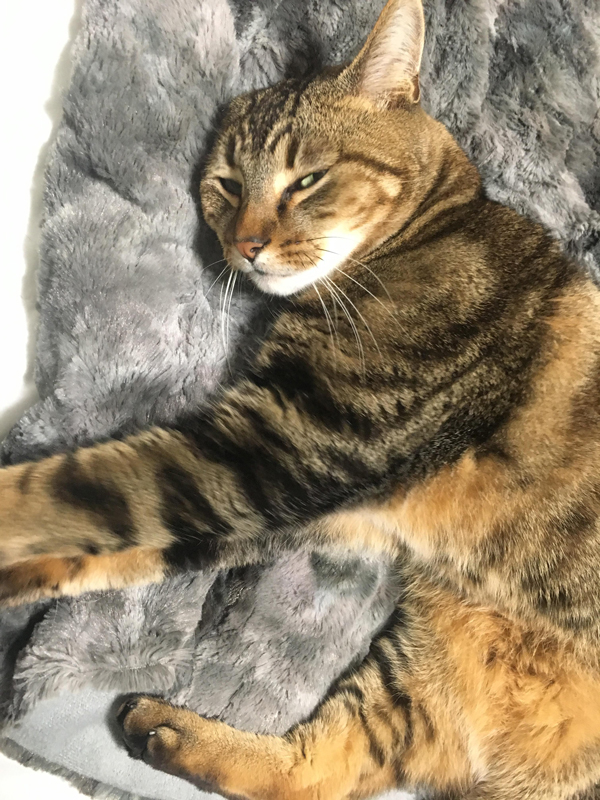 "We had just moved into our new apartment only 6 weeks prior to Galileo going missing. Although he is an indoor/outdoor cat who has been kept exclusively inside for our first 3 weeks here, he got out at night during a rainstorm. When he hadn't returned by the next morning, we became extremely concerned and started looking for him immediately.
Believe it or not, over the 4.5 days that Galileo was gone from home, he had traveled the 3.5 miles back to our old place! Our previous neighbor, who knew he was missing from social media, caught him in her backyard.
PawBoost was a great resource connecting me with concerned and helpful neighbors in both our old and new neighborhoods! I definitely would recommend PawBoost, because It's a nice community of people who are willing to help by providing you with advice and support."
Spread the good news! Thank you to everyone who shared Galileo's alert. Galileo has been found safe and is adjusting to the new place 🙂
---
Found Dog Reunited in Clarksburg, WV!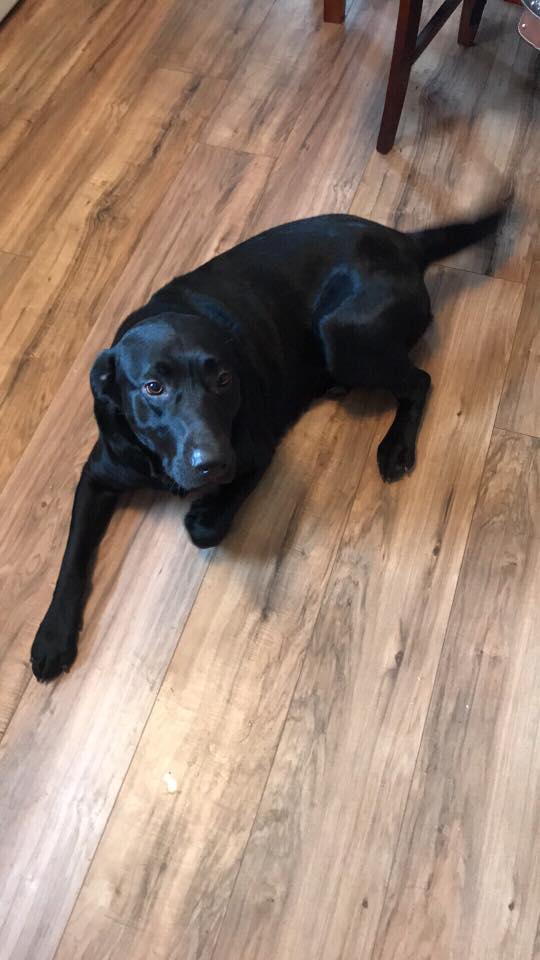 "We found this dog on the road near our home. We took him some food and a dry towel as it was raining and he followed us back to our house. We advertised the found dog in the local newspaper and posted flyers near our home.
We listed him on NextDoor and PawBoost. We also kept contact with the local Humane Society and Animal Control in case the owners contacted them. The most beneficial thing we did was to post the found dog on Facebook and PawBoost.
Eventually the owner was found through a friend who saw a posting on Facebook and connected us. Not only did PawBoost post to social media for us, which is the best way to reach a large audience, but they let everyone know when his owner had been found so that everyone who was worried and helped could then feel at ease."
Spread the good news! Thank you to everyone who helped share this pup's alert. It's not easy to take in a lost pet and find their owner, but when the reunion happens it's all worth it 🙂
---
Chiquita: Found Dog Reunited in Tampa, FL!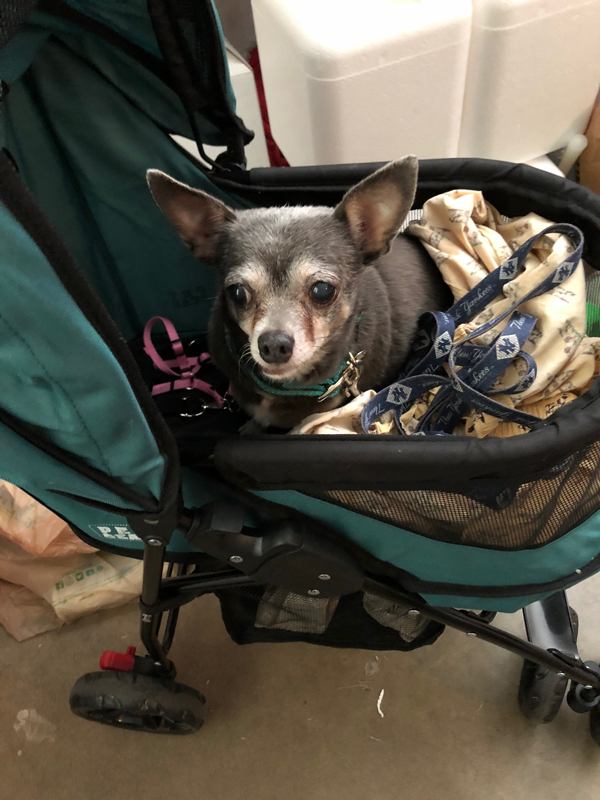 "This poor baby was found underneath a truck in heavy traffic. The finder immediately got out of his work truck and was able to save her from under the truck. There were others trying to help stop traffic until he could capture her.
He found my information on Craigslist as I had another lost dog posted on there and he initially thought he had found my missing dog. The finder was frantic because he tried to go back to the community where he found her, but the guard would not allow him inside.
He called me and stated he found this precious doggy and was unsure of what to do because he was on his company's time and they tracked where his truck would go. I told him I am the founder of Robbie Ra Ra's Rescue and I would do everything I can to help.
Within 10 minutes, I was able to find someone to hold her and he was able to drop off Chiquita to them. Sadly, that volunteer ended up not being able to hold her because she had a toddler and the doggy was extremely scared. I posted Chiquita's information on your website immediately and a beautiful volunteer was able to help me almost immediately.
Because the finder was in his company's truck and initially went to the community where she was lost, someone remembered his company's name and the owner was able to contact the company directly. The finder immediately called me and I then called the owner. I had Chiquita reunited with her owner within an hour.
Without the help of one of PawBoost's followers/volunteers, I wouldn't have been able to keep Chiquita safe until I personally found the owner. If the owner was not found today, I was going to hold her until I found the owner!
I would absolutely recommend PawBoost and I consistently use it for my rescue. All of your followers are huge animal lovers and advocates and we all work together to help save the next missing doggy or cat."
Spread the good news! Thank you to everyone who shared Chiquita's alert. A special thank you to Robbie Ra Ra's Rescue for their help on keeping this baby safe 🙂
---
Jackie: Lost Cat Reunited in San Juan Capistrano, CA!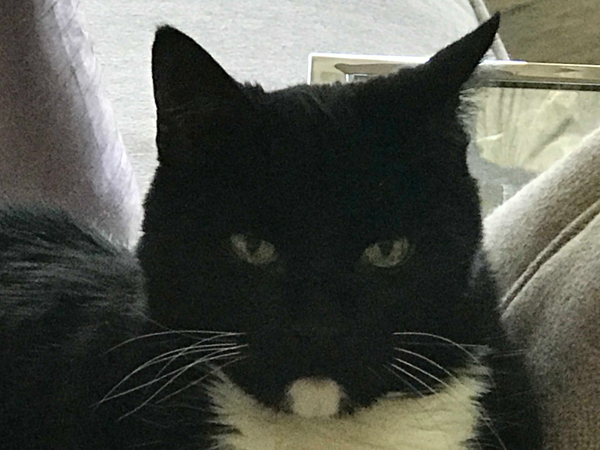 "Jackie just snuck out an open door. He has actually never been interested in going outside probably because he's been indoors for 15 years. He was a bottle fed kitty!
I was out putting up more flyers since the rain had washed them down. I saw so many rabbits and I thought I saw a smaller rabbit by my office door at home. I was making a salad and took some to toss over the fence and I caught a glimpse of something black and white go into the bushes.
I ran around the fence, sat on the ground and called him. He came, and I brought him inside. He wanted to eat and sleep! He looked fine, and really was not that hungry or skinny.
I would recommend PawBoost because when you lose a pet you are so desperate for help and answers. I felt like I was doing something by putting out flyers, checking Facebook, and looking on your website. The hints on what to do and the steps to take were helpful.
I never would of thought that they could just be hiding. I thought he'd come when I called or at least meow to me. I don't think he ever left our property, but he was not letting himself be seen."
Spread the good news! Thank you to everyone who shared Jackie's alert. Nine days later and he was found! Unbelievable he's home 🙂
---
Currenza: Lost Dog Reunited in Seattle, WA!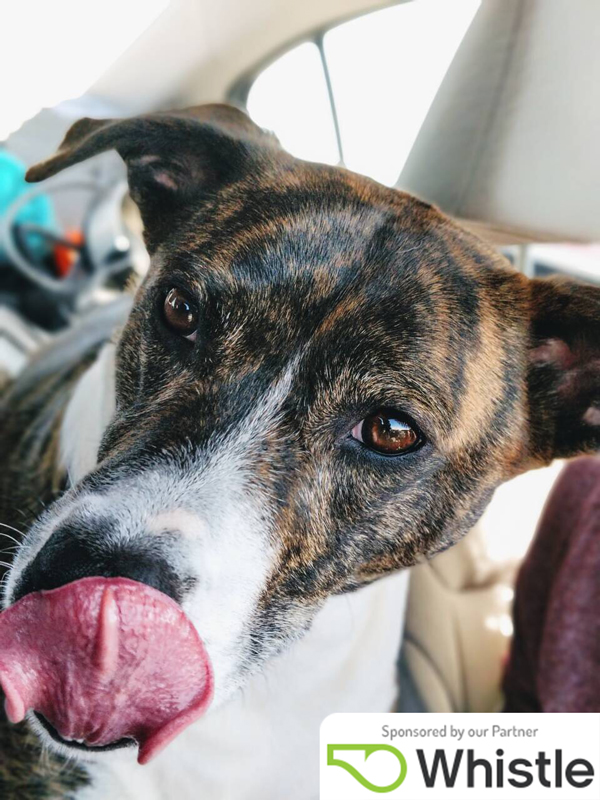 "We are new to Seattle, moving from Atlanta, GA and today was day 1 of the completed move. We left Currenza and Ace outside in our fenced in backyard for about an hour to play and get some energy out after the long drive. Shortly after, we got contacted by our neighbors asking if we own two dogs. Turns out there was a loose board in the fence that they were able to shimmy past. My fault for not fully inspecting the fence. Never making that mistake again!
Our neighbors found Ace and returned him safely, but Currenza was missing. After a few hours of searching, posting fliers, setting up PawBoost, and posting to other communities, all we could do was wait. A couple hours afterwards we noticed a post on Facebook with pictures of her 1.5 miles away. We anxiously got in our car and drove out to her last sighting but didn't see her. Then another Facebook message flew in and said they saw her 20 minutes ago heading north a quarter mile of where we were.
So we followed that trail and sure enough we saw her walking on the side of the road. I got out of the car and crouched down, gently kissed at her, said her name and she came towards me. It was a surreal and relieving experience. I'm thankful for the way it turned out and will learn from my mistakes so this doesn't happen again!
The resources made available from PawBoost were extremely helpful for me and my wife to keep a level head and know that people nearby were being alerted to keep an eye out. We couldn't be more grateful to you and our Seattle community for the contributions that brought her home safe!
We would absolutely recommend PawBoost to a friend! The website was easy to use and gave us peace of mind in our search for our little one! :)"
Thank you to our partner Whistle for helping make this happy reunion happen by sponsoring Currenza's alert!
---
Ziva: Lost Cat Reunited in Round Rock, TX!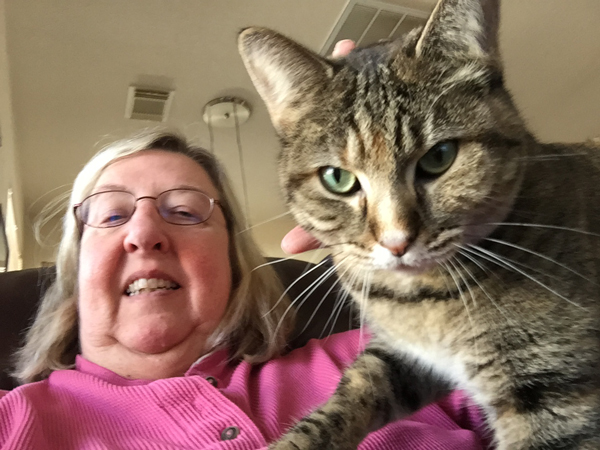 "Ziva and Samson are indoor/outdoor kitties. We have a kitty door in the garage and at 6am we open the garage door about a foot and they go out. They're out for a few minutes then come back in to eat some and then sleep some more. They do that throughout the day.
At 6pm last Tuesday, my husband Michael was playing with Ziva in the living room. Then he went upstairs and Ziva went outside as usual. Both she and Samson come in around 8:15pm, with the occasional slip to 9pm when we call them in. They are good about coming in, though we do have the occasional time when one of them is late.
But when 11pm rolled around and we called with no sign of Ziva, we knew something was wrong. Neither of us slept that night. We kept the lights on at both doors and dozed in the chairs in our front room so we could hear her when she came to the door wanting in. Unfortunately, she never showed.
I was a teary mess for the next 2 days and I set into take action mode right away. I got out Ziva's microchip # and contacted HomeAgain to let them know she was missing. Then I started contacting animal control, ASPCA, Williamson County Animal Shelter and other organizations, including PawBoost.
I received many responses from neighbors and the emotional support was a lot of help to me. I walked my neighborhood with my sister calling for Ziva and handing out flyers. I met more of my neighbors in 2 days than I had in 7 years of living here! And all of them were concerned and very supportive in trying to find Ziva and get her home.
In the end, she walked through our kitty door yesterday afternoon on her own, thank God. She had obviously been trapped somewhere. She was weak and tired with a few bumps and bruises, but nothing broken and no apparent serious damage.
I recommend PawBoost! You never know what's going to work and the more you can get the word out, the more likely you are to get your loved pet home."
Spread the good news! Thank you to everyone who shared Ziva's alert. Getting the word out can also provide much needed emotional support 🙂
---
Edison: Lost Dog Reunited in Los Angeles, CA!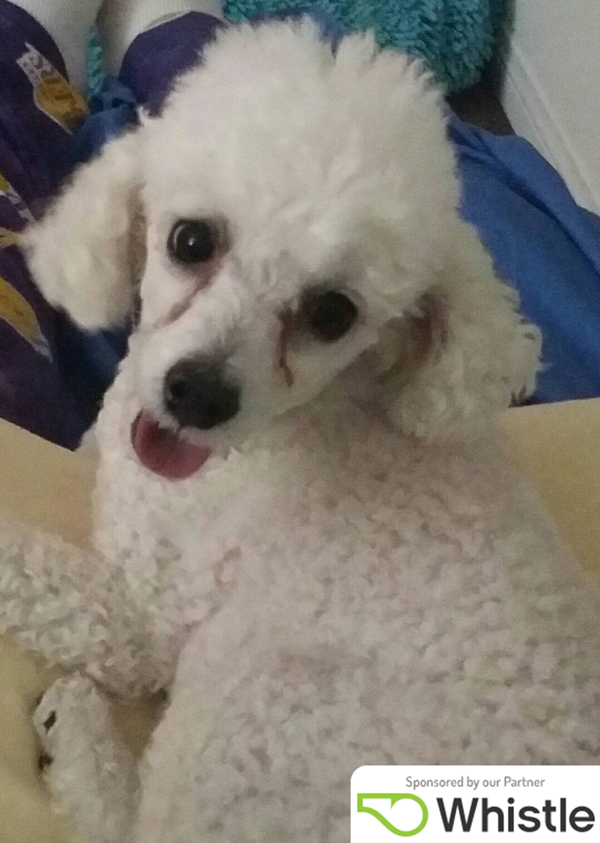 "We believe Edison walked into our garage, followed my wife's car, and got out on to the main street. At this point, two women picked him up and kept him for a bit and then they gave him to another person, who ended up bringing him back after 3 weeks. He was away for 57 days.
We received a phone call from a young lady who claimed she had Edison. She said her mother-in-law had him. We asked for a picture, met her at a local church near our home and confirmed it was Edison.
PawBoost was instrumental in keeping Facebook groups involved, and the constant promotion of our dog ultimately made the people who had our dog realize it was the WRONG dog to keep. I would recommend PawBoost to anyone who has lost a loving pet mainly because you can never run a successful rescue operation all by yourself.
At the end of the day, everything helps one way or another, but you can never truly say you did all you can for your furry friend, if you didn't involve PawBoost. Many of the individuals that are reached through the various Facebook groups are true pet lovers that are well connected with various pet organizations and shelters, and will help you in your search."
Thank you to our partner Whistle for helping make this happy reunion happen by sponsoring Edison's alert!
---
Scooter: Lost Cat Reunited in Safety Harbor, FL!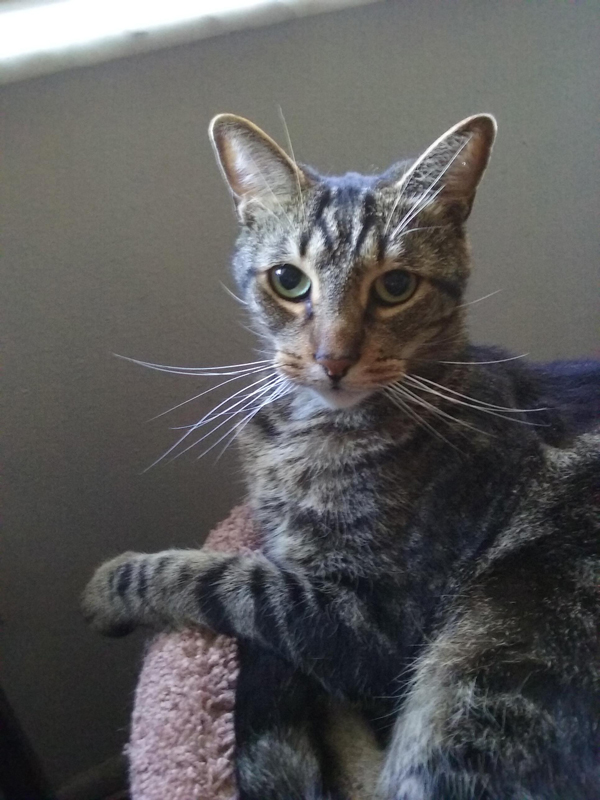 "Scooter went missing by sneaking out a window in the middle of the night. He popped the screen out (or his brother did it) and we had no idea which way he went. We knew he left between 1am and 3am and we looked & looked for days & days.
We were reunited with the help of a man (Saint) in the neighborhood, Doug, who spotted Scooter in the yard behind his house. This was 2 weeks after he went missing & it was only 2 blocks away. We went there right away!! We were SO happy to know he was ok but were unable to catch him.
He was being fed by a man on another block, across a busy road! Anyway, I went everyday at sunrise & sunset to try to see him & feed him in the safer area, 2 blocks away. He came around more & more over the next 7-10 days! Finally he came close enough for me to pet & grab. My car was close with the carrier in backseat!! I was ecstatic!!
PawBoost did help tremendously during this trying time. So many people commenting and sending us prayers & well wishes. Also people sharing the post and giving us tips. It was great to have PawBoost in this time of need! Many people were so happy when we posted we found him too. I highly recommend PawBoost for anyone who needs it for lost or found pets. You do great work!"
Spread the good news! Thank you to everyone who shared Scooter's alert. Scooter is home! Patience pays off 🙂
---
P. Willow: Lost Cat Reunited in Los Angeles, CA!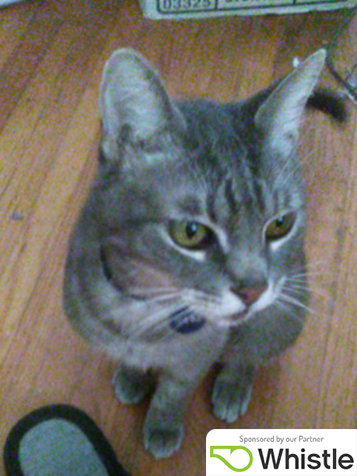 "P. Willow went missing on a Wednesday after a big dog got into the back yard and did some of that terrifying big-dog barking. P. Willow escaped unseen. And then, according to world renowned pet psychic Trish Burrows, our smart little classic gray tabby seemed to be stuck in an enclosure somewhere in the vicinity. So a little group of us were sending good energy vibes to help P. Willow get home.
Then your PawBoost community joined in with encouragement and prayers for two days and voila! After 11 days, P. Willow miraculously appeared inside the house at 3 AM, talking about what food she'd like. Life is good again. Thank you all!
I would recommend PawBoost to anyone who has lost or found a pet. We appreciated your advice, good will, and encouragement. You PawBoost People are all over it!"
Thank you to our partner Whistle for helping make this happy reunion happen by sponsoring P. Willow's alert!
---
Dakota: Lost Dog Reunited in Suwanee, GA!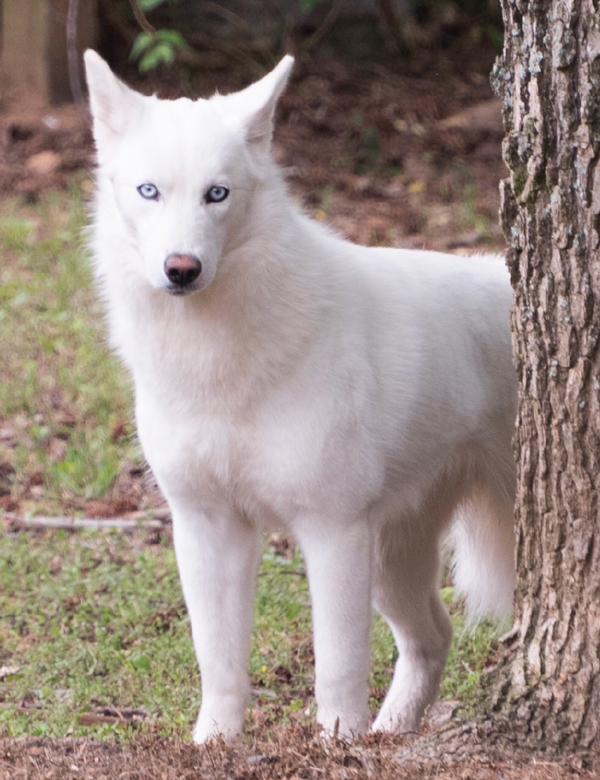 "We did not realize our front door knob had malfunctioned and the wind blew the door open at approximately 1:00 am in the morning. My son went downstairs about 1:30 am, and our Dakota was gone. We looked for 14 hours straight before beginning social media posts, calling shelters, sheriff and hanging posters.
We had sporadic sightings over the next 5 days which enabled us to have an idea of where she was heading. We got lucky when a young man saw Dakota down by the river behind his house and remembered the lost dog post online. He was able to lure Dakota into his backyard with food and trap her. He then called us and we were happily rejoined!
PawBoost definitely helped spread the word about our missing pup. It served as a partner along with other social media outlets to reinforce in people's minds our dog was missing and we needed help. We never would have found our girl without the help of PawBoost."
Spread the good news! Thank you to everyone who shared Dakota's alert. Dakota has since checked out with a clean bill of health from the vet and is sporting a new collar with tags. Don't ever lose faith 🙂
---
Wrigley: Lost Dog Reunited in Lawndale, CA!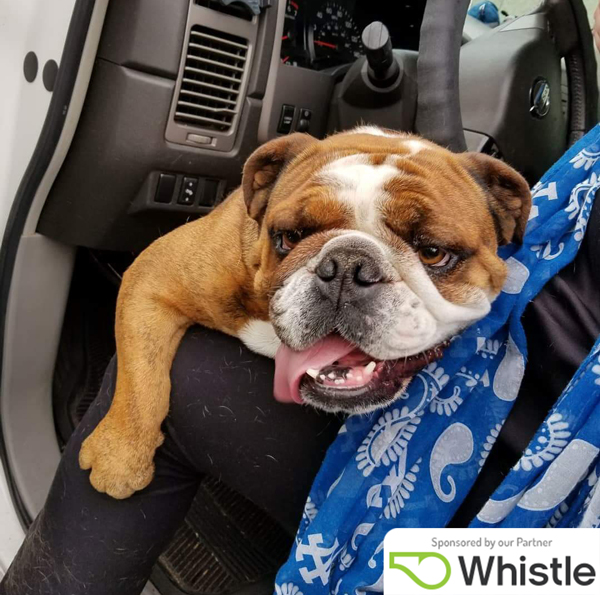 "Wrigley first went missing when our house was broken into. We came home to an open security gate, a stolen dog, and broken hearts. We called local law enforcement and they responded. Both officers had Bulldogs themselves and knew how expensive this breed is and informed us the possibility of her being stolen was high.
They told us to post as many fliers, social media posts, and on missing dog apps as possible to get the word out there. I did this and in less than 24 hours our beloved Wrigley was returned to us. Our neighbors found Wrigley in our front bush, shaking and in bad shape. She wasn't dirty when she was with us. So I'm not sure what scuffle or what happened during the break in nor do I want to think about it.
I'm just grateful that she wasn't taken, and she was smart enough to not go out onto the busy street. She wasn't hit by a car thank God and good neighbors kept her warm and bathed her for us. Thank goodness for social media, apps and good neighbors all working together. A friend told me about this app and I'm so grateful she did.
Today a group of friends, neighbors, social media and wonderful apps allowed my Wrigley to be returned to my family. I thought I had lost our family member, but she returned on my birthday and what a great gift/great ending to such a bad event. God is good to us."
Thank you to our partner Whistle for helping make this happy reunion happen by sponsoring Wrigley's alert!
---
Matilda: Lost Cat Reunited in Vancouver, BC, Canada!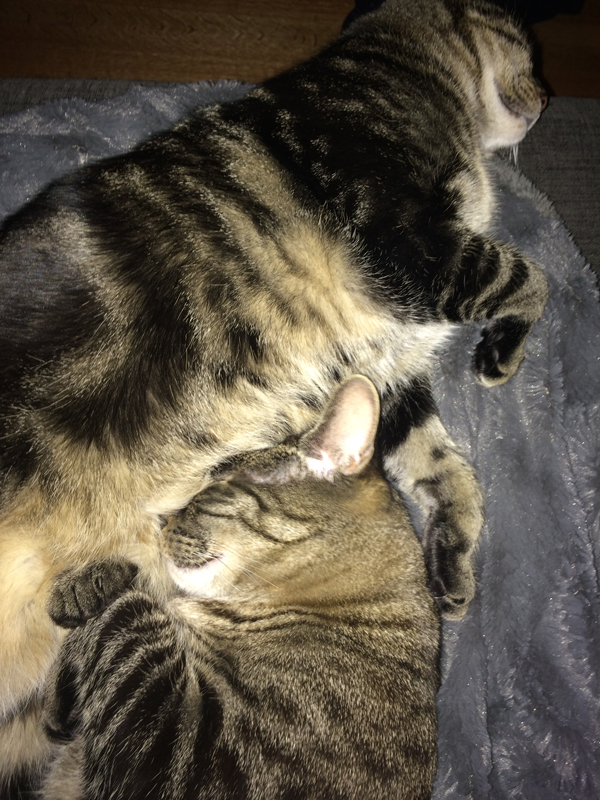 "Matilda went missing on a Saturday. We let our cats out during the day but they come home by 4 and have never been outside at night. So when Matilda did not return we knew something was wrong.
We went on PawBoost right away, a recommendation from the vet clinic. We put posters up and went looking everyday. On the poster and alert we asked people to look in their garages and sheds. After getting a call of a sighting that was unsuccessful, I came home and sat in the back yard.
The 2 boys who had called us had been on their scooters looking for 3 days. I felt if they didn't give up neither should I. I looked over my neighbor's fence and called again for the thousandth time. I heard a meow. I thought it was our other cat, but he was inside.
I called again and followed the meowing into our neighbor's backyard, up to their garage and there it was – a strong meow coming from behind the garage door. I knew it was Matilda. The joy was dampened by the fact that these neighbors had gone away for Spring Break and there was no way to get in.
I called the non emergency line and asked for help getting her out. My husband came home, the police were on their way, and we opened the side window to the garage. Matilda was weak and thin hiding behind a mattress. We took her to the vet straight away and despite being thin and dehydrated she seemed in good health. She is home now and we feel so lucky.
In the 10 days she was missing we received over 10 calls and tips from both posters and PawBoost users. I would recommend going on PawBoost, talking to anyone you can, getting the word out there and not giving up hope. We were utterly moved by the support and good wishes of neighbors and other people in our community we have never met."
Spread the good news! Thank you to everyone who shared Matilda's alert and for all of the support and kindness. Matilda is enjoying being home and her family is over the moon with joy! 🙂
---
Love these Happy Tails? We love sharing them! Click here to read more.