Happy Tails! May 2018 – Lost & Found, Dogs, Cats & Pets That Were Reunited in May
Happy Tails! May 2018 – Lost & Found, Dogs, Cats & Pets That Were Reunited in May
PawBoost loves to share happy endings! Read May's Happy Tails to learn how these fur babies were reunited with their families.
Love these Happy Tails? We love sharing them! Click here to read more.
---
Bill: Lost Dog Reunited in Las Vegas, NV!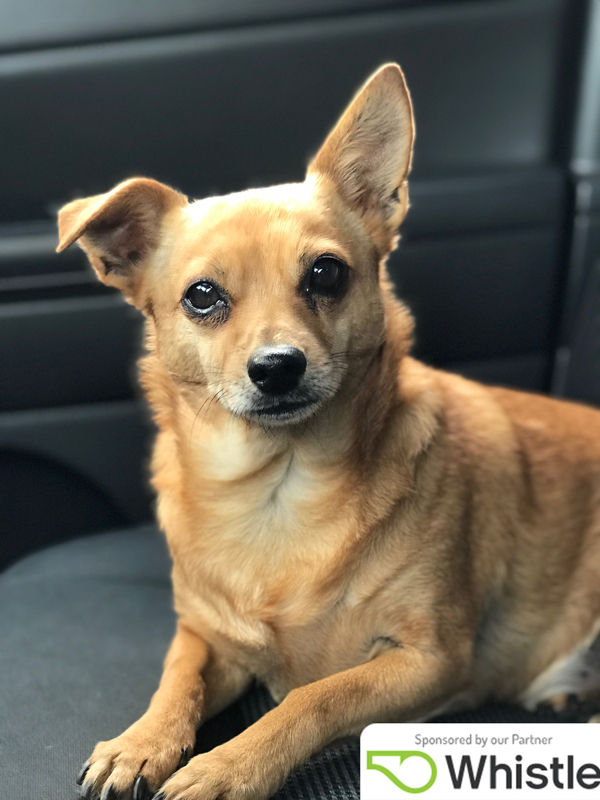 "I was visiting from out of town and I let Bill outside at a friend's house without checking the gate. Unfortunately there was a 4-6 inch gap that he was able to squeeze under.
The couple that found him put fliers up in the area. PawBoost provided support that was flooding in and it meant so much to me. It was so comforting knowing people were keeping an eye out for him and doing what they could to bring him home.
I absolutely would recommend PawBoost. When you are missing your fur baby getting the word out to as many people as quickly as you can increases your chance of getting them back safely."
Thank you to our partner Whistle for helping make this happy reunion happen by sponsoring Bill's alert!
---
Deuce: Found Dog Reunited in Carrollton, TX!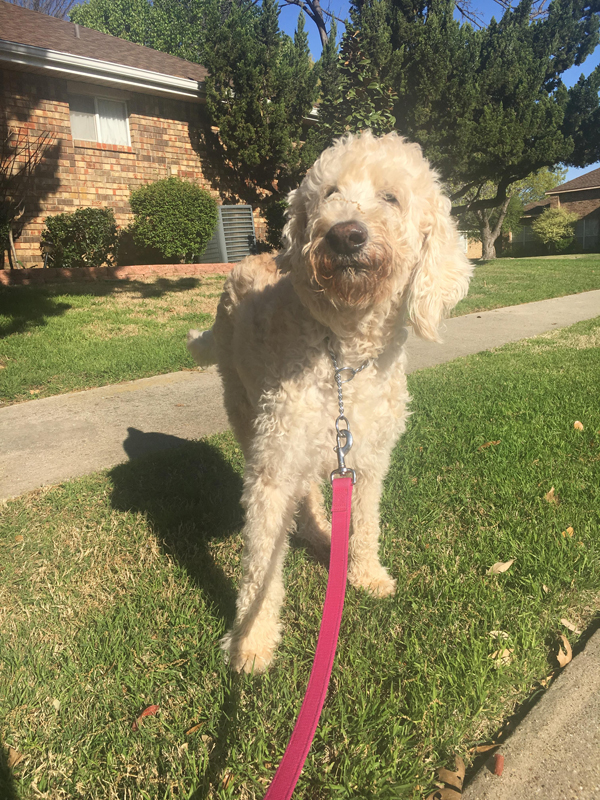 "Driving down the main road of our neighborhood, my Uber driver spotted the dog loose, sniffing the bushes in a yard with no collar, leash or person in sight. As soon as he dropped me home, I grabbed a leash, a few dog treats and started walking back to where he was (only a few blocks).
When I got there he was sniffing other dogs through a fence. I slowly walked up to him in a cheerful voice, called him a good boy, asked if he wanted a treat, held out my hand and he came over. I quickly slipped the choker collar on him and stayed there for a moment petting him, praising him and feeding him a few more treats.
Then I started walking the neighborhood with him in hopes to find someone searching for their dog. I knocked on a few doors to see if they recognized him. Most people were not home. After a while, I decided to bring him back to my house, place him in my backyard and searched for a website to post a missing dog.
I came across PawBoost and because it was specific to our city I decided to post there and on Nextdoor. The owner's roommate was searching the opposite side of the community than me so we unfortunately didn't cross paths. The owner came home and started searching but I was already back home when he started looking.
After he searched the neighborhood and city shelter, he went to the computer and saw my post on PawBoost and called me. I was able to reunite them right away! I would recommend PawBoost because of the ease of searching/posting, the multiple options available to push the post out to more viewers and because it's specific to the one city you want to select."
Spread the good news! Thank you to everyone who looked and shared this pup's alert. The owner saw it and he and Deuce have been reunited 🙂
---
Charlotte: Lost Dog Reunited in Austin, TX!
"I had gone out for the night and took Charlotte to my mom's house to spend a few hours there so I wouldn't have to leave her kenneled. A few hours later my mother called in a panic stating Charlotte slipped out of her collar and ran into the nature preserve behind the Westgate subdivision. Charlotte has never been known to try and escape her collar nor run off from anyone. I headed straight over to my mom's and started the search.
I posted missing alerts on every website I could find, including on a Facebook page that was local to the neighborhood. After about twelve hours of her missing a lady contacted me via text message with a picture of Charlotte in her back seat asking if she was mine. I called her immediately and she met me within 15 minutes and reunited Charlotte and I.
Anna, the lady who had contacted me about finding Charlotte, told me her sister found her on Matthews and William Cannon (about 3 miles from where she was last seen). Anna's sister picked Charlotte up and called Anna who got on the Facebook page for lost and found pets where she saw my post and contacted me immediately.
I would recommend PawBoost to a friend because it is another resource to help find a missing pet. The more resources used the more likely to reunite with a lost fur baby."
Thank you to our partner Whistle for helping make this happy reunion happen by sponsoring Charlotte's alert!
---
Blade: Found Dog Reunited in San Diego, CA!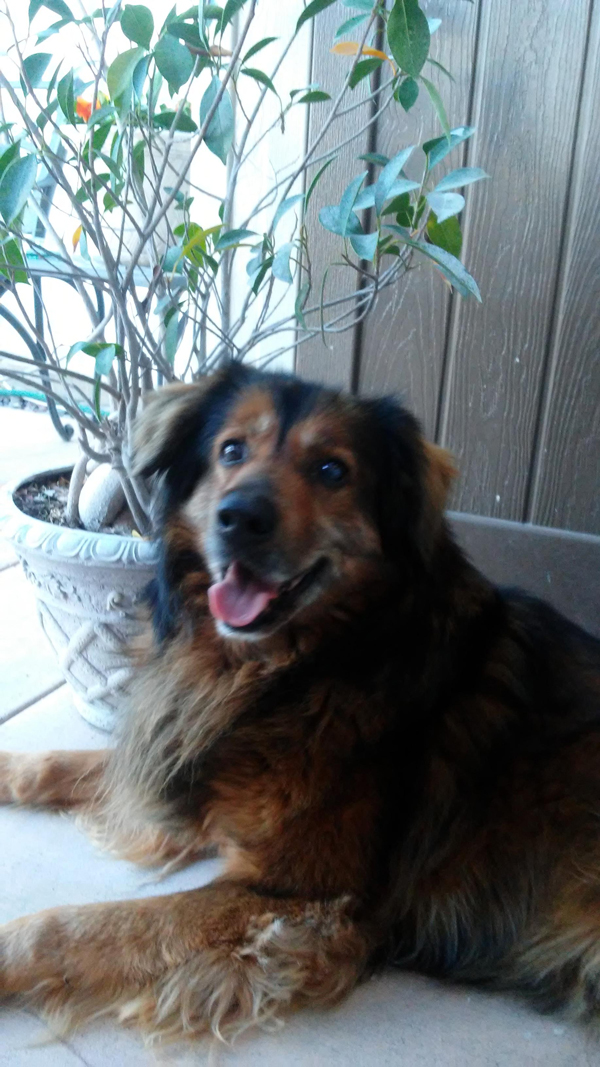 "I found this pet on a busy street and I decided to check if the dog had a collar as it was already dark outside, but it didn't. I followed the dog via car, got out and started to run with it from a distance as I was trying to gain his trust. The dog eventually ran into a curb and fell down as he was older and tired.
I could tell that he was having problems seeing and getting home. Once he was relaxed enough, I picked him up and brought him to my car. Then, I went to the store and bought a couple of bowls, water, and food. I also contacted every vet in the adjacent zip codes with photos and I also got him checked for a chip, but there was none.
I then began posting flyers in the neighborhood along with the grocery stores, pet stores and any high profile stores in the area. The final day before finding the owner, I brought the dog with me to the Kahoots Pet Store where the staff thought they recognized him. It was probable that the staff had seen him before but they were not 100% and couldn't identify the owner.
I began walking him around the neighborhood hoping he could lead me home and as we walked I asked people including a man and his two daughters if they recognized the dog and they said yes. From there I got the general area where the dog lived and walked him towards the neighborhood and continued to ask people if they knew the dog. One man finally confirmed where he lived and I returned him home.
I was able to reunite the dog with his family because I spent three days looking for them, posted on PawBoost, Nextdoor and Facebook (including my page, Uncle Scotty's Elite House and Pet Sitting). PawBoost was able to help in that people saw his photo. When a dog is found or lost you have to do everything to help them. Go to pet stores, parks and surrounding neighborhoods to post flyers."
Spread the good news! Thank you to everyone who shared this pup's alert. His real name is Blade and is reunited with his family of 13 years 🙂
---
Kahlua: Lost Cat Reunited in San Diego, CA!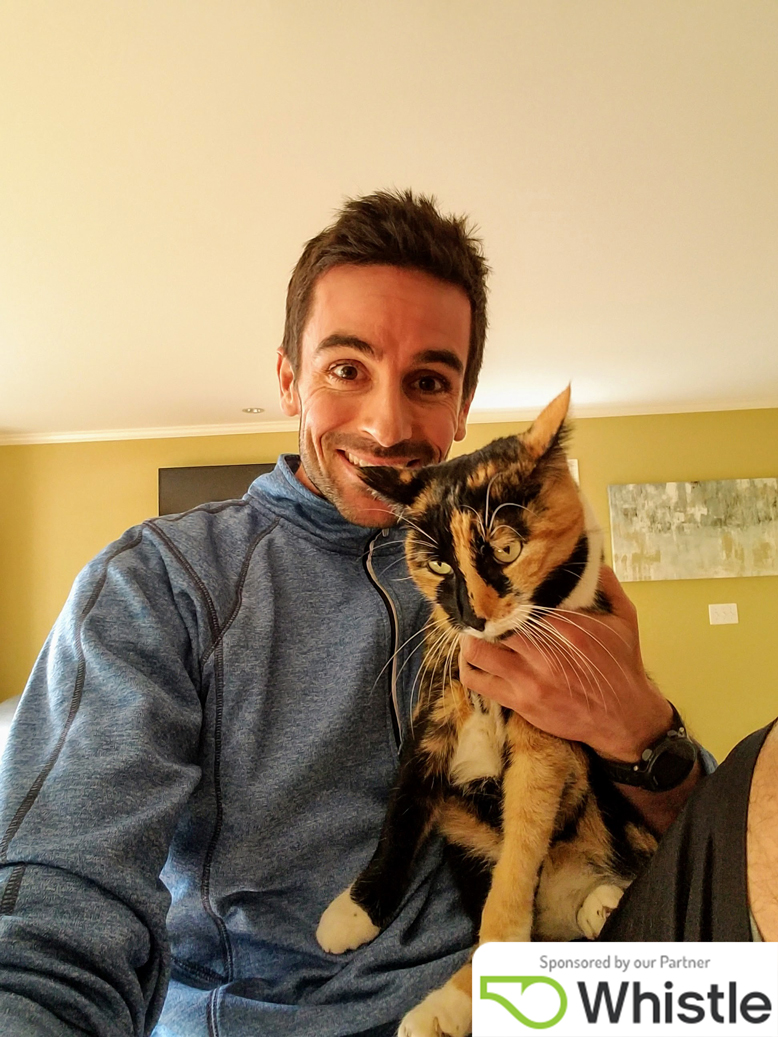 "Kahlua burrowed under my retractable screen door and then let her adventurous little cat heart take her beyond the friendly confines of my backyard before I realized she was gone!
Amazingly, I stumbled upon her after a walk home from a personal errand. After 4 days away, there she was buried deep in dense brush about 500 yards up a hill from my house.
It took a few hours to get her out, but she is home now. A friendly neighbor did see her as well a few minutes before and contacted me. I left a missing PawBoost flyer on their mailbox and they were on the lookout!
I recommend PawBoost! There is a large animal loving community out there and they will keep their eyes peeled for you. PawBoost was an easy and seamless way to have them engaged."
Thank you to our partner Whistle for helping make this happy reunion happen by sponsoring Kahlua's alert!
---
Amber: Lost Cat Reunited in Buffalo, NY!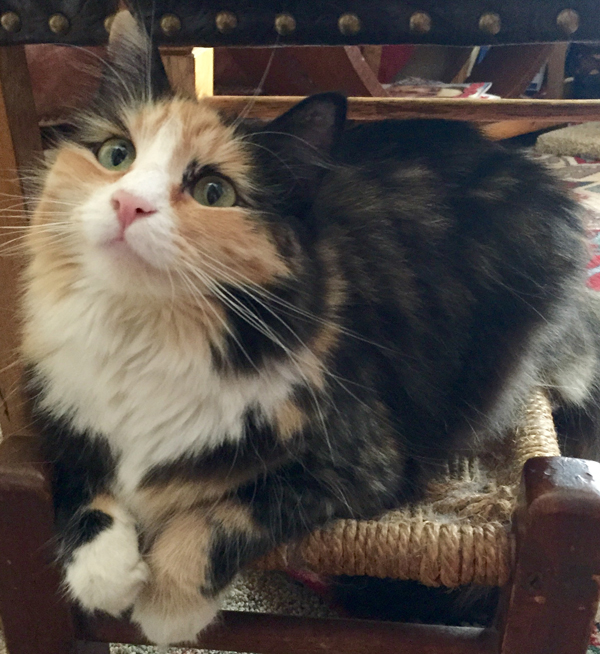 "Amber originally went missing late one Friday night when we were having a party and doing a lot of cooking. We opened the kitchen window just a bit to let all the steam and hot air out, but we didn't think she would even fit through the opening. It wasn't until early Sunday morning until we realized she was missing. We didn't think much about her not being around Saturday, because she's usually asleep in her cat tree all day.
Then Sunday morning we thought it was weird that she hadn't been in bed in two nights. That's when we finally realized that we hadn't seen her in over 24 hours. We immediately swung into action, searching the entire house top to bottom, putting up flyers on poles, and putting a flyer in every single mailbox on the block.
We put a bunch of posts on Facebook in local area missing pet groups, Craigslist, your site, and visited local shelters. We put her litter outside with a can of tuna and some worn clothes. We scoured the neighborhood 3 times a day carrying a toy that makes noise and a bag of treats. Nothing.
We originally got her as a stray kitten that had been born under our back deck. We checked under there probably twenty times. When I decided to check for a twenty-first time, I stuck my head under as far as I could manage and called her name about ten times before I finally heard an extremely faint meow.
I thought I was just hearing things so I called her name about another five times before I finally heard her meow again. She was way too scared to come out from under the deck. I ended up tempting her out with tuna and managed to grab her by what little scruff I could and gave her the biggest, tightest hug ever.
I am very glad I used PawBoost because the way you guys get the word out is amazing, and I would definitely recommend your services to everyone. Thank you so much for what you guys did, it was incredibly appreciated!"
Spread the good news! Thank you so much to everyone who shared Amber's alert and sent your hopes for her return. Welcome home to this pretty kitty 🙂
---
Oliver: Lost Cat Reunited in Chino, CA!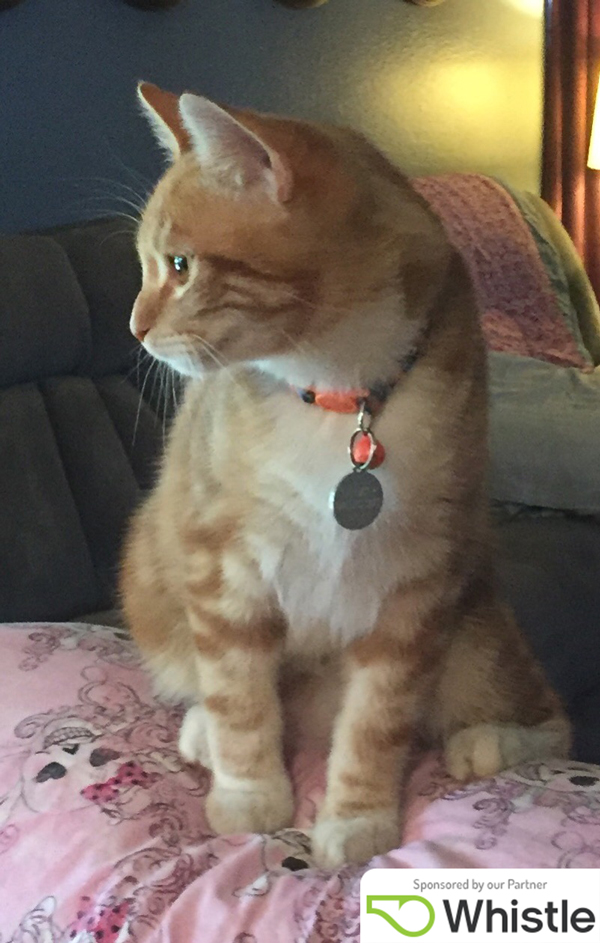 "Oliver was playing in the back yard while family did yard work, but suddenly he was gone.
After hours of walking and calling for Oliver, knocking on doors, passing out and hanging posters I placed scent markers outside of the house per suggestion by PawBoost members. Within 15 minutes Oliver came home!! He was dirty beyond belief but didn't have any boo boo's other than loosing a baby tooth.
My daughter is over the moon!! Thank you everyone for the kind words, encouragement and the excellent advice! I would recommend PawBoost because they are animal lovers! I had wonderful support and advice from this community that created this happy reunion."
Thank you to our partner Whistle for helping make this happy reunion happen by sponsoring Oliver's alert!
---
Vinnie: Lost Dog Reunited in Long Beach, CA!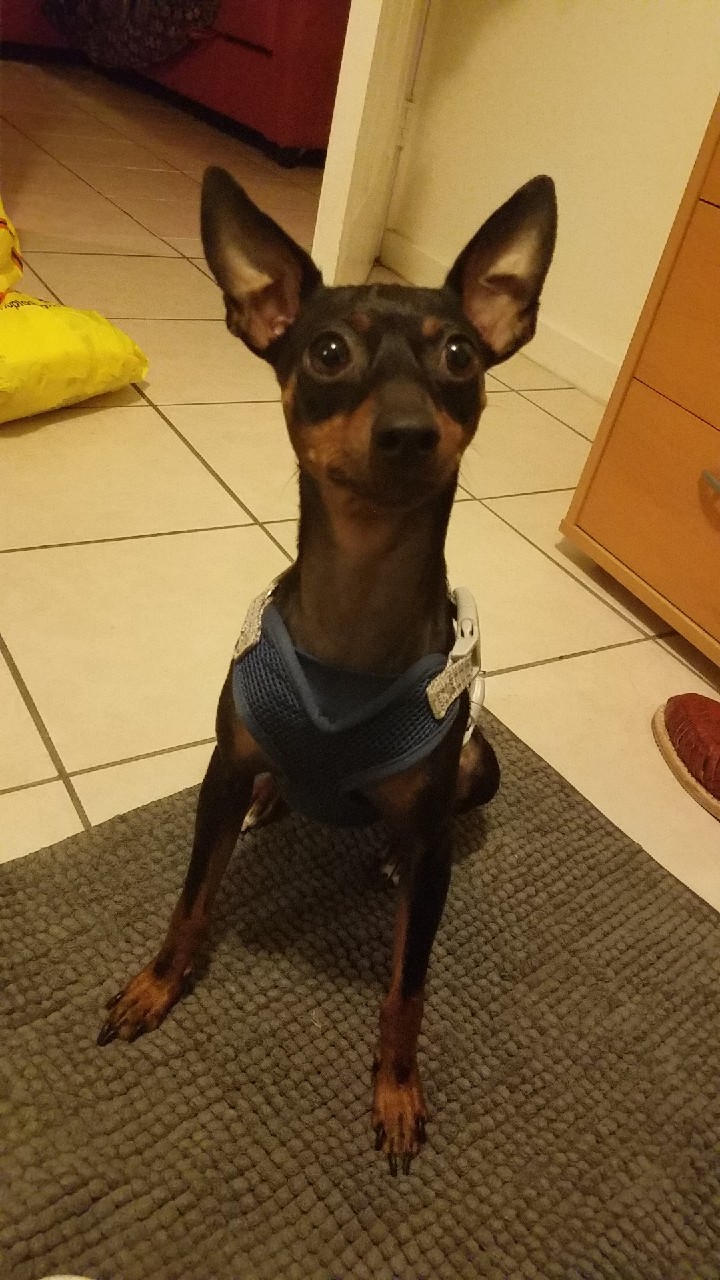 "Last night when I got home and opened the door to my apartment Vinnie ran between my legs and out the gate. Once he crossed Long Beach Blvd I lost sight of him. My roommate and I drove around downtown Long Beach for over an hour looking for him. We finally decided to return home and make a missing dog post.
My roommate heard about PawBoost and told me to make a post there. I put in all of Vinnie's information and picture and right away his information was posted on their Facebook page. I checked the page and saw someone made a found dog post just an hour before.
It was Vinnie, someone found him and reported it! By then it was 2:00am and I was sure the person who found him was asleep. Regardless, I sent an email and text to let them know Vinnie was my dog. In the morning, the person replied to my text, we exchanged information and I was able to pick up Vinnie. He was safe and sound and the young woman who found him was very kind!!
I would most definitely recommend PawBoost to all my friends and family members!!! They were very quick in sharing Vinnie's info. People who commented on the post were very friendly and sending good vibes hoping Vinnie was safe and found soon. I also saw people shared the post on their page helping spread the word.
People who had seen the previous post of Vinnie being found commented and informed me someone found him. This is my first time using PawBoost and I found a very supportive community of pet owners trying to help!! I am very thankful and lucky to have been reunited with Vinnie!"
Spread the good news! Thank you to everyone who shared Vinnie's alert. His pet parent is thrilled someone found him and kept him safe for the night 🙂
---
Nugget: Found Dog Reunited in Fullerton, CA!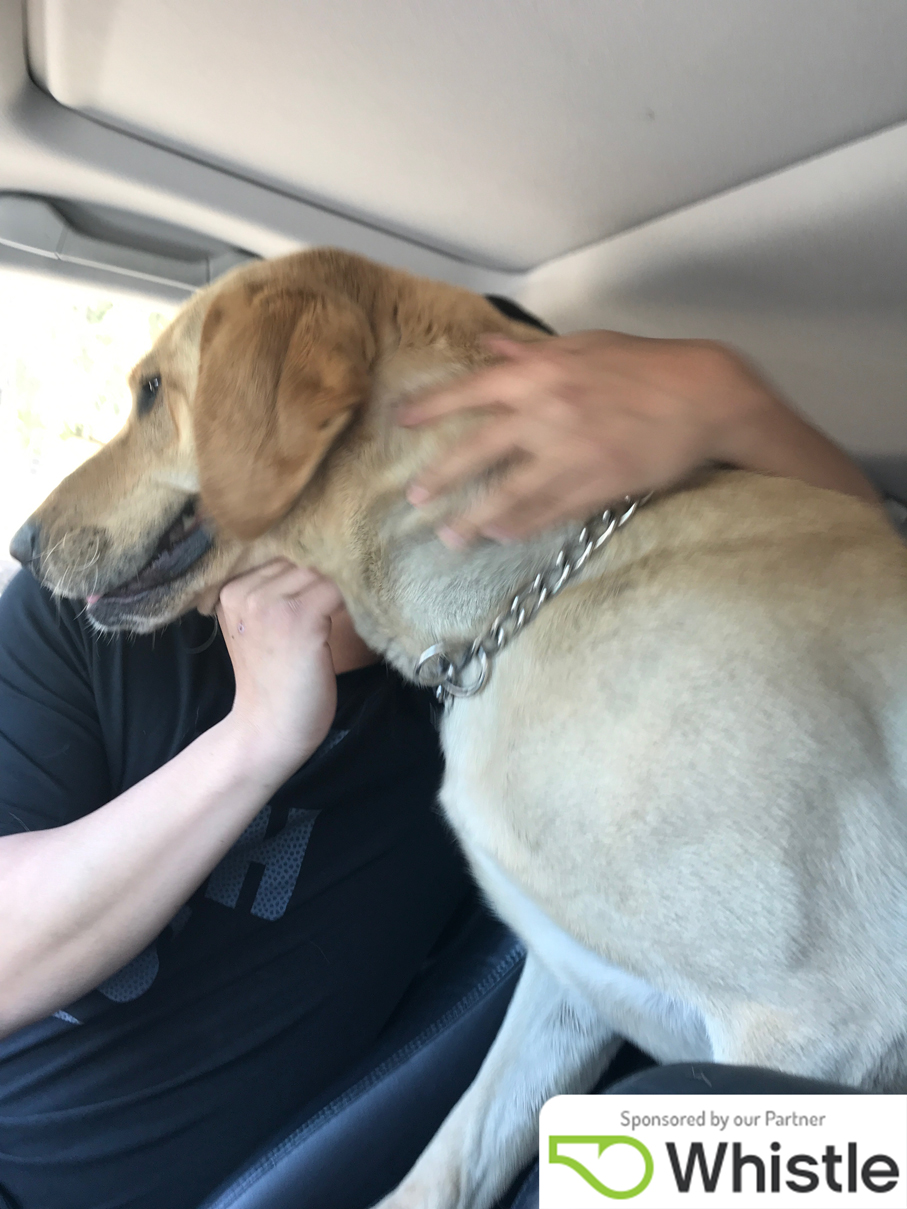 "My friend's daughter was driving home to say goodbye to her dog she had for 18 years as it was his last night. She pulled over when she saw Nugget running down the middle of a busy street. He immediately went up to lick her and jumped into her car, tail wagging.
She was upset at having to say goodbye to her dog so she went home, got her mom (my best friend) and they came to my house because they knew I was connected to a neighborhood app. I offered to keep him until we found the owner. I immediately posted him on my neighborhood app and then someone told me about PawBoost. I looked for Nugget on PawBoost but didn't see him so I listed him as found.
Fullerton Facebook pet rescue saw him on PawBoost and connected the dots as they had him on their page. They connected me with the phone number of the owner and verified it was the same dog so I could be sure it was the true owner. Awww the power of a caring community and social media. We could not have done it without you."
Thank you to our partner Whistle for helping make this happy reunion happen by sponsoring Nugget's alert!
---
Emma: Lost Dog Reunited in Redmond, OR!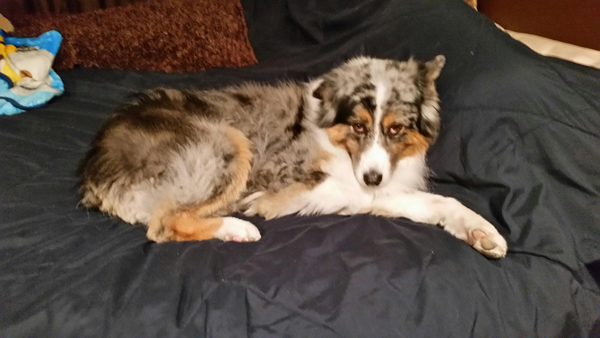 "Emma is an inside dog, but my sister stopped by our house while we were at work during the day and didn't realize Emma ran away. So when I came home from work to find her gone I was so confused. I didn't know if someone had stolen her or what happened. I called my sister and she said that Emma was there when she stopped by but must have gotten out somehow.
We frantically searched the neighborhood and asked neighbors if they had seen her. We called the local shelter but they are closed on Monday's so we turned to the internet and found PawBoost. Thanks to PawBoost we immediately started getting messages that people were sharing our post and praying. Then, within a few minutes we were messaged by someone who had seen a post about a found dog that looked identical to Emma.
While we waited to be added to the Facebook group where that ad was seen, we got a call from an employee of the shelter who turned a woman away with a dog identical to Emma because they were out of room. He offered to drive back to the shelter to get her contact information for me, in the meantime another person called my cell phone with the person who posted the ad's phone number. She lived about 20 minutes away so we hopped in the car and were reunited with her when we got there.
I will recommend PawBoost to everyone with a pet. It is thanks to PawBoost that we were reunited with Emma, and so quickly! From the time I got home and discovered her missing, we were reunited within 3 hours! That is incredible. We wouldn't have rested a wink not knowing where our girl was. We will be forever grateful to PawBoost and all the wonderful people who helped!"
Spread the good news! Thank you to everyone who shared Emma's alert. A special thank you to Michelle for reuniting this fur baby 🙂
---
Gabbana: Lost Cat Reunited in Los Angeles, CA!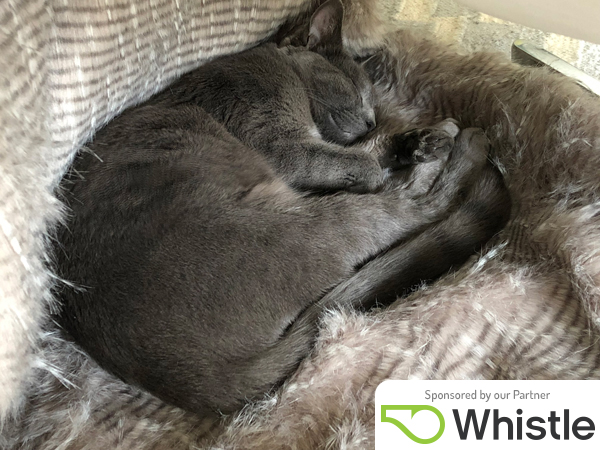 "Gabbana is an indoor/outdoor cat, but he refuses to wear a collar. He is chipped and VERY loved. He is a super sweet and especially loving cat, while also being street savvy. Despite this fact, I try and pull him and his brother, Dolce, by late afternoon. The thought of him being out when its getting dark with cars and coyotes frightens me.
Because he is so friendly I'm fortunate that people take him in, or he may wander into their house and spend some cuddle time. Fortunately, my neighbors are super sweet and often keep him over night for safe keeping. This never seems to help me not worry ALL night!
Due to the wonderful posters you so generously make available, I put them out by my house and received a text early this morning regarding Gabbana's sleep over. Yay! He is now home safe and sound. Thank you, thank you, thank you!
I highly recommend your site ALL the time! I have actually created posts and posters for a friend and neighbors on many occasions! I truly appreciate your amazing site!"
Thank you to our partner Whistle for helping make this happy reunion happen by sponsoring Gabbana's alert!
---
Simon: Lost Cat Reunited in Brookhaven, PA!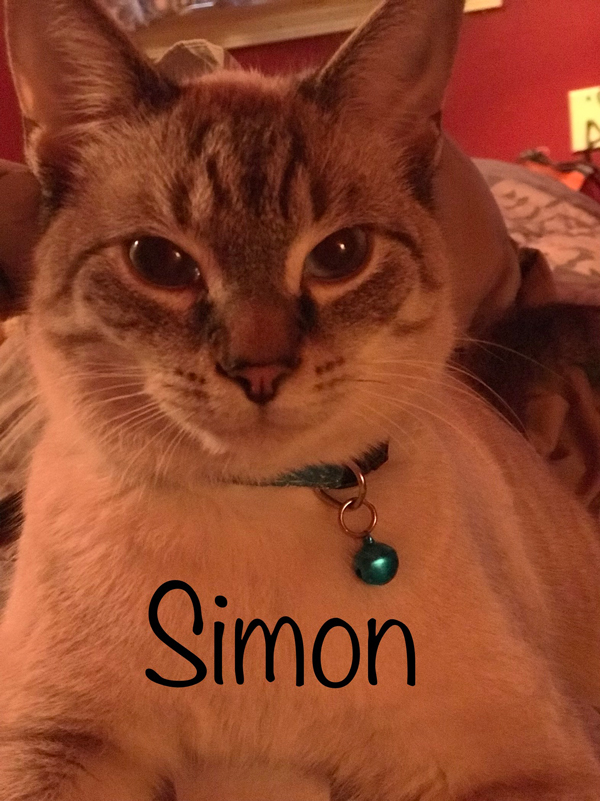 "My daughter went out to retrieve something in her car and left the front door slightly ajar. That's when Simon made his escape. We searched for him all night on foot and in our cars until about 2:30am. The next morning it was sleeting and I knew I had to find him immediately. I read online that cats don't go far from home so I went out in my backyard and kept calling his name.
Every time I called his name I heard a faint meow so I knew he was in the woods behind my home somewhere. I climbed through what seemed to be the Amazon jungle and used his toys and called to him until he came to me to get his neck rubbed. I was able to get him inside his carrier and bring him back inside.
PawBoost helped by promoting his story and allowing the public to share and comment. Those encouraging words from strangers/fellow pet lovers really helped my morale. When you lose a pet, you feel really helpless and alone. PawBoost helped me feel less helpless and alone and I really appreciated that."
Spread the good news! Thank you to everyone who shared Simon's alert. Simon was found in the woods behind his home and is now back inside where he is safe and comfortable 🙂
---
Felix: Lost Cat Reunited in Los Angeles, CA!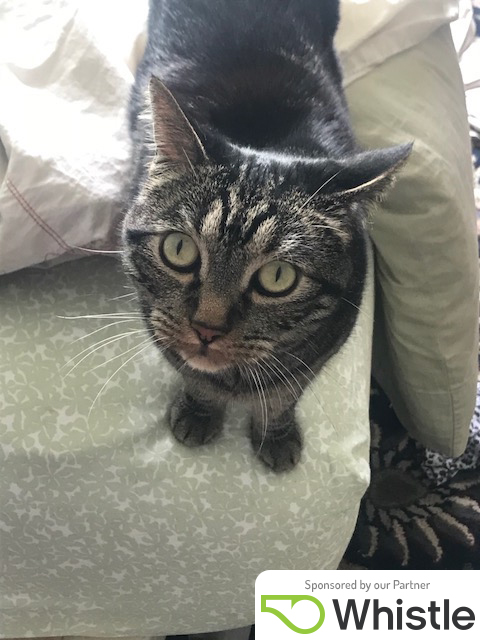 "On Monday, I got a call from my house cleaners that the bedroom screen on my 3rd floor condo was missing and so was the cat. It's a straight drop down. Felix is exclusively an indoor cat so we were not only worried about his health after the fall but his ability to survive outside.
We reached out to the animal shelter, local animal hospitals, neighborhood online bulletin boards and PawBoost. We had several contacts because of PawBoost which was encouraging.
We were reunited with our cat 4 1/2 days after falling from the 3rd floor, through canvassing the area in early morning hours. He was just next door and meowed to us. Much to our relief the vet said that except for some mild dehydration and possibly a sprain, there was no other injury.
I would recommend PawBoost when a pet is lost. The more eyes and ears watching for a lost pet the better. There are a lot of caring people out there who want to reunite pets with their owners. We were blessed to find Felix ourselves but appreciated the contacts by caring friends and neighbors."
Thank you to our partner Whistle for helping make this happy reunion happen by sponsoring Felix's alert!
---
Kitsune: Lost Cat Reunited in Lafayette, IN!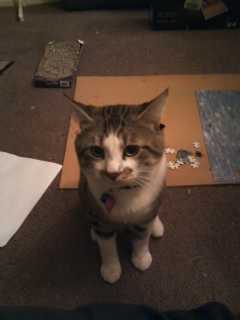 "One Thursday evening, my husband and I were carrying laundry down and we think Kitsune sneaked out without us noticing. I didn't think much of it that night because he likes to curl up in his hide away place and sleep. The next morning I got up to make my coffee and he usually comes running, but he never came to the kitchen.
I quickly called my husband at work and he suggested that I go walking to look for him. I went walking and called out for him, but there was still no sign of him. When I returned home I really began to panic because I realized I took off his collar with his tags the night before for a bath.
On Saturday we got up early and went to all the shelters in town to see if he was taken to a shelter. There was still no Kitsune so that's when we decided to make the flyers and post him missing on everything we could think of. By Sunday night I started breaking down in tears that I would never get to see my fur baby again and prayed as hard as I could.
Monday morning I got a call on my cell. The first words I heard was, 'I found your missing cat.' My heart raced as I tried to ask where he was. She told me her son found Kitsune the night he went missing and took him in. The next day he took Kitsune to her house in Frankfort and she tried to care for him, but he was too scared. She had him for a couple days at her home and then took him to the animal shelter in Frankfort.
When I was finally able to hold him, he clung to me and pushed his head into my shoulder as tight as he could and didn't let go of me till we got out to the car. PawBoost helped spread the word that he was missing. After I posted Kitsune missing on PawBoost I instantly saw the shares go up and up. I realized that there were many kind people out there willing to take the time to share his post and keeping an eye out for him."
Spread the good news! Thank you to everyone who shared Kitsune's alert. Kitsune is scheduled to get his microchip soon incase another unfortunate situation like this happens again 🙂
---
Jeep: Lost Dog Reunited in San Diego, CA!
"A friend of mine accidentally opened my backyard gate, failed to shut it securely, Jeep squeezed out of the gap and went off to explore. I realized he was gone after 15-20 minutes and we searched until dark for him without any luck.
Thankfully, the person who had Jeep responded to the Facebook post from PawBoost the next day and I was able to get my fur baby back last night. PawBoost WAS the reason I got Jeep back! I had been looking for him on the animal control website and I also posted on Nextdoor, but it was PawBoost that reunited us.
I would absolutely recommend PawBoost and I have already told my friends and coworkers about your site. Thank you for helping me find Jeep.
I am extremely grateful to the wonderful people at Park View Terrace apartments for finding Jeep, keeping him safe, and for making sure he got back to his family. Thank you from the bottom of my heart."
Thank you to our partner Whistle for helping make this happy reunion happen by sponsoring Jeep's alert!
---
Wiley: Lost Dog Reunited in Hawthorne, CA!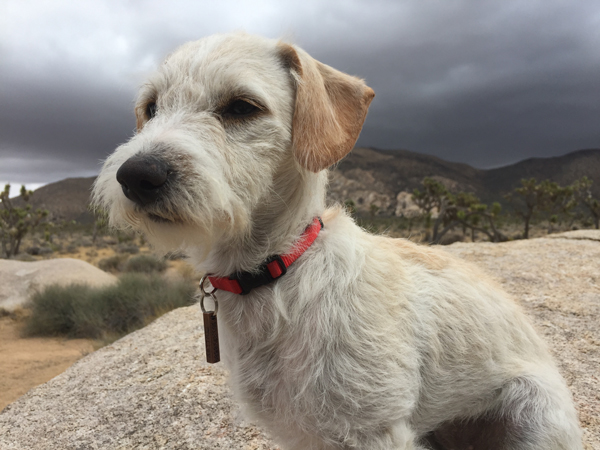 "My partner and I brought Wiley to our local climbing gym and he put her down so I could call her to me, not even three feet away. In the split second that she was on the ground, she got spooked and bolted out of the gym's open back door. In the parking lot, she was frightened by a car, and a person who meant well chasing her.
Wiley took off running into unfamiliar neighborhoods, and was out of sight before we could even process what happened. The search started on foot, and eventually graduated to driving around. We searched until 2 AM, and finally went home crying, devastated and worried about our scared, lost pup.
My partner took work off the next day and combed the neighborhood in a 2-mile radius. I couldn't focus at work and spent every free moment contacting shelters and vets, posting on social media and reporting her lost on every platform available.
PawBoost was easily the most user-friendly interface, and I began obsessively checking the post it created for Wiley. I replied to comments and updated it with any sightings or tips that we received, and her photo was shared over 500 times.
Hours turned into days, and we began losing hope as the rainy and cold week passed. Then, ten days after we lost her, we got a call around 11pm. We asked for photo confirmation and received a blurry, dark picture of a white smudge. We zoomed in and saw Wiley's nose.
We got to the recycling center, 5 miles from where we lost her, and our heroes Pedro and Gilbert walked out with a soaking wet, sooty, shaking pup, but it was our pup. I cried like a baby as they handed her to us over the fence. We were finally a family again.
PawBoost's community saved me through the encouragement of its followers and the posting of success stories allowed me to stay hopeful that our Wiley girl would come home. It helped our story have a happy ending."
Spread the good news! Thank you to everyone who shared Wiley's alert. She is ecstatic to be showered, home, and cuddled in bed with her family 🙂
---
Floyd: Lost Cat Reunited in Laguna Beach, CA!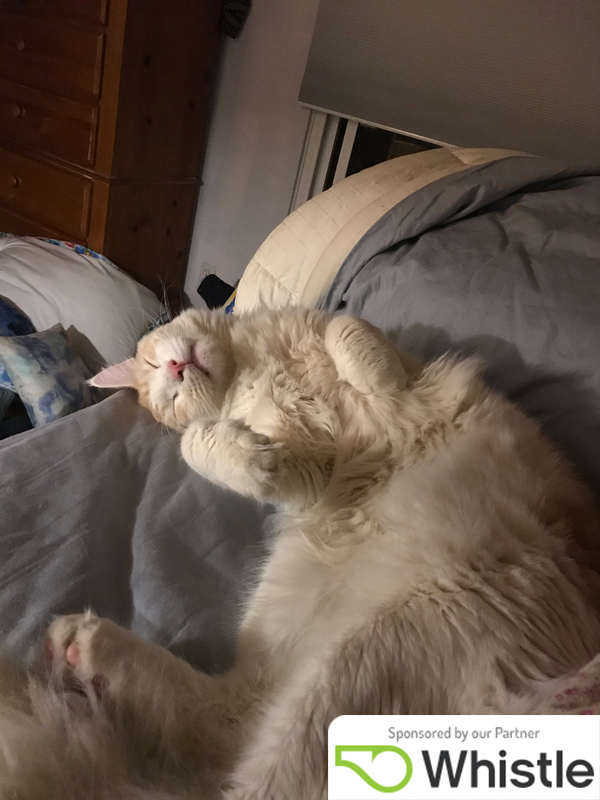 "Pink Floyd is a ten month old kitten who weighs 18 pounds. He is a 'pink Maine Coon.' I left my sliding door open a tiny bit and Floyd pushed out the screen in a space I could not believe he could fit through. It was night and we were sure coyotes got him. We looked under cars and put up signs.
A neighbor told me to post him on PawBoost. Another neighbor reported seeing him the next day. I had some hope knowing he made it at least one night. I read your '7 Effective Search Tips for Finding Your Lost Cat' article and we followed all of them.
My husband went out late with his canned food, treats and a bell toy. He called out calmly to Floyd and to his surprise Floyd flew out in front of him. We call this Floyd's flying squirrel behavior. His tail is very long and full.
My husband came and got me. We went back with flashlights. I called to him and I admit it is my habit to make cat sounds with him. He called back sounding desperate. My husband went behind the neighbor's gate and got him by his scruff. Floyd was out five days. It was unbearable to think the coyotes ate him.
PawBoost gave us hope and practical suggestions that worked! I have already recommended this site to several other people. Floyd was dirty, hungry and sick to his stomach but now is fine.
P.S. I have ordered new, sturdy screens and a GPS collar with his name and number."
Thank you to our partner Whistle for helping make this happy reunion happen by sponsoring Floyd's alert!
---
Shadow: Lost Dog Reunited in Columbus, OH!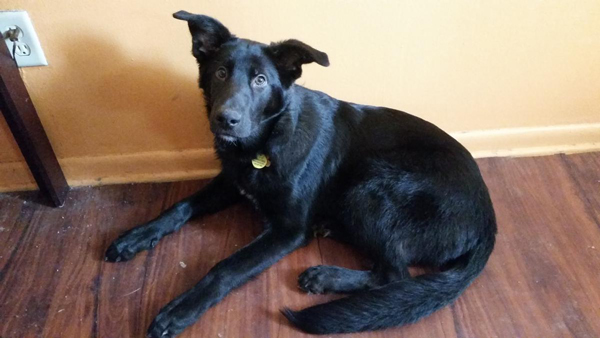 "I had to make a stop at a tutoring session with the children that I nanny for before taking Shadow to his vet appointment. While waiting for the children to finish their tutoring session, Shadow had to go potty.
I took him outside to the grass right next to my car and he was very nervous. He suddenly jumped in the air, twisted, and was immediately loose from his harness. Shadow was gone for over 5 days before he was found.
PawBoost helped share my post, which in turn notified many people who also shared my post. PawBoost was very helpful in helping me make people aware of my situation and I'm extremely thankful for that!
I received a call at 5:25 am on Tuesday from a woman who described Shadow. She advised me that he was howling in her front yard. I immediately rushed to her residence and started calling his name. I found him within five minutes of my arrival. I fell to my knees and when he reached my arms, he placed his head on my shoulder while I hugged him. I was ecstatic!
I would definitely recommend PawBoost to anyone! When you lose a beloved pet you will do anything you can to get the word out and have people help you. PawBoost did just that for me and I am forever grateful."
Spread the good news! Thank you to everyone who shared Shadow's alert. He is now home healing mentally and physically from his ordeal 🙂
---
Miles: Lost Dog Reunited in San Diego, CA!
"We had a party last night and a friend of mine left very late at 4 am. Unfortunately, he left the gate open and Miles took off. We looked everywhere and he was nowhere to be seen. We called and visited the shelters and posted everywhere, including PawBoost.
I spoke to Bab Fry who was of great help. She told us to leave the gates open incase he came back and to leave water and food out. Around 10 pm, after all day of looking, we were very upset and didn't know what was going on. Especially because he had his collar on with all our info so we knew someone had taken him.
He is a huge, white boxer so someone would have called the pound or said something. Thankfully, Miles came back at night. He just ran inside, but he was in horrible shape. Full of scratches and cuts, his paws were bleeding, and he smelled of human urine. He was very, very dirty, just horrible. He was very scared as well.
We strongly believe someone had him all day and was cruel to him. We're taking him to the vet tomorrow to get examined. Thank you to PawBoost for all the shares, I'd recommend it!"
Thank you to our partner Whistle for helping make this happy reunion happen by sponsoring Miles's alert!
---
Bobo: Found Dog Reunited in Junction City, KS!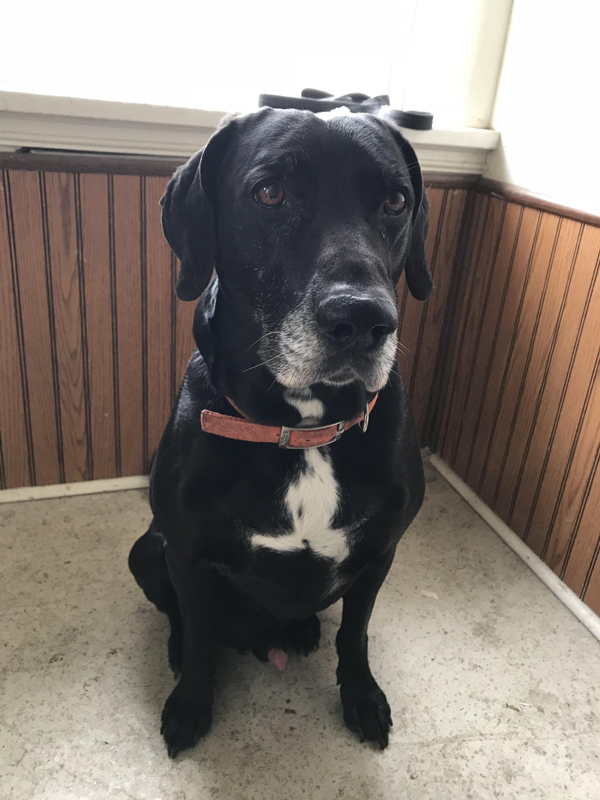 "I found Bobo while I was walking my two dogs. I walk my big lab on a leash and my teacup Yorkshire just walks around until he's satisfied and wants to go back inside. Well, I go to turn around and my little dog was no longer following me. When I went looking for him, I turned the corner and there he was with Bobo!
I didn't even have to capture him because he already didn't want to leave my side or either of my furbabies' sides. After a few minutes of watching him shake because of how cold he was I decided I would just take him inside with me and look for his owner. It took a little bit longer than expected, so he crashed on my couch for a night.
I may have done a lot of calling and messaging to other people, but PawBoost really spread the word for me as well as connect me with local shelters, which is how he got home. His owner went into the local shelter looking for him and they looked on PawBoost and there he was!
I wouldn't hesitate for a second to recommend PawBoost to anyone, friend or a stranger. Without PawBoost that fur baby probably wouldn't have made it home and with PawBoost he made it home within less than 24 hours! What you have organized for everyone around the world is astonishing. I really appreciate everything you guys are doing."
Spread the good news! Thank you to everyone who shared Bobo's alert. Keep up the sharing and caring! Each day you are helping to reunite more and more fur babies 🙂
---
Monica: Lost Dog Reunited in Las Vegas, NV!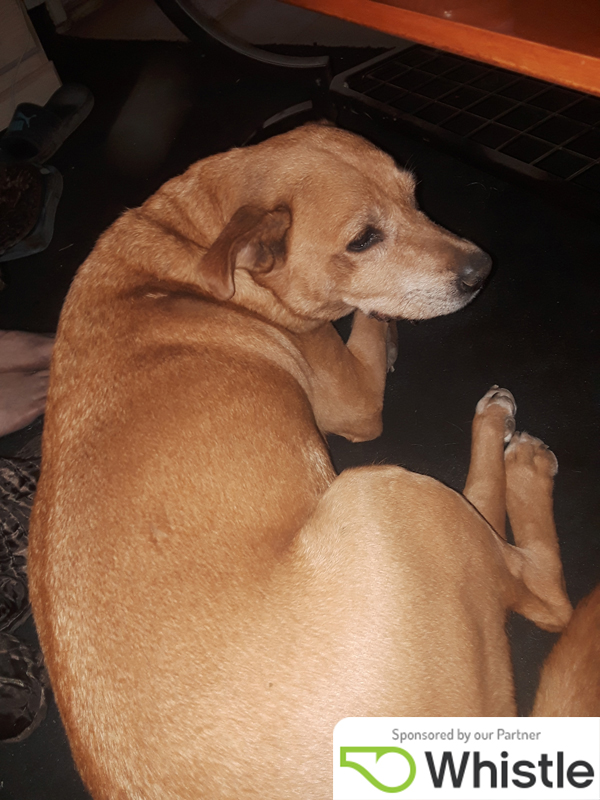 "Monica disappeared out an open front gate about 6 pm on a Monday. We started looking for her shortly after by putting up flyers and continuously driving and hollering her name throughout the night. No Monica and we were devastated.
We had calls come in with descriptions of similar dogs, but they were not Monica. I searched through the night again like the night before. I could not sleep. I put out many more signs and approached everyone in my path. Still no Monica.
I made a sign to hold up to traffic and went up on the corner of Nellis and Monroe for 3-4 hours shaking a sign at the traffic going by. I talked to mailmen and UPS drivers as I searched and searched. I was so scared she was not coming home.
I finally came home preparing to go put more flyers out, but first I sat down and posted an ad on Craigslist and joined every missing pet group in town. It was now 2 days since her disappearance. I started making a video to post on Youtube and before I could finish a lady texted my husband Scott.
The message said, 'I've seen your Craigslist ad. My friend has a dog that may be yours.' She sent a picture and it was Monica. It was the best day of our lives. We went and got her from three beautiful, kind women. They were angels. They took good care of our baby.
She is still recovering from a very traumatic experience. She is a big piece of this family. It's true, 'you never know what you have until it's gone.' By the grace of God we have a second chance. We are so grateful to all of the pet groups. Thank you from the bottom of our hearts and Monica's."
Thank you to our partner Whistle for helping make this happy reunion happen by sponsoring Monica's alert!
---
Linda: Lost Dog Reunited in Hialeah, FL!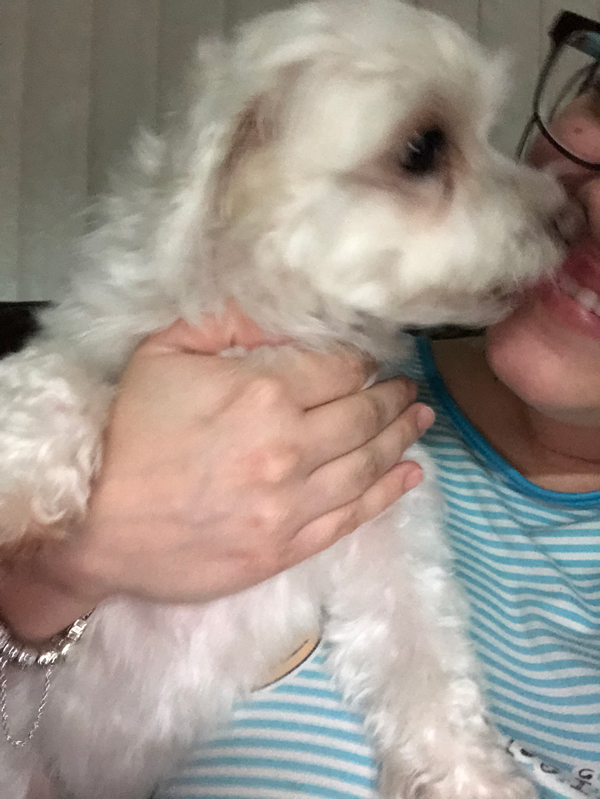 "We've had Linda since she was 3 months old and she will be 9 years old in July. Linda has always lived with my grandmother who is in her early 80s. Linda is her companion. With that being said, my grandmother likes to open the door a thousand times and one day when she went to go get the mail, Linda left. I searched my grandmother's neighborhood for two hours! I knew I had to find a way to make the impossible possible.
I went on Google and started searching lost dogs in Hialeah, Florida and I came across PawBoost. I wasn't expecting anything out of it. Pfft, I was lucky. About an hour after posting, I was in the shower and received a phone call and a voicemail was left. I listened to the voicemail and it was a woman telling me she had seen my dog earlier around the mall and some lady had taken her in a box. I eventually called her and we spoke on the phone and it was very unfortunate that Linda was not yet found.
This lady contacted me because she's subscribed to your Rescue Squad emails and she opened one to see if it was about the dog she had seen earlier and indeed it was. About an hour later, she contacted me again and notified me that one of her children found a posting on Twitter about a Maltese found at the mall. She sent me a picture and of course it was Linda. We eventually got in contact with the person that found her and finally brought Linda back home.
We are so very thankful for the opportunity that your web page and Facebook page has brought to us. I saw how many followers were supporting you guys and I had just that much more faith that I would be able to reunite my Linda with my grandmother. I would definitely recommend PawBoost to the world! You have such a great support system on social media. Of course I couldn't have done this without PawBoost and the community."
Spread the good news! Thank you to everyone who shared Linda's alert. Words cannot express how thankful Linda's family is 🙂
---
Paloma: Lost Dog Reunited in Galt, CA!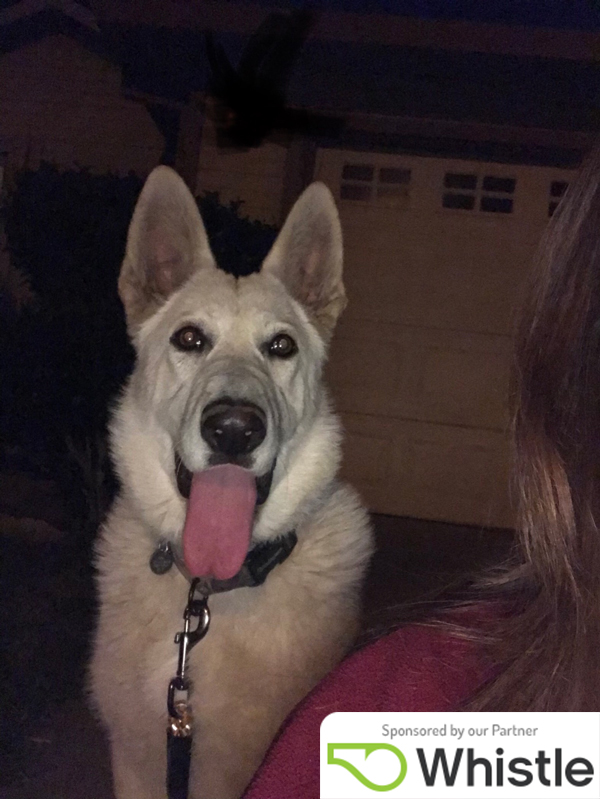 "The mystery is still unknown as to how Paloma got out of the backyard. Sunday morning, like everyday, I let my little poodle out first thing then I put food and water out. After a while my husband left for work and I went back inside the house with my poodle.
About 10 minutes later my daughter went outside and noticed the side door open and asked me if Paloma was with dad. I called my husband and told him to come home and help me look for Paloma. I drove up and down Galt asking neighbors and posting flyers and pictures on Facebook, Nextdoor and PawBoost.
People saw and shared her post and kept me updated as well as sent me lots of positive thoughts which was amazing!! I would definitely recommend PawBoost to anyone with a lost pet. Paloma spent a night at the shelter but she is back home and I put locks on the side door.
Thank you again for all your help. This site is paw-awesome!"
Thank you to our partner Whistle for helping make this happy reunion happen by sponsoring Paloma's alert!
---
Roxy: Lost Dog Reunited in Mobile, AL!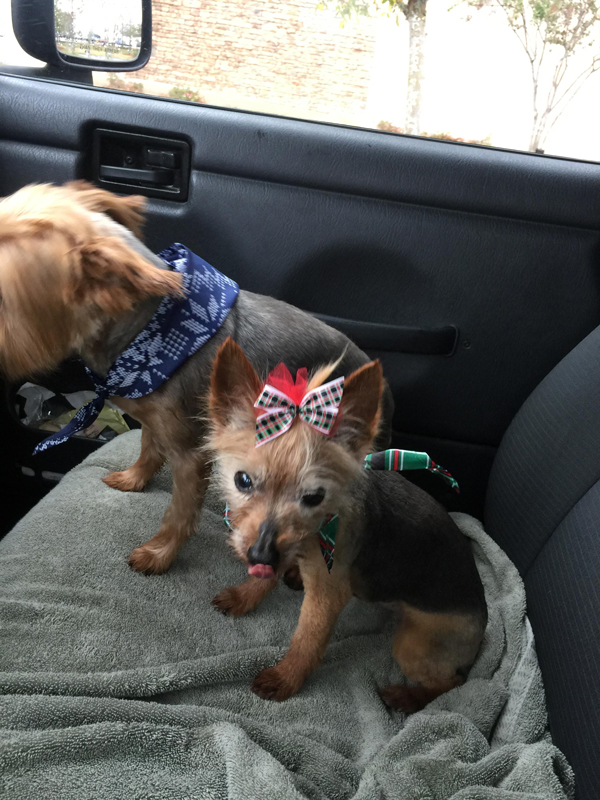 "Roxy went missing when she escaped from our fenced in backyard that had a low spot in the dirt below the fence. She was able to slide under and run. I searched the Internet for missing dogs in my city and that is when PawBoost popped up. At that point I decided to enter our information, including a picture.
Just then my husband said, 'here she is!' and showed me her picture. I saw my girl and I felt relief knowing someone had her and she was safe. Using the post I found the number of her rescuer and contacted her. I was so appreciative and humbled that she answered my call and still had my girl. I was provided her location and got there as quickly as possible. I made sure her rescuer knew she was my baby by offering details and showing pictures of her.
Roxy was taken care of so well and she was very happy to see me. Roxy is MY girl, she turns 14 in July and her health isn't the greatest even though there are many times that she still acts like she's a puppy. Now, Roxy and I have gained some new friends which made this experience for us so awesome!!
I definitely recommend PawBoost, because it was easy to post information about my girl as well as searching to locate her. Thank you so much!!"
Spread the good news! Thank you to everyone who shared Roxy's alert. Her family is very grateful to have Roxy home!! 🙂
---
Eddy: Lost Dog Reunited in Shoreline, WA!
"He's only 9 months old and hasn't been without his humans a single day until he went missing. Thankfully, I have my little puppy Eddy with me right now thanks to an angel disguised as an electrician working in the area who saw him wandering. He knocked on a few doors in the neighborhood and one lady wrote down the name on his company van and called me late last night.
I contacted the company first thing this AM after a sleepless night and they were able to track down the electrician and have him call me. He was in route to Paws to drop him off, and came directly here after giving him our address. He took care of him all night and even went and bought him really great organic dog food and let him sleep with him all night.
So thankful we found this site yesterday. Everyone has been so AMAZING. We can't thank you all enough in helping bring Eddy back. Your users are unbelievable!"
Thank you to our partner Whistle for helping make this happy reunion happen by sponsoring Eddy's alert!
---
Boots: Lost Cat Reunited in Douglasville, GA!
"Boots' disappearance is still a mystery. We believe he slipped out the back door when we let our dogs into the fenced in backyard. I followed the advice of one of your PawBoost supporters, leaving the garage door cracked open a little. I would go to the front, and the back of the house and into the garage often and call Boots' name.
This morning I went to grab a can of dog food from the garage before going to work, and I called his name one more time, and I heard a soft muffled meow from the back of the garage. I kept on following his voice and found him behind a stack of boxes and (ironically) the bagged Christmas tree!
PawBoost helped in many ways. First of all, the social media posts and the preparation for the missing flyer was very convenient and simple. The prayers and encouragement of the PawBoost community continued to give me hope that he would come back home to us. And certainly the advice I received via FB post replies helped bring him back to us!
PawBoost takes care of everything! The missing post, notifying the Rescue Squad, preparing missing posters, and most of all introducing you to a community that cares whole-heartedly about the well-being of our furry family members!"
Spread the good news! Thank you to everyone who shared Boots' alert. Boots is home safe! Your ideas and advice on how to help him find his way home were amazing 🙂
---
Angel: Lost Dog Reunited in Austin, TX!
"Angel is a rescue dog who is very skittish of humans and severely underweight. I was walking her on a leash in my yard when she bolted and I lost grip on her leash. To my shock, she ran straight for our fence and squeezed through a 5-inch opening.
Because she was so weary of strangers, no one was able to catch her even though she kept to the area around our house. Thankfully, someone from the Austin Lost and Found Pet's Street Team saw my post and helped set up a humane trap for her. We didn't even have to wait a full night before we got her!
PawBoost is a great way to get your message out and there is such a loving community waiting to help you! It has been a terrible four days but with dedication, perseverance, and a bit of luck, this is finally over. Angel has been brought home safe and sound!"
Thank you to our partner Whistle for helping make this happy reunion happen by sponsoring Angel's alert!
---
Bear: Found Dog Reunited in Kings Mountain, NC!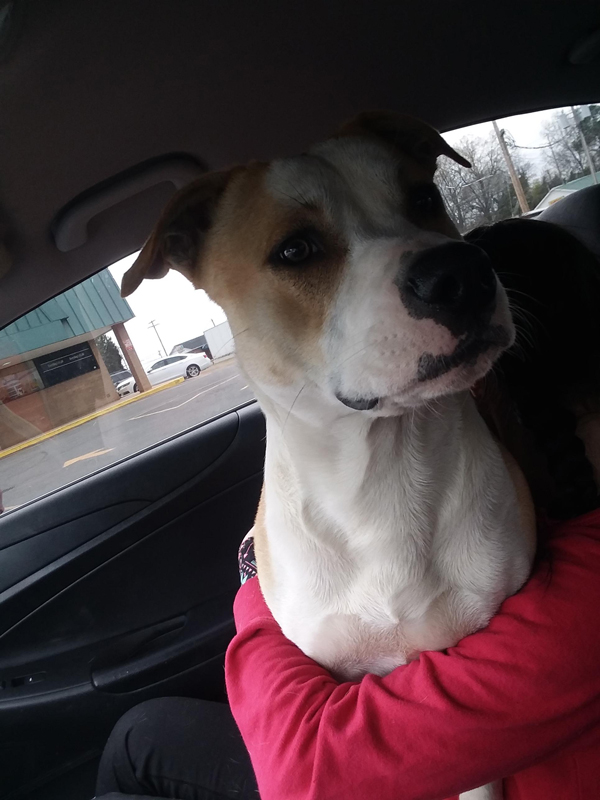 "We were driving home when we saw a big pit bull in the middle of the road. He was running towards the cars and people were swerving. My husband and I pulled over immediately to stop traffic while he was still in the road. He approached very friendly and greeted us with kisses (I honestly think he was trying to get a car to stop for him).
He jumped into our car the second he got the chance! He was very well taken care of and had amazing mannerisms, so I immediately posted him on PawBoost knowing this handsome boy had a pet parent out there missing him. He spent the night with us while we continued to search for his owners.
The next morning when we went to take him to be checked for a chip my phone started beeping..there was a PawBoost Alert. A dog in my area had gone missing and sure enough it was the big love-ball we had picked up yesterday. His pet parent was desperately downloading lost and found dog apps and posting on other social media sites.
He had proof of ownership, told us his name was Bear and boy did he respond to that name! Upon pulling up to his owner's truck he was whining so excited and pawing at the window!! I opened my door and he ran full force into his human dad's arms.
This was such a rewarding experience! PawBoost and everyone that shared his story is to thank for getting Bear back to his den!!! I am telling everyone I meet to download the PawBoost app. Finding his owner was 1000% easier thanks to us both having the app."
Spread the good news! Thank you to everyone who shared Bear's alert. His pet parent made a post, an alert was sent to the finder's phone and sure enough it was the big lovable dog they found 🙂
---
Brooklyn: Lost Dog Reunited in Los Angeles, CA!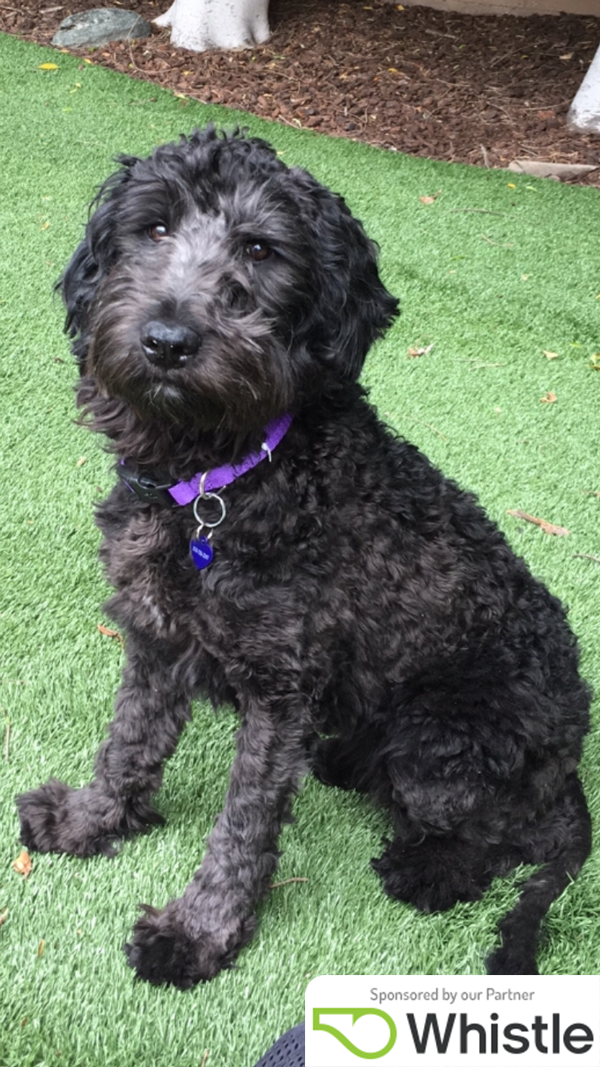 "Brooklyn is a very shy and cautious dog, and bolted out of my car as I was trying to put her collar on. She was picked up on the 101 freeway by a nice family and taken care of for the night. The next day they went back to that area and saw one of the signs I had put up the night before.
PawBoost was great because it really got the word out that my dog was missing on social media. So many people shared the post that our dog ran away. I think like 90 people and I received over a dozen messages of support.
PawBoost was great in that it provides people with a community of others who care and help get the word out, and emails with helpful tips. Of all the lost and found pet sites I used, I felt the most confident with PawBoost. PawBoost showed how many people are out there willing to help, and I can definitely see how PawBoost can help lead to many success stories."
Thank you to our partner Whistle for helping make this happy reunion happen by sponsoring Brooklyn's alert!
---
Oliver: Lost Cat Reunited in Royal Oak, MI!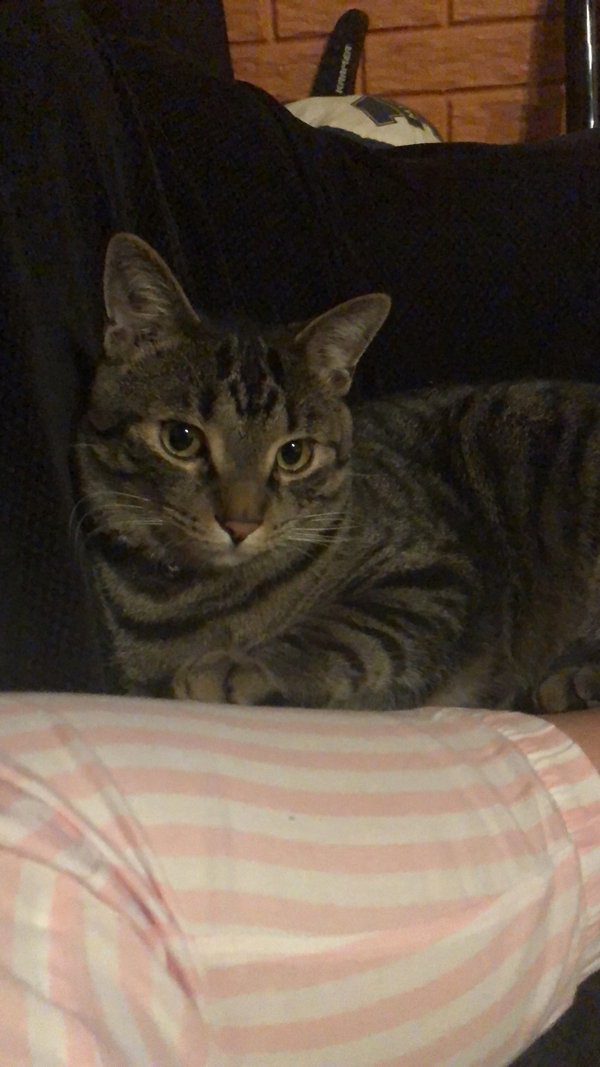 "Oliver went missing on a Sunday night. During the day, we had our windows open because it was such a nice day out and Oliver was itching to get out the whole day. That night, I went outside to get items from my car and when I opened the door, he slipped out without me noticing since I had big items in my hands.
I went straight to bed, not thinking that he slipped out the door. The next morning, I woke up and started getting ready for work but Oliver wasn't around. I started to get nervous because he always watches me when I get ready for work. I frantically started running around the house screaming for his name, but he never emerged.
I was given much advice on my journey to find my lost Oliver. I posted on every social media website for lost pets and called every animal shelter. I put his litter box outside, his bed and toys, and even bought a humane trap to catch him. I printed out 100 flyers and posted them around the neighborhood.
I also made a giant poster to put in my front yard. I would go out at dusk with a flashlight, walking around the neighborhood looking in bushes and calling out his name. Five days later, I was sitting on my couch with my dad discussing our plan to find Oliver when I heard a knock at the door. It was our neighbor five houses down from us and he tells me he think he found him underneath his stairs.
My dad and I rushed outside and ran to the neighbors, where I find Oliver eating the food they used to coax him out of his hiding spot. I bursted into tears as I held him in my arms and I promised myself that I would never let him get out again. Oh, and we're buying him a GPS collar.
I would 110% recommend PawBoost to a friend if they ever lose a pet. Everyone was so encouraging and was giving me helpful tips on where to look and what to do. PawBoost is a wonderful website and I am so very grateful that an organization like this exists."
Spread the good news! Thank you to everyone that shared Oliver's alert. Oliver is back home safe and his family couldn't be happier 🙂
---
Ruby: Lost Cat Reunited in Claremont, CA!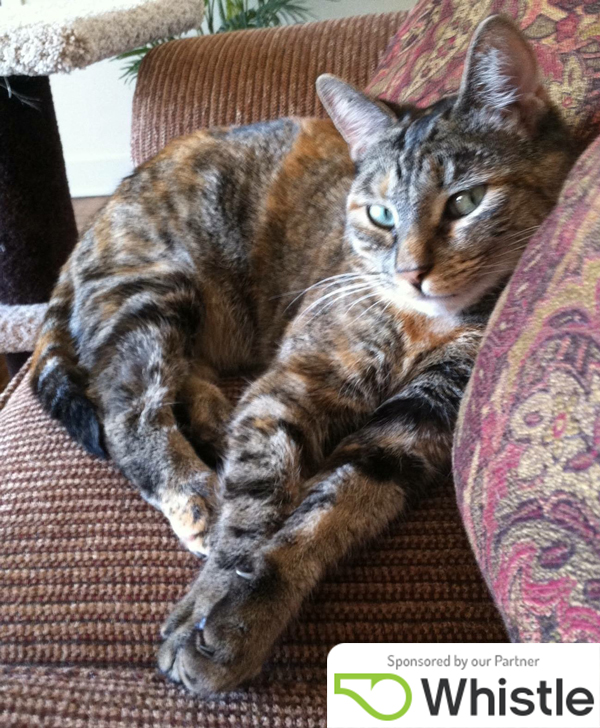 "Ruby was out on our patio Monday night around 5:30 PM. We only let her out for a few minutes and we keep a close watch on her. In the year we've lived in this new development, she'd never left the patio.
I turned my back during a phone call and heard some birds going by. Ruby must have decided to pursue them. I was frantic and searched for her all Monday night and couldn't sleep.
Tuesday morning I posted flyers around the neighborhood. I got an email from PawBoost with the tips specifically for cats after she'd been gone for around 17 hours. I put them in action.
After 30 hours of Ruby being gone #2 'Search for your lost cat when the world is asleep' and #7 'Don't give up' worked! She was pretty far from our home in our development. At least 15 houses away, and off a pathway which goes through the backs of homes.
Walking at 11 PM and calling her in a calm voice got her to respond. She was panicked – stuck up on a high wall. I was able to guide her using a can of tuna cat food to a few more walls until we got to one only 6 feet. She was so happy when she jumped down!
She consumed a lot of cat food and then slept by my side for a solid 8 hours without moving! Thank you so much!"
Thank you to our partner Whistle for helping make this happy reunion happen by sponsoring Ruby's alert!
---
Love these Happy Tails? We love sharing them! Click here to read more.