7 Adopted Cats Who Became Superstars
7 Adopted Cats Who Became Superstars
It's June, which means we will welcome the official start of summer as well as national Adopt-a-Shelter-Cat Month! So make yourself comfy and get ready to enjoy just a few of the many inspirational stories about adopted cats who beat the odds and got a second chance at a happy home – showing us all how adopted cats can make for great pets and even better friends.
BenBen the Cat
Behold the transformative impact of compassion: Just one hour before he was scheduled to be put down, BenBen – nicknamed the "Saddest Cat on the Internet" during his time at a shelter – was happily adopted and his life has been forever changed.
Shelter workers say BenBen had likely been attacked by another animal before arriving to the shelter, and the resulting scars and wounds from the attack left him with a permanent frown on his face. And BenBen's sadness appeared even more pronounced as it got closer to the day he was scheduled to be put down – that is, until came a decision that altered BenBen's world: adoption! Within an hour of arriving to his new home, BenBen's new owner said he was smiling and cuddling more. Now BenBen has a popular Instagram, where he is using his notoriety to help raise awareness of and money for stray pets in his community. Learn more!
Before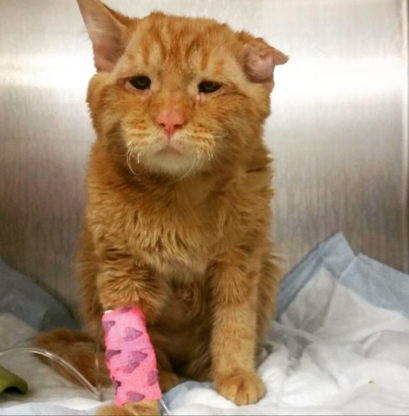 After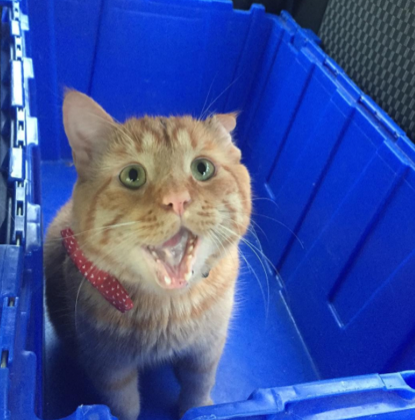 Bento – the KeyBoard Cat
Bento was rescued from a shelter in 2010 by her now owner Charlie Schmidtt… and they have been making beautiful music together ever since! Bento is best known for her role as the current the piano-playing Keyboard Cat, an internet phemonmenon originated by Fatso – another of Schmidtt's former best paw pal and artistic inspirations. Seven years after being adopted, Bento is rocking out: with over 125K followers on YouTube, she has created a variety of viral musical compositions and remixes and has used her fame to help give back to the community by appearing in promotional videos to raise awareness for the Shelter Pet Project. Go Bento; We think you rock! Learn more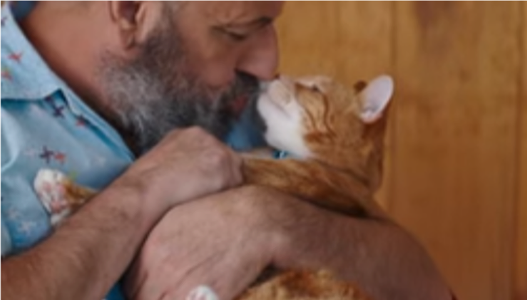 Photo Credit: Keyboard Cat / The Shelter Pet Project
Colonel Meow
Started from the bottom, and meow we're here – First rescued by a Seattle animal shelter in 2011, by the end of his life Colonel Meow managed to leave a huge paw mark on the World Wide Web and in the World Records books thanks to his mean mug and record-setting long fur.
Colonel Meow was Himalayan–Persian crossbreed cat who rose to internet fame after his owner posted an image of his impudent scowl to her social media accounts… and the rest was history. In addition to his infamous grimace and picking up over 235K followers on Instagram, Colonel Meow also holds the 2014 Guinness world record for "longest fur on a cat" at a staggering nine inches. Learn more!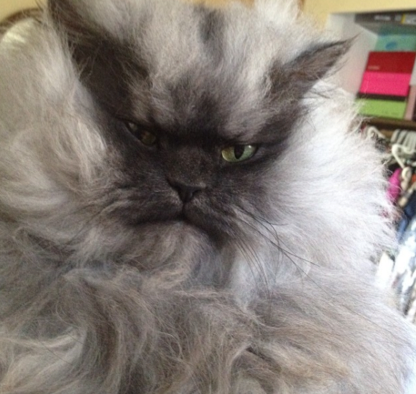 Photo Credit: @ColonelMeowAndFriends / Instagram
Batman the Cat
Never estimate the supurr power of love! Meet Batman: a cat with only three legs who was once too afraid to leave his "cat cave," but is now more energetic and playful than ever thanks to a single chance and a lot of compassion.
Shelter workers in Wake County, North Carolina are unsure how Batman lost his leg, but they did notice how he had hard time fitting in at the shelter as a three-legged cat. That is until he met his soon-to-be owner Lauren!
It was love at first sight for Lauren and Batman, who overame his shyness and approached Lauren as she met with other cats at the shelter. Upon noticing his missing leg and how Batman seemed intimated by the other cats, Lauren knew she had to take him home. And since Batman found his new family, he has transformed into a happy, curious and protective cat – showing us all that love really can conquer all. Learn more!
Photo Credit: @MrBatmanCat / Instagram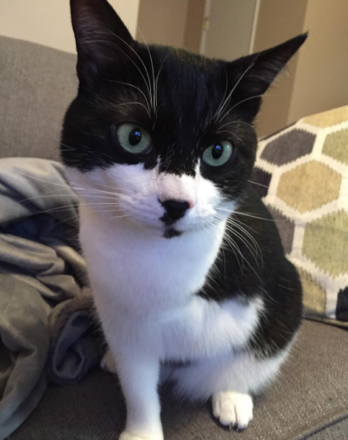 Photo Credit: @MrBatmanCat / Instagram
Lil Bub
Famous for her huge eyes and dopey smile, Lil Bub's now renown features at one point almost made her struggle more difficult. The runt of her litter to a feral mom, Lil Bub was born with several genetic mutations, including dwarfism and a lower set jaw without a bottom row of teeth, that made it difficult for her to get adopted. Thankfully, Lil Bub was taken in by loving family who put the word out to their friends that the kitten needed a good home – and that's when she met now owner Mike Bridavsky. And from there, the fur-nomenon begun!
Mike and Lil Bub have been shaking up the social and digital waves since Lil Bub was adopted 2011 – She is not only an Instagram supurr-star with over 1.6M followers as well as had the lead role in the 2013 Tribeca Online Film Festival's Best Feature award for Lil Bub & Friends, but Lil Bub also uses her fame to help raise money for animal shelters and pet projects across the country. Learn more!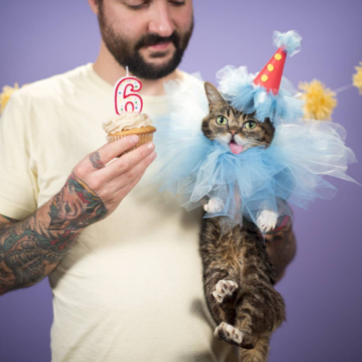 Photo Credit: @iamlilbub / Instagram
Nala Cat
Nala the cat proves we should never underestimate the feline underdog. Separated from her cat family and taken to an animal shelter at just a few months old, Nala's saucer-sized eyes and unparalleled ability to rock a cute outfit have since helped her amass more than 3.4M followers on Instagram and earning her the nickname "the most famous feline on the internet."
According to the Daily Mail, Nala was adopted at five months old by pure luck. Nala's future owner Varisiri Mathachittiphan walked into the animal shelter without any intent to adopt a kitten, but one look at Nala's doe-like eyes and Varisiri was hooked. Nala got a new home and a new chance at life – which she isn't wasting. In addition to being simply adorable, Nala and Varisiri are using this feline's new fame to help raise awareness for animal health and welfare. Learn more!
Photo Credit: @nala_cat / Instagram
Sockington
Socks Army – unite! Though now known as a "Pet Power Player" and arguably one of Twitter's first major super paw-stars, Sockington's future didn't always have an optimistic outlook. Abandoned and alone, Sockington was found and rescued in 2004 from a Boston subway station after being noticed by a man during both his commute to and return home from work one day. After bouncing around a couple of homes, Sockington was officially adopted by his owner Jason Scott, who quickly realized that he had to share his new fur baby's hilarious antics with the digital world.
Sockington's Twitter account first launched in 2007 and by early 2009 had garnered over 500K followers. In June of 2009, "@SocksArmy" was created to announce charity events and raise awareness for the feline superstar's other social cause endeavors, including shelter pet welfare. Along with the help of his other paw pals Pennycat and Tweetie, Sockington & Co are continuing to make a difference for pets everywhere one Tweet at a time. Learn more!
Photo Credit: @sockington / Twitter
Learn more about how you can make a difference in a pet's life during Adopt-a-Shelter-Cat Month by checking out more from the following organizations: