Happy Tails! June 2017 – Lost & Found, Dogs, Cats & Pets That Were Reunited in June
Happy Tails! June 2017 – Lost & Found, Dogs, Cats & Pets That Were Reunited in June
PawBoost loves to share happy endings! Read June's Happy Tails to learn how these fur babies were reunited with their families.
Love these Happy Tails? We love sharing them! Click here to read more.
---
Izzie: Lost Dog Reunited in Chesterfield, MO!
"Izzie went missing on April 24th around 10AM when my mom was coming into the house. She just bolted as soon as the door opened and took off running! My mom chased her all the way out of our subdivision and towards an elementary school, but Izzie was super fast and kept going!
We looked everywhere on foot and via car, along with our neighbors help. She was missing for over 24 hours! I posted in the lost and found section of STL Craig's list, Facebook and PawBoost. I kept an eye out on the shelters through stllostpets.org where they update the page on an hourly basis with new incoming animals.
Finally, the next day around 4PM, I received a call from a lady who said she might be with Izzie! Thankfully, Izzie was wearing her collar which had her name tag and my cell phone number. She is also microchipped. They were at a church parking lot about 6 minutes driving from our house.
It was amazing how many busy streets she crossed without getting hurt! We rushed over there right away and there she was sitting in the shade and eating bologna that the lady gave her.
I recommend PawBoost because they alert the Rescue Squad and just provide more accessibility to the local community and on Facebook."
Spread the good news! Thank you to everyone who helped spread the word about Izzie and kept an eye out for this fur baby. It's amazing how far pets will wander, but with the help of your community they can be brought back home 🙂
---
Josie: Lost Dog Reunited in Jupiter, FL!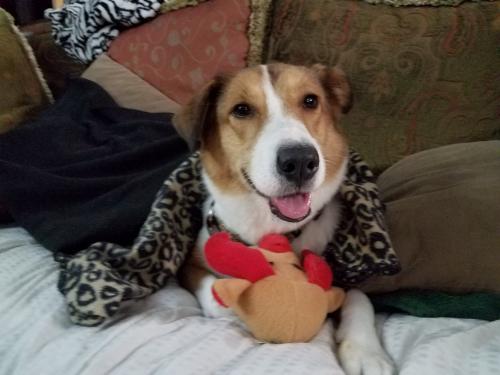 "Josie is a newly rescued girl with a background of being an escape artist. We were letting Josie and her new brother, Milo, run around outside in our fenced in backyard, only to come back not even a couple minutes later to see the fenced chewed through!
We caught Josie running along the side of the house, and when we attempted to catch up to her she darted at full speed. We went up to anyone with a door open, hung up signs and contacted just about any type of animal rescue/group we could think of! The whole neighborhood was looking out for her. I got calls throughout the following day about people spotting her but she managed to escape from them too.
Finally, around 8AM I got a call from a guy saying he'd seen her lost posts and signs, spotted her around his fence and had been trying to get her. She bolted from him, but found her way back over again and I received a call from the same guy! I let the 3 other people that were with me where she was, and one of them was able to get her at about noon!
PawBoost absolutely helped in the search, we had so many people on the look-out and keeping us posted on any sightings! I never had so many messages and phone calls in a single day before, haha!
All in all, I absolutely recommend PawBoost, because what you guys do is so lovely. You all rock! Thank you, and everybody who even so gave a thought about Josie- it's absolutely what brought us back our crazy girl that we missed so much ❤"
Spread the good news! Thank you all so much for helping get the word out about Josie. It's unbelievable how many people are out there and willing to help so many animals and families 🙂
---
Found Dog Reunited in Indianapolis, IN!
"I found this lost dog walking through the streets of a large neighborhood on a hot evening with no collar. Some neighborhood kids helped me catch her as she was pretty timid at first. The first thing we did was go to my primary vet to get her scanned for a microchip, which unfortunately she did not have.
I posted her picture, description, and location where she was found to local Facebook Lost Pet pages, Indy Lost Pet Alert and PawBoost. She was not reunited via PawBoost but you all were very helpful during the process by providing me with useful tips.
Someone saw my post on one of the Facebook pages and forwarded me a post from the owner on a different area lost dogs page. When I realized it was the same dog by seeing her reaction when I called her by her name and seeing the photo, I called them immediately.
We eventually met up and reunited her with her family. It was very clear that she recognized them and was extremely happy to be back in the arms of her little girl. It turns out the dog was a service pet for this little girl.
I certainly recommend PawBoost to a friend because the organization was great about quickly contacting me and getting the information out in a timely manner. I also appreciated the tips and articles about how to protect yourself and the dog when looking for the pet's rightful owners."
Spread the good news! Thank you for sharing this pet's alert to bring her back home with her family. It's because of word of mouth and the power of social media that helps reunite our fur babies 🙂
---
Poly: Lost Cat Reunited in East Lyme, CT!
"I had a cat years ago that was an outdoor cat and he got hit by traffic so I thought to myself, 'not doing that again.' So Poly is an indoor cat and she'd never been outside except for once when I saw her go out and I had her back inside in less than 10 seconds.
On April 18th, we had family visiting and we were all in the dining room playing cards. I opened some windows but didn't notice that one of them didn't have the screen in the 'safe' position and she got out. Poly was gone for 9 rainy days. We searched for her but never found her. I put up some posters and because of the rain most of them washed away in less than a day.
I spent every waking moment of the last 9 days (when not actively searching for her or working), staring out the windows hoping. Man, I was a mess. This morning, I got a call from my next door neighbor who knew she was missing. He described a cat that was nearby yesterday. I had seen a cat that looked very much like her about a week ago, but she was more of a long haired black cat, so I was convinced that the cat he'd seen was not Poly.
Later on, I was downstairs getting coffee and looked out the back window. We have an (unused) concrete fire pit from our home's previous owner in the back yard. She was sitting on it. I opened the window and called her name. I still wasn't sure it was her until she meowed back. Then I knew.
I scrambled to get her a bowl of her dry food. I took it outside and shook it for her to hear it. I called her name again and she started to move away. I put her food down on the patio and went back inside. She approached but when she saw me she ran past the house. I found her 10 minutes later in my neighbor's (yeah same one) garden. I squatted down, calling her name and shaking the food bowl. She approached after a few (hissing all the while) but didn't come close. I put the food down and sat back out of reach. She came nearer and ate her breakfast.
After her meal, she came over to me and after a couple minutes of pets, she let me pick her up (fresh claw marks on my back are worth it). I brought her inside, gave her a small bowl of her soft food and put out her water fountain. She seems fine, but to be safe I've already got her an appointment with her vet. Talk about one relieved Poly's Dad!
I recommend PawBoost because you guys (after days of fruitless search) let me feel like I was doing something that could help. And the stories of reunions I read there really helped too. I can't thank you enough. I'm not a religious man but this morning, my neighbor told me his whole family was praying for us. I believe him and thank him too."
Spread the good news! Thank you all for looking out and sharing Poly's alert. She's now sleeping like she never left. Poly will be the proud owner of the best pet GPS collar on the market now that she is home 🙂
---
Penny: Lost Dog Reunited in Waynesboro, VA!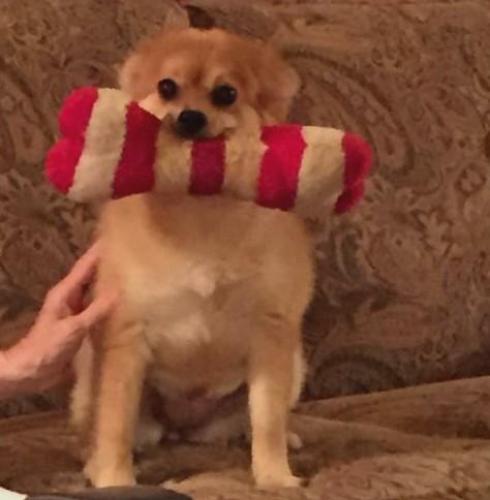 "Penny disappeared from the fenced in yard where she has lived for 7 years. When we came home from grocery shopping she was gone. We immediately checked the house, then the yard. After that family and friends started canvasing the neighborhood, crop fields and woods for probably a mile. We called and searched until dark.
Penny is my 84 year old mother's constant companion. We prayed and started planning what to do next. Starting on Monday, after searching locally Easter afternoon, we put posters out with her picture and a reward. For 12 days, we called all the local vets, SPCA and posted to Facebook. Each day my Mom became more despondent.
As we made calls, I received a phone call that a couple thought they had Penny. She had shown up on their doorstep the night before. They fed her, sheltered her and went to a small village the next morning to buy dog food for Penny. They saw a poster there and called us. Penny and my mom were reunited and we all cried. We are so very blessed to have her back.
Unfortunately, PawBoost didn't help find Penny but I definitely recommend your site because after this experience I've learned to pull out all the stops and get info to as many places as quickly as possible."
Spread the good news! Thank you everyone for sharing Penny's alert across social media. No one can prepare for their pet to go missing, but spreading the word out as efficiently as possible is key 🙂
---
Ozzy: Lost Dog Reunited in Hampstead, NC!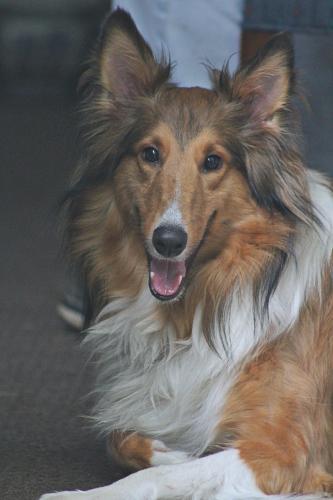 "As far as I know, my dad's dog, Ozzy was let out into the fenced in yard in North Carolina for a few minutes after 5:30 a.m. and checked before 6 a.m. to discover he was missing. He was so upset that he called me in Vermont, as I had visited him the week before and had taken photos of the dog. My dad is in his mid 70's and does not have a computer or internet in his home.
I got on the internet and posted the dog's photo in as many places I could find, the vet, the pound, and with PawBoost. I found PawBoost when I looked up a local TV station for possible help. PawBoost helped by making an internet poster that I was able to post online with my Facebook as well as the PawBoost website.
I know that the internet really helped to connect my dad with his dog. Not only was I able to help while so far away, but many people came to help my dad in the search in the North Carolina area. The person who finally found his dog saw the lost posters online as well as saw old fashioned posters that my dad plastered all over his community.
My dad is so happy to have his companion dog back home, and I am too. I recommend PawBoost, because it is a great site if you have lost an animal or found one to reconnect with the owner. My dad has always had a dog for company, and this was the first time one disappeared. I am thankful that organizations like PawBoost exist to help lost and found animals find their way back home. I wish this had existed when I was a child and lost my favorite cat.
Thank you again for this service and the helpful articles that were forwarded to me to give suggestions for my dad to try. Dad is so happy he is home!"
Spread the good news! Thank you everyone who shared Ozzy's alert and helped search for him. Ozzy is back and now everyone can sleep easier knowing he is safe 🙂
---
Dogg: Lost Dog Reunited in West Orange, NJ!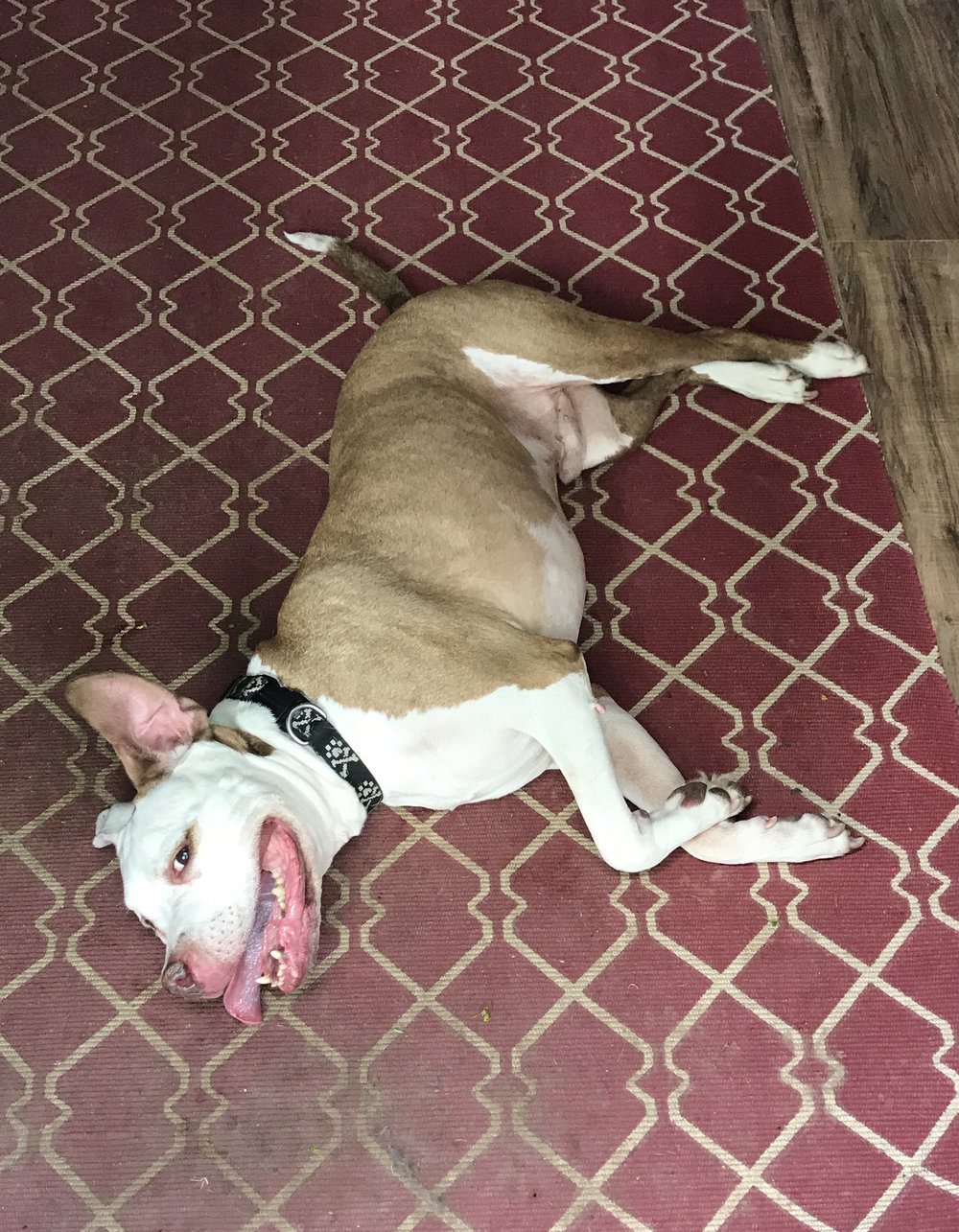 "My husband was doing yard work and didn't realize Dogg snuck out the open gate. He finished yard work and thought Dogg was in the house so he locked the gate. He then went out not realizing Dogg wasn't home. My husband figured he was in our bed as usual.
I got home from work a couple hours later and Dogg didn't greet me at the door and I couldn't find him in the house. I called my husband and asked if he had Dogg with him and that's when panic set in. I called animal control in town and shelters but they were already closed by 6pm. We searched all night for him.
In the early morning my husband was driving around looking for him and came across a man standing on his front porch up the street from us. My husband asked if by any chance he saw a small brown and white pit bull running around yesterday. He responded yes and that he also saw animal control show up and take him.
We were very happy to hear that he was safe and in possession of our town's animal control. We had to wait until 9am when they opened and they were as happy as we were that we were reunited!!
PawBoost definitely helped me feel better knowing the word was out there about Dogg being lost and that people were looking at the post. If animal control didn't pick him up I am fairly confident that with PawBoost someone would have recognized him. I recommend PawBoost because they get the word out there and they show the pet's pictures and people network it. PawBoost gives you hope ❤"
Spread the good news! Thank you all for sharing Dogg's alert! Dogg is home safe and happy. Never give up hope when you're searching for your fur baby 🙂
---
Koa: Lost Dog Reunited in Lahaina, HI!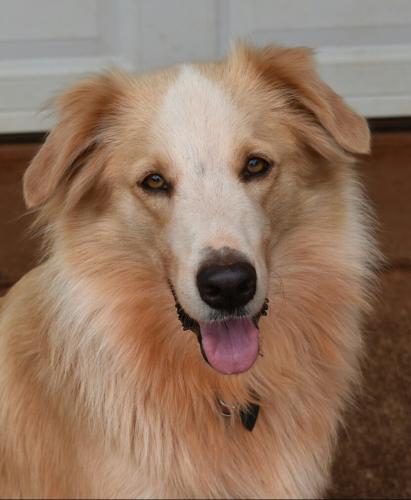 "Kapalua Airport fire shots to clear the runway of birds that could be hazardous as planes take off and land. We were not home that day and Koa got scared by the gunshots and took off. He never leaves the property and somehow he got out and lost his way back home. He was lost for 11 days!
During the second week of Koa's disappearance, neighbors in a subdivision below the highway kept hearing a dog crying/howling all night long and in the early morning hours. It sounded as though he was in distress. They kept saying they could hear the dog across the highway behind their houses.
When we checked, we were not able to hear a dog at all. Turns out, Koa Paka fell 6 feet into an uncovered storm drain, surrounded by tall grass and weeds. If my son-in-law had not slipped on its edge himself, we would never have found Koa so quickly. The reason why we could never locate him was because he was running through the storm drain system underground and his crying echoed a long way through those water tunnels.
My son-in-law and one of the helpful neighbors who assisted locating him brought Koa out of the drain safely. He strained his left hip, was covered with sludge and mud, but was otherwise okay. The vet claimed he was healthy and in pretty good shape for what he had just experienced. What an ordeal!
Although PawBoost was not directly involved in rescuing Koa Paka, they helped Koa's mommy calm down and continue to have hope in reuniting with him. The many messages received in support and encouragement was priceless. To know that over 1,100 people viewed our alert within our area was awesome. It gave me hope that he would be found quickly. Thank you! This is a great service."
Spread the good news! Thank you everyone for sharing Koa Paka's alert during this difficult time. Kia's family hopes they never have to repeat this exhausting ordeal ever again. Not knowing where your loved one can cause great distress, but having so many people behind you really makes a difference 🙂
---
Houdini: Lost Cat Reunited in Scottsdale, AZ!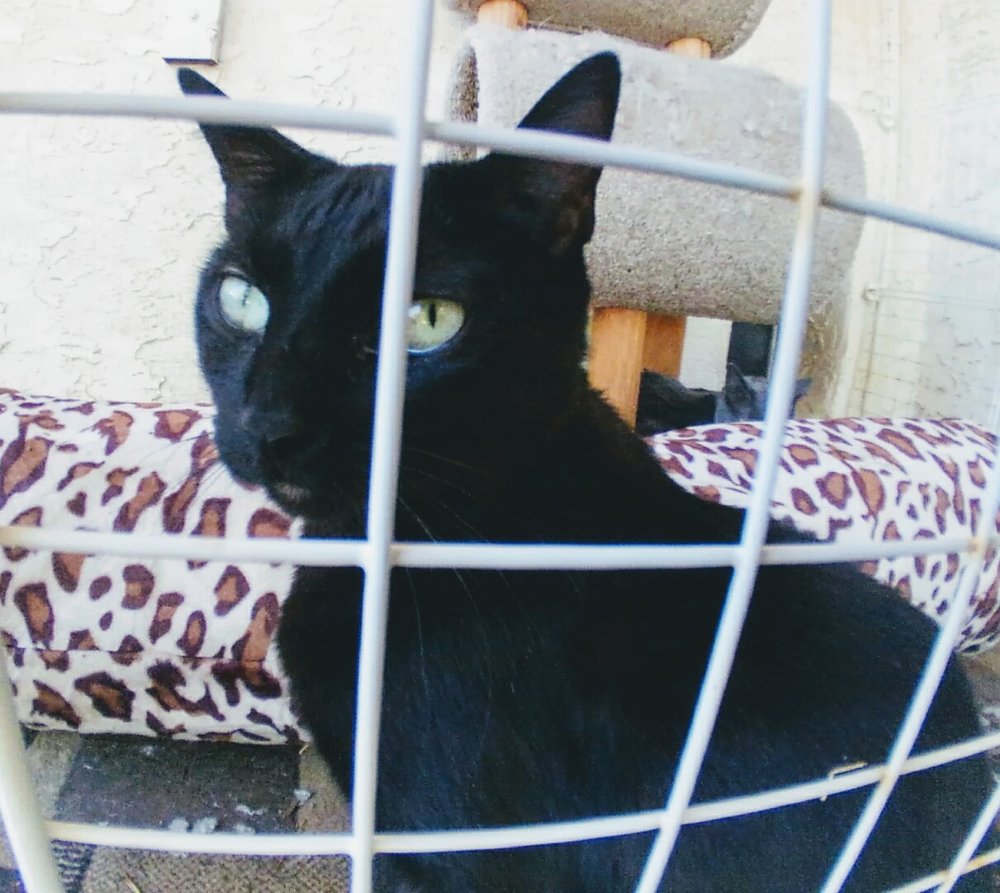 "Houdini, who is a strictly indoor cat with access to an enclosed 'catio,' made his escape early Friday morning. He clawed through our sliding screen door, squeezed himself out of a very small hole, and disappeared before we even knew what had happened.
For two days, I walked through the neighborhood, shaking his favorite box of treats to no avail. I didn't see him or hear him anywhere. When I wasn't out walking the neighborhood asking everyone if they had seen him, I was back at home hollering for him, and calling him to dinner. Nothing.
Finally, on Saturday night, I heard him meow at dinner time! It was dark by now, so I grabbed a flashlight, and started searching! I could hear him, and he sounded so close, but I just couldn't pinpoint it. Finally, I looked up. There he was, howling away from a 'nest' he had made 30′ up a neighbor's palm tree.
I called the fire department, tree trimmers, and the AZ Humane Society, but none could come out. We finally got the humane society to agree to come get him the next morning, but they failed to show up and kept putting us off. In the meantime, our all black cat was panting, frying from the sun directly overhead, and moving around up there like crazy. So we grabbed a big blanket to catch him, in case he fell.
Other neighbors joined us, and we bonded over trying to get our little guy safely down. Finally, at 11am this morning, a neighbor who had been watching this all unfold on social media and on Facebook through the PawBoost post, came over to assist and called a friend of hers who had all the gear and skill needed to climb a palm tree.
After hours in the brutal desert sun, Houdini was rescued! Unfortunately, this poor man couldn't get Houdini in the bag we provided. So plan B was launched, as was our cat. Dropped from 30′ up, we caught him perfectly and gently with our blanket. Though he's been an indoor cat for 7 years, he has the outdoors in his blood, but I don't think he'll be attempting another adventure again anytime soon.
I definitely recommend PawBoost to a friend. It was social media and my neighbors who pulled together and rescued my boy Houdini."
Spread the good news! Thank you to everyone who shared Houdini's alert and to the wonderful neighbors who helped in his return. He's home safe now, and already back out in his catio, enjoying the fresh air. Don't worry, he'll be going to the vet for a thorough check-up 🙂
---
Squishy: Lost Cat Reunited in Syracuse, NY!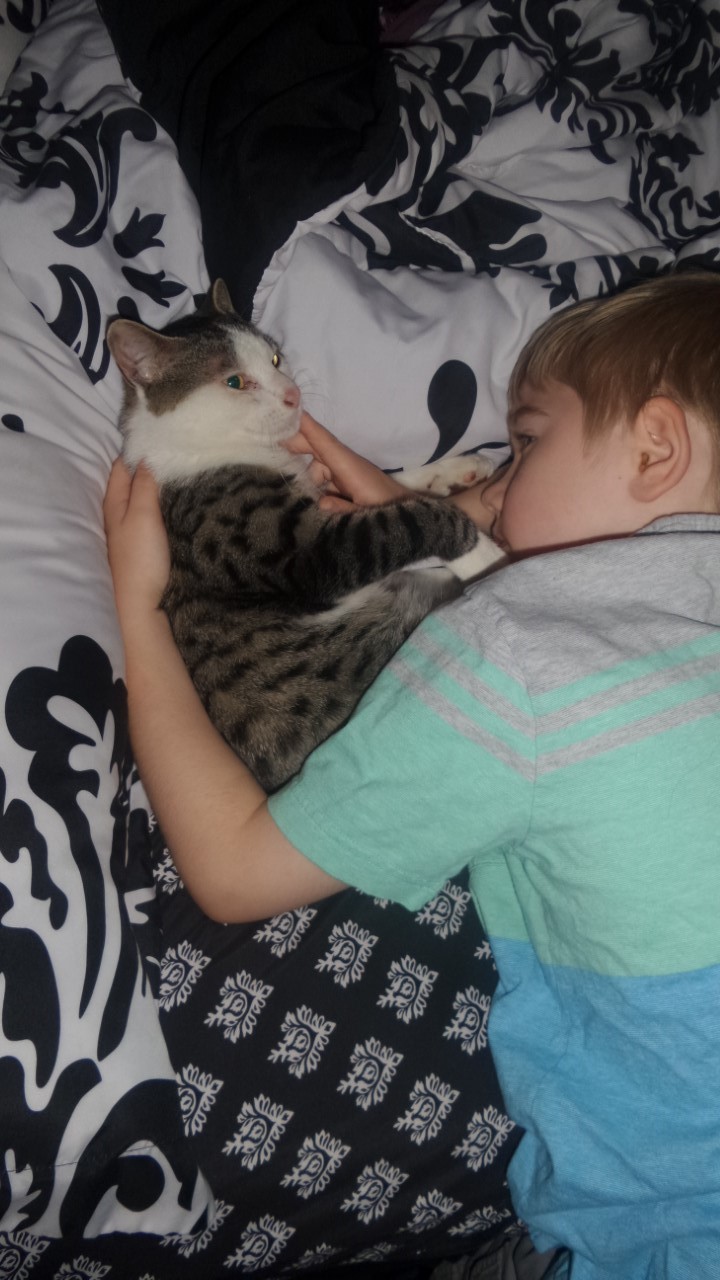 "Squishy lives with my son's father about an hour away. One day, I let the cat come to our home to spend the week with us. We left the house for a walk, and my daughter was the last one out. She did not shut the door tightly enough. Two hours later we returned home to find the door wide open, and the cat missing. Since he was not in his regular home, and he had only been there a few days we were very worried how we would find him.
Squishy went missing on a Wednesday. We had a sighting outside the house of him, but when my kids went out to grab him he took off. So that Saturday I went to a local shelter to borrow a trap to try to get him that way, but come Saturday and Sunday there was still nothing in the trap. Then, this morning when I left for the gym the trap had a Squishy in it!!!
PawBoost did not directly result in him coming home. However it was nice to know this option was available to ensure my son everything was being done to help his best friend come home. I showed him all the shares on Facebook, and the kids handed out the flyer I printed from your page to all the neighbors which led to calls of sightings. This kept hope alive for my son that he was still in the neighborhood and alive.
I definitely recommend PawBoost to a friend. This is an amazing tool when your pet goes missing. Again, it helped keep hope alive and helped spread the word. Plus the poster was fantastic!! Thank you all so much for all that you do."
Spread the good news! Thank you everyone who shared Squishy's alert and kept an eye for him. Pets are family and when they go missing there is no time to waste! Keep the hope alive 🙂
---
Leo: Lost Cat Reunited in San Francisco!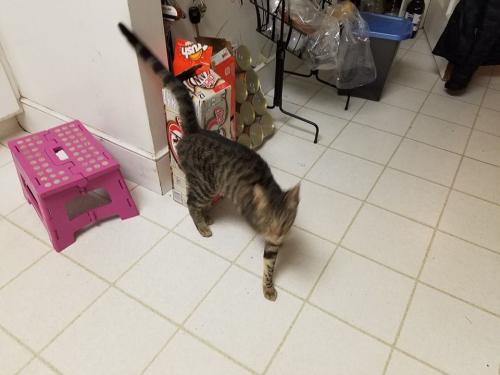 "It was late in the evening after our son Nick's birthday dinner when we returned to our home. After parking in our driveway, we heard a loud meowling from beneath the vehicle in the adjoining driveway. Calling to what sounded like a cat didn't help, but with a bowl of food from our own cat Tula's supply, we were able to coax the source of the meowling out.
This cat appeared young, skinny, and ravenously hungry, but otherwise in good shape. At first skittish, the fugitive turned friendlier after feeding. We brought the cat inside, after securing Tula in the back of the house; Tula, in her later years, hasn't tended to be friendly to other members of her species. My wife somehow decided that we'd found a female, and I casually gave her the name Charlene.
We decided to keep her in the process of seeking out her origins, which involved posting on PawBoost, Nextdoor, and Facebook, posting a flyer on a nearby tree, driving around the neighborhood, and bringing Charlene to our vet to check for a chip. There was a chip found, but the vet couldn't associate an owner with the number.
Charlene stayed for a second night in our son's downstairs bedroom. He reported her as very loving, to a somewhat needy degree, and I enjoyed my brief time with her upstairs. Among the folks responding to our online postings was Laura from Nextdoor, who turned out to be a volunteer with San Francisco Animal Care & Control, who'd retrieved another stray we'd found quite a few years ago. Laura volunteered to take Charlene to SFACC, and to keep us apprised of the results. Our family, and especially Nick, was rather reluctant to let Charlene go, but we hoped for the best.
The best happened, and it was a bit of a surprise. Laura messaged us that Charlene was actually Leo, and that Leo had been lost by a family down the Peninsula, twenty or thirty miles to the south. It was assumed that someone from San Francisco, perhaps with a Peninsula job, found Leo wandering down there and transported him by car up here, but that Leo had then escaped, and ended up finding us on that dark and hungry evening.
Laura further noted that Leo's owner and owner's son had rushed up to SFACC to reclaim him; the son was apparently emotionally vulnerable and had found great comfort in the pet. Not surprisingly, both parent and child were in tears at the reunion. And we can assume Leo was purring loudly.
We're grateful to PawBoost for the encouragement and guidance in the reclamation process, and I definitely recommend it to anyone in similar need."
Spread the good news! Thanks to everyone who shared Leo's alert. It's not always easy allowing an unfamiliar animal into your home, but finding the owner makes the adventure worth it 🙂 Another happy reunion!
---
Athena: Lost Ferret Reunited in Concord, NC!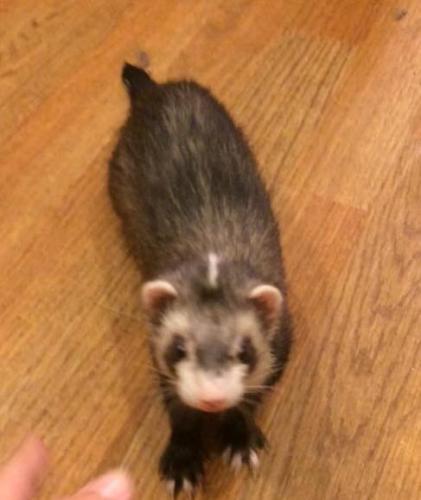 "We allow our ferrets to roam the house when we are home. They are known to have hiding spots when they sleep. Athena has only about 3 spots she usually sleeps in the house. We have had her since she was a kit. She is about to be 1 year old. So we have gotten to know her and her spots well. When we could not find her in any of those locations we searched everywhere.
We use a squeaky toy to call her out. Despite squeaking the toy for well over 30 minutes she still had not come out from anywhere. We did not even hear her moving around. We assumed the only other possibility is that she snuck out the door when we stepped out of the house. She is known for always trying to sneak outside.
We searched outside for over an hour at 2 in the morning. We were walking up and down the street squeaking the toy hoping she would come to us. It was very late and we thought the only thing we could do is report her to any outlet we could think of. We were directed to PawBoost from Facebook.
Hours after the report, we heard a closet door banging and shaking. We opened it up and there she was! She somehow got into a hallway closet and tucked herself in for a nap. Neither my wife or I, ever remembering opening the closet door that day. So we never thought to go looking there. Plus we never heard any movement from the closet when we were squeaking her toy. Very unusual for her not to get excited and respond to the squeak. So she was never really lost. Just very well hidden.
Although PawBoost was not directly involved in her being found, I would still highly recommend PawBoost to anyone. The service offers getting the word out to their Rescue Squad, which is absolutely amazing. With one simple post you are able to get the message to a large audience. Even providing you with printable lost poster! What a service! Thank you PawBoost for giving us some confidence during Athena's absence. It means the world to her loving parents (ferrants lol!)."
Spread the good news! Thank you everyone for helping share Athena's alert. After a good game or hide and seek, Athena revealed her new spot :)Her ferrants are happy to have her back in sight!
---
Lena: Lost Cat Reunited in Charleston, SC!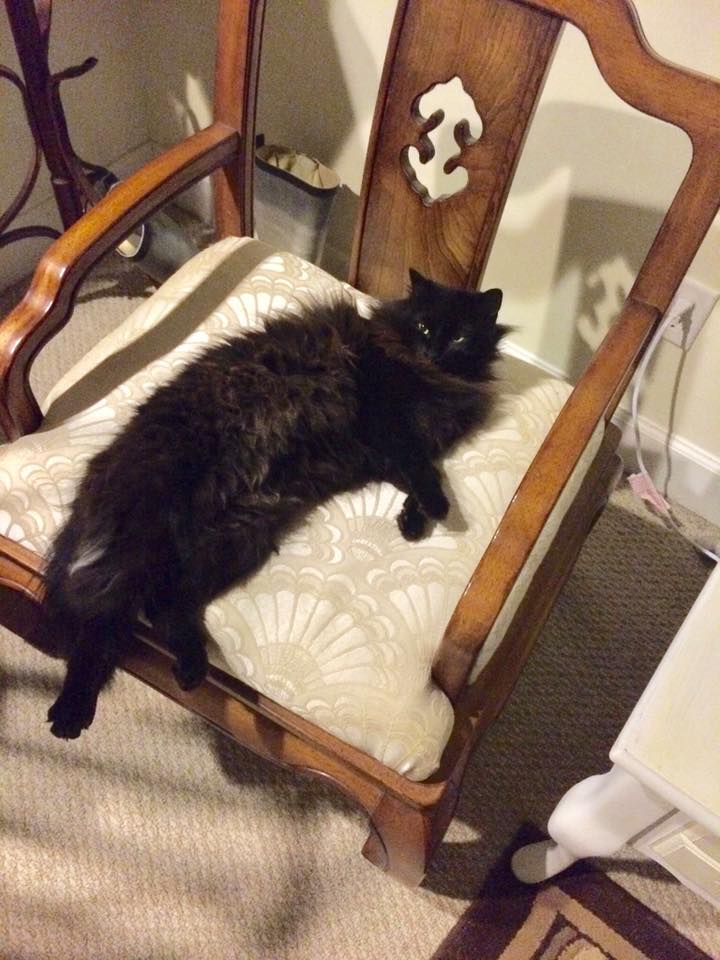 "Lena went missing on December 30, 2016, when she bolted past me out of the door one morning. She usually finds her way home, but this time, she did not. I immediately went to Facebook and PawBoost in order to spread the word. I put up posters in the neighborhood where she went missing, hoping someone would find her.
Months passed and I continued to keep my eye outfor her and to check PawBoost daily in case someone found her. Yesterday morning, I checked and saw a picture of a cat that looked just like Lena, however her coloring was a little different. She was black whenever she went missing and this cat was grey.
Despite this, I knew it was her, so I contacted the lady who created the posting to get more information on the cat, like where she had been found, her demeanor, etc. When she sent me more pictures I knew it was Lena! We arranged a time to meet up and I picked her up.
I am so thankful to PawBoost for reuniting me with her and giving me a place to spread the word about her whenever she went missing! This wouldn't have been possible without them! I definitely recommend PawBoost to anyone who has lost a pet, and having the app makes it even easier to help others nearby and to keep a lookout for other missing pets!"
Spread the good news! Thank you to everyone who shared Lena's alert to help bring her home from her journey. To anyone else out there who has lost a pet, DON'T GIVE UP HOPE. Never underestimate the power of social media and a pet-loving community 🙂
---
Frank: Lost Cat Reunited in San Joe, CA!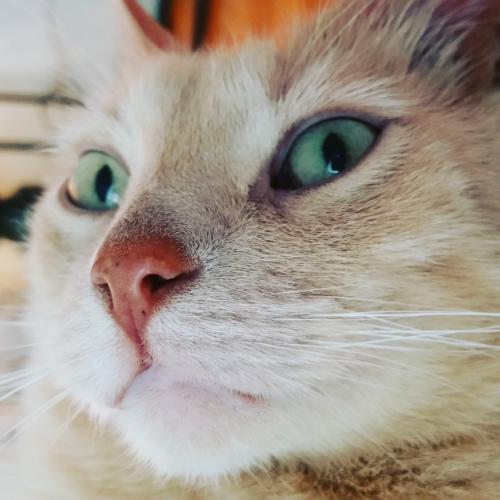 "Frank got lost in the strangest way. It was hot last night and we slept with a small bedroom window open (which we never do because we are on the first floor in an urban area). Frank is a bit heavy set and must've decided to lie down in the windowsill. Well as I said it's a small window and I'm guessing his weight against the screen pushed the screen open and he fell out of the house.
Since he's husky he can't jump high and we would've been asleep so we had no idea this happened. When I went to close the window in the morning I noticed the screen was ajar. My husband went to feed the cats (we have 2, Frank and Sam), Frank was a no show. We shook the treat bag and still no Frank. That's when we knew he was gone.
We walked the neighborhood calling his name and shaking the treat bag with no luck. I posted on Nextdoor and one of my awesome neighbors told me about PawBoost. I immediately posted Frank's info.
I was a total mess all day at work and eventually decided to come home and continue searching. I walked around some more and still no luck. I hung some of the posters from PawBoost (those are awesome!) and circled back home.
I checked our yard again and noticed a rather big dent in one of our raised flower beds. I called for Frank and heard a faint cry from the fence line. I climbed on the fence and looked at the lot behind my house and he poked his head out from under a shed. It took a few hours but he finally calmed down enough to come out.
Throughout this ordeal, I was so grateful to have a way to notify the community of our situation. I received the nicest messages, tips, and support from our post. In fact when I went back to mark Frank reunited, I think I may have found a lost kitty listing on PawBoost that matches a kitty that was found in my local neighborhood. You are lifesavers."
Spread the good news! Thank you to everyone who shared Frank's alert while he was missing. Having a family member go missing isn't easy, but having a community support you helps in the greatest way 🙂
---
Granite: Lost Dog Reunited in Spring, TX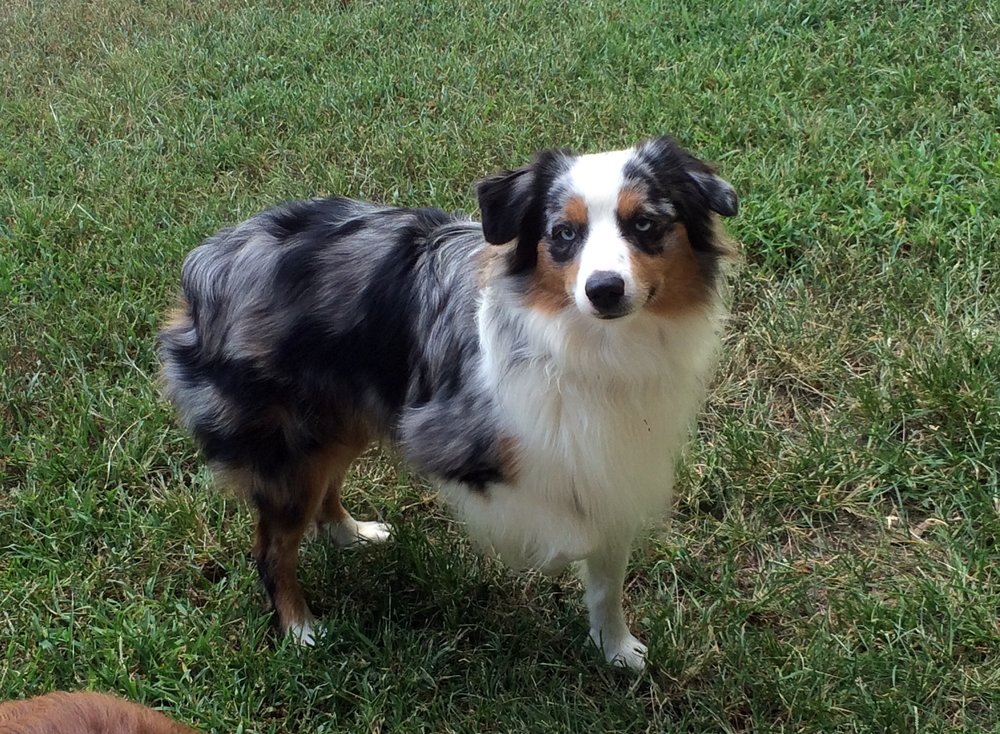 "Granite's great escape occurred approximately at 5:46AM on a Sunday. The previous night's storm blew down the tarp that was blocking a gate-in-progress hole in the fence. We became aware of the Aussie-gone-astray about 6AM after counting noses, and his came up short. We immediately posted to our neighborhood Facebook pages, Nextdoor, PawBoost, and other lost critter sites.
We started getting lost dog sightings around noon, and were totally unprepared by the response of so many folks, especially our neighbor and her friends, who were out searching for our fur baby. A lead came from a young lady stating that she and her husband had followed Granite into the woods. Apparently, Granite is a timid dog and he couldn't be bribed, and he's never been lost before. We updated our Facebook posts to include the husband's cell phone with, 'timid, don't try to catch him, please call.'
After a sleepless night worrying about our missing boy, we received a phone call around 7AM the next morning. Stephanie had eyes on Granite. He ran into the woods when she stopped and opened her car door, but he was nearby. We may have broken speed laws getting to his location, about a mile away. Stephanie stayed where she had seen him go into the woods. We hollered out and called for him, but until he could make eye contact, Granite stayed out of sight.
Finally, that timid boy stepped toward me, wagged his body, then tackled my husband who was standing several yards away. It was a joyous reunion. We can't thank all the folks who helped, searched for and cared about our lost dog enough. We are grateful beyond words. Although Granite's return came from someone on Facebook, we're glad to know that PawBoost is there for those folks who don't use social media."
Spread the good news! Thank you so much for everyone who shared Granite's alert and the overwhelming loving response in getting her back home. Hopefully this will be Granite's last great escape 🙂
---
Love these Happy Tails? We love sharing them! Click here to read more.