Happy Tails! July 2017 – Lost & Found, Dogs, Cats & Pets That Were Reunited in July
Happy Tails! July 2017 – Lost & Found, Dogs, Cats & Pets That Were Reunited in July
PawBoost loves to share happy endings! Read July's Happy Tails to learn how these fur babies were reunited with their families.
Love these Happy Tails? We love sharing them! Click here to read more.
---
Rosie: Lost Dog Reunited in Thornton, CO!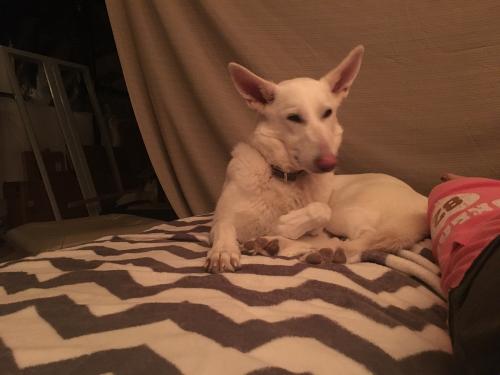 "There was an illness in the family that required travel to Massachusetts, so Rosie was being watched at home by a family friend. When being let out one night to potty she jumped the backyard fence and took off. Our family friend was unable to catch her before she vanished into the night. We returned home the next day but could not find her for 3 weeks.
A really nice gal named Sarah emailed me through PawBoost stating that she thought she saw Rosie but did not want to approach her due to the warning of her being skittish and would possibly run away if trying to be captured. We went out to see if we could find her and after much searching there she was! Exhausted and ready to come home!
I absolutely recommend PawBoost! It helped us after 3 weeks of searching to get our love back. Later that weekend a little girl handed out flyers on our block about her lost cat. I told her to use PawBoost to help look for him!"
Spread the good news! Thank you to everyone who shared Rosie's alert over the three week period. She went to the vet who said she will be just fine after she puts back on some weight. She is bathed, fed and has been cuddled up sleeping since the night she came home 🙂
---
Hazel: Lost Cat Reunited in Monticello, NY!
"My partner and I were moving cross country with Hazel and she was amazing about it. We made a stop at my partner's relative's house to visit. It was our very last stop. As we were preparing to go out to dinner, Hazel had her eye on the screen door of my partner's aunt's room, who neglected to close the sliding door in front of the screen leading outside. When we all left to go to dinner, Hazel (enticed by the birds I'm sure) clawed her way through the screen and took off.
Hazel ran away in a secluded area of Monticello, NY, so we thought she would probably stay in the area. I immediately searched for local pet finder websites that I know help immensely with lost pets. I set up a PawBoost account and they quickly set up a Facebook post with Hazel's picture and information for free! Every other website I found had a fee for including a picture of my lost pet. Being that I was moving across the country, I had limited funds, and PawBoost was really amazing in that regard.
Luckily, three days later, she realized her mistake, and came back. We had left her litter box out and some food, and she was able to navigate her way back to the house. As soon as I saw her sneak across the deck looking for some food, I went outside and she ran over to me. I picked her up and she wouldn't let me go.
PawBoost didn't directly contribute to Hazel's coming home, but knowing that so many people had shared the post about her being missing gave me hope that even if she hadn't stayed in the area where we were, others in Monticello, NY were aware that she was missing. Each time the post was shared my hope grew, and that's something that I desperately needed.
I would absolutely recommend PawBoost to a friend. They're kind and so helpful. And it's clear that they have a far reach with communities, adding to the chances of being reunited with your lost pet. Thank you so much again! I can't express how much your help meant to me."
Spread the good news! Thank you to everyone who shared Hazel's alert. Hazel's family is thrilled to have their fur baby back safe and sound. Most pets do not travel far from where they've left, but it's better to be safe than sorry. Get the word out about your missing pet! 🙂
---
Found Dog Reunited in Amarillo, TX!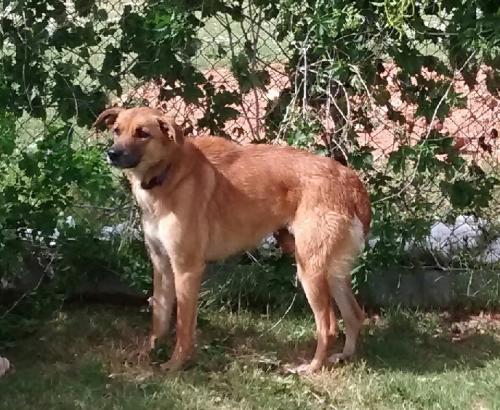 "Strong winds blew over a tree on top of the dog's outside kennel breaking the gate and part of the fence. The animal left her yard that way, probably scared. The dog actually jumped the fence into my yard, probably looking for shelter and a safe place to hide. I didn't know the dog or owner and decided to post what I could online in order to track down the pup's family. She had a collar, but no tags.
PawBoost was a great help. The owner saw the post online and immediately contacted me via email. We connected on the phone and she was on her way to pick up her lost pet in no time. The dog was really only lost for a half day or so. PawBoost really came through, especially since it was a Sunday, and most vets are not open on Sundays to scan pets for chips.
I definitely recommend PawBoost to anyone looking for their lost pet, or anyone who has found a pet. The process of posting a photo and description of a lost or found animal is quick and simple."
Spread the good news! Thank you to everyone who shared this dog's alert. You never know how far a pet has travelled from so it's a good idea to spread the word. Thankfully, this was a speedy reunion 🙂
---
Maui: Lost Dog Reunited in Marietta, GA!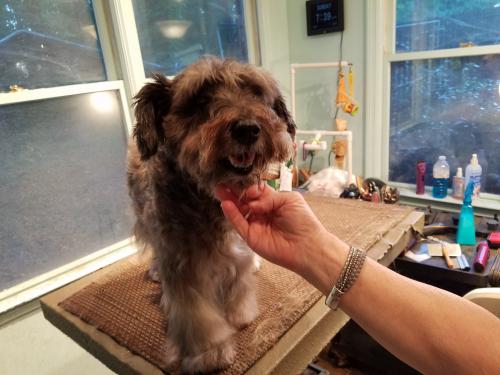 "My husband and I were returning home Sunday evening when we saw a small dog walk out into the road several feet in front of us. It wasn't with anyone and we were worried about it, so we stopped the car and got out. I was able to call the dog to me, and I stayed with it while my husband drove home to get a leash and collar. Then we brought the dog back to our house and let it rest in the yard.
Since the dog wasn't wearing a tag, we weren't sure what to do. (And we learned a good lesson fast: we usually don't worry about putting a collar on our own dog in her own backyard. From now on, she will always have her collar on!) Since our little stray wasn't carrying an ID, I called our amazing dog walker/groomer, Jane, for advice.
Jane offered to give the dog a bath so we wouldn't have to worry about fleas and she told me about PawBoost. I took the dog to Jane for a bath, took a good picture as soon as she was a little cleaned up and posted the picture on PawBoost. Then I took the dog back home with a borrowed crate, made sure she had food and water (she'd been too nervous to drink or eat when we first brought her home) and watched her survey the living room for a good place to sleep.
She was a very good house guest, and we could tell she'd been taken care of well. I hoped that if I posted flyers the next morning, we'd find her owner soon. But no posters were necessary! We got a call Monday morning from the dog's owner, who said someone had seen our posting. I knew from how the owner described the dog and from where she said they lived that this was the right person, so we met at the nearest park and the lost dog, whose name we learned is Maui, was reunited with her family. We were so glad!
I highly recommend PawBoost to anyone who finds or loses a pet. It only took about 12 hours from when we posted our found alert on PawBoost to when Maui was returned home. PawBoost really helps make the time your dog has to spend with someone else shorter!"
Spread the good news! Thank you all for sharing Maui's alert. You never know when your dog might get out, and we all hope if it happens whoever finds your dog will treat them well. Still, there's no place like home 🙂
---
Griffin: Lost Dog Reunited in Fork Union, VA!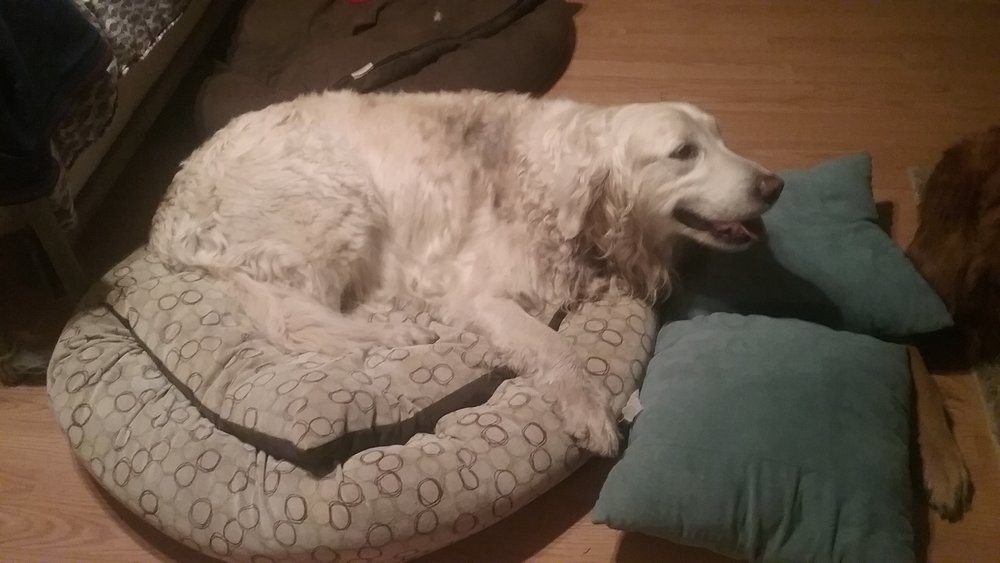 "Griffin went out to use the bathroom as usual at 7:30am on Saturday. (His toddler 4 year old let him out as usual) I believe the rain got them excited and they were running having a good old time in the mud. 8 hours later his companion brother (also a golden) came home without him. We posted on social media and the post received over 1,000 shares.
I cant tell you how many people we ran into in cars, on foot and 4 wheelers looking for him. We handed out over 200 flyers and searched miles on foot. We received a call of a spotted dog 20+ miles away so we immediately headed there. We were on the side of a dark highway screaming his name – nothing.
We headed home with our heads down all the wind was out of our sail. As soon as I plugged in my phone to the charger it rang. He was spotted at the end of our road. My husband took off and was yelling for him and he made his way to our front door. We are so thankful for the support we received and are so blessed to have him home."
Spread the good news! Thank you to everyone who shared Griffin's alert. With your shares, Griffin was brought home to his loving family! He's safe and sound 🙂
---
Sammy: Lost Dog Reunited in Huntsville, Ontario, Canada!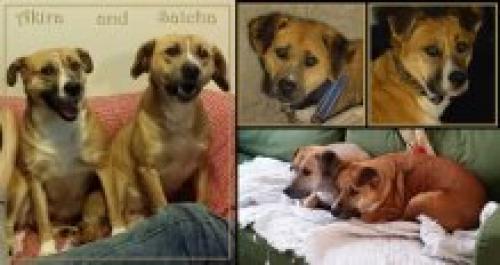 "Jen Ben and I lost one of our dogs, Sammy, whilst on vacation in Huntsville on April 23rd and that was the start of a nightmare. Sammy and Sosa had such a tough start in life and we were distraught at the thought of Sammy lost or worse.
We drove over 3000kms in the next 8 days searching the vast Muskoka landscape. We drove every day from 7am until 5am desperately searching for her, trying not to think of all of the wolves, coyotes and other predators out there with her. It seemed absolutely hopeless at times, going 36 hours between sightings trying not to think the worst.
We met so many incredibly kind people along the way. Folks went out of their way to drive around with us searching until all hours. My faith in humanity is completely restored. I am absolutely blown away by the kindness of strangers and friends.
Sammy was eventually caught by a volunteer team from Pawsative Search & Rescue who had an all-night stakeout when we had to return to Cambridge. It was an incredible feeling to get her back at last after 8 crushing days. She definitely had someone looking out for her, as her favorite place was trotting up and down and across the highway. She covered some distance!
It was all thanks to the community in Huntsville who responded amazingly – calling in sightings that helped us build the pattern that would enable her capture. I am forever in debt to the kindness of some incredible people."
Spread the good news! Thank you everyone who shared Sammy's alert and helped search for her. Her family is so happy to have her back and return to a normal life, which includes catching up on sleep and food 🙂
---
Jake: Lost Cat Reunited in San Jose!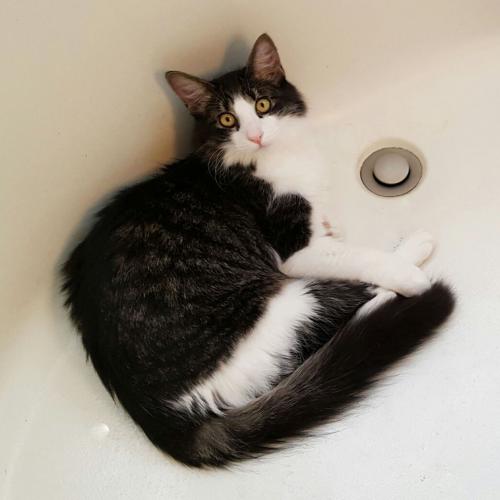 "My husband became legally blind two years ago and always tries to be careful going in and out of rooms. We have several cats and we think that Jake slipped out behind him to the garage without him knowing and then outside to the front of the house when the garage door was opened for a delivery the day he went missing. Jake is strictly an indoor cat.
PawBoost was something I remembered being mentioned in NextDoor community posts about missing cats and dogs. It was one of the first things I looked into and signed up immediately. I used the flyer feature and printed about 200 copies of them and placed them at every doorstep in our development and other places around our house. So, emotionally it helped to have this available to me and the flyers made it so much easier to get started with the search.
We set up blankets with familiar smells, food and used litter in the front and back of our home. It took four days and nights of searching with flashlights, infrared cameras, going in neighbors yards, checking our security cameras, and waiting with heartache.
The night we were reunited, my husband had gone to our backyard to call Jake's name while the neighborhood was sleeping, something he did every night, and a miracle happened. Jake was close enough to hear him and started meowing loudly from a distance and then came closer towards our shared fence. He would not climb the fence so my husband had to go get him but he is home safe.
I definitely recommend PawBoost to help get the word out as quickly as possible. It brought tears to my eyes when I saw it being shared in surrounding NextDoor communities and Facebook. As I mentioned before, I loved being able to quickly get a flyer made. Thank you for caring enough to create PawBoost!"
Spread the good news! Thank you to everyone who shared Jake's alert. Jake was fairly clean with no fleas, but had a little dried scab on his shoulder when he returned home. He was hungry but happy to be home 🙂
---
Jiggy: Lost Dog Reunited in Indianapolis, IN!
"My husband was planting flowers in the front yard and left the back gate open when he realized Jiggy got out. We searched for several days to no avail. My husband checked shelters, the dog pound, and the Humane society.
While at the Humane society he was advised to place Jiggy's picture on PawBoost. I was hesitant at first because I just didn't think it would do any good. Finally, after a week I posted his picture and immediately PawBoost responded back and assisted me every step of the way.
A few hours after I posted Jiggy's picture I received a call that Jiggy had been located. PawBoost's website and posters were unbelievable. The follow up and step by step emails were instrumental in reuniting with Jiggy.
I will recommend Paw Boost to everyone! They were personable and genuine in the search for my pet. I can't say enough about PawBoost. Thank you so much."
Spread the good news! Thank you everyone for Sharing Jiggy's alert and thank you to the family who took great care of him. His family is happy to have him home safe 🙂
---
Found Dog Reunited in Pleasant Grove, UT!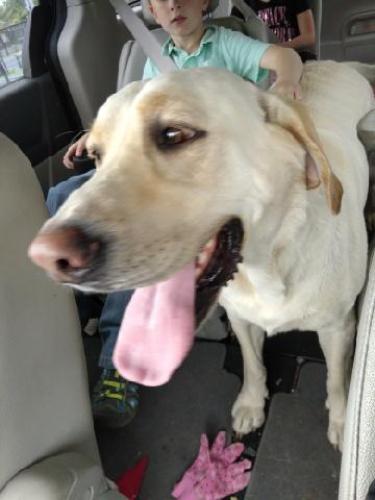 "I was in a park with my kids when we saw this dog. My 7 year old daughter loves animals and wanted to pet him as soon as we saw him. She asked all the adults around if she could pet him, but no one claimed him. He was sniffing around so I got 20 feet in front of him and sat down, hoping he would come say hi. He came over very politely.
I checked for any tags/collar and let him go on his way around the park since it was enclosed on 3 sides. I grabbed crackers and a leash to entice him over to me so I could grab him. I watched and walked by him to see if anyone was looking for him. No one was so I leashed him when he started towards the very busy street.
It was too late to take him to the nearest shelter so he had a sleepover with us 🙂 He snored louder than my husband, cuddled with the kids and played with my own doggo and has the best manners.
I took him to North Utah County Animal Shelter the next morning. We were hopeful his family would find him but requested to adopt him if they didn't. Fortunately, they picked him up a few hours after I dropped him off. PawBoost wasn't directly involved in reuniting but it helped get the word out and many people contacted me.
I recommend PawBoost to anyone with a pet or who finds one. Why? It was easy, fast and got the word out. And because animals are awesome! Just because it didn't help with reuniting this one time, doesn't mean it won't help me next time I pick up a stray!"
Spread the good news! Thank you to all who shared this pet's alert. You never know when you'll come across a lost pet, but you can always count on a community to help bring them home 🙂
---
Found Dog Reunited in Rochester, NY!
"My husband was riding his bike and found this sweet little girl wandering around a school that is next to our house. She willingly came up to him, so he picked her up (I'm guessing she was about 9-10 lbs). She had a collar but no tags. She looked well-taken care of so we assumed her owner was probably looking for her. He took her to the playground that is in back of the school, hoping that someone there was looking for her but no luck. So, of course he brought her home to our house.
We immediately set out to find her owner by posting on Facebook, animal control, checking Craigslist, and in scrolling around, I found PawBoost and thought, 'this is a wonderful idea!'
All of this happened in the evening. We had as many friends as we could sharing this so we were hopeful that her owner would see at least one of our posts and contact us. Sure enough, the next day in the morning, we got a call that described this cutie to a 'T.'
I purposefully held back some information on the dog, as I required the owner to describe some things about her that I DIDN'T post, so that the true owner could be found; I feel this is so important, especially with all of the unscrupulous people out nowadays!! The upshot is that the true owner came by within 1/2 hour of calling us & picked her up.
I recommend PawBoost to anyone looking for a pet or looking for an owner!! I just wish more people would tag their animals with a contact number in case they escape! Microchipping is wonderful, but how is an ordinary person to know if this animal has a chip??? You need a reader to see it and most people don't have one!!! Thank you so much for your help!!!"
Spread the good news! Thank you to everyone who shared this pet's alert. Another Good Samaritan helping a lost pet in need 🙂 Happy to report this fur baby is home safe!
---
Duffy: Lost Dog Reunited in Hedgesville, WV!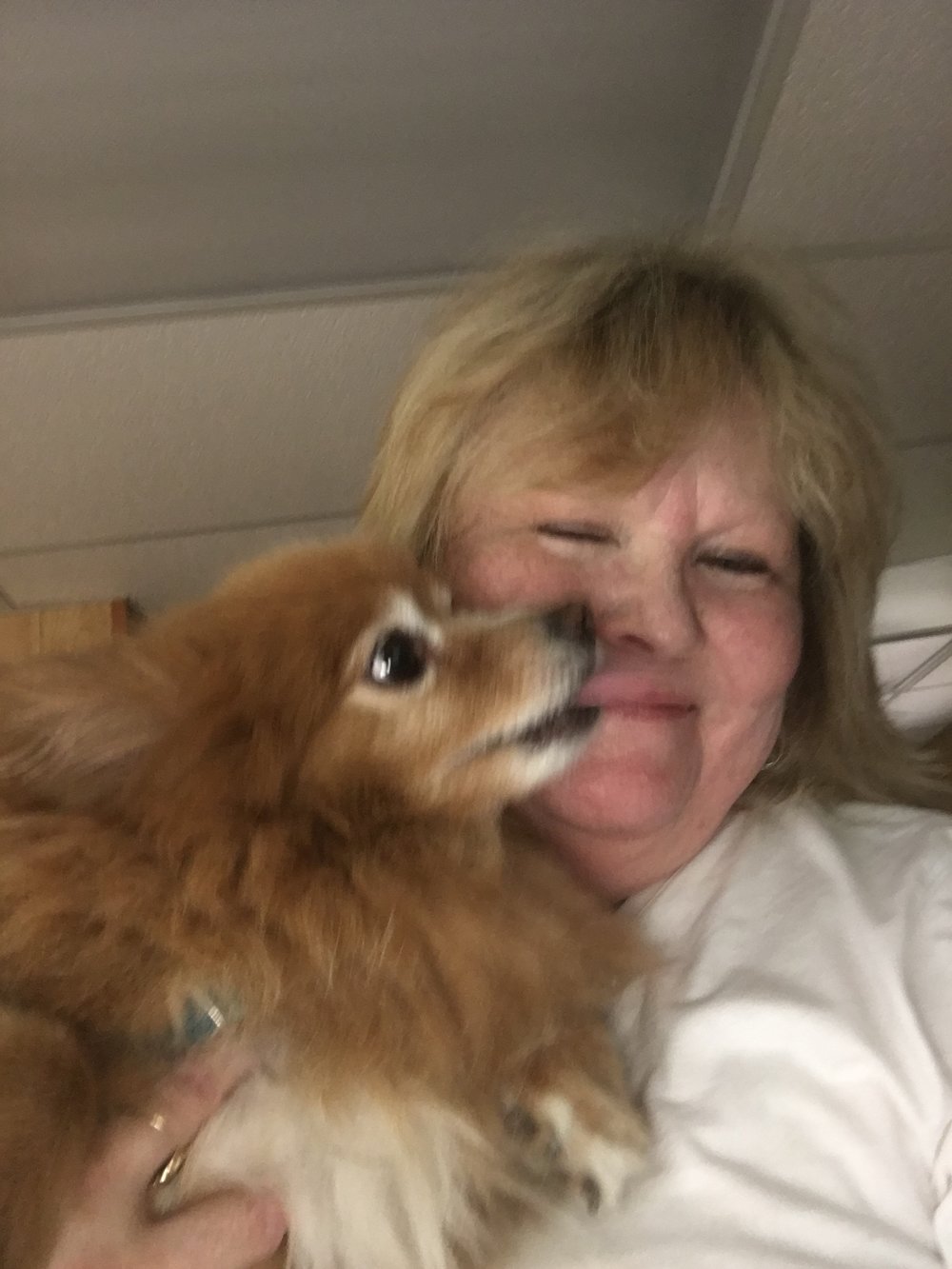 "My husband was loading the truck to return from our cabin in the mountains to our main residence. Duffy slipped out the door unnoticed when my husband was making a trip from the cabin to the truck. Our female Pom also got out but she went straight to the truck for her 'ride.'
It was when my husband saw our female Pom that he realized Duffy was not there. We searched the area extensively with the other residents help and through them I was told about several different social medias that were for lost pets. Neighbors posted his picture and made calls.
PawBoost came up on one of the local sites and I decided to give the service a try. I was amazed at the number of hits in such a short period of time and the encouraging and kind words posted by total strangers. That made a difference in finding Duffy because it helped me keep my faith and kept the prayers going for Duffy's safe return.
It was timing that was the final prayer answered when 2 Angels posing as hikers answered my questions about our lost baby. They had just come off a section of the trail near our property and spotted a red fox which was instead our lost Pomeranian. They were so kind to retrace their steps to the section of the trail and rescue Duffy from a place he couldn't get out of and an area that I didn't have the physical ability to safely climb.
I would definitely recommend PawBoost to anyone who has a lost pet. The kind comments from concerned strangers on PawBoost gave me the strength to keep my faith for an answered prayer!"
Spread the good news! Thank you so much for all of the residents of Spruce Pine Hollow for their tireless efforts in the search Duffy. Duffy is home safe after his big adventure 🙂
---
Jax: Lost Dog Reunited in Houston, TX!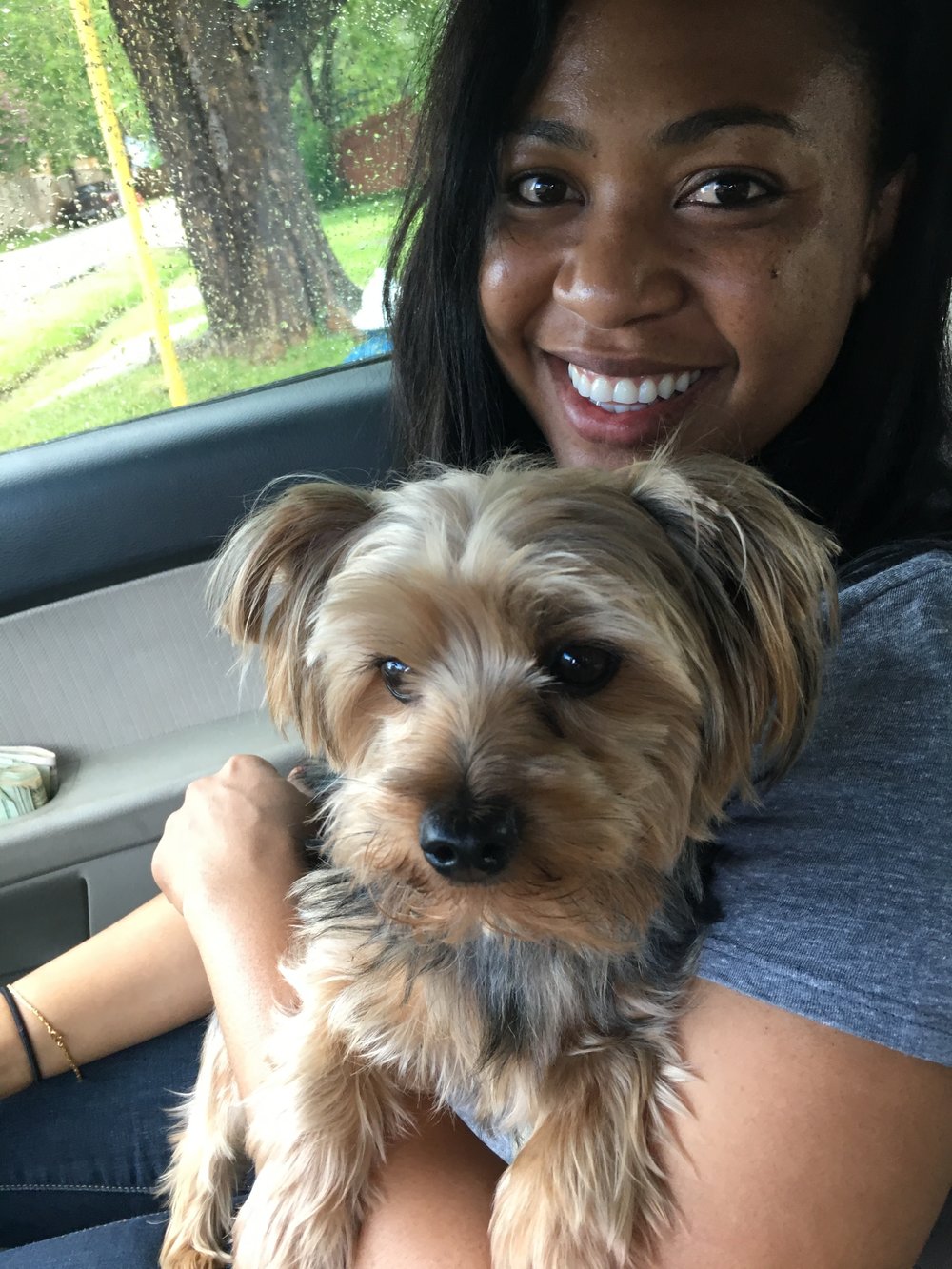 "After an already difficult week, on Friday afternoon our little Yorkie, Jax, ran out of the house and into the street. A car going way too fast hit Jax and he tumbled a couple times under the car. When the driver finally stopped his car, Jax hopped upstairs and bolted down the side walkway from home. We looked for him for 5 hours and with no luck. We didn't know where he went.
On Saturday night, we received a call from a lady who thought she might have found Jax. She described him to me and asked a couple other questions to identify him. She said she saw the PawBoost post on Facebook and that's how she got our contact. She found him curled up under a tree on a golf course in our neighborhood. It was already late so she said we could pick him up in the morning. I was so relieved after that phone call.
Sunday morning we went to pick him up and he was happy to see us, but still a little subdue. We were overjoyed and relieved. I truly believe it was prayer, positive thinking and PawBoost that brought out Jaxie home.
I would recommend PawBoost to a friend because it was a great way to reach a lot more people in a short period of time. The lady who found our Jax saw the PawBoost alert on Facebook and called me right away."
Spread the good news! Thank you everyone who shared Barley's alert. His family is so happy and grateful for everyone who helped look for Jax, shared pictures and sent prayers. After he was cleared from the animal emergency room, he went home, ate dinner, did his business, took his meds and rested 🙂
---
Barley: Lost Cat Reunited in Denver, CO!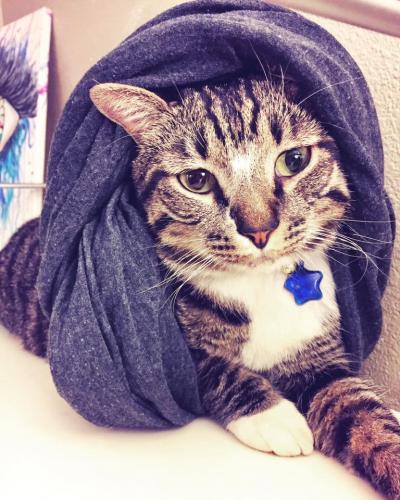 "Barley is an indoor/outdoor cat but usually stays pretty close to the house which was why the night he went missing was so bizarre. After a quick trip to the park, we started calling his name when we got home but no Barley, which was very strange because he always came when his name is called.
It was the longest 5 days of our lives looking for that little guy. Low and behold, he was in our backyard (not literally) the entire time. I came home on my lunch break to hang up more signs around the neighborhood with my younger brother and do some canvasing of the area.
We had just started yelling his name when we heard a faint meow come from a 2nd story cracked window. We both stopped and looked up, unanimously thinking, 'NO WAY.' Started calling his name and ran towards the window. IT WAS BARLEY!!
Even though PawBoost didn't play a direct role with finding Barley, this service helped me get the word out to the community in a capacity that posters/canvasing could not touch.
I absolutely recommend PawBoost to any pet parent searching for their animal. The reach for this service is incredible. I had people constantly reaching out with photos of other cats, trying to help me find Barley because of PawBoost. Thank you for all of your help, truly!"
Spread the good news! Thanks for all of the help and support throughout the search for Barley. Barley is home safe and sound 🙂
---
Smokey: Lost Dog Reunited in Greenwood, IN!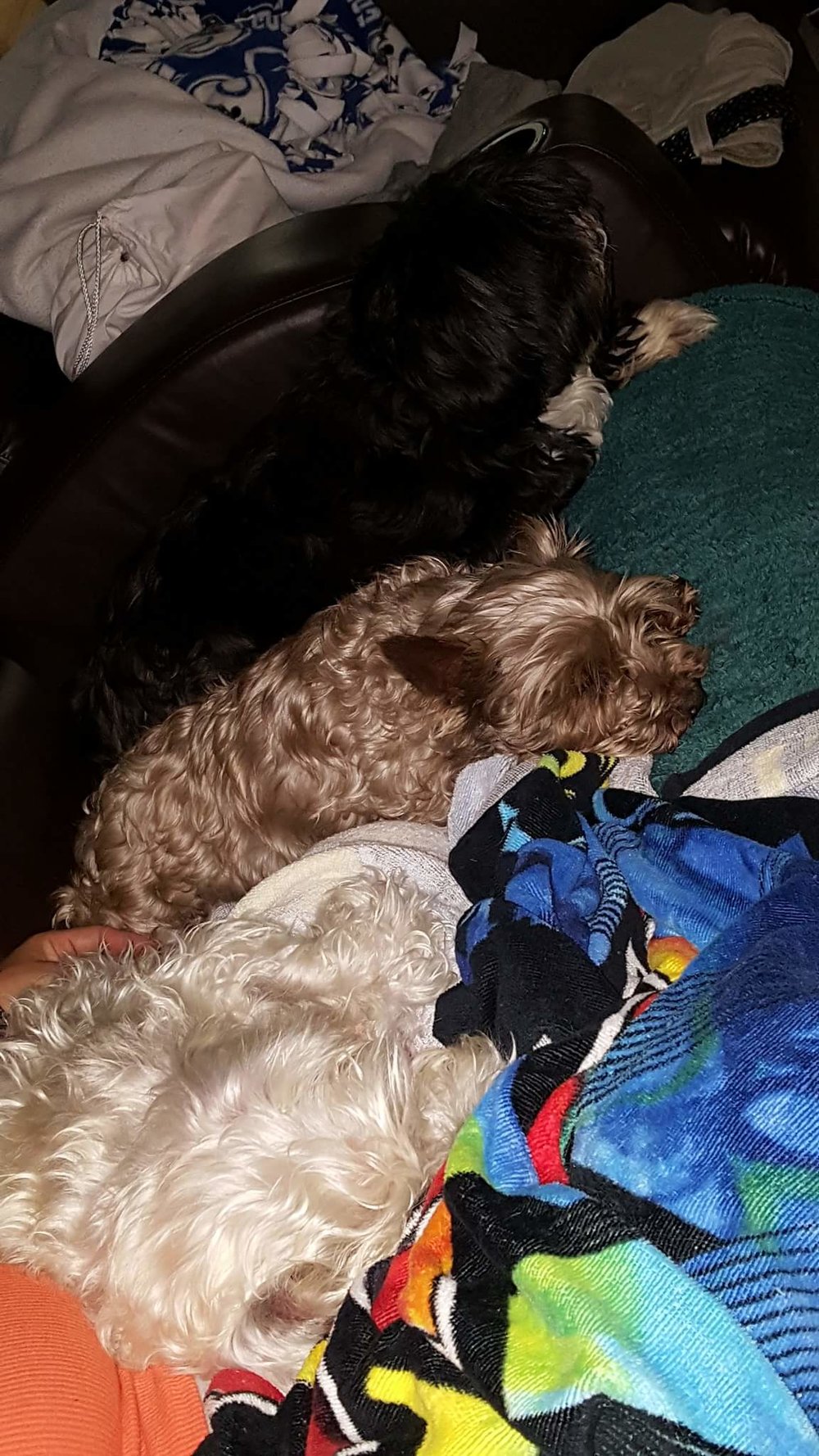 "My husband accidentally left the gate open to our back yard and when I let the dogs outside in the morning, I was unaware of the open gate. By the time I went to let our dogs back in, two of the three were gone. One person picked up and reunited us with one of the two, but Smokey was still missing.
PawBoost was a huge help. I posted it on Facebook and many friends shared my post. A friend of mine saw one of my many posts, including PawBoost and shared all of them. A friend of her mom picked Smokey up on Saturday and took him to her place just down the street.
She had plans over the weekend so upon her return, her daughter called her to report that many online posts were sent out about Smokey. Numbers were exchanged and I called her right away. We jumped in our car at 7:30PM and went to get him. He was less than three minutes from home.
I totally recommend PawBoost to anyone with a lost/found pet! The community was so helpful and kind. So many members shared my post about Smokey. It is an added resource to spread the word of your lost pet. Thank you so much PawBoost. I am so grateful to the neighborhood community member who told me about PawBoost."
Spread the good news! Thank you to everyone who shared Smokey's alert. His family is happy to have him back. Smokey got a nice long bath and he was tuckered out after a long weekend away from home:)
---
Mani: Lost Cat Reunited in Edison, NJ!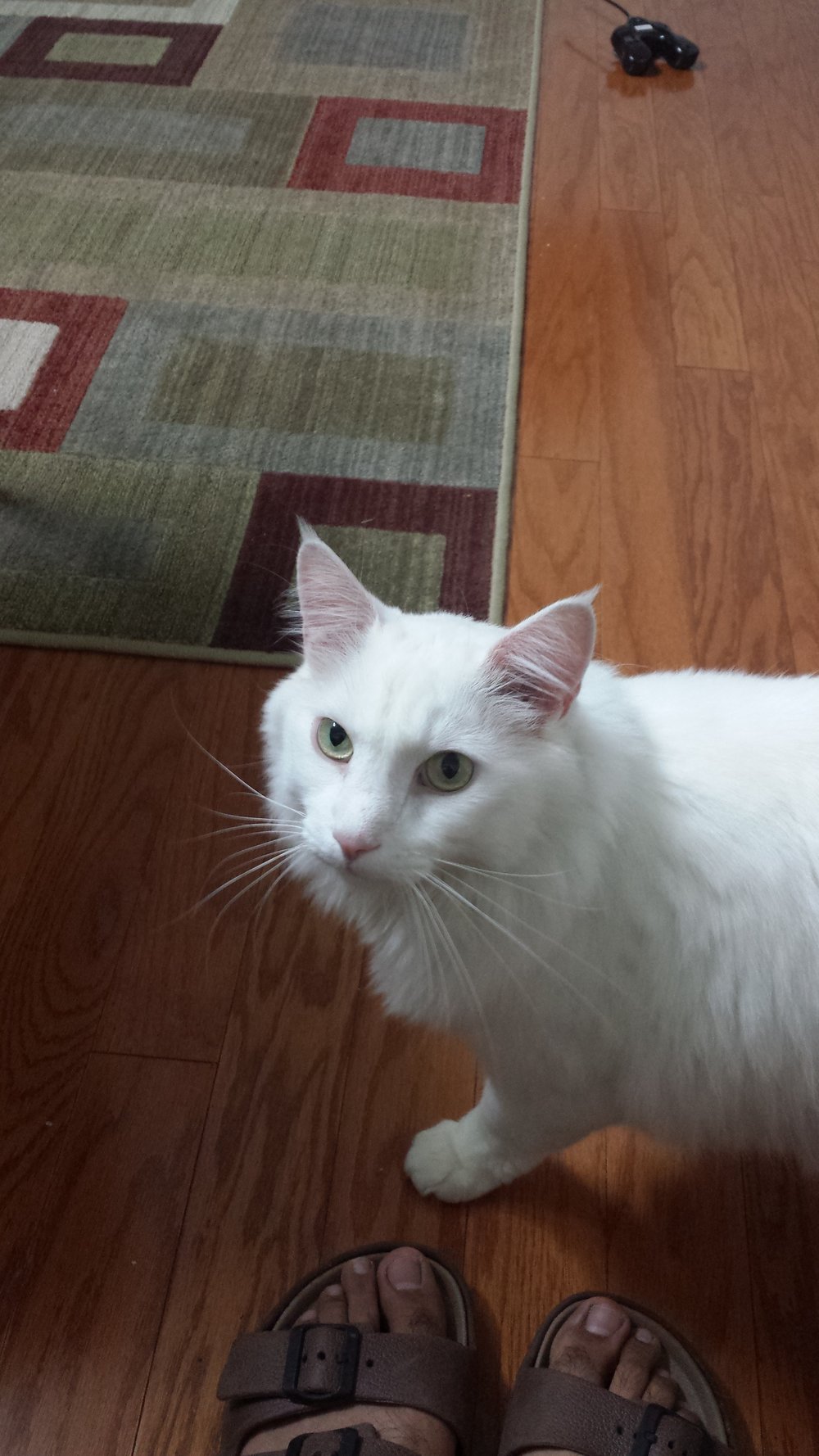 "We have recently moved from Denver, CO to Edison, NJ and Mani is not so familiar with the area yet. One Friday he went out when it was raining and I think he panicked and lost his way back back home so instead he went somewhere else.
PawBoost does great work and it really helped me while I was losing hope to get my cat back. PawBoost sent an inquiry to their Rescue Squad and also posted it on their Facebook page. A gentleman on Tuesday evening called me and mentioned to me that there was a cat sitting in his backyard that looked similar to the Facebook post. I initially missed the call, but when I heard the voicemail I called him and went to his home right away.
It was about half a mile from my place. I went to the gentleman's home and Mani was still there, I called my cat and he came towards me. The gentleman also gave me his cat carrier. That's how we were reunited and brought my cat back home. My family was very happy when they saw Mani back.
I recommend PawBoost because it is a very good portal and helps when you are in need of what to do. Volunteers on PawBoost help by guiding and keeping your hopes up. I will also volunteer and try to help others on PawBoost."
Spread the good news! Thanks for all of the shares of Mani's alert and to the volunteers who helped guide in the process. Most pets do not stray too far from their home so don't give up on your search 🙂
---
Love these Happy Tails? We love sharing them! Click here to read more.