How a Pet Detective Can Help Get Your Lost Pet Back Home
How a Pet Detective Can Help Get Your Lost Pet Back Home
What IS a Pet Detective?
For those of you who have seen Ace Ventura, it may not come as much of a surprise that pet detectives are professionals who work to reunite owners with their missing or stolen pets. But unlike some of the more outrageous antics in the movie, real life pet detectives use innovative techniques and multi-phased approaches to search for missing pets.
Every pet detective has a distinct and unique approach to find lost pets, and we chatted with Miami-based private investigator Jamie Katz to learn more about her process.

Photo Credit: greekfood-tamystika via Pixabay
How Can a Pet Detective Help Find Your Lost Pet?
Some tactics pet detectives use as part of their search efforts include: Conducting initial consultations and pet profiling, raising awareness with a missing poster campaign, using technology, and recruiting the assistance of tracker dogs.
"It is not just about education, but also the guidance throughout the case that is key," says Katz. "When your pet is missing, you are frantic you don't think the same as you would if you were not in an emergency situation."
With Awareness, Anything is Possible
Most cases will begin with an initial consultation, where Katz aims to learn as much as possible from owners to create a profile of the missing pet. Gaining a deeper understanding of the lost pet's personality (particularly around whether the pet is shy or friendly) and psyche helps Katz develop a tactical approach that focuses on quickly and efficiently generating community awareness about the missing pet's details.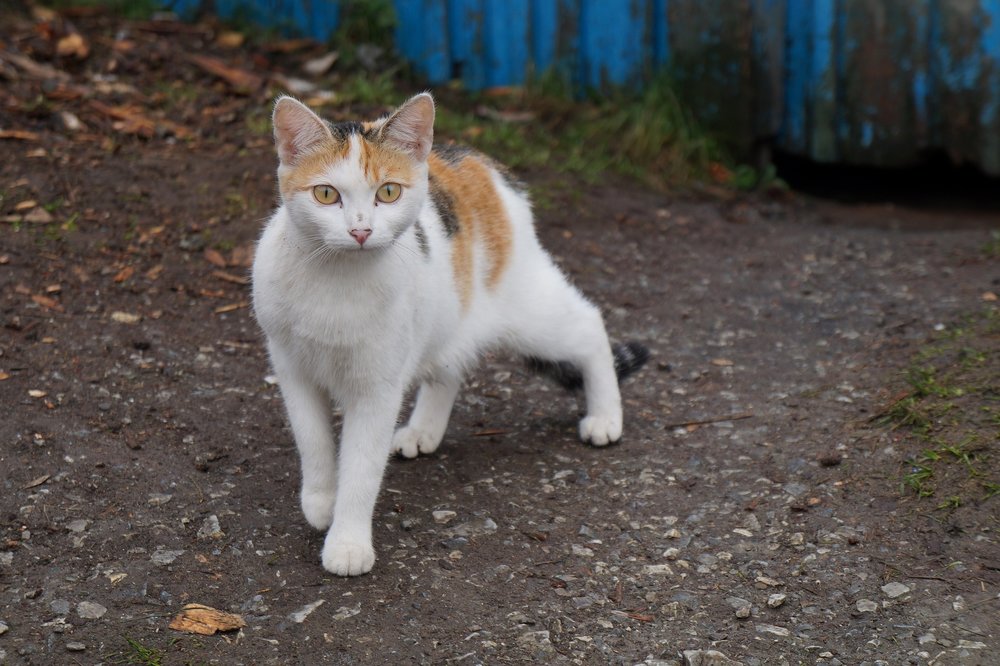 Photo Credit: GribMichael via Pixabay
Background on the events and timeline leading up to the pet's escape also provide invaluable insights on where and how to begin search efforts. Katz reports that most of lost pet cases she receives involve one of the following escape scenarios: a pet was left in a yard unattended to use the bathroom and didn't return; the owner was not paying attention and the pet wandered off; the pet was spooked and backed out of its collar as it ran off; no one saw the pet escape; or the pet got away while it was with a pet sitter.
"Awareness [that a pet is missing] is most important," Katz says. "Our goal is to get sightings or information on their missing pet in order to gain information. I believe if you can gain awareness, you can do, fix, change anything."
Taking the Campaign to the Streets
Katz works closely with clients following the initial consultation to design detailed missing poster campaigns that are tailored to each unique case. Using what she's learned about the pet's personality, Katz will provide guidance on what information to include in the missing posters – for example, Katz recommends never providing a dollar amount with "Reward" on a missing poster for timid pets as people enticed by the reward money may ultimately chase the pet into traffic or further away from home.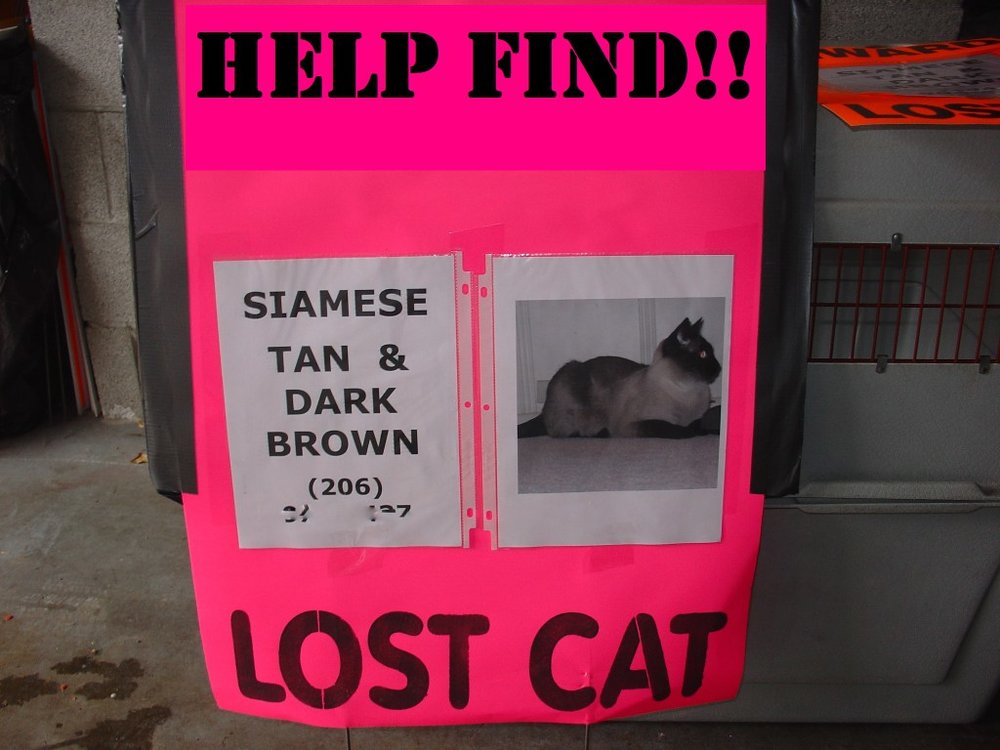 Photo Credit: Missing Animal Response Network
Once the missing posters have been created, Katz will use information on the probable point of escape as well as any potential sightings of the pet to create a strategic map indicating where clients should place their posters to gain the most awareness — Major intersections within 1-3 miles of the escape point and other highly trafficked travel routes within the owner's community are often initial starting points. Katz is also typically contracted to be on call 24/7 (usually remotely) for up to 2 weeks to help clients follow up on any leads the missing posters generate. For more on how to create an eye-catching missing poster, you can check out our tips here.
Who Let the Dogs Out?
If more extensive search efforts are required after the initial poster campaigns, Katz will recruit the specific skills of her other teammates: two scent tracking dogs named Fletcher and Gable.
Katz will generally only bring Fletcher and Gable to help work a case after the initial missing poster campaign has been active for some time (exceptions where Katz uses scent tracking as a first resort include if the pet just went missing, is elderly, or was in a car accident). Missing posters can help create wide-scale awareness as well as recent sightings, which are critical to help advance search efforts and generate leads prior to when Katz, Fletcher and Gable arrive on the scene.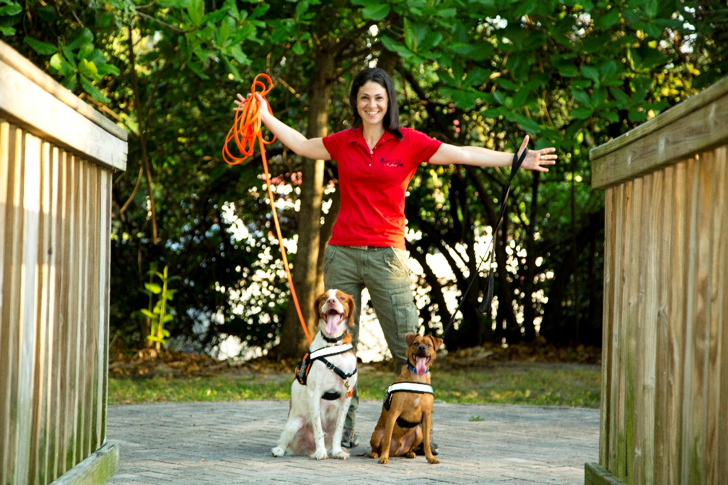 Katz, Gable and Fletcher tackle the lost pet problem, one case at a time
Fletcher, a 3.5-year-old Terrier mix and Katz's lead dog, begins by acquiring the missing pet's scent from a scent article provided by the client. Scent can be captured from either an item (such an old collar or a Halloween costume) the pet once wore or from an area in the house the pet frequented.
After accurately picking up the missing pet's scent, Fletcher can then determine the direction of travel – or the direction the pet moved from the point of escape.
"Fletcher and Gable are both scent specific tracking dogs, which means they can say 'yes' or 'no' to confirm a potential sighting," Katz says.
Fletcher and Gable confirm a sighting if they can begin tracking the missing pet's scent at the sighting source, at which point they follow the scent trail with Katz in tow.
They reject a potential sighting if they instead pick up on the scent of a different animal. In this case, they would simply return to Katz and not follow the other animal's scent trail.
Katz and her team will work together to follow the scent trail for as long as possible, until either the animal is found or the trail ends. A scent trail can end if the animal is picked up and moved suddenly – so it is important to be in touch with local shelters throughout the search process once a pet goes missing.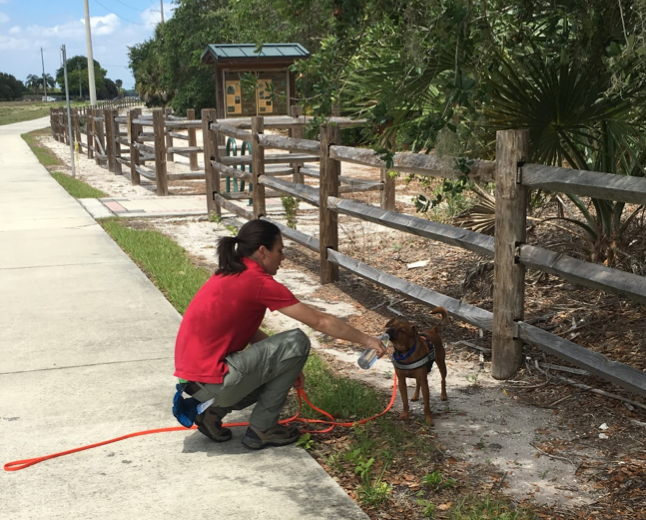 Katz and Fletcher out on the scent trail
Lost Pet Prevention Tips From the Experts
While Katz and other pet detectives are only a call away should the worst happen and your furry loved one manages to escape, Katz shares the following prevention tips and recommendations to best help keep your pet safe:
Ensure that your pet is wearing an up-to-date collar, which includes your current address and contact information.
Do not leave dogs unattended when possible; Go with your pet if they need to use the bathroom.
Double check that your pet is microchipped with a functioning implant and confirm that your pet's identification number is registered. If you move, be sure to update your contact information in the microchip registry database.
Make sure you have high-quality photos of your pets standing on all fours with key identifying marks visible; these types of photos will be more attention-grabbing to drivers in the event you need to make a missing poster.
Fliers can be a great addition in the search efforts for your lost pet, but they should not replace the larger, more eye-catching missing posters. As Katz likes to say, "Fliers get handed out and signs get posted."
Need a Pet Detective? Here's How To Find One in Your Area
We know that losing a pet can be a traumatic experience, but try to remember that there are teams and experts ready to help should you need further assistance in your search efforts. In addition to contacting Katz via her website, you can also learn more about pet detectives in your area by researching the Missing Animal Response Network (MARN) Directory.