Happy Tails! December 2017 – Lost & Found, Dogs, Cats & Pets That Were Reunited in December
Happy Tails! December 2017 – Lost & Found, Dogs, Cats & Pets That Were Reunited in December
PawBoost loves to share happy endings! Read December's Happy Tails to learn how these fur babies were reunited with their families.
Love these Happy Tails? We love sharing them! Click here to read more.
---
Yuki: Lost Cat Reunited in Las Vegas!
"Yuki is an outdoor/indoor cat, and was outdoors one night when we experienced an uncommonly severe thunderstorm. We live in a large master planned community; there are 14 neighborhoods, and over 6,000 houses within 5 miles of our home.
I tacked up over 50 lost pet posters on community mailboxes in the 3 closest neighborhoods, registered Yuki as a lost cat on PawBoost, and posted information on Nextdoor. I visited all local shelters, animal clinics and community centers to look for him and post his photo/poster.
My first contact regarding Yuki was a photo of him crouched behind a water heater, in a garage in a home over 5 miles away, that had been posted on Nextdoor. This was exactly one week after he disappeared.
I walked that neighborhood calling for him, at various times of day and evening numerous times. I taped up more posters on mailboxes. Although I didn't find him, I met many sympathetic and helpful neighbors, and I was more hopeful.
One more week later, to the day, another woman called me about Yuki! She had found him lying behind a bush in her backyard, crying weakly. She was able to get close enough to him to read his tags, which included his name and my phone number.
He was very dehydrated, had lost quite a bit of weight, and was filthy – but he was alive! We picked him up and brought him home; as soon as he rested a little and ate, my husband gave him a warm bath and for the first time ever he purred instead of growling during the bath routine!
I will definitely recommend PawBoost – it gave me direction when I needed to start my search for my lost kitty. It's a difficult time when a loved pet goes missing! PawBoost's tips gave me a path to follow, which so fortunately, lead right to Yuki!!"
Spread the good news! Thank you to everyone who shared Yuki's alert. Since Yuki has been home he's gained weight and eating well. He will be his old self in no time 🙂
---
Gigi: Lost Cat Reunited in Reno, NV!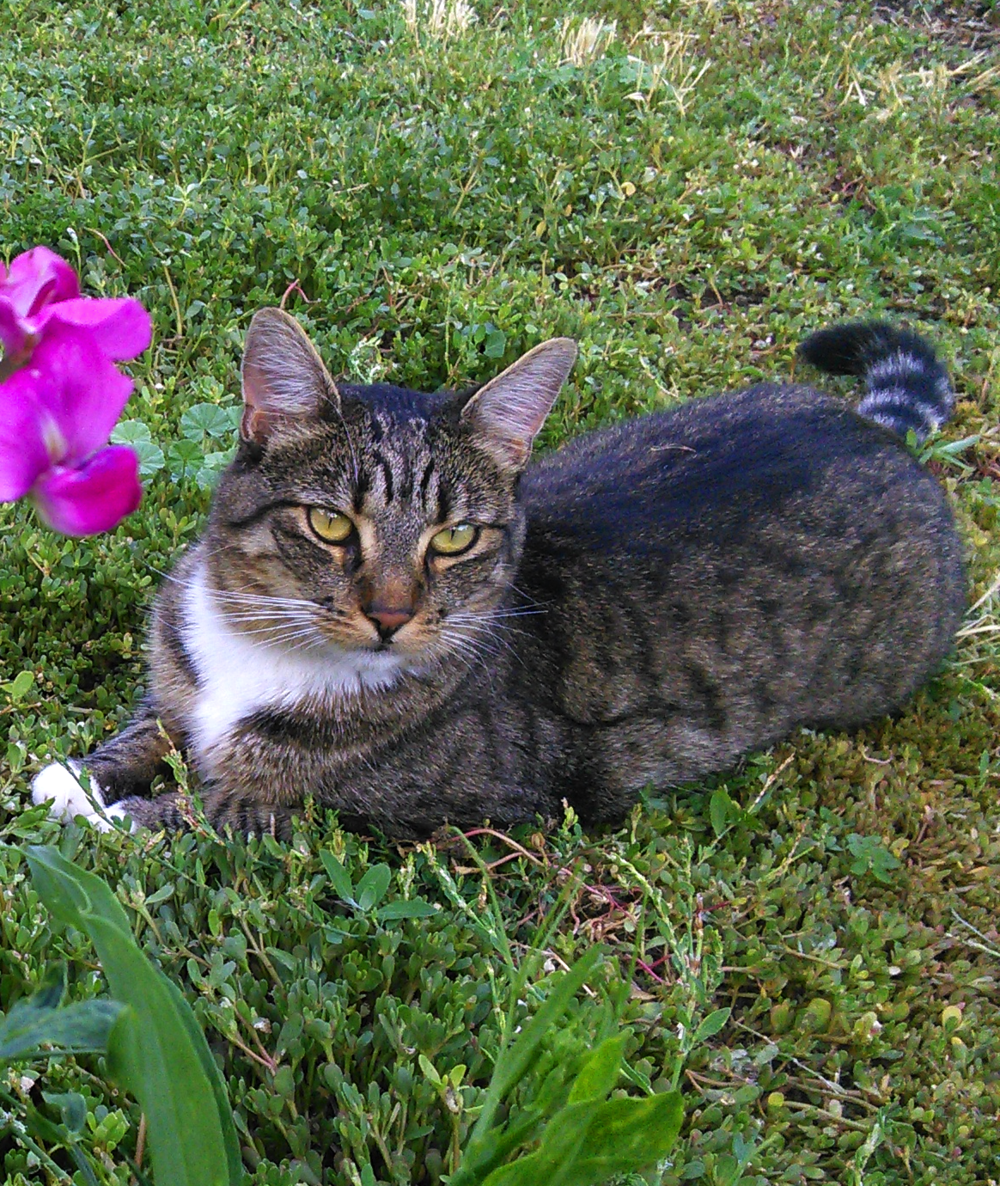 "I left for work at about 7:30 on Monday morning and when I returned for lunch (and to feed the cats their lunch) Gigi was nowhere to be found. Instantly had a bad feeling about this. My Mom, who was babysitting my four year old, saw her midmorning in the neighbor's yard. My best guess is that she must've jumped in someone's car and gotten an accidental ride to the nearby shopping center. She's never run away before.
I received a call on another morning from a couple living in an apartment behind the grocery store. They'd noticed Gigi a week or so ago, rescued her from some kids chasing her with sticks, and took her in. Sunday night I'd widened the search and stapled flyers a few blocks farther out from home than had done so far. They saw the flyer and called us.
PawBoost helped raise a lot of awareness in our neighborhood, as several people on our block and nearby were aware of Gigi and had seen her notice on FB even before we reached their homes in person with our flyers. PawBoost introduced us to a great community who were so helpful and supportive at a time we were struggling. This gave us the peace of mind that we weren't alone in searching for Gigi.
I would recommend PawBoost! In my experience it instantly draws a network of nearby people who love animals and will be looking for your lost pet. To reach all those people just by going door to door will take time (though of course it is recommended to do that as well). We took a multi-pronged approach to finding Gigi and I am so glad we did."
Spread the good news! Thank you to everyone who shared Gigi's alert and kept a watchful eye out for her. Her family is forever grateful that she is home safe 🙂
---
Dasha: Lost Dog Reunited in Thurmont, MD!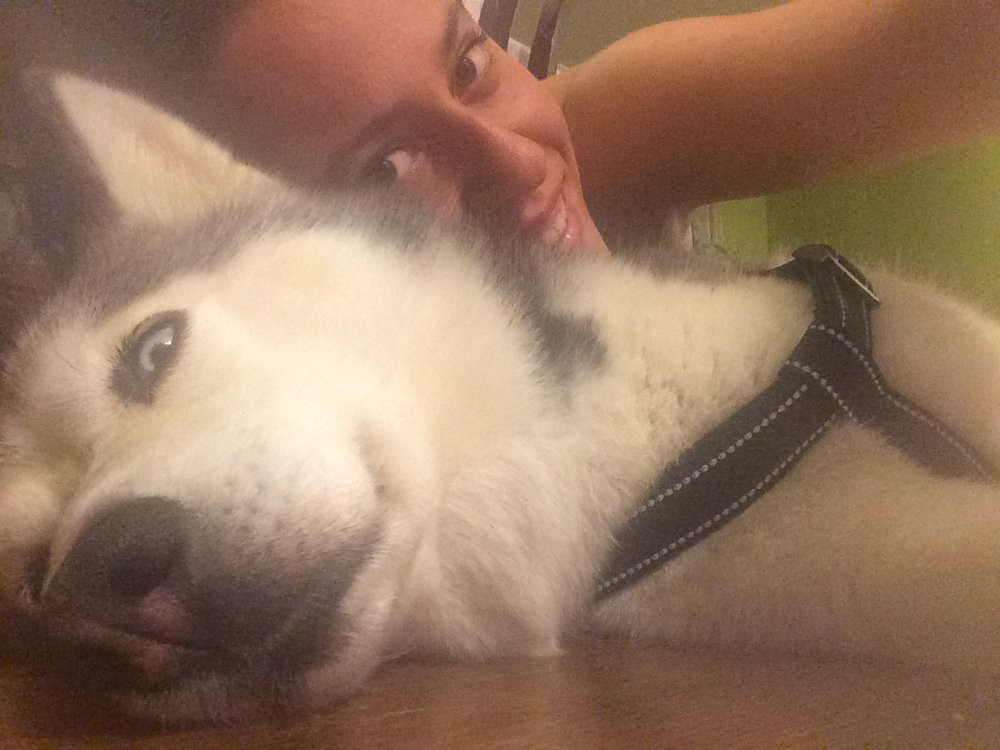 "Dasha and I were climbing Cunningham Falls, which is an hour away from where we live. I was climbing down from one rock to another near the top of the falls. She got scared and pulled back, slipping out of her new, and apparently less secure, harness.
As is in her Husky nature, she went off exploring the woods and I lost sight of her through the rocks and trees. I tried very hard not to panic, but as hours passed and it started to get dark, my heart dropped.
I got back in the car and the first thing that came to mind after alerting the park rangers and the natural resource police was social media. I searched on Facebook for local lost and found pet groups and that's how I found PawBoost. Immediately upon posting the alert, I was flooded with supportive, compassionate comments.
An hour later, I got a call from a 24-hour vet. Someone had brought her in. The girl at the vet saw the ad and called me right away. It turns out the woman that found Dasha even posted a found alert on the same Facebook page, but I didn't see it.
Other members were sending me the screenshot. It was incredible. Dasha has two microchips from previous owners and the one they detected was the unregistered one. I don't know how long it would have taken to find her without PawBoost.
I would recommend PawBoost to everyone. My dog – which no words can explain how important she is to me – got lost in the woods on top of a waterfall with no collar, no harness, and an hour away from home. Nothing beats the power of social media these days.
I was extremely lucky to have found her so quickly. The support of the members gave me so much hope and comfort. Thank you so, so much for bringing my girl back to me. There just aren't enough words."
Spread the good news! Thank you to everyone who shared Dasha's alert. It's impossible to describe the emotions running through your head when you lose a fur baby. Thank goodness Dasha was gone for less than 4 hours 🙂
---
Dotcom: Lost Dog Reunited in Jacksonville, FL!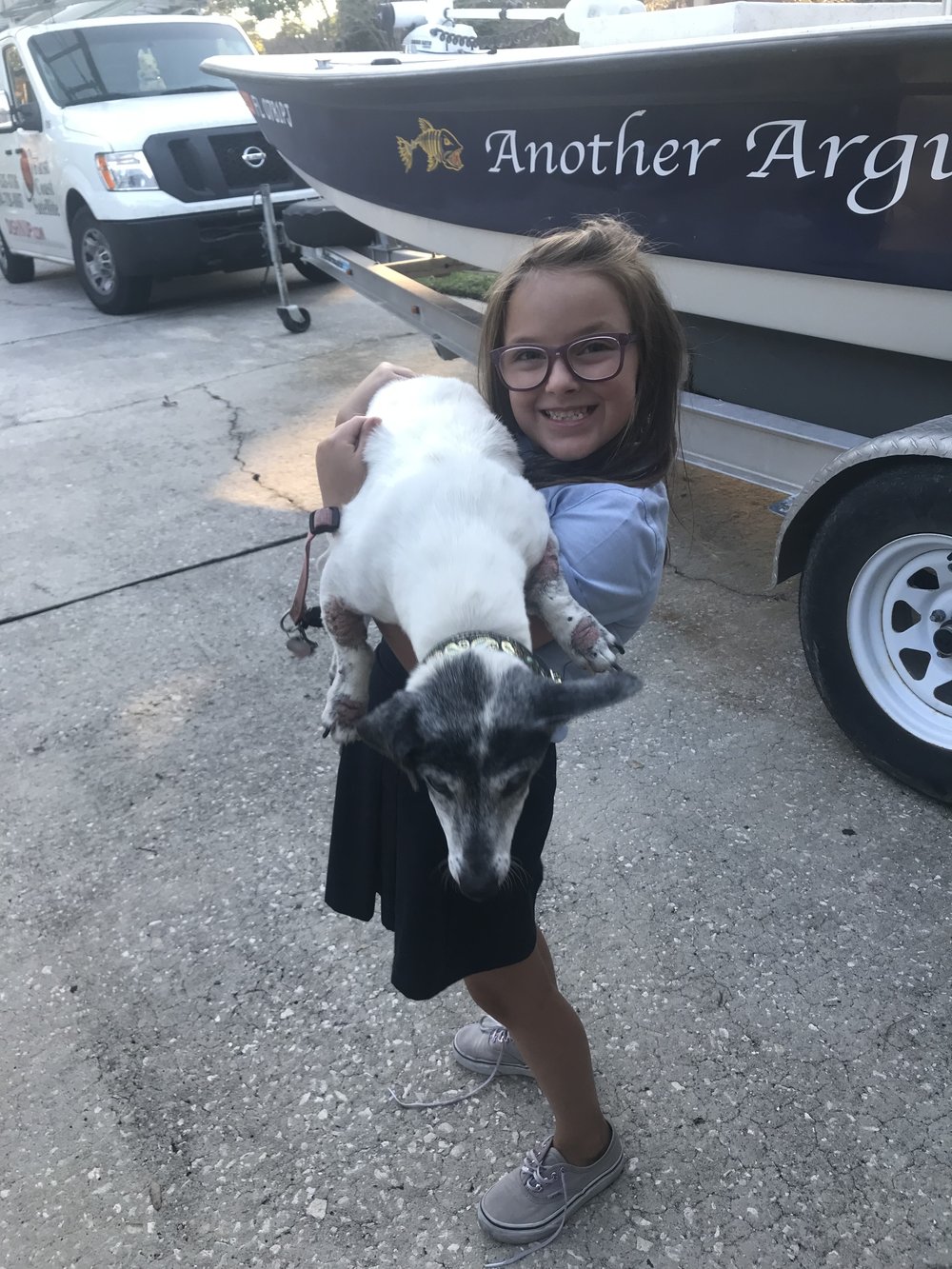 "Our lawn care guy left our backyard gate open. Dotcom is very old, blind and deaf. We have video cameras on our home so we could see that as soon as she was out of the backyard area that she became confused and could not make her way back to the gate. She wandered for 2 miles and even crossed a high traffic road before being found by Matthew and Christa.
Matthew and Christa found Dotcom walking down the road. They took her in, bathed her, fed her and even gave her a brand new collar. They saw our ad on the NextDoor app then reached out to us through PawBoost to let us know Dotcom was safe and sound. We met them at their home.
PawBoost helped us because the people that found Dotcom could not reach us by phone because we were at work so they found our ad on PawBoost and sent us a message letting us know she was safe and sound.
I would absolutely recommend PawBoost. I was able to create our lost ad in less than 5 minutes. It was crucial to get the message out as quickly as possible because of the busy area we live in. PawBoost provided me with links to our local animal control, lost and found craigslist and Facebook. We also received possible matches for dogs that others were finding in the area."
Spread the good news! Thank you to everyone who shared Dotcom's alert. She wandered 2 miles across a very busy road but she found Christa and now her family is so excited to have her home 🙂
---
Florence: Lost Cat Reunited in Syracuse, NY!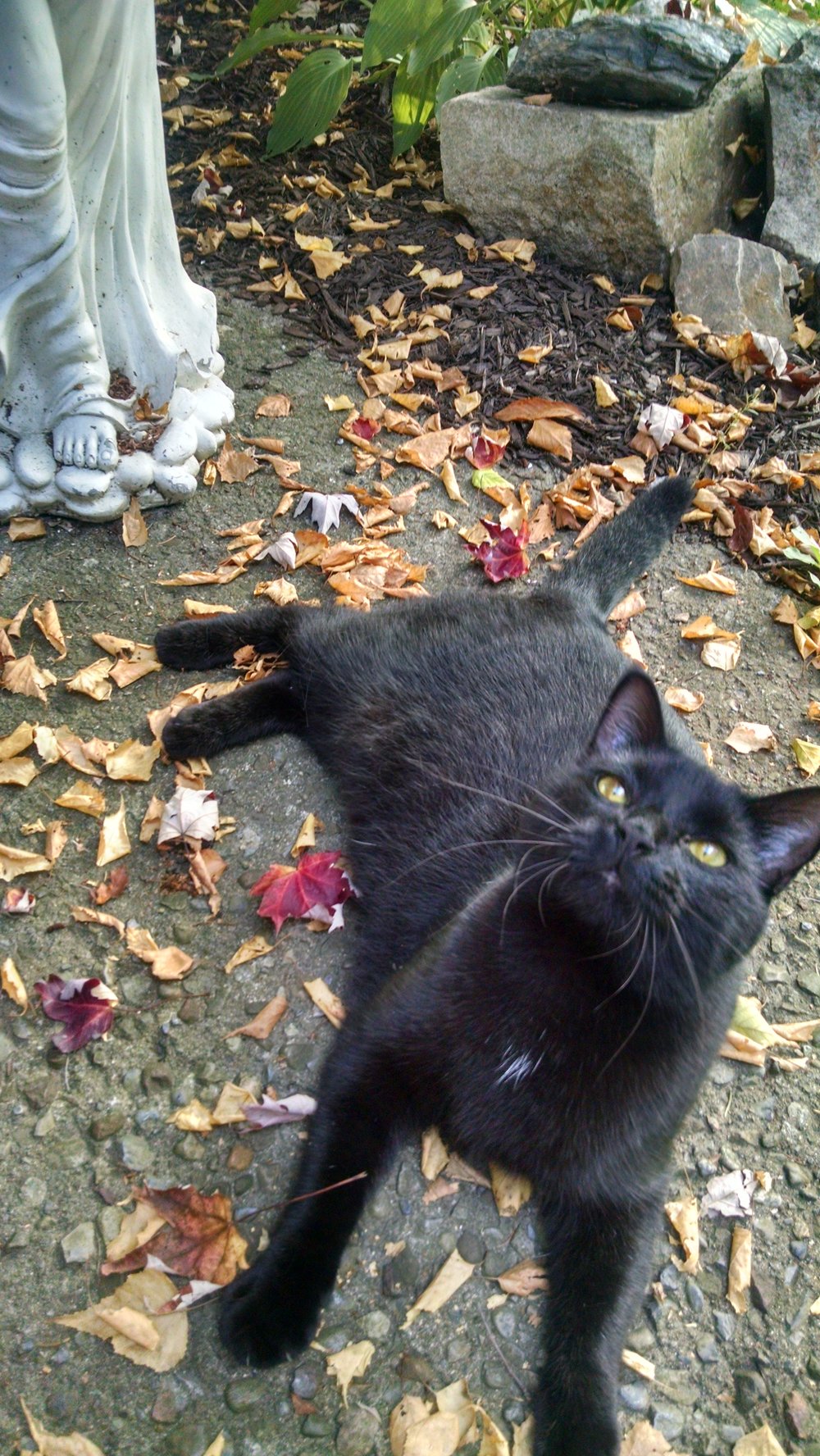 "One thing in our little kitty's life you can bet on is that until this weekend, Florence had NEVER missed a meal! We watched while neighbors checked their garages and sheds and looked under bushes and in backyards for her ever since she missed her second meal. It just wasn't typical for her.
We did all the right things on day 1 and then some. We moved her litter box, toys, and three of our blankets outside with food and water. I put up 7 signs and hit the neighborhood Facebook page. I even sent up a 'bat signal' in the am & pm by taking her litter box into the attic and placing it under our house exhaust fans for 10 minutes! Crazy right…
Our 2 other cats have us conditioned to not start worrying until Day 3 of their walkabouts. Today was the 4th day so I shifted into high gear listing her on all the sites including PawBoost. I printed out 50 posters, wrote in my cell number and signed each one.
I re-read your How-to Find Your Lost Pet guide to make sure I didn't miss anything. I saw and clicked on your Pet Detective services link because I had heard about dogs trained to track and locate cats. I eventually ended up reading an article covering the different hiding behaviors of indoor, outdoor, and indoor/outdoor access cats.
I picked up my 50 posters and headed out to paper the town, ready to personally look in every garage in Westvale. Florence was in the FIRST garage I re-checked myself. Hidden in a dark corner and trapped since Saturday only one house away.
I'm certain she didn't know I was there and she stayed hidden, just how the article explained the reaction process of a trapped indoor/outdoor access cat when they are injured or disoriented. I never would have found that article without you. Florence and I thank you dearly PawBoost!"
Spread the good news! Thank you to everyone who shared Florence's alert. Being proactive during the search of finding you missing fur baby is key. Don't give up hope 🙂
---
Leo: Lost Cat Reunited in Cocoa Beach, FL!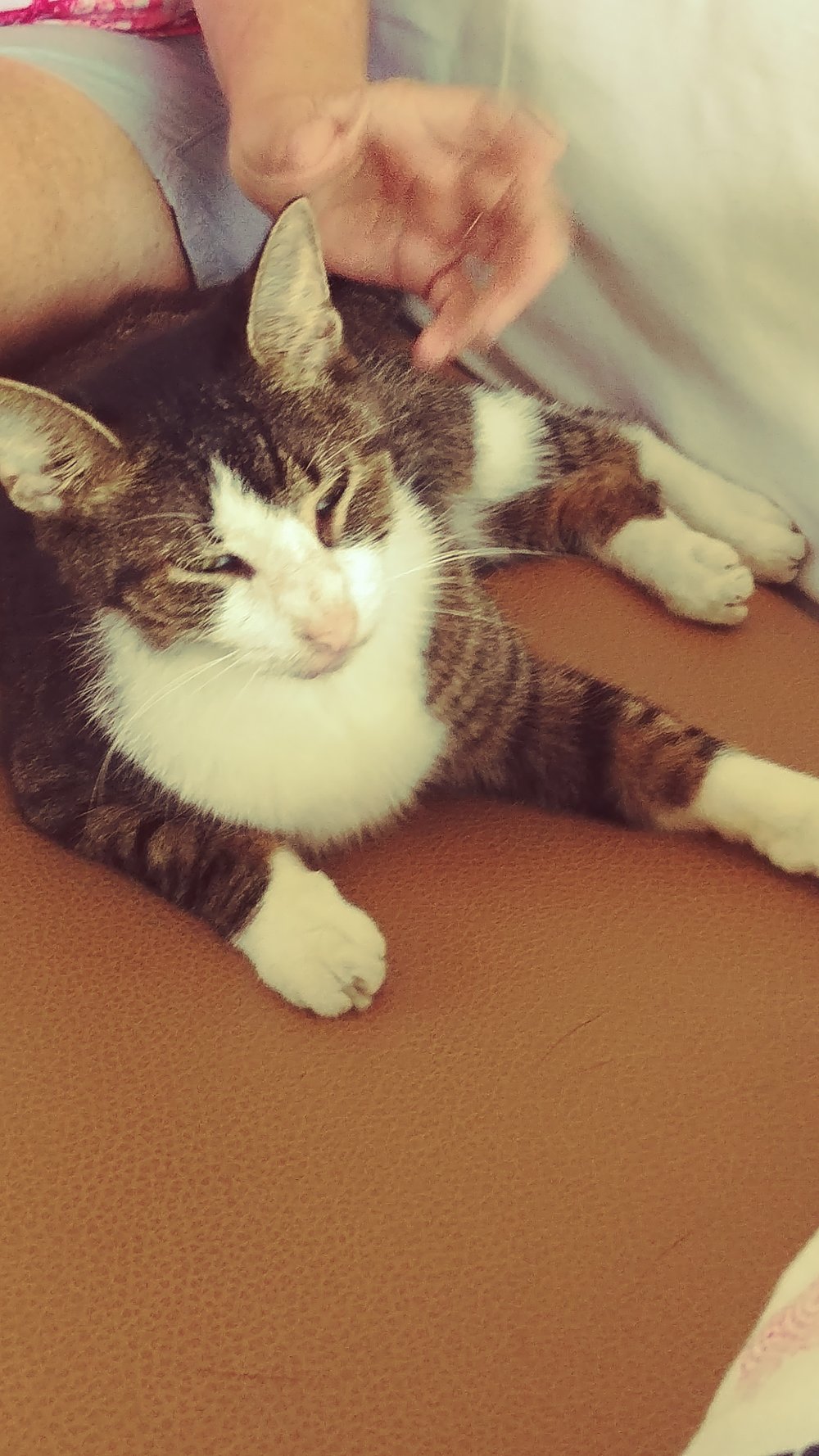 "12 years ago I went to a local shelter to adopt a female kitty. I fell in love with a sweet little cat named Lily, but she had a companion in with her – a male cat named Leo.
To this day, these two are indeed inseparable and the most loving and affectionate cats. This is why it was so devastating when Leo went missing. I was in the process of moving out of my house in Florida, and somehow Leo slipped out during the chaos with the packers and the movers.
I put up posters for Leo all over the neighborhood. I searched for him and at first was hopeful he would come back soon on his own. I searched the online databases, posted messages online in my neighborhood forum, and then I discovered PawBoost.
PawBoost contacted their Rescue Squad and posted a special alert on Facebook that Leo was lost and to please help find him. His sister was heartbroken without him, and I was so devastated that I delayed my move to Virginia for 2 weeks in order to keep looking for him.
I was so heartbroken when I had to leave Florida. I was hopeful that he would show up, and I even went back to Florida over a long weekend to look for him again. My searches again yielded no trace of Leo, and when Hurricane Irma came through, I thought all hope was gone.
Miraculously 3 months after he went missing, I received a phone call from a lady in Orlando, over 60 miles from my house. She had found Leo and took him to a vet where they scanned his microchip. However, the number was to my old house, which had been disconnected!
She had my name from the microchip, searched for me on Facebook, and saw the PawBoost alert on my Facebook profile and messaged me! I would recommend PawBoost because it was very helpful. PawBoost helped to reunite my little boy Leo back with his sister and me."
Spread the good news! Thank you to everyone who shared Leo's alert to help find him. He's back home, safe and sound with his family 🙂
---
Willow: Lost Cat Reunited in North Vancouver, BC!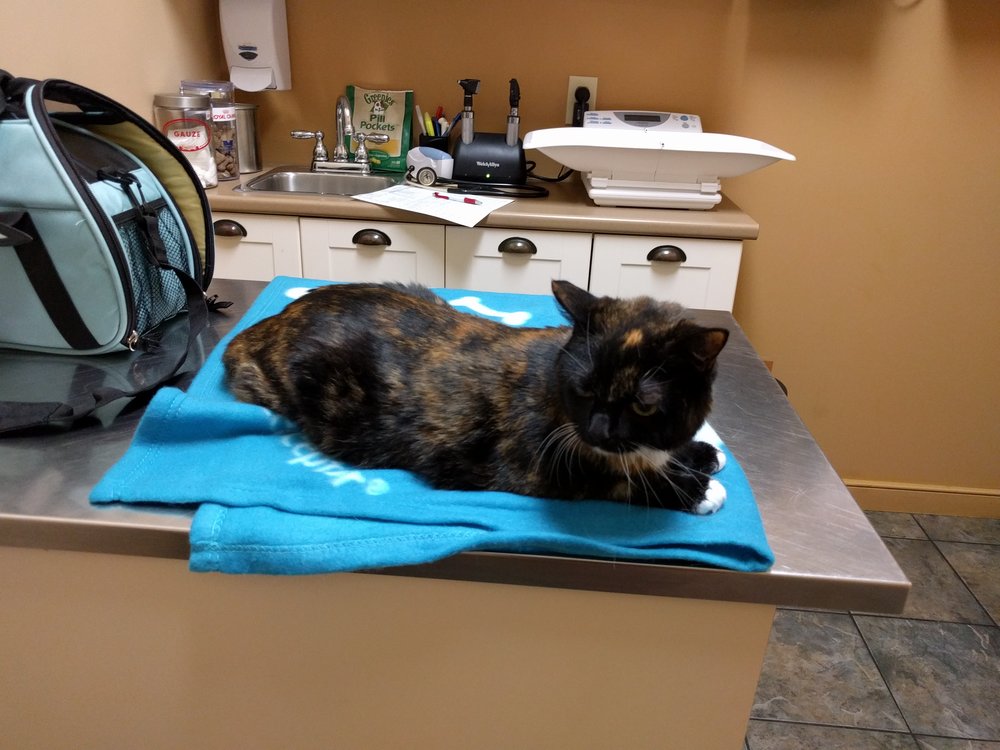 "Willow snuck out of the house around 7 pm. She is a special needs kitty being that she is 15 years old and is partially blind. I was out at the time so when I got home and found her missing I immediately went out looking for her. I went out that night for 2 hours calling for her, as she typically meows back at me when she hears me but all was quiet. I was so sick with worry and guilt and fear I didn't sleep too well that night.
The next day I was out again periodically, walking around my neighborhood, calling her, checking in with neighbors and putting up lost posters in hopes someone picked her up. I used PawBoost, Craigslist and Facebook to get the message out there.
The following morning I hired a pet detective to help me get some answers, at least solace if all we found were her remains. Then not even 10 min after I signed the agreement with the detectives I received a call from Ambreside Animal Hospital, inquiring if I had lost a kitty and that there was a phone number attached to the chip.
She was brought in by a Good Samaritan who thought she was injured. Everything came up perfect to her identity, so I hopped on the next bus and there she was, exhausted, dehydrated and probably quite hungry, but it was her. Two nights missing doesn't seem like much but any pet guardian who treats their pets like family knows how much of an eternity that feels like. Hearing her purr in my ear is the most precious sound to me.
I would recommend PawBoost to anyone looking for a lost loved pet. Their mass media out reach and ready made poster is wonderful. As well as all the recommendations of what to do next. I'd also recommend Surrey Country Canine Retreat and Pet searchers Canada pet detectives. They offered not only spot on advice but hope and that can be worth any price."
Spread the good news! Thank you to everyone who shared Willow's alert. Willow and her pet parent settled down after a nice meal for a cuddle nap 🙂
---
Jack: Lost Cat Reunited in Los Angeles!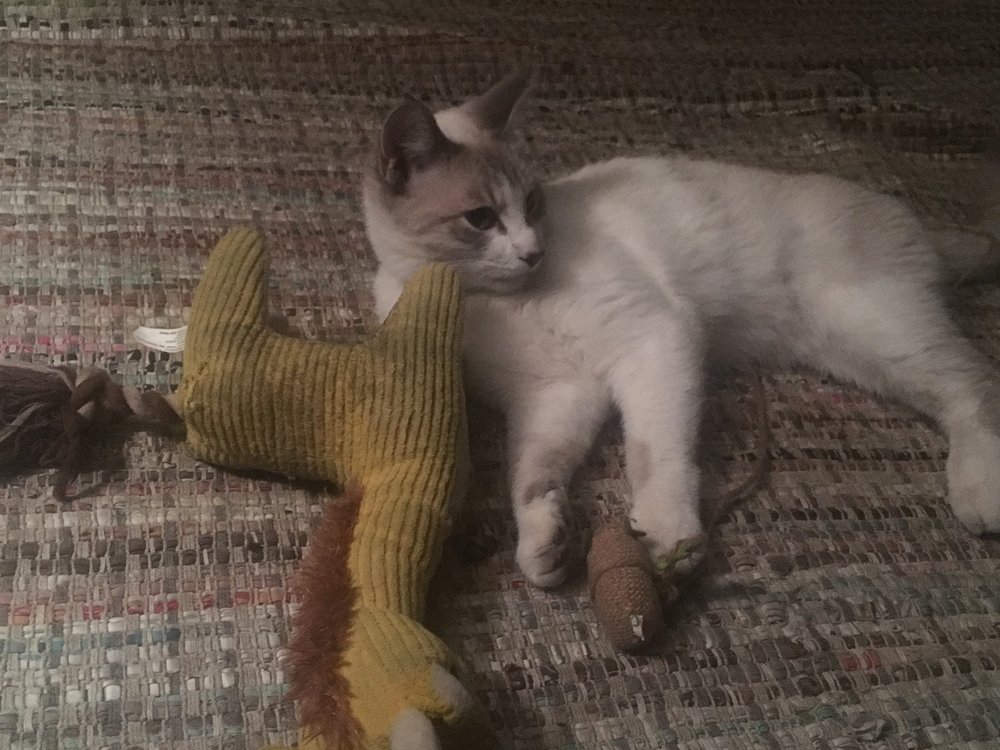 "Jack went missing about 3 weeks after I moved back to LA. I used to let him go into our fenced in yard in central California, so when I moved into a house with a doggie door, he managed to weasel his way out or through any barrier I tried to block it with.
He had been bitten by a black widow spider about 2 months previous (right around the time he should've been neutered), and the vet told me to wait on anymore vaccinations or the surgery until his immune system had a chance to heal. He always had a collar on, but he managed to break it off that morning and slipped out.
He wasn't outside for more than 5 hours before he was snatched up and taken to an animal rescue in Atwater village called Sante D'or. I was truly devastated because I knew he must look like a stray: no collar, no microchip, and not neutered. Cut to me putting up HUNDREDS of dollars worth of lost signs I made, sharing it all over Facebook, Instagram, Craigslist, Nextdoor, and then was told to post on PawBoost.
One full week later, after almost having a breakdown and almost losing all hope, I got a call from the Sante D'or organization; they had received a photo of my flyer from someone, recognized my lil Jack Rascal, and gave me a call. The community really came together to help me find him. I still don't know who brought him there, who sent the flyer to them, or who his foster family was.
I would absolutely suggest PawBoost to a friend or anyone who lost a pet. They help you create an easy eye-catching flyer that most people wouldn't have the time and/or computer skills to create on their own, not to mention the mental capacity to think about it when you're worrying about your lost pet. Several people in my area shared the PawBoost alert."
Spread the good news! Thank you to everyone who shared Jack's alert. And thank you especially to the Sante D'Or Foundation for taking such great care of him while he was there. He is home safe and sound 🙂
---
Krickett: Lost Dog Reunited in Rocky Mount, VA!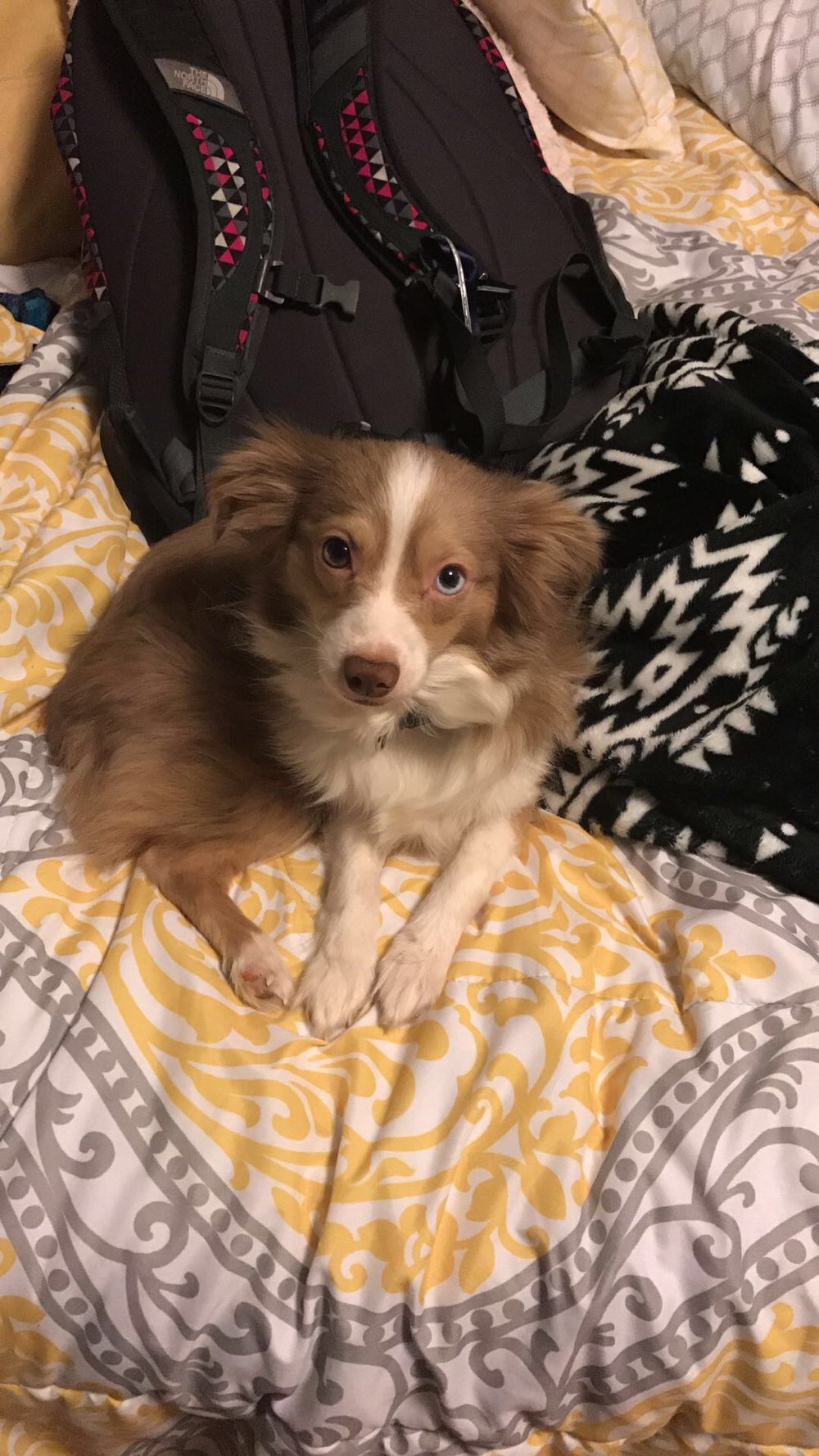 "Krickett ran out the door on a Monday, as she had done on occasion but always would return to get treats. This day she did not come back and it began to storm. I searched in the area during the rain, thunder and lightning not concerned for myself at all.
I put out feeding stations and searched a different area each day. We had a few calls from people who thought they saw her so I followed up on each one searching places & going door to door without success.
About 6 weeks later around 6:30 in the evening, our neighbors checked on a sick cow in a field about 3 miles from our home that they infrequently visit and spotted her! The neighbors came to our house and took my husband to look but didn't see her.
Then almost a week later, a different neighbor was in the same place, same time of day and saw her!! He came to my house and drove me in his truck to the same area. We searched until after dark but did not see her.
The next day the first neighbor that saw her set a live animal trap for us. I gave him some of her dog food for bait. I went back that evening and spent 5 hours hiding out and watching the trap…nothing YET.
The next morning my neighbor checked the trap for me but no Krickett. I returned that evening and when I could see the trap there was something brown in there moving around. Right at that moment Krickett popped her head up and I just started running toward the trap!
If you are missing a fur baby, DON'T GIVE UP. Keep hoping, praying & stay positive until the day your baby is home again. I would definitely recommend PawBoost to anyone missing a beloved pet. I kept wondering how it would feel to click the Reunited button…feels absolutely wonderful, fantastic, the happiest feeling of all!"
Spread the good news! Thank everyone for sharing Krickett's alert! This little 8 pound, toy Aussie survived in the wild with coyotes, bears, skunks and other animals for 8 weeks and 4 days 🙂
---
Ziggy: Lost Bird Reunited in Stamford, CT!
"Ziggy and my 3 other birds (who are all clipped) are usually out of the cage and on a playground when we are home. My partner was bringing in a ladder and unbeknownst to me had propped open the screen door. As he was walking in Ziggy was spooked by the ladder and flew right past my boyfriend and I and into the wooded area in our yard.
We went to look for her after securing the others in their cages but we did not find her Wednesday night. Thursday at dawn we went out to search and were able to pinpoint her general location in the wooded area from her responding to our calls. Unfortunately she was startled by another animal and was out of reach as she flew far away. We searched to no avail on Thursday, Friday, and Saturday.
We were reunited with Ziggy from a post that I made on a shelter page from our city that uses PawBoost to help spread the word of lost and found pets. I asked all my friends and the public to share. From one of those shares I was contacted Sunday morning telling me that someone had found a bird exactly like mine a town over.
The family that found my bird contacted me and I was reunited with my Ziggy. Had I not made that post using PawBoost I wouldn't have been able to find her. I would highly recommend using PawBoost to assist in finding your pet.
Social media is a powerful tool and was the best way for us to spread the word of our missing bird. We also put up flyers and searched our entire neighborhood but those efforts turned up nothing. Each share gets you closer. I mean, how often are birds reunited with their owners? It's rare and I truly believe PawBoost made it happen."
Spread the good news! Thank you to everyone who shared Ziggy's alert to get the word out. Social media is a powerful tool and ultimately reunited Ziggy with her family 🙂
---
Betty: Lost Dog Reunited in Vista, CA!
"Betty got out Monday morning with her doggy sister and brother by an open gate. The other two dogs stayed in our driveway, but Betty must have taken off down a busy street while we weren't home. After returning an hour later and searching up and down the neighborhood, she was nowhere to be found.
I immediately posted on Nextdoor as we have had her run to a neighbors home before. Later that evening I posted on Craigslist while walking up and down streets calling her and asking neighbors with our two young sons and two other dogs.
I couldn't rest easy knowing she was out in the dark, and while scouring ways to find a lost pet on the internet, I came across your site. I immediately signed up around 9pm, and within 10 minutes I had an anonymous person contact me.
They had seen my post on PawBoost, and noticed she looked like a dog posted by someone else on a Facebook animal advocate's page. The person who saw the post and connected the dots is essentially who saved her. I don't have a Facebook so I asked a family member to message the woman who was holding her.
We received a call in the morning from the woman who picked her up from that busy street. Thank God she was safe and we were able to meet and get her home. I truly believe she would still be out there if it wasn't for your site and the good people on it who watch out for other pets. I recommend PawBoost to all!"
Spread the good news! Thank you to everyone who shared Betty's alert. Her family can finally rest easy now that she is safe and sound 🙂
---
Leonard: Lost Cat Reunited in Glen Allen, VA!
"Leonard has an unusual story. We rescued him years ago from the gutter at the Capital One building behind my house. He was a baby and construction had been going on and the contractors were feeding him. We took him in, got him fixed and gave him a forever home.
He has tendency to go back and roam around and watch people as they come and go to the building for work. He is NOT a normal cat, because he thinks he's a dog! He walks the kids to the bus stop in the mornings, he will randomly join people as they walk their dogs in the neighborhood or make himself at home if they leave their door open!
He will gladly jump in any car if you leave the door open for him and has NO problem going for a ride! He comes home each night to sleep and eat so when he didn't come home I was worried. I immediately put him on PawBoost and had a great deal of responses and advice on how to find him.
I had a few people from Capital One reach out and they spread the word at work! I put signs all over the parking lot and had several Capital One employees reach out and tell me they know him as the CAP ONE Kitty! Word got back to a lady that had taken him to a vet, the vet said he wasn't chipped but since he had a collar on, he suggested she go return him where she found him.
She did, and another employee picked him up and took him home and to the vet again. She had him at home when she got word that I was looking for him! She was nice enough to bring him home to us! He has had a huge adventure and was showered with attention!
He is home now and will be getting chipped, new tags and collar. I would HIGHLY recommend PawBoost and anytime I see someone post that their pet is missing I always tell them to post it on PawBoost right away!"
Spread the good news! Thank you everyone who shared Leonard's alert. He was showered with attention and probably loved his adventure! His pet parent is so happy to have him home 🙂
---
Nico: Lost Cat Reunited in Copiague, NY!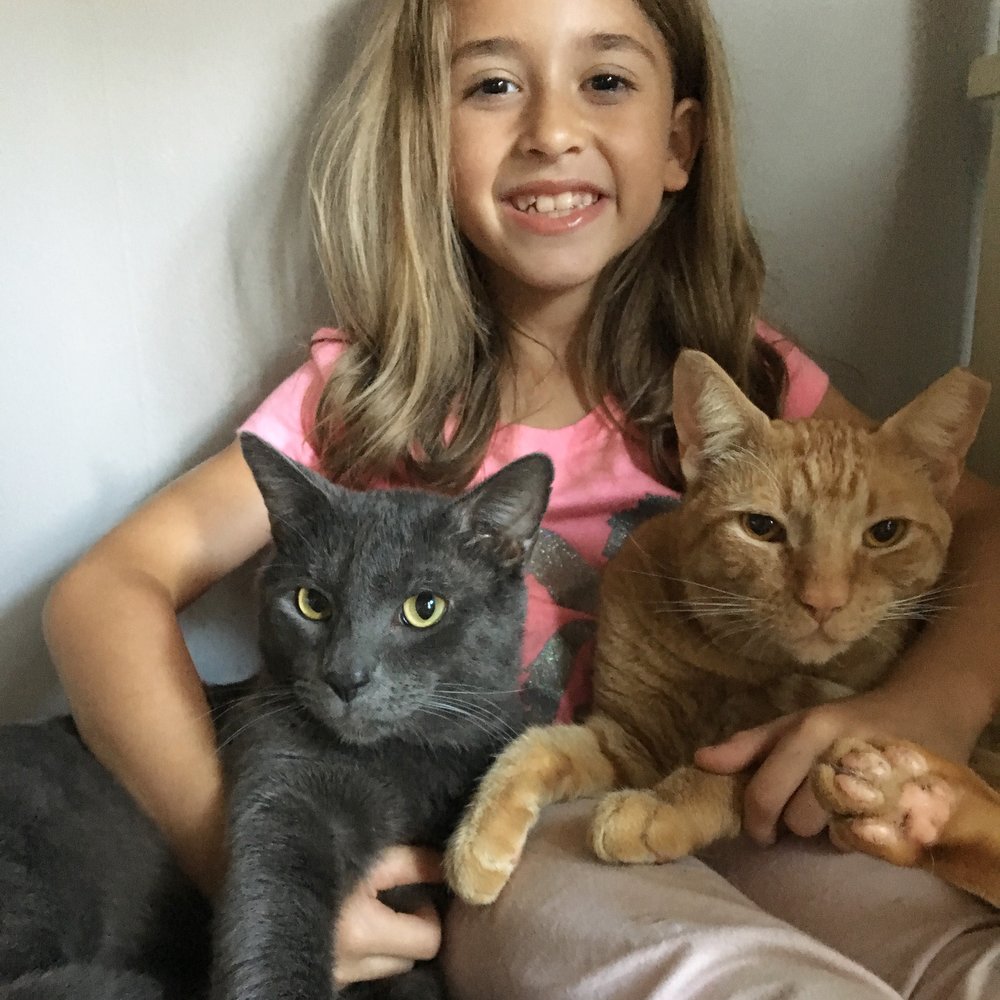 "Nico went missing in June, my brother came over for dinner and was carrying in a lot of groceries and left the door open too long and Nico just slipped right out. We searched for weeks and months, going door to door, made a PawBoost alert, and Facebook posts.
A woman about 2 miles from my home actually found Nico in June, or I should say he found her, because he just let himself right into their home without them even realizing. She searched for awhile to find his owner and when she couldn't she assumed he might have been a stray. A friend of hers lives about 30 minutes from us and has a farm and this is where Nico was staying all these months.
This past weekend, she noticed one of my Facebook ads, and realized the picture and description matched Nico and she contacted me and brought him to my home. And it was him. Between the contact reminders from PawBoost and Facebook ads, his picture was constantly being circulated and this is how she came to finally see one of my lost pet notices.
I definitely would recommend this site to people, because you have the capability to reach out to people all over, not just mutual friends on Facebook. This site is full of true animal lovers who seem to be more willing to help find a lost pet than the typical friend or person."
Spread the good news! Thank you to everyone who shared Nico's alert. Nico was reunited after almost 4 months of searching! NEVER GIVE UP if your pet goes missing 🙂
---
Sir Hamilton: Lost Cat Reunited in Charlotte, NC!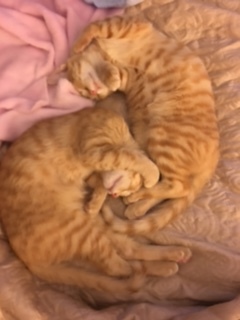 "Sir Hamilton was adopted, along with his brother from the pound. Sir Hamilton somehow escaped through my back patio which had a gated door that was secured with chicken wire. He had never been outside ever.
I was so worried he wouldn't be able to find his way home and that he might be injured from the fall. I kept walking the loop, looking in bushes and the tunnels, sewer drains, and anything else along the way that I thought he might have ventured into to hide. No sign of him anywhere.
PawBoost gave me very good advice about indoor pet escapees and what behavior they might exhibit. I was also told me not to give up; which I very much needed to hear. The suggestions went on to say that indoor escapees would hide, and not meow, revert to their animal instinct in fear, and be too frightened to move.
As I said earlier, he has a brother from the same liter that he has never been separated from. So, I also put his brother in a carrier and we searched for him together. On my last walk through of the neighborhood, I walked it alone and did a loop from the front of my house all the way around the neighborhood and came back up through the back of the houses.
When I arrived at my back porch, I heard a faint meow and found him hiding behind my grill. I know he had just arrived because I had been routinely checking behind everything around my home.
I knew from PawBoost that flyers may not help indoor escapees, and that is why I followed the suggested steps. I am so thankful for PawBoost because they give you so many suggestions, and it covers every avenue. I am also so thankful for all the hits I got from Facebook outreach. There were over 500 within the first few hours!
Thank you everyone who forwarded my kitty's info! I recommend PawBoost to everyone!!!"
Spread the good news! Thank you to everyone who shared Sir Hamilton's alert. Sir Hamilton is now reunited with his brother and couldn't be happier 🙂
---
Chloe: Lost Dog Reunited in Bakersfield, CA!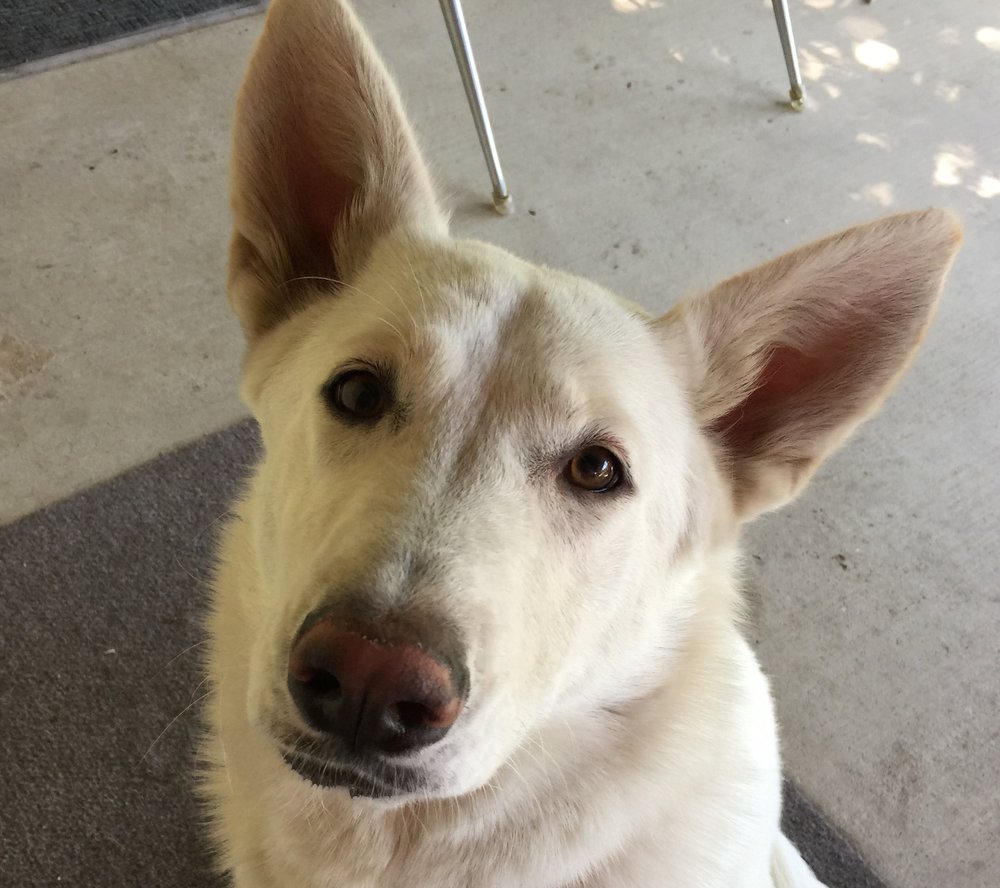 "My granddaughter and I saw Chloe wandering her high school one morning. It was 7am, cold and she was wet. She was very friendly and my granddaughter is the Dog Whisperer! She has rescued more than 12 dogs and 4 cats over eight years.
They naturally obey and feel safe with her. She rubbed her belly the entire time it took me to answer her call to come, take the dog before the school locked the gates and put her back out on the streets. We could not let her go since we had just lost our dog of 10 years to cancer six days earlier.
I picked her up, took her home, gave her a bath, fed and loved on her. Then I took her up to the local shelter. I told them she is extremely friendly and obeys pretty well and if no one claimed her, we wanted to keep her. They asked if I could foster her and attempt to locate the owners. So I put up her picture on all my local media sites and searched for specific lost dog sites in our city. That's how I found PawBoost and a few other sites.
Just after dropping my granddaughter at school this morning, a woman called and recognized her from PawBoost. We were not perfectly sure but we exchanged pictures and decided to meet. I had no intention of letting this dog go to strangers. We met and as soon as they came walking from a distance, Chloe charged off into their arms and licked their faces like crazy. I knew she was their baby.
We agreed they would get her fixed and chipped and we would keep in touch since my two grandkids (and I) fell in love with her. So the best of both worlds. We get to visit her and they have their baby back. They had been searching everywhere. A happy ending for them. Hooray for the day! Thanks to PawBoost!
Hoping all fur babies find their perfect families."
Spread the good news! Thank you to everyone who shared Chloe's alert. Chloe was reunited with her true family and life-long friends were made 🙂 Let's keep on the happy reunions!
---
Jezabel: Lost Dog Reunited in San Jose, CA!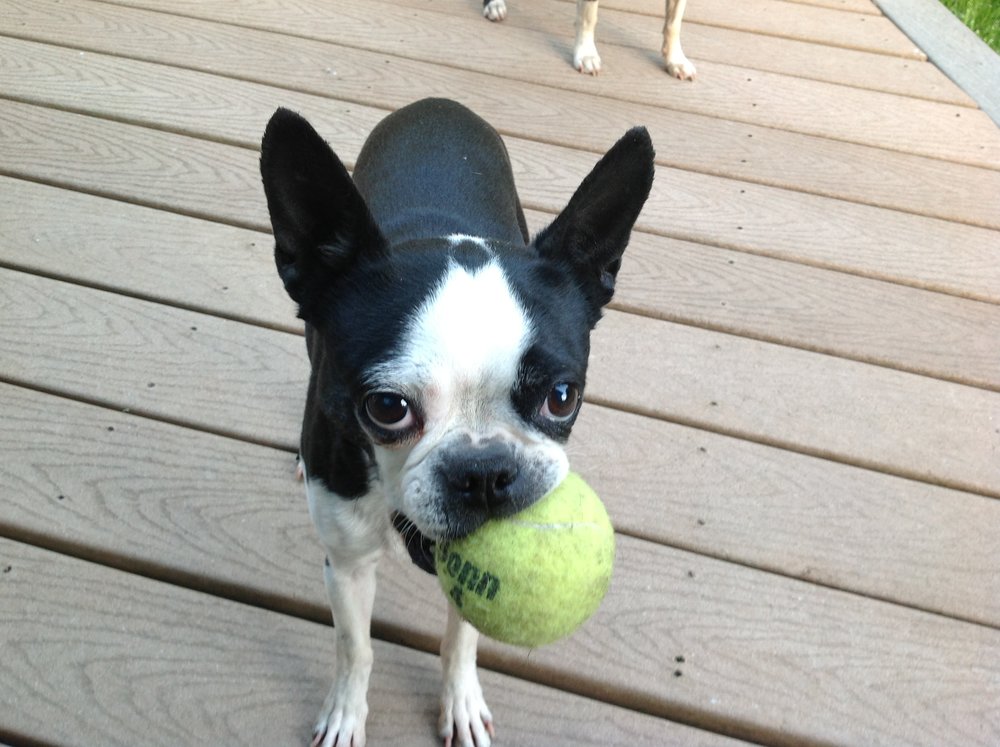 "Jezabel is a 12 year old, 11lb, and AKC-registered Boston Terrier. She is an active and fearless girl. Her nickname is Ninja Squirrel. One of her Ninja Squirrel past times is checking the perimeter of her yard for any escape routes. One Sunday, my husband left one of the gates slightly ajar after grabbing some garden equipment.
Unfortunately, we were gone for most of the day, so she was almost a full day ahead of us. Thanks to an online neighborhood site, we found out that she was too scared to let anyone capture her.
A friend recommended PawBoost, so I signed up and downloaded the flyer. I liked that her alert was sent to a lot of other members that maybe would not necessarily be on the neighborhood site. I also liked the ease of creating flyers.
Those flyers helped us eventually recover her. Not everyone is online to see missing pet reports, but I posted the flyers all around the neighborhood where she was last seen.
After hearing reports of her walking up and down a busy, rural road in the early morning hours, my husband went out at 6am on the 5th day she was missing to look for her. Lo and behold, he found her walking up the road in the dark.
Ecstatic, he jumped out of the truck and called her. She looked at him and ran. So we knew she was out of her mind with fear, and that our best bet was to blanket the neighborhood with flyers and hope a resident in the area would catch her. Sure enough on the 5th day, I finally got the call that someone captured her. She came home, ate, got a bath and acted like the whole ordeal never happened.
I would definitely recommend PawBoost. They put out her alert to a large number of people who I might not have ever connected with. It was a network of people and flyers that saved her."
Spread the good news! Thank you to everyone who shared Jezabel's alert. This adventure lasted 5 days and 4.5 miles, through heavy traffic roads and predator infested woods. She is a survivor 🙂
---
Love these Happy Tails? We love sharing them! Click here to read more.