Happy Tails! March 2018 – Lost & Found, Dogs, Cats & Pets That Were Reunited in March
Happy Tails! March 2018 – Lost & Found, Dogs, Cats & Pets That Were Reunited in March
PawBoost loves to share happy endings! Read March's Happy Tails to learn how these fur babies were reunited with their families.
Love these Happy Tails? We love sharing them! Click here to read more.
---
Maui: Lost Dog Reunited in Redmond, WA!
"Maui went exploring out of a loosely closed door from our backyard and unfortunately did not have his collar on. I had given him a bath and I forgot to put it back on.
I actually had a lot of help trying to help find him that night. My neighbors and family rushed over along with runners and other fellow dog owners. They took their pups around the neighborhood hoping to lure him out. We simultaneously searched on foot and in our vehicles for about three hours within a mile radius of our home.
After a while of searching with no results, I desperately took to the internet to search for local numbers to the area shelters and vets and came across the PawBoost site. I remembered hearing about it a while back so I signed up and immediately saw Maui's' missing poster posted to Facebook and within minutes it had already been seen and shared.
He accidentally wandered into a storage shed and closed the door on himself, but was patiently waiting for someone to open the door when we found him. So despite our calls he was not barking.
I would definitely recommend PawBoost because having others on the lookout or having the ability to notify owners in an area about a missing pet is invaluable. There have been a handful of occasions where I'm out with my dogs and I've found other pups who got out and thankfully most times I was easily able to get hold of their owners, but that hasn't always been the case.
Having resources like PawBoost that can help in those instances is great because it increases the chances of reuniting that missing pet with its family."
Spread the good news! Thanks to everyone who shared Maui's alert. He is safe and home with his family again 🙂
---
Howl: Lost Cat Reunited in Shakopee, MN!

"Howl is an outdoor cat that came to us about a year ago needing a home. We are not cat people, but Howl was such a sweetheart that he swiftly stole our hearts and we decided to take him in as our own.
My parents offered to take care of Howl while we were on vacation after Christmas. My parents live about 10 miles from us. Howl was transported in a cat carrier and my mom planned to keep him in there until she set up the garage for him.
When my mom got home and opened up her car door, Howl pushed on the cat carrier door which must not have been latched properly and ran off. My mom spent the entire day looking for him and did all of the things she knew to do to lure him back, but he did not show up.
We (especially my kids) were devastated and very worried about Howl since the temperatures were below zero that week. We could only hope that his sweet face and even sweeter disposition would prompt another person/family to take care of him.
My mom posted Howl in an area group and kept looking for him throughout the week while we were gone. When I returned home from vacation, I called the local animal control and posted him as missing on PawBoost.
Three days after posting Howl as missing, I received a call from a man named Nick who thought he saw Howl posted as found on an area Facebook group. Since I am not a member of that group, I was not able to touch base with the person who posted directly, but Nick shared my PawBoost posting.
He also stated that he just spoke to me and that they should call me. I very quickly received a call from the family who found Howl looking into their glass door earlier that day. I went to pick him up immediately. Howl was a bit skinnier than he was before, but was otherwise in great condition.
I am so thankful for PawBoost! It was the combination of this site and good people who are looking out for the welfare of pets that helped us get our cat back. My kids are so thrilled (as am I). I would definitely recommend PawBoost!"
Spread the good news! Thank you to everyone who shared Howl's alert. It amazing how a community can come together when a beloved fur baby is missing 🙂
---
Dewey: Lost Dog Reunited in Jamaica, NY!
"Dewey accidentally escaped from our yard through an open gate and ran away on Monday. We spent all night looking for him and drove to our police prescient, where we learned that he was seen running nearby their area. Which meant that he crossed the main road and many busy streets at night!
We were worried sick and looked for him for hours! We cried our eyes out without him for two, long sleepless nights. While we were out the next 2 days visiting shelters and posting more flyers, the shelters actually already knew from PawBoost about Dewey missing and everyone was on the look out.
Dewey found his way back on his own and waited by the front door!! We are very lucky!!! I would absolutely 100% recommend PawBoost to anyone who loses their pet!!! The spread of information was super fast and very efficient. Flyers were ready to print, which was very helpful and the amount of attention, help, guidance and emotional support came super fast and exceeded any expectations! Thank you so much PawBoost!!!!"
Spread the good news! Thank you to everyone who shared Dewey's alert. His family has tears of joy that he is back home safe 🙂
---
Marley: Lost Dog Reunited in Romulus, MI!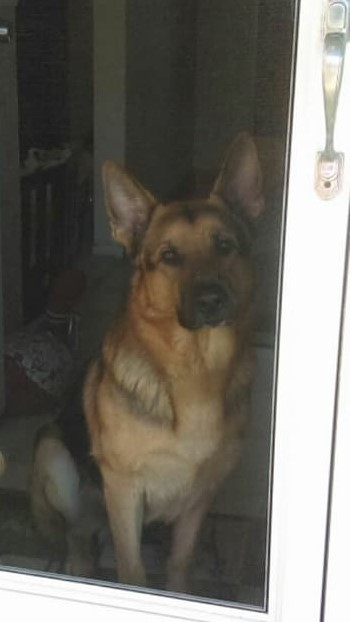 "Marley went missing on a Sunday when my boyfriend and I were out of town and his sister didn't feel right leaving Marley in a cage all weekend so she brought him to her house. The first 2 days were fine and he went in and out no problem. On the third day she let him out, she turned her back for two seconds and he was gone.
After an hour of searching with her friend they saw him running by their street. Excited, her friend screamed Marley and it must have startled him because instead of responding he ran faster. He then was off and we weren't able to find him for 10 days.
Finally, I got a text from a friend saying that a friend of hers, who happens to work as a police officer, was informed that a woman saw a German Shepard in the bushes at the Hilton near the airport. When she got there she knew it was Marley from the Facebook post so she called one of her officer friends to come and try to get Marley in the car.
The officer came and wasn't leaving until Marley was caught. Marley was very cooperative and hopped right in the car. He was brought to the Romulus animal shelter that evening and given food and water. We were able to pick him up that morning and it was such a wonderful reunion filled with many hugs and tears.
Aside from posting on Facebook I did use PawBoost to reach out to people. I would highly recommend PawBoost to anyone trying to find a lost pet. I was recommended to you guys and it just helps cover more ground, which is what you want to do as soon as possible when finding a lost animal."
Spread the good news! Thank you to everyone who helped keep an eye out for Marley and shared his alert. A special thanks to the police officer who found him and brought him to the shelter. He had a few scratches and some weight loss, but other than that he is healthy 🙂
---
Scarlett: Lost Dog Reunited in Greenville, SC!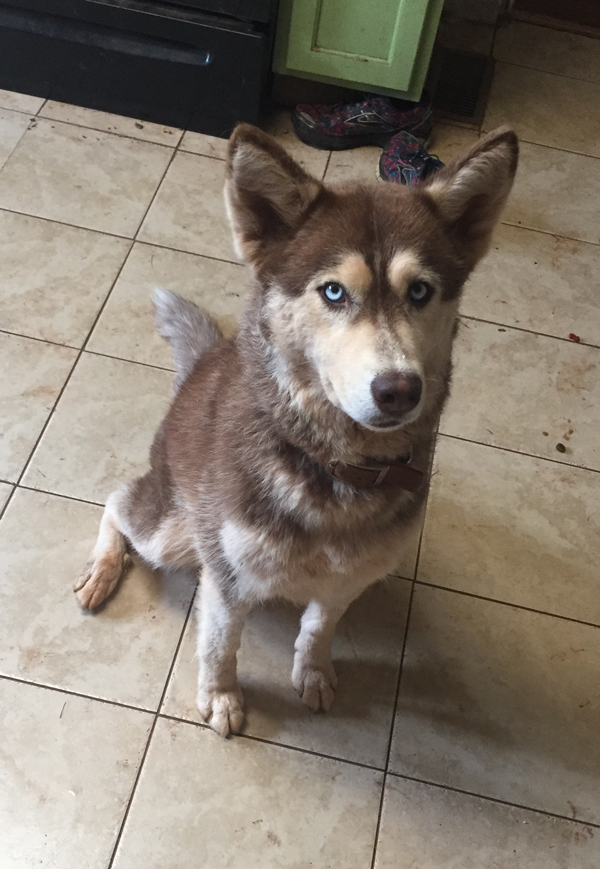 "On Sunday our Husky, Scarlett got out of the backyard due to contractors not properly securing the gate and garage after they were finished with their work. We noticed she was gone around 10:00 pm.
After searching the neighborhood in our car and asking random pedestrians if they have noticed a red Husky we went back home and began to post on social media pages. We notified and posted photos on Facebook pages of business in the area like bars, cafes, churches, etc…
A friend of ours suggested we use PawBoost as she used it find her missing cat. We created a PawBoost alert and it posted immediately. At approximately 2:00 pm the next day we were notified via our PawBoost post that someone saw a dog that looked liked ours on a local Veterinary page.
After checking the page and realizing that it was our dog I called the vet clinic, Sunrise Veterinary Clinic, and got the phone number of the lady who brought her in. We met the people who found her and learned that our Husky ran over 10 miles over night to that city.
PawBoost was recommended to us from a friend and I would recommend it too, because it was instrumental in finding our lost pet."
Spread the good news! Thank you to everyone who shared Scarlett's alert. A huge thank you to Sunrise Veterinary Clinic and to the family who found her. She is home safe and sound 🙂
---
Rocky: Lost Dog Reunited in Ozone Park, NY!
"My mom took him out for a walk around 4:30 PM (which she never does) and she thought he went back inside on his own after she finished throwing out the garbage. When my fiancé and I arrived home after work at about 6:15 PM my fiancé called out for Rocky as he always comes to greet us, but he didn't. That's when we realized he wasn't in the house.
I received a text message from someone who luckily didn't give up on Rocky and chased him down until he was able to grab him. PawBoost did help in the sense of helping me broadcast and send an alert to all of those who use social media.
Some people called me with clues from the PawBoost alert on Facebook but ultimately I found him because someone saw my flyer and took a picture in order to contact me. I was even able to return someone's dog I found while looking for Rocky thanks to PawBoost. I posted the found pet and within hours the owner saw the alert and was reunited.
I would definitely recommend PawBoost to a friend. Sending out the alert was of great help to spread the word. So many people were able to view my post and comment as well as share. It was incredible how a community was able to come together to help me find my dog and for that I am immensely grateful. Therefore, PawBoost is a great tool to use when you have lost your pet."
Spread the good news! Thank you everyone who shared Rocky's alert. His family is complete again and beyond happy 🙂
---
Peanut: Lost Dog Reunited in Keystone Heights, FL!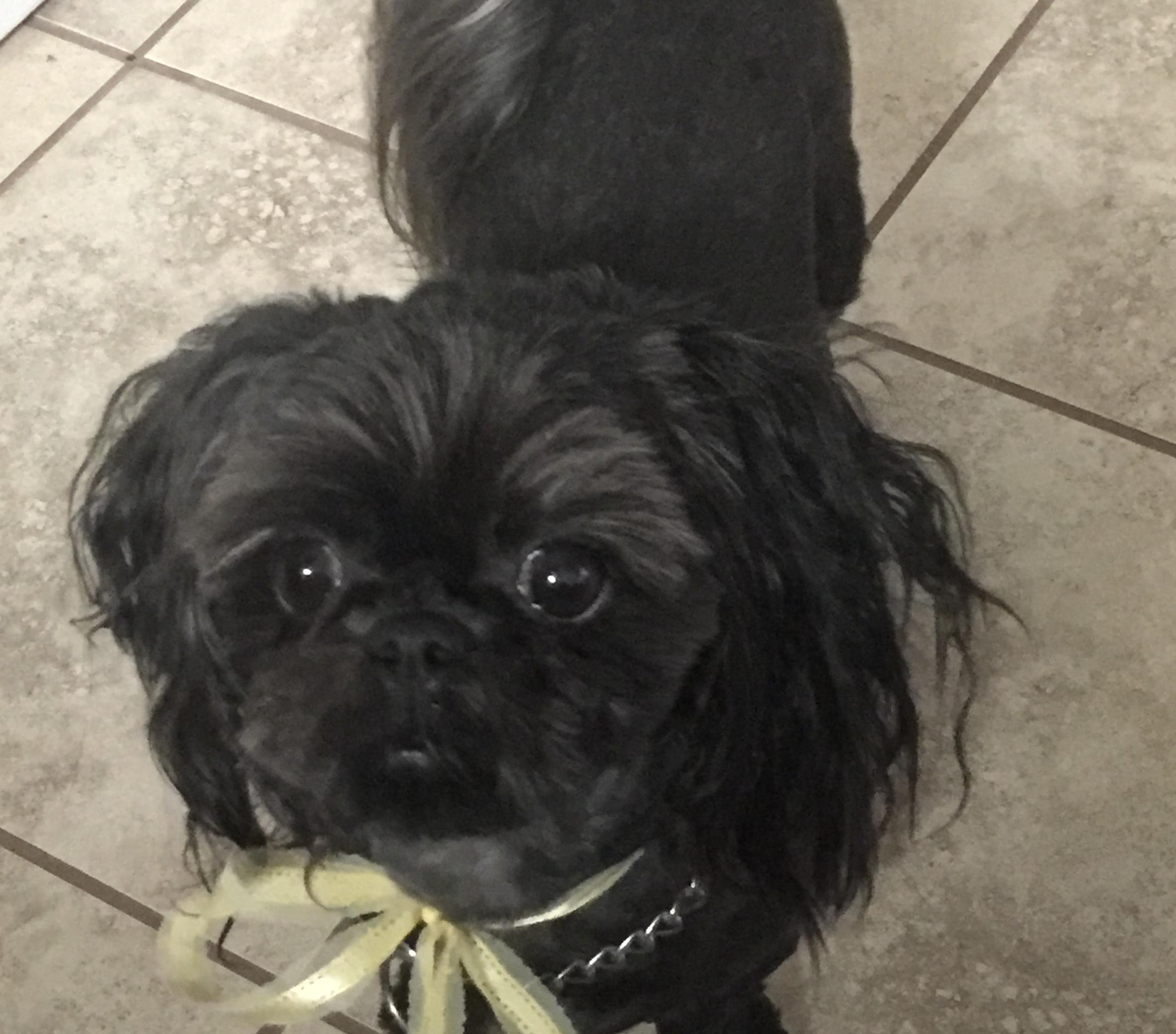 "Peanut went missing in the middle of the night when she went outside to potty. We live in a rural area and she is so small so I was actually worried she was picked up by a predator. She had never run away before so there wasn't a great explanation for her to vanish. I had to look for her because I knew if I went missing she would search for me relentlessly.
Peanut was found by a neighbor about 2 blocks away. It was the middle of the night and about 25 degrees. She was all alone and shivering. She was taken in and given food and a warm place to rest. The person who found her saw a post that had been shared on Facebook. The post was a photo of the flyer made by PawBoost!
PawBoost was recommended to me by a friend who lost her dog last year. They were reunited with the help of PawBoost, so she suggest I try it. I was extremely happy. I immediately received comments from people all over my area that were sharing the post.
People I never even met came out to help search for her and pass out flyers. The flyer made by PawBoost was perfect. You can spend less time creating flyers and more time handing them out because they're readily available!
PawBoost gave me peace of mind that the word was getting out about my lost baby. It felt like 10 times more people were suddenly looking for her! Knowing that the Rescue Squad was on alert made me feel even more hopeful! Thank you PawBoost!"
Spread the good news! Thank you to everyone who shared Peanut's alert and played a part in locating her. Her family is complete again! Everyone keep up the good work. Your help brings loved ones back home 🙂
---
Kilo: Lost Dog Reunited in Glendale, AZ!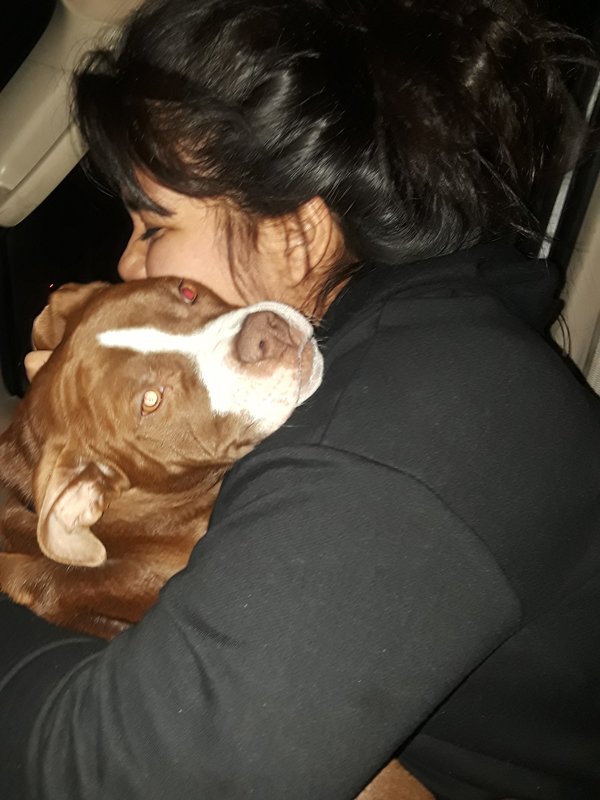 "Kilo was snagged from my front yard one morning around 10:45 AM. I let him out front like any other day to do his thing, mostly he just sun bathes after he uses the facilities. I went back in to the house to grab my 4 year old and my keys and when I went back outside to call for my pup he was no where to be found. I saw a white Nissan and heard a thumping noise that sounded like a tail hitting the side of the car. Next thing I knew the car reversed and drove off.
I knew it then and there that my friend had just been stolen. Now I did not panic. I went on to Google and started doing research. I registered immediately with the humane society and PawBoost. I think PawBoost is great because they help you post on social media and they create a flyer.
People started posting messages immediately about Kilo so I knew I had eyes around town. After that I searched the humane society just thinking maybe he got away somehow and animal control found him, but no luck. By this time, my daughters were getting out of school so you could only imagine the heartache.
I told my wife over the phone as she was at work when this went down. She didn't think we were getting him back so she told me to focus on explaining it to our girls. Later on that night around 10:30 I was checking emails and responding to everyone that had shown support.
I got a text from this lady about someone posting they found a small, brown and white pit bull walking around and sure enough it was Kilo. She had gotten my number from the flyer that PawBoost allowed me to create. She gave me the lady's info around midnight and shortly after I was driving back home with him and my oldest daughter hugging him.
Everyone helped out a great deal from social media and I don't think I would be sitting here typing this story if it was not for the help from my community and PawBoost. So to anyone in need of help of spreading the word about a missing furry loved one, don't give up and trust that PawBoost will do their part in getting them home."
Spread the good news! Thank you to everyone who shared Kilo's alert. Kilo's family is ecstatic to have him home 🙂
---
Baxter: Lost Dog Reunited in Apple Grove, WV!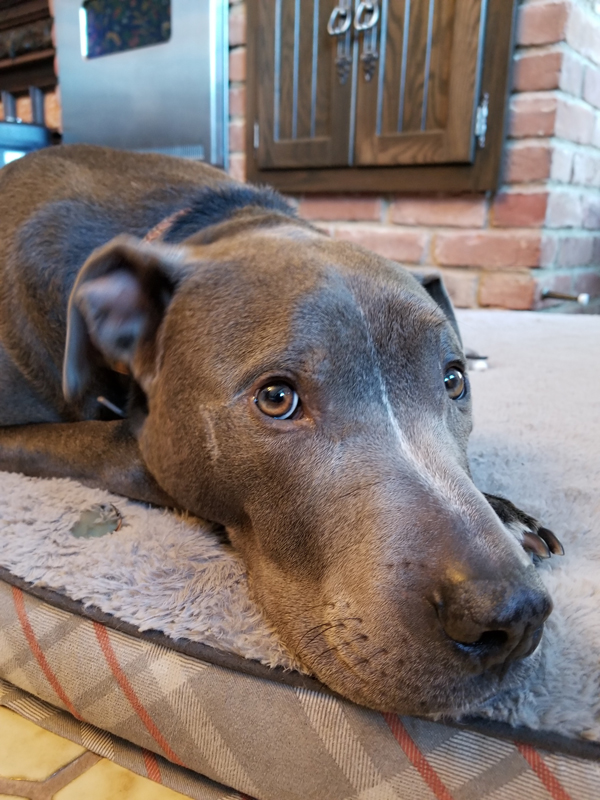 "My elderly parents were dog sitting for us while my husband and I were on a weekend trip. Our Pit Bull mix, Baxter, went missing on a Friday. My Dad let our three dogs run freely on our property that evening, but Baxter didn't return with our other dogs.
We got a call from my dad Saturday morning to tell us that Baxter was missing. We ended up shortening our trip to return home to look for Baxter. He had never left our property in the past so we didn't have the slightest idea where to begin the search.
We left lost posters at the local shelter and our vet's office but we heard nothing. We went as far as to stop road crews near our home to ask them to keep an eye out for him and we set up a lost notification through our microchip service, but no luck.
About a month later, our daughter-in-law who lives in NC, saw a PawBoost found alert on Facebook and recognized Baxter. We immediately set about to contact his rescuer. It turns out that he was just one town over. He had been shot and left to die on the night he ran off. Ironically, his rescuer took him to our vet but no one recognized him and he wasn't able to be seen without an owner's consent.
Unwilling to leave our boy suffering, his rescuer got the help of friends and nursed him back to health. She sheltered him in her home out of the terrible winter weather. It turns out that Baxter's rescuer didn't even have internet service at her home. The PawBoost alert was sent out by another one of her friends that lived over two hours away.
I would definitely recommend PawBoost. PawBoost transcended our locality and managed to reach a family member several states away through it's social media presence. Honestly, we would not have been reunited if it hadn't been first for the saintly woman who sheltered and nursed him, and secondly PawBoost. Thank you for what you do and God bless all of the rescuers and volunteers that aid in reuniting families with their furry loved ones!"
Spread the good news! Thank you to everyone who shared Baxter's alert and a deep heart felt thank you to Baxter's rescuer Vonda! His family is so thrilled to have their boy home!
---
Princess: Lost Cat Reunited in Las Vegas, NV!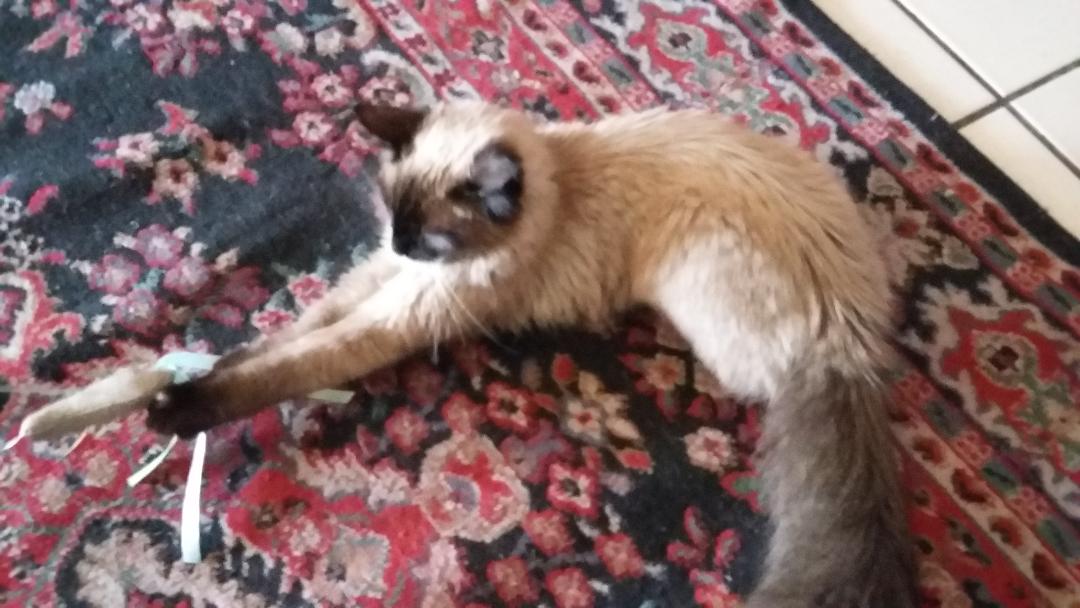 "Princess has been our pet for 7 years now and she has always been a shy, gentle, reclusive, stunningly beautiful and sweet indoor cat. I don't recall ever seeing her outside for more than a few seconds before she would run back inside.
She suddenly went missing one Monday night or early morning Tuesday. Someone may have left the door open to let the cool air in and she wandered out to go on an adventure. When I woke the next morning and noticed she was gone, I panicked.
I searched all over the house repeatedly and I checked the front and backyard several times. Over the next few days I went out morning and night scouring the neighborhood searching for her, often with a flashlight in hand, asking all the neighbors if they had seen her.
I left food, water and a blanket outside the door for her so she could potentially smell her way back home if she was lost. For several weeks I would go to sleep and wake up with stressful thoughts in mind.
After the first month I had to come to the conclusion that she may never return, but I held solace in the fact that she left on her own. It was her choice and it was out of my control.
It wasn't until some time after midnight on day 71 that I was getting into bed and checked my phone. I received a notification in my email from PawBoost about a found cat in my area just a few miles down the road. I noticed the picture looked exactly like Princess!
I immediately put the person's contact information in my phone and asked for more pictures of the cat they found. After they sent a few more pictures, there was no doubt that it was her. Even though she looked a bit ragged and sun-beaten after over 2 months alone, I know what my cat looks like.
We arranged to meet at Petco that night and the kind, sweet lady handed my cat over to me completely for free and happy to help. It was such an amazing moment, and it was all thanks to PawBoost."
Spread the good news! Thank you to everyone that shared Princess's alert. Wow! Princess is a survivor after 71 days! She is one tough kitty 🙂
---
Katrina: Lost Cat Reunited in Tampa, FL!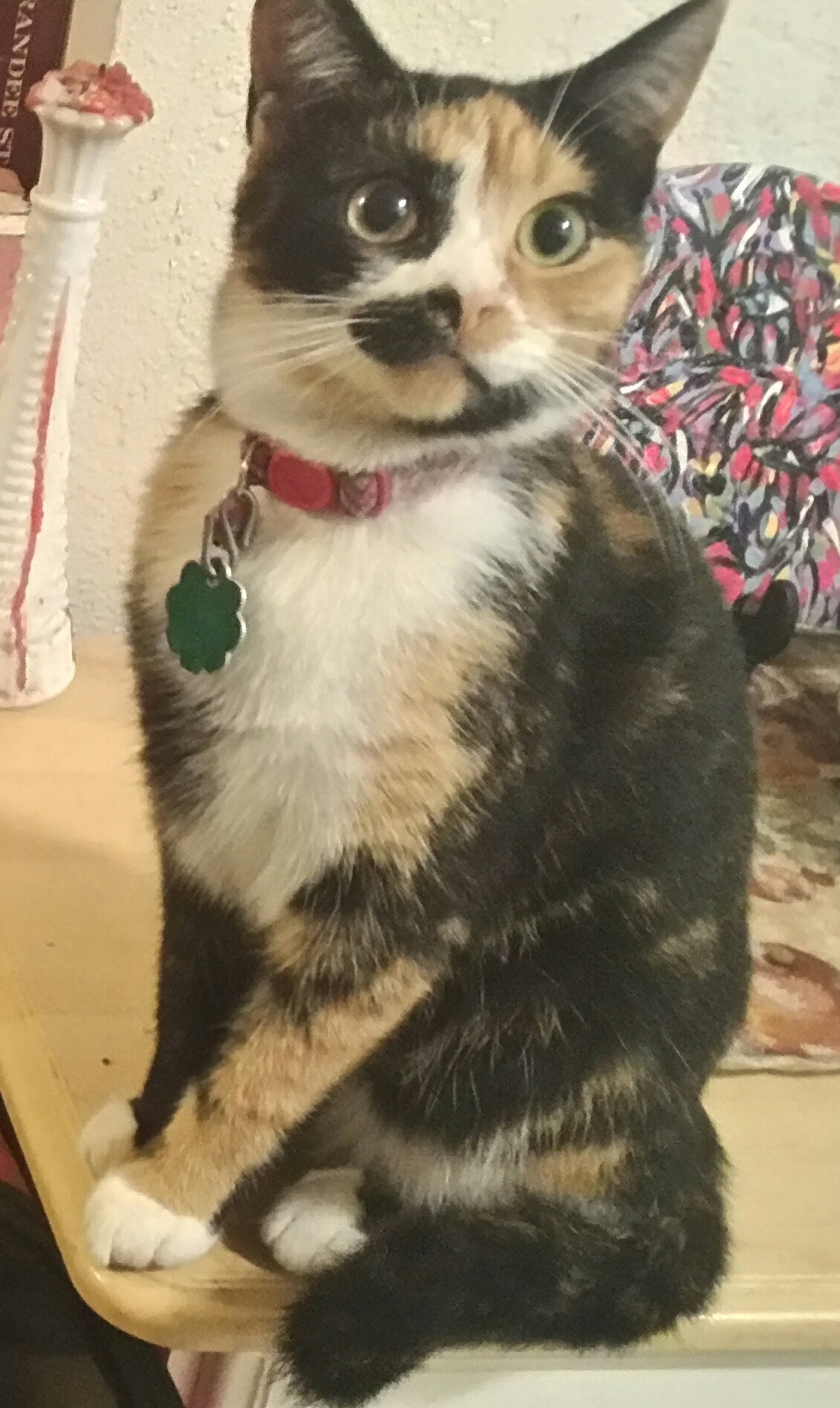 "Katrina is mostly an indoor ten month old kitty. I saved her eyesight and bottle fed her at three days old. Katrina went outside Sunday morning while the church across the street was dismissing. The loud church bell was ringing and cars were parked all in my yard. By the end of the commotion Katrina was gone.
After seven days of scouring the neighborhood, posting flyers printed from PawBoost, checking local shelters and placing her litter box outside, I was giving up and heartbroken. At 1am, I realized there was one street in my neighborhood I never go down and had not checked.
I got out of bed and set out for my last look. With no luck, I turned and called again as loud as I could one last time. I heard a bell jingle. I called again and I heard a loud meow. As I turned I saw her leap from a tree and run towards me!!! I began crying harder but now tears of joy!
By reading suggestions from PawBoost I was reunited with my kitty that spent 7 long nights out in the cold. She has barely stopped purring and sleeping since being home!"
Spread the good news! Thank you to everyone who shared Katrina's alert. She is considerably thinner, but is eating a ton 🙂
---
Tuffy: Lost Cat Reunited in Newport News, VA!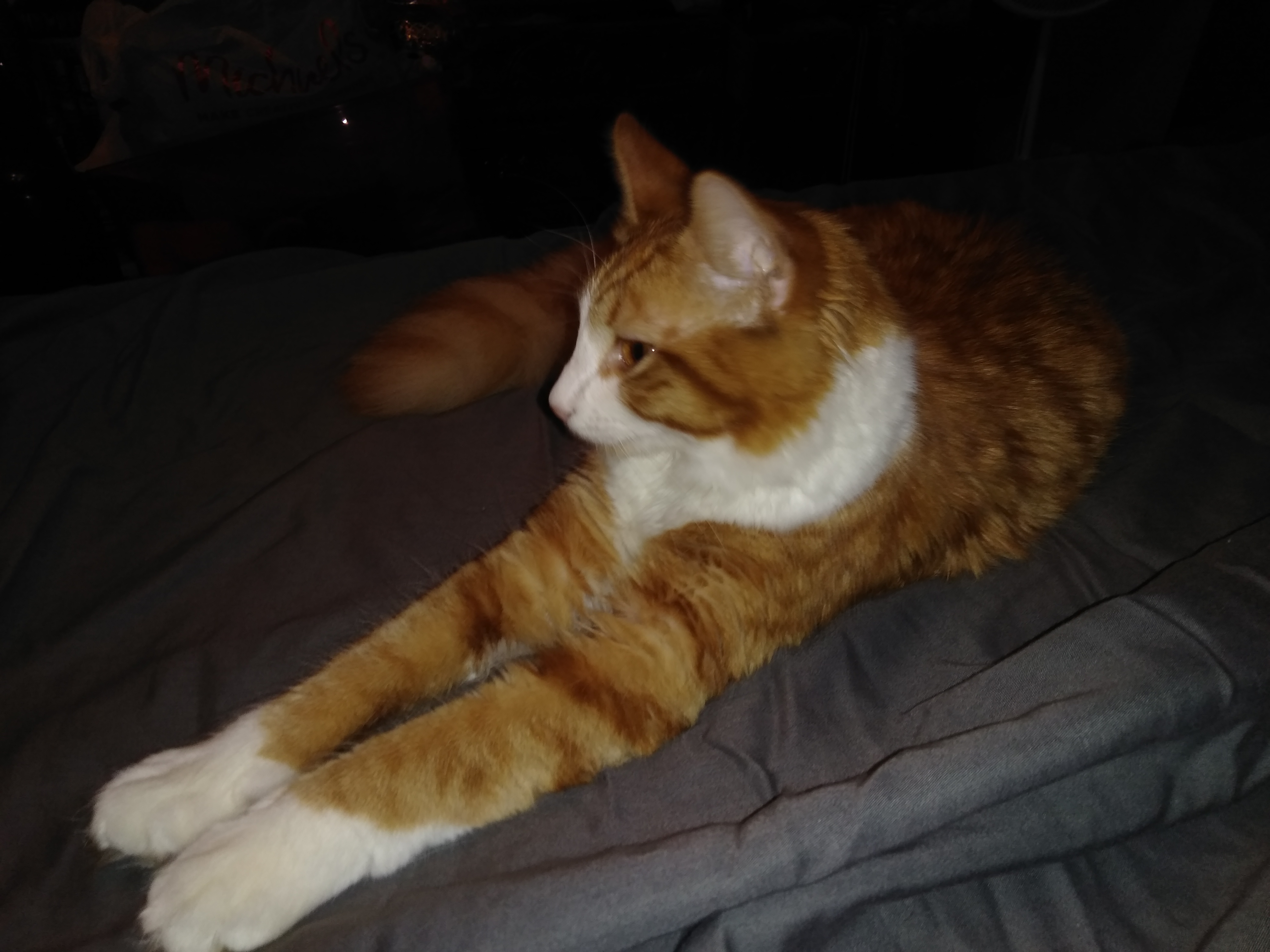 "Tuffy snuck out of the house on Tuesday when the dog was let outside. We posted on PawBoost and read advice from community members. Immediately people began to share our post via social media and within hours we had over 80 shares plus notifications to the local animal shelters.
The PawBoost community said walking around the neighborhood shaking treats and calling his name was not likely to coax him home, and that was what we had been doing to no avail. Instead they said to coax him home with familiar smells. We read various success stories and other posts and learned what to do.
We put a kitty litter box Tuffy used outside. Then we left the garage door open 8″ and put a can of tuna, dry food and fresh water just inside the garage. We put a stuffed animal he slept on sprinkled with catnip and a favorite toy inside. Finally, we set up a camcorder to see if he was coming in late at night.
For five nights he did not come home. Then on the sixth night he came into the garage at 2:30am. Now that we knew when he was coming in the garage we waited up for him. He came home on the seventh night but we were not able to coax him indoors.
Finally on the eighth night we got him. He is now safe and sound and scheduled to see the vet tomorrow. PawBoost was instrumental in getting him home. I would recommend PawBoost to anyone looking for a lost pet. Even though people did not respond that they saw him, the PawBoost community taught us how to use smell and food to coax him home.
Never in a million years would I have thought to put a kitty litter box outside or the other things we did. Additionally, knowing the word was getting out on our missing cat was very comforting. I'm so grateful that PawBoost is here for pet owners."
Spread the good news! Thank you to everyone who shared Tuffy's alert and offered any advice. His family is so happy to have their baby home 🙂
---
Sunny: Lost Cat Reunited in Toronto, ON, Canada!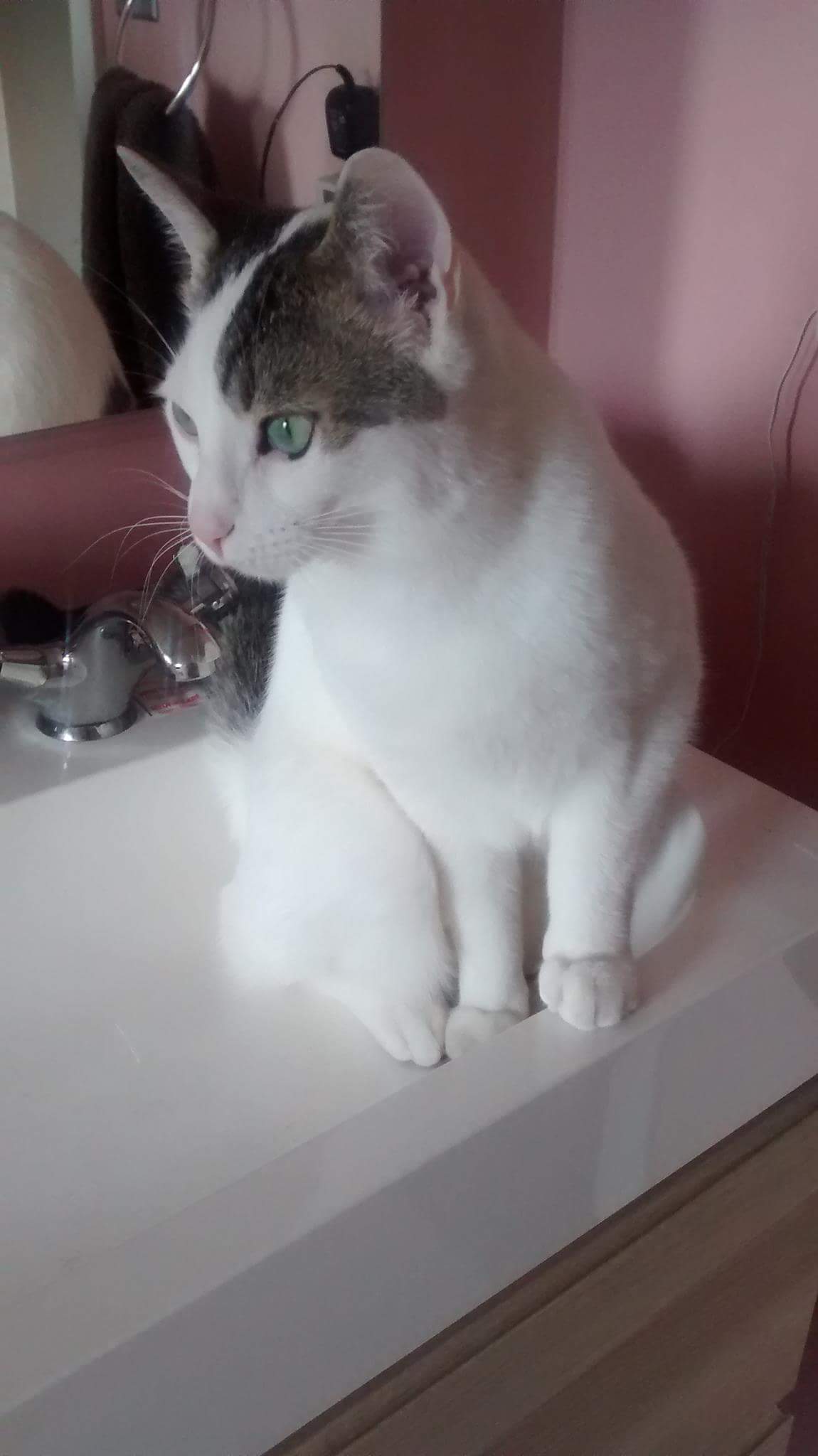 "Both Sunny and his sister Minnie are outdoor cats and I usually put collars on both before letting them outside, however I was running late to school so I forgoed the collar this one time around 5:30 am. I came home at 5:30 pm which is normal for me on Wednesdays and the cats know this too as it has been routine for about a year now.
When I opened the door and called for them, Minnie came in right away but I didn't see Sunny. It was odd, but sometimes he's at the other end of the complex where I live so I figured I would just wait 10 minutes and try again, but to no avail. I walked around the complex calling for him for the next day and a half before reporting him missing.
Jump ahead 1.5 months and I received a call from a neighbor on the other side of my complex who had seen the poster for Sunny online and that Sunny was eating from their bird feeder looking rather skinny around 5 pm. I was at work and unable to get there until about 7 pm, but when I got back I went door to door and showed pictures to people who said that they saw him in their backyard a few weeks back.
So I walked around and called for him along with going door to door for about 2 hours and then I had this crazy idea of leaving him a scent trail to follow home. I thought that perhaps he got spooked out of his area and then got a little turned around and then forgot where he lived after being away for so long.
So I grabbed his blanket and starting from the neighbors house who had called me and started rubbing it on corners low to the ground at his height level all the way back to my back porch. When I got there he was meowing bloody murder to try and get in – he had beaten me home!
I would most definitely recommend PawBoost as their circulation is wide and the people who are apart of the community really care about what happened to you and your pet. I don't have a doubt in my mind that PawBoost helped share Sunny's image in order to be recognized and let me know where he was."
Spread the good news! Thanks to everyone who shared Sunny's alert. Sunny is home safe and sound. Don't give up on your furbaby 🙂
---
Missy: Lost Dog Reunited in Roanoke, VA!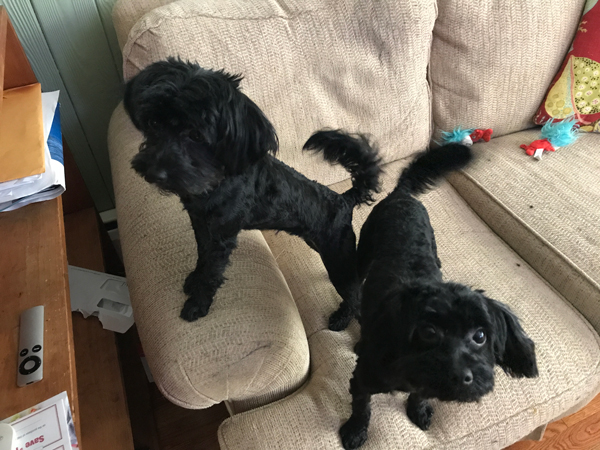 "Missy ran out a gate from our yard and she ended going up the mountain. She was found by a wonderful girl who called me as soon as she saw a post about Missy being lost. In addition, the finder, previous to seeing the post about Missy being lost, posted to several neighbors that she had found Missy hanging out on the wall at her house and posted a picture asking if her owner was known.
One of my neighbors replied to her right before I posted. My daughter and I immediately went to pick up Missy. Her brother, Buddy, was thrilled to get her home!! They were both found together as strays and have never been apart.
Without posting Missy as lost, it is doubtful she would have been home as soon as she was. Missy did not have on a collar or any identifying information. I did not know the person who found her nor would I have thought to look for her as far away as she was.
I would recommend PawBoost as it was a fabulous resource and avenue for getting Missy back home as soon as she was found. I would definitely recommend that if someone loses an animal to post as soon as possible rather than waiting hours or days. It worked out well in this instance!"
Spread the good news! Thank you to everyone for all of your assistance in getting Missy home. After posting, she was home within the hour. Her family is thrilled!!!
---
Spot: Lost Dog Reunited in Smartsville, CA!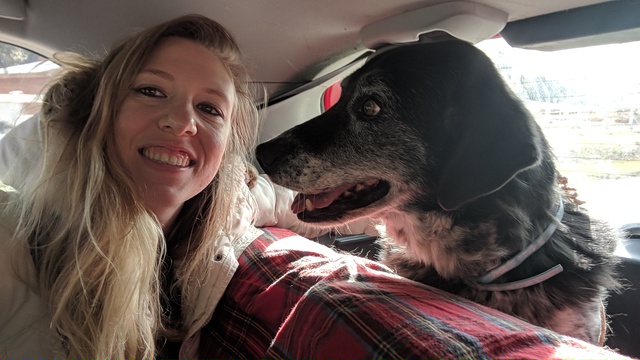 "Spot went missing on a Tuesday evening. He's never not come home before and since he's an older dog we feared the worst. My parents went searching for him both on our property and sadly on the side of the road to see if the poor boy had been hit. There was no sign of him.
My parents let me know on Friday evening that he had been missing for 3 days. I live in Los Angeles so I left at 3 am to get up to the Yuba City area to help search for him when the sun came up on Saturday. Unfortunately due to the stress and lack of sleep we had very little progress and had exhausted all options we thought we had.
On Monday after praying a lot over the weekend I was inspired to Google posting about lost pets and came across PawBoost. Within 4 hours of posting leads started to pour in. The outpouring of support and love from the community was astounding.
All of the wonderful suggestions lead to more posts and I ended up seeing a kind-hearted soul had found him wandering on the street and was kind enough to take him in, and she had taken him to Sammie's Friends. I cannot express the sheer adulation our family experienced after seeing photos loving strangers had posted of him online trying to get him back to us.
I've spent half of my life with Spot and to go from thinking I'll never see him again, to getting to holding him in my arms within 24 hours was unbelievable. Thank you so much to PawBoost, to Denise the wonderful woman who found him, to Sammie's Friends for taking care of Spot, and to everyone in the community who shared their love and support.
The world is truly filled with wonderful loving people who look out for one another!"
Spread the good news! Thank you to everyone for taking care of Spot and for sharing his alert. You have no idea how much this means to his family!
---
Ollie: Found Dog Reunited in Tucson, AZ!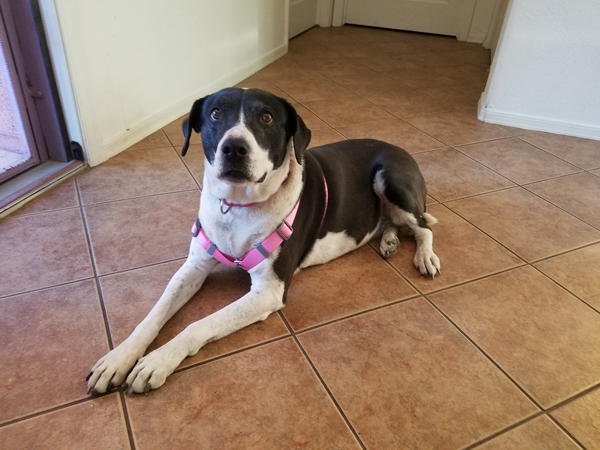 "I saw a dog in my neighborhood when I was walking my dog on Sunday morning. She was by herself and looked so distressed that I did not think that she lived nearby. I lured her with treats with my next door neighbor and she was happy to come home with us. She was wearing a collar but no tags, so I brought her to a Banfield Hospital nearby and they scanned her but did not find a microchip.
Then I posted signs around the neighborhood and reported her found to Pima Animal Care Center (PACC), the Humane Society of Southern Arizona (HSSAZ), PawBoost, Nextdoor, my Facebook page and other local Lost and Found pet groups. I told PACC and HSSAZ that I could care for her while we looked for her family and gave them my contact information, but there were no reports of any lost dogs matching her description.
Since I have a full time job during the day, my next door neighbor offered to baby sit her while I was out (my dog does not like large dogs), she loved the extra attention.
On Monday evening, I reached out to a couple that walk their dog when I walk mine, showed them a picture of the dog and they recognized her. They were kind enough to walk me to her house. Unfortunately the owners were not home, but thankfully they were home the next day and they were very happy and grateful that I cared for her and brought her back home. I finally learned that her name is Ollie.
She is a rescue dog, just like mine, and they adopted her after losing a member of their family, so she's very special to them. I'm very grateful for the couple that helped me reunite her with her family, and my very jealous pup is happy to being the queen of the house again.
Even though it was word of mouth that helped me reunite Ollie with her family, I would recommend PawBoost no matter what. I believe that reaching out in all ways possible is essential to help reunite a lost pet with their family."
Spread the good news! Thank you to everyone who shared Ollie's alert. She is home safe and sound with her loving family 🙂
---
Shadow: Lost Dog Reunited in Phoenix, AZ!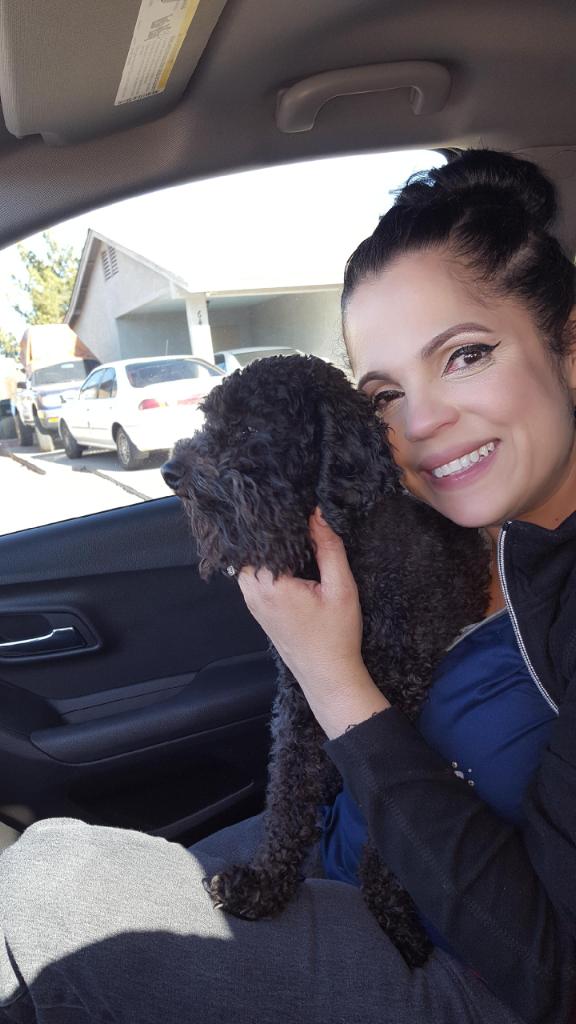 "Shadow was being doggy sat overnight at my brother-in-law's house when he escaped. My husband and I printed flyers, walked that neighborhood, knocked on doors, called out his name, and posted on as many online pet finder websites as possible including PawBoost.
It had been probably 9 days when a Good Samaritan called us and said they'd seen our dog hiding in the alfalfa fields. So myself and our son combed through 3 fields at 5:30 am until the middle of the day but nothing. My son saw something run out from the fields and into the next door facility but it was too dark and we figured it couldn't have been him. Why would he run from us?
The next day, the same person along with others posted seeing him and searched for him. This time my husband went and decided to ask the workers at Amazon if they'd seen a tiny, black poodle and they immediately said that he'd been hiding there for days but no one could get to him.
My husband called out his name but he wouldn't come out of his hiding spot. He called me to meet him there since Shadow is very attached to me. I tried and cried but he wouldn't respond to my calls so I left him his blanket from home.
Then on the 11th day, I was supposed to meet a Good Samaritan to set up a trap with food and catch him. She had not arrived but as I walked toward his hiding spot I saw him laying on the blanket and staring right at me for the first time from behind the bars.
I was given lots of tips from everyone online about not screaming his name, letting him approach me and offering him food. So I tried to contain my emotions and the desire to run towards him and just softly talked to him. Then, he started walking towards me but stopping at times from fear and probably trying to make sure it was really me.
We never gave up and we cried for him everyday. I'm so thankful for the pet loving community. We couldn't have found him without sites like PawBoost. I will absolutely tell friends and strangers about your service."
Spread the good news! Thank you to everyone that shared Shadow's alert. He's a brave, strong puppy 🙂
---
Mango: Lost Cat Reunited in Las Vegas, NV!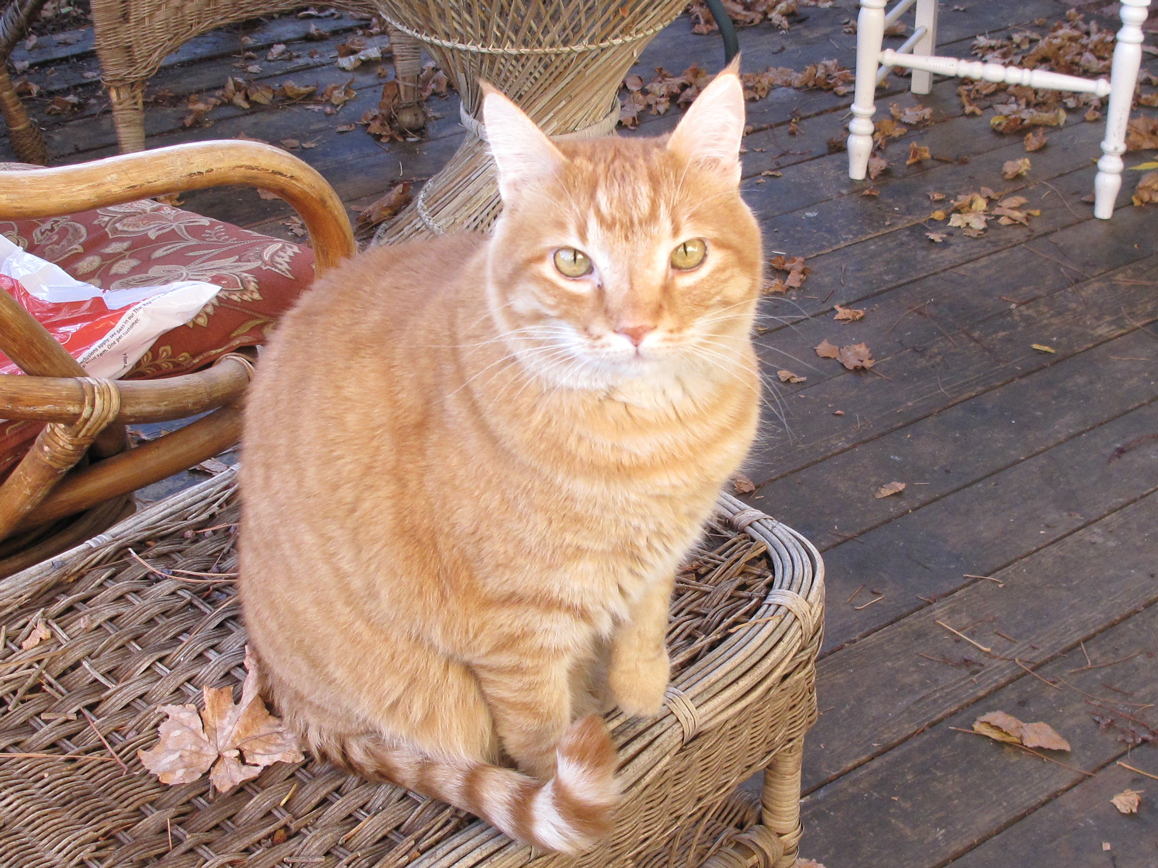 "Mango escaped via the garage door one Friday. We never realized he was gone until later that evening. My son, Mark, frantically started putting up posters in our neighborhood and he included a photo of Mango on your wonderful website too.
A female neighbor telephoned us telling us she saw a cat who looked like ours a block away. Mark jumped into the car and took off towards where Mango had been seen or so we thought. When Mark arrived our wonderful, orange, fifteen year old cat had been spotted sitting near a car.
Mark walked up to Mango who recognized Mark right away. Mark lovingly picked up Mango and brought him home. Mango has been getting special treatment including extra food and treats since he appeared to have lost some weight.
What was interesting was after Mango arrived home he slowly walked from room carefully looking the room over like an amnesia victim returning back to normal. Mango did this in our dining room, kitchen, hallway, my office and my den. It was like he was recognizing the area all over again. Later in the evening he crawled onto his favorite chair and promptly went to sleep.
Thank you wonderful folks for the fabulous job you are doing. We greatly appreciate all your marvelous efforts. We would absolutely recommend PawBoost. Your dedication to lost pets is fantastic!"
Spread the good news! Thank you to everyone who shared Mango's alert. Mango is home safe thanks to some great neighbors on the lookout 🙂
Luna: Lost Cat Reunited in San Diego, CA!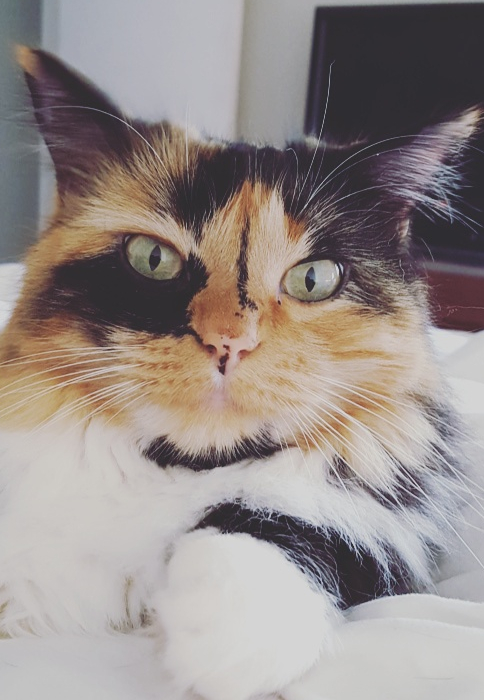 "Luna is an indoor cat but we have a grassy area behind our patio that we take her out to occasionally – it's one of her favorite things to do. One Monday, we went out on the grass and then I told her and her buddy Ziggy to get inside.
I pay more attention to Ziggy because she will jump our patio fence so I didn't pay close attention if Luna came inside because she never leaves. The next morning, I realized I had not seen her all night so I began to search the house and that's when I realized she was gone.
When she was gone, we left our patio gate open for about two weeks. PawBoost gave me recommendations to leave items of clothing outside, her blanket and even her litter box so she could smell her way home, but nothing.
After two weeks, we decided to close the gate. It killed me, I thought I was giving up on her but she had jumped the gate before and has been at this location for over 5 years. We hoped she would find her way home.
A couple days before she returned, I put food out in a dish on the patio and noticed it had been half eaten. I had left food out when the gate was open and caught dogs eating it late at night but now the gate was closed so I wondered, who ate it?
I came downstairs around midnight on day 19 and every day since she had been gone I'd look outside at the patio hoping she would be there. I immediately looked at the dish and the food was gone and as I turned my head, there she was on the patio.
I opened the door slowly and she would not stop meowing. She came inside and meowed all night. I think she was telling us all about her adventure or what she had experienced. She was thinner but completely clean and not a scratch on her.
PawBoost gave me the peace of mind that there were others out there helping to locate her. In today's world of social media and information, it just takes one person to see her and call and PawBoost gave me hope."
Spread the good news! Thank you to everyone who shared Luna's alert. She returned home safe and sound on her own after being gone 19 days and her family is beyond happy 🙂
---
Maya: Lost Cat Reunited in Richmond, VA!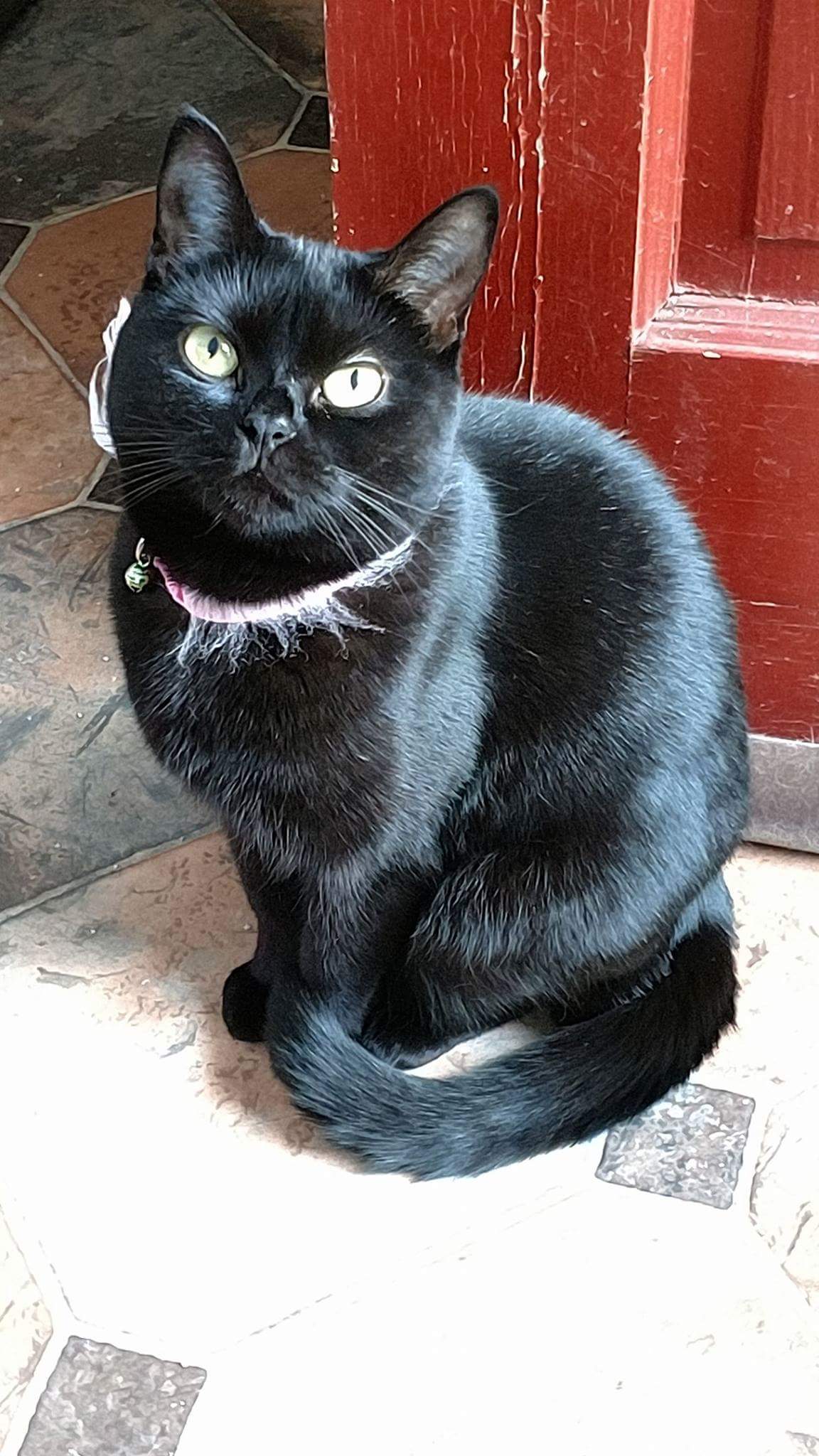 "I opened the back door to check on the dog who I'd just let out to go potty. Maya took that 2 second opportunity to make a run for it, and it happened so fast I couldn't grab her. That whole evening my neighbor and boyfriend looked all over the yard and in the woods but no luck.
We went back the next day looking with no luck. I called local animal control, created flyers, posted everywhere on social media, put her litter out and anything we could think of. A few days later we put some food out hoping that would lure her back as well as her crate with a blanket inside for her to curl up in safely.
The next few days friends, family and neighbors helped look for Maya, but still nothing. Over the weekend, we put up flyers and expanded our foot search. Every day, I'd call for her both out back and out front of the house, doing a few foot searches after work myself.
Finally, last night, exactly a week from the day she went missing, I heard a noise at the kitchen window. I went to the back door to check things out. What do you know? Maya was sitting at the bottom of the stairs looking up at me with her big eyes, debating about coming inside. Well, the dog got excited and made an attempt to get out which scared Maya away AGAIN!
So we put some wet food out in the back of her crate and stayed inside and waited for her to come back. This morning, my boyfriend was letting the dog out to potty and he noticed that the can of food we put in the crate the night before had been out and was empty. The dog then went to sniff the crate, and he heard a meow. It was MAYA!
I got a bunch of shares from my PawBoost alert and even made a new friend out of it. PawBoost helps get the word out to a huge group of people I wouldn't have been able to reach before."
Spread the good news! Thank you to everyone who shared Maya's alert. She's now resting safely in the warm house on the comfy couch 🙂
---
Blue: Lost Dog Reunited in Scottsdale, AZ!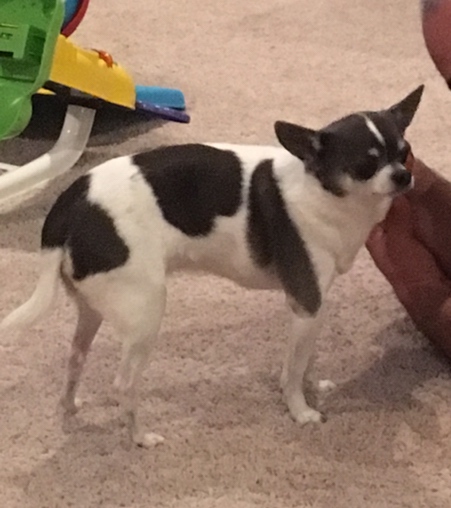 "Blue got out of our front yard when my husband was repairing our sprinkler system. We didn't realize she was out and a neighbor saw her and tried to call to her but scared her away. We are new to the neighborhood and our neighbor didn't realize she was our dog.
The neighbor posted an alert to Nextdoor, I found the alert about a hour and a half later and immediately began looking for her. She went missing at 4:50 pm on a Thursday night. We looked until after midnight and resumed our search Friday morning at 6 am.
Our neighbors were wonderful looking for her at all hours and continually giving me updates. I had lost much hope by Friday night when neighbors spotted coyotes in our area. I sent my husband out to find the coyotes and follow them in case they found Blue.
Saturday morning we got a call from a veterinarian's office who had scanned her microchip. My husband went to get her and brought her home! Her story is that she ran to a local business parking lot and was taken home by an employee about 40 minutes after she went missing.
She was never alone, never cold outside and never in danger of coyotes or javelinas. The employee brought her to his vet on Saturday (about 8 miles away from our home) where her microchip was scanned and I was called.
PawBoost gave us many helpful tips and made us feel supported and like we were doing something to get our dog home. I would absolutely recommend PawBoost to anyone who has lost a pet."
Spread the good news! Thank you to everyone who shared Blue's alert and sent positive thoughts and prayers. Her microchip and the very wonderful family that took her in brought their family back together 🙂
---
Diamond: Lost Dog Reunited in Manassas, VA!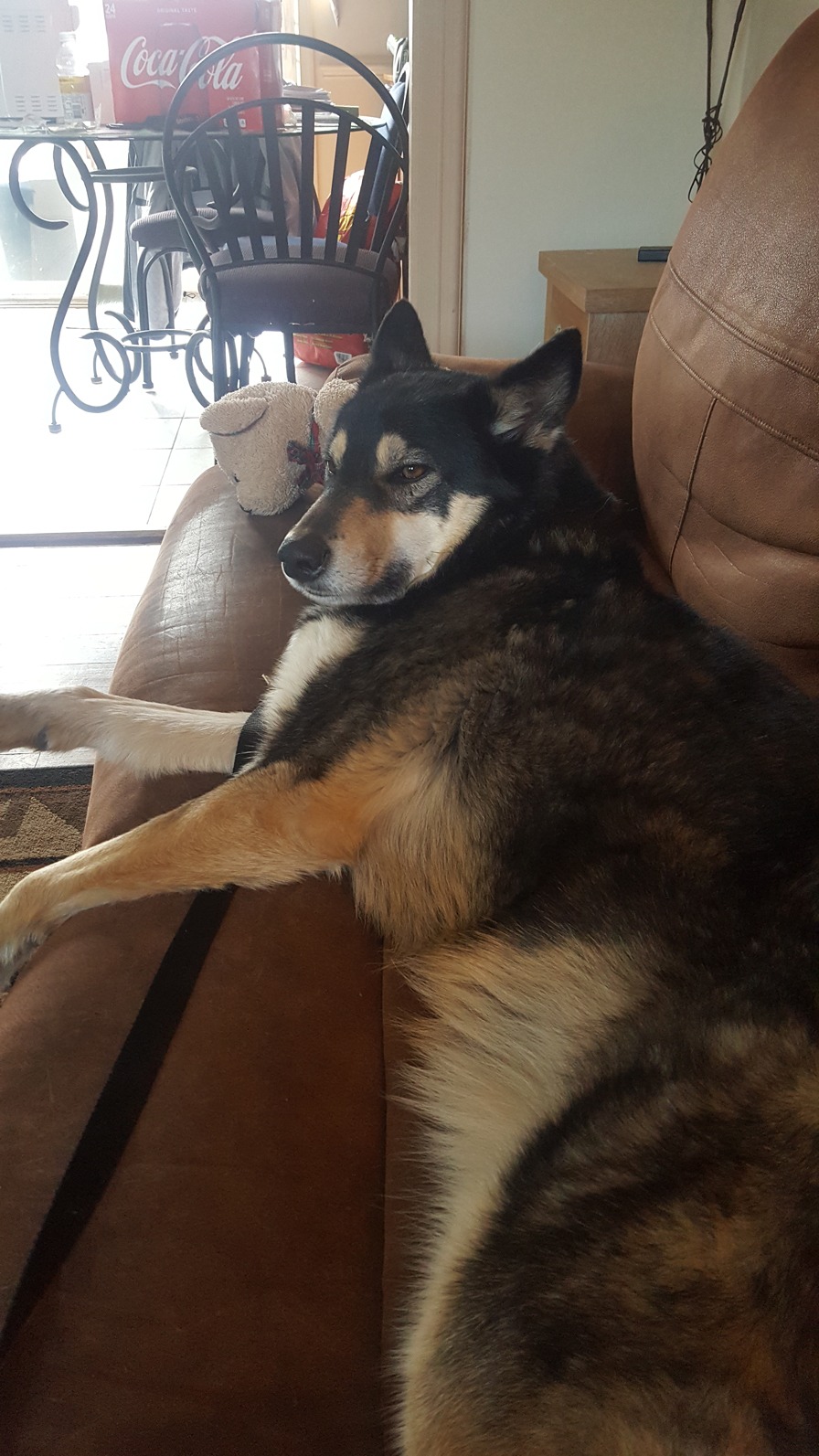 "Diamond was a new addition to our family. He was very nervous when he got to our house, scared and not knowing where he was. As soon as the front door opened out the door he went. We tracked him as best as we could but lost him when he went around the corner of our street. Not knowing which way he had gone, we lost him.
People in my area on PawBoost called me with sightings of a dog they thought may be him. I got calls from all directions which made it difficult to know if it was him or not. I felt like I was chasing 3 different dogs.
A home owner actually noticed him hanging around his backyard on the other side of his fence. He was becoming friends with his dog. After seeing him for a second day he decided to call animal control and let them know that there was a dog hanging around his yard.
He tried to put a leash on him but unfortunately he would run. Animal control tried but he would run from them too. It was with persistence from me asking for a cage that he was finally caught. The sightings from PawBoost helped me narrow down where he was but was because of the home owner that we were able to get him home.
He fed Diamond and put an old dog house out there for him. We're so grateful for him and the rest of PawBoost Rescue Squad members that called, messaged and cared to help.
I would definitely recommend PawBoost to anyone who has lost their pet. There are so many caring people out there that are willing to call and let you know that they saw them. PawBoost helps you reach out to those people and gets your pet's picture out there so you can get them home."
Spread the good news! Thank you to everyone who shared Diamond's alert. A special thank you to the home owner that was feeding him and letting his dog keep him company. It would not have been possible without your help 🙂
---
Ethel: Lost Dog Reunited in Wilmington, NC!
"Ethel went missing on Monday around 3 PM. My fiancé let her out the back door like always to use the bathroom because she doesn't leave the yard. He sat down to wait on her to finish and come to the back door. In that time, he accidentally dozed off and our princess decided to go exploring.
We think Ethel went to play with the other dog across the woods and someone must have came up to her and she took off. She is very skittish of people she doesn't know and easily scares. We think when she took off running she lost her direction and when she became disoriented she was scared to come out.
We found Ethel about 36 long excruciating hours later. I heard my email go off at 1:30 AM on Wednesday and didn't check it because I get tons of emails and there hadn't been any leads on her whereabouts. At 3 AM, my fiancé got up to look at the back door to see if she had came back.
I checked my email then and found an email saying she had been spotted twice around the same area. Chris and I jumped in the car as fast as possible and started yelling and screaming for her. After an hour and a half we admitted defeat yet again. At 4:30 AM, just when I turned around to go to bed to try to get some sleep, Ethel was looking in the back door!! It was the best sight ever!
I believe PawBoost directly helped me locate my precious princess because without the lead we would have not gone out that night to call her and she would not have followed the sound of our voices home!
I recommend everyone use PawBoost! I've already told all my friends and family about it. It helped me find my fur baby in a devastating time. Please everyone, show your grace and help pet owners who are also grieving over losing their pets. Together we can do this!"
Spread the good news! Thank you to everyone who shared Ethel's alert. She is home safe and her family couldn't be happier. Their hearts are so full!!! 🙂
---
Whiskers: Lost Cat Reunited in Evansville, IN!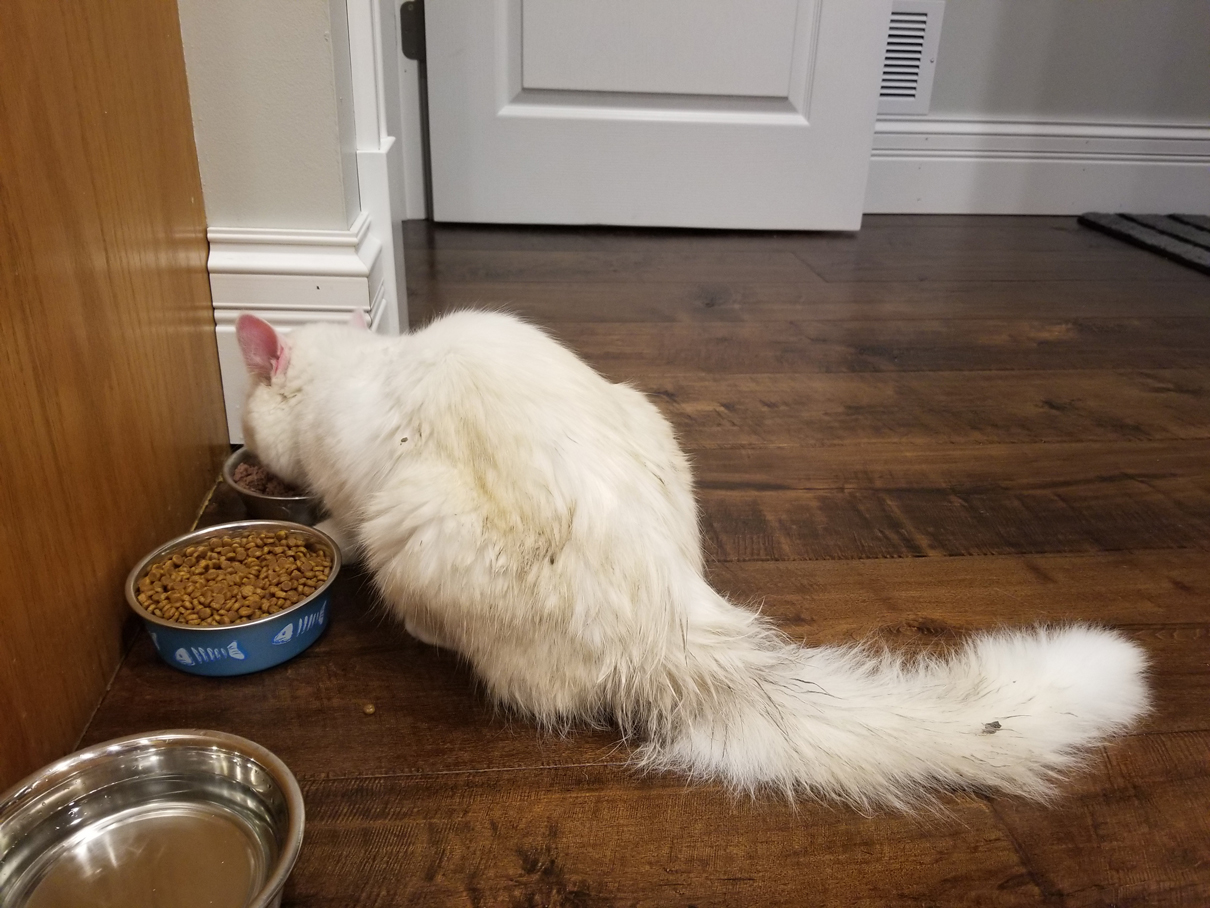 "Whiskers was found as a 3 month old kitten crying for help from a storm drain. He was rescued the same week as my son's 6th birthday. My son, Colin, had been begging for 2 years for a white kitten. Incredibly, the kitten was all white. We felt like it was fate and Colin received his white kitten on his birthday.
One Wednesday evening, I put him outside to roam as he loves to be outside and I knew it was to snow the next day and he'd have to be in for a few days. He always comes back by bedtime or by the very latest the following morning for breakfast. I kept checking for him and he never returned by the next morning. When he didn't come back I knew he was missing. I looked for 3 hours and no trace.
We did everything we could posting on social media, distributing flyers, talking to neighbors, no luck. I discovered PawBoost and posted on there as well. PawBoost helped make more people around us aware he was missing and provided me with a sense of being able to do something to try to find him. He ended up returning on his own 8 days later tired, skin and bones starving, filthy and thirsty.
We couldn't thank everyone enough for all of their shares and comments of support and for being on the look out for our buddy. We're so glad he's returned home! I would recommend PawBoost to anyone who is missing a pet as it helps spread the word and can only help to find your missing pet."
Spread the good news! Thank you all so much for the kind words and sharing Whisker's alert. He returned filthy, starving and thirsty but seems fine otherwise 🙂
---
Lucious: Lost Cat Reunited in Cocoa, FL!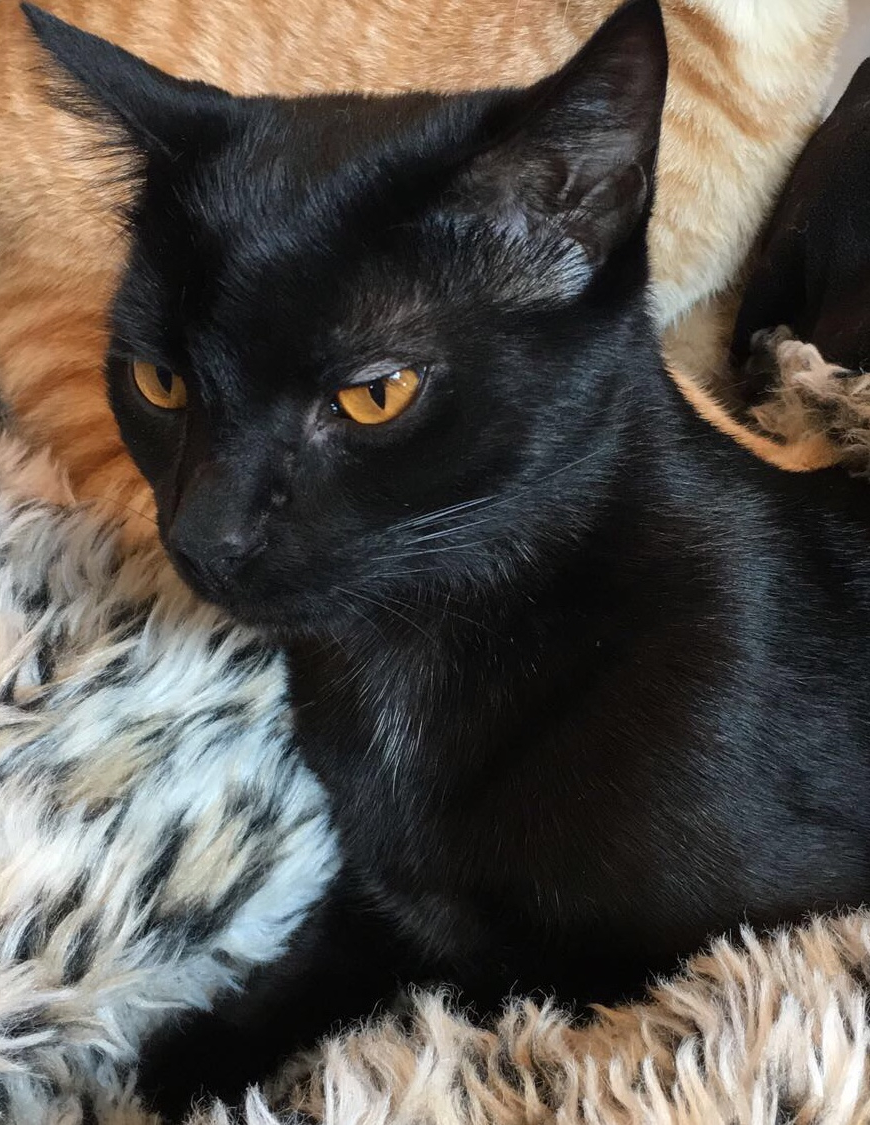 "Lucious slipped out of a small hole that was in the screen of the sliding glass door leading to our back yard. He must have slipped out without us realizing and got scared and hid for awhile under the deck where we tried for days to get a hold of him. He ended up getting spooked and going across the street into a woods area and staying put there.
We tried everyday for a month to catch him. After we heard him getting into fights with the other stray cats around we became reluctant. We sat outside for four hours in the woods calling him and luring him with cat nip, food and water. He meowed constantly to let us know where he was located but was too scared to come closer than a pet on the head and then bolted.
After hours and hours, he gained my trust again more and more until finally, after another very bad fight with a stray I was not going inside without him home. I went all the way to the back of the woods with his Daddy and I got close enough to give him cat nip, pet him and hold him. We used a blanket to secure him into a comfortable carrier and ran through the woods back home.
He is now happier than he has ever been and his appreciation of us is clearly shown through his actions. My heart is overflowing with joy and love for my beautiful boy that I can finally hold in my arms and love again.
PawBoost most definitely helped in our pursuit to find our baby boy. We caught Lucious ourselves, but without suggestions, prayers and all the help from PawBoost, our pursuit would have been prolonged and in turn, would have meant life or death for our baby boy.
I would absolutely, 100% recommend PawBoost to a friend. The help from them, their staff and all the exposure that led to others helping as well, made more of a difference than I could ever imagine. Thank you so much, from the bottom of my heart."
Spread the good news! Thank you so much to everyone who shared Lucious' alert and kept a look out for him. He is now home safe after a month and he is the happiest little boy 🙂
---
Birdie: Lost Bird Reunited in Standish, ME!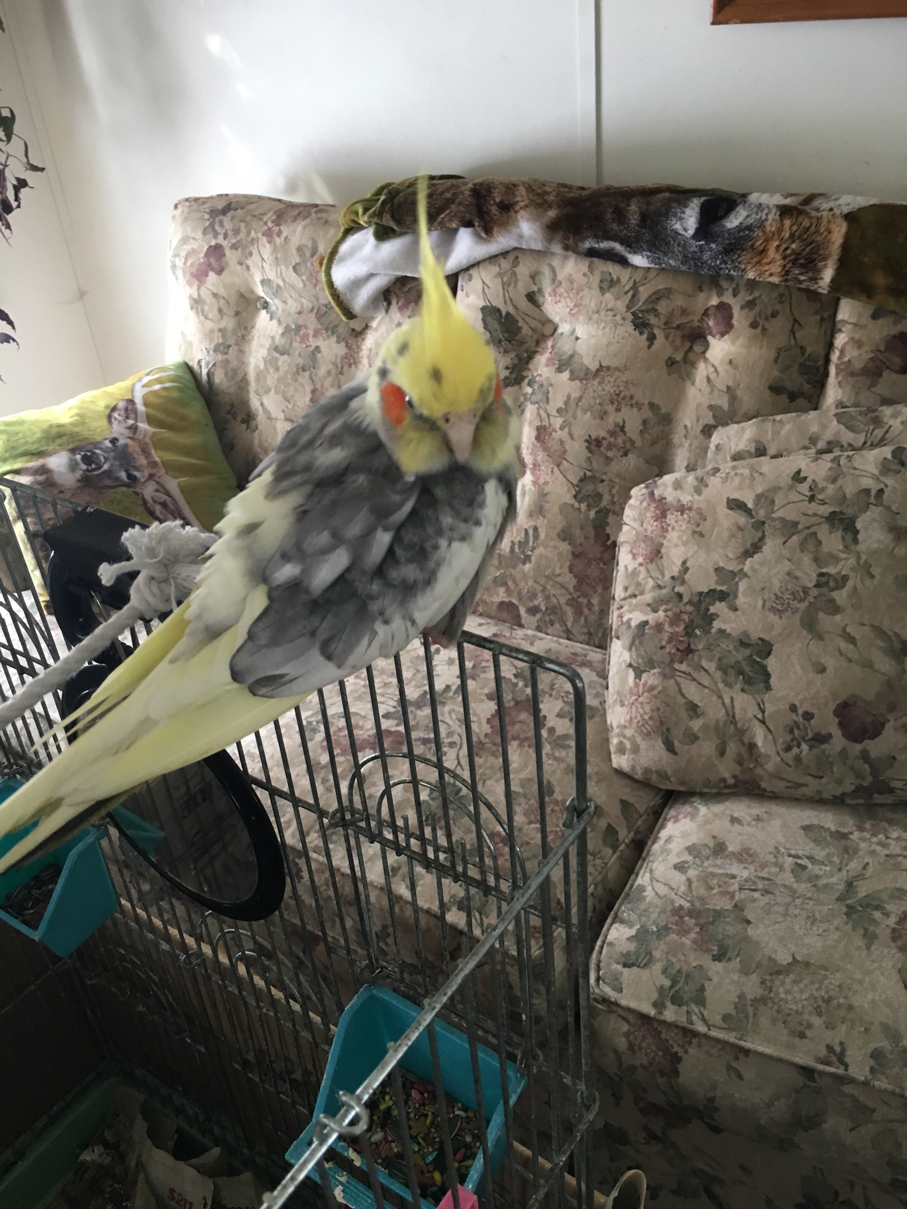 "My bird was on my shoulder as I was letting my dogs out. He flew out and usually turns around and flies right back, but this time he didn't. Totally dumb move on my part. I watched him fly away and I literally freaked out.
For nine hours, I yelled and whistled for my bird along a very traffic congested road. I saw him in a huge tree as he was screeching at me for dear life. I called the fire department for a ladder, even though it would've been pointless because he flies.
I heard him screeching in the woods and then I didn't hear him anymore. I knocked on people's doors and finally contacted Animal Control and gave them my info. I had to quit at 6 PM as the sun went down because it was getting very cold out, 20° the whole night.
Now I was really worried and cried my brains out. I put my plea on Facebook and had all my friends share, and lo and behold 2 o'clock the next day I got a call from a great set of teenagers that rescued my bird. He was in their yard screeching his brains out, 'let me in, let me in, I'm cold!'
I would recommend PawBoost to everyone because you reached out to every possible link their was for people to see, and I appreciate that!! So many great words of encouragement really helped me!!
People that love their pets know that they're more than pets, they're family!! I want to thank the Standish Vet for keeping an eye out on Facebook for my missing birdie! Great ending to a tragic beginning. My empty nest is full again and my animals and boyfriend are very happy to have our lost friend back!"
Spread the good news! Thank you everyone for your diligence and love of nature that reunited Birdie! He endured 20 degree weather all night. His family is grateful he's home safe 🙂
---
Ninja: Lost Dog Reunited in Homestead, FL!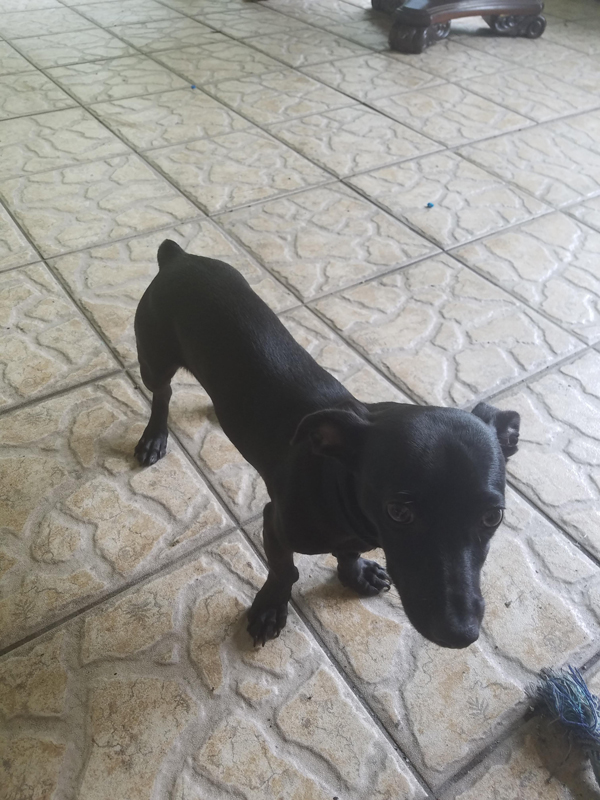 "Ninja went missing yesterday while I was at work. He has the tendency to jump on the door of the veranda he stays at during the day because he knows he can open it if it is not locked. Because of the wear and tear, the latch broke when he jumped on it yesterday.
When I got home, the door was open and Ninja was gone. I immediately posted it on PawBoost (even before trying to locate him myself). I texted a few people in the area to spread the word and keep an eye open for him. After an unsuccessful evening of not finding him, I continued driving around looking for him this morning.
I live in an area with high traffic volume and fortunately my worst fear, that he might have been hit by a car, was not confirmed. I received a few notifications from PawBoost about people commenting on the post and offering their support. Each notification was a glimpse of hope.
It wasn't until I received the final notification from PawBoost matching my search with another person's found dog alert. This wonderful young lady Krystal posted that she found a dog and PawBoost sent me a notification for the possible match. I called Krystal, who was thrilled just like I was, and 5 minutes later, Ninja was in my arms.
I want to extend a huge thanks to Krystal, PawBoost and every single individual who viewed the post. And to all pet parents out there, if you come in the unfortunate situation of losing a pet, I would recommend posting on PawBoost first. If it wasn't for PawBoost I don't know if I would have been able to find him."
Spread the good news! Thank you to everyone who shared Ninja's alert. Covering as much ground possible is key. Don't forget to check physical locations as well as checking online 🙂
---
Simon: Lost Cat Reunited in Hickory, NC!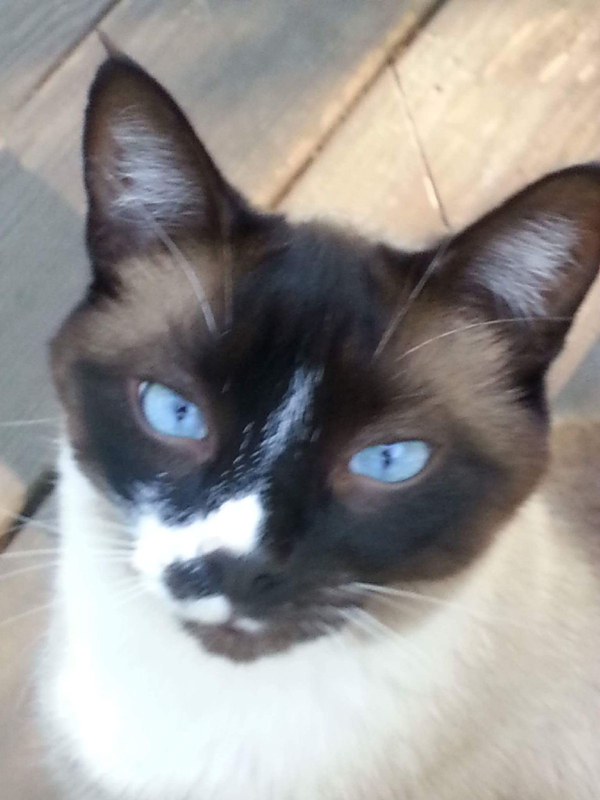 "Simon is the ultimate mischievous cat and is quite good at sneaking out when a door is opened. He loves to be outside, but when we moved into my mother's townhouse to care for her several months ago, he was not allowed to be outside.
The neighbors even called animal control two times when he was able to sneak out. We were working with him to keep him inside but it's hard to teach an old cat new tricks. He did not take well to this new rule and was frequently at our feet trying to get outside. He got out 2 weeks ago and took off.
Because we had multiple cats, we did not have any used kitty litter to put outside to help Simon find his way home. A week before he went missing, we had been gone on a 10-day vacation. He was quite upset with us for being gone for such a long period of time, and went to the bathroom on three areas of our closet carpet.
Fortunately, it's carpet that we were planning to replace. My husband cut out the three pieces of carpet and we put it on the back porch. I believe that this helped Simon find his way home.
I would definitely recommend PawBoost for anyone who has a missing or lost animal. I received a lot of great ideas about things to do that I did not think of. I also received a lot of support and encouragement. I had two phone calls of people who thought they had Simon. Unfortunately, it turned out not to be him, but it was so nice to know that people took that time to contact me.
This is a great application to quickly get the word out about any missing or lost animal. It is a great community of people who care about animals and who know how heartbreaking it is to lose one."
Spread the good news! Thank you to everyone who shared Simon's alert and to everyone who sent encouragement. His family is very grateful to have him back home 🙂
---
Chaps: Lost Dog Reunited in Sherman, TX!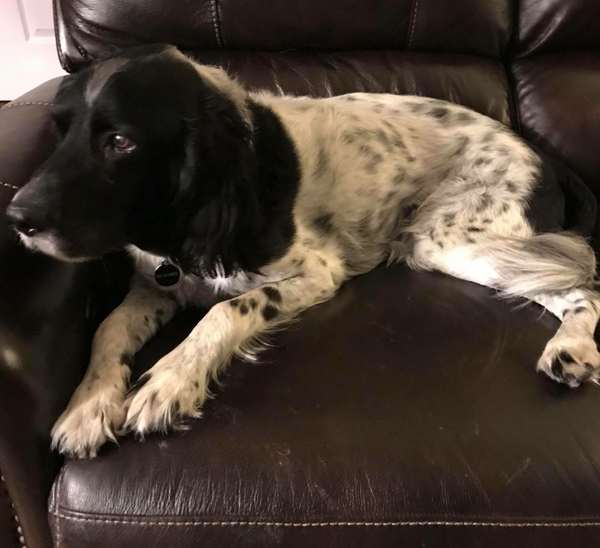 "Wind gusts of 30+ mph blew our backyard gate open. Chaps and his brother, Atticus, use a doggie door to go outside so he wandered off without our knowledge before we realized the gate was open!
We had reached out in every way we could think of searching for our friend with social media sites, going door to door, calling neighbors, searching by air via our friend's airplane, faxing vet offices and shelters, and plastering flyers everywhere in our small town. A kind neighbor had seen our flyer and taken a picture of it – he and his wife said Chaps looked so similar to their own dog it stuck with them.
5 days after Chaps went missing, they were driving past a field 5 miles southeast of our house and happened to see a white body curled up in the field. They pulled over, hopped the fence and scooped him up – lo and behold, it was our Chaps! Weak, dirty, exhausted but alive!
Our neighbor called my number, gave us the great news and even dropped our old buddy off at home. They even refused any reward money – Chaps was truly found by guardian angels.
PawBoost provided Chaps the army of dog lovers cheering for his safe return. Even the vet was astonished a 16 year old arthritic dog could survive 5 below-freezing nights out there, but the unbreakable will of a pup to survive is something to behold!
I recommend PawBoost! For as long as I live, I will never underestimate the power of strangers collectively praying and thinking positive thoughts, and encouraging my husband and I to not lose hope."
Spread the good news! Thank you to everyone who shared Chaps' alert. After 5 freezing nights he's headed to the vet and his family is so thankful for all the shares from the wonderful dog-loving community 🙂
---
Milo: Lost Cat Reunited in Raleigh, NC!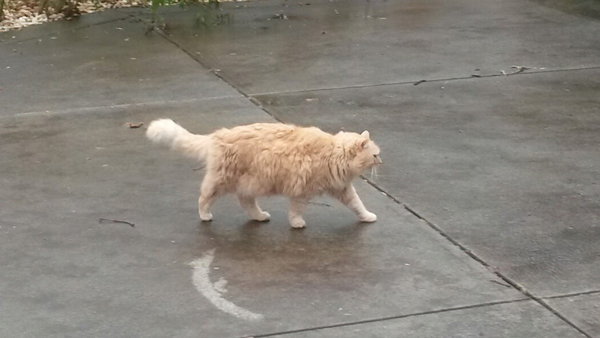 "Milo is an indoor/outdoor cat so it was day 2+ when we noticed he was not around. He frequents other neighbor's homes because they give him treats. When I posted him missing on Nextdoor one of my neighbors mentioned PawBoost and said I needed to post it there. I got several notices asking me if Milo had been found yet so that I could update his profile.
Milo was ultimately tracked by a tracking dog to a 20 acre area behind our home that is an ex-beagle farm. We also have coyotes back there so we were very concerned. His scent stopped at a cul-de-sac behind the area.
It was on day 12 when a gentleman took him to the vet to determine if he was chipped. Unfortunately he was not. He took a photo and posted it on PawBoost and I received an email asking if the photo was Milo. It could have been his twin but I was positive that there was no way Milo made it that distance.
We got in the car and headed over only to find that Milo greeted my 16 year old daughter with a welcome meow that is only his. We believe the scent stopped at the cul-de-sac because he hitched a ride on a landscaping truck or something and ended up 5.5 miles away. He couldn't possibly have gotten across the roads he would have needed to cross otherwise.
I can't thank PawBoost enough. It was recommended to me by a neighbor. Your site is wonderful and I am grateful to have been told about it."
Spread the good news! Thank you to everyone who shared Milo's alert. You may never know how your fur baby got from point A to point B, but having them back home safe is all that matters 🙂
---
Peaches: Lost Ferret Reunited in Metairie, LA!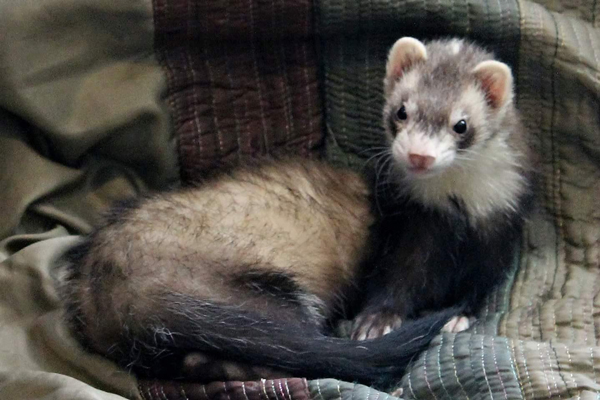 "Peaches is our only free roam ferret. She can get out of the pen we have the others in but she gets along well with the cats so we allow it. Monday one of my children left the front door open and she wandered out. It wasn't until the next morning when she didn't show up for breakfast that I knew for certain she was missing.
Last night I got a call from a neighbor who had seen one of my flyers hanging on a telephone pole by our house. He looked out his window and saw a pair of little eyes staring at him from his yard. He quickly got our number and gave us a call saying that she was in his yard. We quickly dressed and flew across the street to be reunited with her.
PawBoost got more people involved in looking for her. In these situations the more people who are looking, the more likely you are to be reunited with your lost loved ones. I would totally recommend PawBoost to anyone searching for a lost pet."
Spread the good news! Thank you to everyone who shared Peaches' alert. She's thin but healthy and safe at home with her brothers 🙂