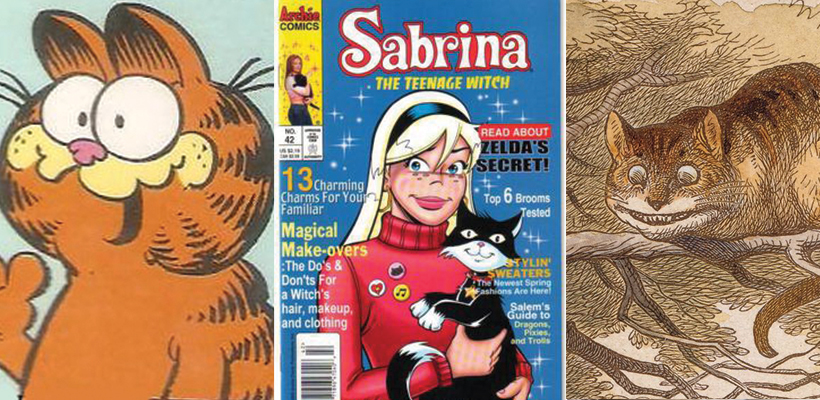 Top 5 Celebrity Cats
This article is contributed by guest writer, Sandra Juliana (Writer at Petblogish).
Top 5 Celebrity Cats
Move over celebrity dogs, you've had your fun, now it's time for the famous felines to take center stage and shine bright with their super stardom.
So, what makes a cat a celebrity? Do they have to have a cute mannerism, a strange habit, be the pet child of a celebrity, or do they have to razzle us with their beauty? In truth, it can be any of these as long as they are entertaining us. And boy, do these next five fantastic felines know how to do that!
There are dozens of famous cats out there from the ones that appear in literature and in TV shows to the real-life ones, but these next five cats on our list stand amongst the most famous. In fact, you could say these cool cats all define what it means to be a celebrity cat.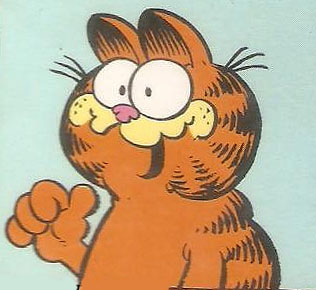 Photo Credit: Garfield At Large
1. Garfield
We have to start our list with a feline that is, without a doubt, the most famous and well-known cat around the world. Garfield!
Created by Jim Davis in the early '70s, Garfield saw his nationwide debut in 1978, and his disdain for work and love of lasagna quickly delighted the nation and continues to, to this day. Garfield is now syndicated in more than 2,000 newspapers and journals. This doesn't even include the five films, the two TV shows, and a dozen Primetime specials.
While often a stuck-in-the-mud to Jon and Odie, there is little doubt Garfield is living his best life possible, and we can't commend him enough for it.
2. Meredith Grey and Olivia Benson
For our next super felines, let's take ourselves out of the comic world and enter the real one. Well, perhaps, not quite the real one, but for a celebrity like these next two, it is. Meet Meredith Grey and Olivia Benson, Taylor Swift's adorable, and downright photogenic kittens. Even if it wasn't for their mother's fame, we're pretty sure these cats would still be famous for their ability to perfectly strike a pose. These two little Scottish fold cats, named after characters from Law & Order and Grey's Anatomy, don't just know how to dominate Taylor's social media, they've even been featured in her commercials. You can follow the life and times of Meredith Grey and Olivia Benson over at T-Swift's Instagram.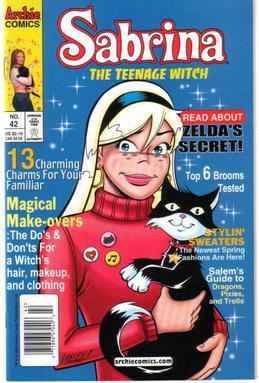 Photo Credit: (WP:NFCC#4), Fair use, https://en.wikipedia.org/w/index.php?curid=39815371
3. Salem
Some famous cats are real, while others are fake. In fact, we've seen both on our list already. But for this next one, let's switch it up with a cat that's both! Wait, is there some sort of witchcraft at work here?
Sassy, mischievous, and lovable, before there was Marvel Film's Loki, with his suave black hair, there was Salem Saberhagen from Sabrina the Teenage Witch.
While we all know Salem for his hilarious antics, sharp tongue, and witty one-liners, it wasn't until the 90s TV show when Salem got a personality update. Before, Salem was a quiet little black cat that followed Sabrina and her aunts around in the town of Greendale. First appearing in the early 60s in Archie Comics, Salem is a shining example of how fame can take a little or a long while to happen. But if you keep at it, big things can happen!
In the 90s TV show, Salem was portrayed both by real cats and an animatronic that would deliver his iconic lines. Recently, Salem is back to his vowel of silence where he's played by a real cat in the Chilling Adventures of Sabrina. While hinted that this version of Salem may talk, Netflix canceled the show before this could happen. But we doubt we've seen the last of this mischievous kitty.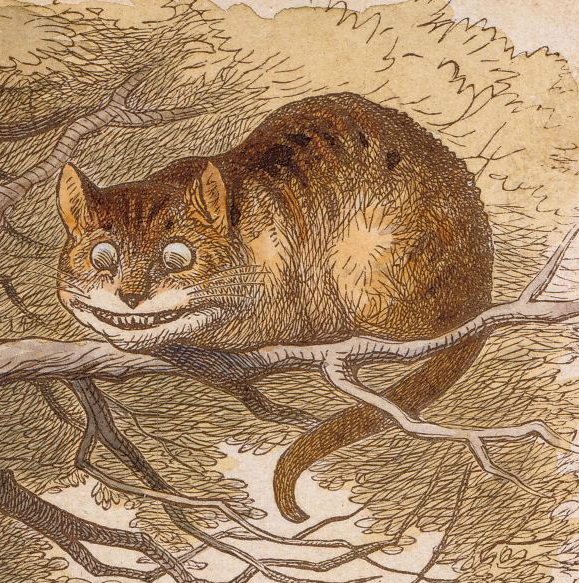 Photo Credit: John Tenniel – http://www.themorgan.org/collections/collections.asp?id=570, Public Domain, https://commons.wikimedia.org/w/index.php?curid=34341858
4. The Cheshire Cat
Coming in at number four is the oldest celebrity cat on our list, the Cheshire Cat from Lewis Carroll Alice's Adventures in Wonderland. Known for that mischievous and bizarrely wide smile, Carroll's Cheshire Cat's grin has become iconic in popular culture. You can find the Cheshire's grin on clothing, drink mugs, posters, and so on. However, the phrase "grinning like a Cheshire Cat" appears to predate Carroll's famous story by about fifty to a hundred years.
While there have been many appearances of the Cheshire Cat throughout the centuries, it's the spazzy, purple striped pink coat, yellow eyes, and kooky grinning Cheshire Cat that appeared in Walt Disney's 1951 animated, Alice in Wonderland that most of us know and love.
While always a bit of a magic-wielding jerk, the Cheshire Cat's personality and abilities change slightly from medium to medium. Tim Burton's Cheshire Cat, who is uniquely famous for his ability to assume the appearance of other characters, ultimately helps Alice out despite his games, unlike the 1951 version.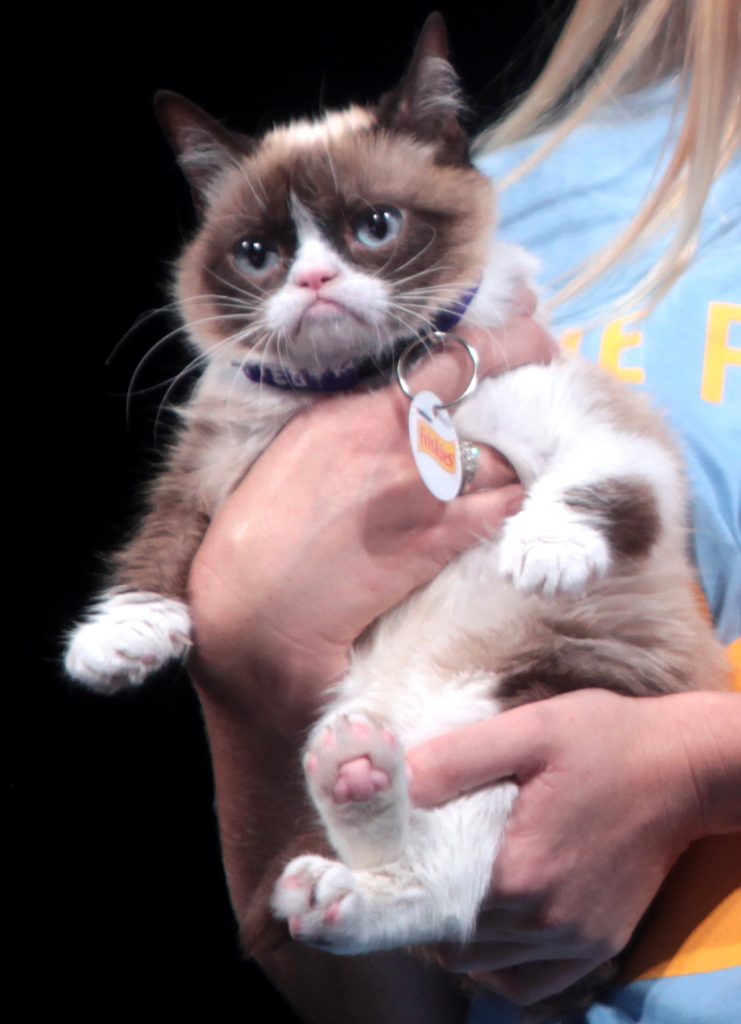 Photo Credit: Gage Skidmore from Peoria, AZ, United States of America – Grumpy Cat & Rafi Fine
5. Grumpy Cat
Last but not least is the internet's most famous cat, Grumpy Cat. Born April 4th, 2012, Grumpy Cat — real name Tardar Sauce — didn't take long to become a star. At just five months old, Tartar took the world by storm after her parents posted her photograph on Reddit in September 2012.
Within weeks, her famous photo became the face of internet memes far and wide for months and months. Tardar Sauce's famous appearance, likely caused by dwarfism and an underbite, brought attention to a host of gorgeous kittens out there that may look a little sour, but trust us, they are full of love. For that, we can never say thank you enough to one amazing kitty.
It's with heavy hearts to say that in May 2019, Tartar Sauce suffered complications from a urinary tract infection and passed away. Gone, but certainly not forgotten, Grumpy Cat will live in the hearts of millions for years to come. Her grumpy but adorable face serves as a reminder that we should never judge a book by the cover.
Some famous last words
Famous or not, our cats mean the world to us, and let's be honest, in their eyes, they probably all see themselves as celebrities, anyway. We feed them, give them constant attention, clean up after them, play with them. Yeah, it's easy to see we're pretty big fans of our cats.
So make sure you're treating your cat like the celebrity they are by keeping up with their veterinarian appointments, providing them a high-quality diet, and giving them all the love they desire.