Happy Tails! January 2017 – Lost & Found, Dogs, Cats & Pets That Were Reunited in January
Happy Tails! January 2017 – Lost & Found, Dogs, Cats & Pets That Were Reunited in January
PawBoost loves to share happy endings! Read January's Happy Tails to learn how these fur babes were reunited with their families.
Love these success stories? We love sharing them! Click here to read more.
---
Coqueta: Lost Dog Reunited in Manteca, CA!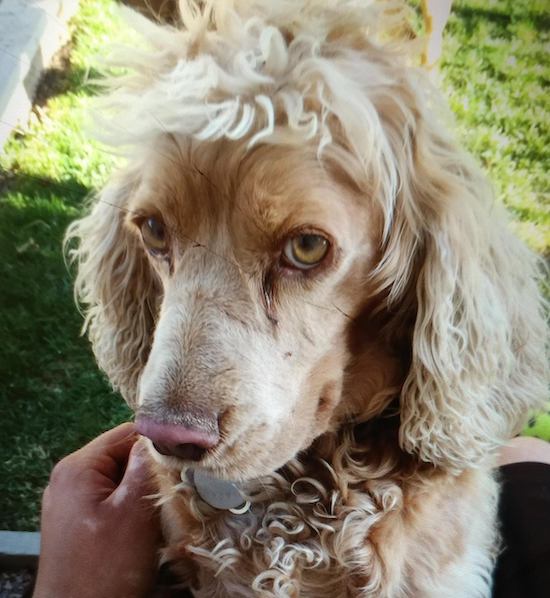 "Coqueta went missing on New Year's Eve 2016. She and my other two dogs were left at home for the evening and at midnight when the fireworks began to go off she got spooked and got out through the backyard. The next day, when I went to feed my dogs I saw she was missing.
So I thought to call animal shelters throughout the day, realizing that there wasn't going to be much hope using that option. I decided to go online and search for a website for lost and found dogs and I came across PawBoost and created a missing pet profile for Coqueta.
Once I saw just how many vets, animal shelters, and Facebook pages receive a picture of her and my contact information within my zip code, I felt relieved but still nervous if she wasn't going to come home. It did not take long until I received an email stating that she had been picked up and was being taken care of at someone else's home.
I would 100% recommend PawBoost to not only my closest family and friends, but to everyone who owns a pet! It's good to see that the 21st century is now making it easier to recover lost pets even if they don't have a collar or microchip. Thank you very much for making this service available to myself and everyone else!!"
Spread the good news! Thank you to all who shared Coqueta's alert and the Good Samaritan who took her in after being startled by the fireworks. Don't forget to keep your pets safe during loud celebrations in 2017. Happy New Year!
---
Marley: Lost Cat Reunited in Hamden, CT!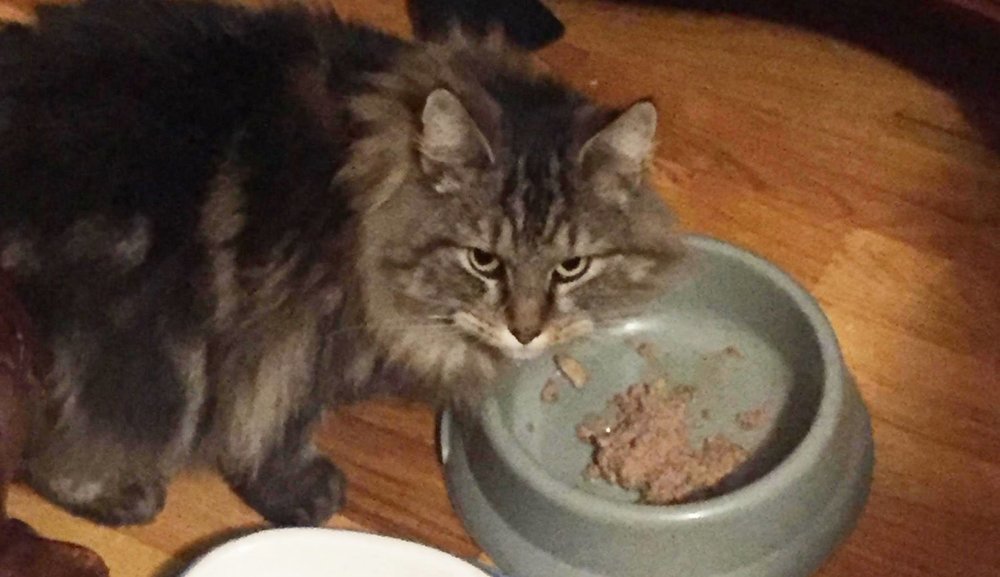 "Marley and his brother Garcia went outside early in the morning of November 16th, but only Garcia came back for breakfast. It is so unusual for Marley to miss a meal and he was still not back yet when I returned from work that day, so I knew something was terribly wrong. I made flyers with Marley's picture on them and my daughter Adrianna and her friend knocked on doors and stuffed mailboxes with them. We spoke to the Animal Control officer in our town and sent him the flyer as well, but no one knew what happened to Marley.
On December 28th, I posted on PawBoost that Marley was still missing, now 6 weeks later. At the same time a woman named Colleen posted a picture on Facebook of a lost Marley. She lives about a mile and a half away from my home and one of her friends had seen my post on PawBoost and sent the link to her.
Colleen knew right away it was our Marley and she called us and we went right over to her house. She showed us a video that she took of Marley and told us he had been coming around for several days and they began feeding him. She said when he came back to eat she would get him and call us. Thankfully he showed up before dark and she contacted us. We were reunited thanks to PawBoost and social media. We are forever grateful!!"
Spread the good news! Thank you to Colleen and everyone who shared Marley's post to ultimately reunite him with his family. Remember to never give up and always have hope when you are looking for a lost pet!
---
Ninja: Lost Cat Reunited in Converse, TX!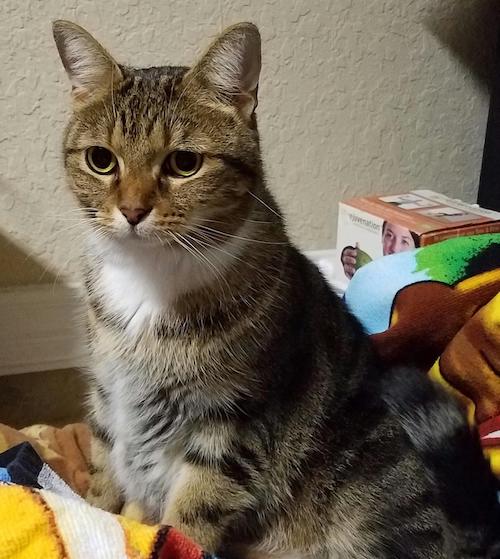 "On September 20th, Ninja decided to do a balancing act and walk along the fence line. A few neighbors saw his olympian balance beam performance near the end of the block. He was last seen on the next street over… this is how I believe that he got lost and couldn't find his house.
In the following weeks he was sighted a few more times by others in the neighborhood. After that, I heard nothing… no Ninja sightings. Ninja is a curious guy and I've seen him get into, or attempt to get into, people's vehicles. I can only imagine that he caught a ride downtown in the back of someone's pickup truck.
I found Ninja posted for adoption on the San Antonio Humane Society website. He was actually found 14 miles away in downtown San Antonio near the courthouse by a Humane Society board member. Ninja was hungry and was suffering from an upper respiratory tract infection. The Humane Society saved my cat and I am forever grateful.
I reclaimed Ninja from the Humane Society on December 30th. That's a 102-day adventure! PawBoost helped by giving me an easy flyer to print and share. A lot of my information came from walking the neighborhood and talking to people too. Never in my wildest dreams did I think my cat was a fool for the city and would wind up so far away in San Antonio!"
Spread the good news! Thank you to the Humane Society board member who found him and to all who shared Ninja's alert through the long search before being reunited. Ninja has now readjusted at home and is currently healthy and happy.
---
Rex: Lost Dog Reunited in Fontana, CA!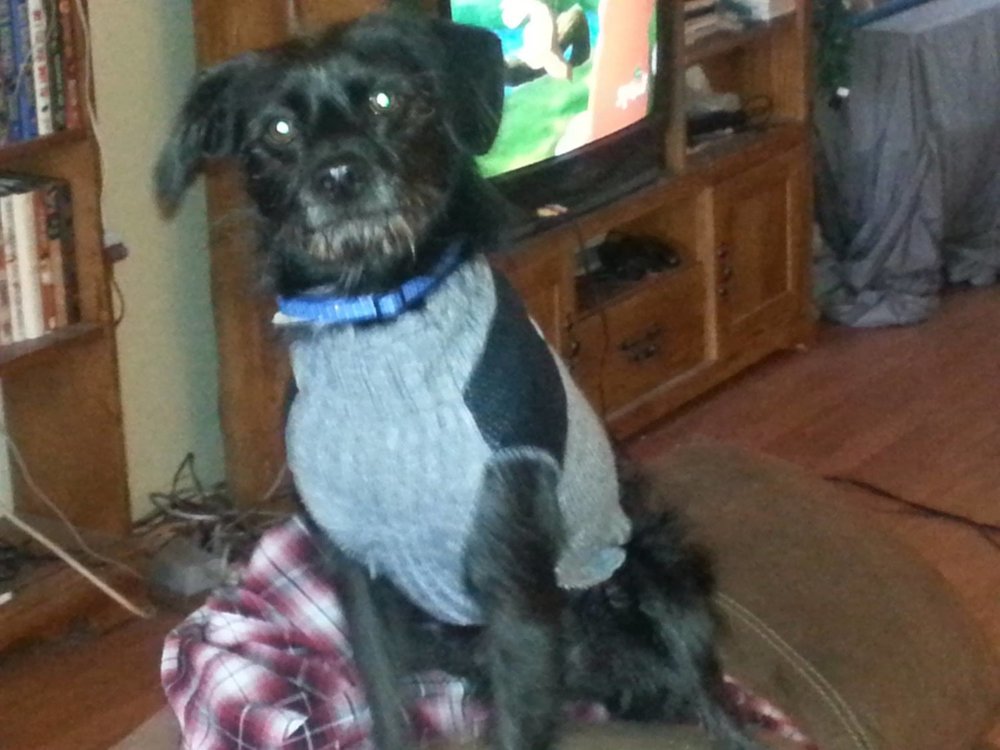 "Rex went missing right before we were hit by a big storm and lots of rain. I was terrified because Rex is an indoor dog and has been with me since he was a puppy. So being outside is not something he is used to.
I followed all guidelines to find him. I notified Fontana animal services, printed and posted flyers, and posted on every lost dog site possible. All there was left to do was wait.
I received an email from PawBoost about a lost dog in Riverside. I saw the picture and realized I had seen that exact dog at Riverside shelter. So because of PawBoost I was able to contact the owner via text and verify that it was their dog, Darla. They were very thankful that I had spotted him and were reunited that next morning.
Meanwhile, I am crying and lacking sleep because I'm missing my Rex. Then, a kind family found a dog and looked on PawBoost and saw my lost ad. The lady texted me and I went immediately to her house to find my Rex! So because of PawBoost I was able to find my dog and help another dog find her owner. We are very thankful for the PawBoost support team!"
Spread the good news! Thank you to all who shared Rex's alert and the family who found him. There were many happy tears and Rex is very happy to be home!
---
Hank: Lost Dog Reunited in Macon, GA!
"On the morning of December 28th, Hank went missing when he was left outside to use the bathroom and escaped the backyard. He does this occasionally but usually just ends up in the front yard of his home or waits at the side door. He didn't come home and so his owner called me to let me know he was missing. We looked for him all that day and posted written signs in the area. The weekend approached and he still wasn't home so we had some flyers made and created missing posts.
By Tuesday afternoon, I had spent about 3 hours posting pictures of him all over the internet and making online flyers, including a PawBoost flyer. I sent out messages to people and did some cross posting to encourage everyone to share the alert and it WORKED! A friend of mine works with rescues and she shared his PawBoost post and a friend of a friend saw the post and knew someone who had posted a picture saying that she had a new dog and was enjoying him. She reached out to that person to tell her that the dog matched a description of a missing pet and informed her that she should find out where he came from and return him.
The lady, Hank's owner, and the middle party all got in touch with each other and sorted everything out and he was safe in his own home late Tuesday night!!! It's a blessing that he made it back to his family! It probably NEVER would have happened if not for the power of PawBoost, cross posting, and sharing on social media!!"
Spread the good news! Thank you to everyone who shared and got the word out to get Hank home safely! Networking was key to reuniting him with his family.
---
Jax: Lost Dog Reunited in Jackson, MI!
"On January 4th, we had just moved into our new house and my husband and I were taking our dogs out to go potty that morning. It was still dark outside, our little Jax is black too, and for some reason he took off running down the road. When we realized he was gone we went looking to find him and it was like he just vanished. Friday evening, after no luck of finding him I posted the lost poster on PawBoost.
Within 24 hours and over 5,000 views a wonderful lady and her husband found him running down the main road. With the help of another passing car they were able to catch him and bring him into their home.
When I received a message on PawBoost that someone thought they had found him I called the phone number and my nightmare was over!! Without PawBoost Jax wouldn't be home with us now!!!"
Spread the good news! Thank you to everyone who shared Jax's alert. Jax is happy to be with his family in their new home! Another speedy return with Good Samaritan help.
---
Minnie Mouse: Lost Dog Reunited in Sacramento, CA!
"Minnie Mouse escaped through our garage door when we were pulling the car in one day. Although it was only sprinkling when she got out the storm truly started to rear it's ugly head 15 minutes after looking for her. We figured she was close by and took shelter from the storm somewhere. We searched the afternoon and evening for our little Minnie and posted on Craig's List and Facebook groups.
Through PawBoost, we were connected with an organization called Friends of Nitro. Deb came out yesterday evening and searched with us for our little girl. We did get a lead as to the direction she had gone when leaving our house, but we were unsuccessful in finding her. We had planned to further search the ABC campus in the morning, as there were many places for her to take shelter there in the storm.
At 1:20 AM that next morning we were awakened by a phone call of someone who had found her and rescued her from the elements. She had traveled a lot further than we ever expected she would. My husband promptly went to get her. She was wet, cold and limping slightly, but curled up on our bed and slept the rest of the morning.
As of this morning, she is in good spirits, alert, playful and been cuddling with my 3 year old son as they bond. I am forever grateful to the pet community who comes together to help our furry family members!"
Spread the good news! Thank you to all who shared Minnie Mouse's alert and to the Good Samaritan who picked her up. It is important to know that you are not alone in searching for your lost animal. There is a huge community that wants you to be reunited with your lost furry friend and together we can accomplish so much more!
---
Annie: Lost Cat Reunited in Anderson, IN!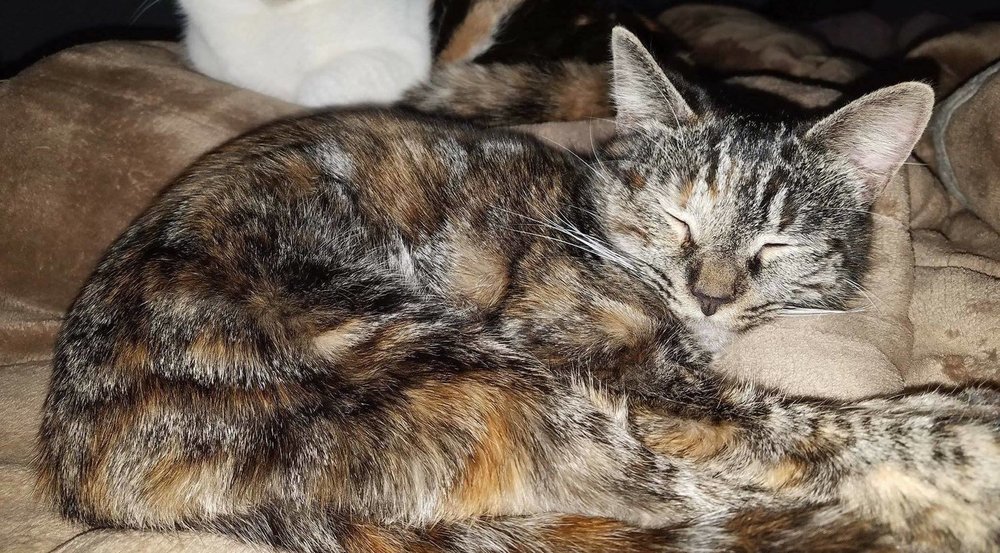 "Annie got out of our home late Wednesday evening when my husband and I ran down to the local Taco Bell for a quick dinner. Upon returning to our house, we discovered our front door standing wide open with two of Annie's sisters sitting in the doorway and one in the yard. All of our cats were safe and accounted for, except my little Annie.
We immediately went out searching for her with no luck, so we took to any Facebook forum or website I could find to spread the word about my missing girl. That's when I found your website! Even though it didn't help recover her directly it helped spread the word to local vets and shelters.
Ultimately, it was Annie's litter mate and sister Cleo that helped us recover our baby. Cleo had sat at the front window diligently since her sister went missing watching for her. I placed a box outside the window with her blanket and Annie's favorite ball and used the tips about putting old litter outside to help them find their way home. It must have worked and as soon as Cleo spotted Annie outside she started meowing and pawing at the window to let me know she was there. When I opened our front door Annie spooked but allowed me to catch her without a big hassle. Thank you again for all your help PawBoost!"
Spread the good news! Thank you to everyone who shared Annie's alert and kept an eye out for her. She is safely snuggling with her five sisters and happy to be home safe and sound!
---
Sebastian: Lost Cat Reunited in Bellmawr, NJ!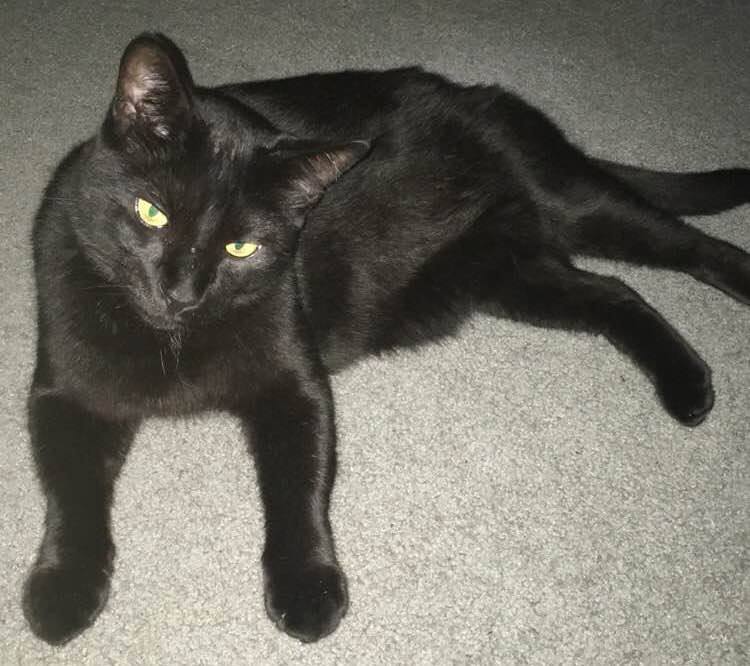 "Our lives were turned upside down when my 6 year old black cat, Sebastian, disappeared on October 11th, 2016. This cat was loved by all of the neighbors! He had the most loving and funny personality. He just drew people to him to watch his antics and his bold ambition when he hunted mice and what I refer to as 'woodland creatures.' My cat was feral when I found him in early summer of 2012. He followed my orange tabby in the house and laid down in the middle of the living room like he lived there for years! He was less than 2 years old, and survived on his own until then, but he didn't have that skittish behavior of most feral cats you come across. His biggest feat was worming himself into the heart of my neighbor, Tony, who hung out with him for hours on his porch, then began letting him in his house for visits. He and his girlfriend Bonnie became "uncle" and "aunt" to him, buying him toys and treats, so that he had an outlet to go to when things got too crowded for him at our home with my two other cats.
He knew how to look after himself, so when he didn't come home after a whole day, we all knew something had happened to him. All the local shelters were contacted, the local police and our vet's office were all notified. I placed posters of him on the telephone poles, and it was Bonnie who surfs the web much more than I who had the sense to scan his picture onto your website.
After almost 4 weeks, Bonnie received an email from a woman who said her daughter saw his picture on PawBoost.com and felt it looked just like the black cat they were feeding who showed up in their condo complex a few weeks back. Sebastian made a whole new set of friends there, who were taking care of him as an outside "stray." She sent pictures of him to Bonnie, who came to our house unexpectedly that Sunday night with this new information, and we all could not believe it, but the pics were of him! He has markings, which could be seen in the photos.
We (Bonnie, me and my two teenage children) drove to her complex, which was over 13 miles away, with our cat carrier and his medical records in hand. It took us over an hour to scan the complex, walking in the dark, with only the lights from our phones. The woman who reached out, Dawn, and her neighbors came out and talked about him, and how they'd come to know him too! We had split up in groups and I was almost giving up the search for the night, when behind me I thought I heard a meow…. Bonnie and I turned around and waited, and out of the shadows strolled our baby! He sat down in front of us looking tired and smaller, and I will never forget the joy that overcame me!
I still cry when I think of this miracle we were blessed with in our lives of getting him back like that suddenly after almost 4 weeks and 13 miles away from home and his helpers making the connection to us through your website."
Spread the good news! Thank you to everyone who shared Sebastian's alert and to the helpers who brought him back to his family. Sebastian is happy to be home with his family and community friends.
---
Gizmo: Lost Cat Reunited in Alexandria, VA!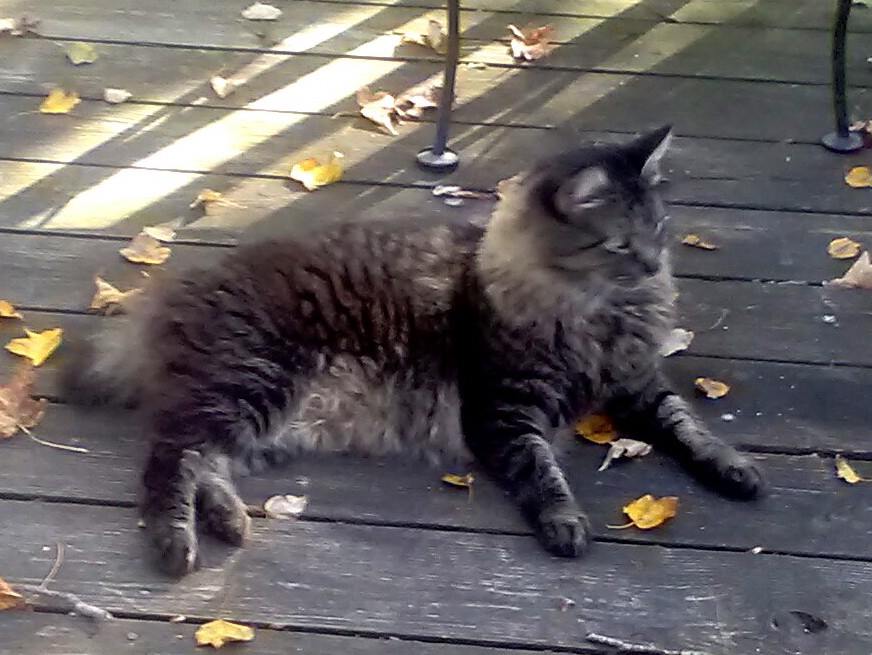 "I was away for a funeral and my house sitter came in the door and Gizmo ran out and went missing on December 6, 2016. All of my cats are indoor cats so I have no idea why he ran out, especially because it was pouring outside. When I returned from the funeral, I had a few days to search for Gizmo with no success. I got online and found PawBoost and read how I could find my lost cat. I posted posters all over, went door to door, and put clothes where people thought they saw him a day or two after he went missing.
I had to leave town for Christmas for a week and I was heartbroken that Gizmo had not been found, but my search intensified when I returned. I went door to door, followed the recommendations on how to possibly find your lost cat on the PawBoost website and put the litter box outside. PawBoost contacted our local shelters, who then called me for more information and pictures of Gizmo.
On Jan. 10, 2017 at 5.30 pm, I heard a cat at my back door! It was Gizmo, but very, very skinny and severely dehydrated. I rushed Gizmo to the emergency vets office. He had a fractured lower jaw that was stable, a fractured canine tooth that will heal, and some spinal injuries, but he could walk. Gizmo returning home is a true miracle. I was giving up hope, but I kept reading what PawBoost posted about not giving up. Gizmo did not give up after all this time. Definitely contact PawBoost if you have a lost or found animal. They get the word out fast!"
Spread the good news! Thank you to everyone who was looking out for Gizmo and shared his alert. We hope Gizmo has a speedy recovery. Remember to never give up searching for your lost pet, because your pet would never give up on you!!
---
Lucky: Lost Dog Reunited in Los Angeles!
"When returning home around 7:00 PM from dinner, my family and I realized that one of our dogs Lucky was missing. We looked around the house including the backyard and concluded that somehow he ran away. After making several trips around the neighborhood in search of our dog, I proceeded to look online for resources that could assist and found PawBoost. I filled out some basic information and then posted a picture of Lucky. Then, within an hour of accessing PawBoost, I received a text from a kind lady with the Los Angeles Petfinder's Facebook page who saw the picture of Lucky and was able to match him to the nearby shelter.
The next day, we picked up our dog from the animal shelter, whom had been placed there by a very kind and helpful neighbor. This reunion was a speedy miracle (that happened as our dog had lost his collar and was not yet chipped) provided by PawBoost! I would definitely recommend this service to a friend as with the help of PawBoost, we reunited with Lucky within 10 hours."
Spread the good news! Thank you to everyone who shared Lucky's alert and to the kind neighbor who took him to the animal shelter. Another speedy, and some may say lucky, miracle!!!
---
Mia: Lost Dog Reunited in Round Rock, TX!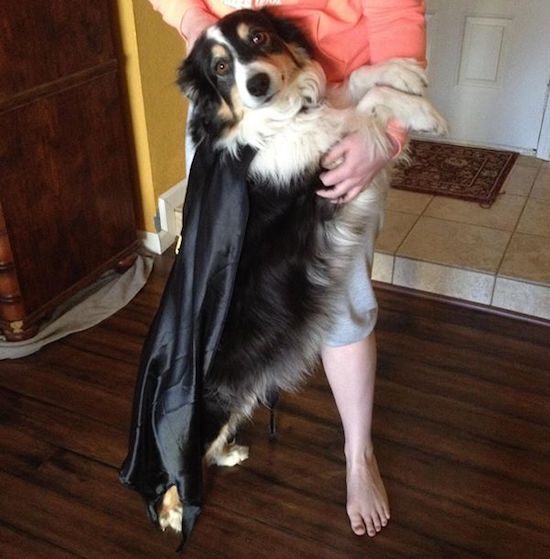 "On 12/21/16, Mia dug a hole under the fence and got out of the backyard. This was totally out of character for her so I don't know if something caught her eye or she got spooked. Anyway, a neighbor saw her out and attempted to chase after her and then my husband tried too. This spooked her even more and she darted. I posted her missing on Round Rock Lost and found Pets, Nextdoor and PawBoost. I looked for her myself all of Thursday and since she had a tag and was chipped I felt someone would have found her and called me, but no one did.
I felt something must have happened to her and began to grieve. I checked the shelters and vets, but nothing. I stopped by a fireworks stand just by chance and they saw a dog matching her description going up a dirt road nearby. This led me to look around the fields, Old Settlers and AW Grimes. I spotted her in a whole other neighborhood by Union Hill Elementary. I was so excited to see her that I screamed, 'Mia! Baby come Mia!' At this point she was gone for three days and she was in panic/survival mode. She did not recognize me or my voice so she ran several times and I lost her.
Days went by and Christmas had past. Multiple people spotted her the day before and on New Year's Eve. I really hoped to find her before the fireworks started, because she is terrified of fireworks. Sadly, we could not find her. She endured fireworks, a storm and soon the freeze would be coming.
Someone spotted her Thursday 1/5/17 and I got the call of where she was last seen, so I grabbed some fried chicken and headed that way. I found her hiding in some bushes off of AW Grimes. She was terrified and did not recognize me. She ran again but I did not chase her this time, I just tracked her. I left bits of chicken and after about an hour and half in a wooded area, I lost her again. It was dark at this point, so I planted the box of chicken and walked a few feet away from it and sat in the grass.
She finally backtracked smelling the chicken but then she realized someone was there. I was sitting with my head down and just said, 'Mia it's okay, its momma.' She barked a few times at me and began to circle me like a shark. She got a bit closer and finally realized it was me. She about knocked me over she was so happy and crying. I took her home just in time because it was freezing that night.
She was gone 15 days, lost about 10 pounds, had sores on her pads, and needed a bath badly. Other then that, she was my happy Mia!! Thank you everyone who watched out for her and notified me when they saw her!!! You are my angels!!!"
Spread the good news! Thank you to everyone who shared Mia's alert and watched out for her while she was missing. Mia is happy to be home and recovering with her family!
---
Snowy: Lost Cat Reunited in West Palm Beach, FL!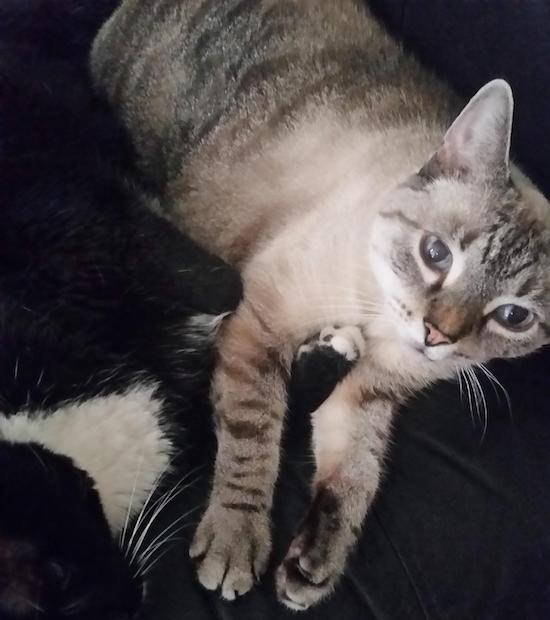 "Snowy was beginning to like going outside our front door whenever my daughter and I were bringing in groceries or taking out the trash; however, if she saw the door closing behind her, she'd rush to the door and starting meowing as though saying, 'let me in; don't leave me out here.'
On December 29th, I was rushing to go to two different doctor appointments and I believe she stepped out then. I didn't notice her because I rushed to the car and I didn't hear her call out or even see her. I was very concerned as she has been declawed and lost her fangs recently, so she didn't have any defenses for the outdoors.
I created a flyer and placed them everywhere and talked to as many neighbors as possible. I would always call out her name when I would opened the door to throw out trash, put recycling in the bins, or let the dogs out back. I believe she might have gone far enough where she didn't know how to return and I want to believe that calling her name kept bringing her closer to the house. I would get many calls from neighbors and people on other streets saying they believed they saw my cat; however, when my daughter and I would go it would turn out that it wasn't her.
On January 11, 2017, 13 days later, after going to another street because of a call, we became a little depressed again because it wasn't her. When we got to the parking lot though, I saw one of my neighbors with a flashlight. When we got out of the vehicle, my neighbor called out to me and said he thought he found my cat. He said he went to his backyard to have a cigarette and saw the cat, but when he tried to catch it she ran under his shed.
My daughter ran over, he handed her his flashlight, and she threw herself onto the ground, and happily yelled out, 'It's her; it's Snowy!' After about a 30 minutes and some coaxing, she came out to have some of her favorite food, sliced beef in gravy, and my daughter was able to pick her up and take her home.
Although I don't know if PawBoost directly helped reunite us with our Snowy, I wish to thank PawBoost for my allowing to post a missing report in hopes of finding her sooner. I would definitely recommend anyone to use PawBoost to help them find their little/big baby because it is truly heartbreaking when one of our babies goes missing."
Spread the good news! Thank you to everyone who shared Snowy's alert. She is happy to be home safe with her family again!
---
Koja: Lost Dog Reunited in South San Francisco!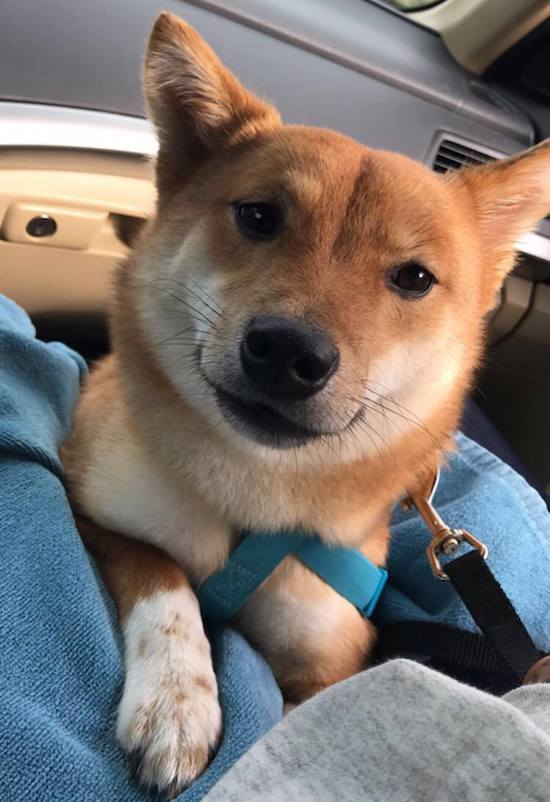 "Koja went missing on January 16, 2017 around 7pm. We usually let him out in our backyard to play and roam around and bring him in when it gets dark. I told my niece to bring him back in and to lock him in his crate, however, she didn't properly lock it so Koja was able to run out.
PawBoost was a big help in finding Koja. I posted the flyers that were pre-made around my neighborhood, which was seen and used by the person who found my puppy.The guy who found him stated he was driving around and came across one of our postings. He reversed at a stop sign and took a look at the flyer and realized it was the dog he took in overnight and gave me a call.
I would recommend PawBoost to any family member or friend because it's a good way to get the word out there. Having your puppy missing is an awful feeling and I would hate for anyone suffer and go through that. I'm glad PawBoost was able to help me find my dog after 24 hours of searching!"
Spread the good news! Thank you to everyone who shared Koja's alert and the Good Samaritan who found him. Whether your pet is gone a day or several weeks don't give up in searching! Keep getting the word out and PawBoost will, too!
---
Leo: Lost Cat Reunited in Cottage Grove, MN!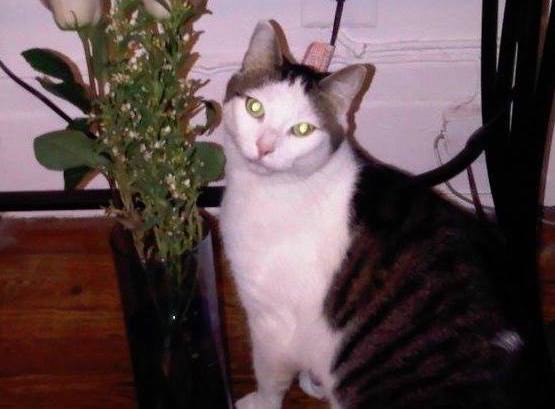 "Leo likes to run out our door when he can to explore the outdoors. While our nanny was here in the afternoon, who is not used to the getaway kitty, he snuck out when the door was propped open. When I came home from work that evening I noticed he was missing. From there I first contacted the local Humane Society, visited to look at the cats, and posted him missing.
PawBoost contacted me after I worked with the Human Society and had no luck finding him. PawBoost was able to help make a flyer with the same information I provided to the Humane Society. I hung these flyers all over Cottage Grove and the project manager on our property saw the flyers and then found Leo as he was surveying a new property.
Leo had taken shelter in one of the new build homes, he was lost for 2.5 weeks. We are very lucky he found shelter as it was on average -4 degrees while he was missing! He came home with frost bite on his paws and dramatic weight lost. We brought him to the vet that night to get looked at.
I honestly didn't think of putting up posters since we live in the country, but when PawBoost sent it to me I thought, why not? I would definitely recommend PawBoost because they make it convenient to post a lost pet and they check in frequently."
Spread the good news! Thank you to everyone who shared Leo's alert and to the manager who brought him safely home. He is on his way to being fully healed. Remember, every little act counts when you're searching for a loved one, so don't give up hope.
---
Love these success stories? We love sharing them! Click here to read more.